This week on Free Spirit Beading with Kristen Fagan, learn how to make a half knot spiral Macrame bracelet using Soft Flex Beading Wire on a Mini Macramé Board. If you enjoy macramé or are curious to learn how to macramé, this video is a great tutorial of a beginner knot. The colors and beads make a great beading project idea for Valentine's Day accessories!

Make a Half Knot Spiral Macrame Valentines Day Bracelet
This macramé tutorial uses the half knot spiral macramé pattern with beads sprinkled in from our Dark Heart Bead Mix by Jesse James Beads. This bead mix is custom made exclusively for Soft Flex Company and can be found online here for a limited time! I love the deep color palette of reds, pinks and blacks in these jewelry making supplies inspired by Valentine's Day.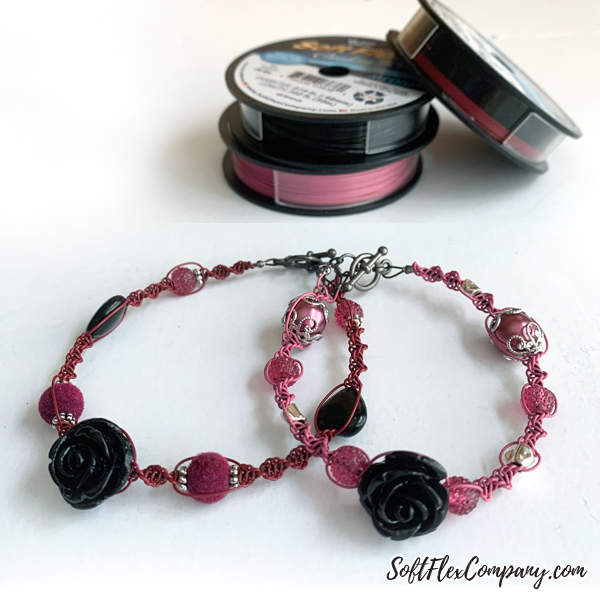 Supplies:
2x2mm Crimp Tubes in Sterling Silver Black Oxidized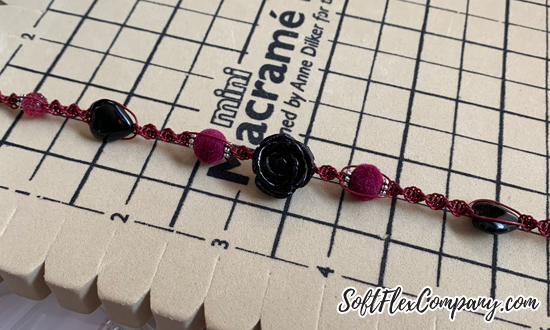 I used a Mini Macramé Board for this project and Soft Flex Beading Wire in .019 Medium diameter. Our Mini Macramé Boards are so fun. The notches along the board are great for holding your wire in place as you weave or knot your design. The Mini Macramé Board's soft edges grip the wire and keep it where you want it. If you are a little rough on the board, it has a little 'self-healing' action and any gaps in the notches fade over time.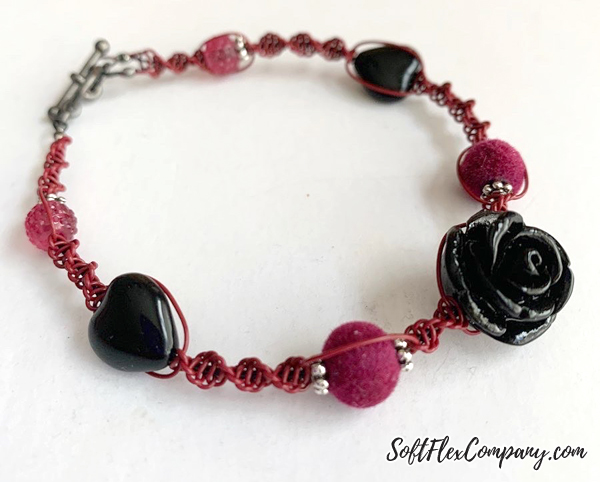 This spiraling bracelet design shows off the gorgeous beading wire colors in our newest Dark Heart Trios Beading Wire Variety Pack and how strong and knot-able Soft Flex Wire is.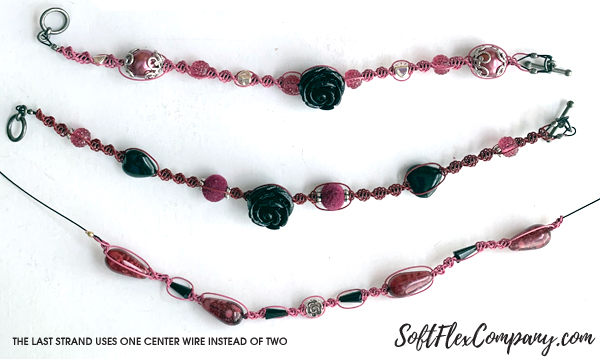 During the first broadcast of this technique on the Soft Flex Company Facebook page, one of our wonderful customers inquired if the technique could be done with one base strand instead of two. So before the second video on YouTube, I gave it a try. There were some differences but, it can indeed be done. The first two strands above have two center wires and the last strand shown uses one center wire instead of two.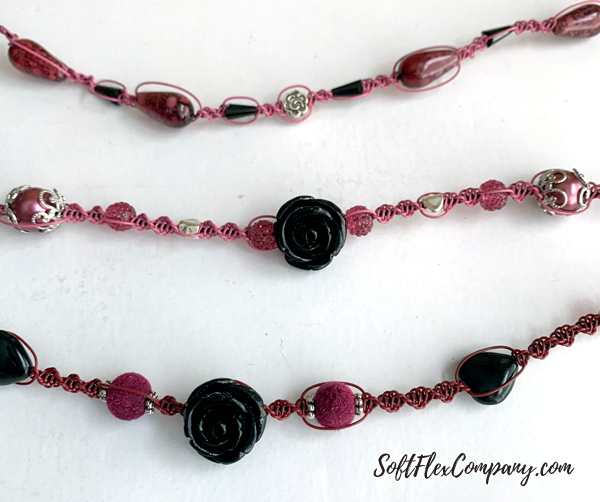 When adding beads to the spiral macrame design you need to make sure the bead holes are large enough to pass through the two center wires. If you are using beads with smaller size holes that do not pass through two strands, that is when a one center wire design makes a lot of sense.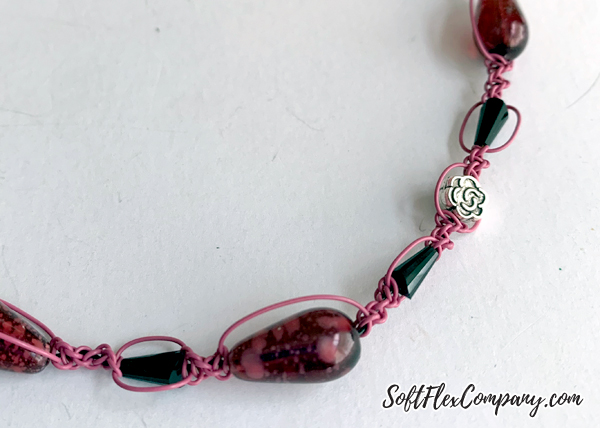 Here is a picture of just that one strand design example for a closer look.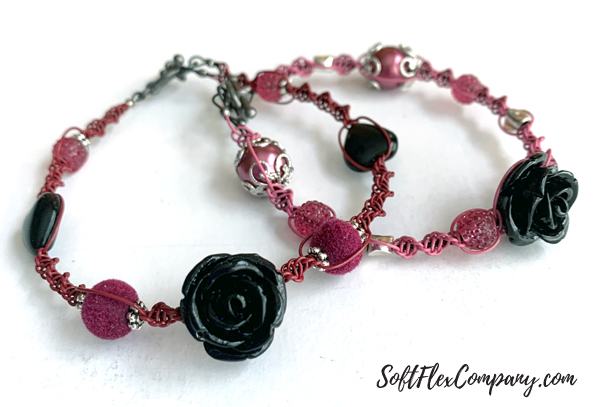 If you love this project, you might like these macrame projects.
Macramé Bracelet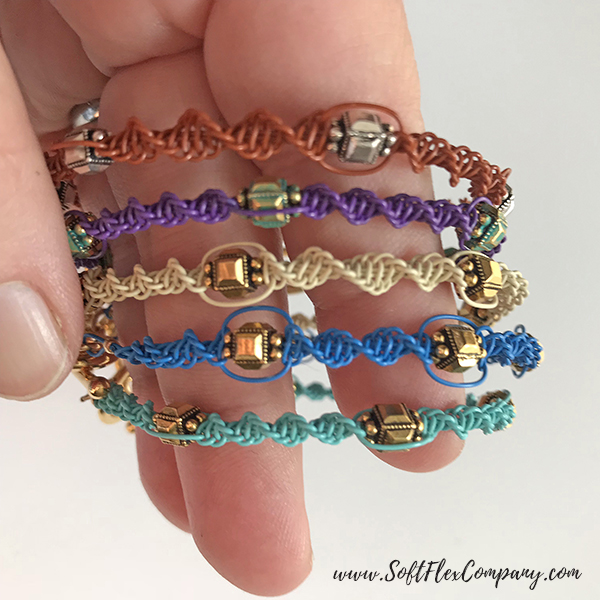 Find instructions for creating these earrings on our blog: Weekly Video Recap: Macrame Bracelets, Halloween Jewelry, And Triple Loop Earrings.
Winter Wonderland Square Knot Macramé Bracelet
Find instructions for creating this design on our blog: Weekly Video Recap: Macrame and Stretch Magic Bracelets. Beads, Baubles and Jewels.
Join our Facebook group – VIB. Stay in the know. Stay up to date. From our bead shows to our video shows and sales, you can stay in touch with us. The community is full of artistic and helpful beaders and crafty people. Inspire and be inspired. Share your pictures and get the beading bug from others!
Visit the Soft Flex Company YouTube Channel!

---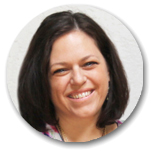 Kristen Fagan is the Website Graphic Designer and a Jewelry Making Educator for Soft Flex® Company. She is the co-author of Seed Bead Revolution, an artist and creativity guide. She currently lives in Arizona with her husband, their two sons and two dogs. When she's not painting, drawing or beading, she enjoys reading, yoga, exploring the outdoors and traveling. Her favorite stones are Opal, Turquoise, and Quartz and she can't bead without Bead Stoppers. You can email her at [email protected] or visit her Website | Facebook | Instagram