What a fantastic week for jewelry making videos! We learned how to make earrings with Sara Oehler. We made macramé bracelets with Kristen Fagan. We watched our friend Nealay Patel make a lovely necklace with Soft Flex Wire. And Sarah James from Jesse James Beads paid us a visit and designed jewelry with us.

On Wednesday, Sara hosted a live bead sale on Facebook featuring gemstones and beads from Mike Sherman's Private Bead Collection in the Soft Flex Gallery. Visit Facebook if you would like to participate in the sale. You can actively bid on items from the gallery until Sunday, November 11, 2018.
We had a lot of fun!
The week isn't even over yet. Sara is filming a live video on Facebook from The Whole Bead Show. Look for it November 9, 2018 at 1pm PST. We have a booth (606, 608, 709) at the show and she is doing demos. She is going to show lucky people how to make jewelry with Soft Flex Beading Wire. She will teach people how to crimp. She will be making some lovely jewelry on her Kumihimo board. She loves to answer questions and connect with fellow designers. Make sure you catch this video. It is a great opportunity to see how fun it is to visit a bead show.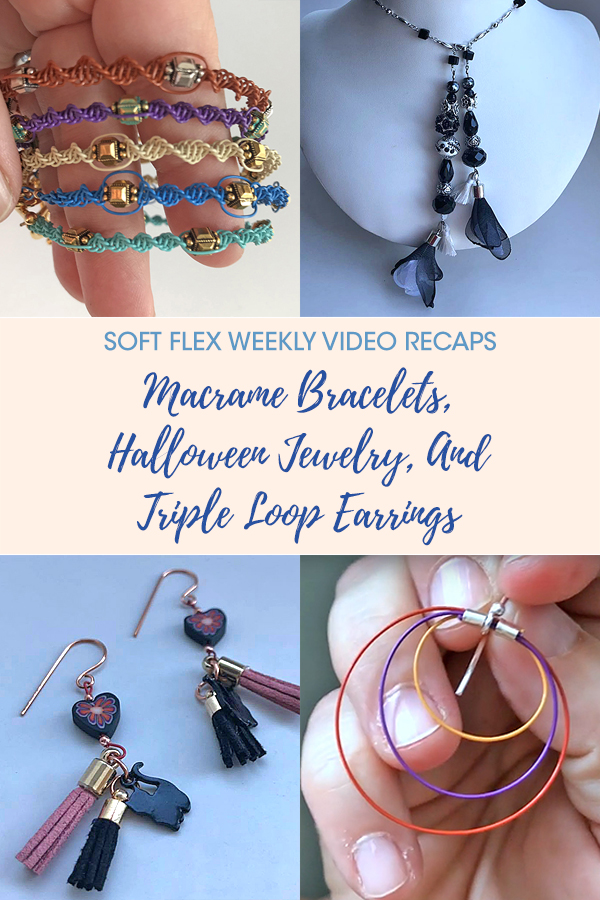 Free Spirit Beading with Kristen Fagan: Macramé Bracelet
Kristen posted a macramé video this week. She posted the same technique she used last week. She made a half knot spiral macramé bracelet with Soft Flex Wire. This video is what she called a 'reboot' of last week's video. There was some confusion last week in the orientation of her video. This week aimed to clear that up. She is using different colored wire this week to vary things. If you enjoy macramé or would like to learn how to macramé, this video is a great watch.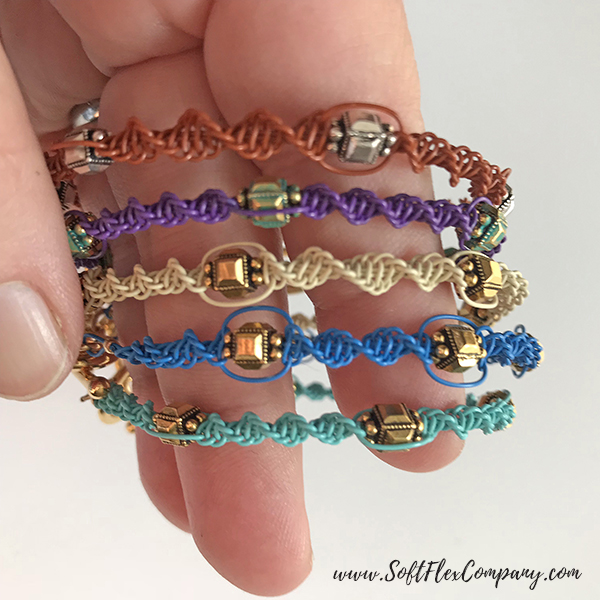 From Kristen:

It's not déjà vu; I'm showing you this design again! During the live video last week I misspoke my left and right. I show you the knot on the right but, I said "left wire" so, I wanted to clarify. You can actually do the knot starting from either side and you'll get the same result. However, since I misspoke my left and right last week I wanted to film this design again so it's clear for everyone.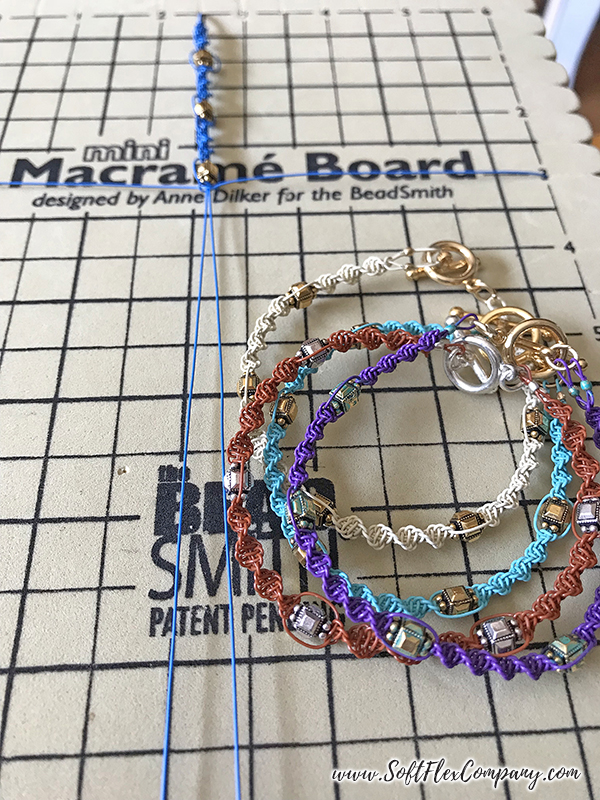 Kristen used a Mini Macramé Board for this project. She used Soft Flex Beading Wire in .019 Medium diameter. Kristen loves Autumn Spice and Mermaid Trios. She used a pair of cutters, Magical Crimping Pliers, and a pair of chain nose pliers. She used Art Deco Cube Beads in Antique Silver or Antique Gold from TierraCast. For findings, she suggested: 3 sterling silver or gold filled 2x2mm Crimp Tubes, a silver or gold tone toggle clasp, and silver or gold jump rings.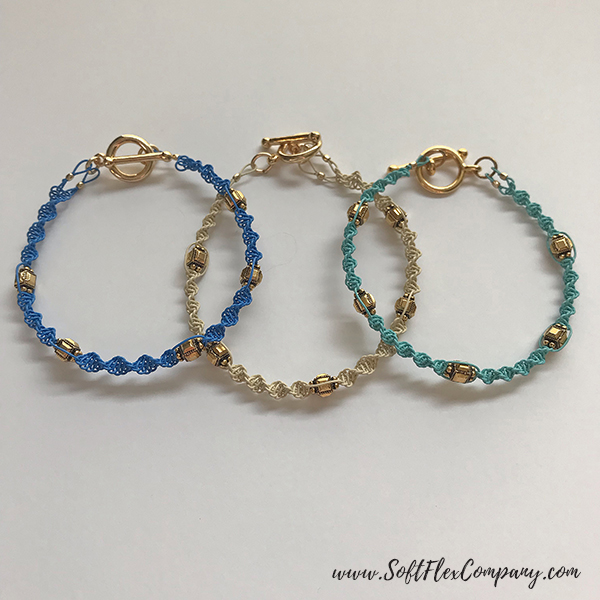 The tools Kristen uses in this video are Soft Flex Professional Flush Cutters, Magical Crimping Pliers, and Chain Nose Pliers.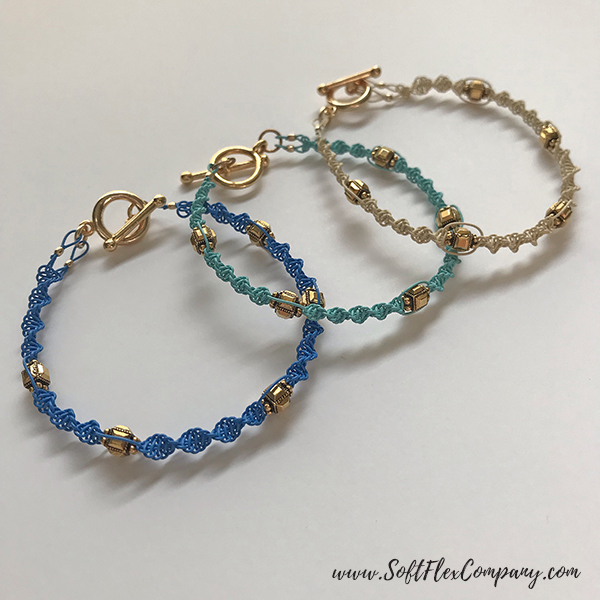 Our Mini Macramé Boards are so fun. The notches along the board are great for holding your wire in place as you weave or knot your design. The Mini Macramé Board's soft edges grip the wire and keep it where you want it. If you are a little rough on the board, it has a little 'self-healing' action and any gaps in the notches fade over time.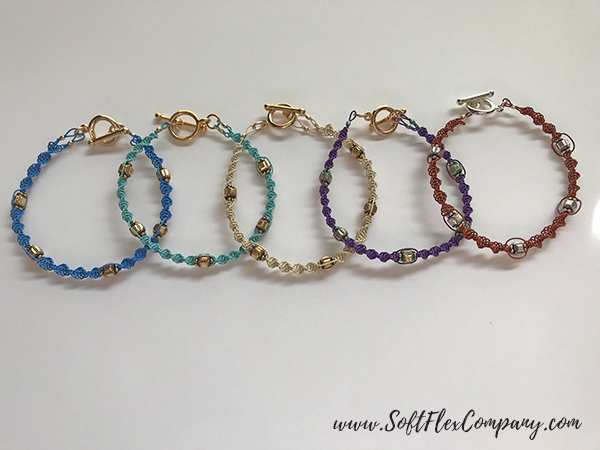 Note your calendars for Mondays. Free Spirit Beading airs on Mondays at 12:00pm PST on our YouTube channel. If you watch live, you can interact with Kristen and she will answer any questions you might have about bead stringing or art in general. If you miss her and have questions, you can always email her.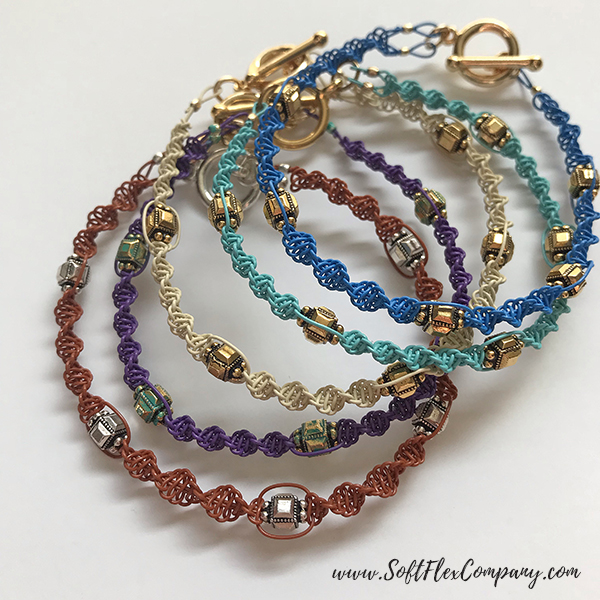 Live Design Challenge: Jesse James Beads Magical Mystery Box
What a fun visitor! Sarah James came to our office. Sarah is from Jesse James Beads. Jesse James Beads is located in Bethlehem, Pennsylvania. She is in town for The Whole Bead Show. She arrived early and stayed the night in San Francisco and then came to visit us in Sonoma. She brought us a Magical Mystery Bead Box to open.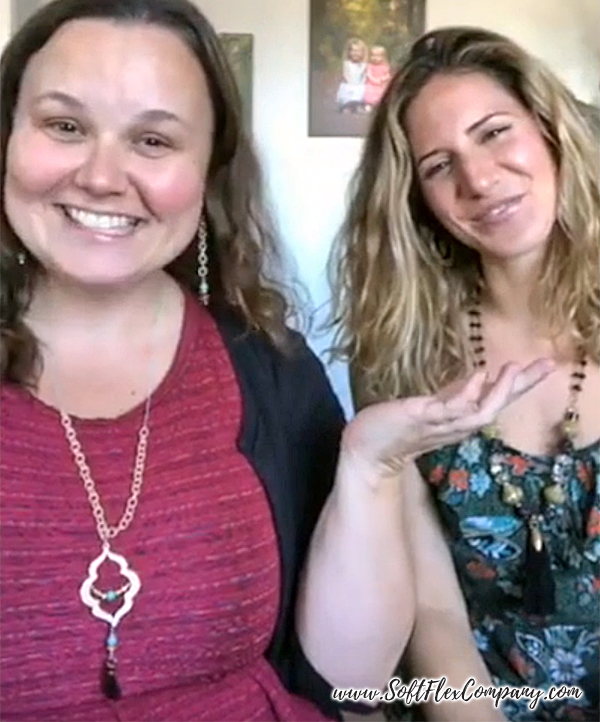 Magical Mystery Bead Boxes are a subscription based box service from Jesse James Beads. The boxes are absolutely loaded with goodies. The contents of the box are exclusive. You will not find them on the Jesse James Beads website. You are getting incredible beads for an incredible value.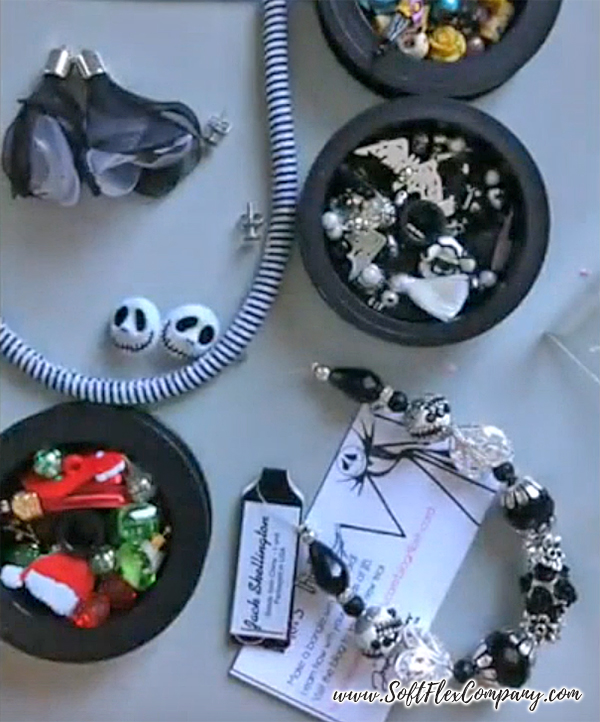 If you would like to subscribe and get a mystery box, follow these links:
Magical Mystery Bead Box - 3 Month Subscription.
Magical Mystery Bead Box - 6 Month Subscription.
Magical Mystery Bead Box - 12 Month Subscription.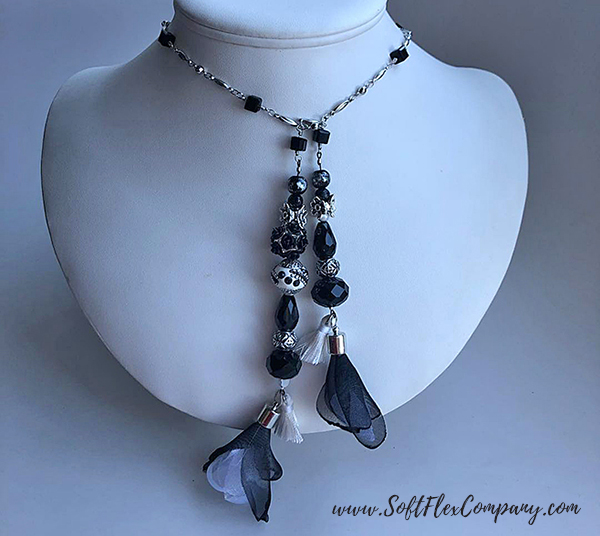 This Magical Mystery Bead Box was a delectable mix of goodies based on the Nightmare Before Christmas. Jesse James Beads has a Disney license. There are elements from the movie in the box. The box had Skellington skulls, fiber cord, tassels, and oh so many beads. Sally, Jack Skellington's love interest in the movie is even in the box. Sally is hand-dyed and so beautiful. If you love Halloween Town, you will adore this collection. If you lean more toward Christmas Town – this box has some beads from there too! Definitely a must have for fans of the movie.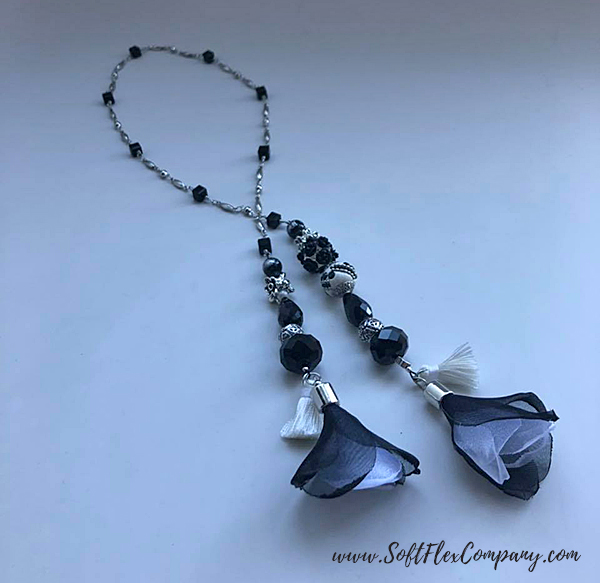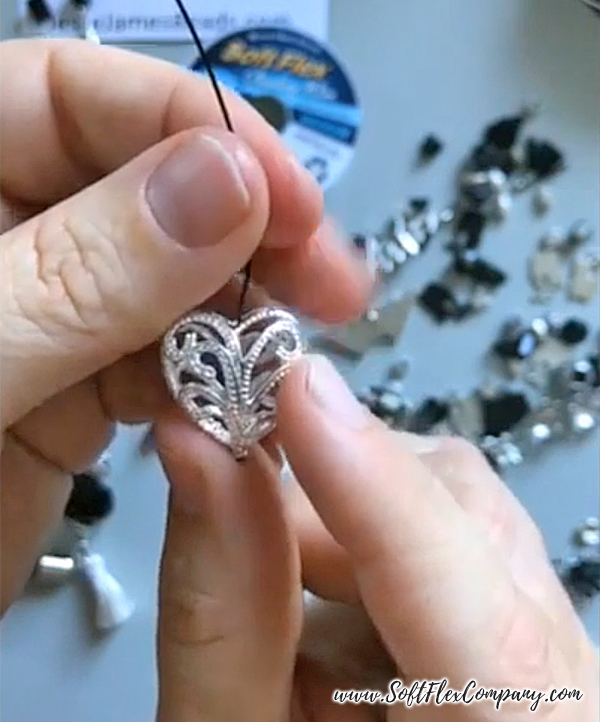 Sara's earrings are to die for! So simple and easy to make, but they are beautiful.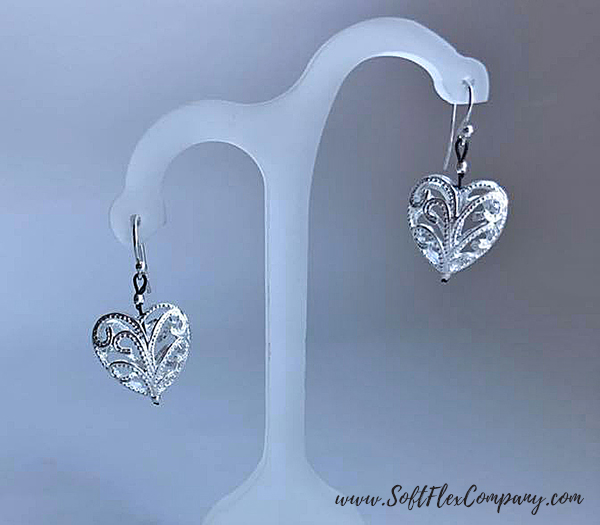 Sarah James played with our Magical Crimping Pliers. It was the first time she had ever used them. She crimped her first bead perfectly. She made it look so easy. Sarah did another first for us. She made earrings with her Magical Mystery Bead Box. This was the first time a store participated with us in person during a design challenge – at our office, no less! We had a lot of fun.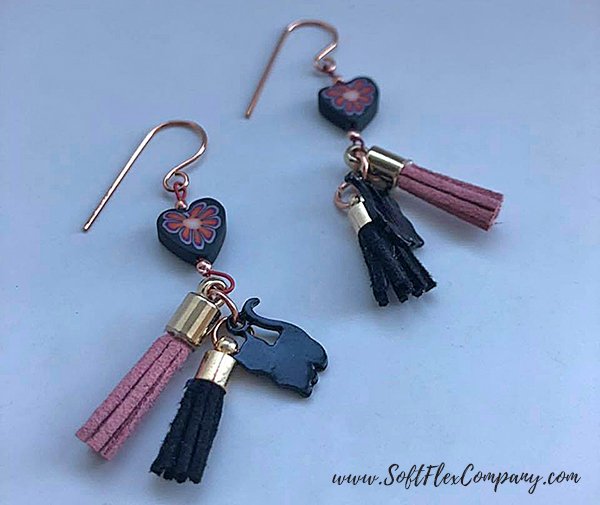 Tuesday Tut With Nealay Patel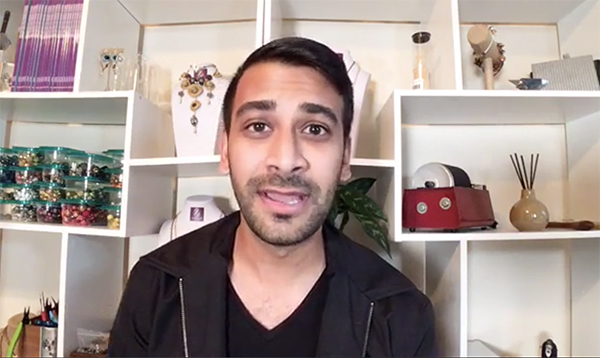 Nealay Patel is a supremely talented jewelry designer. We love his jewelry. He is a great friend and we are always amazed at his work. He hosts Tuesday Tuts on his Facebook page. They are a fun watch and he is a great teacher. He explores jewelry. He drafts his designs and then finishes them. It is wonderful to watch his brain work.
This Tuesday Tut, he called for a vote on which Soft Flex Trios to use for his design. Autmun Spice Trios won the vote. He crafted a fantastic necklace using the fall themed Trios.
Make sure you watch his videos and comment.
How to Make Jewelry with Sara Oehler: Triple Loop Earrings
Finally, Sara created a quick and helpful video instructing how to make Triple Loop earrings from her Soft Flex Earring Projects Booklet.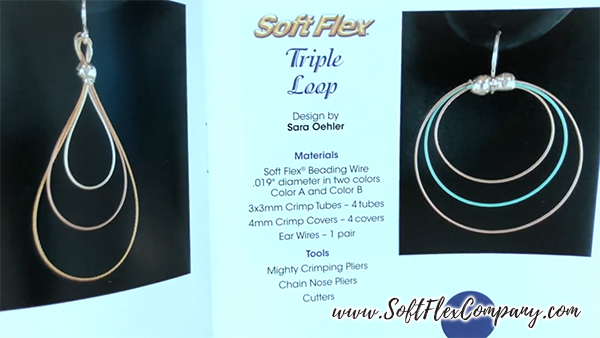 Sara shows you how to use the ruler template in the book to measure your wire prior to creating your design. The book includes a bead size chart, the ruler, and a ton of information about Soft Flex Wire. If you are a beginner beader, this booklet is a fantastic asset and the projects inside are easy to follow and create.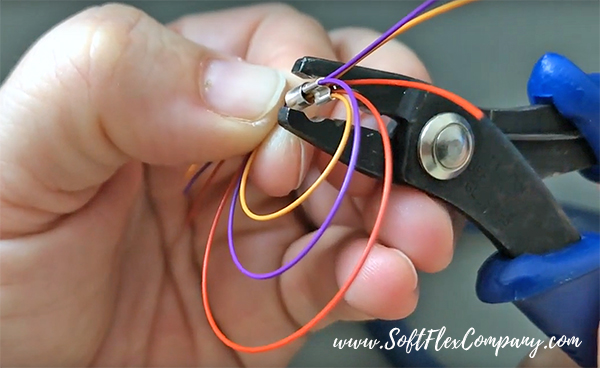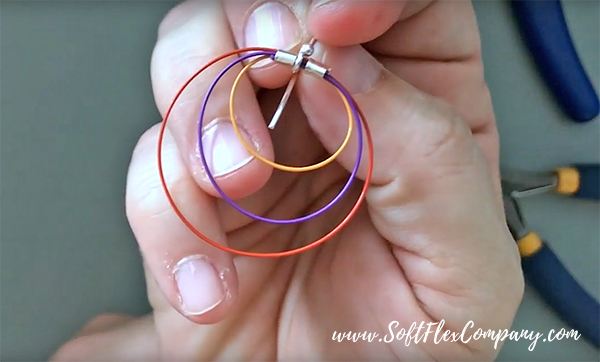 If you live in the Bay Area, make sure you visit us in Oakland at The Whole Bead Show. If you want to visit our gallery, find more information on our gallery page.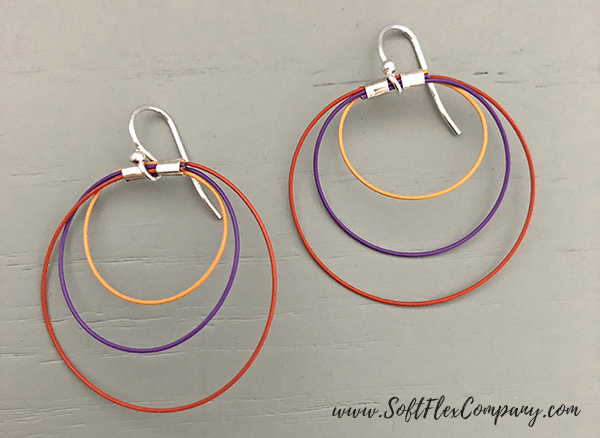 Join our Facebook group – VIB. Stay in the know. Stay up to date. From our bead shows to our video shows and sales, you can stay in touch with us. The community is full of artistic and helpful beaders and crafty people. Inspire and be inspired. Share your pictures and get the beading bug from others!
Visit the Soft Flex Company YouTube Channel!
---
Blog contributor Thomas Soles is the Trade Show Coordinator for Soft Flex Company. His favorite stones are Lapis and Pietersite. His favorite hobby is day dreaming. And his favorite mustache is Tom Selleck's. As you can see, he has a healthy (or possibly unhealthy) sense of humor. You can write to him at Thomas@SoftFlexCompany.com