It has been a busy month! Our calendars have been so full that we have hardly had time to finish our Christmas shopping and decorating. No silent nights for us this December! If you wish you had some cheerful inspiration, we want to guide your sleigh tonight! We have some homemade ornament ideas and a fabulous beaded Christmas garland you will love. We have Christmas jewelry that is perfect for the season and inspirational for year 'round ideas. Make some gifts or just make a moment for 'me' time! Let's make the holidays merry and bright!

It is getting late in the month, but there is still time to make your own homemade Christmas decorations. There is nothing better than a lovingly crafted homemade ornament hanging from the tree. Why buy bland store bought decorations when you can add some magic with your own Christmas garland and beaded accents? If you are still getting gifts for loved ones, making your own jewelry is a great gift idea! DIY jewelry is as easy to make as it is elegant. Give the gift of jewelry!
This week, Kristen showed us how to make a Christmas garland with beautiful beads and our economy priced beading wire. Econoflex is our hobby and craft wire. It is not as soft and flexible as our professional beading wire, but it is perfect for hobby arts and crafts. This garland looks expensive but it won't hurt your wallet! Sara spent time doing her favorite thing, making Christmas ornaments with beads and Craft Wire. Christmas time is the perfect excuse for letting your creativity go wild! The season is the reason to break out your beads and finish some wire working projects. Kay, from Star's Beads, showed us how to make some gorgeous jewelry with lampwork beads. If you ever want to get out of a rut and let your imagination ignite, spend an hour with Kay. She has some stunning jewelry demonstrations! Finally, we checked out Orchid and Opal's finished December jewelry. Gina is a talented designer and she has some fabulous jewelry. She shares her jewelry and discusses the shapes and colors she used. She has some great designs for festive Christmas jewelry and she has some wonderful necklaces that would be perfect for Hanukkah - it is never too early to make jewelry for the next Festival of Lights!
8x3mm Assorted Color Czech Glass Mini Dagger Bundle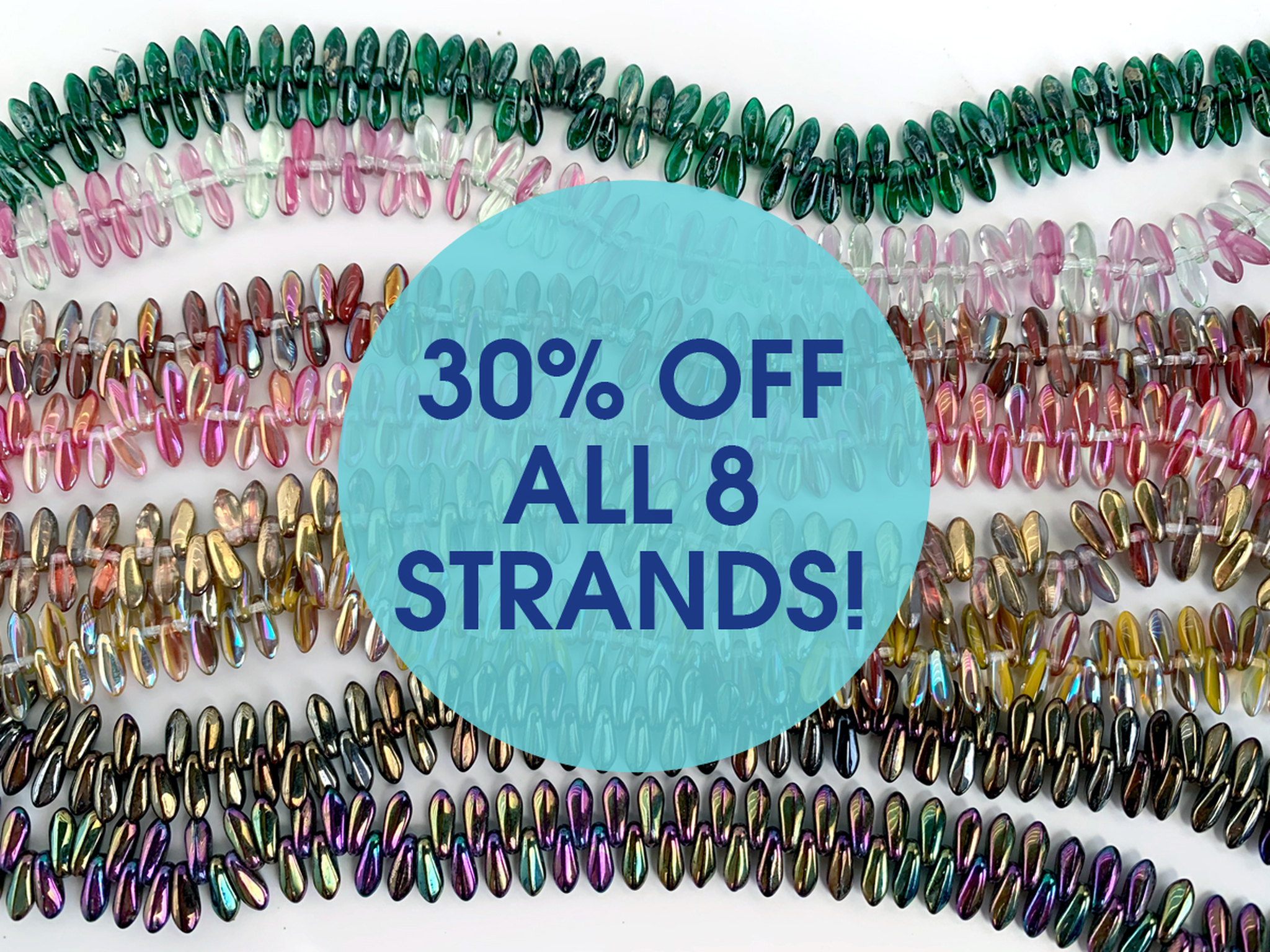 Buy a bundle and save!
Do you love vibrant colors and upbeat jewelry? Czech Glass Beads are a delight. Czech Glass Bead Strands are beautiful and come in the most wonderful shapes and sizes. Add a unique bead to your next DIY necklace as a pendant. A strand of Czech Glass can be turned into a beautiful bracelet without any extra additions. You can make a cute pair of earrings with Soft Flex Beading Wire and a single bead or three. You can mix and match with other Czech Glass colors and make jewelry that celebrates a holiday or moment in time. Czech Glass is playful, inexpensive, and slightly exotic - give your jewelry an accent of your personality!
Some of the most amazing glass beads come from the Czech Republic. An entire strand of our Czech Glass Beads will produce at least a bracelet. Don't be scared to mix and match a few different styles to make a design that is a one-of-a-kind piece.
Jewelry Making Videos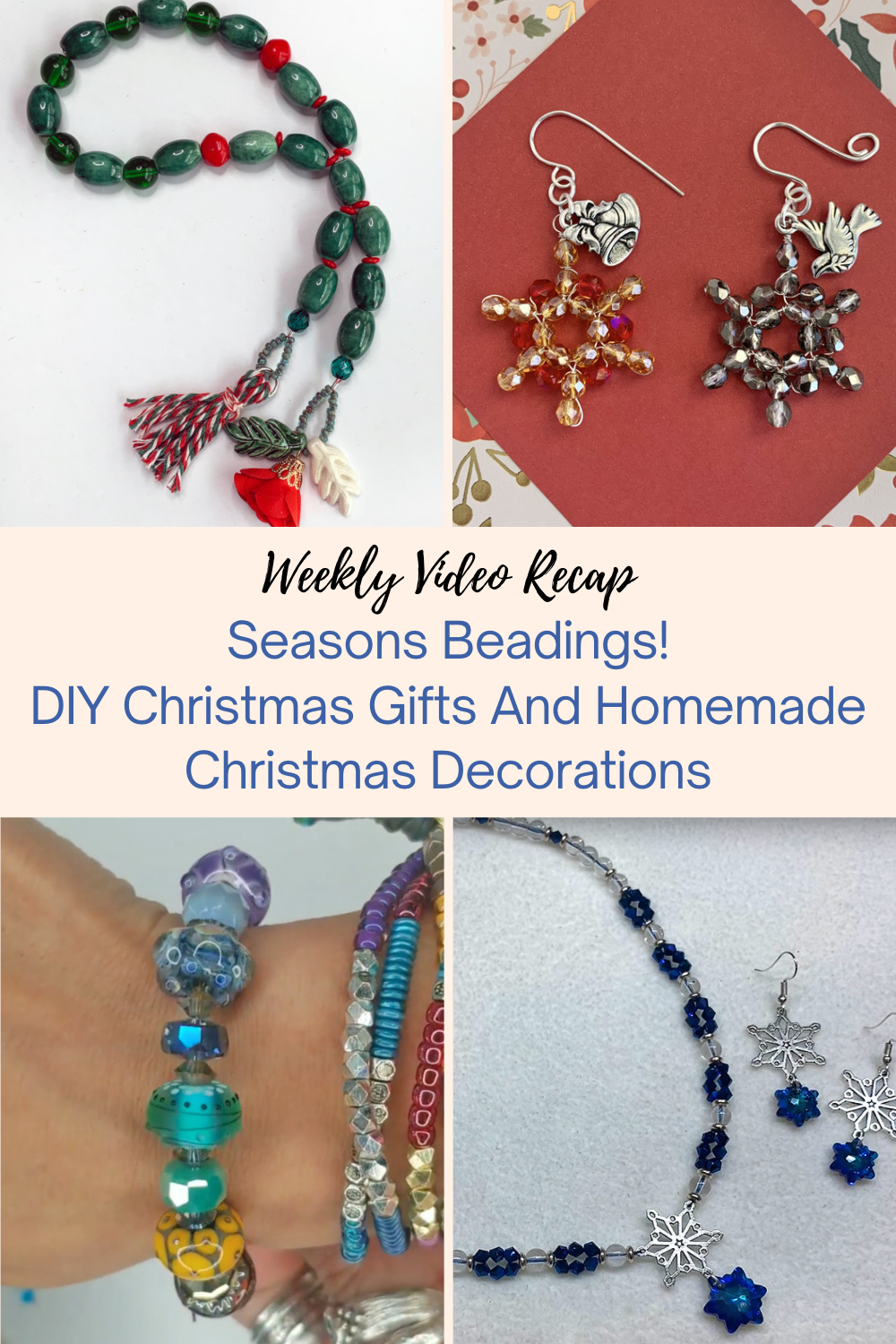 Follow Us On TikTok And Instagram - Learn How To Craft and Make Jewelry In Just Minutes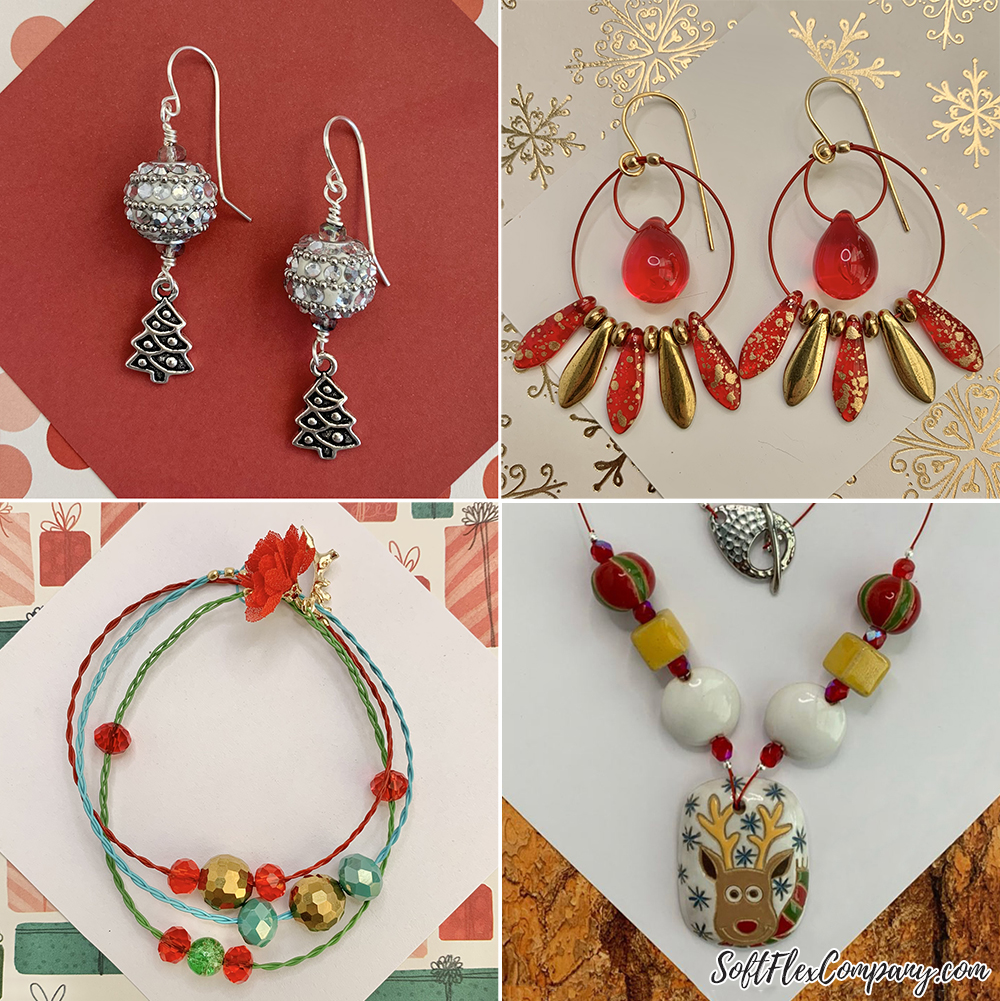 Follow us on the web! Our social media sites are loaded with instructional jewelry making videos YouTube and Facebook have a ton of long form videos that will teach you how to make jewelry. You will find in depth discussions on how to use your tools and finish your jewelry on those channels. Our Instagram page and [email protected] will teach you how to make jewelry in under a minute. Smash that learning curve and learn a new technique at lightning speed. Instagram Reels and TikTok are great tools for learning something new or finding quick inspiration. If your creativity needs a quick cup of coffee, make sure you visit us for a much needed jolt of crafting caffeine!
Check out our 30 second jewelry tutorials on Soft Flex Company's Instagram Reels! Master a new technique in minutes. These videos move quick but are easy to follow. You will get a sense of how to use your tools and finish your crimps securely. If you need more assistance, make sure you check out our YouTube catalog for deeper dives into jewelry making education. Stand on the shoulders of giants and enhance your jewelry making knowledge in a flash!
Got a minute? Follow us on the Soft Flex TikTok Page! Learn how to make jewelry with a fun soundtrack. Sara is here to show you how to make something amazing in just a minute. This is a great quickie if you need the basics. You can always follow up with more in depth videos on our YouTube channel if you need extra help. Sara has ideas for bead stringing, wire wrapping, and so much more. Learn from a jewelry designer pro at the pace you choose!
How To Make A Beaded Christmas Garland
Want to know how to make your Christmas tree look like a million bucks? We suggest giving it some bling! On Monday's episode of Free Spirit Beading, our creative elf, Kristen, showed us how to make a Christmas garland with beads and tassels. This is a super simple project. Best of all, you do not need to spend a lot of money to make your garland look like it cost a fortune. Kristen strung her garland with our economy wire - Econoflex. You can string your garland on Soft Flex Beading Wire, if you don't have any Econoflex on hand. But you will definitely save money by using our economy option.
From, Kristen:
I love the bead garland trend. I decided to give it a try with our new ceramic barrel beads combined with Czech glass bead mix to create some festive "jewelry for your home"! Since the ceramic beads are a bit heavier than the wood beads you generally see I shortened the design. You can draping this garland in a bowl or tray, hang it on a doorknob, drape over a vase. Get creative!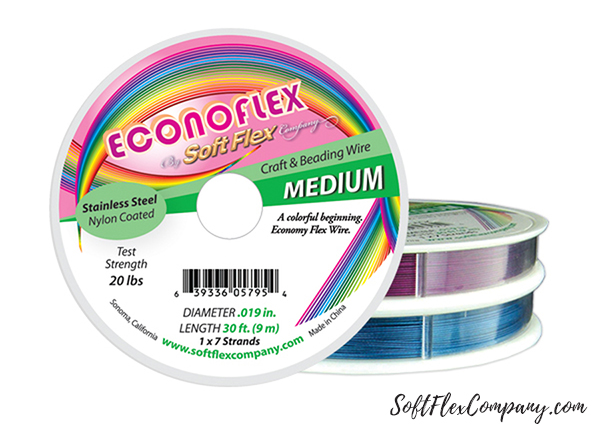 Econoflex Wire is our budget line that is made specifically for hobby arts and crafts projects. We wanted to share a colorful wire for hobbies that did not cost an arm and a leg. This wire is not nearly as supple, strong or flexible as our bead stringing wire, but it is perfect for stringing decorations or projects where drape is not a consideration. It is perfect for beaded lampshades, homemade Christmas decorations, and more. Econoflex is great for model makers that want a wire that looks like cabling or electrical lines for a small town or Christmas village. This wire is perfect for beginner beaders that want to practice with a wire, but not use a professional beading wire until they are proficient with stringing and finishing a design. It makes a great gift for a new beader in the family!.
Econoflex Wire is a lead-free beading wire for beginners, crafters and price conscious hobbyists. Econoflex Wire is 7 strands of woven stainless steel wire, coated in nylon. It is available in 7 designer colors in addition to Steel Grey. It is available in 3 diameters: .010, .014, and .019.
12x15mm Assorted Colors Ceramic Barrels
Beads
Econoflex Hobby Beading Wire
2x2mm Crimp Tubes
Magical Crimping Pliers
Cutters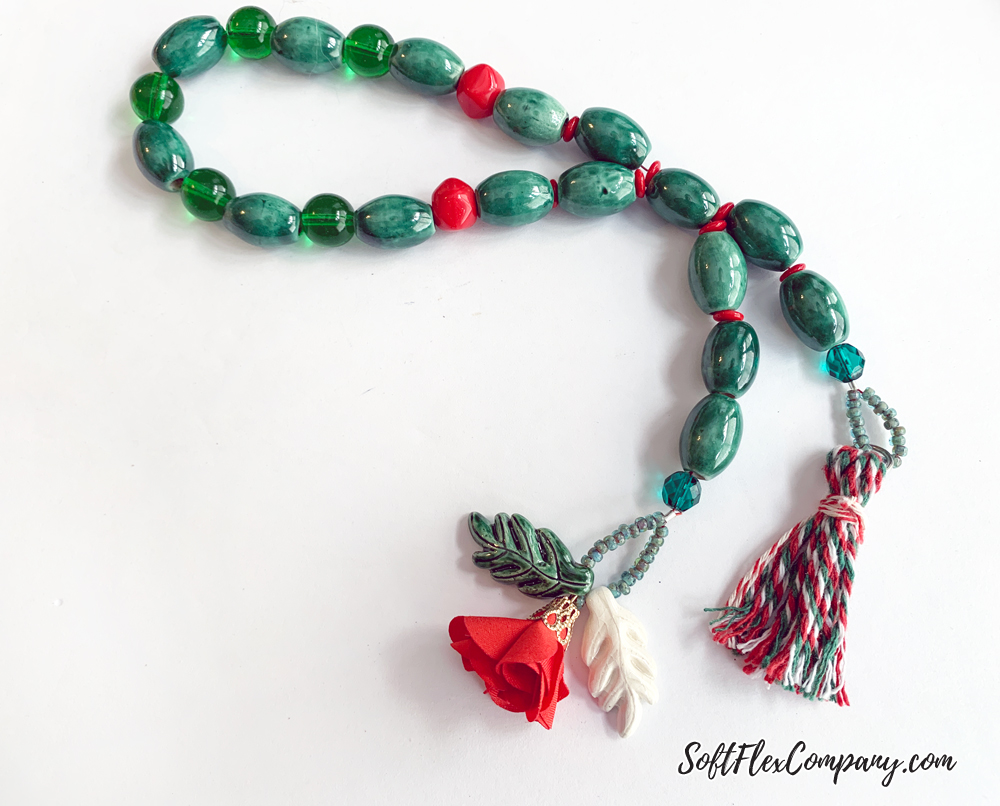 How To Make Colorful Beaded Homemade Christmas Ornaments
Christmas is the best time of the year. Everybody is a little more relaxed. Everybody is a little friendlier. Our houses are warm and the chill outside is invigorating. It is the perfect time for staying inside and making some handmade gifts. Every Christmas, Sara creates some wonderful new handmade ornaments for her friends and family. If you want to learn how to wire wrap ornaments, make a napkin ring or string an icicle up - she is an invaluable resource. This Christmas elf knows how to make some holiday magic! This week, Sara took some quality time to share some homemade ornament ideas with our community on our social media sites. She used Craft Wire to shape some stunning Czech Glass Beads into gorgeous shapes for her tree. Imagine the warm glow of Christmas lights through a stunning Czech bead! She also shared some previous ornament projects she loved. This video is full of good cheer!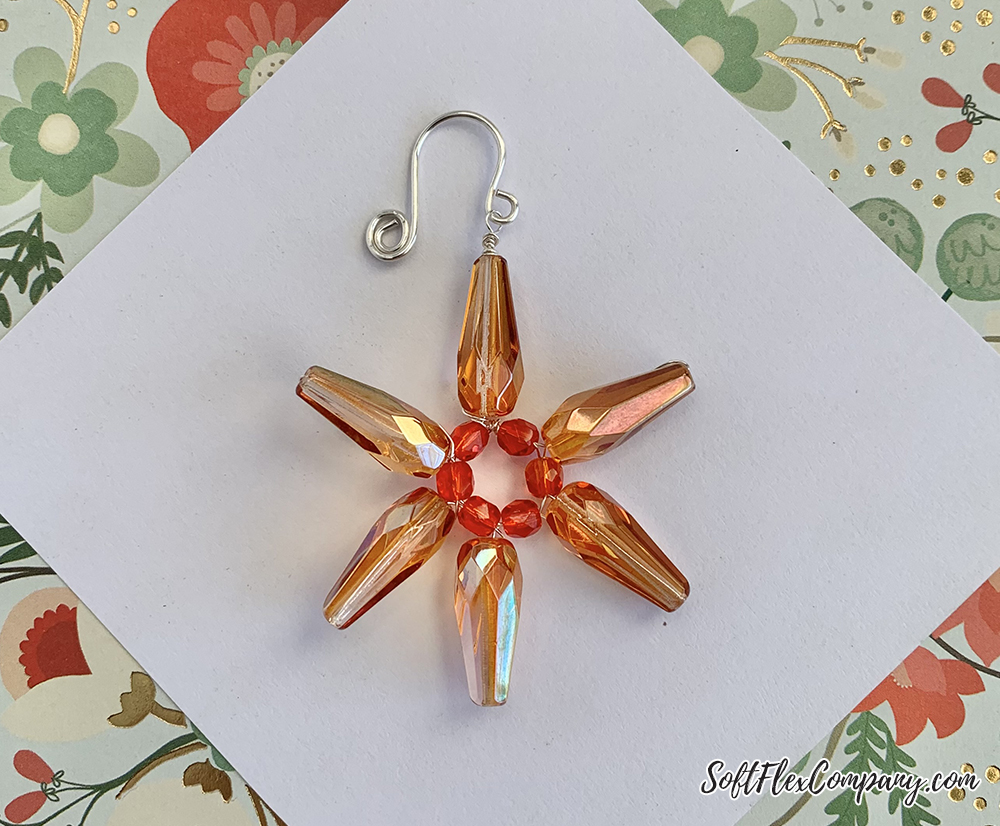 You might think your homemade ornaments don't look that great when you first start making them. But, here is the fun thing - handmade decorations are not supposed to be perfect! Nobody expects them to be rigid and full of straight lines. Homemade crafts are meant to have bumps and flaws. It gives them an organic and well loved look. If your first homemade garland or ornament is not perfect, don't sweat it! Every little blemish and bruise gives your crafts character!
Czech Glass Beads
Beads
Craft Wire
Charms
Ear Wires
Wire Looping Tool
Nylon Jaw Pliers
Chain Nose Pliers
Round Nose Pliers
Wire Whacker
Bead Nipper (Cutters)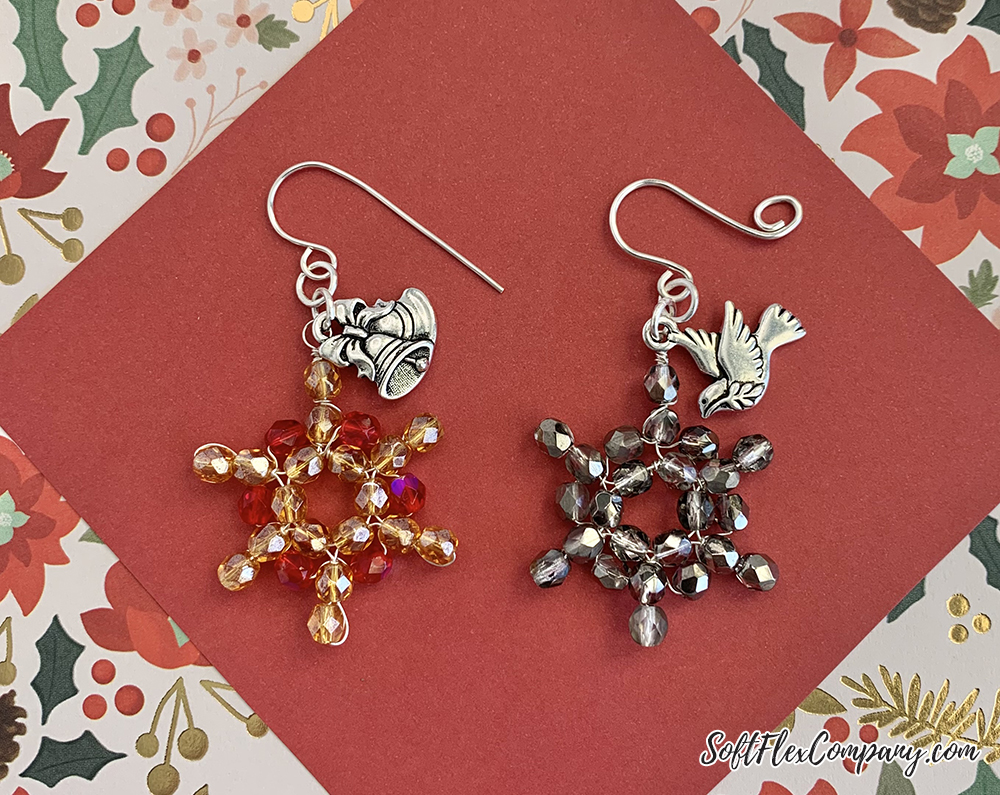 Take A Beading Break With Kay From Star's Beads
Kay is a good friend of the Soft Flex family. She is a talented jewelry designer and co-owner of Star's Beads. We met Kay on the road. We traveled in similar circles for decades. We set our booth up at the same shows as she did. We got to watch her business grow. And we saw her start a family. When COVID hit, Kay faced the challenge of maintaining a brick and mortar store during the pandemic. She considered her options and decided that moving to the digital realm was the best option. Her store is amazing as ever and you do not even have to live nearby, anymore. Check her out online and support her small business. Small businesses are helmed by passionate people that care about the products they sell. Kay store is full of exceptional products and she is there to educate you on how best to use the items she sells.
This week, we got an early Christmas treat. Kay showed us a stunning collection of lampwork beads. After seeing the beautiful colors and shapes, she gives us a fun jewelry demonstration. Want to learn how to make a bracelet with lampwork beads? She strings an asymmetrical bracelet that comes together beautifully. If you are careful to put the same colors and shapes together in a symmetrical pattern, see how fun it is to break the rules! If you enjoy this video, make sure you check out Kay's links!
Join Kay for Bead with Me!
Need something to do? Do something creative! Check out Kay's new series Bead with Me to get you inspired. Get free video tutorials, design tips, and product highlights to keep you creating!
Bead with Me is a LIVE broadcast designed to offer inspiration with free video tutorials, guest artists, project tips, product highlights plus custom kits and care packages to make your designs uniquely you!
Airing Monday thru Thursday on FB Live
Visit Kay's links:
Star's Beads
Star's Clasps
Facebook
Pinterest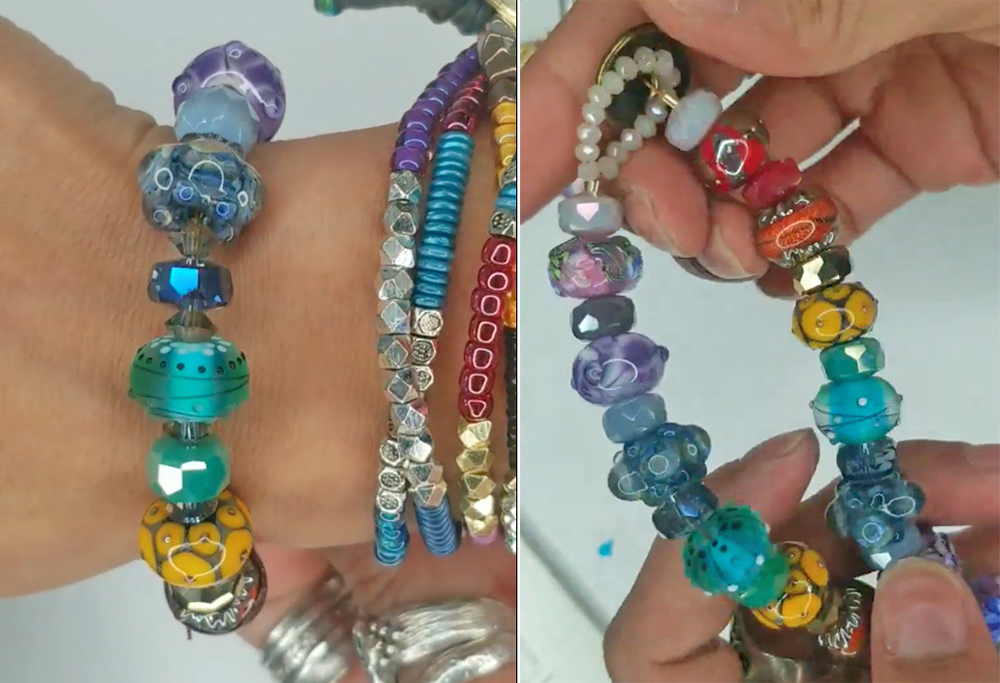 Orchid And Opal's Finished December Jewelry - Festive Christmas And Hanukkah Colors
Gina, from Orchid and Opal Jewelry and Beads, gave us a fun Christmas present! She showed off the finished jewelry she made from her Bargain Bead Box and BeadingSchool Academy subscription box. She gives detailed descriptions on each of her finished jewelry pieces. She describes what she used for each design and why she made the design choices she did. This is an incredible study on finished jewelry design. She lets you know why something is eye catching and pleasing and how to give a jewelry design life and vibrance. You can get some real pointers and tips for technique and aesthetics in this video.
We have always promoted working with color when you string your beads. Gina discusses one of our favorite color options. If you use a color wire through a translucent bead, it gives that bead a unique look as it radiates the color of the wire through the bead. Gina gave her clear beads some extra pop with Dark Blue Lapis color Soft Flex Beading Wire.
Absolutely gorgeous jewelry in this video. Gina has an icy collection of silver, white, and blue that would look amazing for Hanukkah or Christmas. She has festive green and gold designs and more. Make sure you check this fun channel out!
From Gina:
Hey beautiful! It's Gina. In today's video I will show you the finished jewelry pieces I've made from the recent Bargain Bead Box, BeadingSchool Academy, and more! You will see a mix of gemstone and glass beads, put together by means of a variety of different techniques, including: bead weaving, bezeling, and stringing. Hopefully this video provides you with some ideas and inspiration in your own beading and jewelry making! Feel free to let me know what you've been up to in the comments below!
Find Orchid and Opal Jewelry and Beads on:
YouTube
Website
Facebook
Instagram
Pinterest
Patreon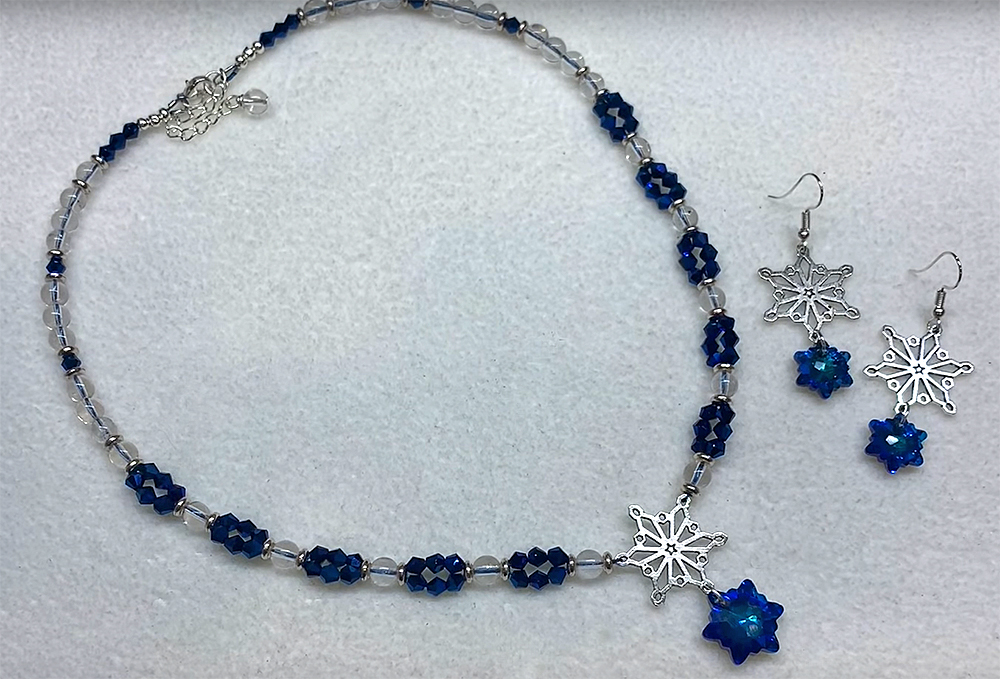 Join our Facebook group – VIB. Stay in the know. Stay up to date. From our bead shows to our video shows and sales, you can stay in touch with us. The community is full of artistic and helpful beaders and crafty people. Inspire and be inspired. Share your pictures and get the beading bug from others!
Visit the Soft Flex Company YouTube Channel!
---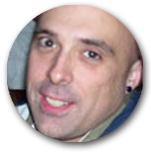 Blog contributor Thomas Soles loves Jazz Age writers and crunchy french fries. His favorite gemstones are Lapis and Pietersite. His favorite hobby is day dreaming. And his favorite mustache is Freddie Mercury's. As you can see, he has a healthy (or possibly unhealthy) sense of humor. You can write to him at [email protected]