On this week's episode of Free Spirit Beading, knit happens again! Learn how to create a red knitted wire bracelet with Soft Flex Beading Wire on a knitting spool and then make matching earrings for Valentine's Day style.

Soft Flex Wire Knitted Charm Bracelet and Earrings for Valentine's Day
Learn how to create a knitted bracelet with the cutest little sterling silver and jet black crystal heart charms and Soft Flex Beading Wire, .019/medium in red coral. Then, we'll make a matching pair of earrings. Red an black is a classic go-to combination for an elegant Valentine's Day style.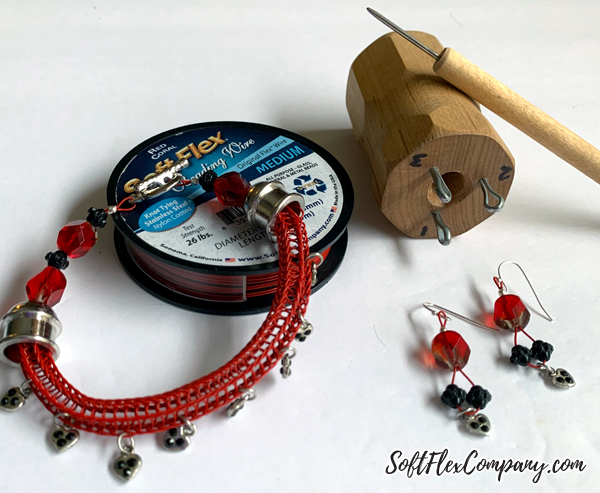 Supplies:
Soft Flex .019/Medium Diameter Wire in Red Coral
2x2mm Crimp Tubes in Sterling Silver
3-pin Knitting Spool
Sterling Silver Heart Charm with Faceted Austrian Crystal
4mm Jump Rings
6mm Black Beads
10mm Red Beads
Capital Cord End Caps in Rhodium Plated
Maker's Clasp in Rhodium Plated
Cutters
Crimping Pliers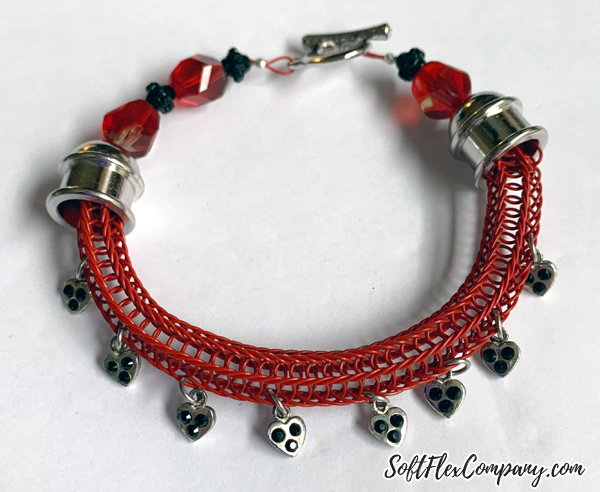 Knitting spools are wonderful for jewelry designs that use Soft Flex Beading Wire or Soft Flex Craft Wire. You can change your design by choosing a different knitting pattern style or size of spool and you can also use different colors, beading wire diameters or gauges of Soft Flex Craft Wire as well as thread, cord, yarn and leather. You can add beads and weave multiple different materials together to create unique, one-of-a-kind jewelry. The possibilities are endless!
Knitting jewelry with beads looks unique and feels special. This free knitted wire jewelry pattern is easy enough for a beginner to try using the techniques shown in this video. For this design, I used "knit style 3" on the knitting spool. For step by step pictures and more tips on this knitting pattern visit, our Jewelry Making Tips & Tricks section online.
Check out our how-to pages on the three styles of knit we like to work with:
Knit with Beading Wire - Style 1
Knit with Beading Wire - Style 2
Knit with Beading Wire - Style 3
Simply finish off your knitted design with cones or end caps and attach wire to your clasp with 2x2mm crimps and crimping pliers. I opted for Magical Crimping Pliers because I love the finished look of the crimp. Our favorite crimping pliers are now ergonomic! Repetitive motion can hurt over time. So can forceful pressure and awkward posturing. Regular tools do not compensate for this stress. Ergonomic handles are designed to reduce the possibility of injury and pain.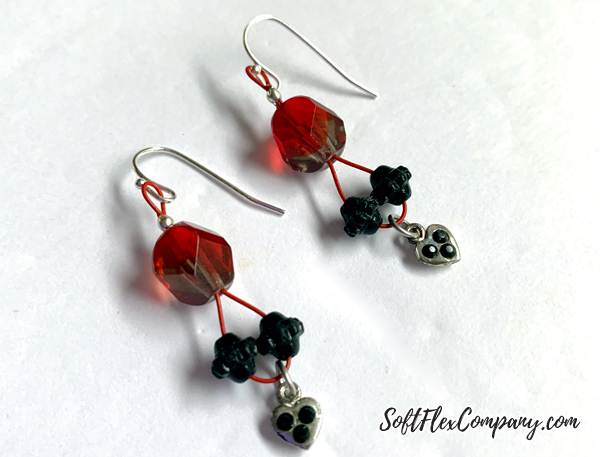 Lastly, we made a simple pair of red and black heart charm earrings - a match made in love!
If you love this project, you might like these projects that also use crystal charms.
Straight from the Heart Dangle Earrings
Find instructions for creating these earrings on our blog: Valentine's Day Cards, Gift Wrap and 3 Beading projects You will Love.
Extreme Silver Wrap Bracelet/Necklace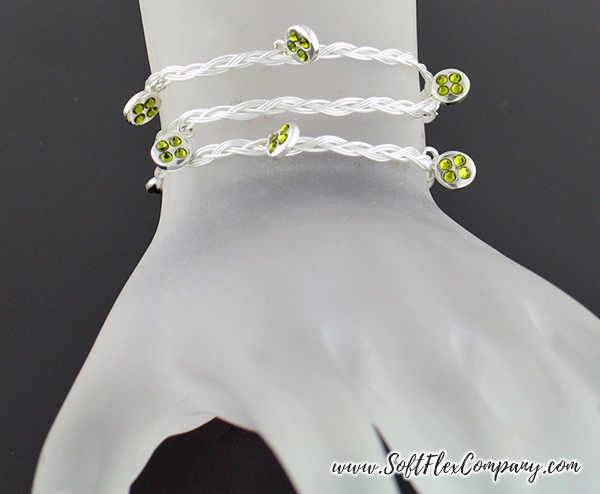 Find instructions for creating this design on our blog: 4 Alluring Jewelry Designs You Can Make With Our Trios Extreme Beading Wire Packs
Mystical Crystal Charm Bracelet
Find instructions for creating this design on our blog: 3 Jewelry Project Ideas Featuring Components
Join our Facebook group – VIB. Stay in the know. Stay up to date. From our bead shows to our video shows and sales, you can stay in touch with us. The community is full of artistic and helpful beaders and crafty people. Inspire and be inspired. Share your pictures and get the beading bug from others!
Visit the Soft Flex Company YouTube Channel!

---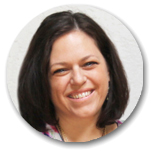 Kristen Fagan is the Website Graphic Designer and a Jewelry Making Educator for Soft Flex® Company. She is the co-author of Seed Bead Revolution, an artist and creativity guide. She currently lives in Arizona with her husband, their two sons and two dogs. When she's not painting, drawing or beading, she enjoys reading, yoga, exploring the outdoors and traveling. Her favorite stones are Opal, Turquoise, and Quartz and she can't bead without Bead Stoppers. You can email her at Kristen@softflexcompany.com or visit her Website | Facebook | Instagram