This week has been a busy blur of jewelry making and fun. How would you like to join us and watch some videos? We filmed some great stuff this time. Kristen showed us how she finishes her Viking Knit jewelry. Nealay designed a bracelet - something of a rarity for him. James wrapped things up when he opened our Tucson Sunset Design Kit. You are going to want to binge these videos if you love jewelry as much as we do! Grab some popcorn and let's go!

If you love knitted jewelry, you need to grab our new favorite tool, the Lazee Daizee Viking Knit Wire Weaving Tool. We recently added Lazee Daizee tools and a draw plate to our shelves. They are an absolute game changer for easy knitting. This week, Kristen showed us how she finishes her knitted jewelry. Nealay took some time to string a beautiful bracelet with Soft Flex Beading Wire and SilverSilk Capture Chain. James opened a themed mystery design kit. Our kits are an awesome buy. They are full of wire, beads, and components - everything you need to complete a bunch of jewelry, you just need basic tools.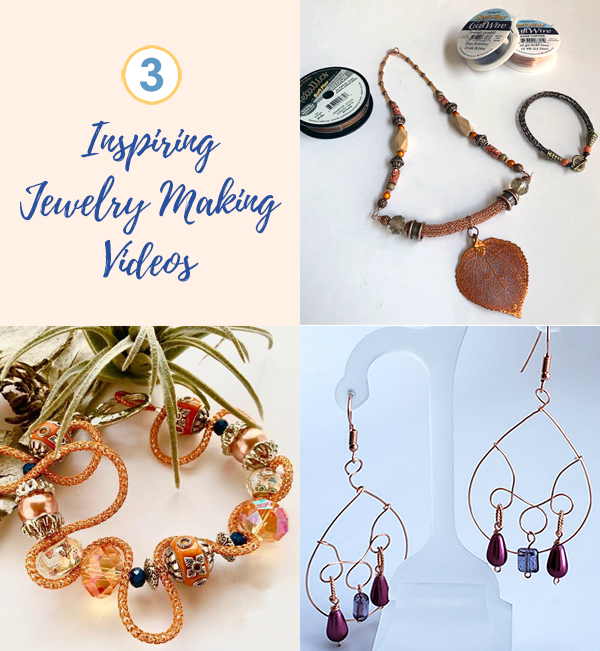 How To Finish A Viking Knit Jewelry Design

Kristen filmed another episode of Free Spirit Beading on Monday. She is live on Mondays at 12pm PST.
Kristen fell in love with the latest tool on our shelves - the Lazee Daizee Viking Knit Tool. She has created many designs with knitting spools, which have a similar finish to Viking Knit, but had never actually tried Viking Knit. This tool has made it so easy to create dense and complicated knitted designs, it is hard not to fall in love with it. She has spent some time with the tool for the last couple of episodes, getting her feet wet. This week, she showed us how she finishes her knitted jewelry.
Knitted jewelry can be a tiger to tackle, at first. If you are accustomed to stringing beads on a single strand of wire, knitted jewelry can look very complicated. If you could use some help in this department, this video is definitely worth a watch!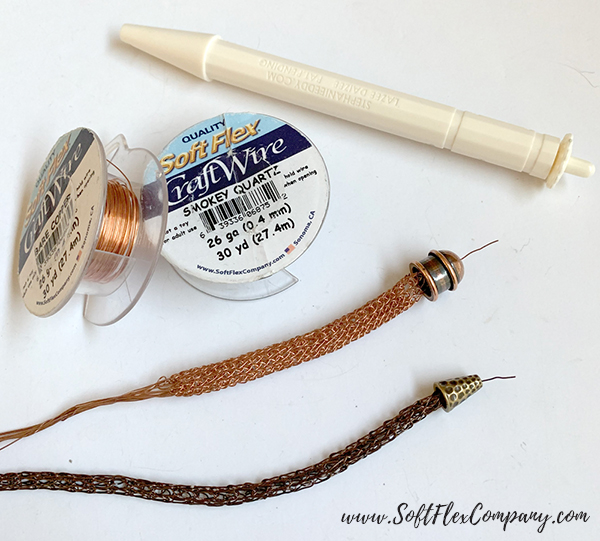 This week, Kristen showed us how to finish a bracelet and necklace. The two designs were created using different techniques. The bracelet was created using six loops on the Lazee Daizee and the necklace was created using all twelve loops on the Lazee Daizee. You can play with the wire and loops to create unique patterns. Instructions inside the Lazee Daizee make it super easy.
If you missed the last couple episodes of Free Spirit Beading, make sure you catch them. Kristen gives easy to follow lessons on how to create knitted designs with the Lazee Daizee Wire Weaving Tool.
Bracelet Supplies:
6.5" - 6 Loop Knit Piece Made with Lazee Daizee and 26 Ga Soft Flex Craft Wire in Smoky Quartz
12" - 22 or 20 Gauge Soft Flex Craft Wire in Smoky Quartz Color
2 - Hammered Cones Antique Brass Oxidized
Maker's Toggle Clasp Antique Brass Oxidized
2 - 6mm Round Beads
Cutters
Nylon Jaw Pliers
Round Nose Pliers
Chain Nose Pliers
Necklace Supplies:
3" - 12 Loop Knit Piece Made with Lazee Daizee and 26 Ga Soft Flex Craft Wire in Bare Copper
12" - 22 or 20 Gauge Soft Flex Craft Wire in Bare Copper
24" - Soft Flex Medium Beading Wire in Copper Color
2 - Capital Cord Ends Antique Copper
4 - 2x2mm Crimp Tubes
1 - Lobster Claw Clasp
30 - Firepolish Beads from Shades of Coral Design Kit
Mix of Beads from Wanderlust & Saraswati Bead Mixes
Mix of Copper Beads
Electro-Formed Aspen Leaf Pendant from Realm of the Goddess
Cutters
Magical Crimping Pliers
Nylon Jaw Pliers
Round Nose Pliers
Chain Nose Pliers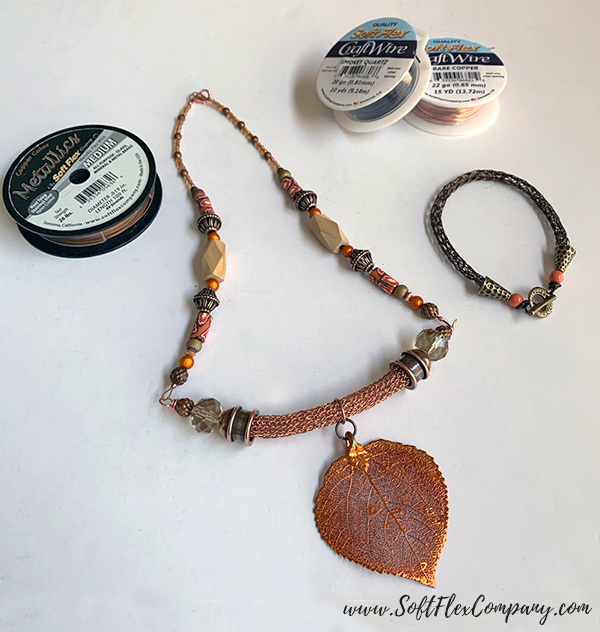 Kristen has an amazing eye for color. This jewelry set will be perfect for Fall. Make sure you stock your jewelry toolkit with plenty of color. We have a rainbow of Soft Flex Craft Wire and Beading Wire. We think wire should be flavorful and part of the design. Why hide your wire when you can expose it and make it an artistic element of jewelry designs?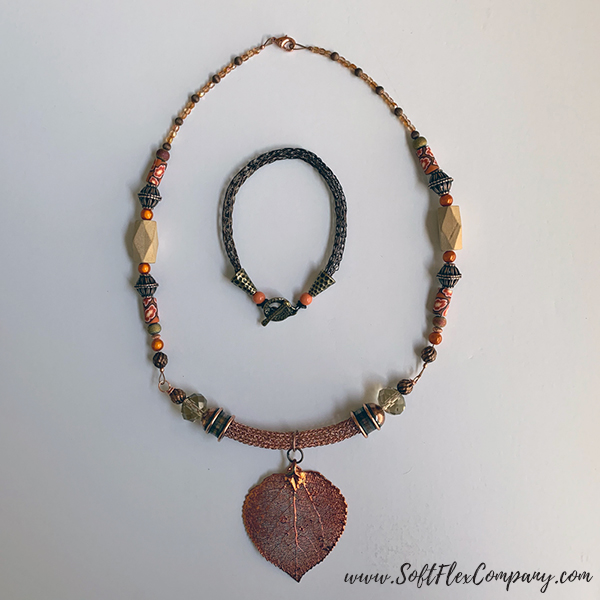 Make sure you catch Kristen live on YouTube on Mondays. She loves to answer your questions. If you join her during her show, you might even be able to direct the action. Tell Kristen what you would like to see her create. She is a talented artist and welcomes a challenge.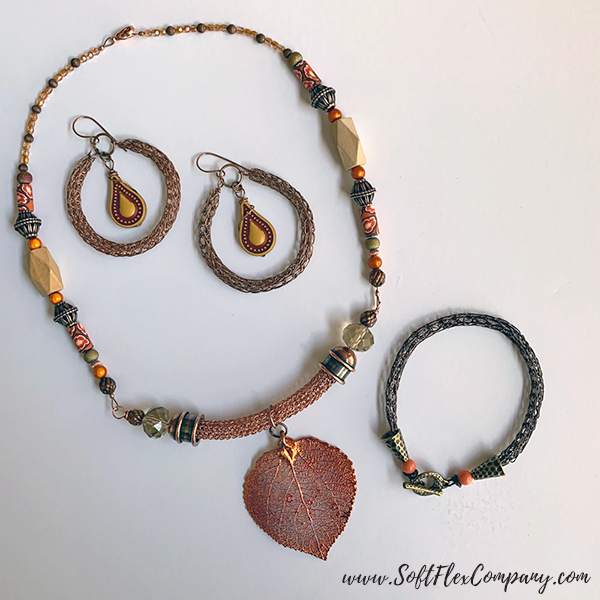 If you would like to make the earrings included in this stunning set, watch this video for step-by-step instructions!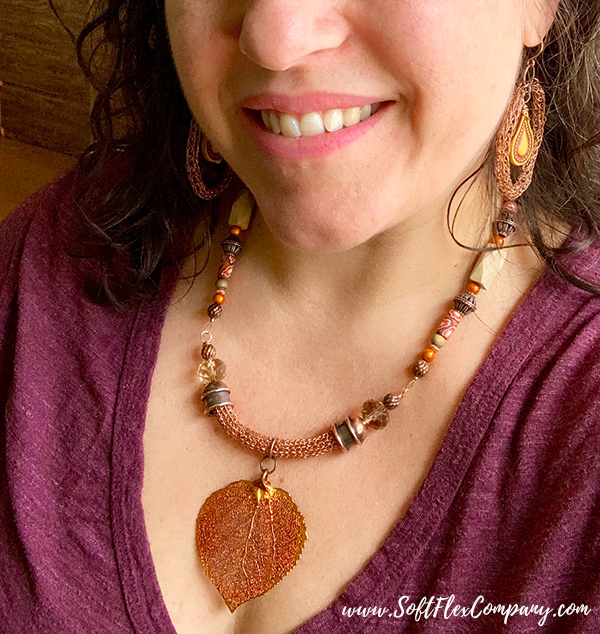 Simply Strung Bracelet with SilverSilk Capture Chain and Soft Flex Beading Wire

Nealay created a delicate and wonderful bracelet this week. Using SilverSilk Capture Chain, a collection of beads from Jesse James Beads, and Soft Flex Beading Wire, he put together a quick but gorgeous design. This video is quick but easy to follow. If you would like to add a similar piece to your colleciton, follow the supply links below.
Nealay is a talented jewelry designer. He is also the owner of the SilverSilk and More jewelry company. He is a thoughtful creator. He loves to sketch out his designs before he strings them. It is fun to watch his videos as you get an insight into his creative process.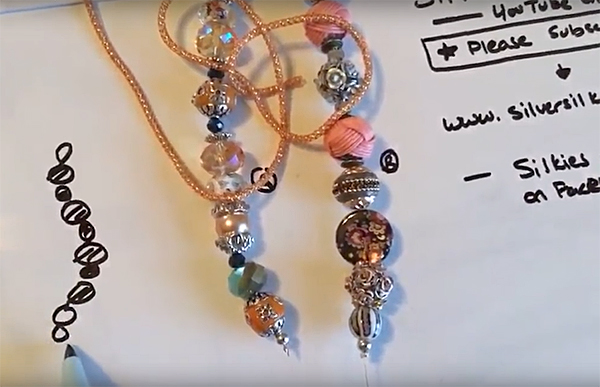 From Nealay:
In this design lesson, I'll make a quick sketch and then show you how to best execute the design. I'll be using some simple stringing methods and basic crimping techniques to construct my design and have a finished piece in minutes that you can do at home! Capture chain is going to be the best option for this design, and I'll explain why during class.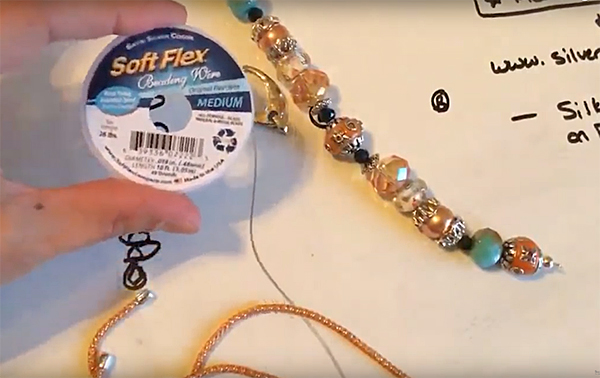 Supplies:
One Package of SilverSilk Capture Chain
.019 Soft Flex Beading Wire
2x2mm Soft Flex Crimp Tubes
Decorative Beads from Jesse James Beads
Clasp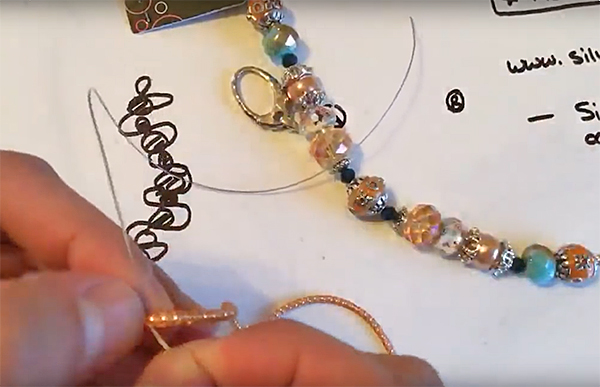 This was a fun video. Nealay loves to create necklaces and earrings. But he doesn't often design bracelets. If you want to see him create more, let him know! He loves to hear your feedback.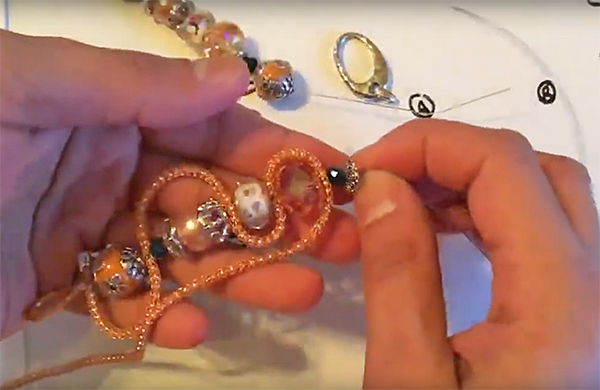 If you love Nealay's jewelry designs, make sure you visit this blog next week. We will be featuring a spotlight on Nealay. You are not going to want to miss it if you love the stunning jewelry components and chain of SilverSilk!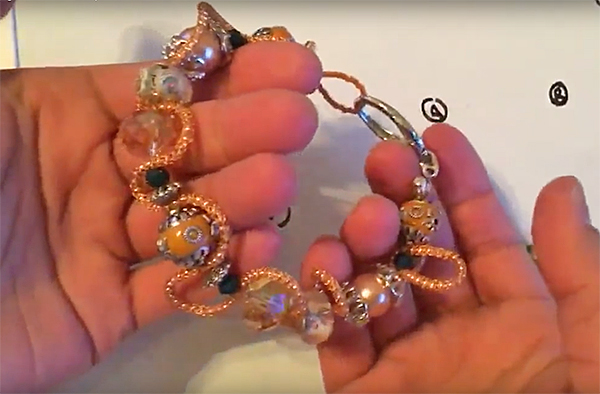 Join Nealay's exclusive Facebook group, The SilverSilk Silkies.
The SilverSilk Silkies are a dedicated group of makers that create and share their beautiful jewelry, made from SilverSilk and More. If you love SilverSilk, this is the hotspot to be and see what the world is creating and inventing with SilverSilk.
Posts and photos by members are encouraged, but only if they are appropriate and inspiring! You are welcome to share tips, ideas and musings but please keep it on topic to our page mission. I can't wait to see your creations!
YouTube created a new rule for live streaming and our friend Nealay Patel needs our help! Let's help him get to that magic 1,000 subscribers so he can once again stream live from YouTube and offer us his amazing Tuesday Tuts! Click here to subscribe to the SilverSilk and More YouTube Channel.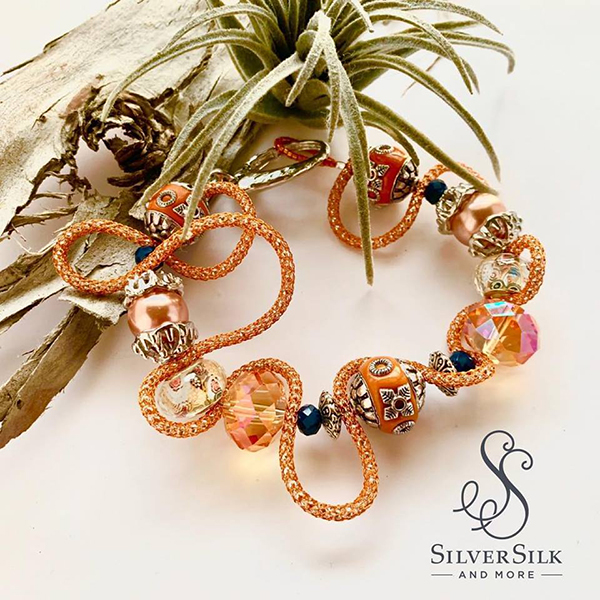 Creating Jewelry With The Tucson Sunset Design Kit
Have you purchased one of our mystery design kits yet? We think they are pretty gosh-darned special! Each kit contains enough components, wire and beads to create a bunch of jewelry. Each kit's contents are a mystery, which means you might be working outside your comfort level to create jewelry with it. Which is great if you want to flex those creative muscles!
Each month we offer a new and exciting theme. Sometimes we have obvious kits - Winter Wonderland and Cupid's Kiss may have been a little easy to figure out. But Neon Nights, that was a real curveball! The elements in there were 80s themed and the colors were striking and unique. It was likely our hardest kit to plot out. It is also one of the best rated kits as far as feedback. Difficult design choices turned out to make some explosively beautiful jewelry.

Supplies:
Beading Design Kits
Bead Mixes
Soft Flex Craft Wire
Nylon Jaw Pliers
LoopRite Looping Pliers
Bead Nipper
Round Nose Pliers
Bent Nose Pliers
Sara usually unboxes our design kits. She then creates a piece of jewelry with the items in the kit. She has been on maternity leave for a couple months now. So, we have grabbed some mystery guests to fill her spot until she gets back. Kristen has been a mystery guest. This time, James took up the challenge.
James joked that it should have been obvious that he would be opening the Tucson Sunset Design Kit to anybody that had purchased it. James is our resident Craft Wire expert. The fact that this kit contained two spools of Craft Wire was a pretty incriminating indicator that James was going to be the man for the job.
In the past, we created only a very limited supply of design kits. We have stepped up our inventory to allow more people to get the opportunity to grab the kit. If you hurry, we still have a limited group of Tucson Sunset Design Kits on the shelf.
If you purchase a kit and create jewelry with it, make sure you take pictures. You can post them on our Facebook group – VIB. This is a great place to show off your Soft Flex jewelry designs. Our community is lively and warm and always ready to offer help or tips. Posting your kit designs will also enter you into our giveaway. If your design is randomly selected at the end of the giveaway period, you will receive the next month's kit for free!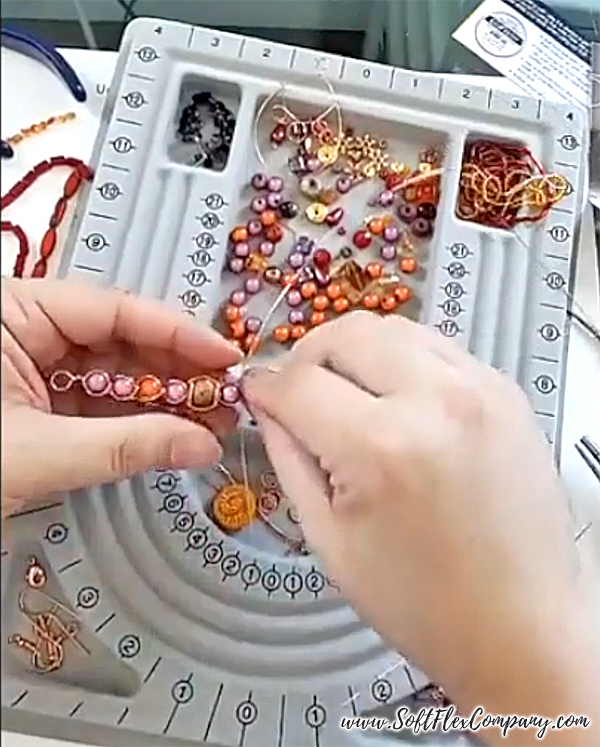 Check out our latest kit, the Unicorn Sparkles Design Kit. The Unicorn Sparkles Design Kit is a fanciful celebration of whimsy. Magical vibes are found in abundance in this kit full of mythical colors – sparkling silver, prismatic rainbows, mystical purple, and more! Create your own fairy-tale jewelry with this legendary design kit!
A guest host will be doing a live broadcast on the Soft Flex Facebook page, with the Unicorn Sparkles Design Kit, on Wednesday, August 28th at 3:30pm (PST).
Don't miss James' series on YouTube. He films an episode of Conversations in Wire that is uploaded every other Thursday. His videos are not live, but that does not mean you cannot connect with him. If you would like to pick his brain about his Craft Wire jewelry, make sure you join our Facebook group – VIB. James is quick to answer questions about the craft and has even taken suggestions for episodes.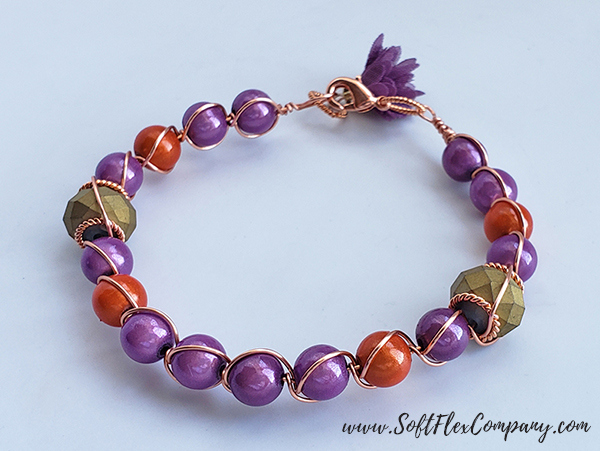 Join our Facebook group – VIB. Stay in the know. Stay up to date. From our bead shows to our video shows and sales, you can stay in touch with us. The community is full of artistic and helpful beaders and crafty people. Inspire and be inspired. Share your pictures and get the beading bug from others!

Visit the Soft Flex Company YouTube Channel!
---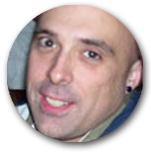 Blog contributor Thomas Soles loves Jazz Age writers and crunchy french fries. His favorite gemstones are Lapis and Pietersite. His favorite hobby is day dreaming. And his favorite mustache is Freddie Mercury's. As you can see, he has a healthy (or possibly unhealthy) sense of humor. You can write to him at Thomas@SoftFlexCompany.com