We have some amazing videos for you this week, jewelry lovers! Kristen designed a Wrap Around Knot Bracelet with Econoflex Hobby Beading Wire. James taught us how to use a Lazee Daizee Viking Knit Wire Weaving Tool to create a fun bracelet with Soft Flex Craft Wire.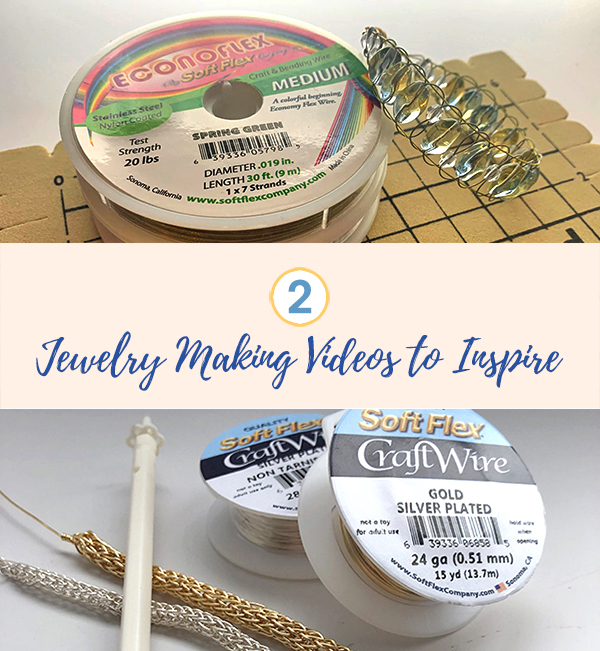 Kristen is so much fun to watch. She discussed how to make jewelry with our favorite craft and hobby wire and why you should include Econoflex and Pro Econoflex in your jewelry making kit. She was having such a blast creating her bracelet, she created another bracelet immediately after filming her episode. Don't worry – she took pictures!

James got to play with the newest tool on Soft Flex Company's shelves. The Lazee Daizee is a tool that makes Viking Knit easy and fast. If you thought Viking Knit was too complicated, this tool will change your mind. James shows you how to use it and how to finish your designs. His video is fantastic if you like Soft Flex Craft Wire and are interested in going beyond simple wire wrapping.
Wrap Around Knot Bracelet With Econoflex Wire
Kristen is back with another episode of Free Spirit Beading. Free Spirit Beading is a live beaded jewelry making series on YouTube. Free Spirit Beading airs on Mondays at 12:00pm PST. Kristen designed a bracelet she called the Wrap Around Knot Bracelet. She added that she does not actually knot the wire. The aesthetic of the bracelet lends a wrapped and knotted look. She used Econoflex Hobby Beading Wire and wrapped around beads and the edges of the bracelet wire to finish the look.
Kristen showed off a finished bracelet. The project she would be working on would be similar to the bracelet. She opted to use Spring Green Econoflex hobby beading wire for the outside of the bracelet. She used Steel Grey Econoflex for the wrapping. She also showed off a gold Pro Econoflex bracelet she designed with a knitting spool. If you would like to learn how to use a knitting spool, you should check out our YouTube knitting videos.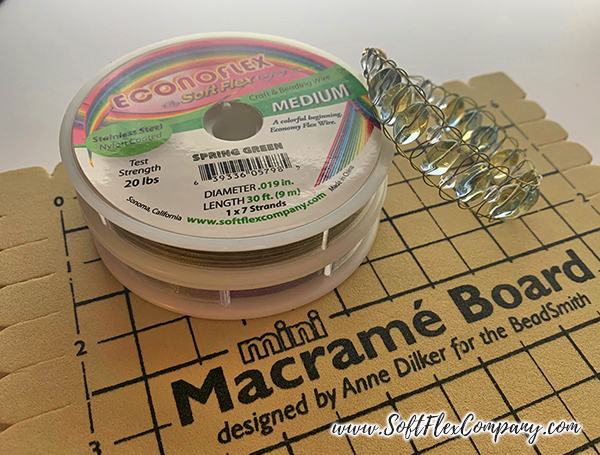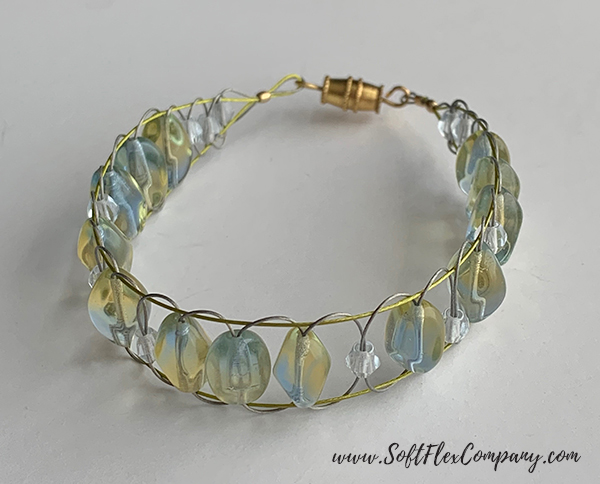 From Kristen:

Econoflex is a great wire for hobbies, art & crafts. Crafty projects that require a lot of wire at an affordable price and not as much flexibility as Soft Flex wire such as beaded curtains, beaded lampshades, model ships, wall hangings and crafty jewelry like macrame. It comes in a variety of jewel tone colors. Today, I share a wrap around knot technique using .010 Very Fine Econoflex in Black and .019 Medium Econoflex in Plum.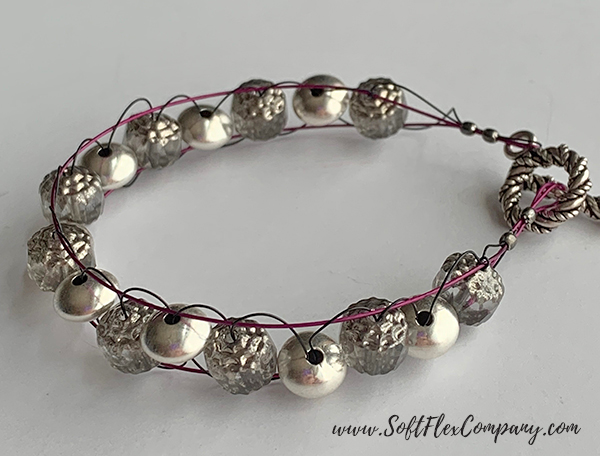 Supplies:

36" Strand of Econoflex .010 very fine hobby wire in Black
24" strand of Econoflex .019 medium hobby wire in Plum
9 - 8mm Cathedral Czech Glass Beads
8 - Metal Saucer Beads
4 - 2x2mm Crimp Tubes in Black Oxidized
Toggle Clasp
Mini Macramé Board
Magical Crimping Pliers
Cutter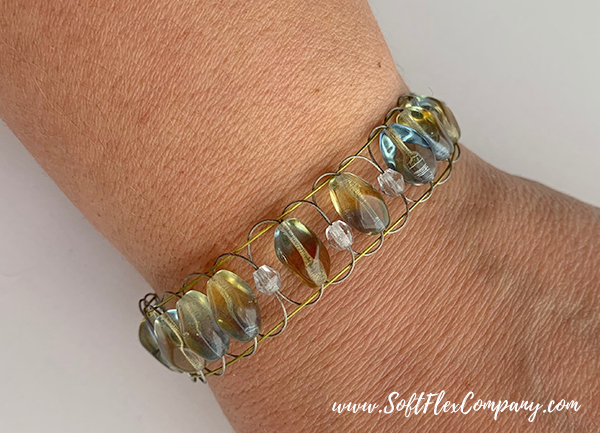 Kristen discussed our Econoflex Hobby Beading Wire. Econoflex is our economy minded craft and hobby wire. It is perfect for crafts around the home. It is also great for beginner beaders and it makes a great practice wire. Seasoned designers can still make use of the wire, but it does not have the drape and strength of our Soft Flex Beading Wire. Econoflex comes in a lush spectrum of shiny metallic colors. It looks wonderful on and off the spool.
Pro Econoflex Beading Wire is an economy choice if you would like to work with a more durable Econoflex wire that comes in a gold color. It is a wonderful gold replacement. Our Extreme 24K Gold wire is lovely, but does not fit every budget - as it is actual gold plating. Pro Econoflex is a great solution when you want to make gold jewelry on a budget. Pro Econoflex also features our only 49 strand .014 diameter wire.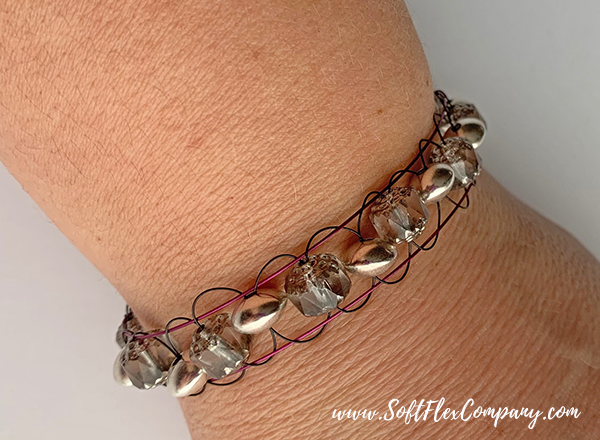 Kristen's bracelet in Plum and Black looked lovely.
After the video wrapped, Kristen got the urge to make another bracelet and rework the design a little. That bracelet is below. This bracelet is just stunning.
From Kristen:

"I felt shape of the saucer beads affected the overall tension of the design and decided to recreate it with just the cathedral beads and a 10mm Bali style metal bead focal. I am much happier with this one! Good reminder that the beads you choose will affect the overall look. My tip is stick with one bead type or mix in a similar bead shape so the tension stays consistent more easily."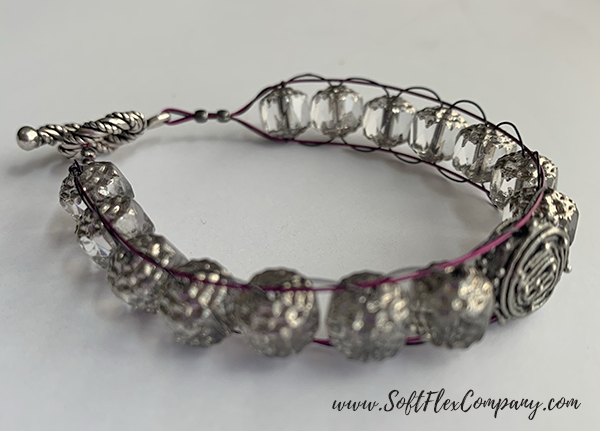 Note your calendars for Mondays. Free Spirit Beading airs on Mondays at 12:00pm PST. If you watch live, you can interact with Kristen and she will answer any questions you might have about bead stringing or art in general. If you miss her and have questions, you can always email her.
Viking Knit With The Lazee Daizee And Soft Flex Craft Wire
James is back for another YouTube episode of Conversations in Wire. James loves Soft Flex Craft Wire. He designs all sorts of jewelry with it. He loves to wrap beads, create focal beads, and create fun new designs. James makes letters and words with wire. He loves to explore new uses of the wire. His series follows his passion. You can find new episodes of his series on our YouTube channel every other Thursday.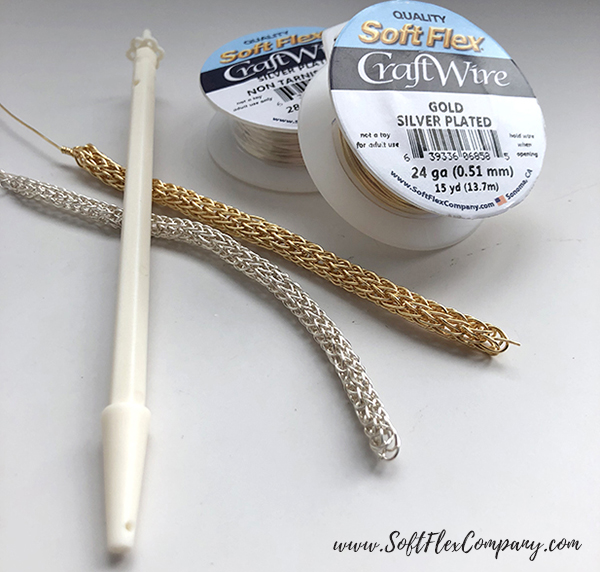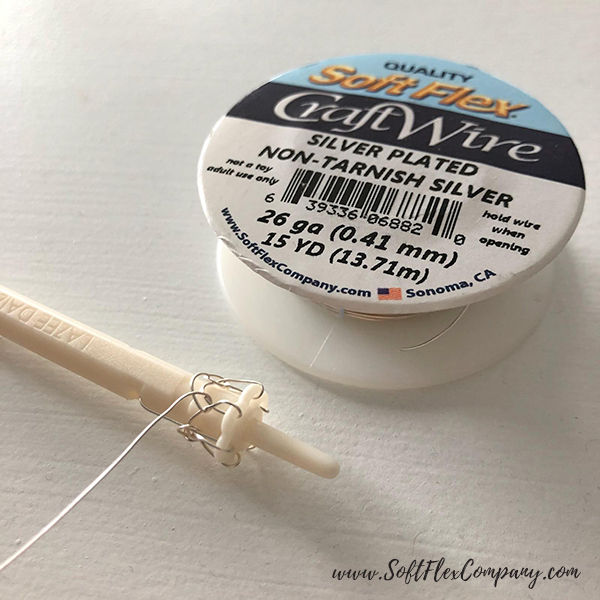 We just stocked our shelves with a new tool. Well, a new tool to us, anyway. The Lazee Daizee Viking Knit Wire Weaving Tool. James was eager to play with the Lazee Daizee. For this project, he is using Gold Silver Plated 24 gauge Soft Flex Craft Wire and a Draw Plate to finish the wire and make the diameter uniform. James also uses a pair of cutters, Bent Chain Nose Pliers, and Nylon Jaw Pliers.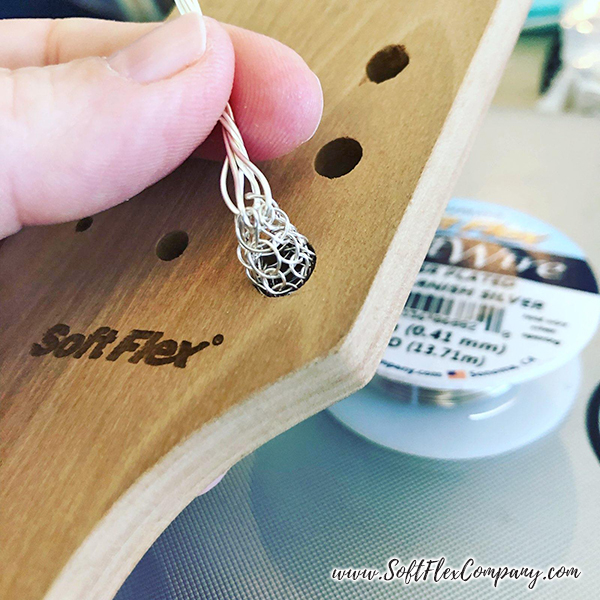 Supplies:

Lazee Daizee Viking Knit Wire Weaving Tool
Draw Plate
Soft Flex Craft Wire - 24ga
Soft Flex Craft Wire - Silver Plated 24ga
Cutters
Nylon Jaw Pliers
Round Nose Pliers
Bent Nose Pliers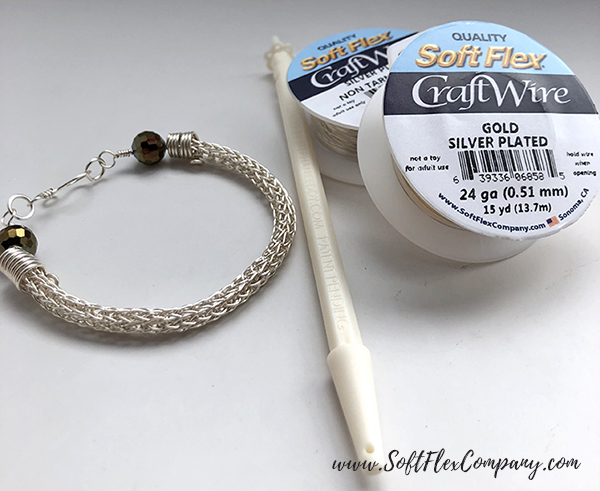 The Lazee Daizee makes Viking Knit so easy. The tool has a petal design that really helps make your looped wire consistent and simple to manage and work. The length of the rod of the tool is a great guide for the looped wire segments. The tool is soft enough that it will not scuff or damage the Soft Flex Craft Wire. The Lazee Daizee comes with an instruction sheet. So exciting! Viking Knit has never been faster or more accessible.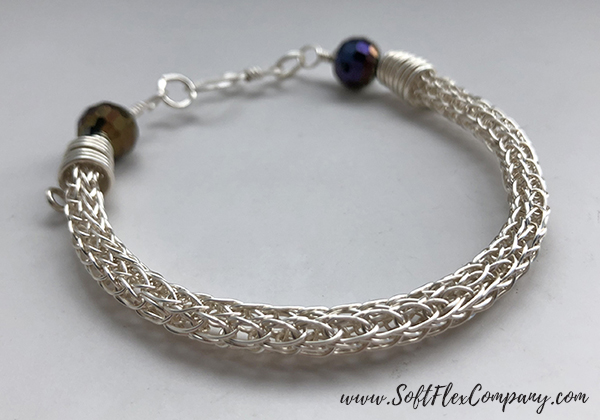 To finish your Lazee Daizee Viking Knit design, you can add a cone or an end cap before adding toggles. The instruction guide included with the tool shows you how to make a homemade coiled end cap. James added this coiled end cap with beads. It looks amazing! He also used a cone to finish a design.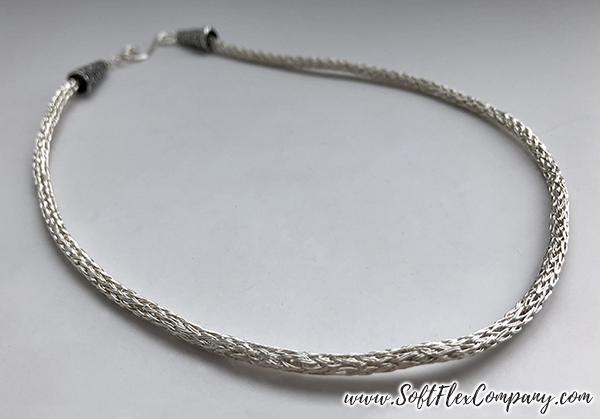 Join our Facebook group – VIB. Stay in the know. Stay up to date. From our bead shows to our video shows and sales, you can stay in touch with us. The community is full of artistic and helpful beaders and crafty people. Inspire and be inspired. Share your pictures and get the beading bug from others!
Visit the Soft Flex Company YouTube Channel!

---
Blog contributor Thomas Soles loves Jazz Age writers and crunchy french fries. His favorite gemstones are Lapis and Pietersite. His favorite hobby is day dreaming. And his favorite mustache is Freddie Mercury's. As you can see, he has a healthy (or possibly unhealthy) sense of humor. You can write to him at Thomas@SoftFlexCompany.com