Jeepers Creepers! Halloween has kept us very busy. This week we made lots of jewelry. Kristen showed us how to make macramé bracelets using Soft Flex Beading Wire. Sara opened a mystery box from vendors that will be at the Whole Bead Show. Sara did a quick video demonstrating how to make earrings with Trios Beading Wire. Finally, Sara filmed a video design challenge where she unboxed our Black Magic Beading Kit and designed a bracelet and some earrings.

If you need some beading inspiration, these videos are a real treat. So many great ideas!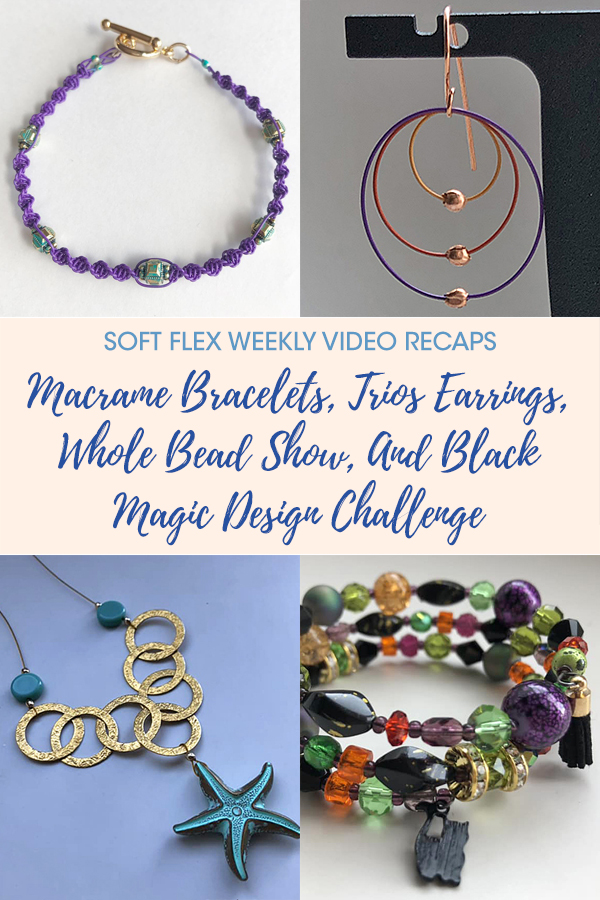 Soft Flex will be at the upcoming Whole Bead Show. We would love to meet you and see your smiling faces. Sara will be doing demos for all three days of the show. We will be having great sales and making lots of fun jewelry. If you would like to learn how to crimp or use a Kumihimo board, you can get advice straight from Sara! The Whole Bead Show is in Oakland, CA on November 9-11, 2018 at the Marriott Oakland City Center. For more information, click here.
Half Knot Spiral Macrame Bracelet with Soft Flex Wire
This week, Free Spirit Beading with Kristen Fagan featured a lesson on how to use our Mini Macramé Board with Soft Flex Beading Wire. Normally, you might assume macramé is limited to fiber and cord. Soft Flex Wire is flexible enough that you can use it for weaving, stitching, embellishing, and macramé. Last week, Sara showed us how she uses her Mini Macramé Board for weaving projects. This week, Kristen showed us how macramé works with the boards.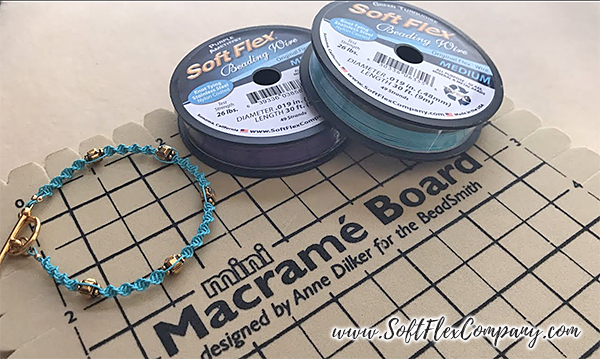 Kristen discussed our booth at To Bead True Blue in Tucson, Arizona with a guest on the chat. To Bead True Blue is a fantastic show that runs from February 2nd - 9 th. The show is open from 10am to 6pm daily. If you would like to visit us that show, find more information at the show website.
Kristen discussed Soft Flex Trios. Trios are packages of beading wire. Inside the Trios are three ten foot spools of wire. She showed our Mystical Trio color combination (Spinel, Pink Tourmaline, and Purple Amethyst). This Trio was created to evoke the feeling of magic. We selected colors that brought wizardry to mind. We have Trios that evoke feelings, Trios that celebrate holidays, and Trios that fit our designer kits. Autumn Spice (Citrine, Red Jasper, and Purple Amethyst) is a Trio that was created to match the pallets of recent design kits. Trios are a great way to stock up on color wire without buying larger spools. You truly get to experiment with color in your jewelry designs.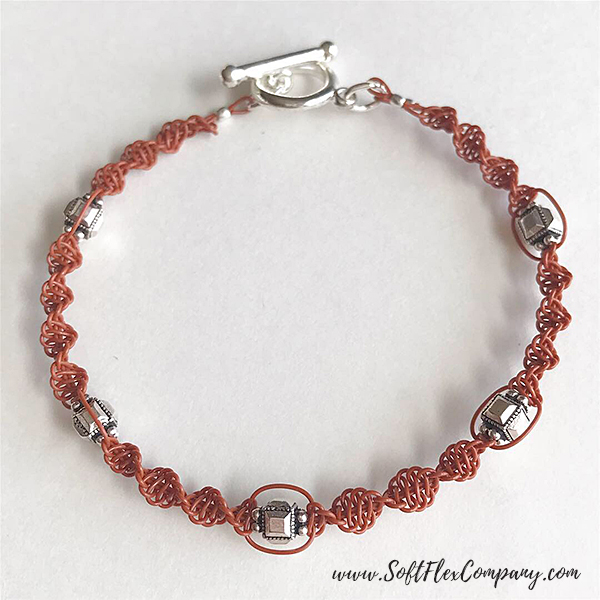 Kristen used a Mini Macramé Board for this project. She used Soft Flex Beading Wire in .019 Medium diameter. She used a pair of cutters, Magical Crimping Pliers, and a pair of chain nose pliers. She used Art Deco Cube Beads in Antique Silver or Antique Gold from TierraCast. For findings, she suggested: 3 sterling silver or gold filled 2x2mm Crimp Tubes, a silver or gold tone toggle clasp, and silver or gold jump rings.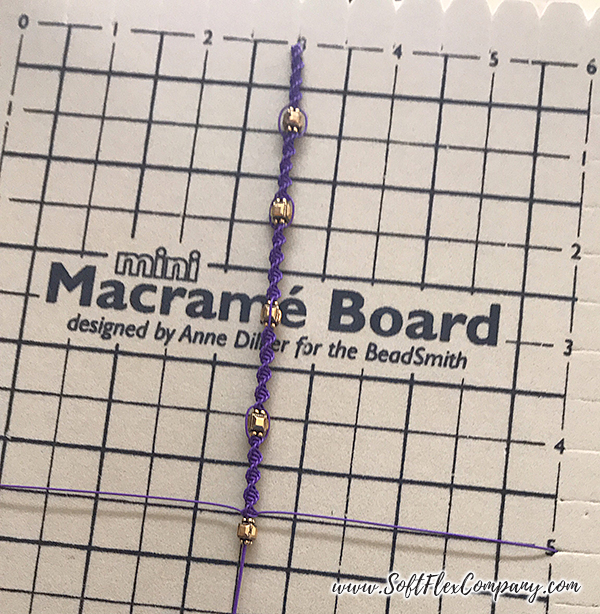 Kristen is a free spirit beader. When she designs her jewelry, she considers any mistakes or imperfections as part of the experience. She does not get over concerned about being a perfectionist. While she was creating these bracelets, she realized she used a silver crimp instead of a gold crimp on a bracelet with gold beads. She used this mistake as an opportunity to color her crimps and beads with Vintaj patina.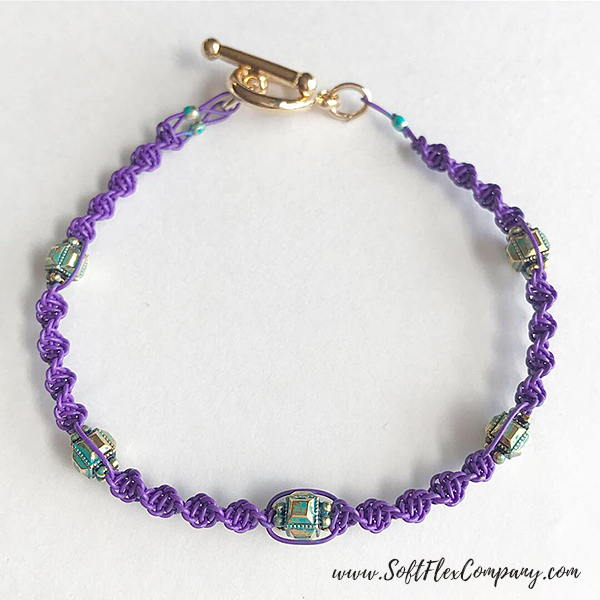 Think outside the box. Soft Flex Beading Wire is great for stringing jewelry, but it is also wonderful for designs like macramé and knitting.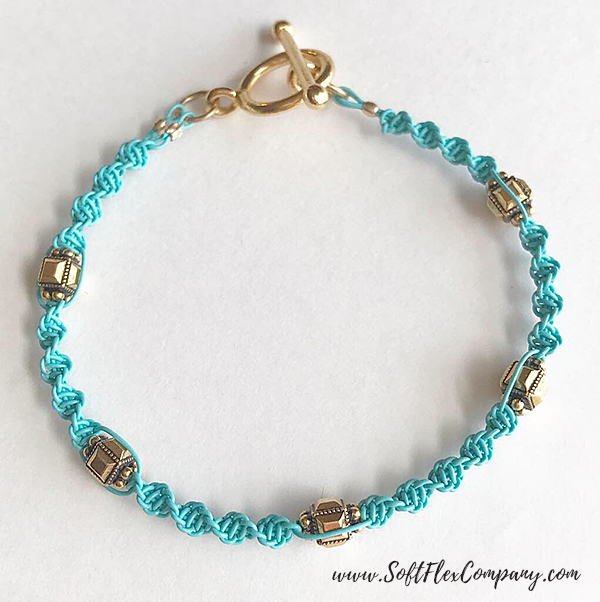 Make sure you watch her video and catch her live on Mondays at 12:00pm PST.
Soft Flex Live Design Challenge: Oakland Whole Bead Show
Sara filmed a design challenge featuring products from vendors that will be attending the Oakland Whole Bead Show. The Whole Bead Show is in Oakland, CA on November 9-11, 2018 at the Marriott Oakland City Center. The show hours are Friday and Saturday 10am-6pm and Sunday 11am-5pm. Sara will be doing demos each of the show days. Sara will be filming a live Facebook video from the booth on Friday, Nov. 9th at 1pm PST.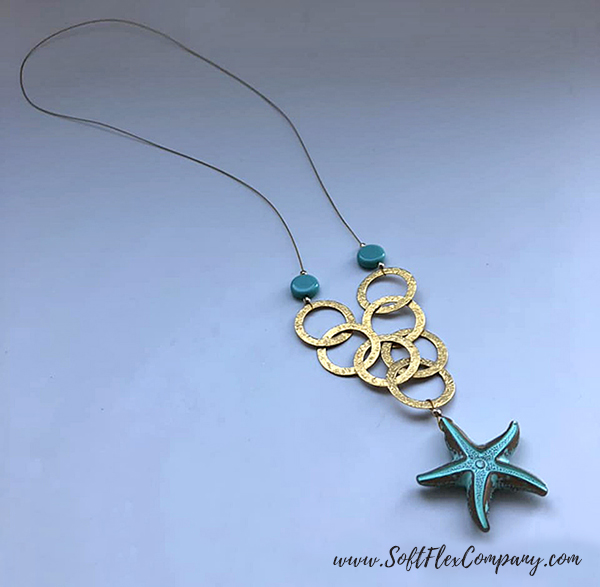 Sara selected Pro Econoflex as the wire to use for her designs for this live design challenge. She used Medium .019 Pro Econoflex in Gold Color. This particular wire is a great alternative to 24k gold plated wire. It is much more cost effective if money is an issue. Econoflex does not have the drape or strength Soft Flex does, but it is great for beginners, home projects, and cutting cost when you do not need a superior wire.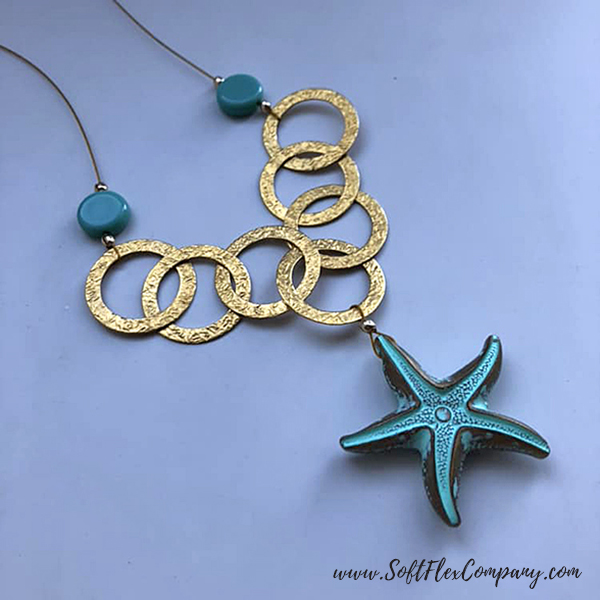 Make sure you visit our booth in Oakland if you have the means or live in the area. If you do not, check out our live broadcast. Bead shows are incredible. They need your patronage if they are going to survive. Make sure you support your local bead stores and bead shows.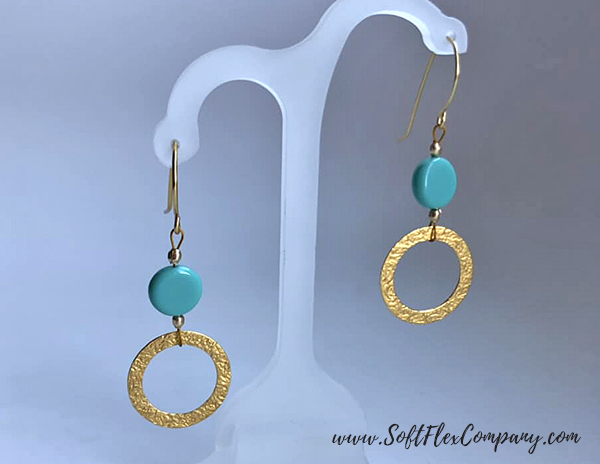 Make A Fun And Easy Pair Of Soft Flex Trios Earrings
Sara filmed a quick video using our Trios. Trios are fantastic for jewelry designs that require color wire. Color wire is great for enhancing a design. You can also expose a color wire and use it as part of the jewelry design – illusion necklaces are a great example. Trios are a package of three ten foot spools for a cost similar to a single 30 foot color spool. Trios are the perfect solution if you would like to expand your color collection at a reasonable price.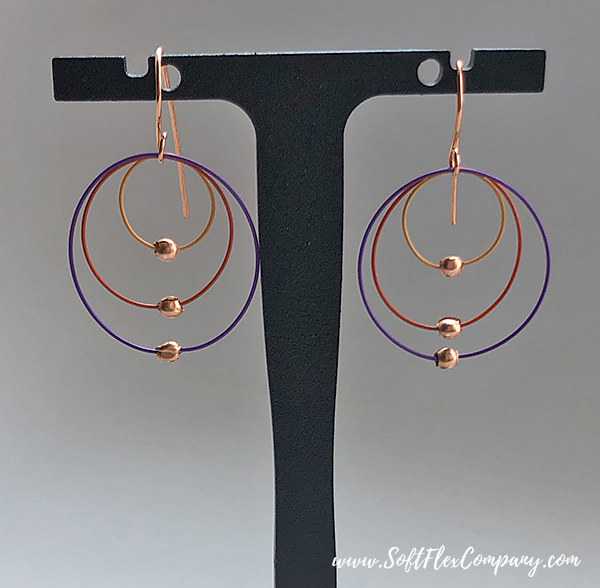 Sara designed some simple earrings using the Trios. She used the Autumn Spice Wire Set (Citrine, Red Jasper, and Purple Amethyst). She used the Trios Harvest Moon Wire Set (Garnet, Copper, and Citrine). She used crimping pliers, cutters, crimp beads, and 3mm crimp covers to create the design. She used ear wire to finish each earring. Grab a Trio and get creative. These earrings are so simple. They make great presents and can be finished within minutes.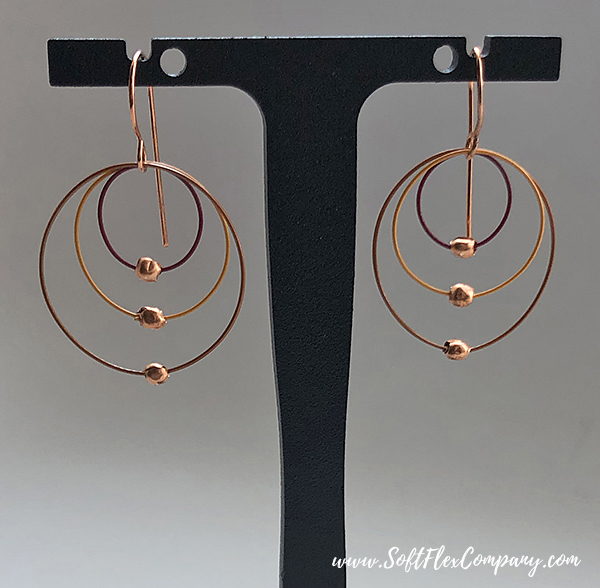 Making Halloween Jewelry with the Black Magic Design Kit
Finally, Sara filmed a video where she opened our previous designer inspiration kit – the Black Magic Beading Kit. We issue a limited supply beading kit each month with a theme. The kits are full of mystery items and sell out rather rapidly. If you happen to buy one, join our Facebook VIB group. Post pictures of jewelry created from the kit components and you will be eligible to win the next kit for free.
Sara opens the previous kits when we announce the newest kit. That way, if you buy a kit, you can open it with Sara and design what she designs. You can also create your own designs. We do ask that you do not post your kit creations on our group until Sara has opened that kit. We don't want to spoil the contents for those that bought the kit and are waiting for Sara.
Hurry and buy our newest kit – the Holly Jolly Christmas Design Challenge Kit. Stock is very limited and it will be gone soon. Once it is gone, we do not plan on restocking the kit. If you love Christmas or the Holidays in general, you will love this kit. The contents are elegant and red, green, and gold and have the warmth of the season. We would love to see what you create.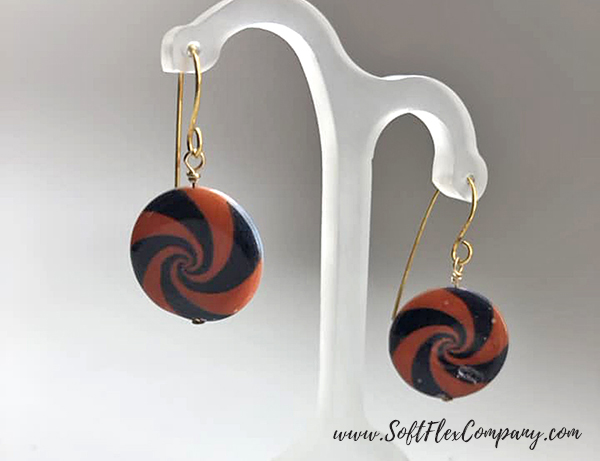 Join our Facebook group – VIB. Stay in the know. Stay up date. From our bead shows to our video shows and sales, you can stay in touch with us. The community is full of artistic and helpful beaders and crafty people. Inspire and be inspired. Share your pictures and get the beading bug from others!
Visit the Soft Flex Company YouTube Channel!
---
Blog contributor Thomas Soles is the Trade Show Coordinator for Soft Flex Company. His favorite stones are Lapis and Pietersite. His favorite hobby is day dreaming. And his favorite mustache is Tom Selleck's. As you can see, he has a healthy (or possibly unhealthy) sense of humor. You can write to him at Thomas@SoftFlexCompany.com