Hello happy people! We had a fun week of jewelry making and artistic exploration. Did you get a chance to join us during any of our live videos? This week, we looked at some fun jewelry design products - kumihimo disks, knitting spools, macrame boards, and more. We also had a lot of fun with Soft Flex Craft Wire. If you like wire wrapping, you are going to love these videos!

Kristen kicked the week off with a fantastic video that talked about bracelets. She showed us how to create an easy cuff bracelet and then adorn it with wire wrapping and beads. She filmed another video that discussed how to use some of our products and she ended that video with an earring demonstration. James filmed an episode of Conversations of Wire that tackled wire wrapping. He wrapped a cabochon pendant. If you are a beginner, this is a fun chance to see the possibilities of the craft, but you might not be ready for this project. If you are a seasoned wire artist, this is a great chance to get some tips and tricks.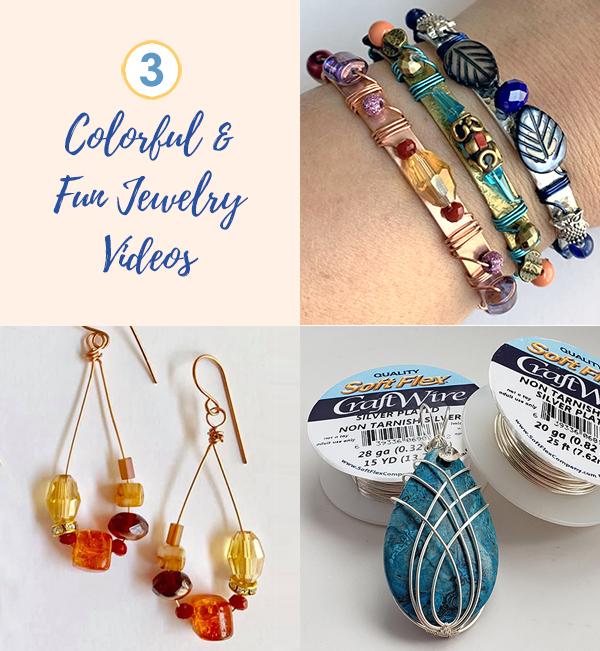 How To Wire Wrap A Cuff Bracelet With Soft Flex Craft Wire
Kristen filmed another episode of Free Spirit Beading on Monday. She is live on Mondays at 12pm PST.
Kristen wanted to film something different. This time she chose a quick and easy bracelet that can be personalized in so many unique and fun ways. For this project, she is using bracelet blanks and tools from ImpressArt. This colorful bracelet can be as sophisticated or eclectic as you see fit!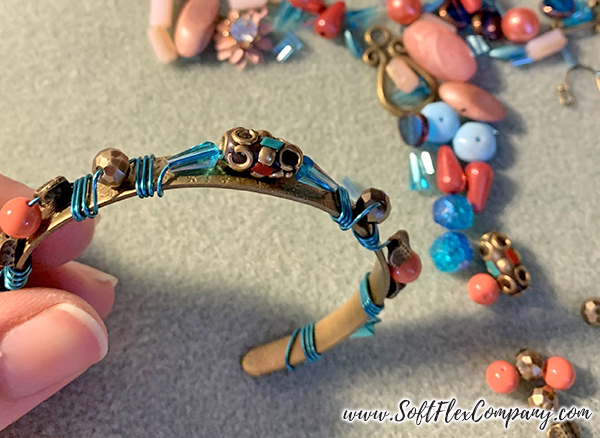 A simple bracelet blank is a great canvas for beaded art. You can texture the blank to give it an aged and weathered effect. You can let it patina, if it is a bare copper, for an antique look. You can add as many beads as you see fit. You can create the jewelry that fits your style.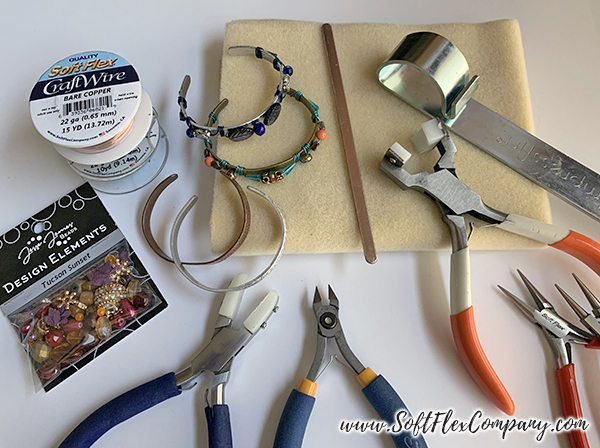 Supplies:
Soft Flex Craft Wire 22 Gauge - 24"
Soft Flex Bead Mixes (Shades of Coral, Blueberry Pie & Tucson Sunset)
Round Nose Pliers
Chain Nose Pliers
Nylon Jaw Pliers
Cutters
ImpressArt Bracelet Bending Bar
ImpressArt Bracelet Bending Pliers
ImpressArt Bracelet Blanks
1/4" x 6"- Stamping Blanks - Aluminum, Brass & Copper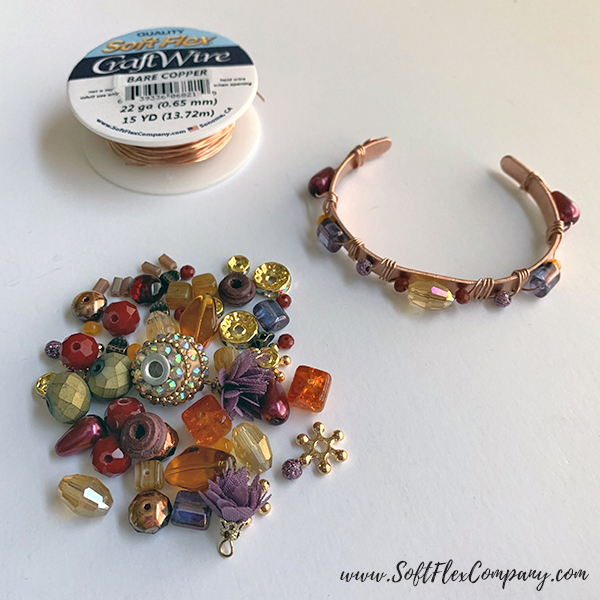 Our bead mixes are wonderful for adorning a cuff bracelet. The variety of beads in each package is perfect for a mixed look or themed design. In this case, Kristen chose our Tucson Sunset Bead Mix. This stunning mix came with our Tucson Sunset Design Kit. James dreamed this kit up after visiting Tucson in February for the To Bead True Blue bead show.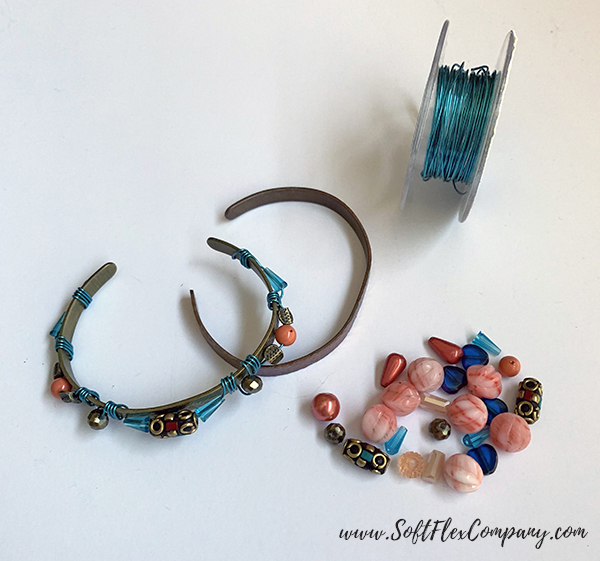 Our Shades of Coral Bead Mix inspired this bracelet.
Shades of Coral is a celebration of Pantone's Color of the Year for 2019 - Living Coral.
Pantone is honoring Living Coral color as the color of the year. This warm color evokes so much. There is life and optimistic hope. Coral is playful and bouncy. It is inviting. Inspired by the colors under the sea, this palette will give you those beachy vibes - perfect for summer style jewelry designs!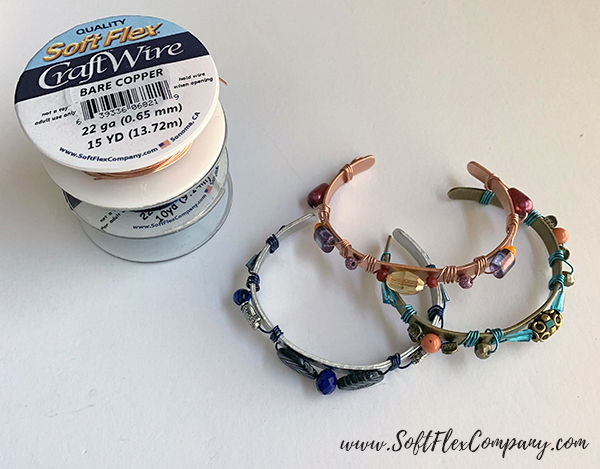 22 gauge Soft Flex Craft Wire is a great choice for wire wrapping. A great size for strength and security. 22 gauge is also a great choice for homemade ear wires.
Soft Flex Craft Wire is a high quality, permanently colored copper wire. It is resistant to scratching, peeling and marring. This is due to the special enameling process used to coat the wire to produce the wide spectrum of colors we offer. After the enamel is applied, the wire is then clear coated to prevent tarnishing. Bare Copper is the only wire in the line that is not treated. If antiques and old findings are your medium, Bare Copper will patina - perfect for making that new project look like an heirloom.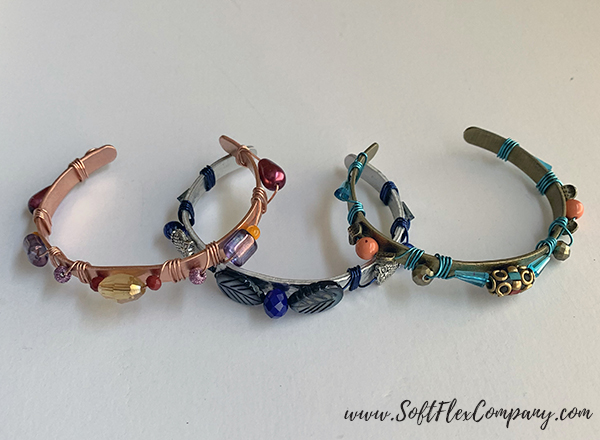 These amazing bracelets are so easy to make. With so many options to personalize them, no two will ever be alike. Use a bead mix or dig into your personal pile of bead soup.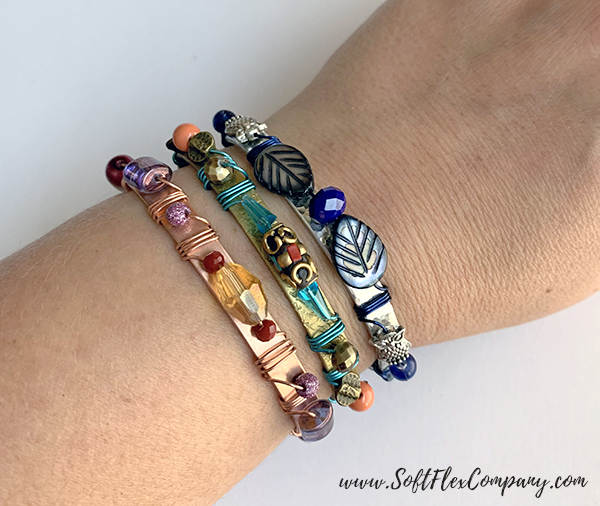 Make sure you catch Kristen's next video. It is even better if you can catch her live. Kristen loves to answer your questions about beading, jewelry making, and art. You can even request a special jewelry demonstration. She loves to explore art and beading and is full of great tips!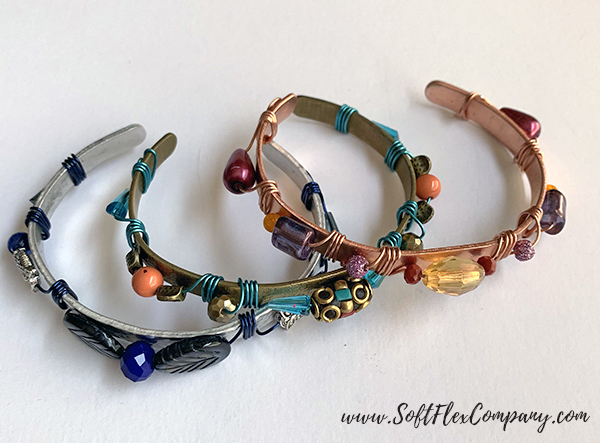 Crisscross Wire Wrap Weave On A Cabochon
On this week's episode of Conversations of Wire, James showed us how he likes to wire wrap his pendants. This is a great video to check out if you have already gotten your feet wet with Soft Flex Craft Wire. It is not an especially difficult project but it is certainly more advanced than a beginner project.
If you are working with sterling silver or gold filled wire, James has a helpful tip for you in this video. He does not want you to waste more wire than is necessary. He suggests using tape to get the diameter of the stone you plan to wrap. Simply wrap the tape around the stone. Once the tape ends meet, remove it and now you have a visual cue about how long the wire should be. Just remember to add some length for the bail to finish the wrap.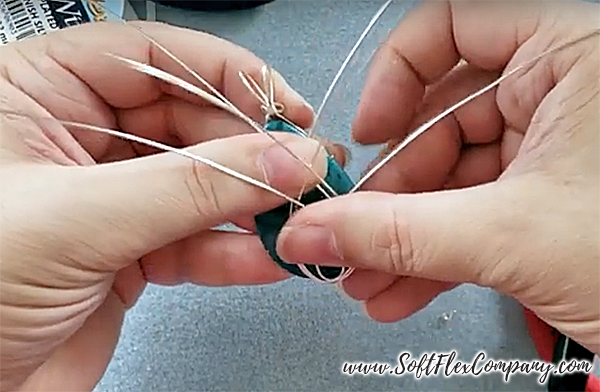 Supplies:
Soft Flex Craft Wire - 20ga
Soft Flex Craft Wire - 28ga
Bead Nipper (Cutters)
Round Nose Pliers
Bent Nose Pliers
Nylon Jaw Pliers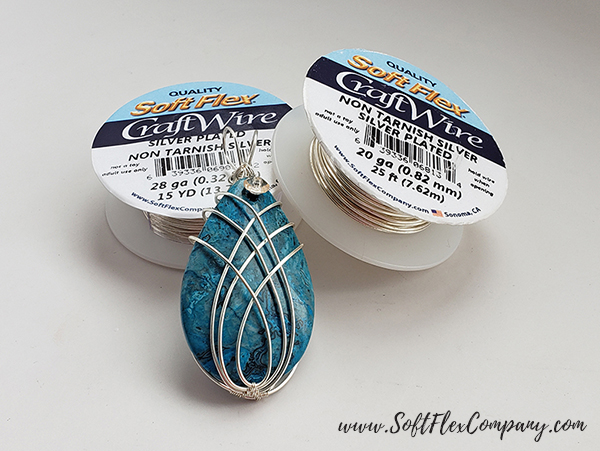 Soft Flex Craft Wire is the designer's choice for wire wrapping and jewelry.
Quality Soft Flex Craft Wire is 100% lead and nickel free. There are no other metals used in the wire production other than copper and fine silver. The temper of the wire is soft. It is firmer than similar wire products offered on the market, which are typically only available in dead soft and can't be tempered to half hard. We currently offer six of the most commonly used gauges in the jewelry industry and more are on the horizon. An exceptional design idea deserves a professional craft wire.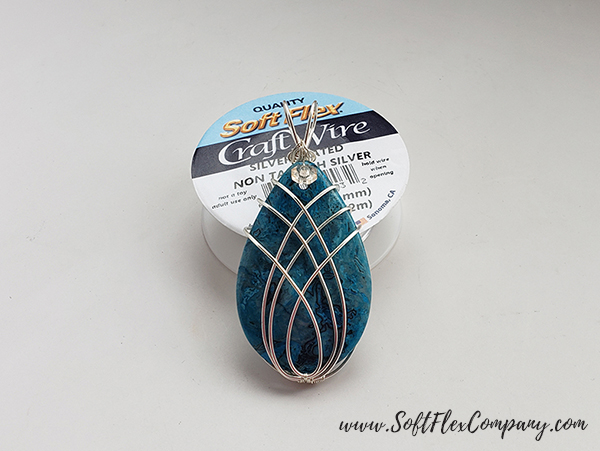 A wire wrapped finish is the perfect way to showcase your favorite pendants and focal beads. Wire adds drama to the stone. Doesn't this look amazing?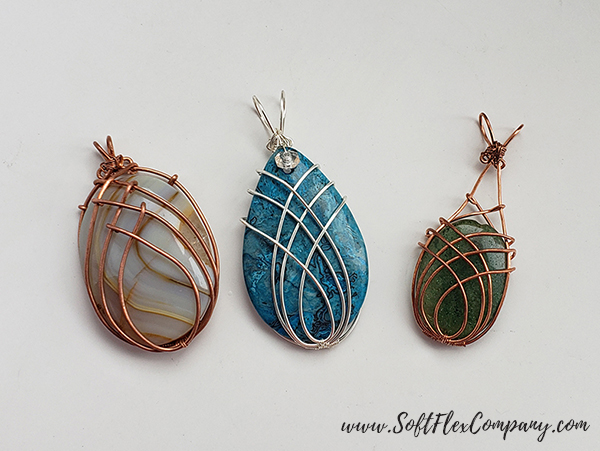 Tucson Sunset Earring Dangles In Two Ways
On Wednesday, Kristen wanted to film a quick earring demonstration with a feature on tools. This video turned out to be a comprehensive look at tools like our kumihimo, knitting spools, and macrame boards. She covers a lot of tool questions and give some stellar tips if you are a beader that needs to brush up on your tools.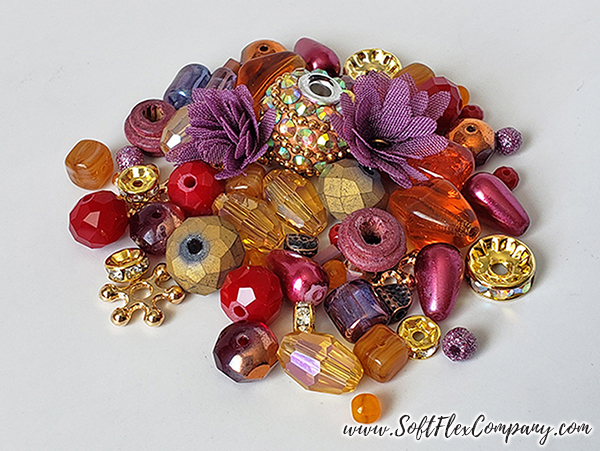 Check out our Bead Mixes! When we create a themed Design Kit, we like to include beads and goodies that are not available anywhere else. Our Bead Mixes are a collaboration with Jesse James Beads. They are as passionate about beads and color as we are and we figured it would be fun to include some of their mixes in our collection. These Beads Mixes are a limited quantity item on our shelves. Buy your favorite ones before they are gone!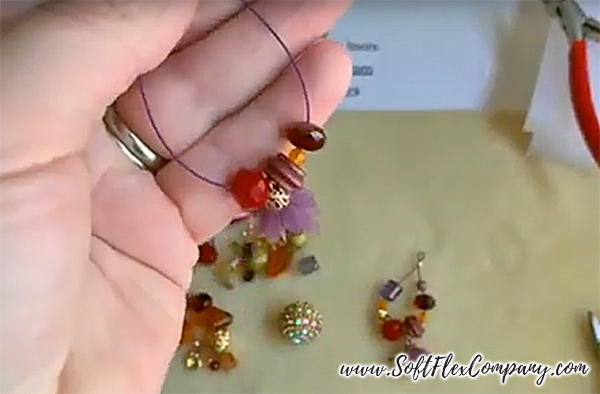 Supplies:
Bead Mixes
Soft Flex Beading Wire - .019 Diameter
Soft Flex 2x2mm Crimp Tubes
Magical Crimping Pliers
Ear Wires
Soft Flex Professional Flush Cutters
Chain Nose Pliers
Round Nose Pliers
Soft Flex Craft Wire - 22ga
Nylon Jaw Pliers
LoopRite Looping Pliers
This video is an exhaustive look at some wonderful tools. Make sure you catch it. Kristen shows us her Lazee Daizee Viking Knit Wire Weaving Tool designs. She looks at Mini Macrame Boards. She shows us her kumihimo disks. She shows us how to use Wire Whackers, Nylon Jaw Pliers, and LoopRite Looping Pliers. This is a great, informative way to digest how these tools function.
Kristen also shows us how to create earrings with Soft Flex Beading Wire a Soft Flex Craft Wire. Such a fun time. So many great tips!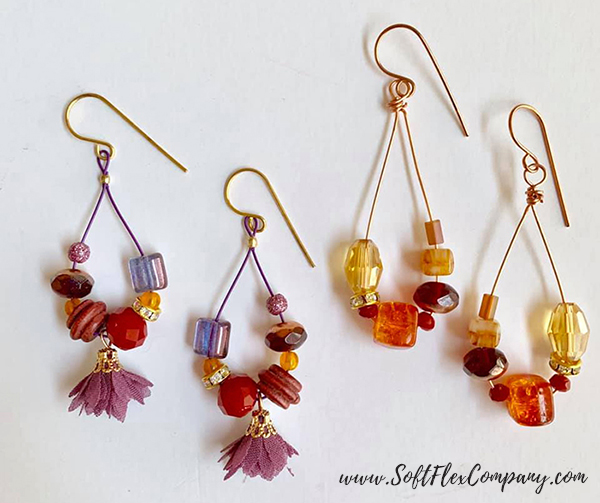 Join our Facebook group – VIB. Stay in the know. Stay up to date. From our bead shows to our video shows and sales, you can stay in touch with us. The community is full of artistic and helpful beaders and crafty people. Inspire and be inspired. Share your pictures and get the beading bug from others!
Visit the Soft Flex Company YouTube Channel!
---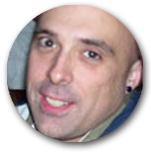 Blog contributor Thomas Soles loves Jazz Age writers and crunchy french fries. His favorite gemstones are Lapis and Pietersite. His favorite hobby is day dreaming. And his favorite mustache is Freddie Mercury's. As you can see, he has a healthy (or possibly unhealthy) sense of humor. You can write to him at Thomas@SoftFlexCompany.com