Are you making jewelry for your sweetheart? How about a handcrafted necklace for a loved one to let them know you appreciate them? We have some exciting free jewelry project ideas for you. This week, we opened our Dark Heart Design Kit and explored its contents. We LOVE Kit Day! This kit was so yummy. We wanted to explore mature colors for Valentine's Day jewelry. We have deep pinks and scrumptious blacks. Bubblegum pink is so common on the holiday of love that we wanted to mix it up a little. Join our jewelry video recap for some passionate jewelry designs!

Kristen showed us how to make a lovely bracelet with Soft Flex wire this week. This project is perfect for a beginner, but you will enjoy watching her work, even if you are a pro! She used some delicious beads and some stunning clasps. Sara opened up our latest jewelry kit - The Dark Heart Design Kit. This kit is full of beading supplies that will put you in the mood for love. Sara will also be premiering a new video on our YouTube channel on Saturday, February 1st. You won't want to miss it. She designed a bracelet after her kit reveal and wanted to share with everybody. Catch her show at 8am PST. You can set a reminder in the link below and see a sneak preview of the bracelet in the blog.
Don't miss Sara's Dark Heart Design Kit reveal and bracelet design. Premiering Saturday, February 1 at 8am, PST.
Sara is discussing our fabulous kit that celebrates love. The Dark Heart Design Kit is perfect for flirty designs, gothic love, and party pink jewelry. It is not a somber romance but a kit that has matured beyond the smitten young infatuation of youth and embraces the many shades of passion. Sara will show a bracelet design she crafted to complement her Dark Heart necklace and earrings. Make a date to join us!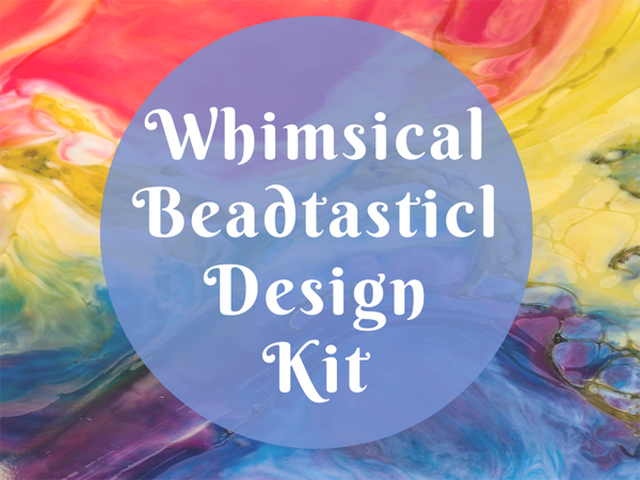 The Whimsical Beadtastical Design Kit is a playful ballad to Dr. Seuss. We wanted to celebrate him on the month of this birth, March.
The Whimsical Beadtastical Design Kit is a glunk that got thunk we think it's true. This glunk is a beading Glunker stew! We have frazzle-spades of blue, preeps of silver, and coral colored nerkles too! Show your friends your whimsical ways and design a necklace of vippers and glays. Make your own hot Glunker jewelry too! Spuggle in mixer for your favorite jabboo.
Sara will be doing a live broadcast on the Soft Flex Facebook page, with the Whimsical Beadtastical Design Kit, on Wednesday, February 26th at 2pm (PST).
If you'd like to join us in the design challenge next month, buy this kit and challenge yourself to try something new and unexpected. If you are new to beading, this kit comes with findings, beads, wire and surprises.
Supplies are very limited. Don't miss out!
Jewelry Making Videos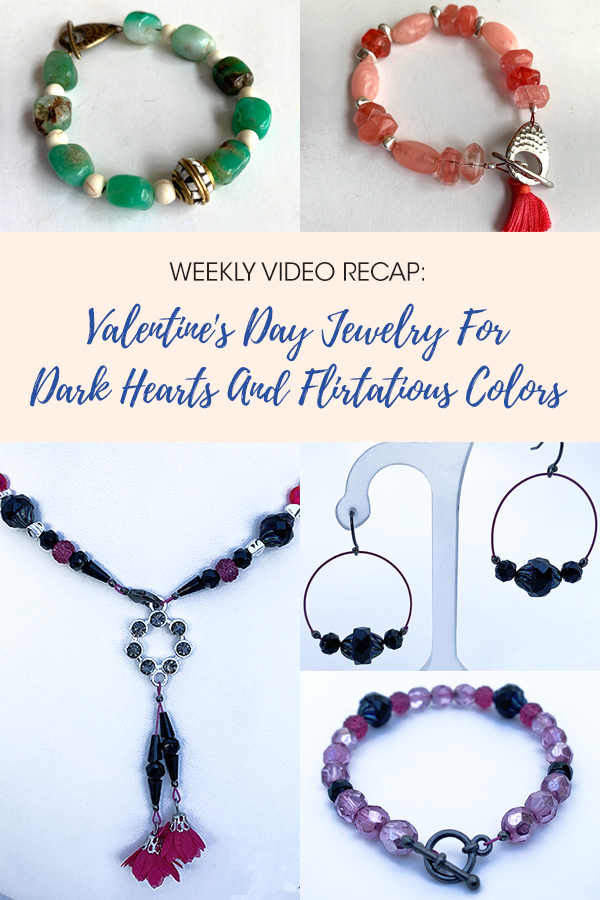 DIY Beaded Bracelet Tutorial with Gemstones on Beading Wire
Kristen filmed another exciting episode of Free Spirit Beading on Monday. She is live on Mondays at 12pm PST.
Kristen was in a February mood and feeling pretty in pink. She wanted to show off a sweet little bracelet idea. Before filming this episode, she designed her bracelet with a green color motif (Chrysoprase stones). Kristen loves green. But she wanted to give her viewers a chance to watch her create a Cherry Quartz bracelet. You are going to love both designs.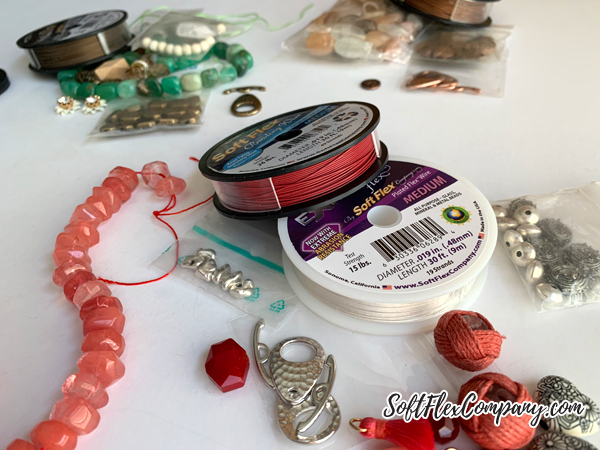 Kristen took a moment to show how the color of beading wire you select for a jewelry design can really alter the finished piece. These Cherry Quartz stones glow when using our silver plated wire. They are rich and luxurious with a dark Spinel red. Which is your favorite?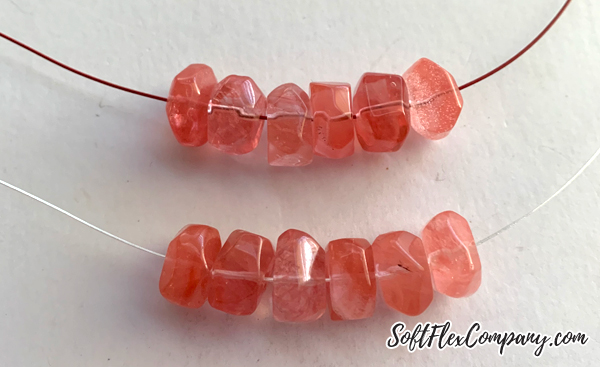 Supplies:
Soft Flex .019/Medium Diameter Wire in Spinel
2x2mm Crimp Tubes in Sterling Silver
12mm Cherry Quartz Faceted Rondelle Beads
10x14mm Pink Barrel Shaped Beads
Silver Spacer Beads
Pink Tassel
Hammertone Ellipse Clasp Set
Cutters
Crimping Pliers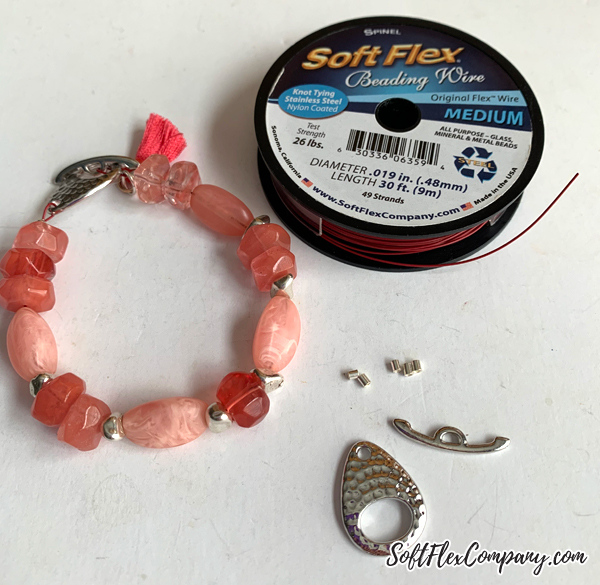 This is a fun video to watch for basic instructions on how to string beads. Kristen makes a bracelet with her favorite colors and stones - but you can do things your way. Feel free to work with the beading wire color that speaks to you. Soft Flex Beading Wire in Spinel or Extreme 925 Sterling Silver are fun options if you are exposing the wire. If you work with beads that are not translucent or are planning to conceal the wire inside your design, Satin Silver is a fantastic choice as it is very subtle and not as expensive as a color wire.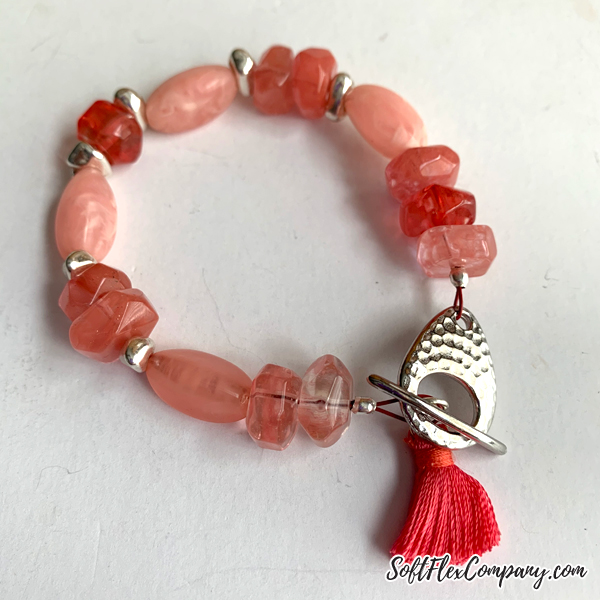 Kristen makes amazing jewelry. Look how simple this design is, but it is so eye catching. The silver spacers really make the whole bracelet POP! Finishing the design with rhodium plated TierraCast Ellipse Clasps makes it so yummy. The pink tassel dangle is the cutest little exclamation point!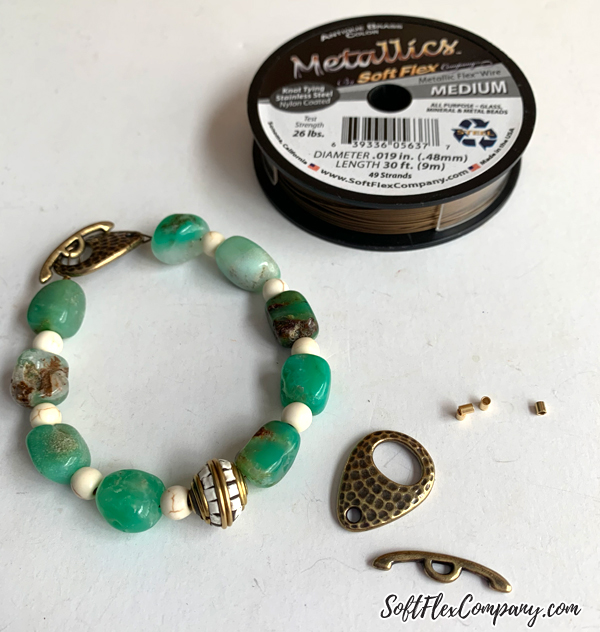 My goodness. Changing a few color elements really turns this bracelet into a completely different design. In spirit, they are nearly identical. But green Chrysoprase gemstones and the wonderful accent of Antique Brass beading wire turns everything upside down. The muted Howlite looks fantastic. Both designs are wonderful for spring. Which one are you planning to make?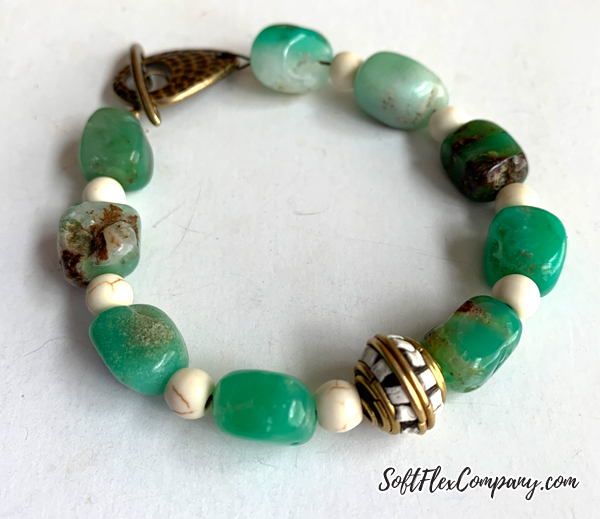 Don't miss Kristen's shows on Mondays. She is so personable and fun to watch. If you catch her live, you can ask her all of the jewelry questions you have had. You can also make requests. She loves to hear from friends and fans. If you design one of her projects at home, make sure you post in on our VIB Facebook group so she can see it!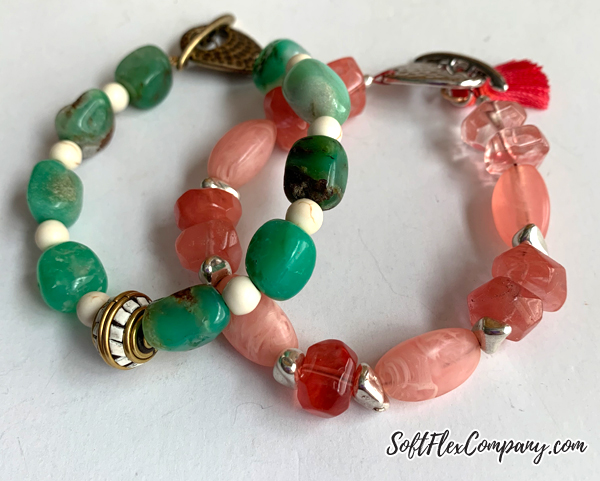 Decadent Jewelry with the Dark Heart Design Kit
Kit Day arrived this week. Kit Day is our favorite company holiday. We have a new design kit each month. Each kit is a themed mystery kit full of goodies - beads, components, and more! If you have basic beading tools (Crimping Pliers and Cutters), you are going to be able to create a bunch of jewelry with your new kit. Every kit theme is unique and exciting. You can count on us for reliable holiday themes and be surprised when we choose a direction you never expected.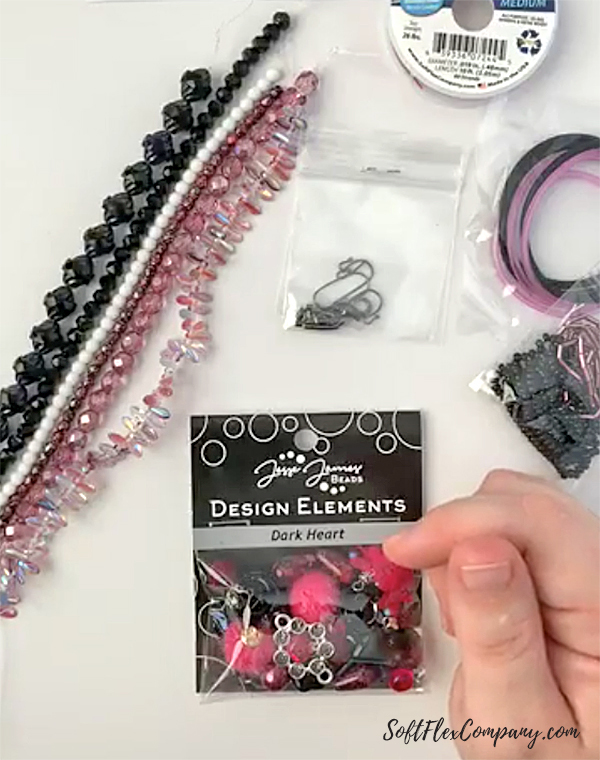 This month, we offered our Dark Heart Design Kit. The Dark Heart Design Kit is a dusky dance with a night drawn Cupid. Passion is deeper than the brilliant glowing pink of Valentine's Day. Dark Heart explores a world of twilight cherubs. If you love the fun of the holiday that celebrates love, but want to make jewelry that is more sophisticated than poppy – this elegant design kit will speak to you!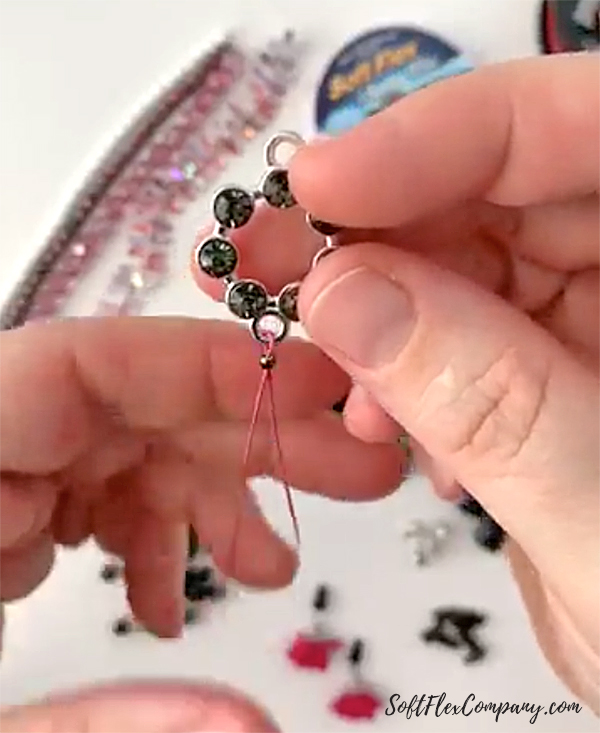 Supplies:
Dark Heart Design Kit
Soft Flex Beading Wire, .019 Diameter in Pink Tourmaline
Dark Heart Bead Mix
Bead Stoppers
2x2mm Crimp Tubes
Ear Wires
Clasp
Ear Wires
Magical Crimping Pliers
Cutters
Our design kits are challenging fun. We select a theme and fill the kit with items that evoke that theme. There is nothing in the kits that will overwhelm a beginner (although we might add jewelry materials that you have not used before, like Memory Wire). But each kit is a little challenge. How are you going to weave this colors into your own magical jewelry pieces? We occasionally stump some of the finest designers on our Facebook group – VIB. But they have discovered that once they have embraced the challenge, they have handcrafted jewelry that amazed even themselves. Would you like to tackle a mystery box and become a better beader?
If you purchase a design kit and post jewelry you have made from that kit to our VIB group, you are automatically enrolled in our Design Challenge. Your finished pieces must use elements from the design kit. Every piece you craft with the kit is considered an entry. You can have ten jewelry pieces in one shot or ten separate images with single designs. Each design is your ticket to our drawing. Include the hashtag we designate for the design kit so it is easy for us to find your jewelry and we know that you want to participate - ie - #darkheart.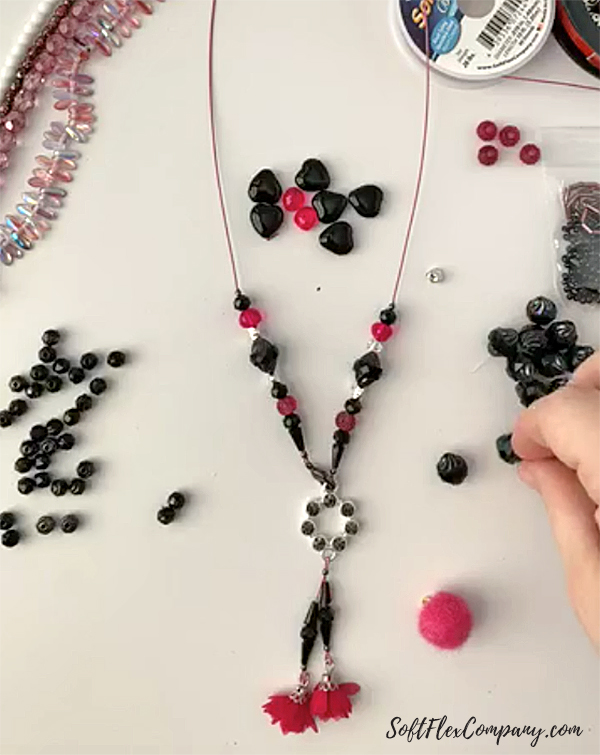 At the end of the month, we randomly draw a winner for our Design Challenges. The winner receives the newest kit for free. You do not have to be a jewelry designer to win, the playing field is completely level. We use a random number generator to designate the winning entry. There is no bias or judging on merits. Compete with the best and you can still win, regardless of your skill level. We think that is pretty awesome. Everybody has to start somewhere. We want to reward the passionate crafters.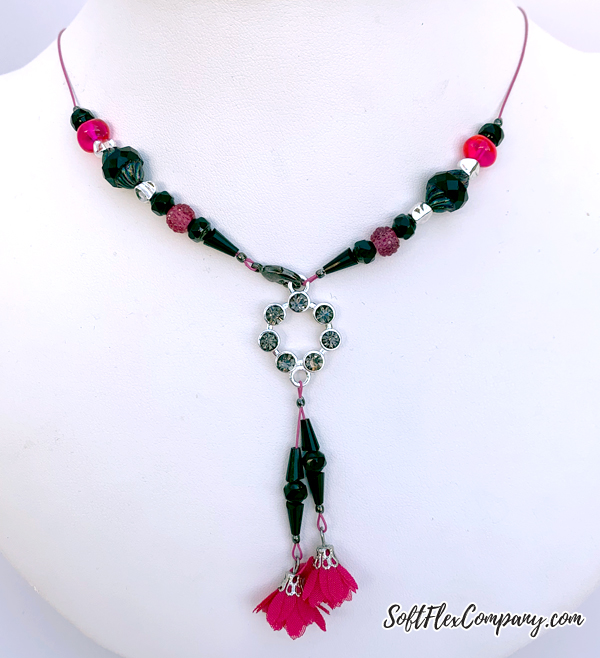 Isn't Sara's necklace wonderful? The fun thing about our design kits is that everybody uses the same materials, but we all create in so many different styles. If you are on our Facebook group, you will see how wonderfully different everybody's jewelry is. Some of us make simple pieces that make a statement. Others weave intricate designs and craft epic poems made with beads and stringing materials. We all have a life story and the tales we share and incredibly different. What has your time on this planet taught you? Won't you share it with us?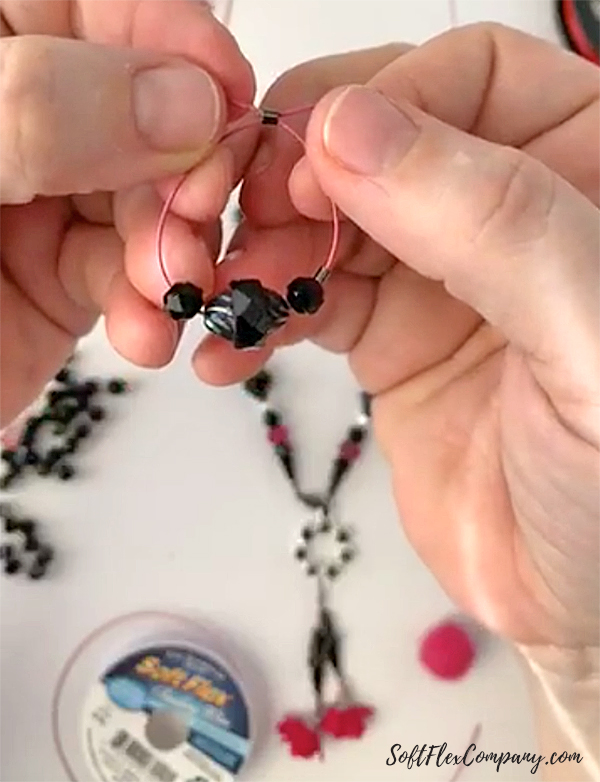 Sara followed her necklace up with some stunning earrings. Soft Flex Beading Wire is an amazing choice for earrings. You can craft so many unique designs. Choose the stones that fit a mood. Use a color that makes your eyes sparkle. You can have a new pair of earrings in just minutes. Dangles, hoops - whatever you want to do. It is a fun way to accent every mood and wardrobe with jewelry that shines!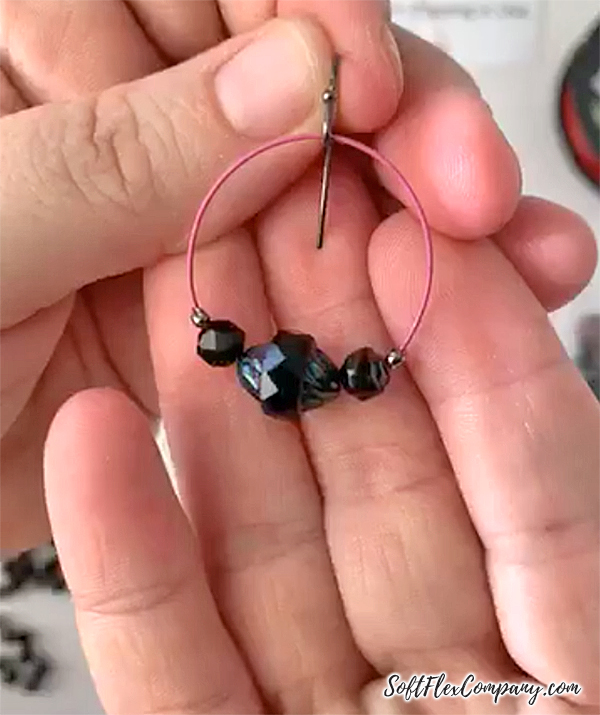 Doesn't that pair of earrings look sweet! What a great gift idea for a loved one. A personalized piece of handcrafted jewelry tells your friends and family that you appreciate them and wanted to do something special. So much better than a box of chocolates that will be eaten in minutes. Give them a gift that will last decades!
Make sure you join us on YouTube on Saturday to see Sara design a bracelet to accompany her Dark Heart necklace and earrings. The bracelet uses components and beads from the kit and is a stunning addition. The video premieres Saturday, February 1st at 8am, PST.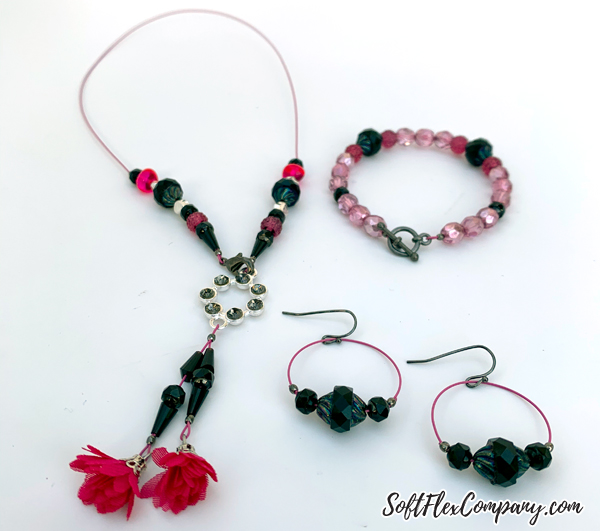 Join our Facebook group – VIB. Stay in the know. Stay up to date. From our bead shows to our video shows and sales, you can stay in touch with us. The community is full of artistic and helpful beaders and crafty people. Inspire and be inspired. Share your pictures and get the beading bug from others!
Visit the Soft Flex Company YouTube Channel!
---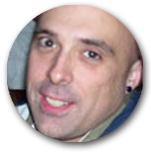 Blog contributor Thomas Soles loves Jazz Age writers and crunchy french fries. His favorite gemstones are Lapis and Pietersite. His favorite hobby is day dreaming. And his favorite mustache is Freddie Mercury's. As you can see, he has a healthy (or possibly unhealthy) sense of humor. You can write to him at [email protected]