Pantone knows color! Pantone is the pioneer on color conventions in the fashion and marketing world. Pantone was established in 1962 with the goal of making color a science and not a subjective format. Pantone's authority led to it becoming a powerful trend setter. We love Pantone. Pantone color is fashion forward. Stay ahead of trends and styles with Pantone color matched beading supplies. Today we are looking at our 2021 Fall/ Winter Pantone collection. Make timeless jewelry with powerful colorways!

We had a great week. We explored jewelry that will complement fall outfits. Kristen showed is how to make a charm necklace with delightful autumn inspired charms. Sara unveiled our latest batch of Pantone color beads and color matched Quad of Beading Wire. She showed us how to make a bracelet using colors from the 2021 Fall/ Winter Pantone collection - Soybean, Adobe, Rhodonite, and Fire Whirl. Soybean is a mild and companionable blonde beige. Adobe is a warm and supportive sundried clay. Rhodonite is a balancing blue-based purple that aids in achieving one's highest potential. Fire Whirl is a vigorous red with a dynamic presence. This is a gorgeous color palette. Finally, we watched Kay, from Star's Beads, turn simple beads into extraordinary art. Kay showed us how wire wrapping a bead can make for ornate and amazing earrings. If you have never worked with Soft Flex Craft Wire, this is a chance to see how your creativity can guide and form the wire.
Our Halloween shindig is almost here! Join us for Trick or Treat fun!

4 projects, 4 designers, 2 nights, 1 fun filled online event! Join us October 21st and 22nd! Grab the supply kit here and get the bead kit from Jesse James Beads.
Before the eve of Halloween is here, Soft Flex Company and Jesse James Beads are teaming up to host a hair-raising Trick-or-Treat Party. Satisfy your sweet tooth and go door to door to meet devilish designers. Knock on Jesse James Bead's portal and discover a delightfully dark kit full of bloodcurdling beads. Ring Soft Flex Company's doorbell and behold a beastly batch of beading supplies (findings and wire). This eerie 2-night event runs October 21st and 22nd with 4 designers offering their best tips, tricks and projects. A cackling collection of jewelry creators invite you to their haunted homes. Design a bone-chilling bracelet or enchanted earrings. If you have purchased a kit from each company, you will be granted exclusive access to an after event full of lively apparitions and more bead talk. Do you dare join us? We welcome all mortals and eager souls. Join a crew of phantasms and poltergeists for a creepy crawly time!
Important Dates:
10/13 - Kit Purchase Deadline
10/14 - Kit Ship Date
10/21 - Trick-or-Treat Party Classes, Night 1
10/22 - Trick-or-Treat Party Classes, Night 2
10/22 - Trick-or-Treat After Party with Wine Tasting!
Note: This is a supply kit for a special event. This kit does not contain beads. Please be sure to purchase the matching bead kit from Jesse James Beads to play along!
Supplies are very limited. Don't miss out!
Jewelry Making Videos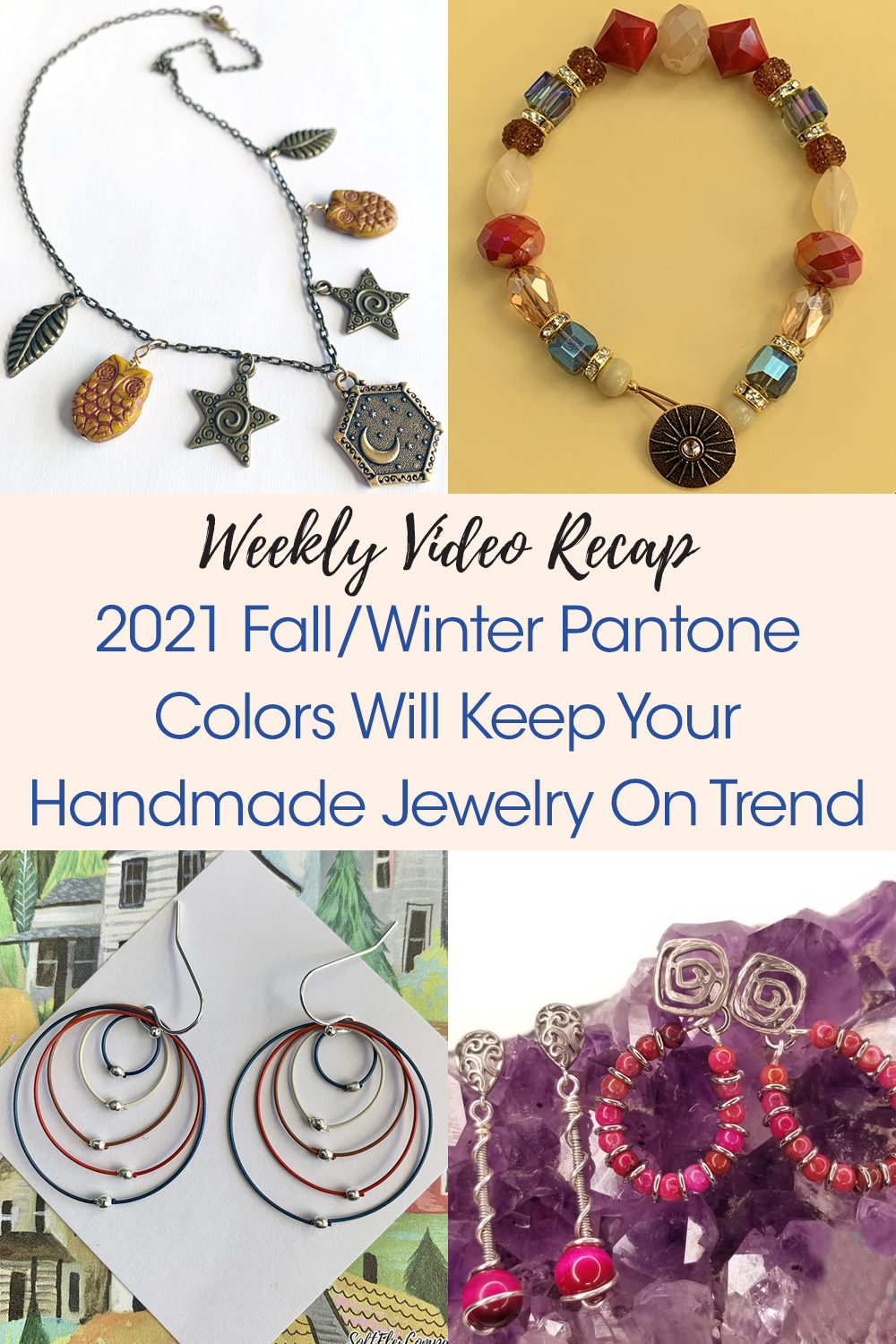 Follow Us On TikTok And Instagram - Learn How To Make Jewelry In Just Minutes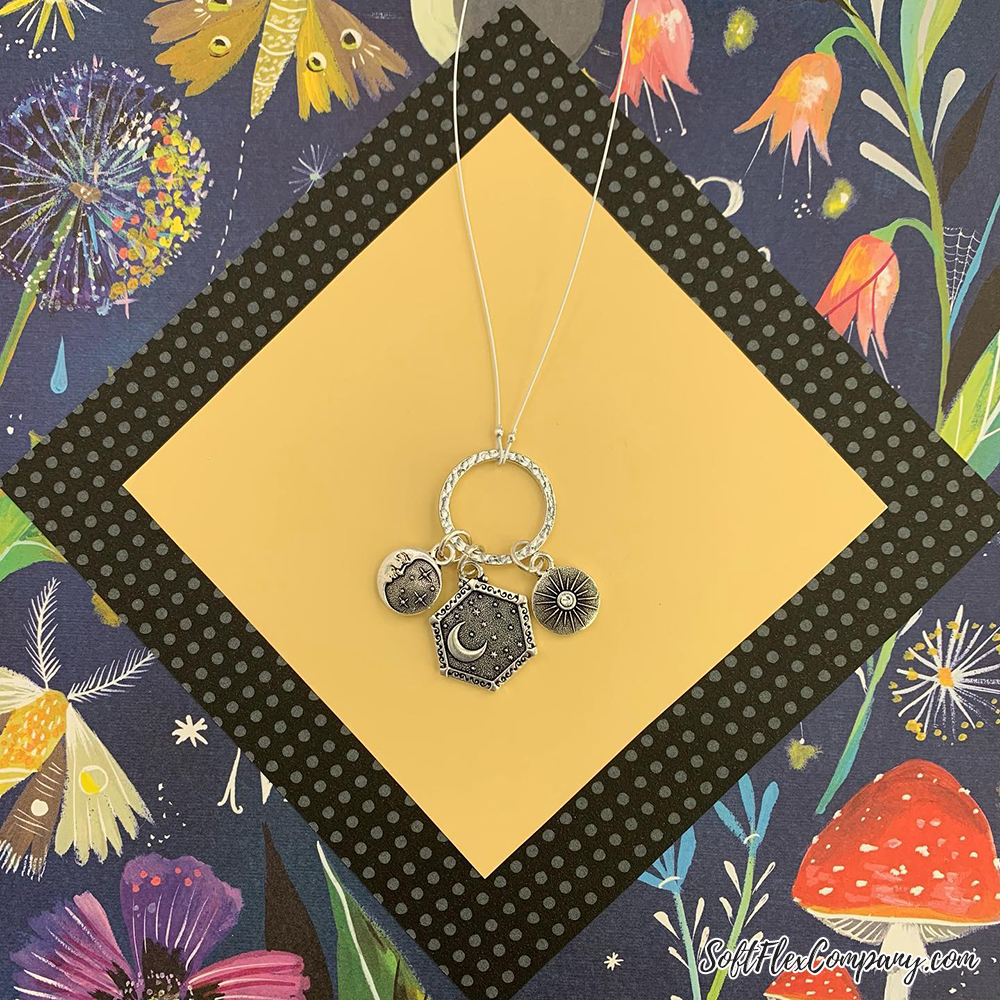 Make a gorgeous necklace with a connector and some charms. This easy design is quick and elegant. Check out our 30 second jewelry tutorials on Soft Flex Company's Instagram Reels! Master a new technique in minutes. These videos move quick but are easy to follow. You will get a sense of how to use your tools and finish your crimps securely. If you need more assistance, make sure you check out our YouTube catalog for deeper dives into jewelry making education. Stand on the shoulders of giants and enhance your jewelry making knowledge in a flash!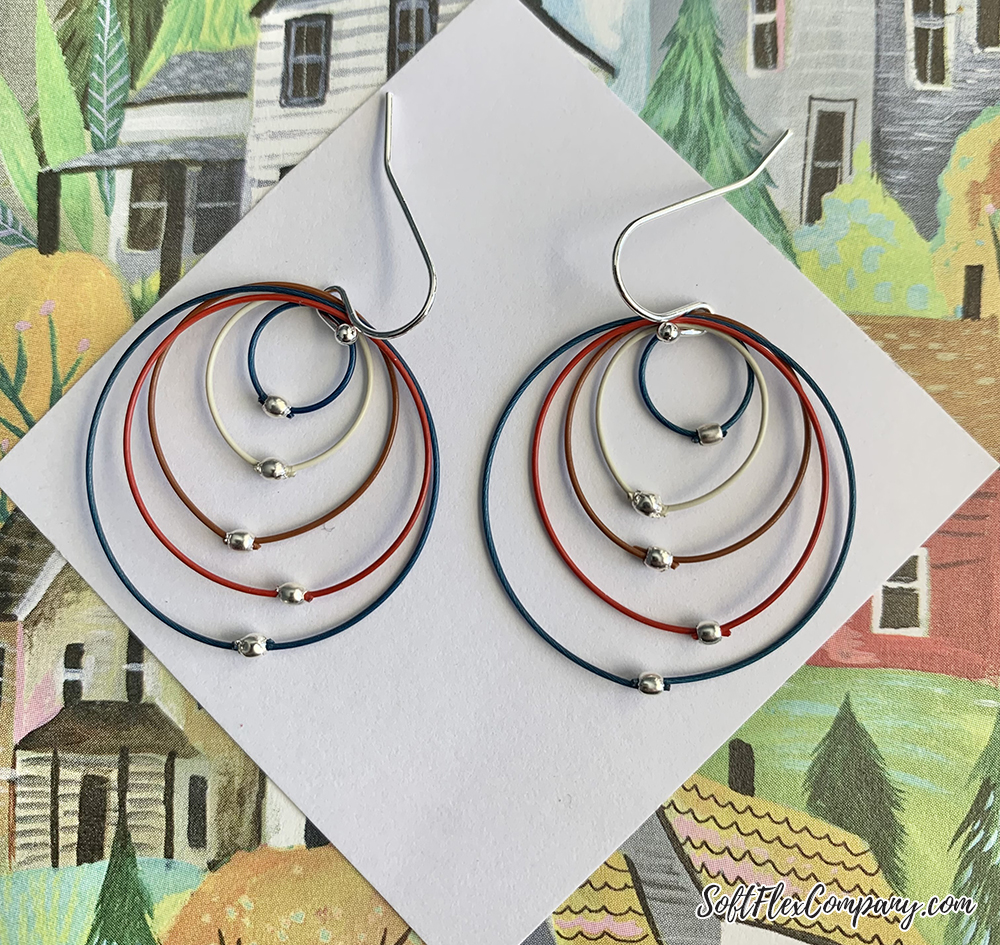 Got a minute? Follow us on the Soft Flex TikTok Page! Learn how to make these fun Pantone color matched earrings. Pantone colors are always hot. We loaded our shelves with the latest 2021 Fall/ Winter colors from Pantone. Represent a little of autumn in all of your jewelry. Warm earthy mornings, sun soaked noon in fall, and mystical evenings are all here. We have bead mixes and strands that you will love. We also color matched our wire to complement these beads - Bone (Soybean), Imperial Topaz (Adobe), Dark Blue Lapis (Rhodonite), and Red Coral (Fire Whirl). If you want to save some money, you can grab all of the bead mixes and the Quad of Beading Wire.
Buy our 2021 Fall/Winter Pantone Bead and Wire Bundle and save money!

Get a FREE bead mix included when you buy our bundle! You pay for three and get the fourth included in the bundle for FREE! This bundle is loaded with our new Pantone bead mixes and our new Quad of Beading Wire.
Explore the 2021 Pantone Colors of Fall and Winter. Soybean is a mild and companionable blonde beige. Adobe is a warm and supportive sundried clay. Rhodonite is a balancing blue-based purple that aids in achieving one's highest potential. Fire Whirl is a vigorous red with a dynamic presence.
Learn How To Make A Charm Necklace Full Of Fall Style
Charm necklaces are seeing a resurgence. Jewelry charms have been with us since our early ancestors first picked a treasured bone or shell from the ground. They have been trending throughout history. Iconic jewelry company Tiffany's made their name known with a charm bracelet. Charm jewelry is currently following popular culture, a movie or series tends to bring the fun back. This week, Kristen, our Free Spirit Beader, showed us how to make a fall necklace using autumn colors and charms. If you know how to open and close a jump ring, this necklace is super easy to design and finish. If you don't make sure you check out Kristen's instructions. She will also show you how to wire wrap a head pin. This technique is useful if you have beads that have a vertical channel.
If you have never worked with chain, make sure you check out the blog we posted on Wednesday. We have lots of chain ideas in that blog. Chain is versatile and fun to work with, especially if you want to diversify and try a new beading technique. You do not need a lot of beading tools to work with chain. Simple cutters and a couple of pliers will do. Chain nose pliers are great, round nose pliers are amazing for shaping and working with wire. Give chain a try!
Chain
Charms
Czech Glass Beads
Head Pins
Jump Rings
Lobster Clasp
Chain Nose Pliers
Flat Nose Pliers
Round Nose Pliers
Cutters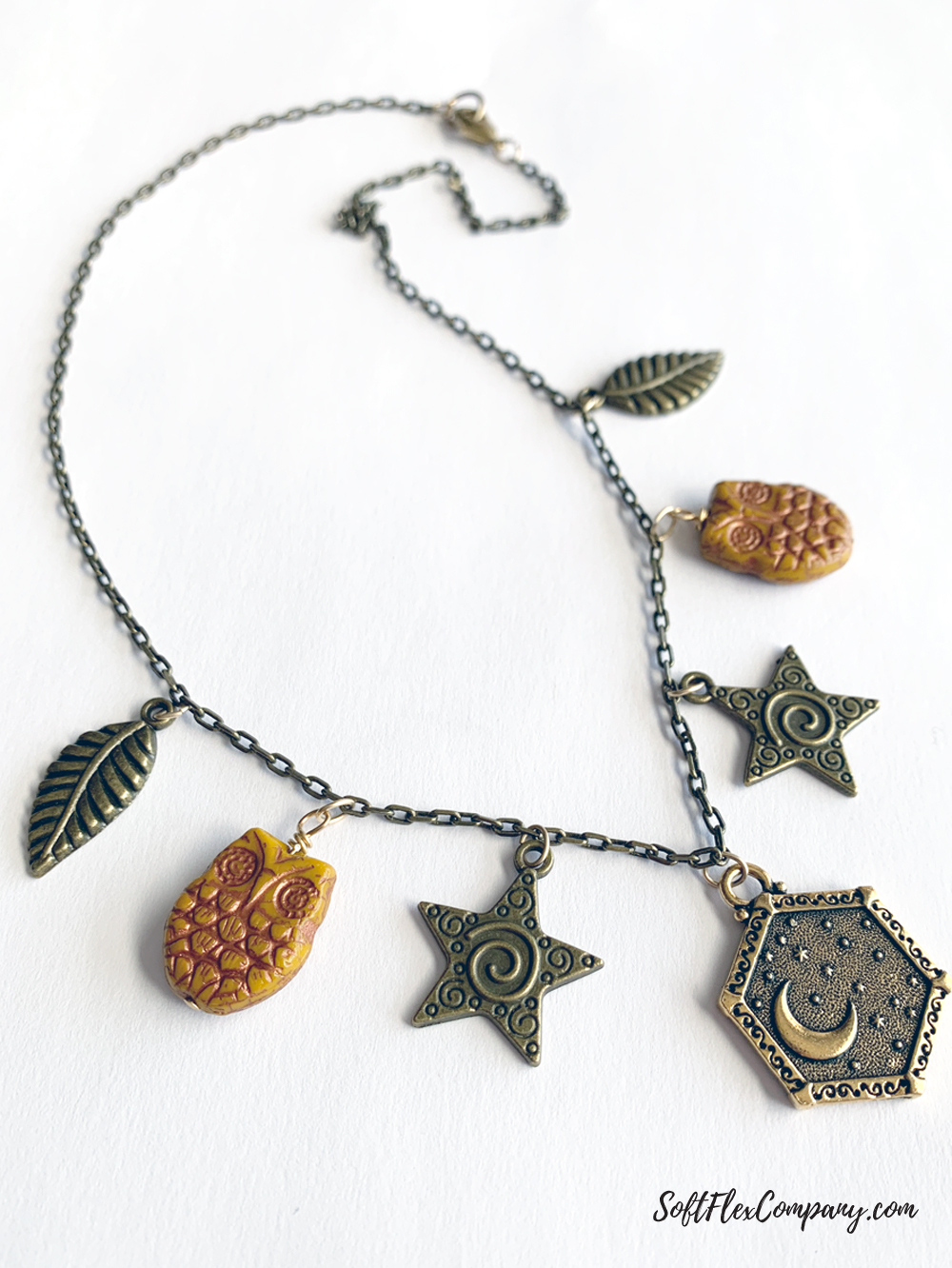 2021 Fall/ Winter Pantone Color Launch - Use The Hottest Colors For Fall In Your Next Jewelry Design
There was a time in the marketing world when one person's 'Warm Ochre' might be another's 'Toasty Butterscotch'. This may have been fun for a consumer to see a color that spoke to them - Toasty Butterscotch sounds delicious! But it led to confusion. If you had a color choice that matched your work or that you wanted to recall, forget about finding a Toasty Butterscotch that was the same tone you fell in love with. Pantone set up a science of color. Colors were given titles and numbers. It was now easy to reference the colors you wanted to demonstrate or use in your work. Toasty Butterscotch was now 'Butterscotch 15--1147X'. If you need Hex code or RGB values, then - HEX #E19640 / RGB (225, 150, 64). This color is now set in stone. Any deviations will have different names, numbers and values. You will always be able to find the specific color tone you love!
Sara jumped on Facebook and YouTube for a live jewelry making video. She wanted to show off our latest Pantone bead mixes and bead strands. She was eager to try and design with a little bit of each color. Make sure you grab our 2021 Fall/Winter Pantone Bead and Wire Bundle if you would like to get all of the bead mixes and the Quad of Beading Wire. The bundle is a great way to save a little money and stock up on a lot of supplies! This bundle is almost as easy to work with as a kit, except in this case, you will need to get some components to finish your jewelry. Make sure you get some crimps from us if you do not have any onhand. Share the joy of color with your littles. Kids love to help out and now is a great time to get them involved and helping make handmade presents for all of their loved ones!
2021 Fall/Winter Pantone Bead and Wire Bundle
Button (as a Clasp)
2x2mm Crimp Tubes
Magical Crimping Pliers
Cutters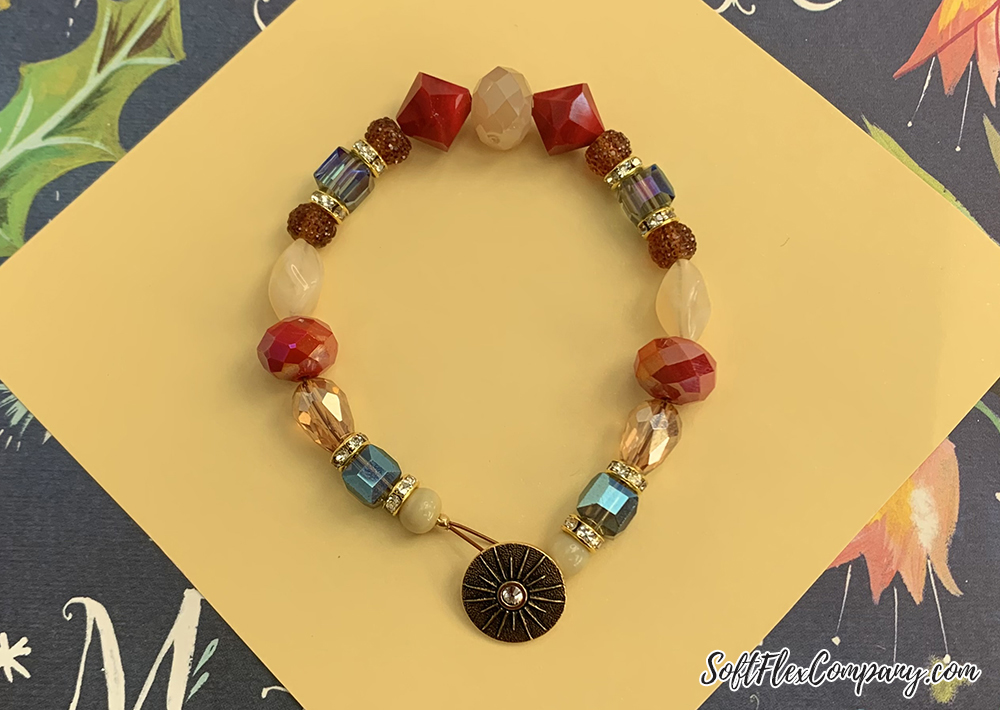 Learn The Art Of Wire Wrapping Beads With Kay From Star's Beads
Want to make amazing earrings with just two beads? Kay has a wire wrapping technique that turns a single bead and Craft Wire into a stunning dangle earring. Grab a couple more beads and make an exquisite drop. Kay makes it look so effortless. With her gentle instruction and some practice, you can make these gallery quality earrings too! Follow her channels and get a free beading course online!
Wire wrapping can look intimidating at first. The single unbent wire is as blank as a canvas, but full of stellar possibilities. This video is a great start for a beginner that needs an idea about what they can accomplish with a spool of Craft Wire. If you enjoy Kay's creative work, make you check out her social media and store. She is always looking for friends to bead with on Facebook! Join her live. She has a great upbeat outlook and infectious personality. She is as much fun to listen to as she is instructive. Learn a new technique today!
Join Kay for Bead with Me!
Need something to do? Do something creative! Check out Kay's new series Bead with Me to get you inspired. Get free video tutorials, design tips, and product highlights to keep you creating!
Bead with Me is a LIVE broadcast designed to offer inspiration with free video tutorials, guest artists, project tips, product highlights plus custom kits and care packages to make your designs uniquely you!
Airing Monday thru Thursday on FB Live
Visit Kay's links: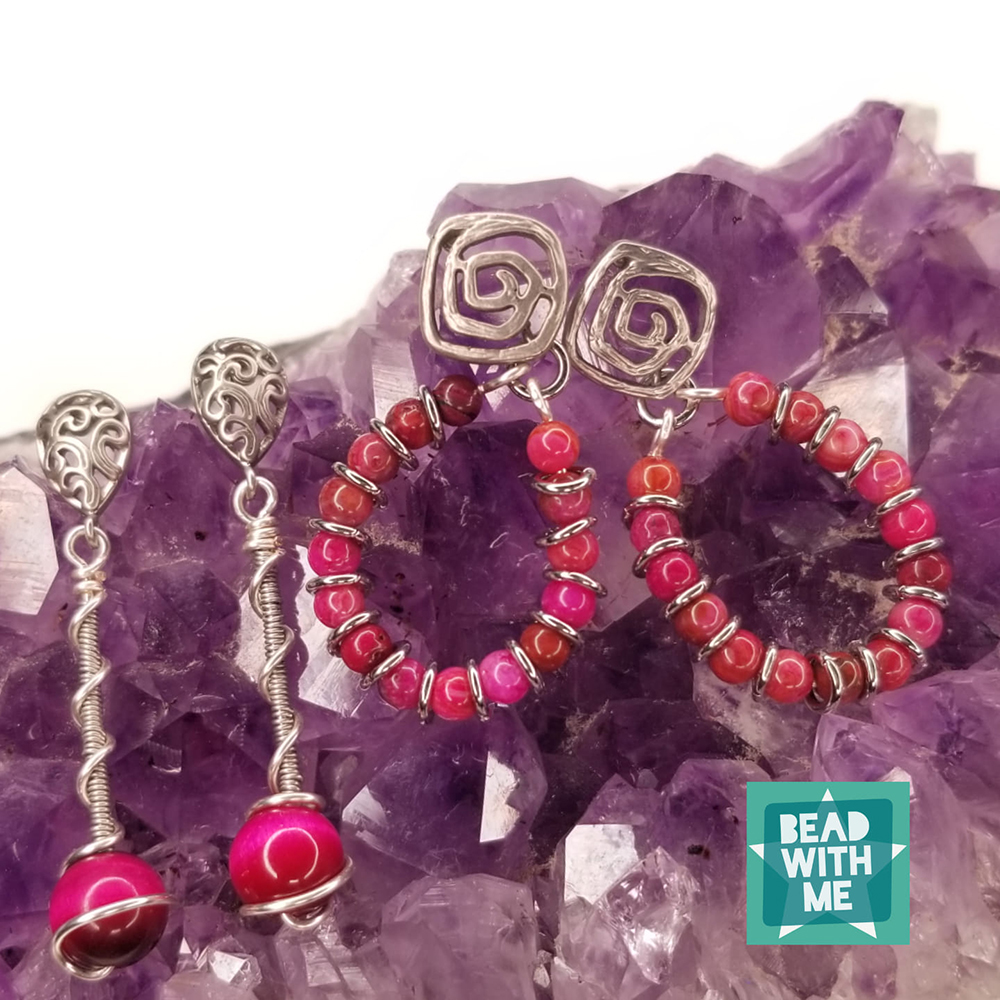 Join our Facebook group – VIB. Stay in the know. Stay up to date. From our bead shows to our video shows and sales, you can stay in touch with us. The community is full of artistic and helpful beaders and crafty people. Inspire and be inspired. Share your pictures and get the beading bug from others!
Visit the Soft Flex Company YouTube Channel!
---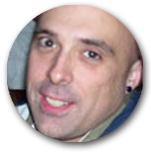 Blog contributor Thomas Soles loves Jazz Age writers and crunchy french fries. His favorite gemstones are Lapis and Pietersite. His favorite hobby is day dreaming. And his favorite mustache is Freddie Mercury's. As you can see, he has a healthy (or possibly unhealthy) sense of humor. You can write to him at Thomas@SoftFlexCompany.com