Today, I am sharing 4 jewelry making ideas combining our 2019 Fall/Winter Pantone Beading Wire Quad and Bead Mix Collection with SilverSilk materials. Let's make a necklace and three pairs of earrings!

One way to ensure the wire colors you choose blend together beautifully is to purchase a beading wire color variety pack! We have over 20 gorgeous color combinations in our Trios Multi-Color Beading Wire Variety Packs that take the guesswork out of choosing a pleasing color palette. And this week, we just released our first ever Quad Beading Wire Variety Pack with four unique colors chosen from the 2019 Fall / Winter Pantone color trend report!

New trending Fall/Winter Pantone colors have arrived! We put together a striking Soft Flex Pantone Quad Beading Wire Pack to match the 2019 Fall/Winter Pantone colors Creme de Peche, Biking Red, Sugar Almond and Bluestone.
4 Jewelry Ideas Using 2019 Fall/Winter Pantone Colors And SilverSilk
Get your creative ideas flowing with 4 different design ideas that use our Pantone wire and bead mix collection paired with Soft Flex Craft Wire and SilverSilk too!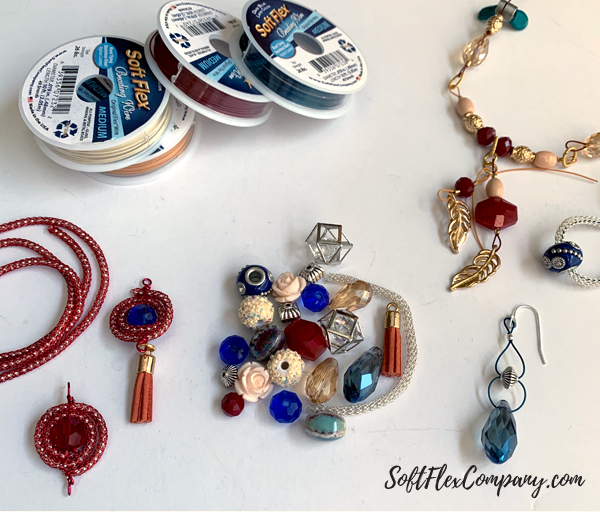 Supplies:
2019 Fall/Winter Pantone Quad of Beading Wire
2019 Fall/Winter Pantone Bead Mix - Limited Supply
Soft Flex 2x2mm Gold Filled and Black Oxidized Crimp Tubes
Soft Flex Craft Wire - 22 Gauge
Red Capture Chain from SilverSilk and More
Silver Hollow Mesh from SilverSilk and More
Flat Crimp Ends from SilverSilk and More
Hammered Cones
Ear Wires
Lobster Claw Clasp
Jump Rings
Textured Jump Rings
Magical Crimping Pliers
Soft Flex Professional Flush Cutters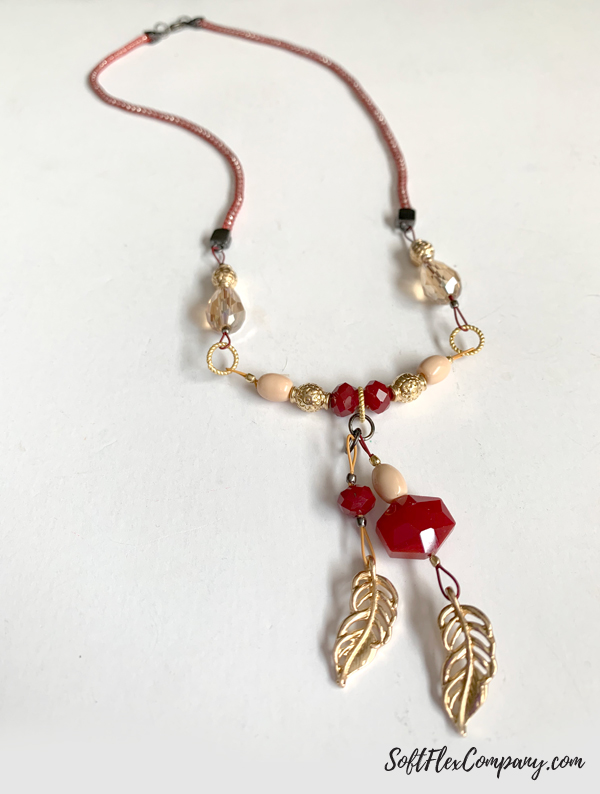 The red capture chain SilverSilk pairs beautifully with the garnet & citrine beading wire and red & cream beads in the Pantone color trend collection. I made the design work with mixed metals by using both gold and black jump rings and gold and black crimp tubes so, that the overall design feels like an intentional mix of metals and not just that I didn't have the metals to match. Grab our 2x2mm Crimp Tube Multi-Pack to always have all the metal tones on hand!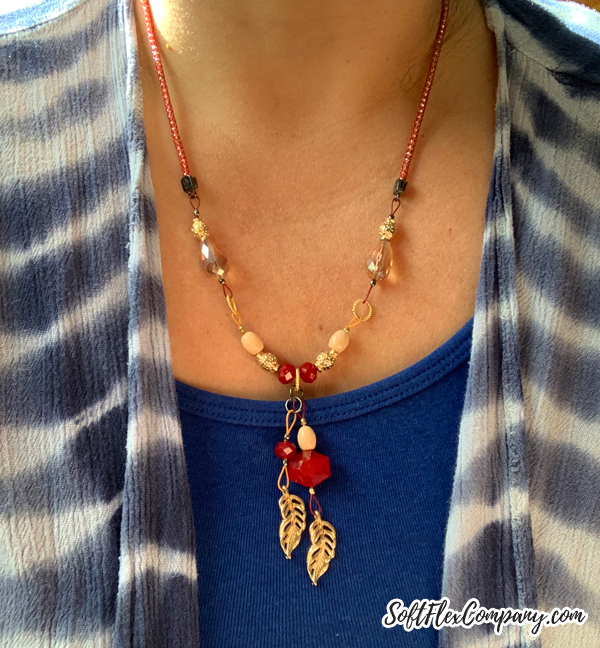 This design uses crimping to create flexible beading wire connectors of beads! It's a great design to play with wire colors that complement one another since you'll see the wire at each connection. I used Magical Crimping Pliers with Soft Flex 2x2mm Crimp Tubes to turn the crimp tube into a small bead. Click here for magical crimping instructions.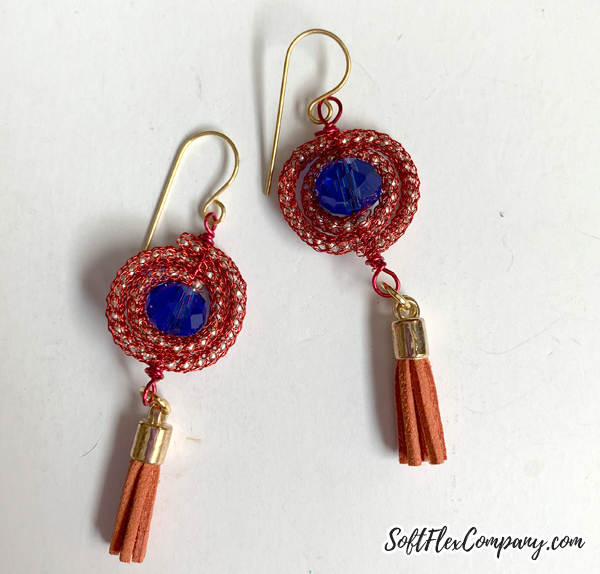 When making the spiral earrings shown above, cut two equal lengths of SilverSilk capture chain. Using Soft Flex Craft Wire as your anchor, feed the craft wire through the capture chain, add a bead. Start the spiral feeding through the capture chain on each pass of the craft wire. Make a wire wrapped loop on both ends, attach the top loop to your ear wire and the bottom loop add your jump ring and tassel.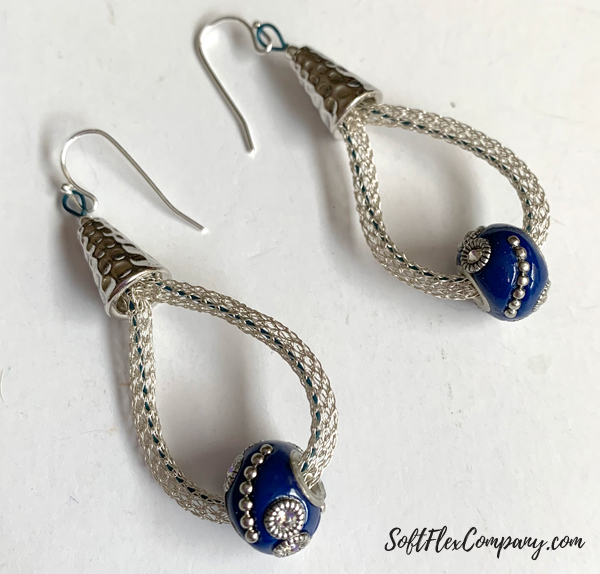 These earrings came together so quickly! Cut two equal parts of the SilverSilk Hollow Mesh. Cut two strands of Soft Flex Beading Wire in Dark Blue Lapis color about 2" longer than the mesh. Feed the beading wire through the mesh, string on your large hold blue bead, gather the wires through a cone, crimp the beading wire loop at the top and attach to an ear wire.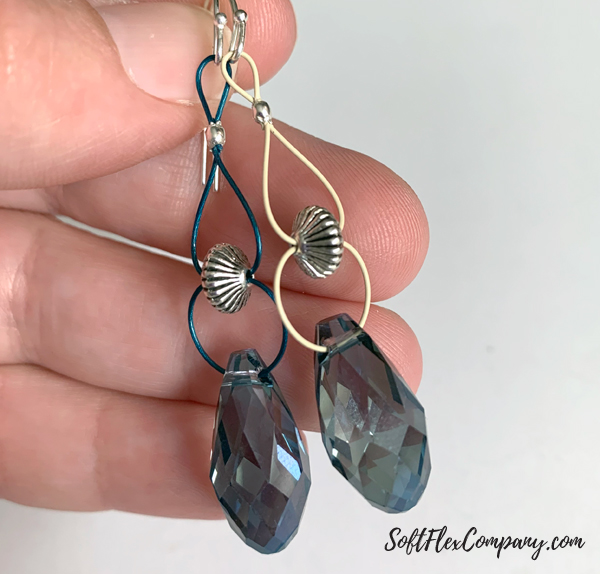 The last pair of earrings are a simple dangle with a fun sculptural shape thanks to Soft Flex's flexible beading wire. I originally made the earring in Dark Blue Lapis (left) but, on the live video asked those watching which wire color they would like me to try and they voted for Bone (right). Which wire color is your favorite on this earring design?
Now that you have seen all 4 different design ideas that use our Pantone collection paired with SilverSilk too, what design idea are you most excited to try?!
Join our Facebook group – VIB. Stay in the know. Stay up to date. From our bead shows to our video shows and sales, you can stay in touch with us. The community is full of artistic and helpful beaders and crafty people. Inspire and be inspired. Share your pictures and get the beading bug from others!
Visit the Soft Flex Company YouTube Channel!

---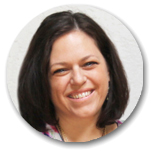 Kristen Fagan is the Website Graphic Designer and a Jewelry Making Educator for Soft Flex® Company. She is the co-author of Seed Bead Revolution, an artist and creativity guide. She currently lives in Arizona with her husband, their two sons and two dogs. When she's not painting, drawing or beading, she enjoys reading, yoga, exploring the outdoors and traveling. Her favorite stones are Opal, Turquoise, and Quartz and she can't bead without Bead Stoppers. You can email her at Kristen@softflexcompany.com or visit her Website | Facebook | Instagram