For a little while, it looked like the dark days of COVID were on the way out. Now we are seeing a resurgence. It is so easy to feel overwhelmed when the news never seems to be good. We have noticed the lovely people in our community struggling to enjoy crafts they have always adored. We think it is important to stay busy with hobbies you love. Engaging in a passion helps focus your mind and keep you concentrating on the things that matter to you. Today we are going to look at ways to beat the blues and turn a bad situation into something productive and positive. We have project ideas for you that are great for all ages (with supervision, of course). Let's keep our thoughts out of the dark places and focus our energy into beauty and DIY crafts. Creativity is a wonderful way to stay mindful of the important things. Give a new technique or craft a try. Spend some time pampering yourself and let's make the best of a bad situation!

We have some free jewelry making projects that we hope inspire you to try something new. We will show you how to make a wire wrapped ring that even the greenest beginner can tackle and finish. We have ideas that will help beautify your face mask - if we are still mandated to wear them, then we want to look fabulous doing it! Learn how to make a stretchy bracelet for yourself and maybe even involve your kids. Beading is wonderful for developing minds. We will tell you why you should be letting your children or grandchildren string their next project. We will show you how to macrame. Macrame makes great masculine and feminine jewelry. Macrame a bracelet for your loved ones for the upcoming holiday season. Finally, we want to show you how to think out of the box and explore jewelry techniques you have probably never considered. Let's take some 'me time' and brighten our outlook!
Shop our lovely collection of Czech Glass Beads!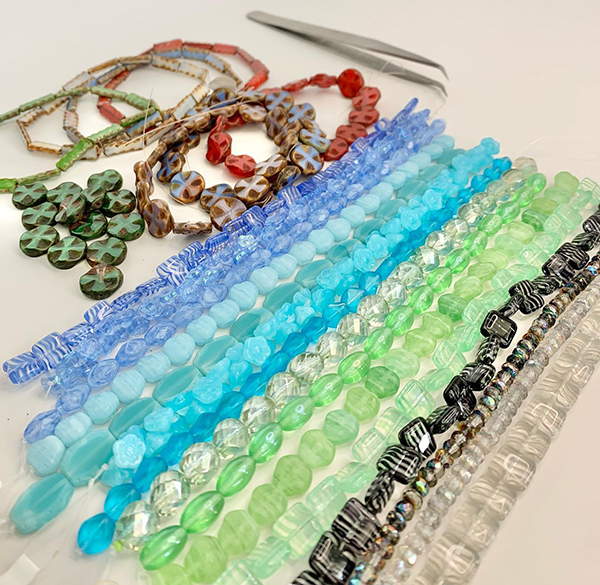 Do you love vibrant colors and upbeat jewelry? Czech Glass Beads are a delight. Czech Glass Bead Strands are beautiful and come in the most wonderful shapes and sizes. Add a unique bead to your next DIY necklace as a pendant. A strand of Czech Glass can be turned into a beautiful bracelet without any extra additions. You can make a cute pair of earrings with Soft Flex Beading Wire and a single bead or three. You can mix and match with other Czech Glass colors and make jewelry that celebrates a holiday or moment in time. Czech Glass is playful, inexpensive, and slightly exotic - give your jewelry an accent of your personality!
Some of the most amazing glass beads come from the Czech Republic. An entire strand of our Czech Glass Beads will produce at least a bracelet. Don't be scared to mix and match a few different styles to make a design that is a one-of-a-kind piece.
5 Jewelry Making Projects To Help Beat The Blues And Reignite Your Creativity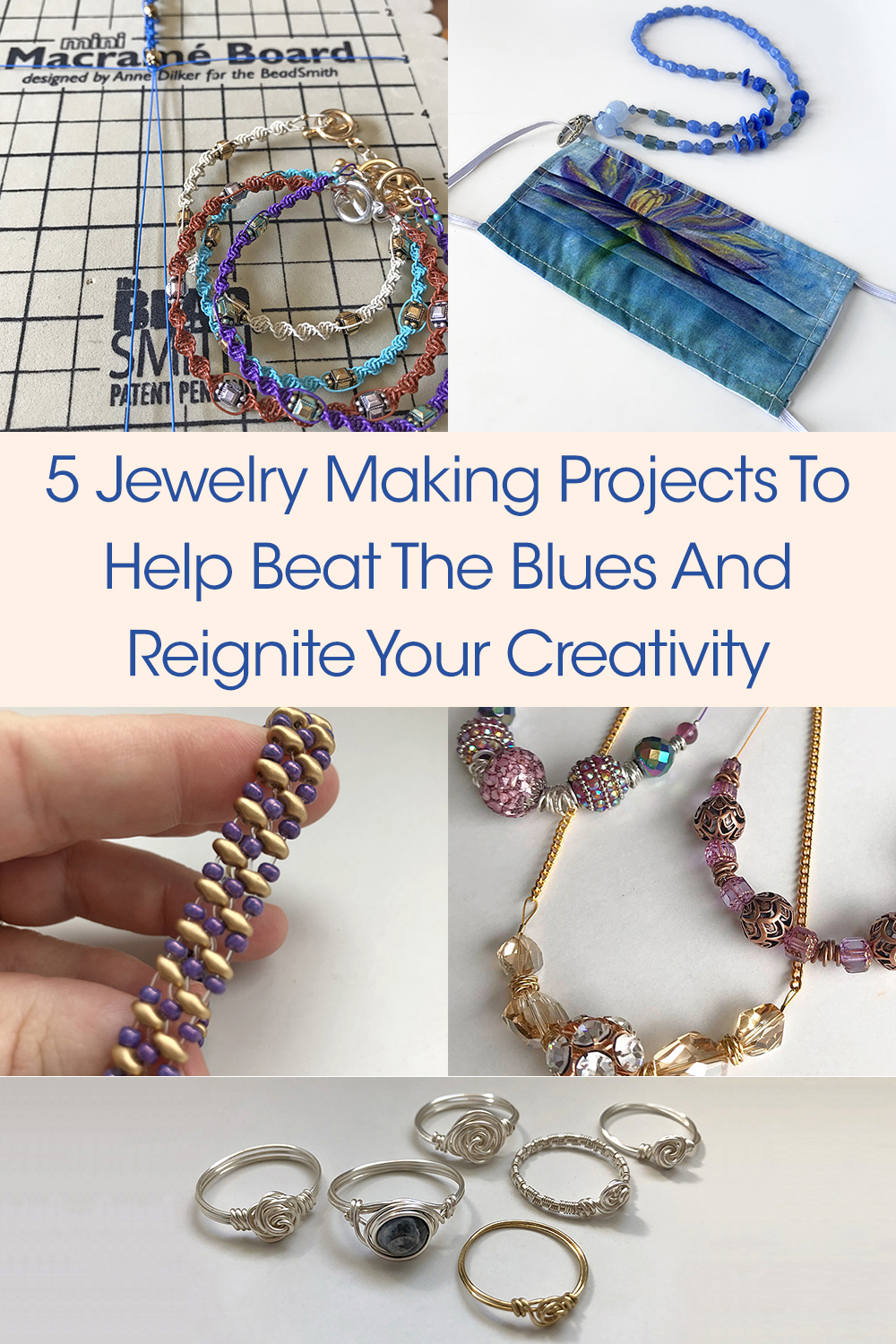 Beads Are Ancient And Powerful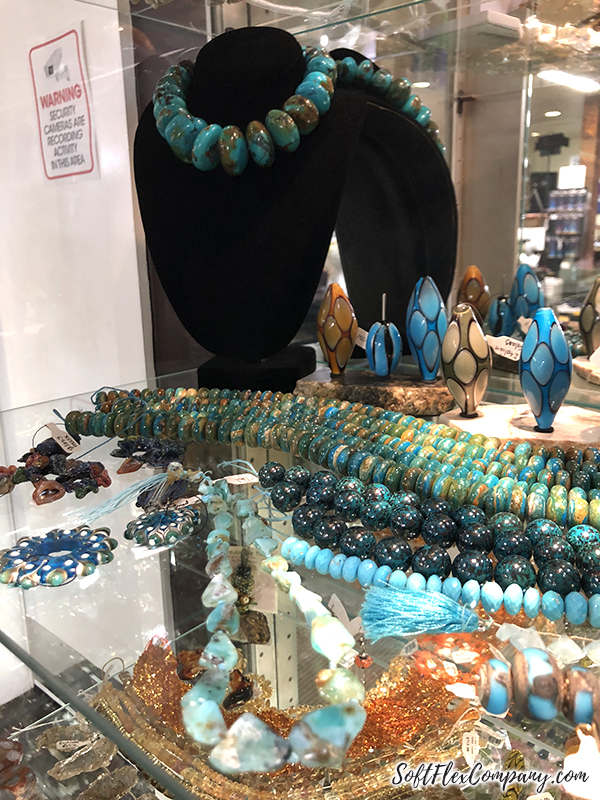 In the beginning, there was beads. Well. Maybe not during the dawn of man. But, we are finding that the art of beading has been around for much longer than we once estimated. In 2003, archaeologists discovered what may the earliest beads we have ever found. Working at an open-air site in Loiyangalani River Valley, in Serengeti National Park in Tanzania, archaeologists unearthed ochre pencils, carved bones, tools, and ostrich egg beads.
The ostrich egg beads were found buried with items and under sediment that dates them somewhere in the African Middle Stone Age which began as early as 280,000 years ago and concluded with the Later Stone Age, around 45,000 years ago. The find is significant. Until this point, the ability to think abstractly and create art was believed to have originated around 35,000 years ago. Although these beads have not been positively dated yet, they may indicate that symbolic thought began much earlier. The ostrich egg beads were around 5mm in diameter. They were probably created by breaking an ostrich egg in small pieces, drilling a center and smoothing and rounding the bead channel. They may have been strung on fiber or sinew.
Beads have become a constant companion. They have shared thousands of years with us on our journey. They have collected on our shelves and danced on our necks and wrists. We have gifted them to loved ones. We have worn beads as striking symbols of wealth and status. We have worn beads to show our individuality or our creative energy. We have made staggering purchases with beads. There are stones said to have metaphysical properties that can enhance our lives. Beads are so much more significant than a common piece of adornment. They are powerful and healing.
Beading Is A Great Way To Beat The Blues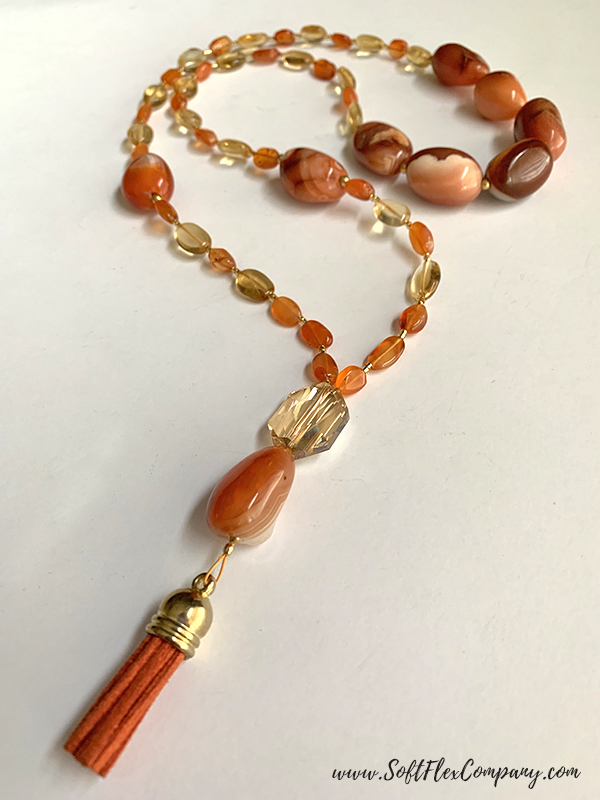 There are a lot of great reasons to open your beading supplies when the going gets rough.
Touching and feeling beads is almost meditative. Having a handful of interesting beads is calming. Staring at the surface of a colorful stone is a moment of Zen in a hectic world. There is mystery in beads. If they are glass or vintage, you might find yourself pondering the artist. You might wonder what kind of day it was when this particular bead was given shape and presence in this world. Was the bead made on a distant shore or nearer to home? If the bead is a natural stone, there is no telling when it found form. Was it underfoot when a traveling herd of Brachiosaurus made their water to a water source? The natural stones in your hand have traveled the oceans of time to find themselves in your palm. How extraordinary is that?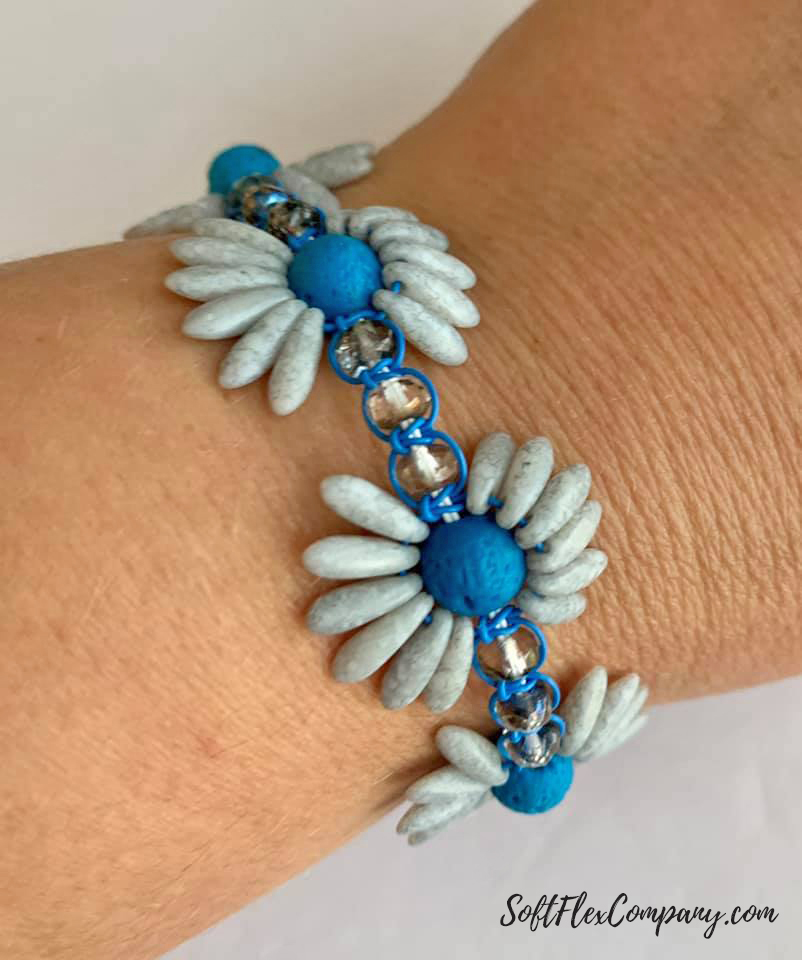 Beading is great when you are feeling down. If you pick a technique that is fun, but also based on muscle memory, you can multi-task. Making a kumihimo necklace while watching your favorite Netflix series is a great way to binge watch TV and make beautiful jewelry. Knitting spools are amazing for relaxing and doing something productive too. Macrame is another way to make a beautiful design without devoting all of your attention to the task. If the idea of beading sounds wonderful and at the same time, your depression would rather have you do nothing, try a technique that does not require all of your attention. It might just inspire you to get back into the craft you love.
Imagine completing a beaded jewelry design after a blue spell. The sense of accomplishment will bring you back to the world. Stringing a stunning necklace requires focus. You need to concentrate if you want to make something special. Putting your mind in the moment will force you to participate in the here and now. Be present again. Don't drift off with dark thoughts. Use your mental muscles to create something amazing and follow through. There is healing mojo in finishing something you start!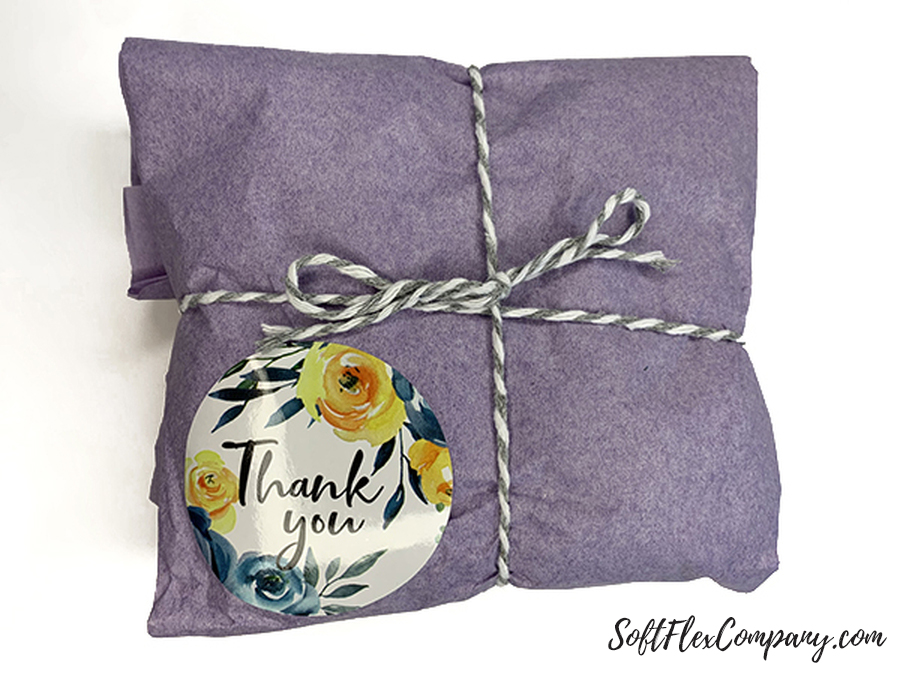 If you are in a quarantine situation or work has been rocky since 2020 reared its ugly head, you might be pinching pennies. One great thing about beading is that it is a great hobby for keeping low on cost. Your upfront purchase of tools, beads, findings, and wire might be a tad spendy, but once you have those, your supply costs will go way down. One great way to make affordable jewelry is to look for kits. We carry mystery design kits that have everything you need to make a lot of jewelry. Each kit is themed and full of amazing contents. All you need on your end is a pair of cutters and crimping pliers.
Stay Active And Stay Social - Even If You Are Stuck At Home
Nothing can deepen a dark mood better than being alone when you do not want to be. Fortunately, technology is giving us a much needed life preserver during this visit to the inky black ocean that is COVID. If you want to see a friendly face, a Facetime application or Zoom will allow you to visit loved ones all over the globe. If you are missing out on bead shows, you can join our VIB group and be part of our online bead extravaganzas and live demonstration. Just because you are stuck at home, it doesn't mean you can't network and visit your besties.
Check out our VIB group. You will find a thriving bunch of beautiful beaders here. We foster an air of creativity and acceptance. You will find artists posting their stunning jewelry designs. You will find beginners asking for help on how to secure their crimps. You will find professionals that love to offer assistance and advice. Be part of our community if you love making jewelry and want to feel connected with a group of great peers. Also, we often have giveaways and design challenges on our VIB group. All of the winners of our challenges are selected using a random number system. You have as much of a chance to win as somebody that has spent decades making jewelry.
VIB is also a great resource for some MASSIVE beading events. We are partnered up with a group of bead stores and designers. We all take part in the world's biggest virtual bead show. You will find news about the Great Bead Extravaganza on our VIB group, as well as the official group for the show. Don't miss out, the next one is just around the corner! Also, we recently staged a Customer Appreciation Week celebrating our favorite people - you, of course. CAW was a chance to watch some free jewelry making demonstrations and learn new techniques. CAW featured lots of sales and giveaways from all participating vendors.
If you just want to join us for a live jewelry demonstration, check out our live YouTube and Facebook shows. We film two to five shows a week. All are live. All offer the chance to touch base with us and ask any beading questions you have. We want you to learn how to make jewelry. We want you to succeed. We have always considered ourselves educators as well as appreciators. Learn how to crimp and more. Join us live and share some smiles with us.
Don't let loneliness creep up on you. We want you to check out our activity community. Talking to people in our group is a wonderful way to get your head out of the darkness and get inspired to make something special.
Make sure you check out our Beading Parties. These informal interviews feature movers and shakers in the beading and craft industry. We discuss the little things and get to know them. And we make jewelry and show you techniques that we think you are really going to enjoy. Make some jewelry with us!
How To Make A Ring Using Craft Wire
Wire wrapping can sound like a complicated process. For the uninitiated, staring at a length of Craft Wire is like looking at an empty canvas. How are you going to fill that canvas with something amazing? A great way to learn is to pick a simple craft. This easy to follow video shows you how to make a ring. Wire wrapped rings are simple to learn. This fun jewelry project can be finished in minutes. If you make a blunder, the wire is forgiving and you can course correct. If you really flub your design, the supplies needed are so trivial that you can just toss a mistake and start over.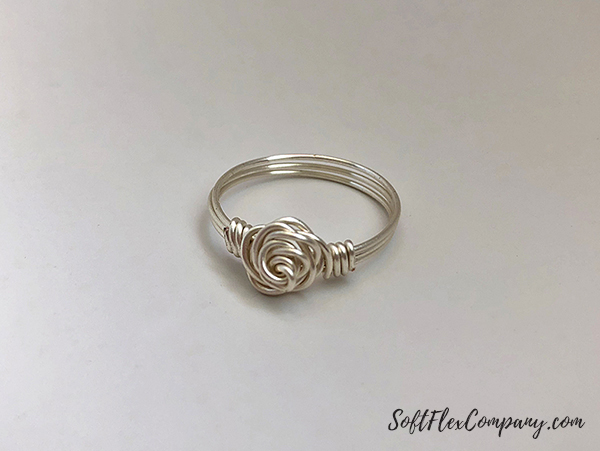 For this project, you will need a ring mandrel or dowel. You can either buy one from your favorite bead store or you can make an improvised jewelry mandrel with items from around the house. Look for a length of hard wood or metal. If it is sturdy enough, you can strike the ring on the mandrel to work harden it so the ring retains its shape. One benefit of using an actual ring mandrel is the ability to size the ring before you wire work it. When you make this ring, it will basically shrink down an entire size. If you are using improvised materials, make sure your homemade dowel is a little thicker than the finger you plan on wearing the ring, that will allow for the shrinking size.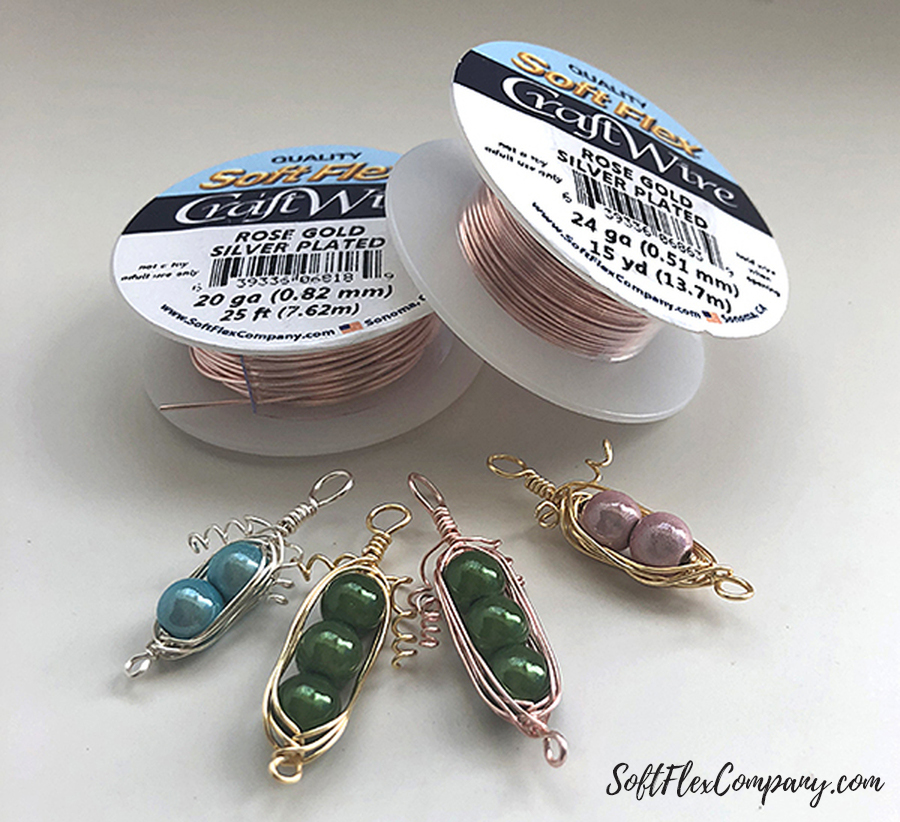 Soft Flex Craft Wire is a high quality, permanently colored copper wire. It is resistant to scratching, peeling and marring. This is due to the special enameling process used to coat the wire to produce the wide spectrum of colors we offer. After the enamel is applied, the wire is then clear coated to prevent tarnishing. Bare Copper is the only wire in the line that is not treated. If antiques and old findings are your medium, Bare Copper will patina - perfect for making that new project look like an heirloom.
Quality Soft Flex Craft Wire is 100% lead and nickel free. There are no other metals used in the wire production other than copper and fine silver. The temper of the wire is soft. It can be tempered to half hard. If you need to harden up your wire for ear wires or other findings, you may use a nylon hammer or wire whacker to work harden your project. Using a nylon hammer or wire whacker will allow the wire to work harden without marring or flattening the wire. An exceptional design idea deserves a professional craft wire.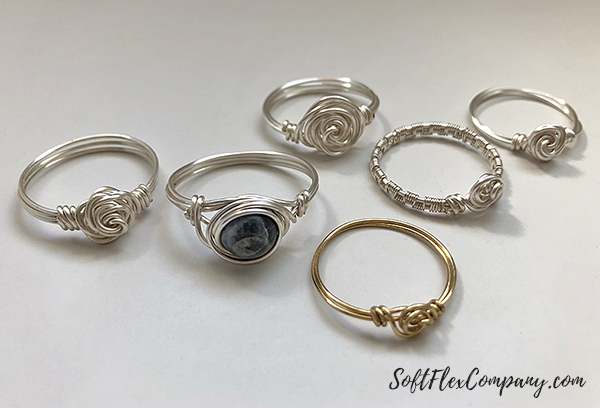 One fun thing about this simple wire working project is how easy it is to master. Even if you know nothing about wire wrapping, you can learn how to master this project in minutes. Once you get the basic grasp on how to construct your ring on the mandrel, you can manipulate the wire into any shape or pattern you like. Add a rose or wire wrap a stone to the ring. It is so much easier than you would imagine. Once you get the hang of making a basic ring, you can move on to more difficult projects. Halloween and the Holidays are nearing, we have lots of great ideas for spooky or festive projects. Wire wrapped crafts make great gifts too. Make a spider for the arachnid lovers in the family. Make ornaments for friends. Learn a new hobby today and buy some Craft Wire!
See our blog for easy to follow instructions!
DIY Face Mask Lanyard Tutorial - Make Your Own Face Mask Necklace
Well. We are not out of the woods yet. Unfortunately, COVID seems like an uninvited guest that just won't leave. As the pandemic continues, some states and parts of the world are going back to mask mandatory rules. We do not take sides on politics here. But we do figure that if we are going to have to wear a mask, it is going to look fabulous. Adding a lanyard to a mask is a fun way to compliment it with a little beading glamour. A lanyard is also an easy way to carry a mask on your person so that you are not leaving it on dirty surfaces or forgetting it when leaving the house. Give your mask a little personality with some beautiful beads!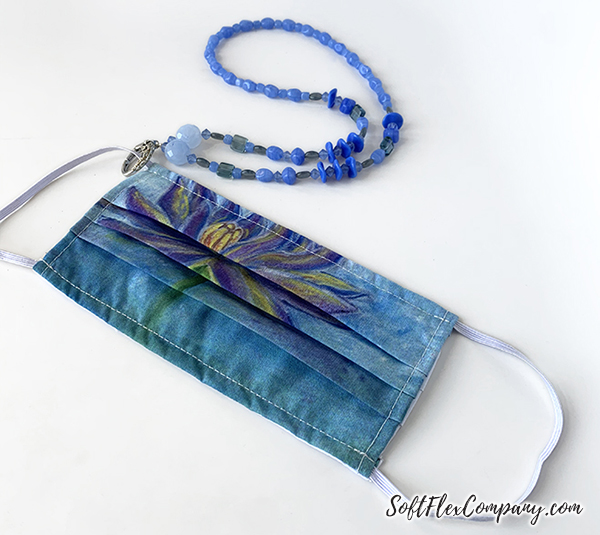 A beaded lanyard can do wonders for a boring mask. But you can even step up the fun and buy a fashion forward mask. Soft Flex artist and designer Kristen Fagan has a wonderful collection of her art on masks. Make sure you visit her shop and check them out:
Mask lanyards make wonderful gifts. If you know a teacher or healthcare worker that could use a little lift, make them something special. A handmade lanyard will let them know how much you appreciate their work and having to deal with wearing a mask everyday.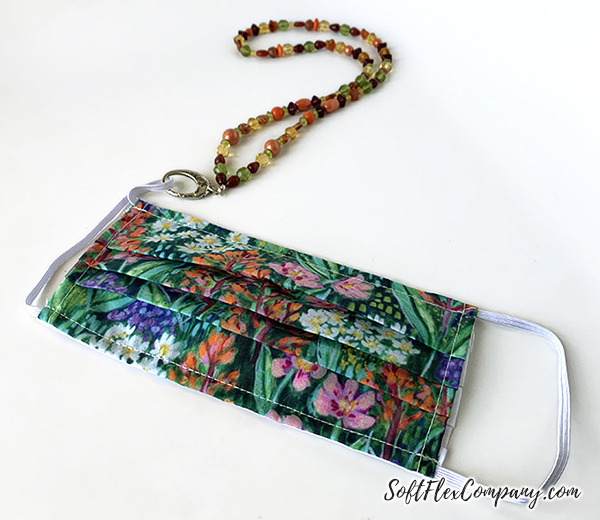 You may not want to wear a mask. Or you might be one of those that wear it without even realizing it. It has almost become part of our uniform at this point. Shirt, pants, shoes - mask. Hopefully we will all be back to normal sooner than later. But since we are stuck wearing them for now, let's adorn them and make them part of our personality. Don't settle for bland when you can look beautiful!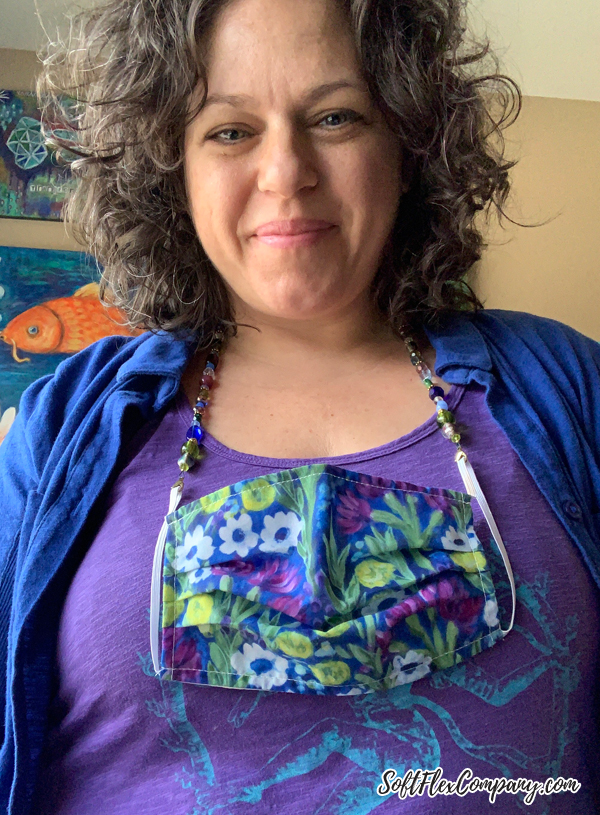 See our blog for easy to follow instructions!
Learn How To Make An Elastic Bracelet For All Ages
You might think using stretchy string for bracelets is a great jewelry idea for children. But we want you to know that Stretch Magic makes it easy to make gorgeous stretchy bracelets for every age. In the video above, Sara has a great multi-strand idea for you that is on par with the most elegant jewelry. Stretch Magic is also incredibly inexpensive, an eighty foot spool is less than $8.00. That means a ton of jewelry for just pennies! If you sell your jewelry, this is a great way to offer big discounts on your finished jewelry as you will not need clasps, crimps, tools, or the components that you would normally require to finish a necklace strung with beading wire or memory wire.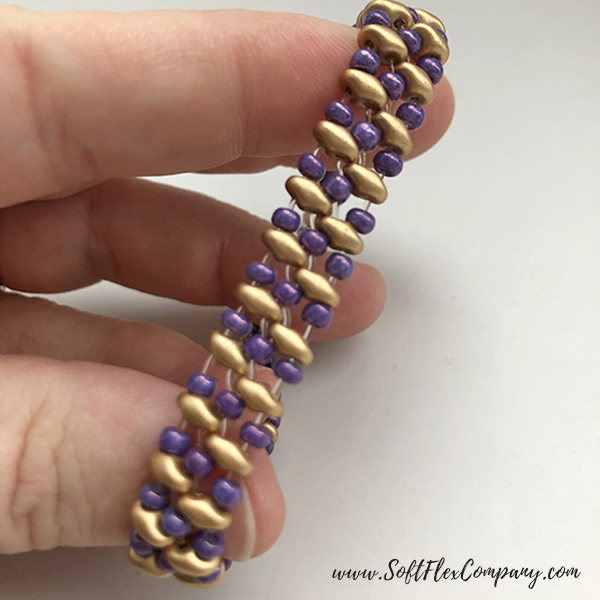 Share your next project with your children or grandchildren. While you make something stunning for yourself, you can have them make a playful design that they will love. Beading is a wonderful activity for the little ones. Young beaders can learn how to focus and concentrate. They will learn hand/eye coordination. Beading teaches them how to create and recognize patterns. You can use beading to teach them how to count. You can teach them how to recognize and name colors and shapes. Their jewelry project will give them a sense of accomplishment as it is easy to start and finish in a short time.
Beading is part of STEAM (science, technology, engineering, art and mathematics). STEAM is an approach to learning using five, key access points for guiding students. Beading can touch on many of these areas in just one lesson!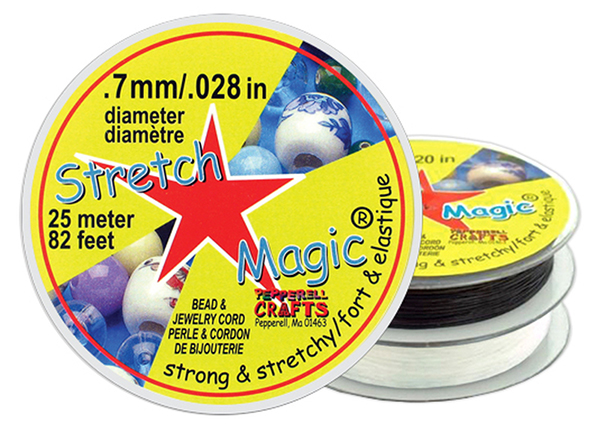 Stretch Magic is a strong elastic-like cord. It is constructed of a mixture of polyester and polyurethane. Stretch Magic is solid and will not fray over time. Stretch Magic does not contain any latex, rayon, or elastic. This product is available in Clear or Black. To finish off a design, tie a square knot and dab with Special T Glue to secure. .5mm is the thinnest diameter.
It is recommended that you pre-stretch Stretch Magic before beginning a project. This will ensure the cord does not stretch and lengthen after beads are placed on it.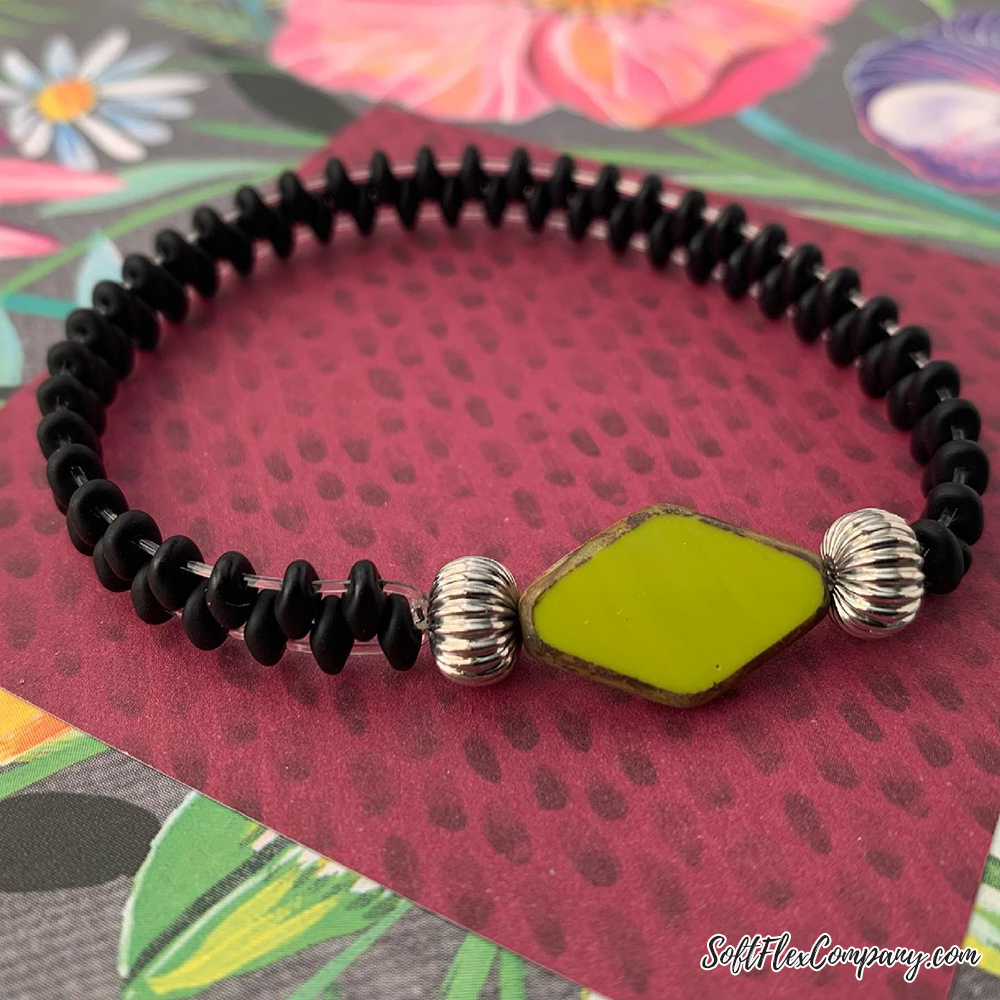 Everything You Need To Know About Stretch Magic And Free Beading Project Ideas
Learn How To Make A Macrame Bracelet With Beading Wire
If you never took the opportunity to learn how to macrame. with cords and fibers, now is your chance to learn a fun new way to macrame! Soft Flex Beading Wire is the perfect beading string for a macrame project. Soft Flex is a nylon coated marine quality stainless-steel. This means all of your designs are going to be colorful and STRONG! Soft Flex has the strength of steel, but the grace of silk. All of our diameters can be knotted. Macrame may seem like a time consuming project that requires skill and patience. It is actually much simpler than you would expect. In this video, Kristen shows you how quick the individual knots are to make and secure. Once you get a rhythm going, your macrame design will be finished before you realize it was getting close. You can make a macrame bracelet that just uses wire or you can add beads. Learn how to macrame today!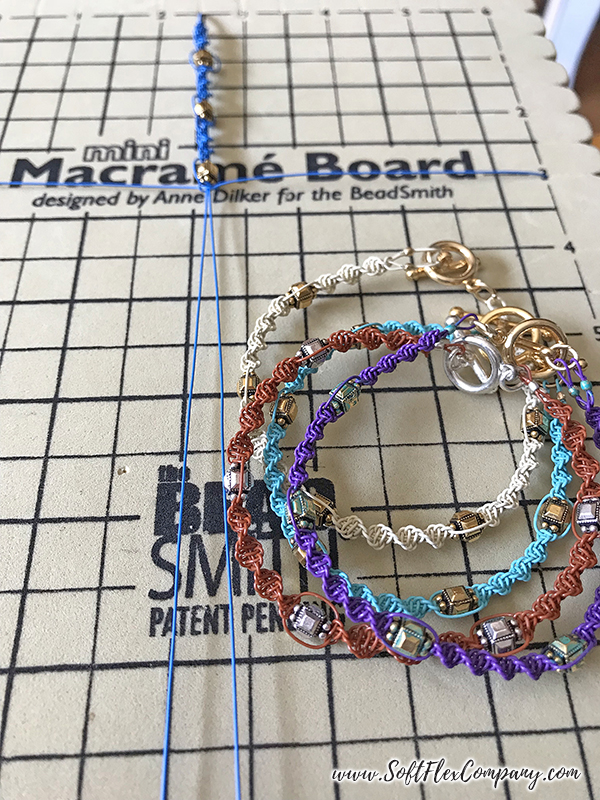 Macrame is likely derived from Arabic or Turkish words describing fringes and weaving techniques. It is a form of crafting textiles using knots - rather than knitting, crocheting or weaving.
Early macrame. was used as a decorative fringe. It later fell into favor with sailors and was used for hammocks, fringe work on railing and bells and decorative finishes to knife handles and bottles. Macrame exploded in popularity during the 1970s and was used for wall hangings, jewelry, and clothing.
On into the 21st century, we have found macrame especially fun to use with Soft Flex Wire. Explore jewelry making with our colored wire and a macrame board!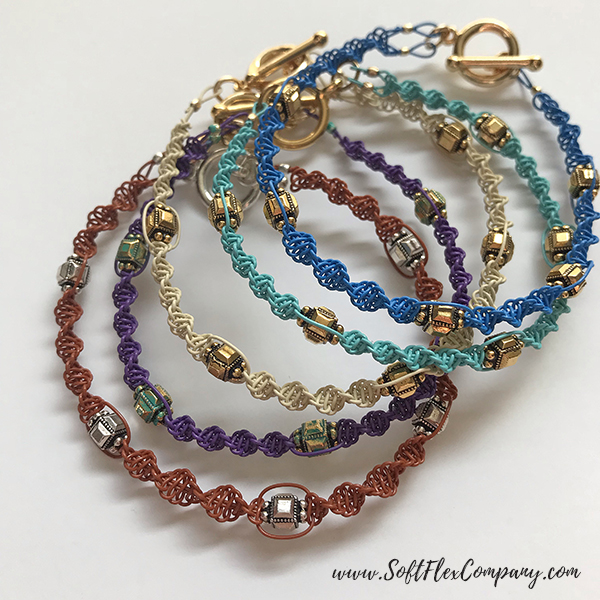 Don't let this opportunity to learn how to macrame. get away. We have free project ideas and resources on our website. You just need to devote an hour or three and you will learn the fundamentals. Macrame jewelry is great for a unisex gift. Make a macrame bracelet for your kiddos or partner. A Soft Flex macrame design is sure to last through even the toughest play or roughest handling. These bracelets would make a great adornment for a high schooler that is fashion focused.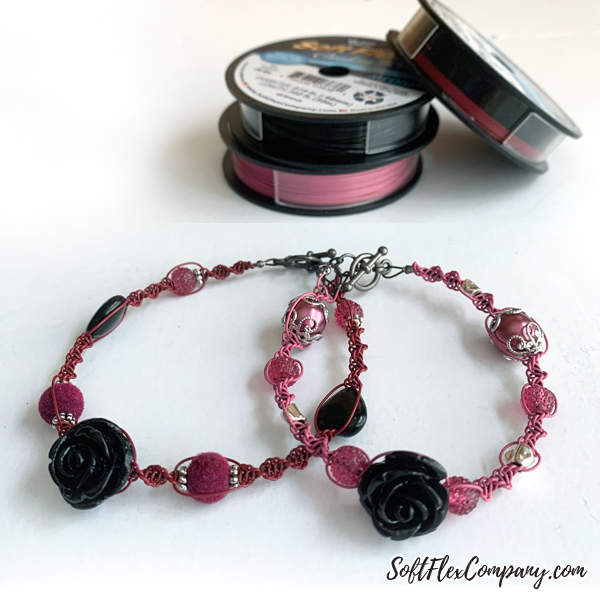 Knot your bracelets with a theme in mind or go for rich colors and decadent beads and make an elegant necklace for your finest wardrobe. We can't wait to see your work. If you make a macrame. bracelet with Soft Flex, make sure you visit our VIB group on Facebook and post photos. VIB is a great place for jewelry ideas. You can also learn new tricks and techniques from our community. Join us!
See our blog for easy to follow instructions!
Using Jump Rings As A Design Component In A Necklace
This is a brilliant jewelry design for those of us that have stocked up on too many of one component in particular or just have an excess in our beading supplies. Kristen had an abundance of jump rings in her toolkit. She knew she wanted to put those jump rings to use, rather than just collect dust. She considered filming a chain mail for her weekly Free Spirit Beading episode, on YouTube. But realized that she just did not have the patience for it at the moment. One thing Kristen is great at is thinking out of the box. She decided to string her jump rings like beads.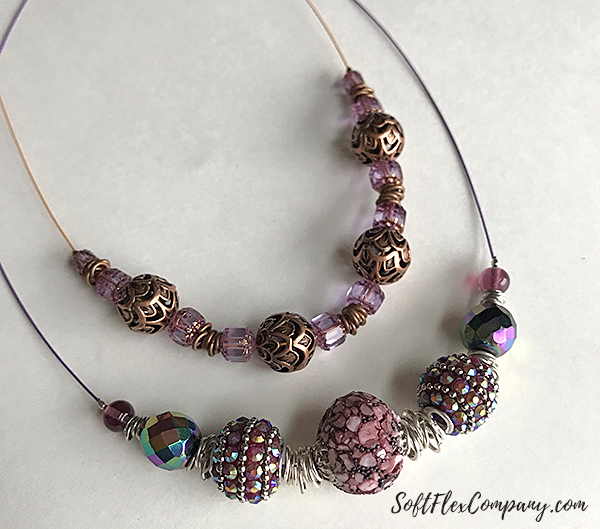 If you have an abundance of jump rings and just cannot figure out what to do with them, get creative. Kristen used her jump rings as beads. Collect a bunch of jump rings in one spot and you have an interesting texture or something to frame your focal. Jump rings make great spacers if you add more than a couple. Add bigger jump rings for a loose and flowing design. Add a bunch of smaller jump rings for a tighter beaded look. How fun! The next time you notice that your beading supplies are overflowing, why not think out of the box and try a creative way to clean out the closet?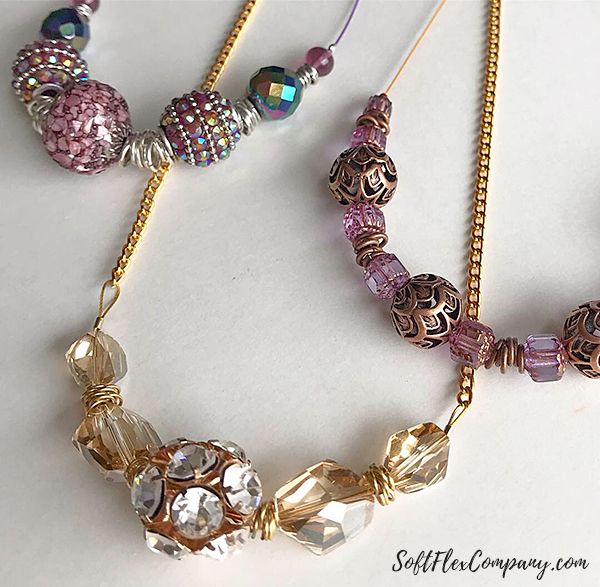 See our blog for easy to follow instructions!

Join our Facebook group – VIB. Stay in the know. Stay up to date. From our bead shows to our video shows and sales, you can stay in touch with us. The community is full of artistic and helpful beaders and crafty people. Inspire and be inspired. Share your pictures and get the beading bug from others!

Visit the Soft Flex Company YouTube Channel!
---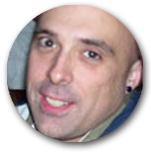 Blog contributor Thomas Soles loves Jazz Age writers and crunchy french fries. His favorite gemstones are Lapis and Pietersite. His favorite hobby is day dreaming. And his favorite mustache is Freddie Mercury's. As you can see, he has a healthy (or possibly unhealthy) sense of humor. You can write to him at Thomas@SoftFlexCompany.com