Whatever it is I think I see, becomes a beautiful bead to me! Do you see jewelry components in everyday items? We certainly do. Buttons are one of the most versatile common items that can be used as beautiful beads. Button styles can range from pure function to ornate and decorative. Even the most boring buttons can have value when it comes to jewelry making. Buttons can be used as clasp, they can be wire wrapped, they can even be strung on a necklace. Add some buttons to your beading supplies. Let's learn how to make jewelry with buttons!

We have some thoughts about buttons. We really love using them as clasps. A button is the perfect finish for your favorite new bracelet. A button clasp is much more fun than a store bought clasp. You get to choose to how finish your design, rather than rely on the creativity of others. We will show you how to turn a button into a clasp. We will also look at other options. You can wire wrap a button and make an incredible pendant. You can also simply string them as is and enjoy a unique and textured design. Buttons never go out of style. Let's celebrate beautiful buttons!
Beads And Buttons! Learn How To Use Buttons In Your Handmade Jewelry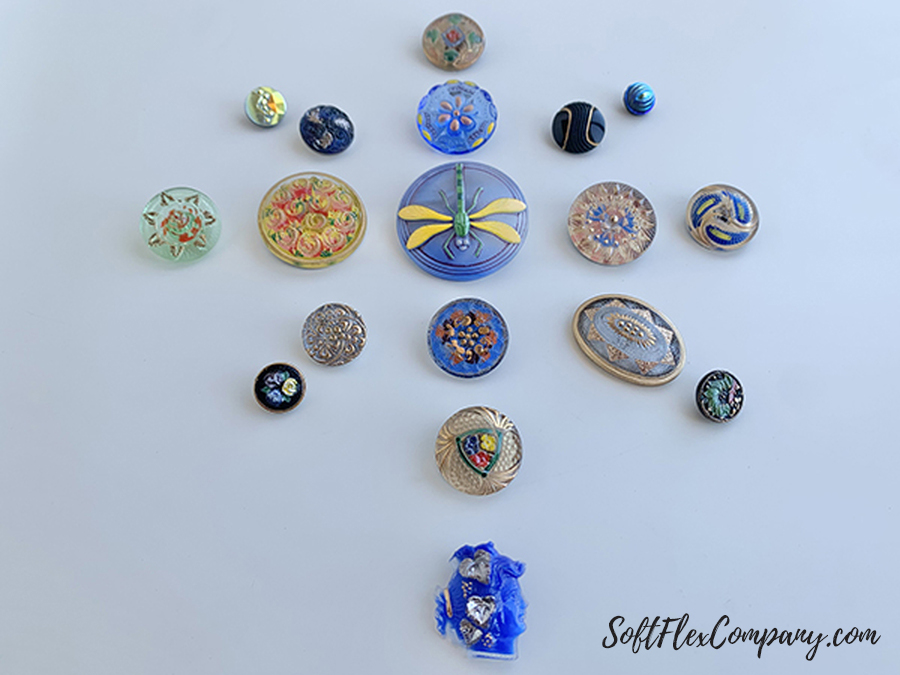 Buttons give you options. They have such a stellar range of aesthetics. Every button is unique and can turn a simple DIY necklace into a stunning design. They are easy to find. You can rummage through vintage clothing. You can search your attic. You are sure to find a button that would look amazing on your next handmade jewelry design. Grab a button off an old purse or winter coat. Repurpose them and make something wonderful!
Check out this bounty of buttons on our Instagram Reels:
Why Are There Buttons At My Bead Stores?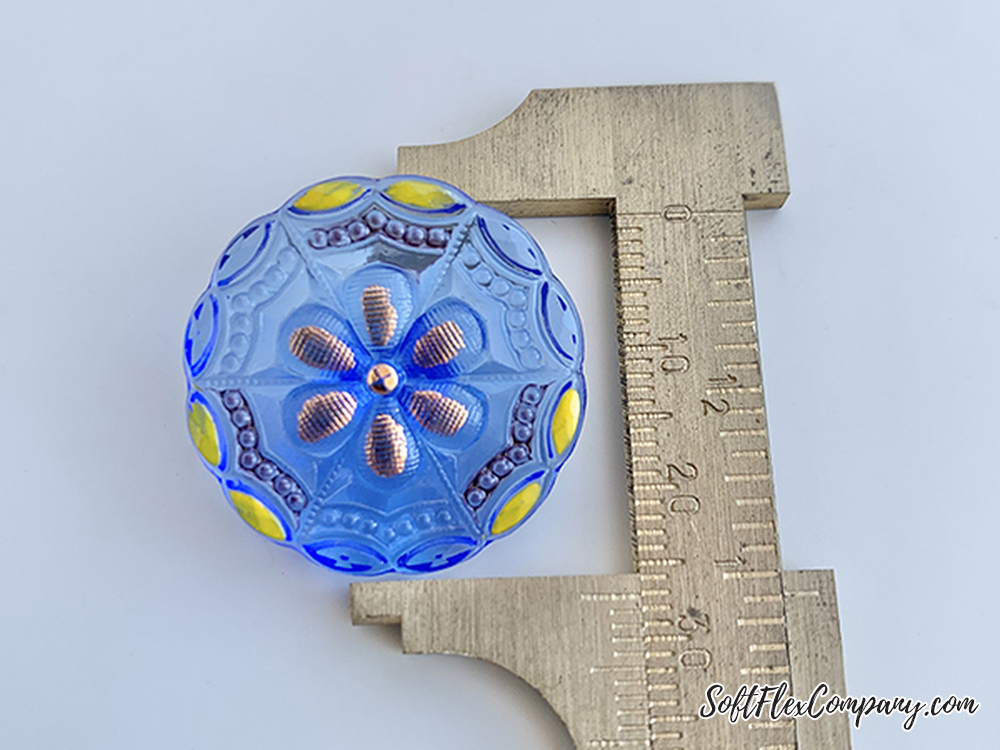 Jewelry designers love buttons. There are so many options for color, look, and size. They are a great multi-purpose bead. Every button is a potential puzzle for a designer to master. Buttons offer a challenge. How will this button look if strung with beading wire? Will this button work on a wire wrapped jewelry design? Will this give a textured look to a multi-strand bracelet? Buttons are a great way to think out of the box. Why settle for simple beads when you can make magic with a decorative button?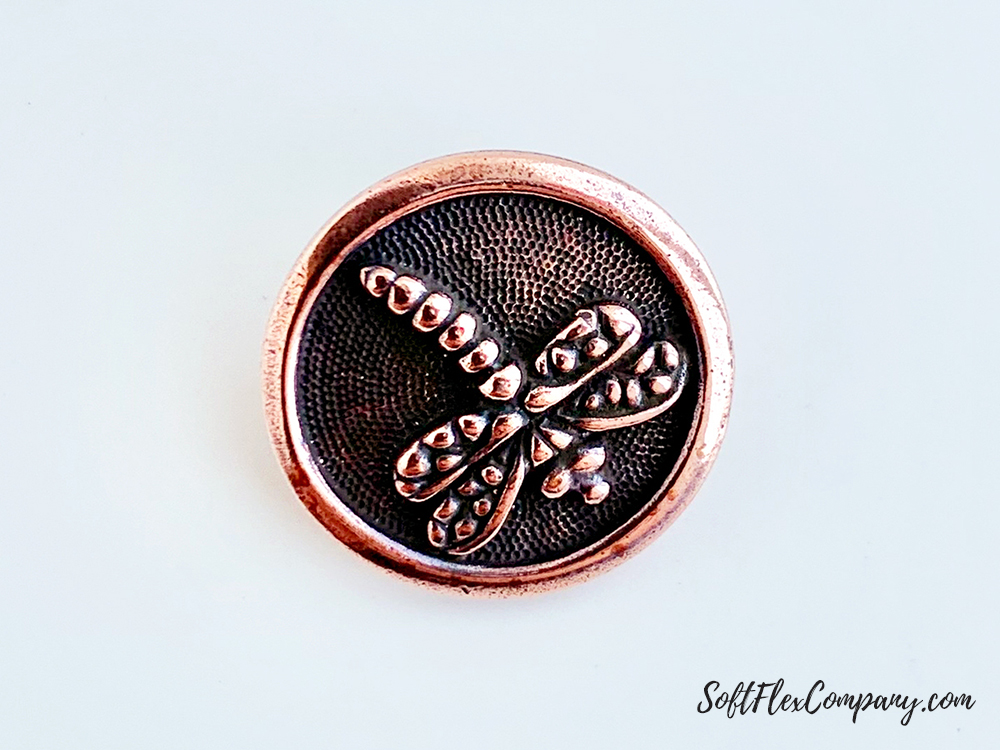 Bead stores can be a great resource for buttons. Bead stores might carry buttons designed by metalsmiths. You might find Czech Glass buttons that were created by turning heated rods into buttons, using molds. You might find a store that sells vintage buttons or collectable buttons. You might even find buttons that were taken from designer clothes - a Coco Chanel button is a fun way to add some bling to a bracelet. There are so many design possibilities - why wouldn't a bead store take advantage the fun that buttons can bring?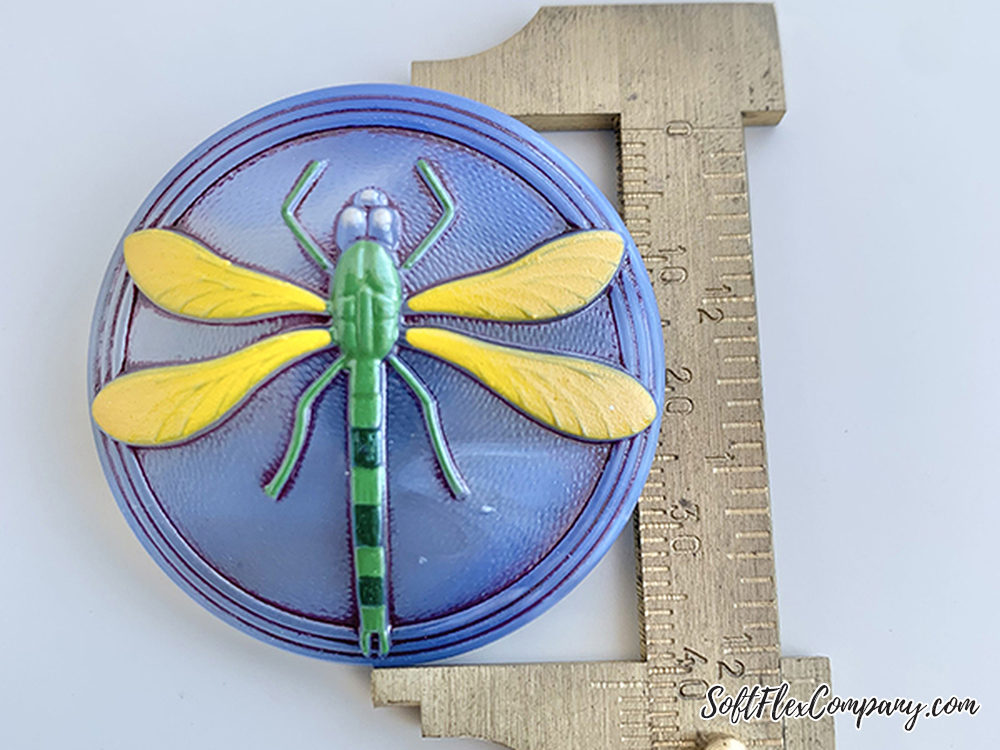 How To Use Buttons In Your Handcrafted Jewelry
There are so many DIY jewelry making options when using buttons.
A pair of simple buttons can be turned into a gorgeous set of earrings.
A button can be turned into a one-of-a-kind clasp.
Add a button to a wire wrapped design.
Wire wrap a button to create a pendant.
Give a button some flair with a tassel.
String buttons along with your beads for an eye catching look.
Learn How Wire Wrap A Button And Czech Out Our Latest Button Collection!
Sara showed us how easy it is to adorn a button with wire wrapped designs. Craft Wire is a great design option if you would like to add zing to a boring button. It is also a fun way to give a beautiful button a one-of-a-kind style.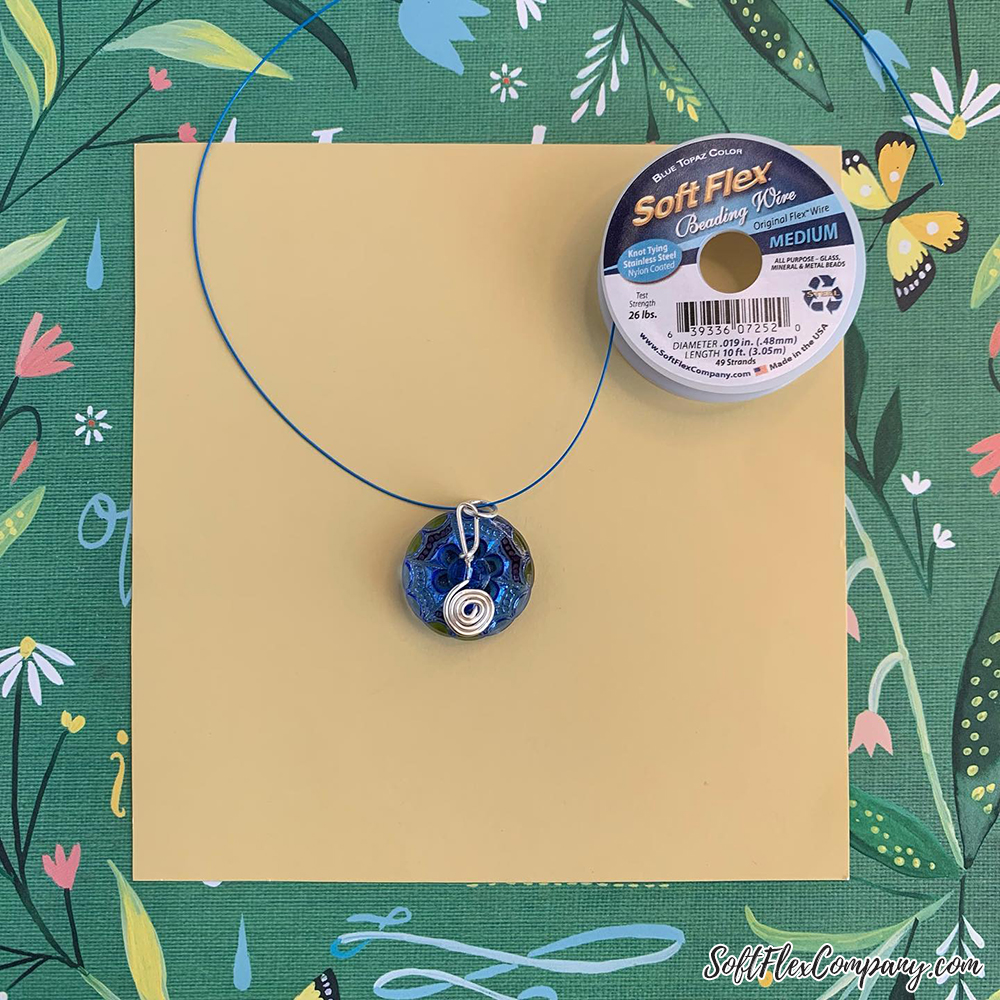 Sara also showed off our button inventory. Eighteen new buttons hit our shelves and we are excited to use them in our designs. These buttons are unique and hard to find, these Czech Glass buttons were made in vintage styles and colors using vintage button molds. Don't let this stunning collection pass you by. There is a limited inventory and once they are gone, it is going to be hard to find a similar button.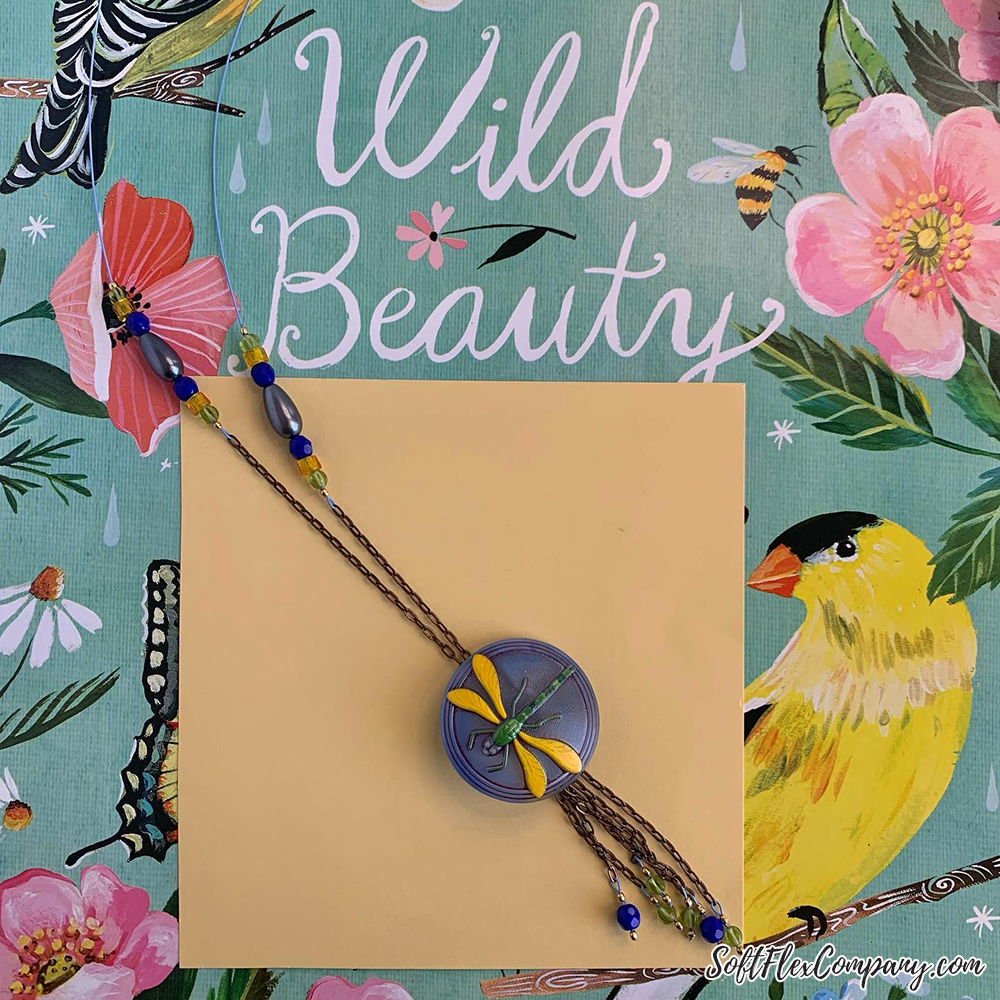 Do you love vibrant colors and upbeat jewelry? Czech Glass Buttons are a unique jewelry component. Czech Glass Buttons come in the most wonderful shapes and sizes. Add a unique button to your next DIY necklace as a pendant. Make a cute pair of earrings with Soft Flex Beading Wire, ear wires, and a beautiful button. Czech Glass buttons are playful, inexpensive, and slightly exotic - give your jewelry an accent of your personality
Learn How To Use A Button As A Clasp For A Bracelet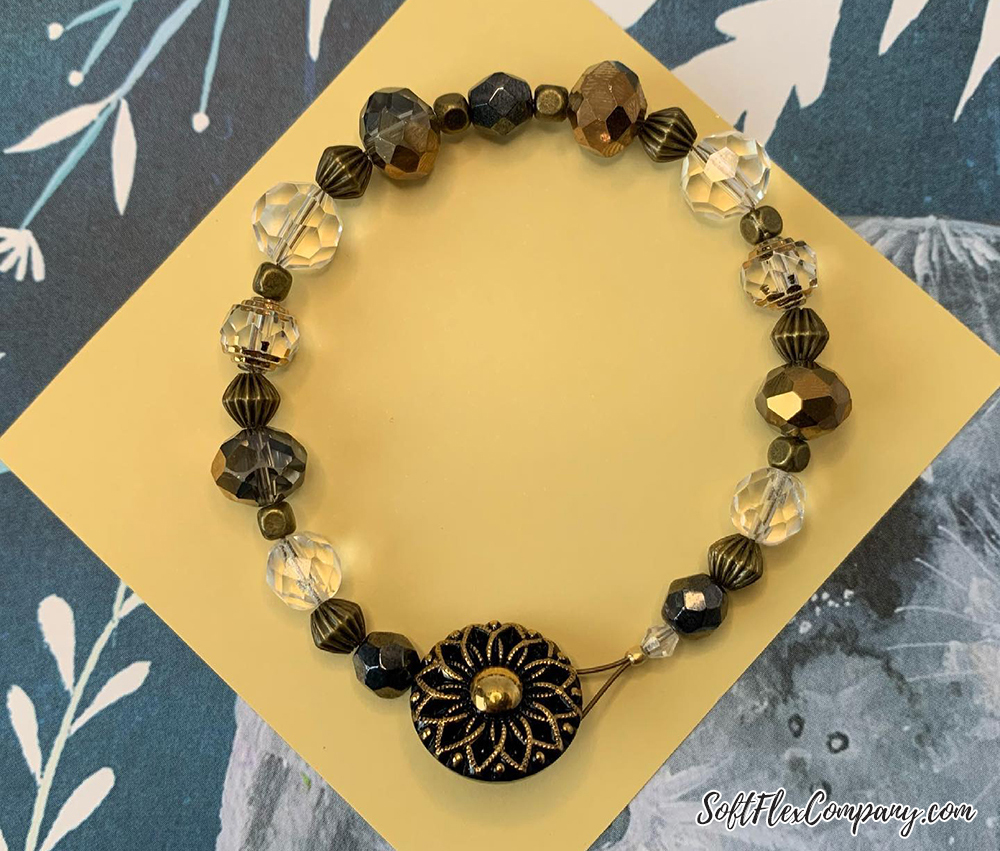 Check out this Instagram reel. Learn how to make a bracelet in 30 seconds. Sara shows you how easy it is to use a button as a clasp. Sara created this bracelet during one of our Joyful Beading challenges. Sara followed the Joyful Beading prompt 'Use a Button in a Jewelry Design'. Look how elegant this design turned out. Buttons make great clasps!
How to Make a Square Knot Macramé Bracelet with Soft Flex Wire, Beads And A Button Clasp
Free Spirit Beading, our weekly jewelry making demonstration, films on Mondays. This live show is a great source for jewelry inspiration and education. On this episode, Kristen explored how to macramé using Soft Flex beading wire. She made a beaded square knot macramé bracelet design with Soft Flex beading wire and a button clasp closure.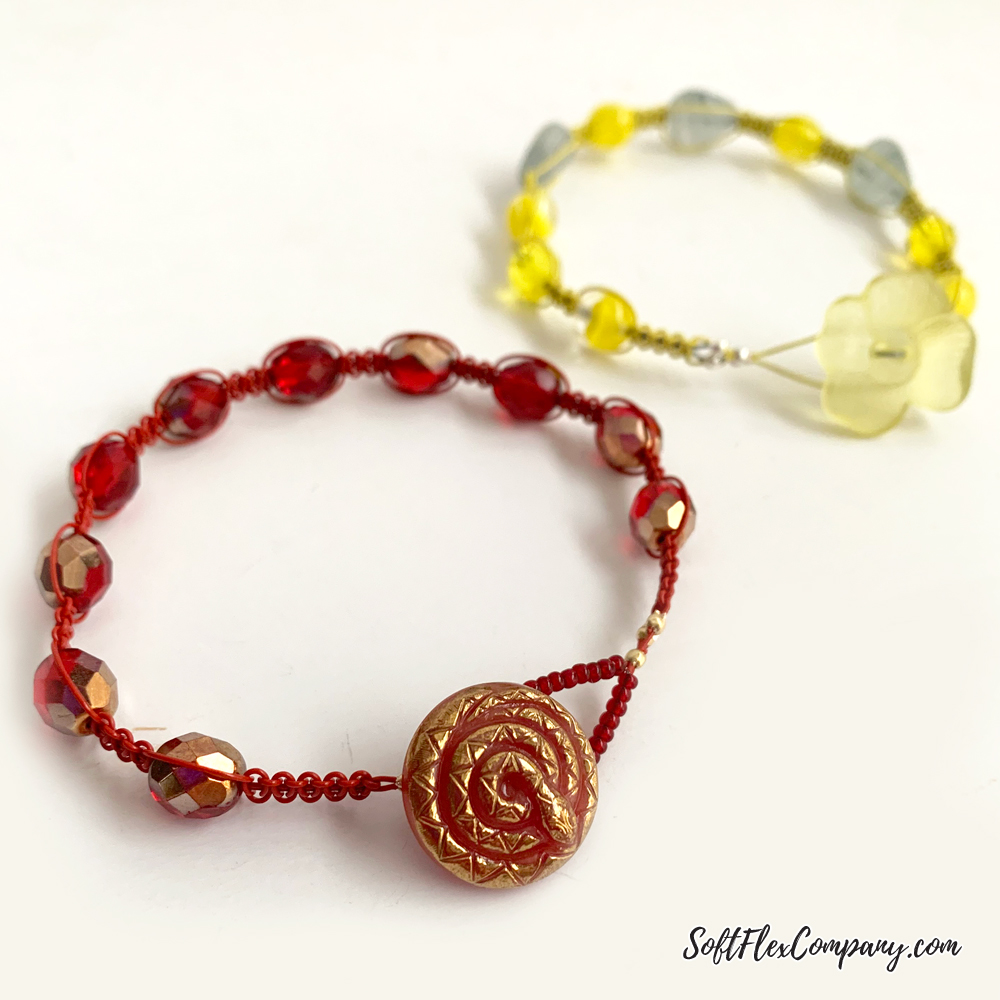 The button clasp adds character and it make the bracelet very easy to slip on and off. Change your beading wire colors, your beads and the button for variations on this design!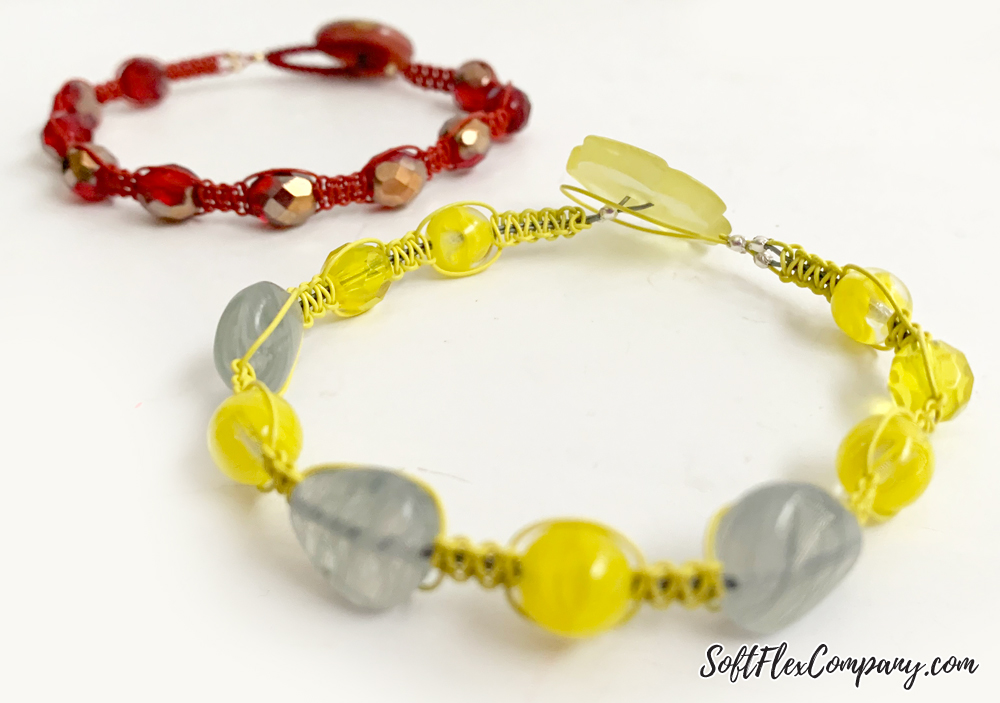 Jewelry Making Supplies And Instructions
DIY Wrap Bracelet using 2-Hole Beads, Beading Wire And A Button Clasp
Kristen showed us how to make a lovely wrap bracelet. This design is great for a layered look on the wrist, just wrap it around three times. The design is also a beautiful necklace, it can be worn at length on the neck. Kristen used an assortment of Czech Glass, metal, 2-hole square beads, and Spinel colored Soft Flex beading wire. She finished the design with a button for a clasp. Kristen started with a 48" strand of Soft Flex beading wire. The finished design was 23". This length wrapped around her 7" wrist nicely with a little extra space for movement.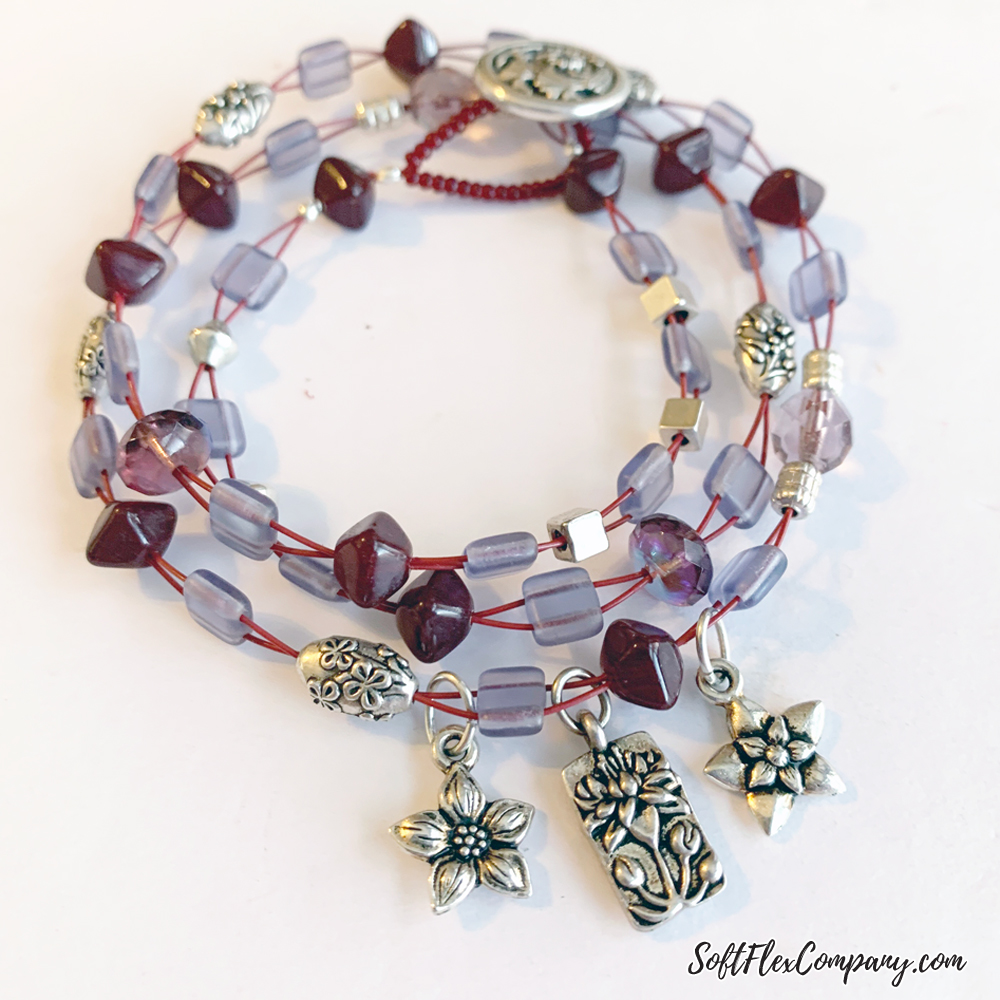 We love Kristen's style. But you can always change things up. Add dangles and charms. Add more beads. Go big and chunky or small and dainty. Stay minimal if that is a better fit. Make sure you catch Kristen live. Her creative energy is sure to rub off on you!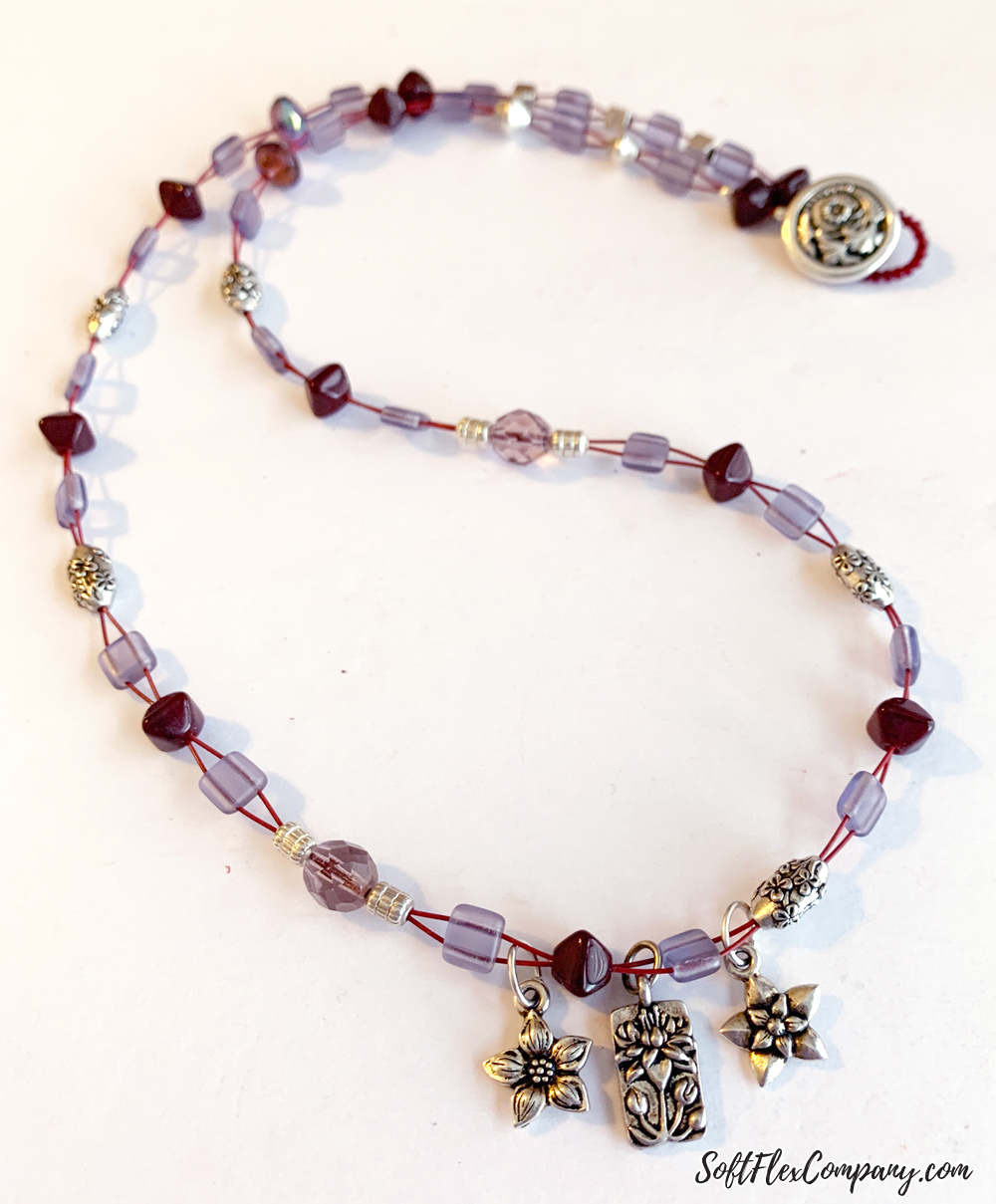 Jewelry Making Supplies And Instructions
Button Jewelry Designs From Our VIB Community
We introduced Joyful Beading in 2020. This was a fun bead-along in our VIB community. Joyful Beading was our response to the pandemic. We thought it was important to uplift our friends and loved ones. We wanted to get our minds out the dark places that COVID might take us. We thought we would do what we do best. We created challenges to make jewelry. Each challenge was a fun chance to make along and see what others had made. One day, the challenge might be simple - 'Create a Design Using the Color Red'. Another day we might issue a prompt to use kumihimo in a jewelry piece. This is a selection from our community when we prompted them to 'Use a Button in a Jewelry Design'.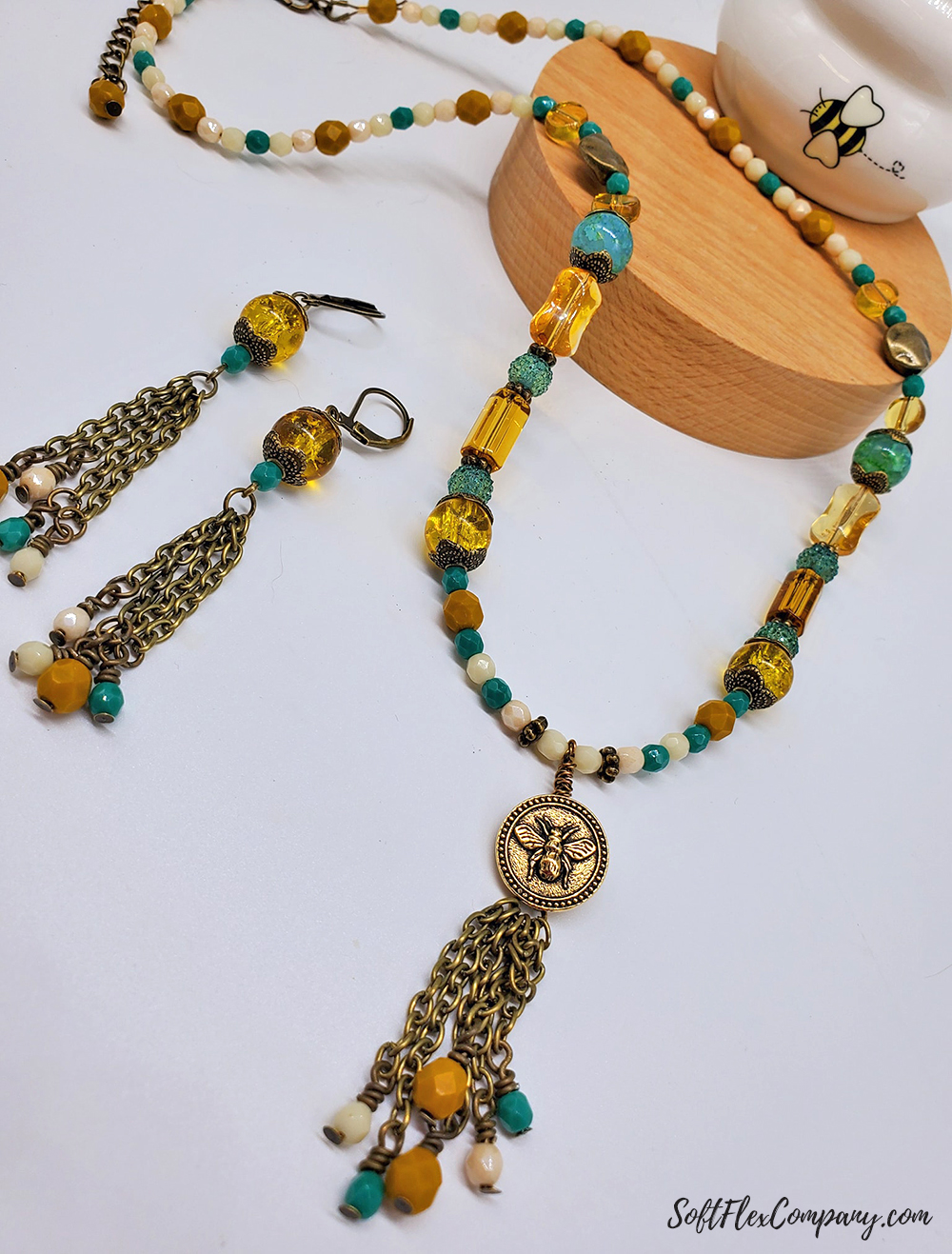 Designed by Soft Flex VIB Studio Member: Colleen Marie Sinkewicz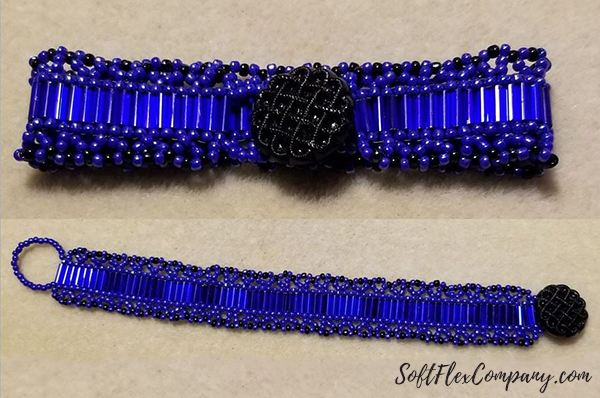 Designed by Soft Flex VIB Studio Member: Robin Wilke
See more of her designs on her Ebay page.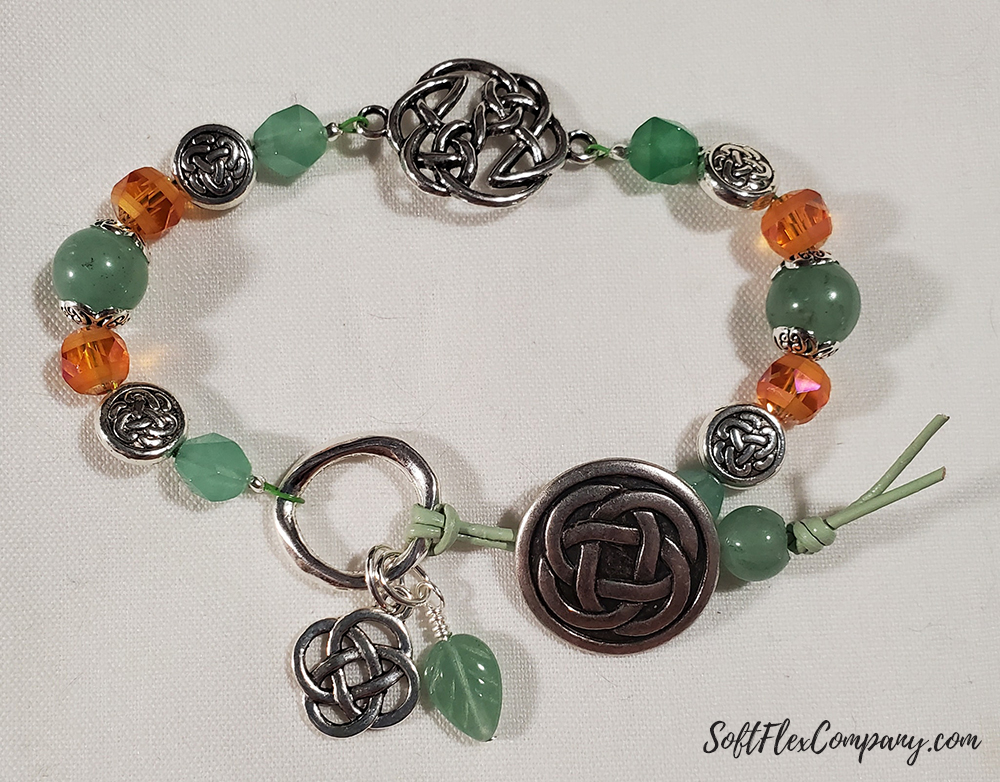 Designed by Soft Flex VIB Studio Member: Rosanna Brafford
See more of her designs on her Facebook page.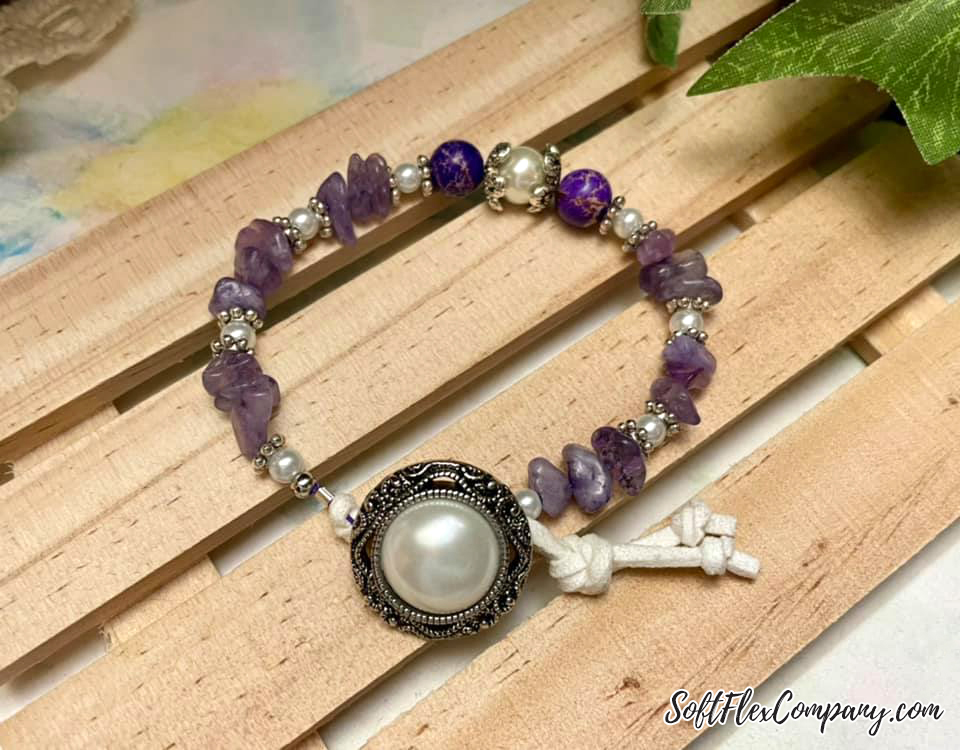 Designed by Soft Flex VIB Studio Member: Jessica Hankes
See more of her designs in her Etsy Shop.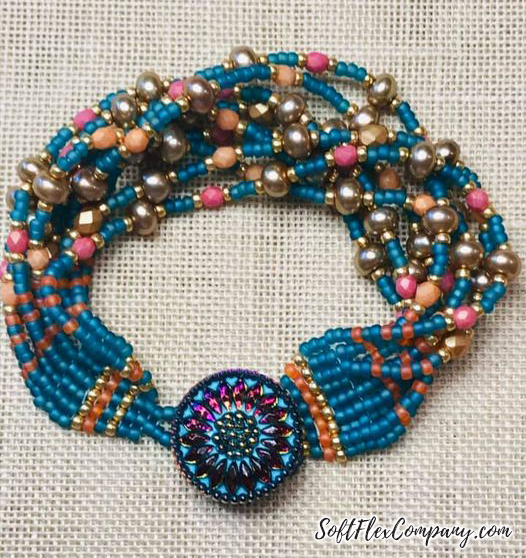 Designed by Soft Flex VIB Studio Member: Kim Neal Karns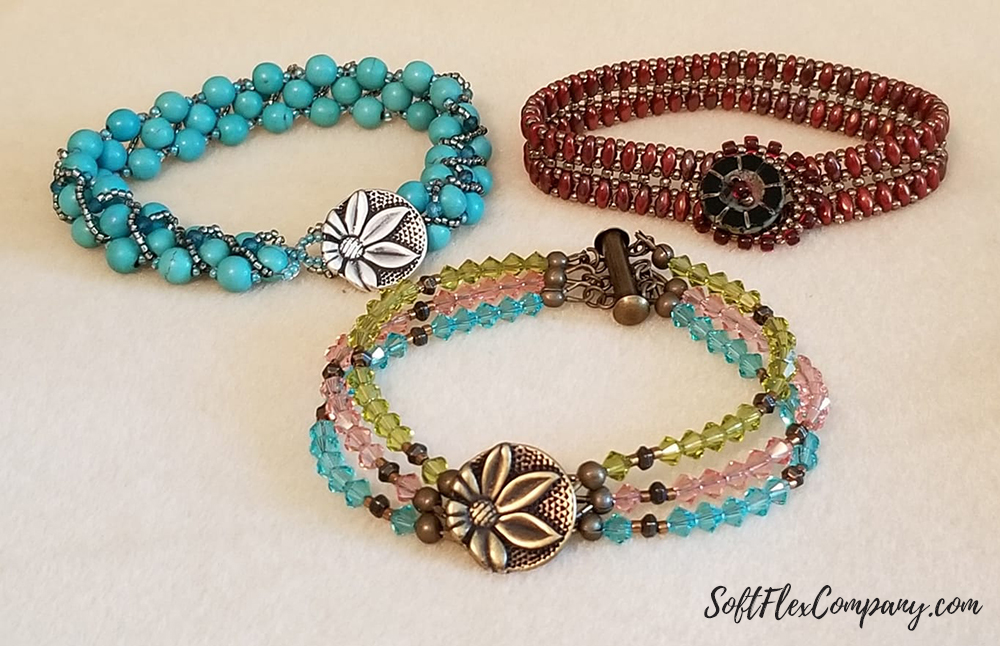 Designed by Soft Flex VIB Studio Member: Laurena Whitwer
Designed by Soft Flex VIB Studio Member: Tonie Etcitty
Expand Your Beading Supplies With Buttons
Do you have a sweet spot for buttons? Look how amazing they are, paired with DIY jewelry. If you do not have any buttons in your beading supplies, you need to go get some. Dig through that hall closet. Some of those old coats you never use could have some hidden treasures just waiting for you to discover them. If you start designing jewelry with buttons or if you already cherish buttons, make sure you visit our VIB Facebook group and share your creations. We would love to see what you made!
Join our Facebook group – VIB. Stay in the know. Stay up to date. From our bead shows to our video shows and sales, you can stay in touch with us. The community is full of artistic and helpful beaders and crafty people. Inspire and be inspired. Share your pictures and get the beading bug from others!

Visit the Soft Flex Company YouTube Channel!
---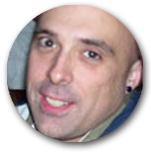 Blog contributor Thomas Soles loves Jazz Age writers and crunchy french fries. His favorite gemstones are Lapis and Pietersite. His favorite hobby is day dreaming. And his favorite mustache is Freddie Mercury's. As you can see, he has a healthy (or possibly unhealthy) sense of humor. You can write to him at [email protected]