The first episode (2701) of the new season of Beads, Baubles and Jewels started airing recently in some locations. BBJ is a show dedicated to jewelry-making and beading tutorials. The season started running on the Public Broadcasting Station on Thursday, January 24th in some places (check your local listings for start date and times).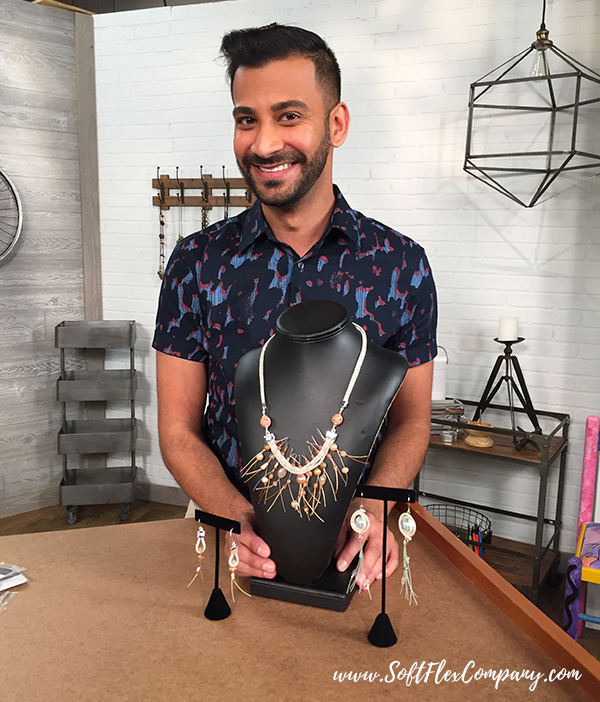 Episode 2709 features our good friend Nealay Patel, owner of SilverSilk and More using Soft Flex beading wire in a really neat and unusual way! His design entitled "Branching Out," pairs Silversilk (a knitted wire cording) with Soft Flex beading wire to make a unique look. Nealay is known for thinking outside of the box. His designs are always interesting and creative. Medium .019 Soft Flex beading wire was perfect for this project as it easily slips through the Silversilk and creates pretty branches that can be layered in a variety of lengths and colors.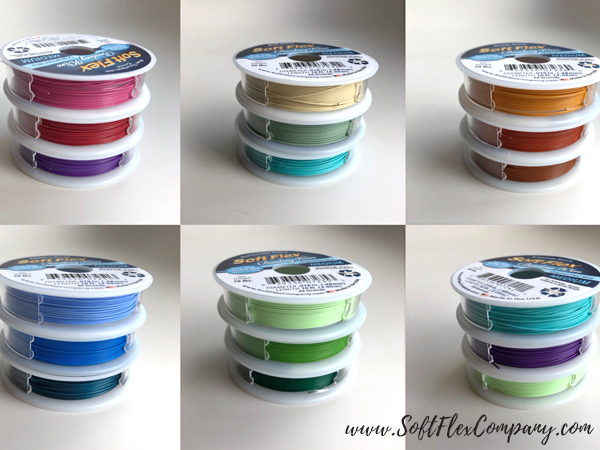 For this design Nealay chose Soft Flex Extreme beading wire: 24 karat gold plated, 925 sterling silver plated and champagne. You could also use some neutral Soft Flex beading wire colors. Great neutral colors include: black onyx, bone, copper, antique brass, bronze and white quartz. For a funky version of this design, you can change the color of the Silversilk and/or Soft Flex beading wire. Fun colors in Soft Flex include: pink tourmaline, green turquoise, tanzanite, peridot and more. You could even choose a Soft Flex Trio for a fun color palette. Our Trios include three 10ft spools of beading wire in colors that will work together really well.
Nealay said, "Soft Flex Extreme wire helped achieve the texture and look I was going for. I wanted something that was wiry, but very soft and easy to wear and it weaved so well into the SilverSilk. I love using Soft Flex because I know my design will be high quality, tarnish resistant, and is flexible and easy to wear."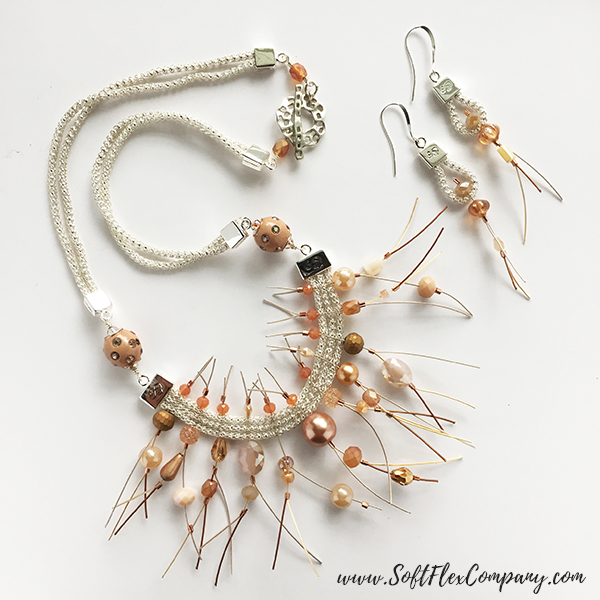 In this design, Nealay used Silver Style Capture Chain, Double Strand End Caps and Triple Strand End Caps. The end caps are so easy to use on SilverSilk. You literally pinch them on top of the knitted cable and they grab onto the chain and hold really well. The variety of sizes allow you to use more than one strand of Silversilk side-by-side!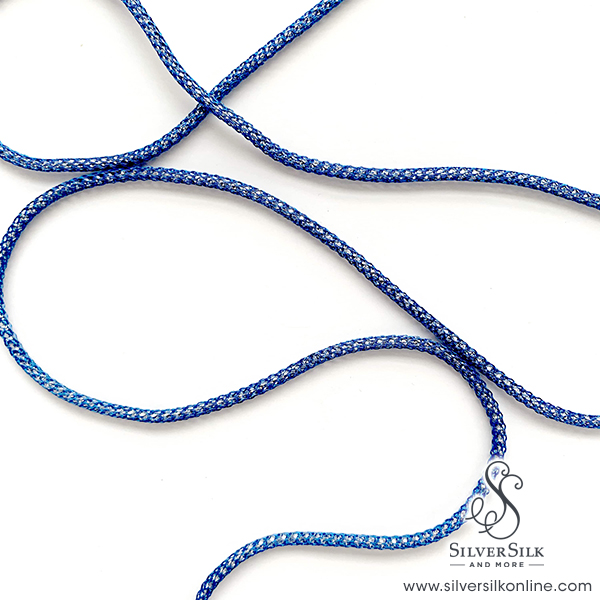 Nealay actually just launched a beautiful new color of SilverSilk called Azul that would be gorgeous in this design. If you like blue, you have to check out Azul and give it a try. Nealay has a fantastic eye for color and sometimes he pairs colors together that surprise and delight. I am always impressed by his raw talent. He never ceases to amaze me.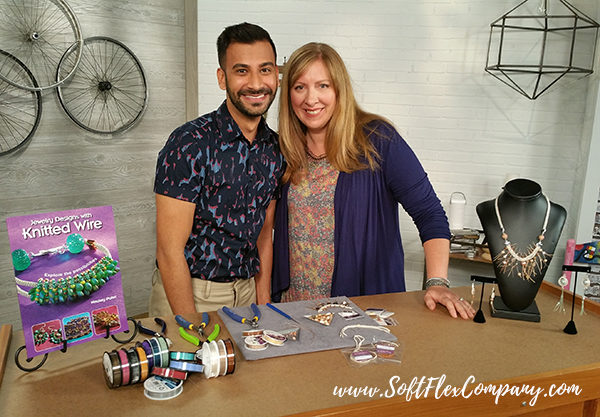 Nealay kept host Katie Hacker on her toes. Not only is he creative, he is also very energetic and funny. He had everyone on set smiling as he worked through his project. Having a sense of humor is key in this high stress situations (all eyes on you!). He is such a professional and makes it all look so easy, even the most complicated parts.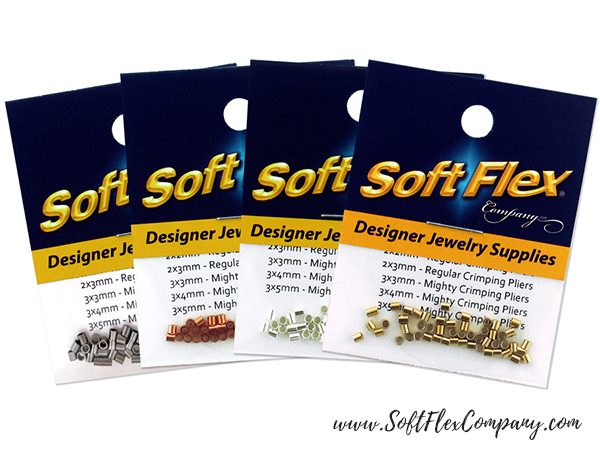 Almost any time you work with Soft Flex beading wire, you will probably be crimping. Crimping is an essential skill to learn in jewelry making. In order to hold the beads on Nealay's branches, he used Soft Flex crimp tubes. Our crimp tubes are thick and strong. They are completely seamless, solid tubes. Nealay loves to use our crimp tubes because he knows what good quality they are!
Nealay noted, "Soft Flex crimps are by far superior to any other crimps I've ever used. They have a thick wall, which is important for a secure hold, and I know my design won't fall apart. Not to mention they are tarnish resistant and also work well as spacers for beads if you choose to use them that way. I love them and I know other crafters out there will too."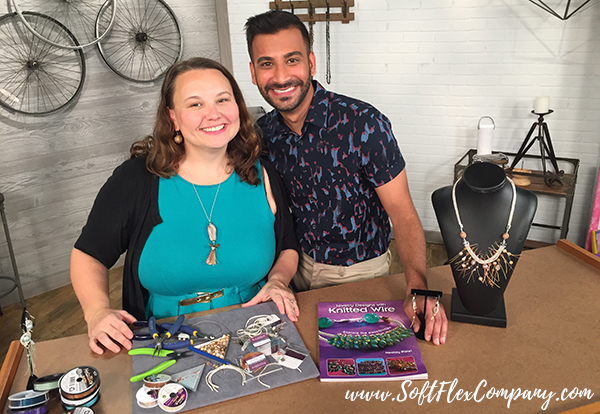 I am very fortunate to call Nealay Patel my friend. We bounce ideas off of each other regularly and really enjoy any time we get to spend together. The trip to film Beads, Baubles and Jewels was so much fun for me. We dubbed it an art retreat as we both walked away feeling very inspired and excited about beading. It is no surprise to me that Nealay's segment turned out amazing. He is an absolute joy.
Join our Facebook group – VIB. Stay in the know. Stay up to date. From our bead shows to our video shows and sales, you can stay in touch with us. The community is full of artistic and helpful beaders and crafty people. Inspire and be inspired. Share your pictures and get the beading bug from others!

Visit the Soft Flex Company YouTube Channel!
---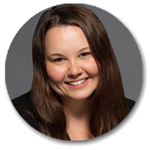 Sara Oehler (pronounced Ay-ler) is a well-known jewelry designer living in the Bay Area. Sara is the author of several beading books, including her latest title, written with Kristen Fagan, Seed Bead Revolution. She has designed and written for numerous publications including: BeadStyle, Bead&Button, Bead Trends, Stringing, Jewelry in Fashion Trends, Simply Beads, The Flow and Today's Creative Home Arts. Currently, Sara is the Sales and Marketing Manager for Soft Flex Company.
Ask Sara Bead Expert
Blog: softflexcompany.com/beading-blog
Email: Sara@SoftFlexCompany.com