Did you catch The Great Bead Trade? Presenters at the Great Bead Extravaganza donated products to a TGBT kit. This kit was a collection of beads and jewelry making components. The kits were then traded and unboxed during a live video. The TGBE Presenters all used the same contents, but made some incredibly unique designs. See how the show hosts channeled their creativity into something exciting! Learn how to work with Apoxie Sculpt. Learn how to make earrings and finish a beaded necklace. Learn the basics of wire wrapping. We have some great free jewelry projects for you!

At the tail end of last week, our friends at the Great Bead Extravaganza celebrated The Great Bead Trade with us. We traded kits and made jewelry during live videos. It was a lot of fun. If you would like to catch up with all of the presenters, make sure you visit The Great Bead Extravaganza Facebook group. Check out Sara and Cynthia Thornton. This was the first live show. These two designers had a little extra time so they could discuss the event and make jewelry. Next, Kristen and Christi Friesen filmed their segment. If you love fun conversation and creative minds, you might enjoy the discourse so much you forget about the jewelry. Nealay Patel and Jill MacKay make some magic with SilverSilk and Soft Flex. Tracy Proctor and Kay Goss make jewelry sets that are perfect for spring and summer outfits. Andrew Thornton and Jamie Yoshida explore asymmetry and make some gorgeous jewelry. This week, Kristen followed up the TGBT event with an episode of Free Spirit Beading. She wanted to play with supplies from the kit. She showed us how to use Apoxie Sculpt to make a stunning pendant.
7mm Pretty in Pink Curated Czech Glass Fire Polish Faceted Rounds Bundle (All 3 Strands)

Do you love vibrant colors and upbeat jewelry? Czech Glass Beads are a delight. Czech Glass Bead Strands are beautiful and come in the most wonderful shapes and sizes. Add a unique bead to your next DIY necklace as a pendant. A strand of Czech Glass can be turned into a beautiful bracelet without any extra additions. You can make a cute pair of earrings with Soft Flex Beading Wire and a single bead or three. You can mix and match with other Czech Glass colors and make jewelry that celebrates a holiday or moment in time. Czech Glass is playful, inexpensive, and slightly exotic - give your jewelry an accent of your personality!
Some of the most amazing glass beads come from the Czech Republic. An entire strand of our Czech Glass Beads will produce at least a bracelet. Don't be scared to mix and match a few different styles to make a design that is a one-of-a-kind piece.
Please note: limited quantity
Jewelry Making Videos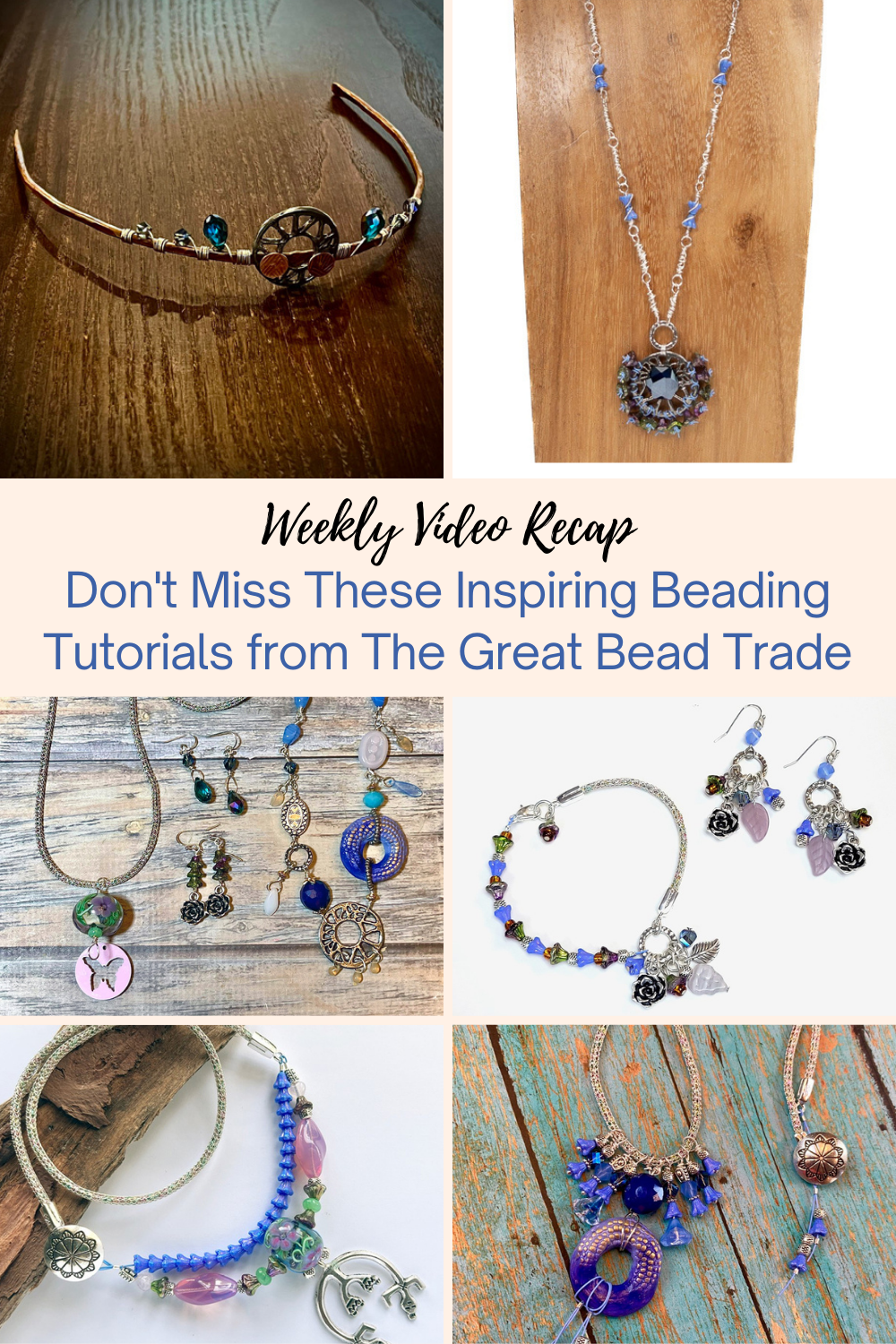 Our Social Media Sites Will Show You How To Make Jewelry In Just Minutes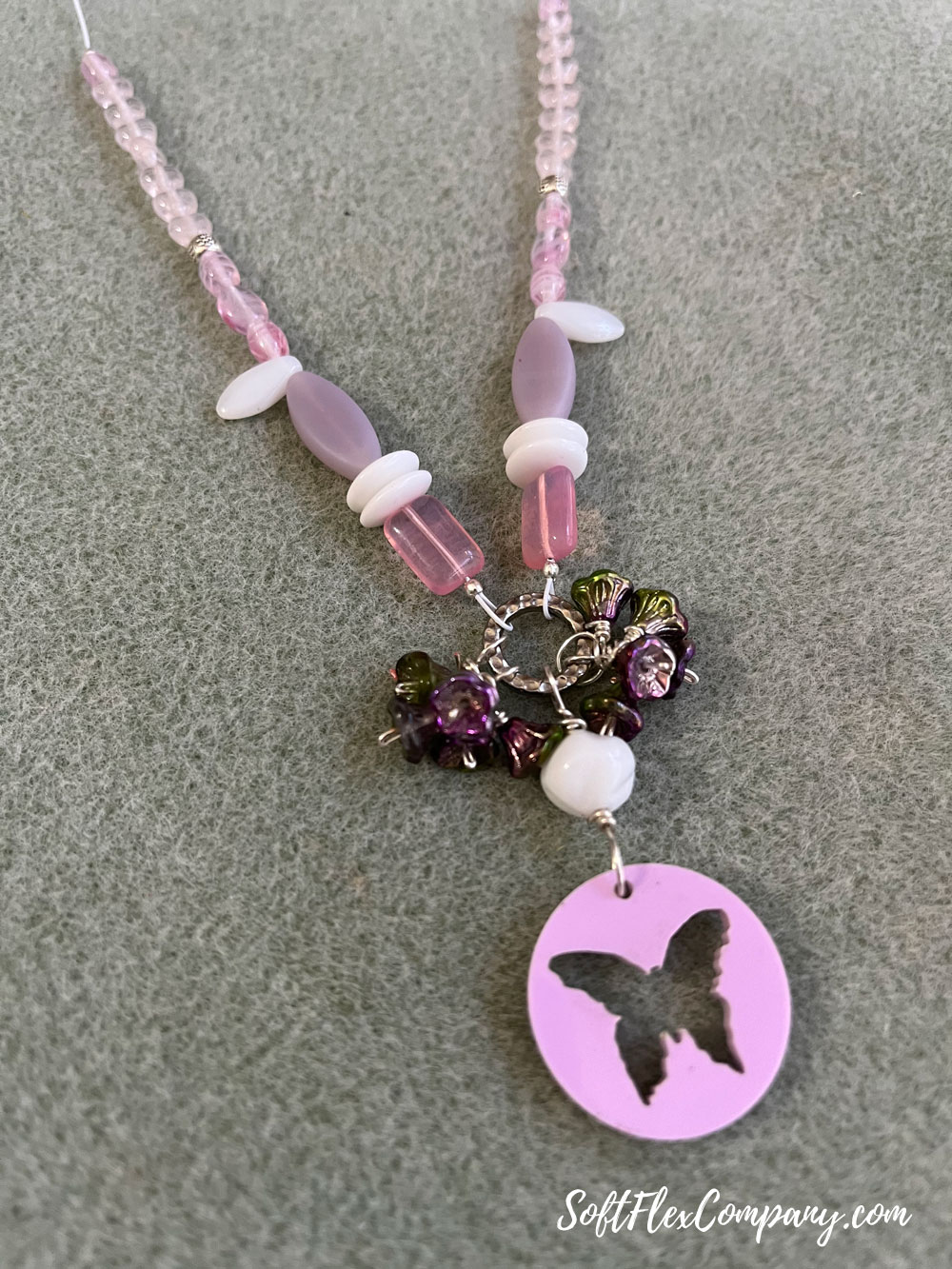 Got a minute? Check out our latest reels and TikTok videos. Soft Flex Company's Instagram Reels and our Soft Flex TikTok Page will teach you how to make jewelry in under a minute. These videos move quickly but are easy to follow. If you need more assistance, make sure you check out our YouTube catalog for deeper dives into jewelry making education. You will find in depth discussions on how to use your tools and finish your jewelry on that channel. Instagram Reels and TikTok are great tools for learning something new or finding quick inspiration. Check out our 1 Minute Videos and explore the wonderful pins on our Pinterest page. Learn from Soft Flex Company jewelry designer pros at the pace you choose! If your creativity needs a quick cup of coffee, make sure you visit us for a much needed jolt of crafting caffeine!
The Great Bead Extravaganza Midsummer Market 2022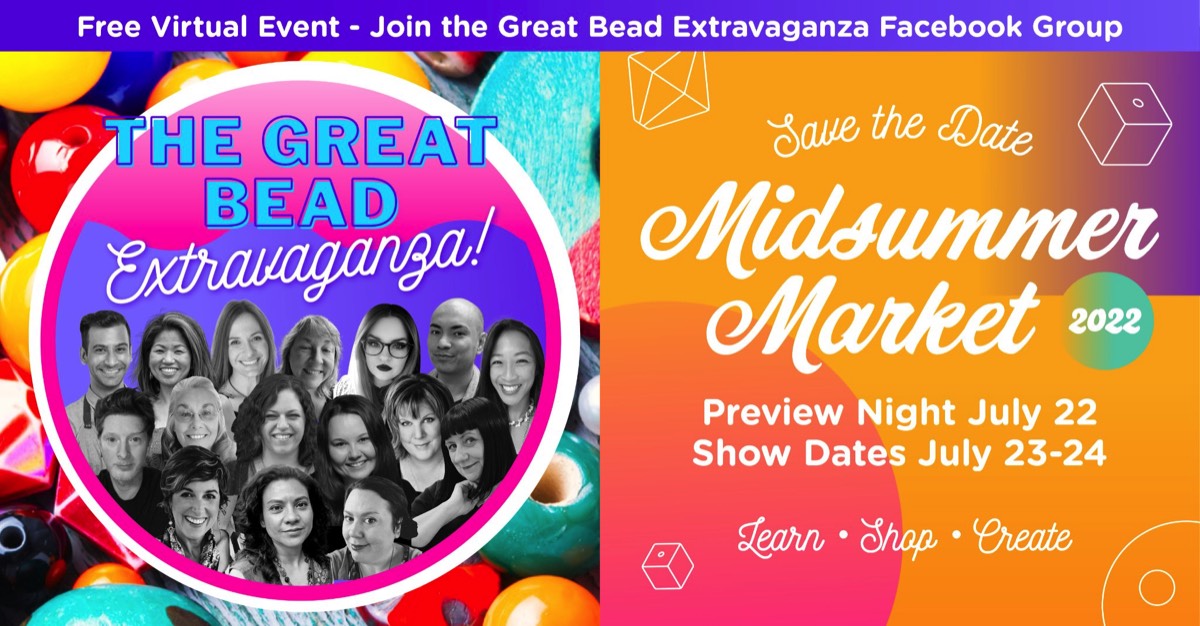 Save the date! The next Great Bead Extravaganza will be a big summer show. Make sure you join us live. Each presentation will be full of interesting jewelry demonstrations, giveaways, and big sales. You can always catch a replay but you will have the most fun joining us live and getting to interact with the designers and community.
Here are the links you need to get connected:
The Great Bead Extravaganza Site
Official Facebook Page
Official Facebook Group
TGBE Instagram
TGBE YouTube
The Great Bead Trade Kick Off With Sara Oehler And Cynthia Thornton
The Great Bead Trade kicked off with Sara and Cynthia Thornton. In this video, you will learn more about the Great Bead Trade and Great Bead Extravaganza. These two exciting designers unbox the kit for the viewers and give a description and details of the the products inside the mix of beading supplies. Sara made lots of jewelry, including a necklace idea that Kristen had thought of making, but did not tell Sara about - great minds think alike.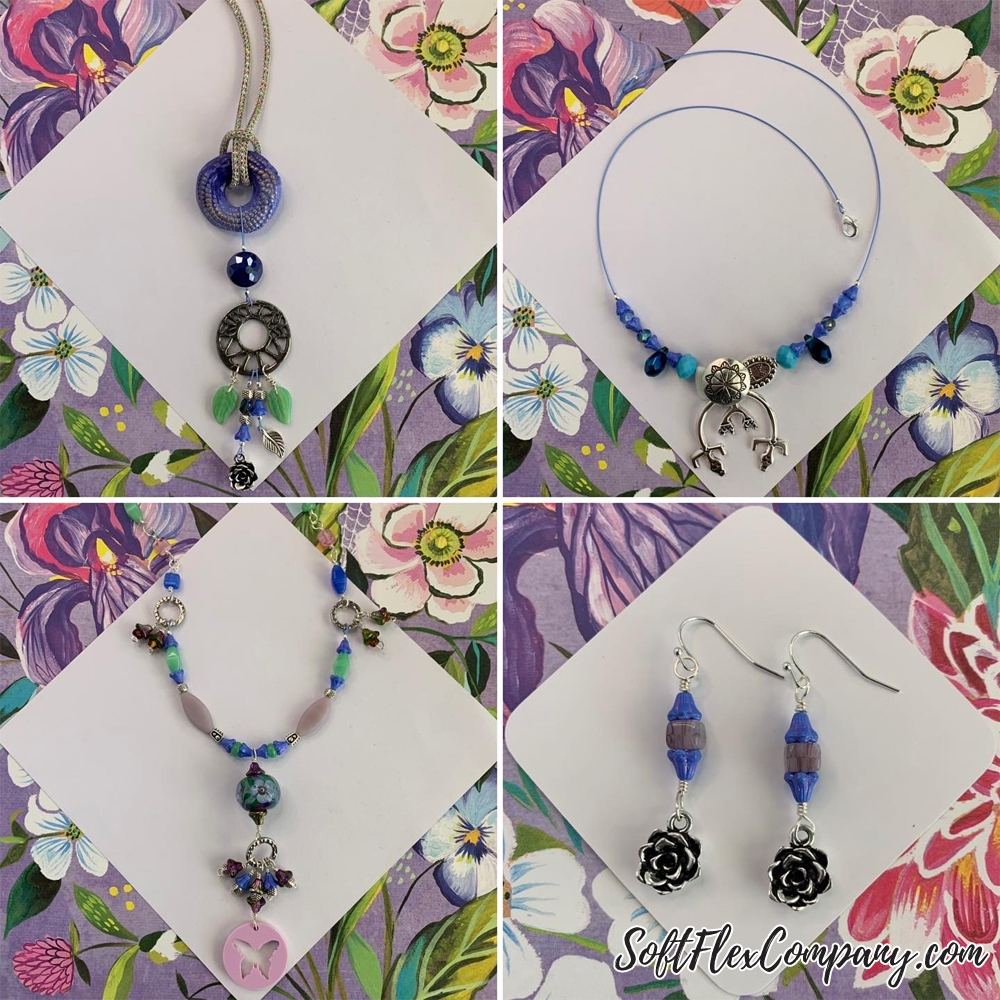 Cynthia made a lot of jewelry as well. The two spent the video making freeform jewelry. There was no plan. They just created what they thought was pleasing. This is a great video for inspiration and playful creating!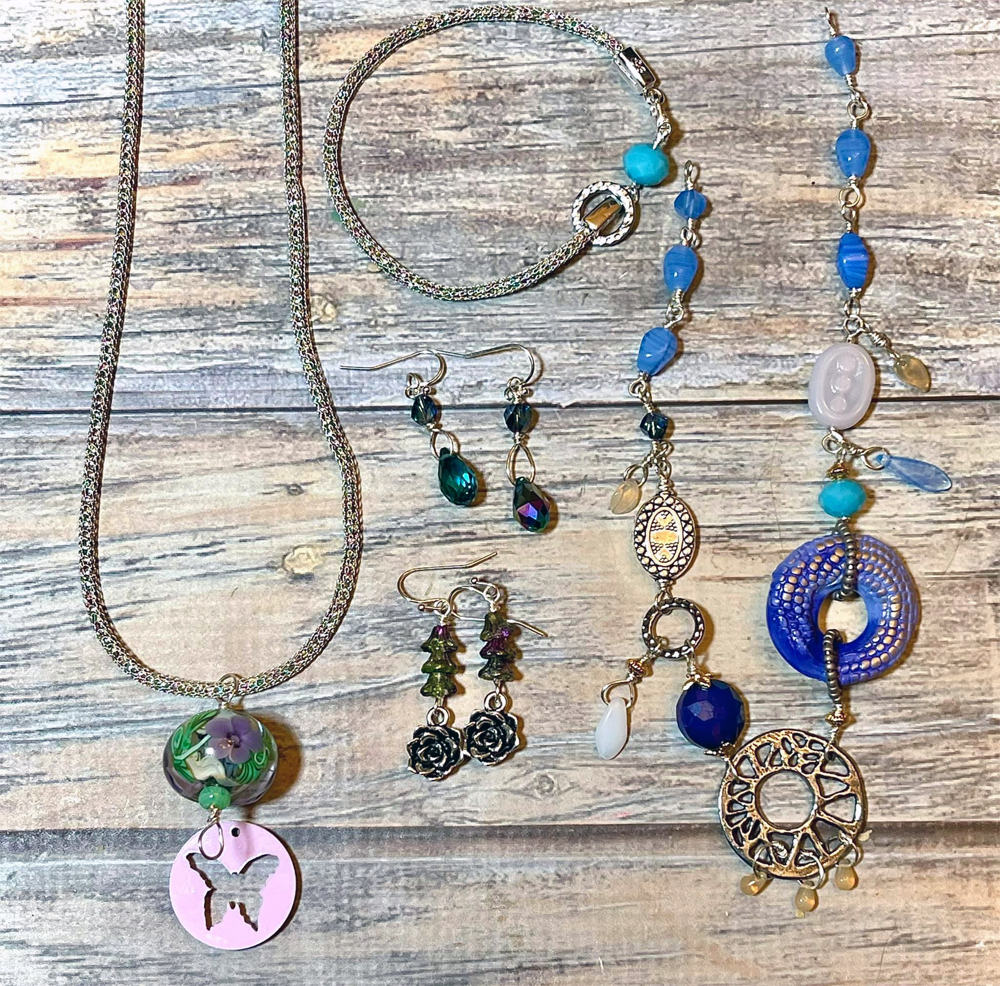 The Great Bead Trade With Kristen Fagan And Christi Friesen
The second presentation of the Great Bead Trade was Kristen and Christi Friesen. Kristen made a gorgeous necklace and Christi provided some fun and inspiring chat. Christi was on an extended travel trip and could not access her beading kit, so she discussed her ideas and process. Lots of fun!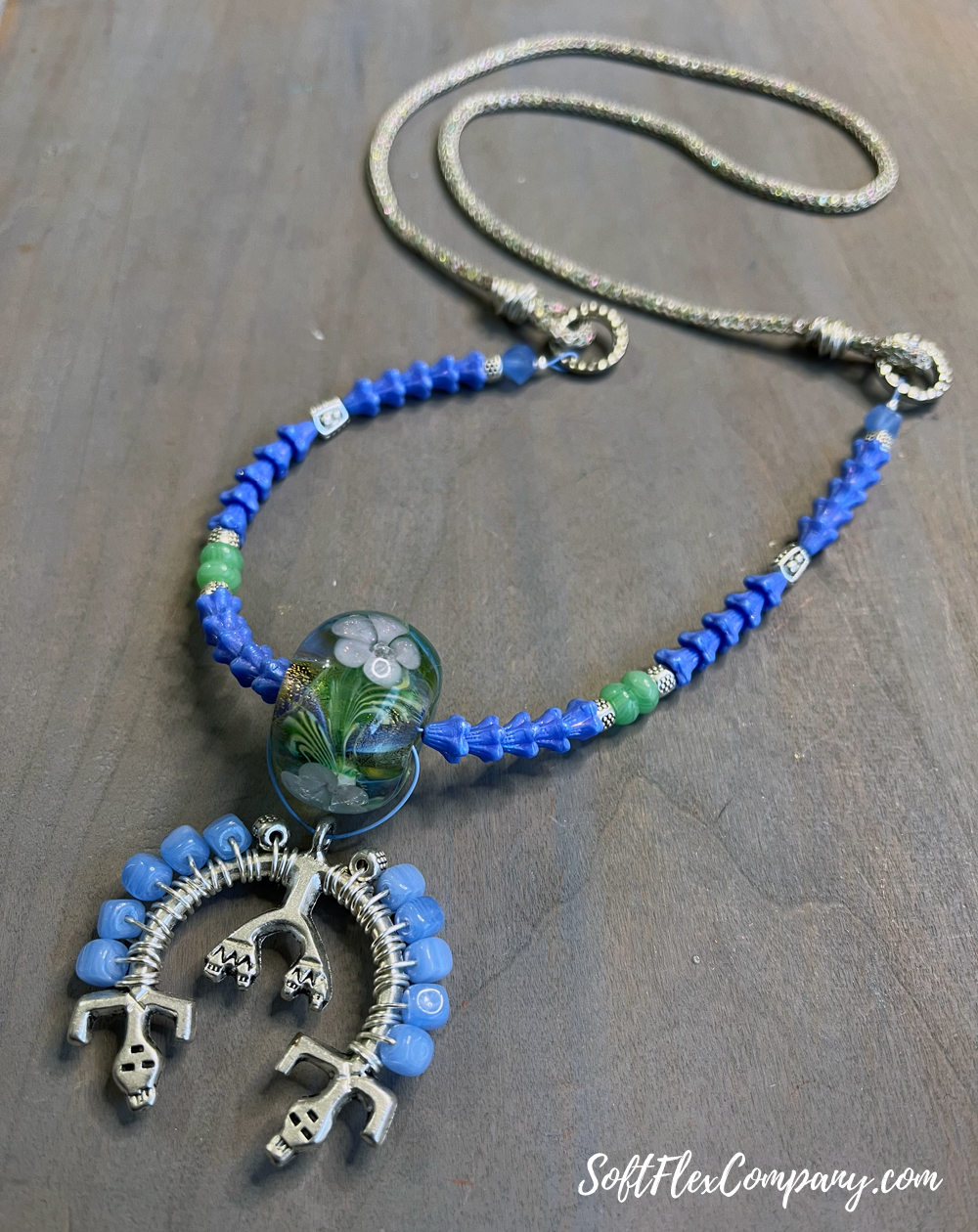 From Christi Friesen:
If you watched Kristen Fagan and I you'll already know that because I extended a visit to see my kids and grandkids, I wasn't home where my bead trade kit was! So I had to improvise... I drew little images of the main components from the kit, so I could demonstrate how I might compose various possibilities. But Kristen and I we're having such an interesting conversation that holding them up to show you all and describing some options seem to be good enough for our hour together! I thought you might like to see the little prep work I did with the lil images and possible sketching ideas. It's just another way to create, isn't it!
The Great Bead Trade With Nealay Patel And Jill MacKay
Lots of creative inspiration in this video. Nealay Patel and Jill MacKay showed us how to make multi-strand jewelry designs. They used SilverSilk mesh to make a little magic. Learn how to make beaded dangles with head pins. Learn how to add accents to a pendant. There are a lot of fun ideas presented in this demonstration. You will definitely get the itch to make your own jewelry.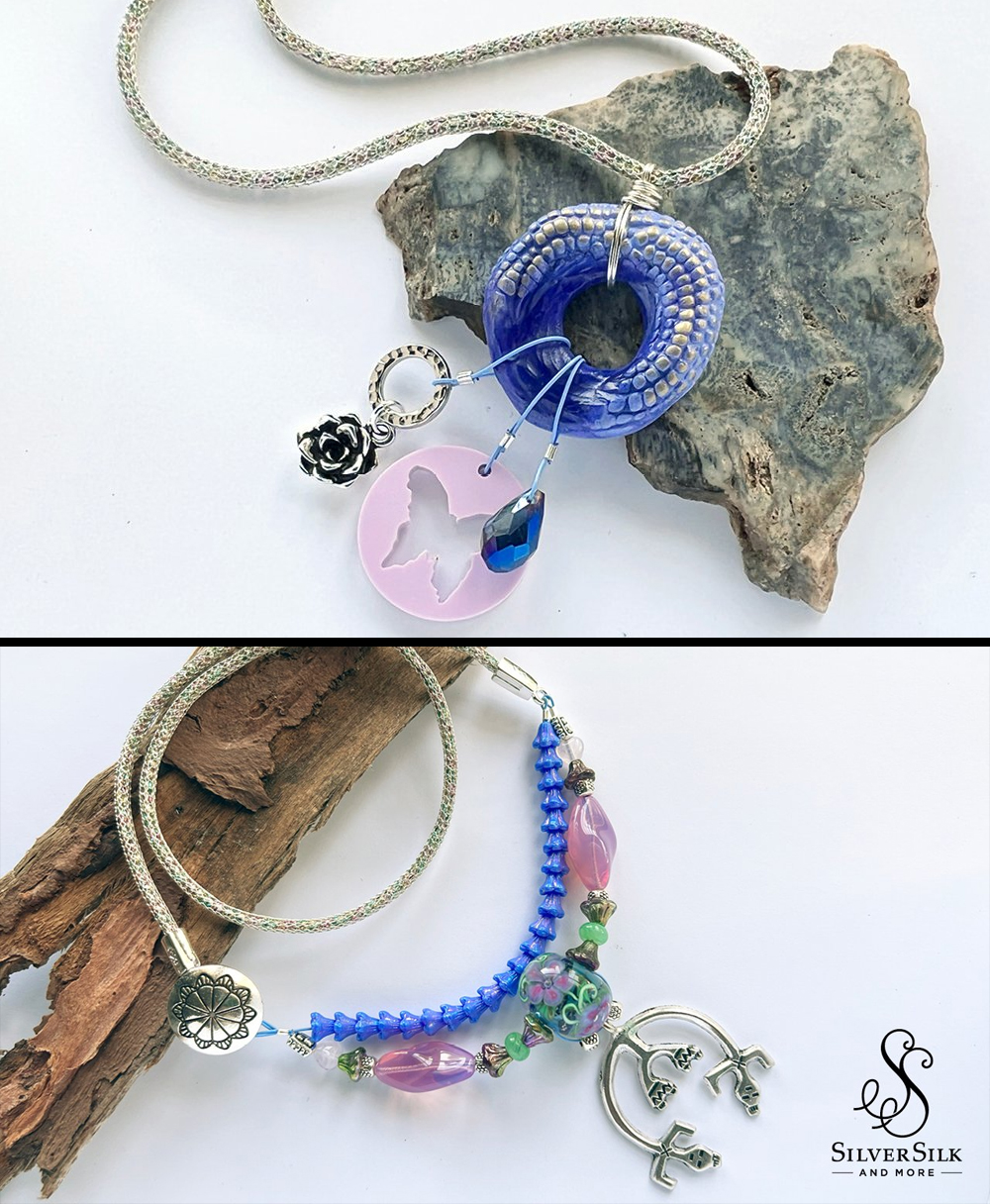 Designers Jill MacKay and Nealay Patel join their creative powers together in this one-of-a-kind bead trade and jewelry make. Each participating business from TGBE chipped in materials to make an impressive, and eclectic, kit filled with beady wonders. Of course, Nealay brings his SilverSilk to the mix and Jill supplied us with some shiny silver components and other goodies. Come join us and see what they make within an hour.
The Great Bead Trade With Tracy Proctor And Kay Goss
Tracy Proctor and Kay Goss are so much fun! Bright personalities and thoughtful designs are in store for you in this video. Learn how to use a Magical Crimper. Learn how to mix your SilverSilk mesh chain and Soft Flex Beading Wire into a single jewelry design. Learn how to finish SilverSilk with end caps.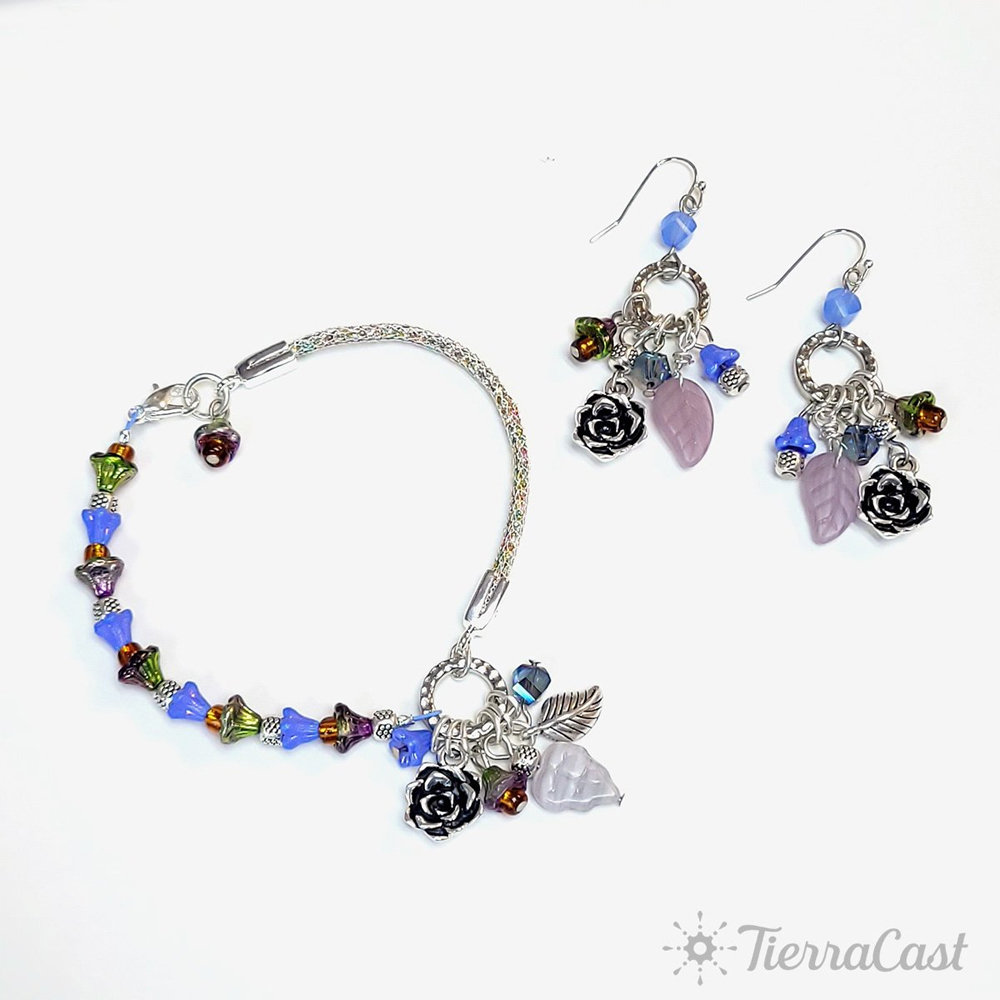 Join Kay Goss of Star's Beads and Tracy Proctor from TierraCast as they dig into their packets of jewelry making goodies from other TGBE vendors and create designs on-the-fly in this segment of The Great Bead Extravaganza's Great Bead Trade!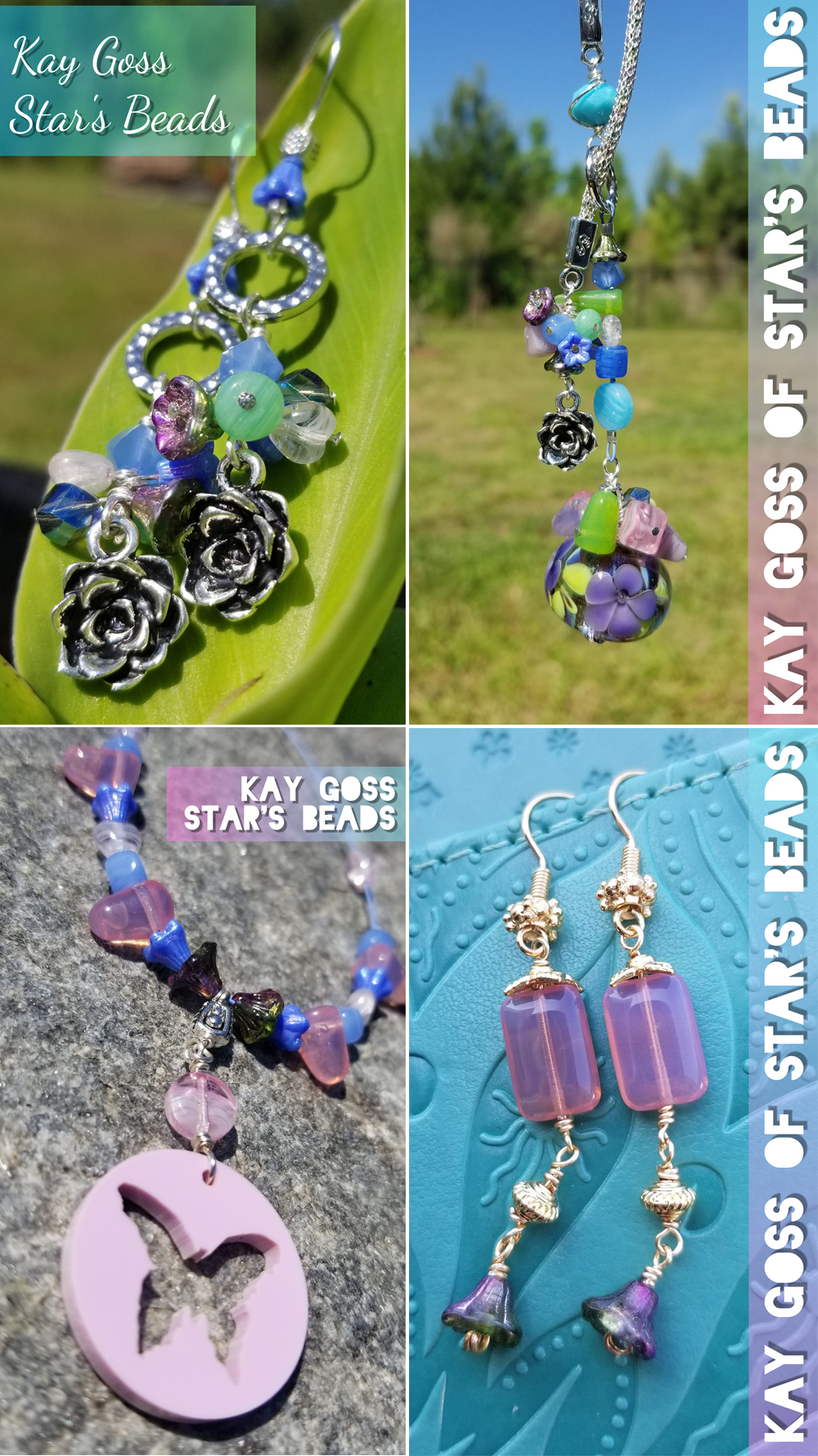 The Great Bead Trade With Andrew Thornton And Jamie Yoshida
Andrew Thornton and Jamie Yoshida are a little bit of Yin and Yang. Andrew is a quiet and thoughtful designer from Pennsylvania and Jamie is a buoyant and lively jewelry maker from Hawaii. These two are always electrifying and full of unique jewelry project ideas.
This show is in two parts. Make sure you catch both. Jamie is bouncing back from being ill, but that did not keep her away from having some fun making jewelry!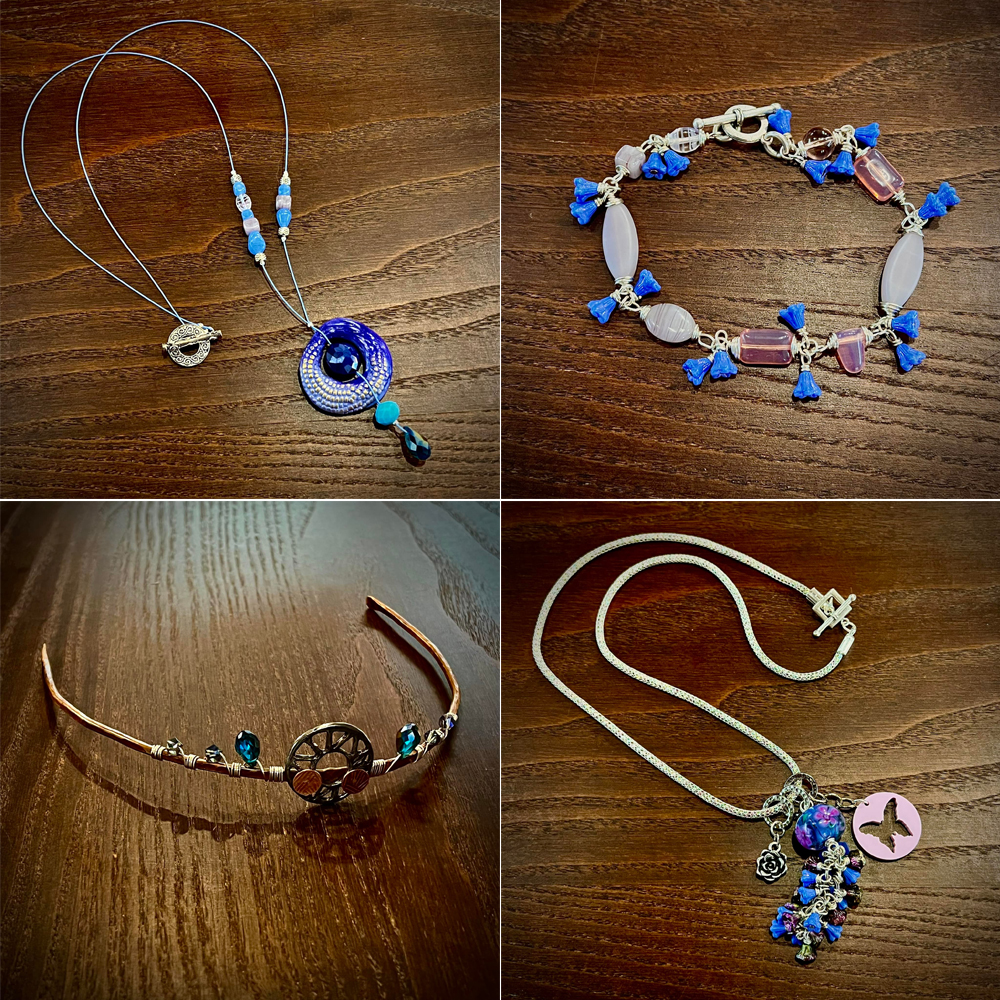 From Jamie Yoshida:
What are we going to make? I have nooo idea! I've been down with the flu for 2 weeks and it's going to be my first day back- so this will be a real SURPRISE! Doctor said I'm good to go (except for this cough) so I may be silent with Jason chiming in to cover my sudden and uncontrollable coughing!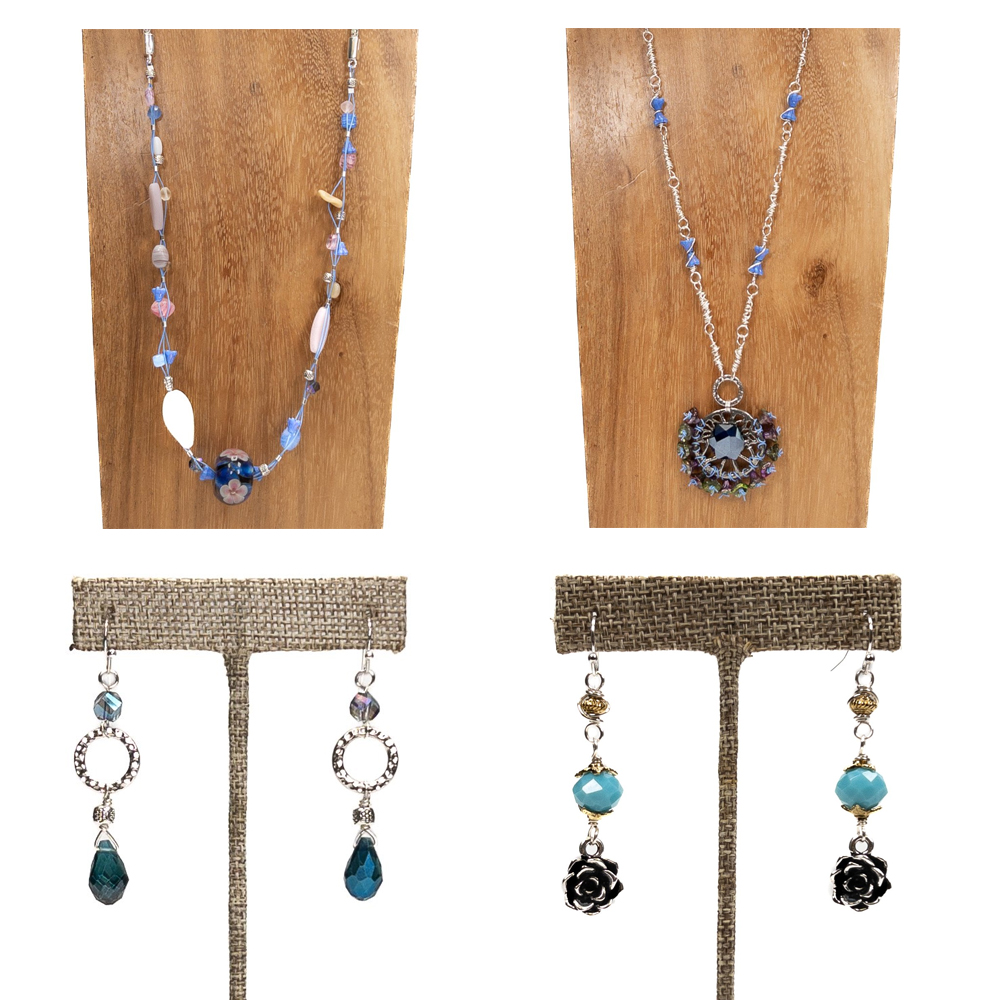 Exploring The Great Bead Trade Jewelry Making Kit And Working With Apoxie Sculpt
Kristen could not get enough of her Great Bead Trade jewelry kit. Watch this video to learn basic wire wrapping. Learn how to string and finish a necklace. Learn how to work with Apoxie Sculpt and make a pendant.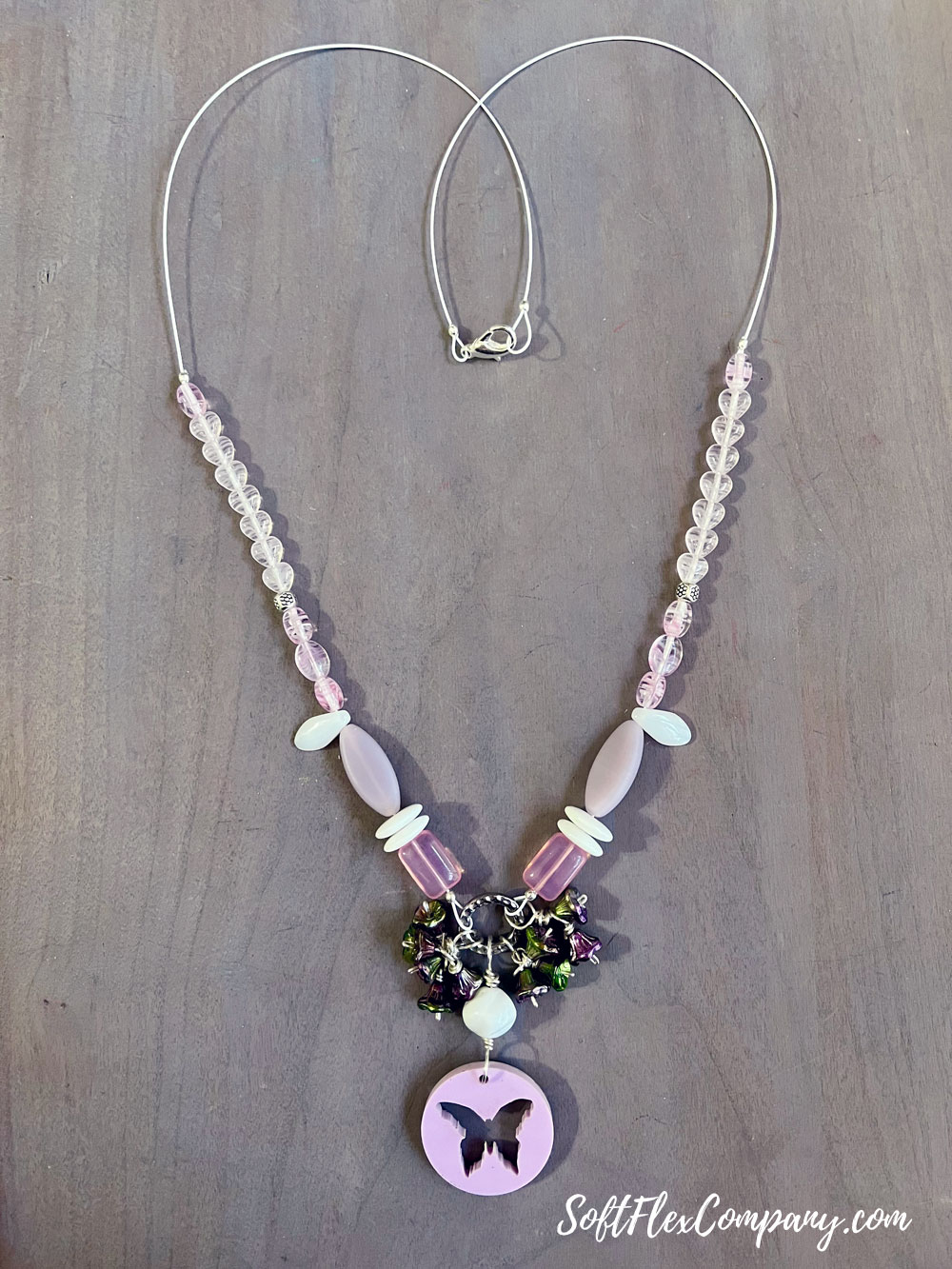 Join our Facebook group – VIB. Stay in the know. Stay up to date. From our bead shows to our video shows and sales, you can stay in touch with us. The community is full of artistic and helpful beaders and crafty people. Inspire and be inspired. Share your pictures and get the beading bug from others!
Visit the Soft Flex Company YouTube Channel!
---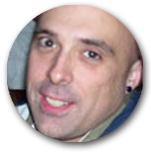 Blog contributor Thomas Soles loves Jazz Age writers and crunchy french fries. His favorite gemstones are Lapis and Pietersite. His favorite hobby is day dreaming. And his favorite mustache is Freddie Mercury's. As you can see, he has a healthy (or possibly unhealthy) sense of humor. You can write to him at [email protected]