Do you know what the term ' jewelry findings' means? Do you know what are considered findings? Did you know that the terms 'findings' and 'components' can be used interchangeably? Today we have a blog that answers your questions about jewelry findings and components. If you are a beginner beader, this is a great resource for learning the ins-and-outs of the jewelry components needed to finish stellar designs. The more you know, the better equipped you are to master this wonderful hobby. Read on to become a wiser jewelry designer.

Everything you wanted to know about findings is here. We have collected a sample of items and discuss their use. Make sure you watch the video included. Sara discusses findings and how to use them, in detail. If you are a seasoned jewelry designer, this will likely be old news. But if you are a beginner or just getting started with a new medium, like Macrame, this is a great source for ideas and tips.
Jewelry Making Findings Explained
Jewelry findings is an all encompassing term for the components used to finish or enhance a jewelry design. 'Findings' or 'components' - is a collection of items. Clasps are considered findings. Crimps are considered findings. Ear wires and cones are considered findings. If you are looking for 'findings', you are looking to buy the components used to finish or enhance your jewelry.
Below, we will look at items that are considered findings and we will look at their unique uses and functions.
Soft Flex Crimp Tubes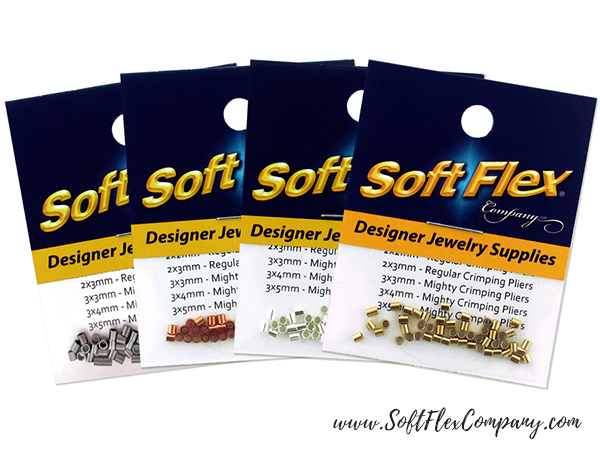 Crimp tubes are fundamental. They are the foundation every jewelry design is based upon. They provide a secure finish and attach your wire to the clasp. They can also be used to float beads on your wire and more.
Soft Flex Crimp Tubes are crafted with the professional in mind. We have constructed a crimp tube that is almost twice as thick as others on the market. The sturdier build of the crimp is enhanced by the fact that they are also seamless. Finish your next piece securely with our designer crimps. Available at Soft Flex Company in Sterling Silver, Gold Filled, Sterling Silver Black Oxidized or Copper.
Basic usage by wire diameter:
.010 Very Fine - Ideal for embellishing, weaving, crocheting and stringing very small beads. We suggest finishing with 1x1mm crimps. Micro Crimping Pliers are suggested to close 1x1mm crimps.
.014 Fine - Ideal for soft materials, seed beads and fresh water pearls. We suggest finishing with 2x2mm crimps. Regular Crimping Pliers are suggested to close 2x2mm crimps.
.019 Medium - Ideal all purpose wire. Great with glass, mineral, and metal beads. We suggest finishing with 2x2mm crimps. Regular Crimping Pliers are suggested to close 2x2mm crimps. For this diameter, you can also use 2x2mm crimps with Magical Crimping Pliers.
.024 Heavy - Ideal for abrasive materials, large stones, lamp work and bracelets. We suggest finishing with 2x3mm crimps. Regular Crimping Pliers are suggested to close 2x3mm crimps.
If you would like information regarding how many wires will fit through a particular size crimp, check out this page. This is a great reference if you are using larger crimps and creating a multi-strand necklace. Mighty Crimping Pliers are suggested for multi-strand designs.
If you need basic crimping instructions with regular crimping pliers, click here.
If you need basic crimping instructions with Magical Crimping Pliers, click here.
Product Reviews:
Crimp Tubes - Written by Marty on Jun 2nd 2019
SoftFlex crimp tubes are the best!!!
2x2 crimps - Written by Joyce Uhl on May 1st 2019
2x2 crimps together with soft flex beading wire & magical crimper makes a beautiful and strong connection.
Crimps - Written by Joan Mendelson on Mar 22nd 2019
These are the best crimps I ever use I will never go back to the other ones
Crimp tubes - Written by Nancy Markle on Mar 4th 2019
These are the best, never have to worry about them breaking¡!!!!!!!!!!
Hooray! - Written by SR on Sep 27th 2018
Love these 3mm tubes. Have tried the copper so far and they're great. We've been needing these for a while.

Soft Flex Crimp Covers
We love the look of a finished crimp. The fold and curl of the metal that tells us our design is safe and secure. But, not everybody appreciates that finish, some designers and collectors would rather not see the nuts and bolts of a piece - crimp covers are the solution to that dilemma.
Crimp covers clamp down over finished crimps. They look great as part of a jewelry design. You can use crimp cover to conceal regular crimped tubes or tubes crimped with Magical Crimping Pliers. Magical Crimping Pliers eliminate the need for a cover – but if you would like to cover them, it is perfectly reasonable. Our crimp covers are a great highlight to any piece, they come in copper, sterling silver and gold filled.
Product Reviews:
Crimp Covers - Written by Gloria Dilworth on May 1st 2019
A welcomed addition to help complement your pieces. They blend in to give the illusion of another bead within the necklace, bracelet, or even earrings.
Crimp tubes and covers - Written by Catherine Cowen on Feb 28th 2019
I bought several different sizes and colors as well as the covers. Beautiful color and great quality. Still working on getting my magical crimpers to come out perfect but a few tries and I'll be fine

Jump Rings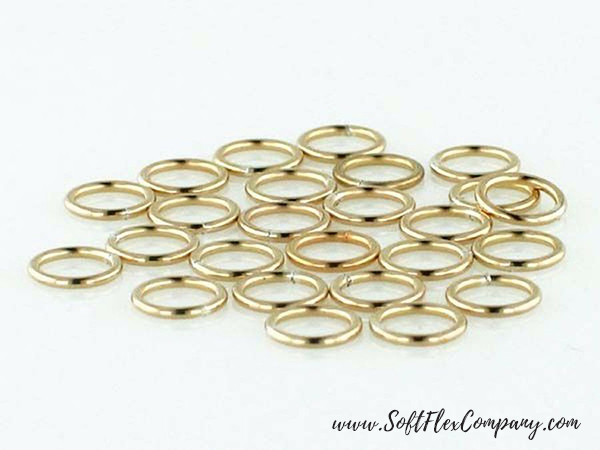 Jump rings are perfect for connecting a clasp, ear wire or pendant to your necklace, bracelet, anklet or earring. If you are a creative type, consider thinking outside the box and doing something unusual, they can be bunched together on a design to create a 'loose focal bead' and more.
Jump Rings can lengthen or shorten a design. They can be used to add a different clasp. They can be used to enhance a piece of jewelry and even make chain. Jump Rings offer a lot of flexibility when designing. There are two different styles of Jump Rings – open and closed. Closed Jump Rings are permanent on a design, there is no opening. Open Jump Rings can be opened and closed.

Split Rings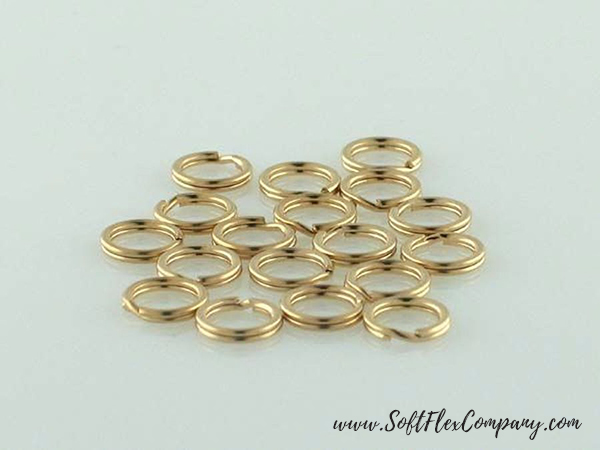 Split Rings and Jump Rings are very similar. They both have similar functions. The difference between the two is a Split Ring basically looks like a micro key chain. The ring is pulled open at the center to move it on to a design in the same way a key is added to a key chain. A pair of Split Ring Pliers is invaluable if you work with Split Rings (or have key chains). These pliers have a tooth that keeps the Split Rings open.

Spacer Beads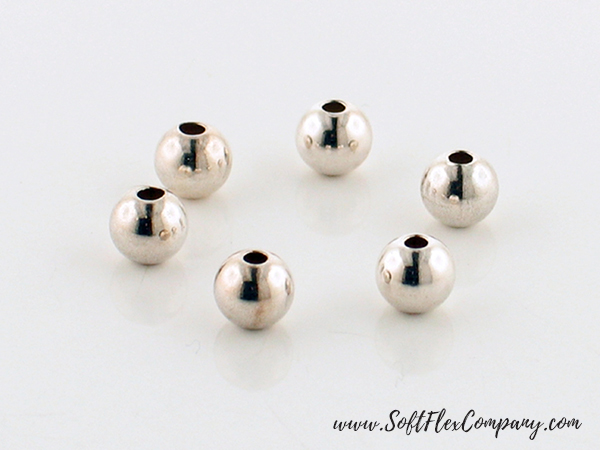 Spacer beads are a great design element. They are ideal for adding length to a piece. Spacer beads can also be used to bookend a focal bead or bead you want to highlight. Spacer beads can break up a color pattern or add some subtle sparkle to a design.
These seamless sterling silver beads are the perfect accent to a necklace using our Soft Flex Beading Wire.

Eye Pins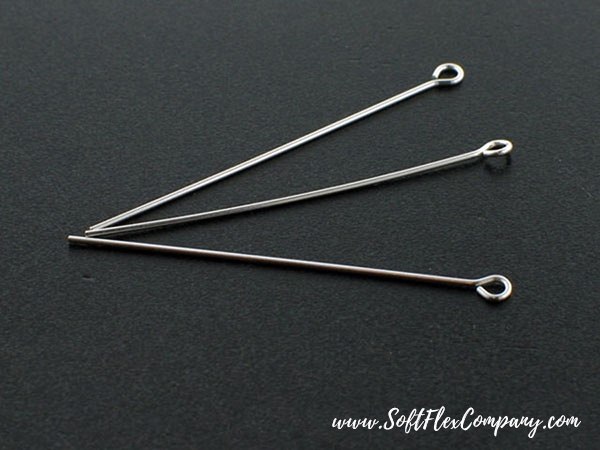 Eye pins are pins with an already-made loop on one end. They can be used to create jewelry links or components. Eye pins are also used in multi-strand pieces. Crimp each strand to the eye of the eye pin and pull through a cone. Connect the other end of the eye pin to your clasp by wire wrapping.

Head Pins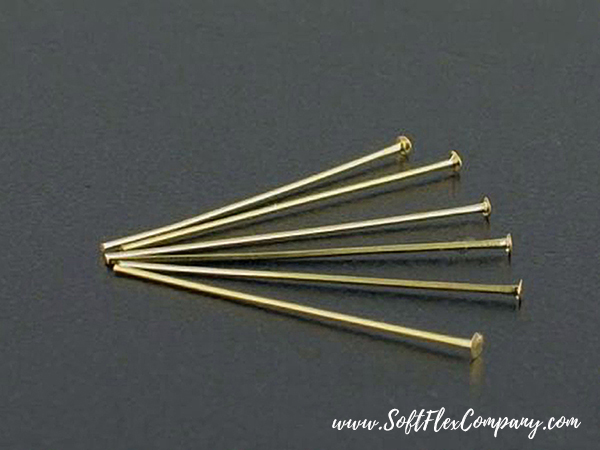 Head pins are similar to eye pins, except they have a flat head at one end, rather than a loop. The head can be used to stop a bead on the dangle and hold it in place. Wrap the other end to your design and you have a lovely focal bead. Head pins are perfect for making earring dangles, drops, and pendants.

Clasps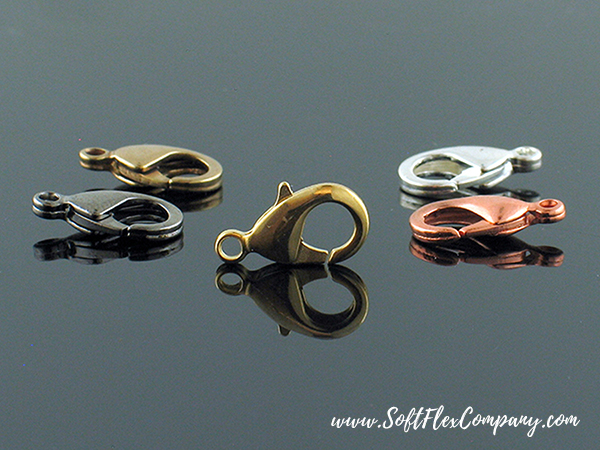 There are a variety of clasps out there. You can find some ornate clasps that can be part of your designs or basic clasps that do their job and do not really contribute to the aesthetic of the jewelry. Lobster clasps look like little lobster claws – they latch on to Jump Rings to finish a design. Designer clasps are the high end clasps that can be used as focal beads on a necklace or worn at the front, rather than hidden away at the back of the neck. Slide clasps slide in and out. There are multi-strand clasps for multi-strand jewelry designs. Toggle clasps are clasps with a large toggle that tucks into a hoop to close a jewelry design.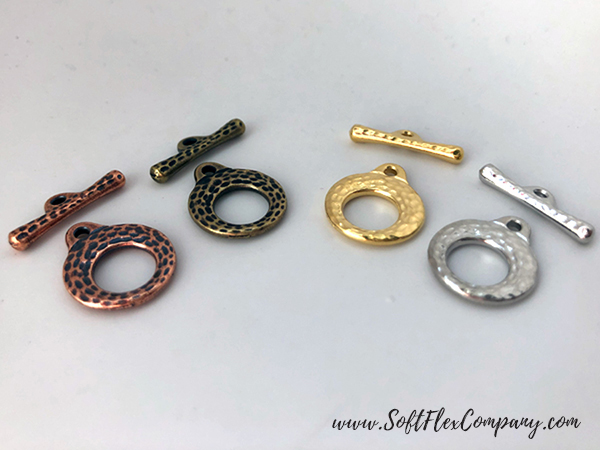 An easy design element to overlook when creating jewelry is the clasp. The focus in our craft is often on the beads comprising the piece and not the little details. Add a stunning clasp to your next project and you will be amazed at the professional finish.
Clasps come in lots of varieties: toggle clasps, lobster clasps, multi-strand clasps, and more. Finish your next jewelry design with a classy clasp!

Ear Wires And Earrings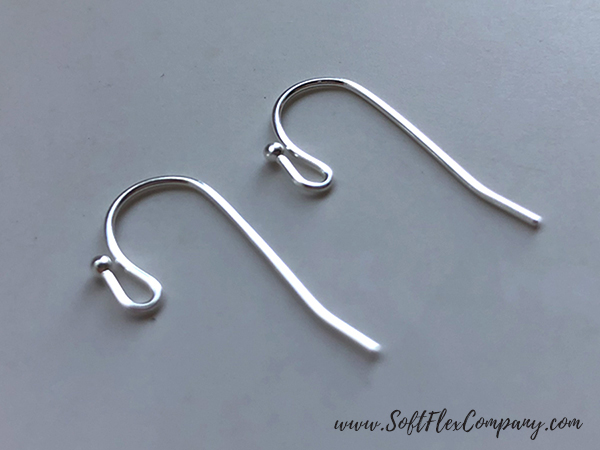 Ear wires are great for making quick earrings. Simply make a dangle with a head pin and attach to the loop at the bottom of the Ear Wire. Or, if you are feeling daring make a chain by linking components made with eye pins. The possibilities are infinite.
Ear wires can be elaborate or simple. They all work the same way, basically. Ear wires can be purchased or created with Soft Flex Craft Wire if you would like to personalize your earrings. Posts are similar to ear wires but do not dangle. There are also leverback ear wires for people that lose their earrings a lot. The leverbacks close so the earring cannot slip off.

Cones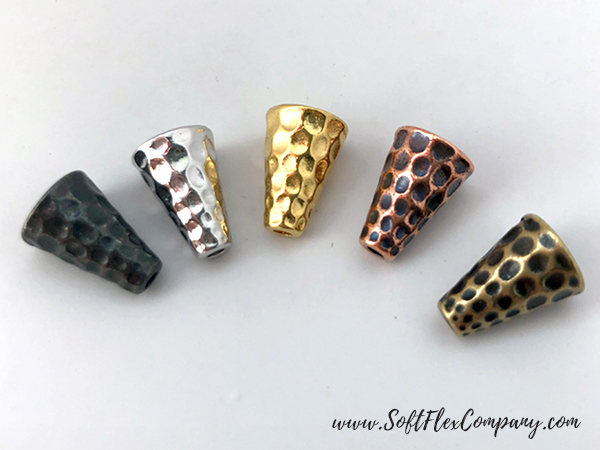 Cones look stunning on the end of a multi-strand design. Whether you are using a Kumihimo Disk, a Macrame Board, a Kntting Spool, or just stringing with a lot of wire, a cone will wrangle your wire into a nice end, just before the crimp. Finish your next multi-strand design with a beautiful cone!

End Caps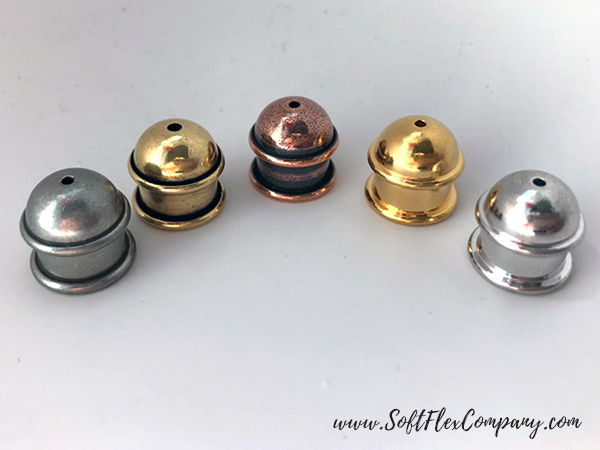 End caps are great for knitted cord, Soft Flex Craft Wire, and Soft Flex Beading Wire designs. Large end caps can accompany a wide array of wire diameters and gauges. This cord end is perfect for larger braided designs made with our Kumihimo Disks. This cap will fit larger Viking Knit designs made with our Lazee Daizee tool.

Wire Protectors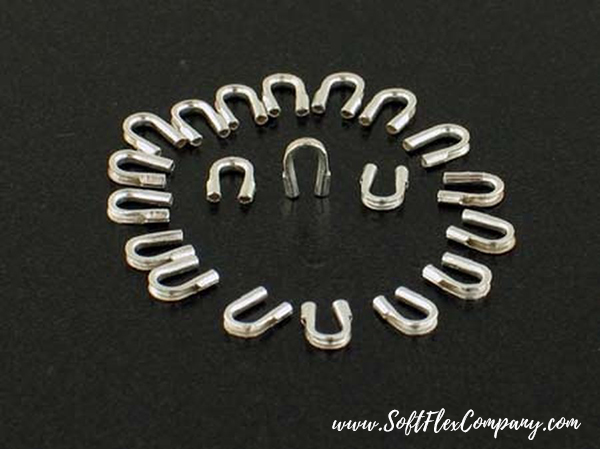 Wire Protectors are the perfect line of defense for your next design. Clasps and toggles can be beastly to your wire as the surfaces rock back and forth. Wire Protectors cradle and shelter the wire from this grinding motion. They also serve double duty, adding extra bling to any finish with silver findings.
Wire Protectors are great if you are picky about how the end of your wire looks on your design. They are great at concealing the end of wire on a finished design, but if you are using Soft Flex wire, they are not really protecting the wire. Soft Flex is strong and durable; it does not need a protector. If you are not using a beading wire that is as flexible and durable as Soft Flex, then the Wire Protector may be more important to keep in your toolbox.

Charms
Charms come in an assortment of sizes, colors, and themes. The vast amount of charm options available to a jewelry designer means that every design can be customized and made personal. Charms are likely one of the first beads a young beader will come across. Charms can define a childhood and be nostalgic.

Squaredelles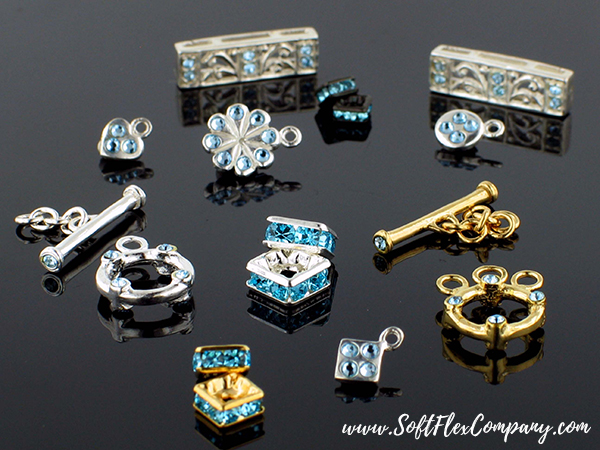 Check out our Squaredelles line. Charms for the adult! Our line of Squaredelles is simply stunning. With spacer beads and matching clasps, you can create perfect designs. If diamonds are a girls best friend, crystals must be the runner up. These findings and beads are available in 3 finishes: black, gold and silver and a huge assortment of colors. Enjoy.
Our Squaredelles are a closeout item. Some items may be sold out. Once they are gone, they are gone for good - so hurry, supplies are limited!

Pendants and Centerpieces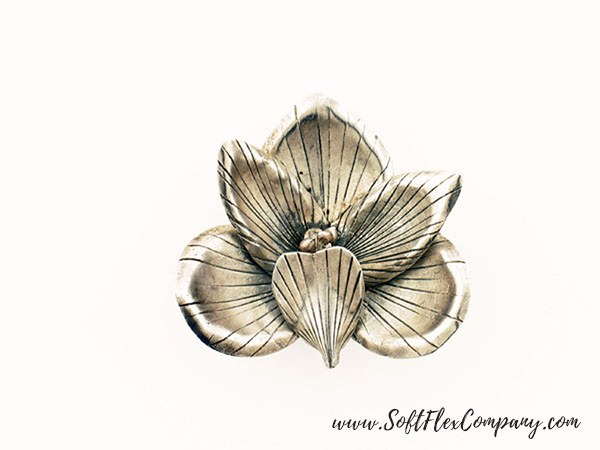 Pendants are one of the earliest recorded forms of beads. The word pendant comes from a Latin word that means 'to hang down'. Pendants and centerpieces can be lockets, amulets, and talismans. They can be functional or aesthetic. They are designed to capture the eye and spark the imagination.

Join our Facebook group – VIB. Stay in the know. Stay up to date. From our bead shows to our video shows and sales, you can stay in touch with us. The community is full of artistic and helpful beaders and crafty people. Inspire and be inspired. Share your pictures and get the beading bug from others!
Visit the Soft Flex Company YouTube Channel!
---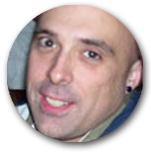 Blog contributor Thomas Soles loves Jazz Age writers and crunchy french fries. His favorite gemstones are Lapis and Pietersite. His favorite hobby is day dreaming. And his favorite mustache is Freddie Mercury's. As you can see, he has a healthy (or possibly unhealthy) sense of humor. You can write to him at Thomas@SoftFlexCompany.com