Evil Eye Talisman

Designer Kristen Fagan
Skill Level Beginner

Materials

Soft Flex Beading Wire, .019 Diameter, Black Onyx Color - 10"
40mm Evil Eye Pendant -1 pc
Silver Beads - 2 pcs
Dichroic Cube Beads from Paula Radke Glass Art - 3 pcs
Samunnat Clay Bead - 1 pc
2x2mm Sterling Silver Crimp Tubes - 2 pcs
5mm Silver Plated Open Jump Rings - 4 pcs
2mm White String or Cord - 24"
1/4" Colored Silk Ribbon - 10"

Tools

Magical or Regular Crimping Pliers
Cutters
Glue

Instructions

Throughout history, man has made many forms of talismans designed to ward off bad luck and in Turkey, the talisman is the Nazar Boncugu (evil eye).

Step 1: Cut a 24" piece of white string or cord and feed it through the pendant hole evenly. Grab both string pieces, wrap around your finger and tie a tie at the base of the pendant.

Step 2: Put a dab of glue on the end pieces of the string to stiffen it and make it easier to thread through the dichroic beads. String 1 dichroic bead onto one of the strings and then holding both strings make a knit close to the bead. String 1 dichroic bead onto the opposite strings from the first and then holding both strings make a knit close to the bead. String 1 dichroic bead onto the first string again and then holding both strings make a knit close to the bead.

Step 3: Put a dab of glue around the knot of the string and cut off excess string. Attach the jump ring to the final knot.

Step 4: Cut a 10" strand of black Soft Flex beading wire and feed through the jump ring. Then string 1 large silver spacer bead, 1 Samunnat clay bead and 1 small silver spacer bead. You should have two wire ends coming up from the last spacer bead.

Step 5: String a 2x2mm crimp tube on each wire end. Loop your wire back through the crimp tubes creating the top loop and crimp. (Note: You just need one crimp to securely make a top loop, I choose to use two for the symmetrical look). Cut off any excess wire. Click here for regular crimping instructions. Click here for magical crimping instructions.

Step 6: Lastly, using 10" of colored silk ribbon tie a bow through the jump ring between the string and beading wire to finish it off.
Join the fun in our VIB Facebook Group today! Stay in the know. Stay up to date. From our bead shows to our video shows and sales, you can stay in touch with us. The community is full of artistic and helpful beaders and crafty people. Inspire and be inspired. Share your pictures and get the beading bug from others!
Visit the Soft Flex Company YouTube Channel!

---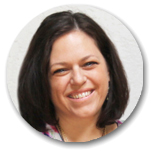 Kristen Fagan is a Website Graphic Designer and Jewelry Making Educator for Soft Flex® Company. She is the co-author of Seed Bead Revolution, an artist and creativity guide. She lives in Arizona with her husband, their two sons and two dogs. When she's not painting, drawing or beading, she enjoys reading, yoga, exploring the outdoors and traveling. Her favorite stones are Turquoise, and Quartz and she can't bead without Bead Stoppers. Contact her at Kristen@softflexcompany.com or visit her Website | Facebook | Instagram