The stars are shining on us today! We have some magical stars for your favorite holiday. We have some ideas for every holiday this season. You are going to love our celestial ornaments. They can all be added to your home decor. You can turn these sweet little stars into earrings or elements of a necklace. You can even add them to a wrapped gift as a wonderful accessory. Let's make some magic!

Holiday Crafts and Ornaments with Sara Oehler
Sara has some fun holidays ideas for you! She showed us how to make ornaments for the holidays. Whether you celebrate Christmas or Hanukkah, you can create a pendant, ornament, or decoration that celebrates your beliefs.
Make sure you watch Sara's new YouTube live shows. She is filming every Friday morning, during the holiday season, at 10:00am PST. She will be making fun holiday decorations. Her videos are a great way to find inspiration if you need decoration or jewelry ideas. Catch her live and she will answer your questions. Make sure you subscribe to our YouTube channel. If you have missed any episodes, you can check out our YouTube library to catch up!
Soft Flex Craft Wire Star Ornament
Sara has a fun wire wrapped star. This star can be put on a tree by itself, added to a string of lights or a garland. It is versatile and fun. You can finish your star with a 'messy wrap' like Sara does in the video or you can use straight lines or leave the ornament as is. You can also add beads. Whatever you choose, it will be a fun personalized decoration for the holidays!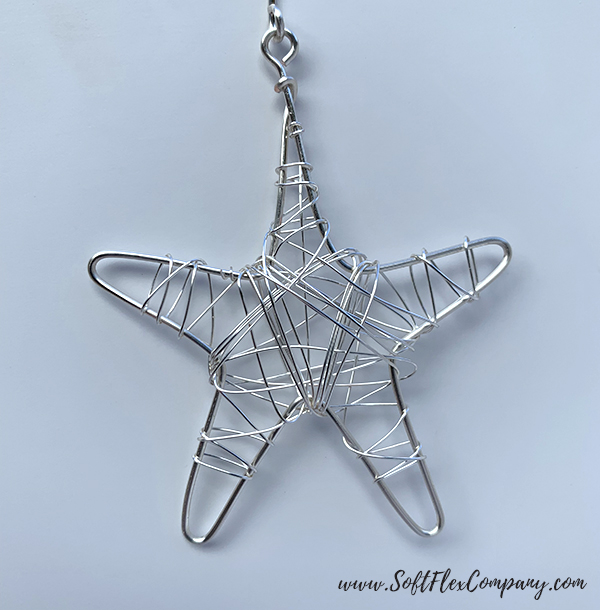 Supplies:
Soft Flex Craft Wire - Silver Plated 18ga
Soft Flex Craft Wire - Silver Plated 26ga
WigJig Olympus Lite
WigJig Large Super Pegs For Olympus Lite
Wire Whacker
Bead Nipper (Cutters)
Nylon Jaw Pliers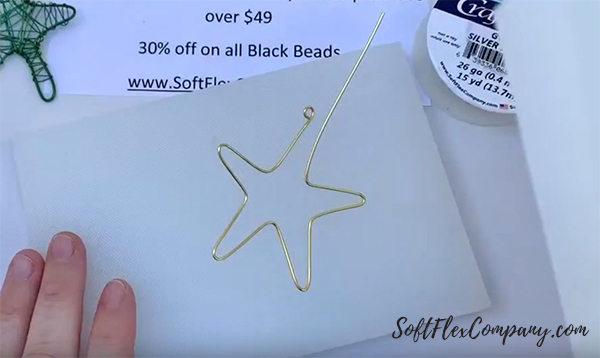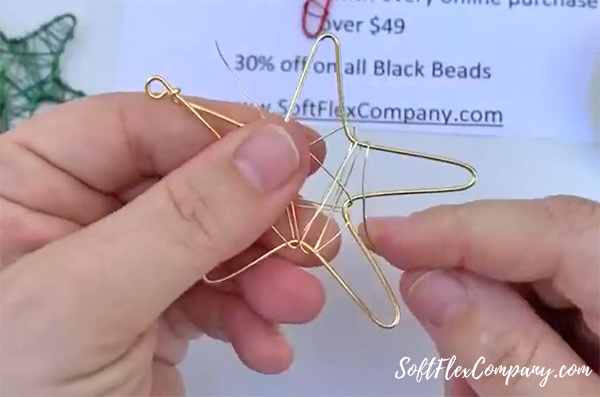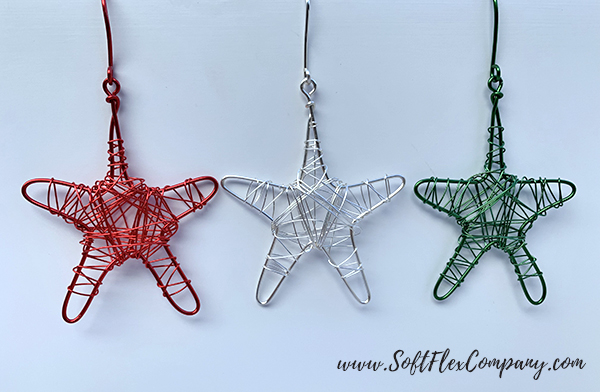 If you love this project, you might also like these fun projects!
Star Of David Ornament
Hanukkah means 'dedication'. It is a time to reflect on what you feel is important to dedicate your life to. The spirit of dedication can be celebrated by people of all faiths. This wonderful design can be adorned on your holiday decor or worn as a pendant.
Find instructions for creating this ornament in our blog: 6 Easy Holiday Ornament Ideas With Craft Wire

Craft Wire Star Ornament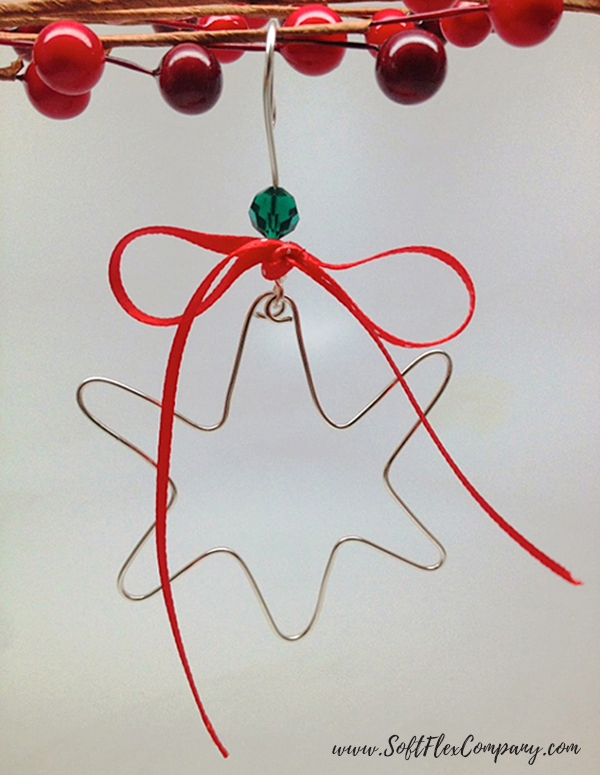 Add a poppy little piece of Christmas magic to your tree this year. This star is incredibly easy to finish on a WigJig jig board. Add beads as accents or across the whole pattern. Give your star a bow or a focal bead. Make this wonderful ornament your own!
Find instructions for creating this ornament in our blog: 6 Easy Holiday Ornament Ideas With Craft Wire

Silver Star Beaded Earrings and Pendant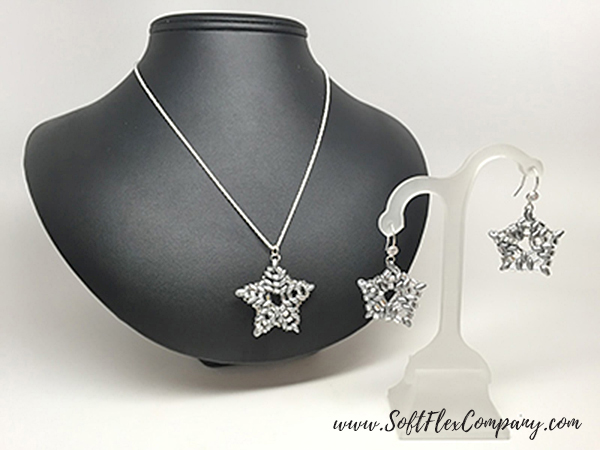 The stars have long captivated us. Add a glimmering constellation to your Christmas. Make these wonderful stars for the holidays. Give them to loved ones as earrings or pendants - or even hang them on the tree!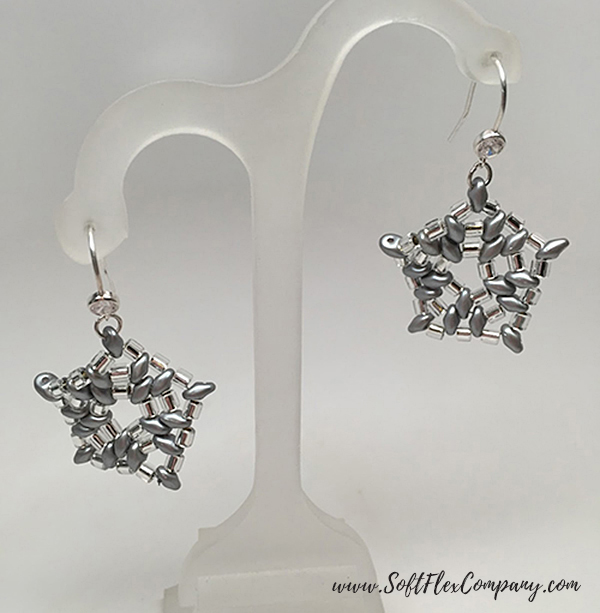 Find instructions for creating these silver stars in our blog: Holiday Projects And Design Tips Featuring Soft Touch Beading Wire
Join our Facebook group – VIB. Stay in the know. Stay up to date. From our bead shows to our video shows and sales, you can stay in touch with us. The community is full of artistic and helpful beaders and crafty people. Inspire and be inspired. Share your pictures and get the beading bug from others!

Visit the Soft Flex Company YouTube Channel!
---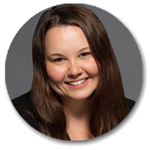 Sara Oehler (pronounced Ay-ler) is a well-known jewelry designer living in the Bay Area. Sara is the author of several beading books, including her latest title, written with Kristen Fagan, Seed Bead Revolution. She has designed and written for numerous publications including: BeadStyle, Bead&Button, Bead Trends, Stringing, Jewelry in Fashion Trends, Simply Beads, The Flow and Today's Creative Home Arts. Currently, Sara is the Sales and Marketing Manager for Soft Flex Company.
Ask Sara Bead Expert
Blog: softflexcompany.com/beading-blog
Email: Sara@SoftFlexCompany.com