We love a beading party! Our most recent was a blast. We sat down with Danielle Wickes. She is a jewelry designer and a content creator for John Bead. We discussed the hobby/ craft business, jewelry making, beading, and a fun technique that we have not really used in many videos - knotting. All of our wire diameters can be knotted, but we have never really explored this on our jewelry demonstrations. This was a great time to see what we had been missing. Learn more about John Bead, Danielle, and how to knot your beading wire to create a stunning jewelry aesthetic. Let's have a beading party!

Do you love meeting exciting jewelry designers? We think it is so much fun to get inside their heads and see what makes them tick. Especially when you can apply some of their knowledge to your own jewelry projects. There is no better way to excel than to stand on the shoulders of giants. We have been holding live jewelry making parties on Zoom. You can find these fun beading shows on the video section of the Soft Flex Company Facebook page and our YouTube Channel. In the past, we have featured Just Bead It owner, Joyce Trowbridge. We have discussed owning a business as a young millennial, with Sam Siegel. We discussed the ways we have adapted our businesses to COVID, with Kay Goss. We have learned a lot about these wonderful jewelry designers. And we have learned a lot about ourselves. Join our beading parties for deep dives into the jewelry industry, travel, and how making jewelry can be beneficial for mental health and clarity.
Live Jewelry Making Party With Danielle Wickes From John Bead
We started holding live parties with our friends in the early days of COVID. Quarantine was giving us all a terrible case of cabin fever. We longed for conversations with friends and distant family. We found that conference software, like Zoom or Facetime, was perfect for a social gathering from the comfort of home. Beading parties are a fellowship of creative minds and curious creators. Our first beading party was with Andrew Thornton of Allegory Gallery. This party was such a rousing success, it turned into a longer discussion. After the cameras stopped, we discussed bead shows and the Great Bead Extravaganza was born.
During our most recent Beading party, we spent some time with Danielle Wickes of John Bead. Danielle found her calling with beading and jewelry making around 2006. A friend at a local bead store taught her wire working and knotting. This start was the foundation for her love of jewelry making. But, it was not until some years later when she found herself at home with her children and a lot more time on her hands that she could finally invest more attention to her favorite crafts. She started connecting with the beading community and introducing herself to other artists and designers. She spent more time designing and soon found that she had a real talent for the craft.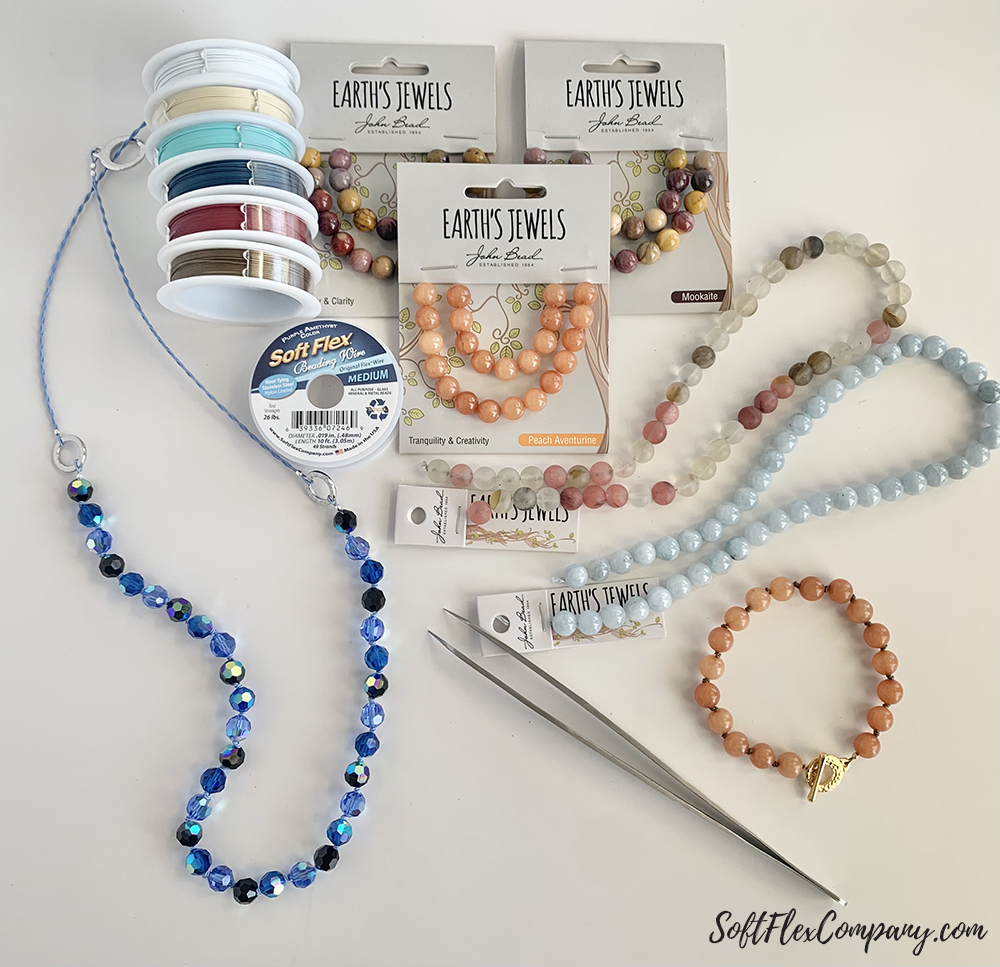 In May of last year, Danielle was hired to do some projects for John Bead. John Bead is a company that you are probably familiar with if you love hobby and craft stores and live in Canada. If you have not heard of them, they sell wholesale jewelry making supplies, home decorating items, leathers and hides, and lots more. If you are a retail customer, you can visit their outlet store in Toronto. John Bead shares projects and sells to Michael's Stores - you can find classes and beads from John Bead there. Danielle was eventually hired on as a content creator with John Bead. She is featured in John Bead blogs and is also a teacher for Michael's, you can find her weekly classes on Michael's website.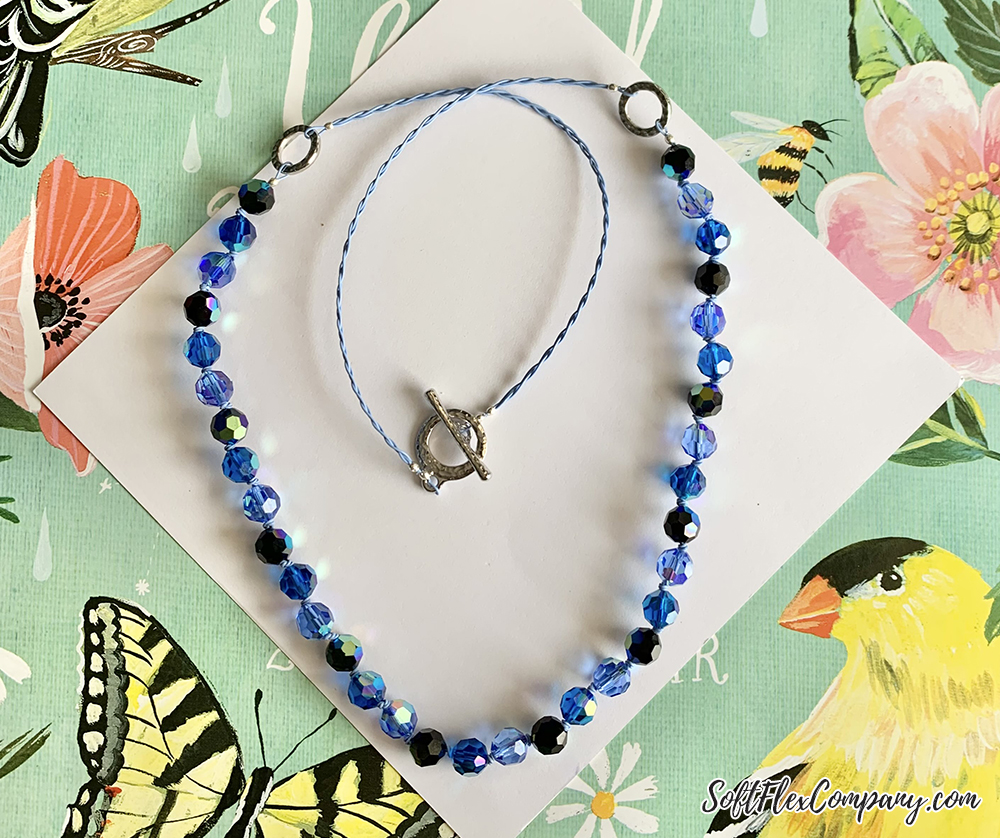 Learn How To Knot Your Beading Wire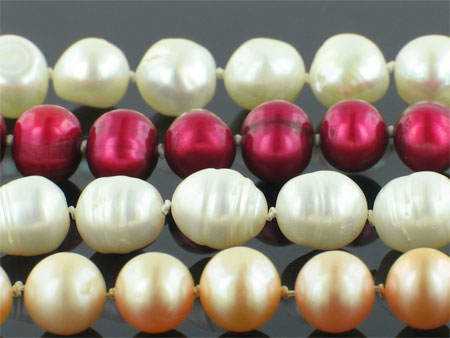 One of the neatest features of Soft Flex Beading Wire products is that you can actually knot the wire. You will not lose any strength or durability where the wire is knotted. In our beading party video, you will learn how to make an overhand knot with beading wire and knotting tweezers. We also have a figure-eight knot tutorial with Soft Flex Beading Wire for variation on a knotted design. Not every knot will drape the same way, since Soft Flex is stainless steel and not a beading cord. Experiment with your favorite knot. Soft Flex is also wonderful for knotting projects like macrame.
Knotting Tweezers with Bent Nose
Knots can be unruly rascals. Trying to make a dainty knot with big fingers can feel like an overwhelming task. Knotting Tweezers make this chore a breeze. Knotting Tweezers are great for guiding, placing, and cinching a knot - right the in the exact spot you want the knot to rest on a design. The bent nose of this design makes it easier to see your work without hands or handles getting in the way. Make your next traditional pearl necklace or Soft Flex mini macrame bracelet a snap with this amazing tool!
Meet Danielle Wickes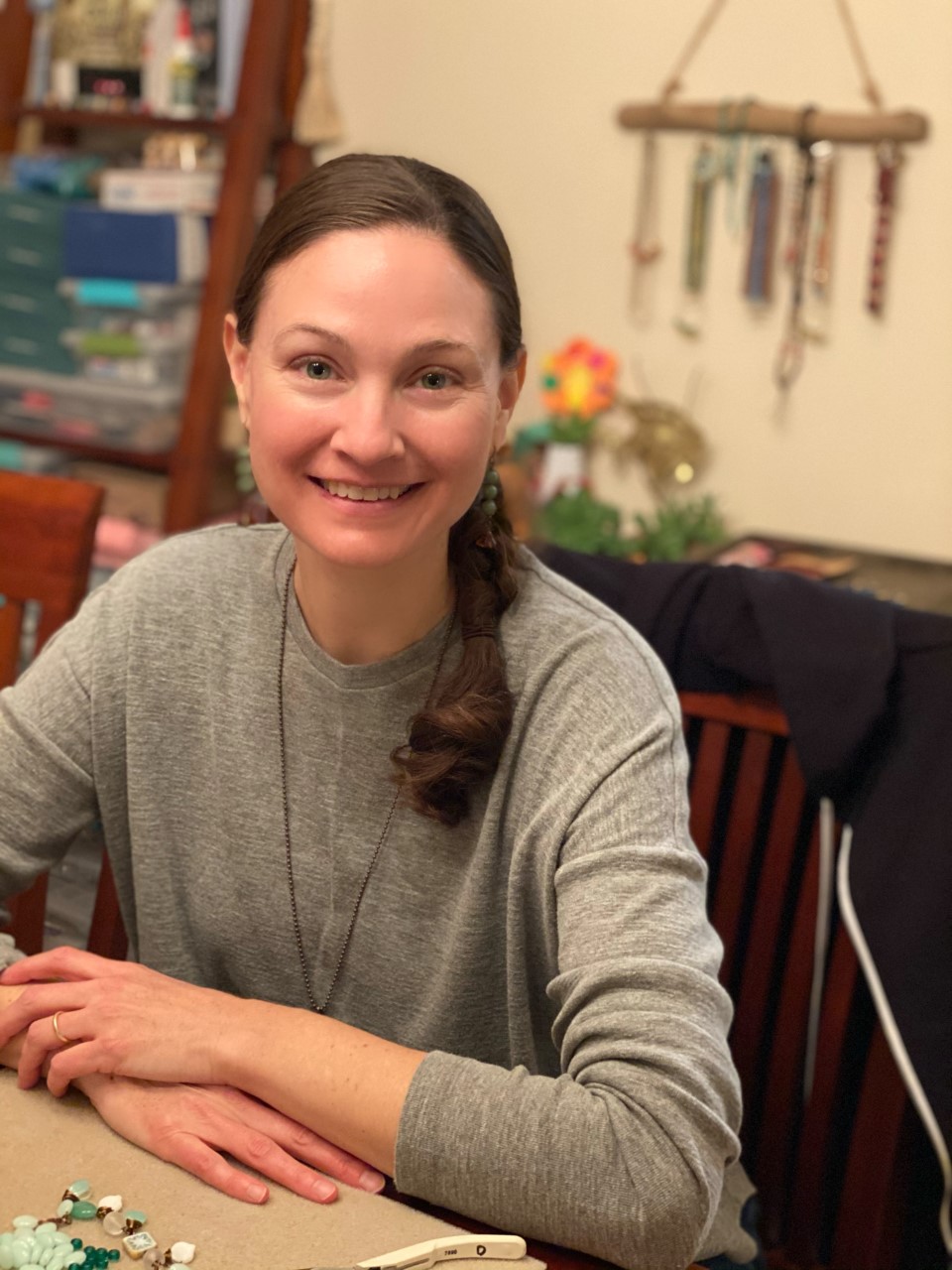 Danielle Wickes is a jewelry designer and she works for John Bead as a content creator. She specializes in working with seed beads, bead-weaving, and looming, creating hand-knotted mala and yoga jewelry, crochet, and jewelry made with leather and wire.
From Danielle:
I am Danielle Wickes of Danielle Wickes Jewelry! I am an artist and jewelry designer based in the Pacific Northwest. I love working with seed beads, bead-weaving and looming, and I also love creating hand-knotted mala and yoga jewelry, crochet, and jewelry made with leather and wire.
The History of John Bead
If you are a wholesale buyer, make sure you visit the John Bead website and check out their catalogs and inventory. The company was founded in 1954. You will find generations of John family acquisitions and products. There is an incredibly diverse collection of craft and hobby items for sale on their site. If you do not own a business, you can still find some fantastic links. Make sure you check out their projects and blogs. There is a lot of instructional material. There are tons of beautiful jewelry designs to make. Make sure you visit Danielle's classes with Michael's, you are sure to elevate your beading knowledge and learn something surprising and new!
Learn more about the company below, in their own words.
From the John Bead website:
John Bead has undergone significant changes since being founded in 1954 to become the bead empire it is today. Here, you will discover an abundance of high-quality products, from beads and crafting supplies, to the most popular jewelry components. John Bead is an established wholesaler, selling to retailers, manufacturers, distributors and resellers with a business license. Customers can visit and purchase in our showroom in Toronto.
1953 - 1977
Our journey begins with Fritz and Betsy John as the couple moved to Canada in 1953 from the Czech Republic to Toronto Ontario. The business originated in the family home as it first imported pointed and cushion back stones that the John family hand-set into brooches and sold as finished pieces. Through innovation, inspiration and drive, they began trading Czech Seed Beads, inspired by Fritz's parents who worked in those factories back home. They hoped to introduce the quality and timeless elegance of Czech crystal culture into the world of western DIY crafts and design.
1977 - 1983
The company found a home for its first commercial location on Spadina Avenue in Toronto's Fashion District. Solidifying their mark through innovation in the 60's, such as being the only source able to supply the demanding textile industry with Czech and Japanese seed beads. Selling authentic African Trade Beads and German Wooden Beads in the 70's. As well as creating a line of Native American crafts and glass beads which initiated a long-lasting business relationship that remains strong today.
1983 - 2003
Customer and product growth necessitated a move to an 11,000 square foot building in East Toronto so that John Bead could best serve all customers, suppliers and employees. In 1989 Fritz John took a well-deserved retirement and their son Mike John, who had been an integral part of the business, became President. Sadly Fritz John passed away in December of 2000.
2003 - PRESENT
Increased sales meant company growth continued into the 2000's and required several moves to expanded facilities, each one larger than the last. Since 2003 we have been located in a 100,000 square foot building with ample area for our wholesale showroom, bead and craft outlet, and warehouse space to store our products. In 2007 Daniel John joined the business full time as Vice President, signifying the third generation of John's to have joined the company.
Co-founder Betsy John can still be found several days a week at John Bead and is the highlight of many customer visits to the showroom. She is often found chatting with employees, designers and clients.
2019 AND BEYOND!
We are delighted to celebrate 65 years of business in 2019, John Bead aims to reflect the needs of its customers while guaranteeing the highest of quality in both service and products. This third generation, family-owned and operated company believes in emulating the highest standard of practice by hiring passionate professionals, sourcing the highest quality materials and ensuring the best prices. We thank everyone who has supported us along the way, and welcome the future with enthusiasm.
Danielle Wickes Q&A On Jewelry Design
How long have you been making jewelry?
I have been making jewelry for approximately 15 years. I got my start in beading as a hobby, with my earliest inspiration being my friendships through a local brick and mortar shop. I branched out into techniques, even learning bench jewelry attending classes at Pratt Fine Arts in Seattle. In early 2007, I began selling my work on consignment in local shops. I started my Etsy shop that same year.
Is there a tool you cannot live without?
Tough to choose just one, but I think today that tool is beading needles. I am obsessed with finding the perfect beading needle for seed bead work ;)
What color palette (or technique) do you love working with?
I love working with earthy, desert color palettes. Anything with TerraCottas, Turquoise blues, Yellow, and coral or salmon pinks with beige, plus with a pop of metallic... those are my dream in colors.
Where do you draw inspiration from for your jewelry designs and color choices?
I am inspired by color combinations in nature photographs. I also draw inspiration from unusual beads and bead shapes. I like the challenge of putting them together.
Why do you love Soft Flex Beading Wire?
I love the colors! It is flowy, flexible, durable, and versatile.
Danielle Wickes Q&A On Owning A Business
What convinced you to open your business?
Originally, it was a business-owner friend who encouraged me by offering to sell my work in her shop. She built my confidence as a seller. From there, I went online. In the early days it was friends and family, as well as other business owners I met along the way that kept me going and encouraged.
What do you wish you knew when you first started?
I wish I could transfer back to my earlier self all the learned knowledge of techniques and especially seller know-how gained over the years.
What roadmap would you give to a beginner (Etsy, social networking, brick and mortar, etc)?
It's very individual to the person, but one idea that might help someone get started would be to consider that starting a business doesn't have to be an all-at-once thing. You can take it in small steps and in a way that allows you to test ideas and grow without a lot of up front cost. Once you know what your best sellers are, you can focus on them, buy wholesale for them, and reduce your cost and expand you market. Etsy and social media are great launching pads for testing your ideas and figuring out what sells.
What products are you known for and/or why should people use your products?
That has evolved a lot. Right now I am most known for patterns and tutorials and creations with seed beads.
Do you feel like you have time to follow your passions while owning a business?
Sort of. Some of my passions are to try out ideas for my business, so it's great for me when they overlap that way. I do find I wish for more time most days and find I have less time for creating than I used to. I have to make sure and set aside time for my own creativity.
Anything else you'd like to share?
I would like to shout out a big thank you to Sara and Kristen for the opportunity to join them on the beading party live. I had fun and I was very inspired by their ideas :)
Visit Danielle's links:
What is your contact info and how can customers best find you or your products?
My website is DanielleWickesJewelry.com where you will find patterns, tutorials, a whole page dedicated to the artists who were my earliest inspiration, as well as my biography.
At the moment I sell design and project kits, some of my favorite beading supplies, and the occasional finished piece in my shop. My shop is DanielleWickes.Etsy.com
Another great place to find my work is on Blog.JohnBead.com
I teach weekly classes for Michaels Stores. You can find my classes and sign up for them at Michaels.com/classes
Join our Facebook group – VIB. Stay in the know. Stay up to date. From our bead shows to our video shows and sales, you can stay in touch with us. The community is full of artistic and helpful beaders and crafty people. Inspire and be inspired. Share your pictures and get the beading bug from others!
Visit the Soft Flex Company YouTube Channel!
---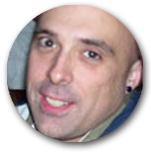 Blog contributor Thomas Soles loves Jazz Age writers and crunchy french fries. His favorite gemstones are Lapis and Pietersite. His favorite hobby is day dreaming. And his favorite mustache is Freddie Mercury's. As you can see, he has a healthy (or possibly unhealthy) sense of humor. You can write to him at Thomas@SoftFlexCompany.com