We had a happy week of haunting fun. Are you wearing your Halloween earrings? Do you love Halloween jewelry? Join us for some Halloween craft ideas. We love this time of year. A chill is in the air. The bright days of summer are shrouded and veiled as the coming winter clutches the calendar with cold raven's claws. Black cats, orange candy corn, and green slime are the colors of the day. Inquisitive owls settle on your window ledge. Are you ready to gather your beading supplies and make a ghostly bracelet for the graveyard party? Join us for a uncanny jewelry making experience.

We love hootin' Halloween crafts. We joined a gathering of owls to give you some great Halloween ideas this season. Let's get spooky and join the spirits! This week, we explored Halloween jewelry that is as gorgeous as it is fun. We celebrated our most cadaverous Kit Day. Sara unsealed our Happy Owl-Leen Design Kit (Sold Out) and showed off the enchanting items inside. Sarah James, from Jesse James Beads, dropped in our our video to share some exciting Trick or Treat news, you won't want to miss the fun! Marcie Creates opened our Owl-Leen jewelry kit on her YouTube channel. Want an unbiased opinion about our creepy kit contents? Watch this video for a great review. Finally, we paid Nealay, from SilverSilk, a visit. His favorite season is summer, but he is looking forward to fall jewelry. Join us for a rousing incantation as we summon some fiendishly delicious jewelry!

Trick or Treat! Check out our creepy collection of Halloween charms and a spooky themed gallery of beads. This assortment of ghoulish delights is perfect for Halloween arts and crafts with your younglings or easy Halloween crafts for adults. Make an elegant necklace for a dark gathering. Make a friendship bracelet with your lil vampire. Halloween DIY crafts are pumpkin spice and everything nice! Come check out our chilling compilation before the sunsets on the fun!
Jewelry Making Videos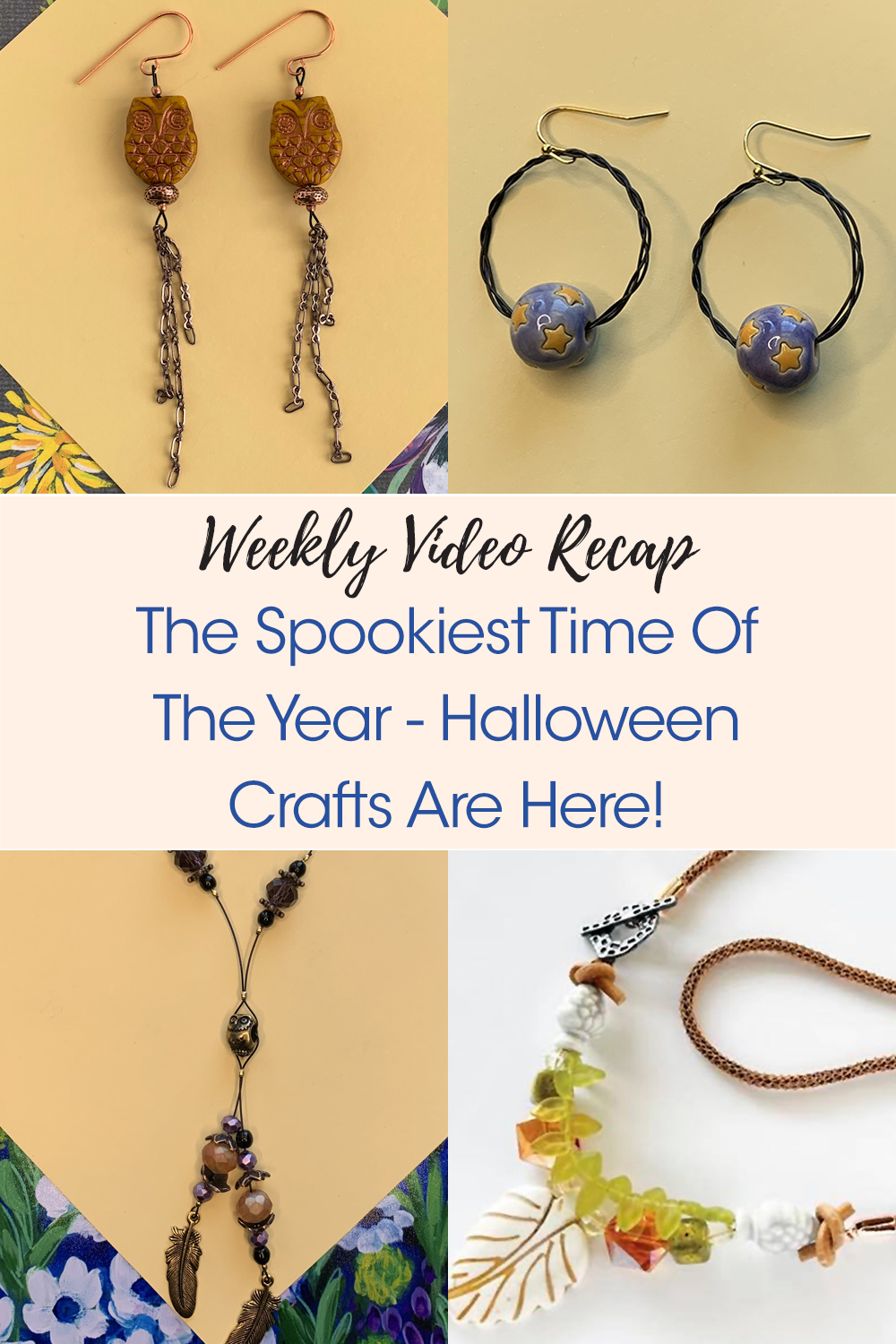 Join Us For Our Trick Or Treat Jewelry Making Party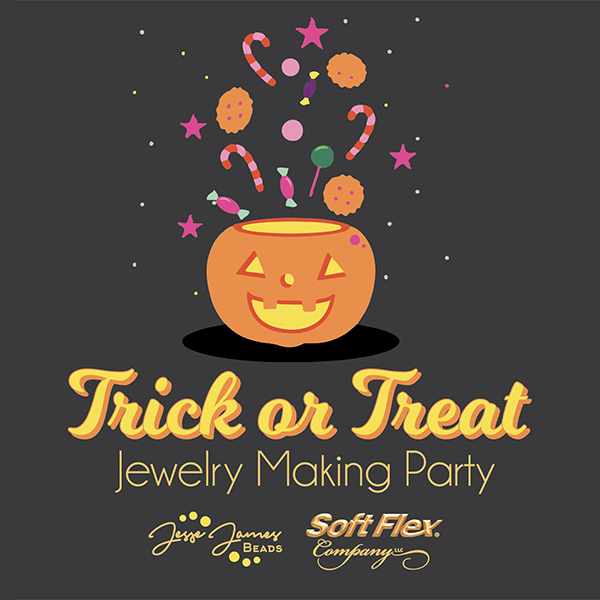 4 projects, 4 designers, 2 nights, 1 fun filled online event! Join us October 21st and 22nd! Grab the supply kit here and get the bead kit from Jesse James Beads.
Before the eve of Halloween is here, Soft Flex Company and Jesse James Beads are teaming up to host a hair-raising Trick-or-Treat Party. Satisfy your sweet tooth and go door to door to meet devilish designers. Knock on Jesse James Bead's portal and discover a delightfully dark kit full of bloodcurdling beads. Ring Soft Flex Company's doorbell and behold a beastly batch of beading supplies (findings and wire). This eerie 2-night event runs October 21st and 22nd with 4 designers offering their best tips, tricks and projects. A cackling collection of jewelry creators invite you to their haunted homes. Design a bone-chilling bracelet or enchanted earrings. If you have purchased a kit from each company, you will be granted exclusive access to an after event full of lively apparitions and more bead talk. Do you dare join us? We welcome all mortals and eager souls. Join a crew of phantasms and poltergeists for a creepy crawly time!
Important Dates:
10/13 - Kit Purchase Deadline
10/14 - Kit Ship Date
10/21 - Trick-or-Treat Party Classes, Night 1
10/22 - Trick-or-Treat Party Classes, Night 2
10/22 - Trick-or-Treat After Party with Wine Tasting!
Note: This is a supply kit for a special event. This kit does not contain beads. Please be sure to purchase the matching bead kit from Jesse James Beads to play along!
Supplies are very limited. Don't miss out!
Learn How To Make Halloween Earrings In 30 Seconds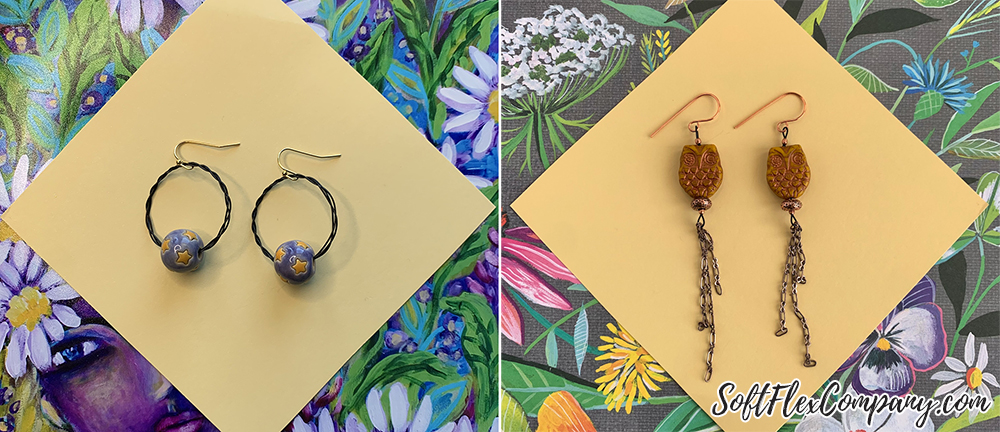 Check out our 30 second jewelry tutorials on Soft Flex Company's Instagram Reels! Master a new technique in minutes. These videos move quick but are easy to follow. You will get a sense of how to use your tools and finish your crimps securely. If you need more assistance, make sure you check out our YouTube catalog for deeper dives into jewelry making education. Stand on the shoulders of giants and enhance your jewelry making knowledge in a flash!
Happy Owl-Leen Beading Design Kit Reveal - Halloween Arts And Crafts Are Fun And Elegant
We celebrated our favorite monthly holiday this week - Kit Day. As always, we were shocked that the month was already ending. Kit Day seems to creep up on us like a quiet specter If you have not joined us for this frightfully fun day, it is a company holiday that we celebrate across our website and social media. In the morning, we reveal our latest themed jewelry making kit on our site. We then post a blog showing finished designs from our community that had purchased our last kit. Our community members that had posted their finished jewelry are entered in a drawing to win the new kit for free. We announce that lucky beader. When afternoon rolls around, we go live on Facebook and YouTube and unbox the last kit. If you had purchased a kit, this is your chance to open and design with Sara. If you had already opened your kit, this is an opportunity to see what Sara makes with the beading supplies inside. Our design kits are all you need to make a bunch of jewelry. You just need to have crimpers and cutters on hand.
Sara decided to go glamorous with her kit. The Happy Owl-Leen Design Kit (Sold Out) was full of fun Halloween colors, you could go with the theme or make something new. Sara skipped out on the big orange pumpkins and the glowing Czech Glass owls. Sara saved the Golem Beads for later. Instead, she made a stunning gothic necklace that would be right at home on an iconic ghost. You could imagine this necklace gracing Constance Hatchaway on a night in the ballroom. This elegant piece is a perfect fit for the Brown Lady of Raynham Hall. This would be a great jewelry idea for a restless Anne Boleyn.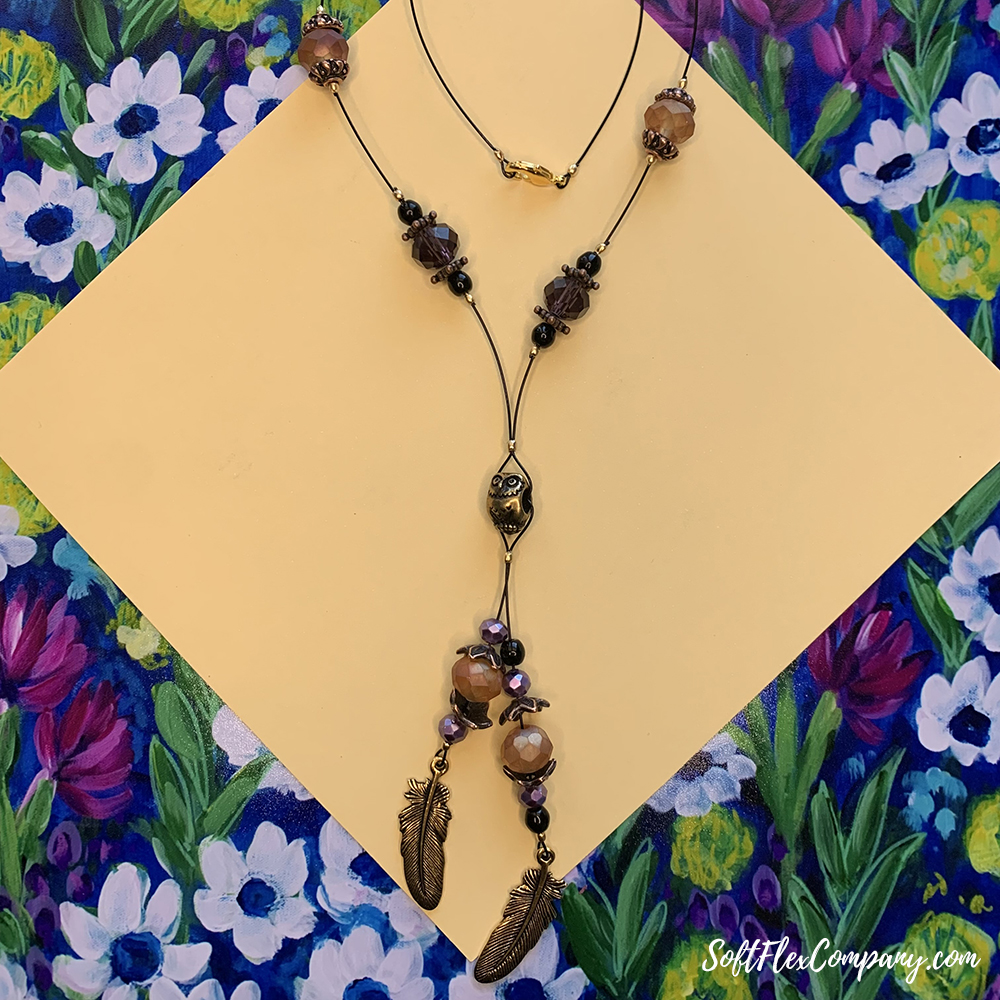 Happy Owl-Leen Design Kit (Sold Out)
Soft Flex Beading Wire, .019 Diameter in Black Onyx
2x2mm Crimp Tubes
Magical Crimping Pliers
Cutters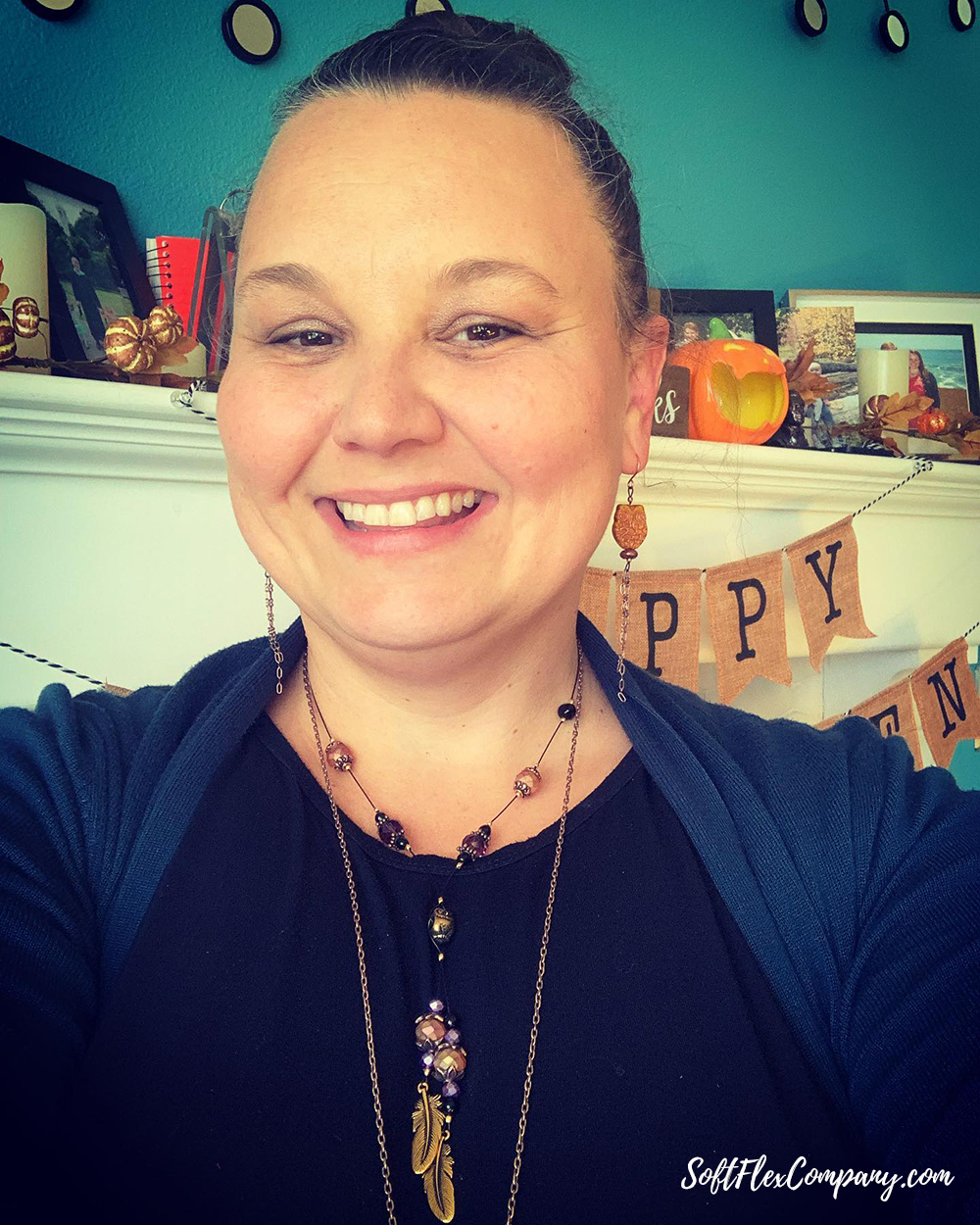 Marcie Creates Unboxes Our Happy Owl-Leen Design Kit
YouTube jewelry designer Marcie Creates has a library of fun videos. We love to check out her unboxing videos and her jewelry tutorials. If you are not a subscriber, check her out sometime. You will find an enjoyable presentation and maybe even learn a new technique while you watch. This week, she unboxed our Happy Owl-Leen Design Kit (Sold Out). We always suggest checking out what other creators think about our products. If you are on the fence about buying one of our kits, check out what she thinks. Maybe it is something that would be a good fit for you or a friend. Give the gift of beads this spooky season!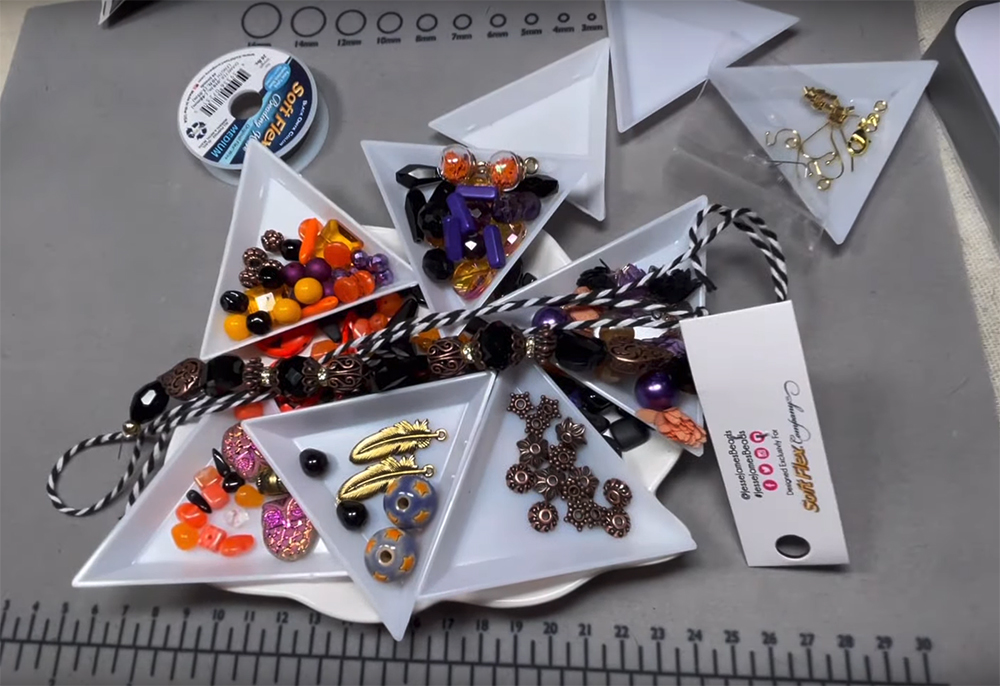 From Marcie Creates:
My name is Marcie Hall and I live in North Texas. I am a mixed media artist, jewelry maker, recipe creator and an avid Dachshund Lover (I have two rescues- Ginger and Cha Cha). I have been an artist my whole life. In my early art days, I would create prints, sculpture, ink drawings and oil paintings. About 25 years ago, I started making jewelry after a friend invited me to take an intro class at my local bead shop - I was hooked! I loved everything about jewelry making- the colors, textures and shapes really spoke to me. Soon I was making jewelry for family and friends and then everyone said, "you should sell your jewelry" and Marcie Hall Designs was born.
I recently started a YouTube channel called Marcie Creates to share my passion for beads, jewelry making, mixed media art and cooking. YouTube is a new venture - I am really enjoying it and would love for you to join me!
Visit Marcie's links:
Marcie Creates YouTube Channel
DIY Necklace: How to Make a Tuscany Inspired Beaded Necklace
Nealay Patel is the owner of SilverSilk & More. SilverSilk is a knitted wire jewelry chain. But, it is like no other jewelry chain out in the craft market. SilverSilk is made by many tiny latch-hook needles that spin around with wire, intricately machine-stitching the wire into an elegant yet strong and supple knitted wire chain. This knitted wire stitchwork offers the crafter new and unusual ways to use it. You can string large-hole beads on it, sew through it, wire-wrap it, glue it, put it in resin or just leave it as a draped jewelry chain. We love SilverSilk chain, it is the perfect complement to Soft Flex Craft Wire or beading wire. These beading elements can be interwoven and wire wrapped into exciting new jewelry. Design something elegant and rich today with these two stringing options. Your finished jewelry will look like you bought it from a high end gallery!
From Nealay:
Fall season is all about texture. Join me in this video to take various beads, a leafy pendant and some SilverSilk to make a necklace inspired by a sunset in Tuscany. I'll be teaching crimping, using Soft Flex beading wire and crimps, and incorporating Capture Chain for the perfect combo of textures!
Sunset in Tuscany Mystery Kit
SilverSilk Capture Chain
Soft Flex Beading Wire, .019 Diameter in Citrine
Beads
Clasp
Cutters
Round Nose Pliers
Chain Nose Pliers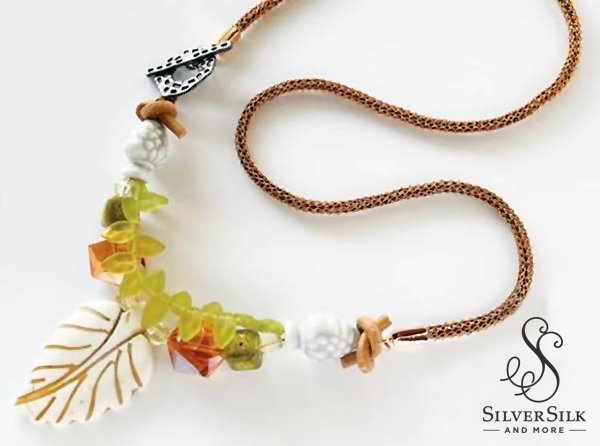 Be sure to mark your calendars for every Tuesday, 5:30pm CST and hop over to facebook.com/groups/silversilk to watch Nealay's videos live and ask questions.
Nealay's channel is dedicated to learning how to make high quality jewelry with SilverSilk with an emphasis on design. You can follow his journey here:
www.instagram.com/silversilkandmore
www.facebook.com/silversilkandmore
Or join his Silkies group and be a part of the conversation www.facebook.com/groups/silversilk


Join our Facebook group – VIB. Stay in the know. Stay up to date. From our bead shows to our video shows and sales, you can stay in touch with us. The community is full of artistic and helpful beaders and crafty people. Inspire and be inspired. Share your pictures and get the beading bug from others!
Visit the Soft Flex Company YouTube Channel!
---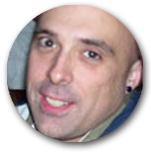 Blog contributor Thomas Soles loves Jazz Age writers and crunchy french fries. His favorite gemstones are Lapis and Pietersite. His favorite hobby is day dreaming. And his favorite mustache is Freddie Mercury's. As you can see, he has a healthy (or possibly unhealthy) sense of humor. You can write to him at Thomas@SoftFlexCompany.com