What a fantastic week. If you missed out on any of our jewelry making videos, today is a great time for a binge! This week, we learned how to make a bracelet with leather, SilverSilk, and Soft Flex Beading Wire. We learned how to make some cute hoop earrings. And we learned how to create an Egyptian Coil chain bracelet. There is a lot of variety. These videos are a must watch if you would like to explore new techniques or just want to find inspiration.
Nealay showed us how to make a fashionable unisex bracelet that would look great on anybody. The colors and clasp can be changed if you would like to modify it to fit your style. Sara showed us how to design earrings with Soft Flex Beading Wire. She showed us how to crimp and float the beads on a hoop. Finally, James discussed how to make a bracelet with Soft Flex Craft Wire. He discussed wire wrapping techniques with tools. The finished bracelet is stunning.
Enjoy some fun videos. It has been a long week and you deserve to spoil yourself!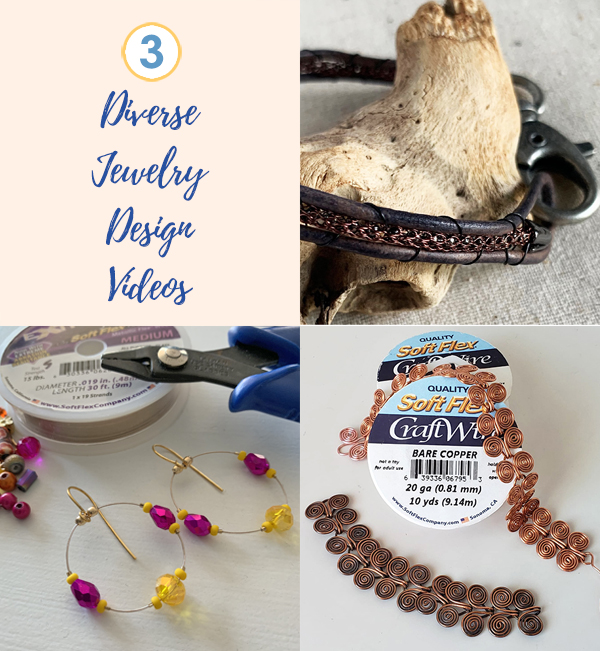 SilverSilk Capture Chain Leather Bracelet
Our friend Nealay filmed another fun episode of Tuesday Tuts. This time, he created a fantastic leather, SilverSilk, and Soft Flex Beading Wire bracelet. This is a bracelet for everybody. It would look great on any wrist.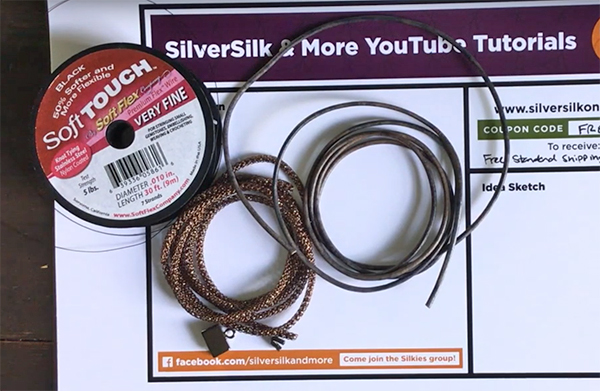 From Nealay:
We're going to explore a fast and fabulous technique using SilverSilk Capture Chain and some round leather cord. I've seen this done with beads but not with SilverSilk! I'm excited to use some new products from Soft Flex and we'll be assembling something very fashionable in minutes.
Supplies:
SilverSilk Capture Chain
.010 Soft Touch Beading Wire
4mm Terminators
Triple-Strand End Cap
Chain Nose Pliers
Nylon Jaw Pliers
Cutters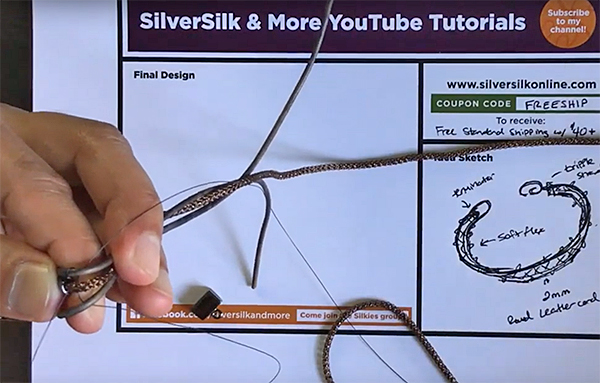 We love Nealay. He is a talented designer and the owner of SilverSilk and More. His work is amazing. His Tuesday Tuts are fun. You get to watch him consider a design idea, sketch the design out, and then follow through. His finished jewelry designs are always lush and eye catching.
Follow him on Facebook and check out his store here - SilverSilk and More.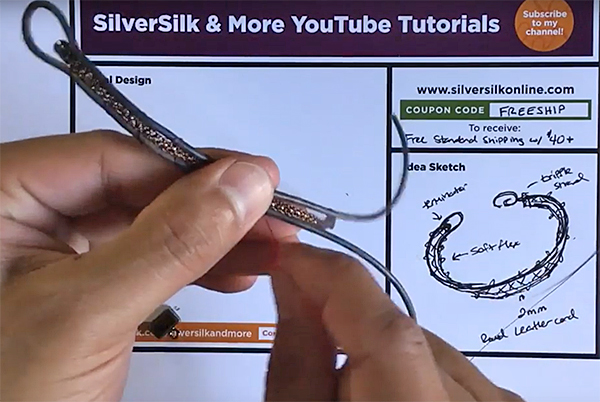 Nealay discovered a pleasant surprise during this video. He was able to knot the Soft Touch Beading Wire he was working with. All of our wire diameters can be knotted. Our wire is a marine quality stainless steel wire, but it is exceptional flexible. The strength of steel and the grace of silk. If you would like to learn more about knotting our wire diameters, check out founder Mike Sherman's video, he did a demonstration at a CHA (Craft & Hobby Association, now called Creativation) show one year.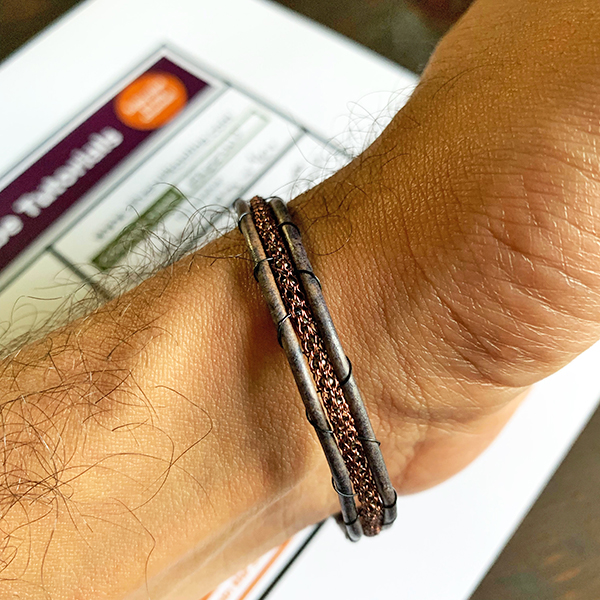 What a fantastic design. The earthy colors look amazing. This would be a great beach bracelet for him or her.
Change up the color of the leather and the Capture Chain, select a smaller clasp, and you have a delicate piece of jewelry for an elegant affair.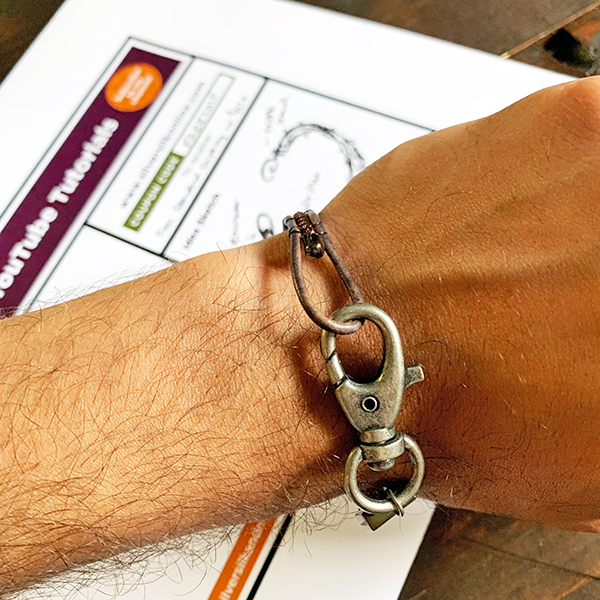 Join Nealay's exclusive Facebook group, The SilverSilk Silkies.
The SilverSilk Silkies are a dedicated group of makers that create and share their beautiful jewelry, made from SilverSilk and More. If you love SilverSilk, this is the hotspot to be and see what the world is creating and inventing with SilverSilk.
Posts and photos by members are encouraged, but only if they are appropriate and inspiring! You are welcome to share tips, ideas and musings but please keep it on topic to our page mission. I can't wait to see your creations!
YouTube created a new rule for live streaming and our friend Nealay Patel needs our help! Let's help him get to that magic 1,000 subscribers so he can once again stream live from YouTube and offer us his amazing Tuesday Tuts! Click here to subscribe to the SilverSilk and More YouTube Channel.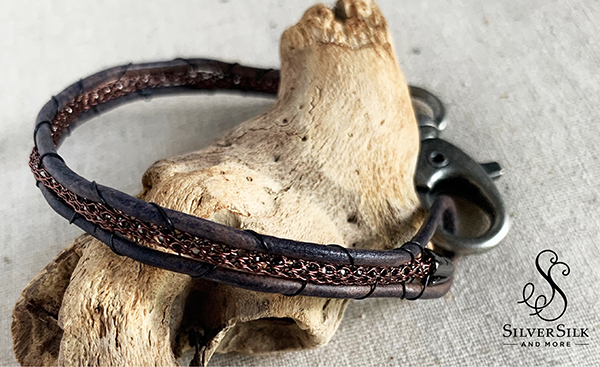 Make Colorful Earrings Using Micro Crimp Tubes
Sara filmed a jewelry making demonstration from her home office. She is due in two weeks. She is adding a baby boy to the family. We are so excited for her. Her girls are going to love their new brother!
This week, Sara wanted to film a video that showed how to make earrings with Soft Flex Beading Wire. She wanted to explore crimps and crimping. We had a sale on our crimps and crimp covers and it was a great time to learn how to master the technique!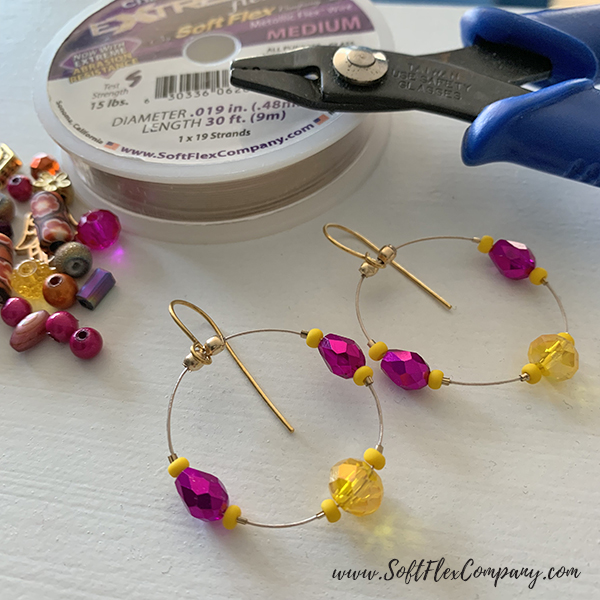 For these hoop earrings, Sara used 1x1mm crimps to secure the beads. This is an easy way to create illusion jewelry – 'floating' the beads on wire by crimping them in place. 1x1mm crimps are very small. If you have some on hand, we strongly suggest using Micro Crimping Pliers to finish them. Micro Crimping Pliers look like standard crimping pliers, but the holes on the head of the pliers are much tinier. They were created to finish smaller crimps.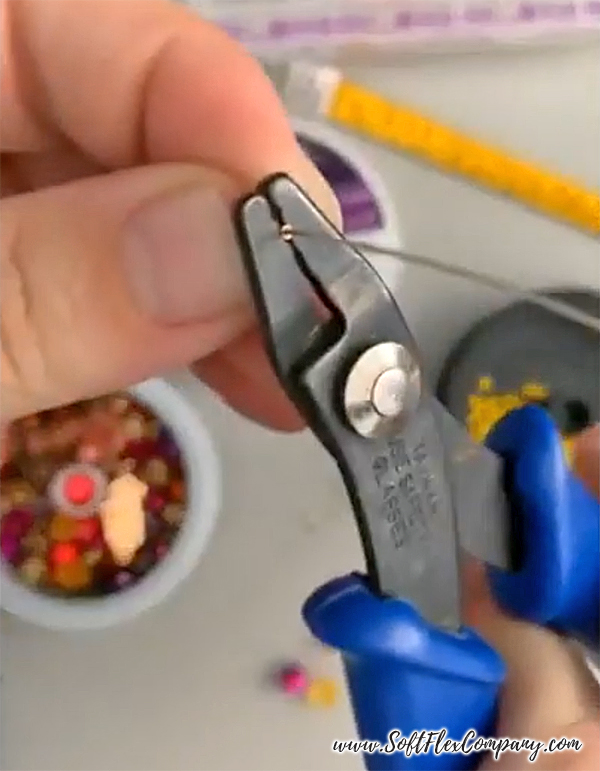 Supplies:
Soft Flex Champagne Extreme Flex Beading Wire
1x1mm Soft Flex Crimp Tubes
Micro Crimping Pliers
2x2mm Soft Flex Crimp Tubes
Crimping Pliers
Soft Flex Professional Flush Cutters
Ear Wires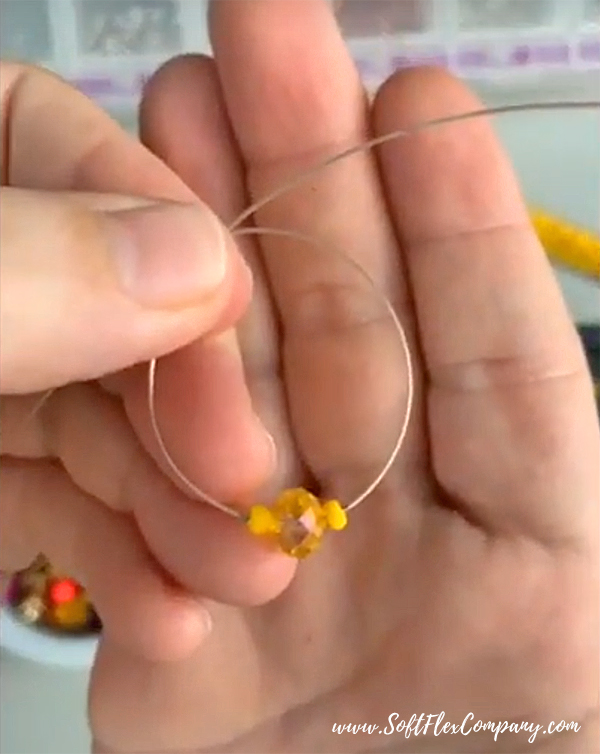 Designing earrings with Soft Flex Beading Wire is really simple. You can fashion a new pair of earrings with different beads and different colors of beading wire within minutes. You could literally craft a new pair of earrings for every day of the year or more. Once you grasp the basic techniques, it takes just minutes to finish.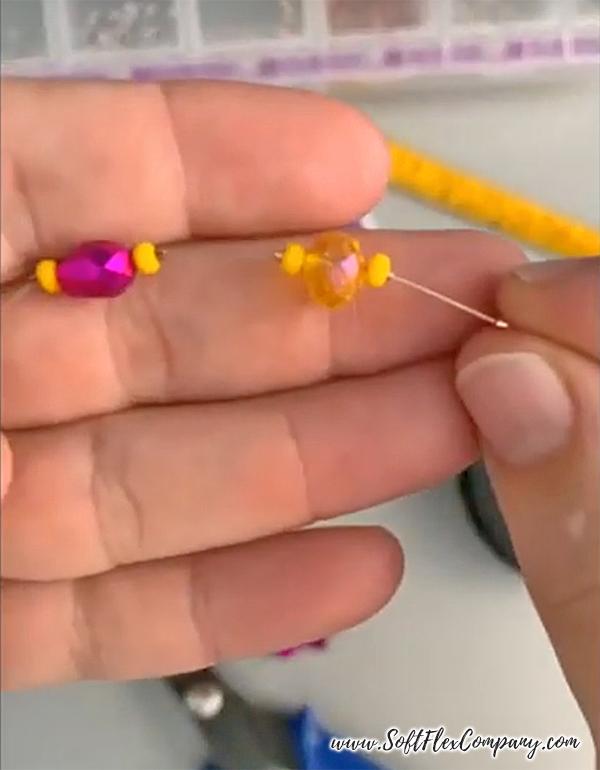 For these earrings, Sara used seed beads and beads from one of our Bead Mixes. If you would like a fun assortment of beads at a great value, they are a steal. Bead Mixes are perfect for themed jewelry. They are fantastic for earrings. Since earrings do not require a full strand of beads, having a mix means that you can create a bunch of unique earrings for a small price.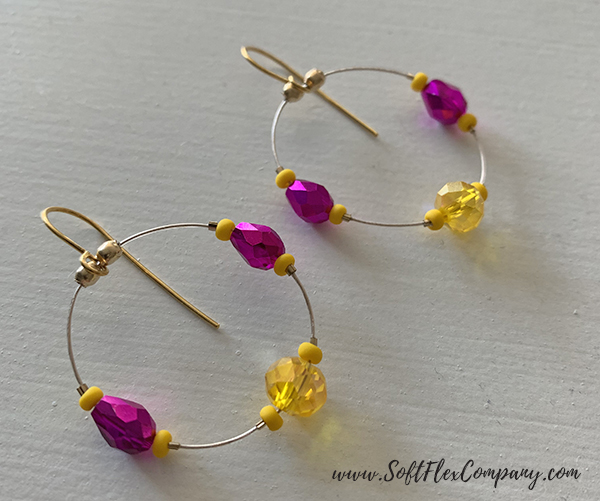 Making The Egyptian Coil Chain With Soft Flex Craft Wire
James Browning films a series on YouTube called Conversations in Wire. Conversations in Wire is uploaded to YouTube every other Thursday. James explores his passion for Craft Wire jewelry. He has shown us how to create bird's nest charms, wrap stones, patina copper, and more. If you have any questions for James, you can post them in the comments field on his videos or email him. If you happen to create anything shown in his video, we would love to see your work, post it in our Facebook group – VIB. James would certainly be happy to see if anybody is creating his projects.
This episode, James created a chain bracelet with a technique called Egyptian Coil. This video is great if you would like to learn how to make flat coils with Soft Flex Craft Wire. For this video, James used Bare Copper. Bare Copper is the only Craft Wire that is not enameled or coated. It will patina like normal copper. Perfect if you like an antique look to your jewelry.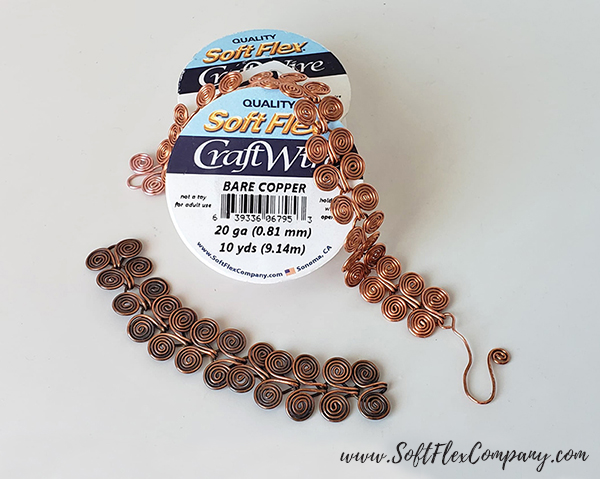 Supplies:
Soft Flex Craft Wire - 20ga
Soft Flex Craft Wire - Silver Plated 20ga
Nylon Jaw Pliers
Cutters
Chain Nose Pliers
Round Nose Pliers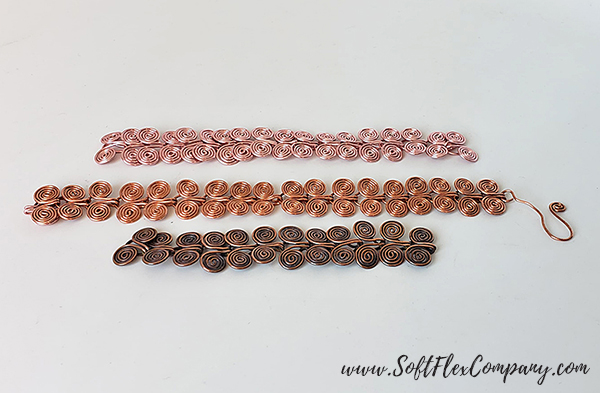 If you are a beginner with Soft Flex Craft Wire or would like to expand your tool kit, consider purchasing one of our Craft Wire Starter Kits. Inside is everything you need to get started in the hobby – wire included.
When working with Craft Wire, James suggests working slowly and thoughtfully. If you take your time, it is easy to correct mistakes as you go. If you try and rush through a design, you may find a flaw further down the road and have to redo your work. Going slow means that your work will look great and you will not work harden your wire with corrections.
Join our Facebook group – VIB. Stay in the know. Stay up to date. From our bead shows to our video shows and sales, you can stay in touch with us. The community is full of artistic and helpful beaders and crafty people. Inspire and be inspired. Share your pictures and get the beading bug from others!

Visit the Soft Flex Company YouTube Channel!
---
Blog contributor Thomas Soles loves Jazz Age writers and crunchy french fries. His favorite gemstones are Lapis and Pietersite. His favorite hobby is day dreaming. And his favorite mustache is Freddie Mercury's. As you can see, he has a healthy (or possibly unhealthy) sense of humor. You can write to him at Thomas@SoftFlexCompany.com