What a lovely week! We had a great Cyber Monday and held an auction on Facebook. We had some great sales on gemstones and beads, tools, books, WigJig boards and more. Kristen taught us how to make a bracelet with a knitting spool. Sara opened a Holly Jolly Christmas Beading Kit and introduced our newest design kit – The Winter Wonderland Kit. The Winter Wonderland Kit is perfect for Hanukkah or Christmas. We hope you had a great week.

We are all busy making our Christmas gifts. Making your own jewelry and gifting your friends and family is an awesome way to show them you love them. There is nothing better than a gift that comes from the heart. And homemade jewelry is one of a kind. It doesn't get any more special. Are you making jewelry this holiday season? We would love to see it. Post your pictures on our Facebook group – VIB.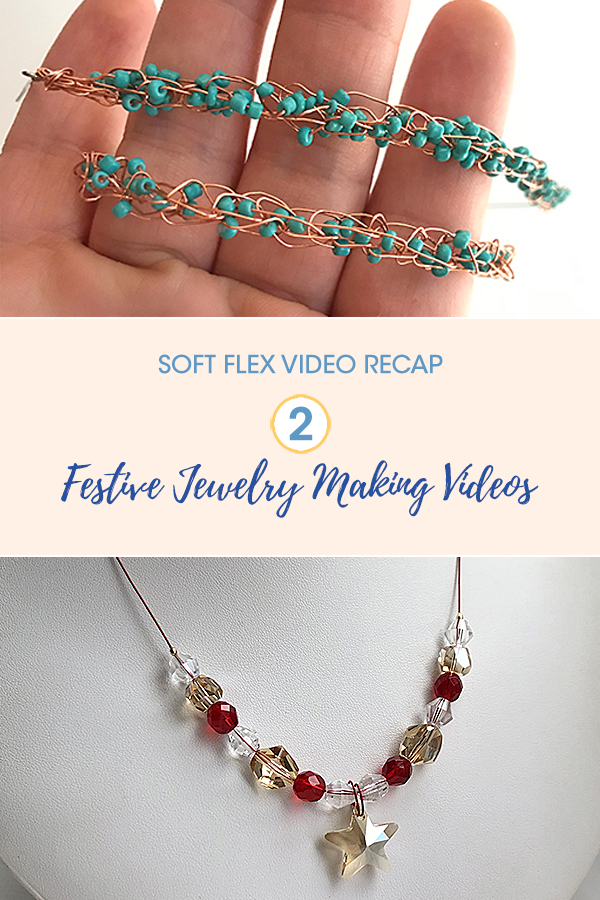 Free Spirit Beading with Kristen Fagan: How To Knit On A Spool With Soft Flex Craft Wire
Kristen returned with another episode of Free Spirit Beading. She had just come back from a wonderful Thanksgiving weekend and was ready to create some jewelry. She decided to use a knitting spool for her design. Rather than use beading wire, which is flexible and soft, she opted to design her bracelet with Craft Wire. Craft Wire is a wire that is typically used for wire wrapping. It does not have the drape that beading wire has. It is stiffer and retains its shape once work hardened. Kristen figured it would be perfect to demonstrate on the spool. She loves to think outside of the box.
Supplies:

Soft Flex Craft Wire 26G - Bare Copper
Approx 100 Size 11/0 Seed Beads
2 Eye Pins
2 12x5mm Cones from BeadMecca.com
Toggle Clasp
3-Pin Knitting Spool
Draw Plate
Cutters
Chain Nose Pliers
LoopRite Looping Pliers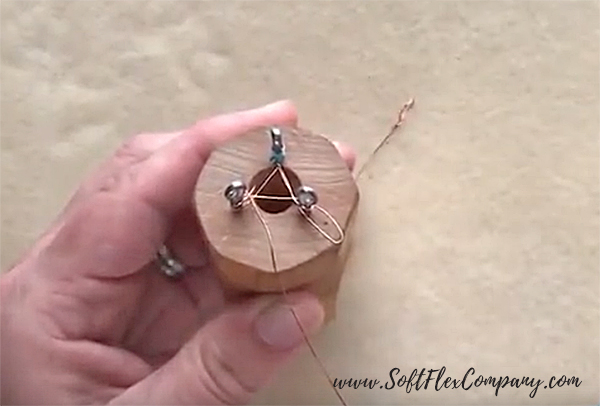 Kristen demonstrated how to use the Craft Wire on a spool. She added beads to her design as she went. Kristen used a 26 gauge wire for her design. If you are a beginner with a knitting spool, you might want to consider using a 28 gauge wire as it is smaller and easier to work with if you are not accustomed to using Craft Wire on a spool.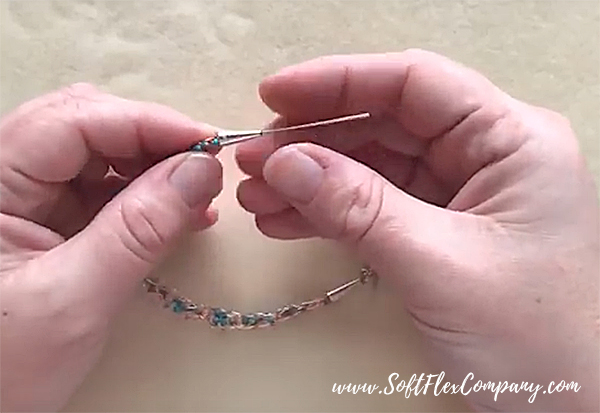 Kristen ended her design with a cone. A cone is a neat way to finish the piece. It is easy to conceal the multiple strands you have been working with and add a clasp. Kristen discussed the cones you can use for your designs. She has also improvised cones in the past - she has created a cone with a larger gauge of Craft Wire and wrapped the ends of the design.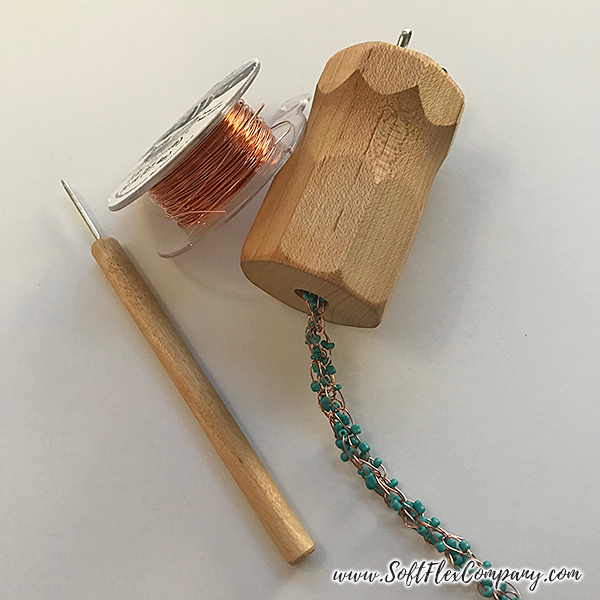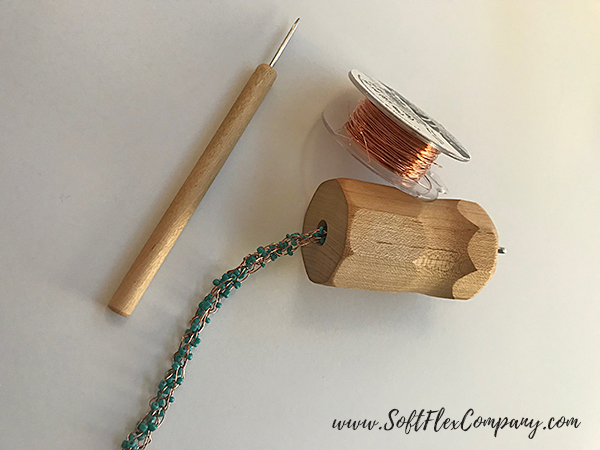 Kristen is a fantastic teacher. Her videos are fun to watch. She talks technique and is a gentle instructor. She recommends forgiving mistakes and incorporating those mistakes into the design. She is a Free Spirit Beader and believes that the journey is as important as the finished design.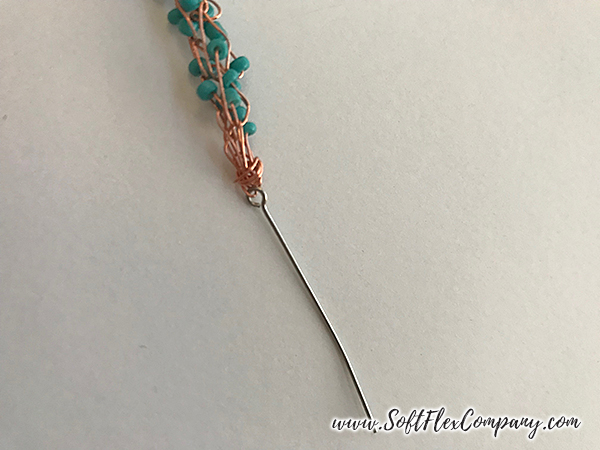 Make sure you catch her live. She loves to answer questions. If you would like to see some knitting style options, follow the links below: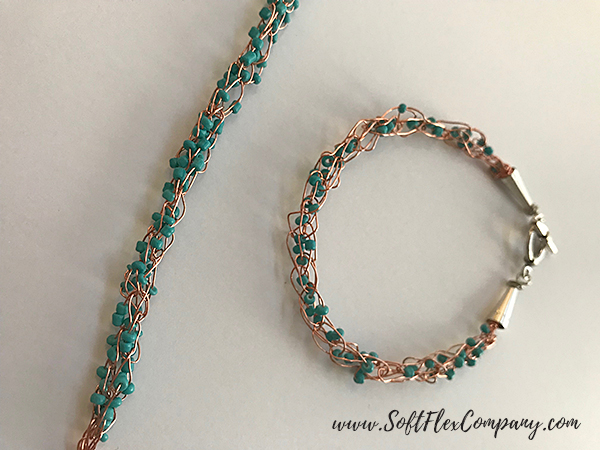 Kristen knitted a bracelet during her video and added a single bead between each knit. The finished bracelet is the closed bracelet above. A previous bracelet she made was done using two beads between each knit. You can see how this changes the look of the design.
If you decide to make some jewelry with a knitting spool, give Craft Wire a shot. The finished piece is lovely. The design differs slightly from a piece made using beading wire. Post your work on our Facebook group if you would like us to see it. Kristen would love to see your bracelets!
Note your calendars for Mondays. Free Spirit Beading airs on Mondays at 11:00am PST on our YouTube channel. If you watch live, you can interact with Kristen and she will answer any questions you might have about bead stringing or art in general. If you miss her and have questions, you can always email her.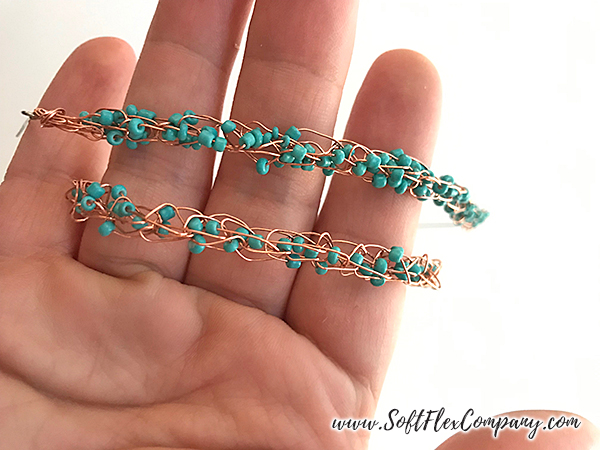 Change the look of your bracelet by adding a bead or two between each knit. Also consider color variations. Every bracelet you knit will be unique.
Soft Flex Live Beading Show: Making Holiday Jewelry With The Holly Jolly Christmas Beading Kit
Sara is a trooper. She hosted our Cyber Monday auction on Facebook and returned on Thursday to open the Holly Jolly Christmas Beading Kit. Sara had planned to open the beading kit on Wednesday, but a nasty cold kept her down. She managed to drive to the office, despite not feeling good, and gave us a great video. Her poor voice was rough on this video, but she did not let that stop her!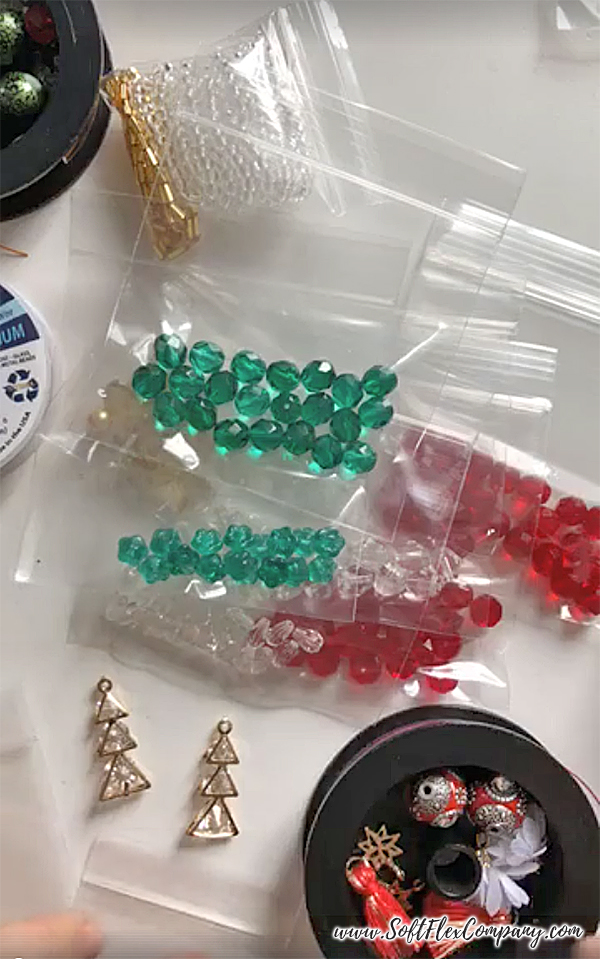 The Holly Jolly Christmas Beading Kit arrived on our shelves last month. Santa's elves filled this kit full of wonderful red, green, and gold colors. Inside this kit was a luscious bag of goodies from Jesse James. This bag is now available on our site - here. There were crystals, Czech glass, findings, and beading wire inside. Our beading kits sell out fast. The Holly Jolly Christmas Beading Kit is no longer available but you can purchase our newest kit - The Winter Wonderland Design Kit.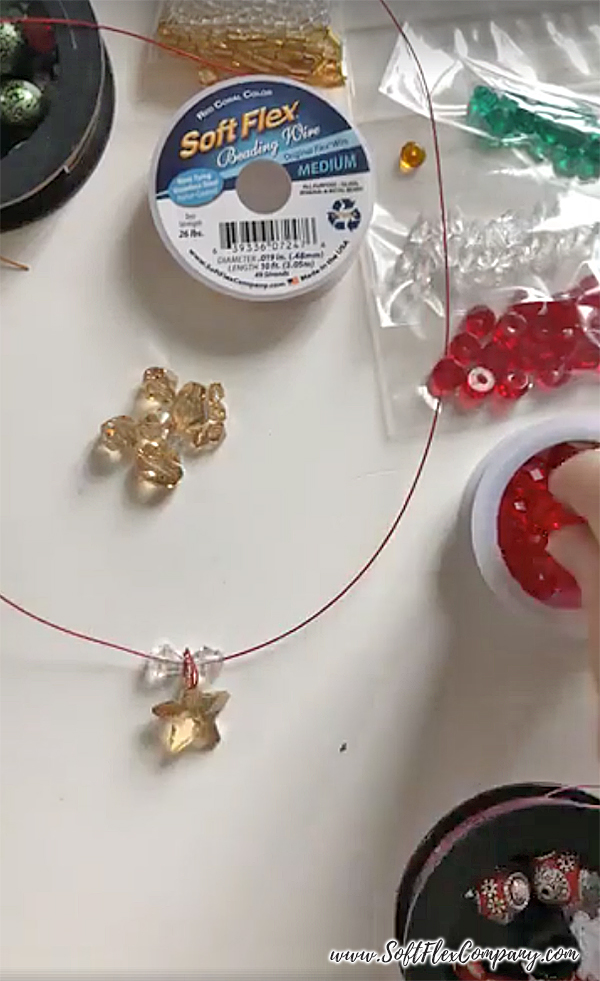 We create our kits with enough goodies to make a bunch of jewelry. We want you to be able to open our kits and have the wire and findings and everything you need to bead. You will need your own tools, but everything else is provided.
Sara discussed the new additions that arrived on our site.
We added two new Trios: Holly Jolly and Black Magic. They were inspired by previous beading kits we offered. People loved the colors and themes so much; we figured we should offer those colors in a Trio so you can keep beading with those themes.
We added our newest kit - The Winter Wonderland Design Kit. This kit is perfect for Hanukkah. It is full of blue, white and silver. It is also great for sophisticated winter themes and Christmas designs. We think you will love it!
We also added the Holly Jolly Under The Tree Bead Mix - this is the mix of goodies that was available in the Holly Jolly Design Kit. The very kit you see in this video. So, if you missed out on the kit, but love love love the beads, make sure you do not miss this bead mix. It is a custom mix, only available on Soft Flex Company's website and it is in a very limited quantity - hurry!!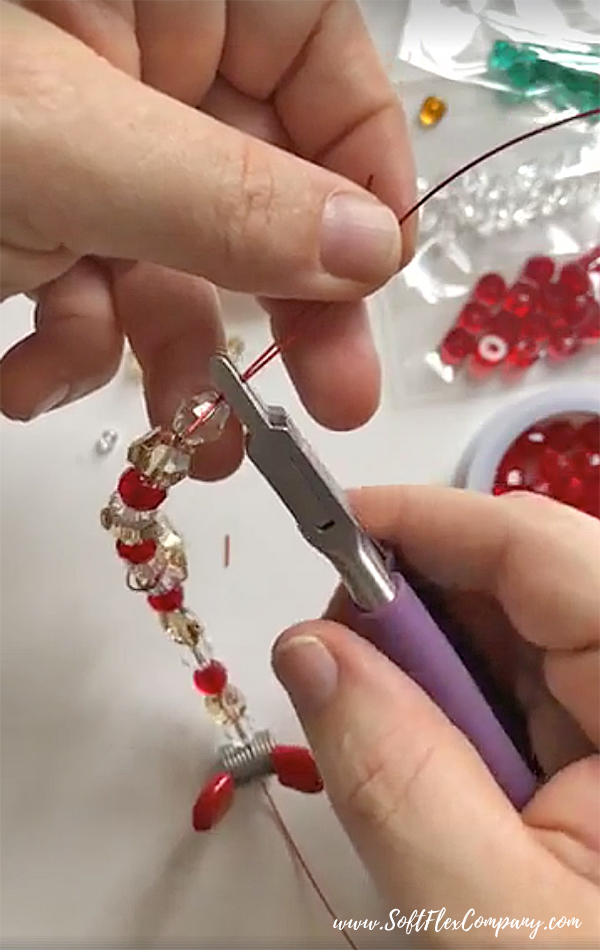 Sara made some lovely earrings with tassels and beads.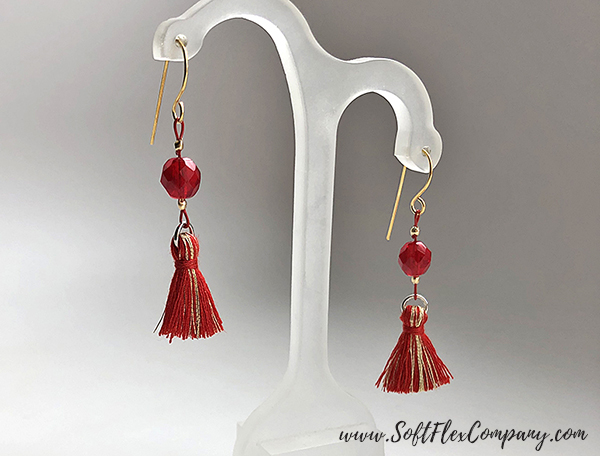 She also designed a beautiful necklace. Perfect for the next office party. And what a lovely piece of jewelry to wear while opening gifts on Christmas morning.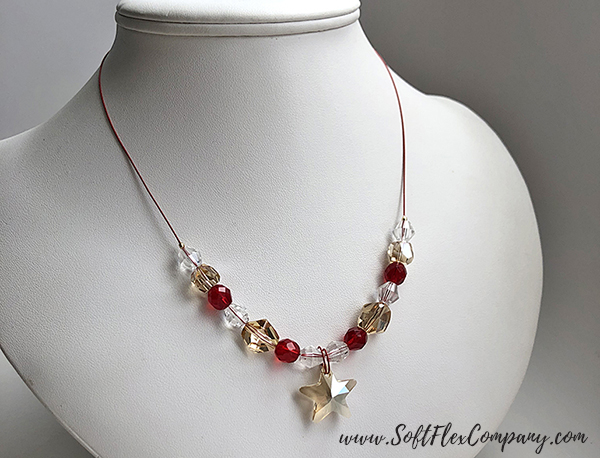 Don't miss our other holiday jewelry and ornament ideas. Follow our blog and check out our Free Beading Project Ideas. Subscribe to our YouTube channel for more tips. Visit our Facebook page if you want to catch our live shows and sales. And join our Facebook group – VIB, if you want to join a friendly community or jewelry designers and all around creative people. We would love to see your holiday creations.
Visit the Soft Flex Company YouTube Channel!
---
Blog contributor Thomas Soles is the Trade Show Coordinator for Soft Flex Company. His favorite stones are Lapis and Pietersite. His favorite hobby is day dreaming. And his favorite mustache is Tom Selleck's. As you can see, he has a healthy (or possibly unhealthy) sense of humor. You can write to him at [email protected]