We wish you a Merry Christmas! The Holidays are here. Time for warm figgy pudding and delicious peppermint bark. Or maybe a hot bowl of Pozole. ¡Que sabrosa! Pair up your yummy treats with some delectable beading videos. We have some great jewelry ideas today. Make some handmade ornaments for your home. A pair of Christmas earrings would look lovely for a quiet gathering with close family. We made it through a tough year! Treat yourself with some 'me time' and make something amazing. Or, even better, pass on your favorite hobby to your loved ones.
It is hard to believe the Holidays are finally here. This year has been such a mountain of ups and downs. Let's say goodbye to 2020! This week, Kristen showed us how to make some holiday ornaments. These stunning little icicles are great for catching light from the Christmas tree. Make your house look gorgeous with these elegant decorations. Sara took a moment to de-stress and make jewelry. She wanted to play with some of the new beads in our inventory. We think you will fall in love with the gemstones she uses for her designs. Finally, we wanted to share a lovely set of earrings and bracelets from Joyce Trowbridge of Just Bead It. If you love her wonderful designs, you can purchase a kit and make your own! Let's learn how to make Christmas jewelry!
Czech Glass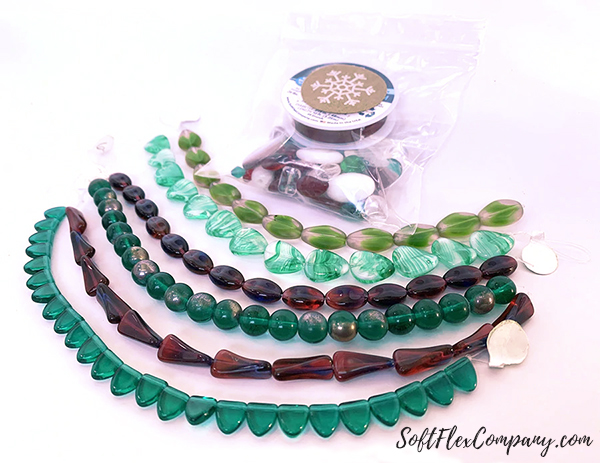 Some of the most amazing glass beads come from the Czech Republic. These gorgeous beads are pressed glass from the Czech Republic. An entire strand of our Czech Glass Beads will produce at least a bracelet. Don't be scared to mix and match a few different styles to make a design that is a one-of-a-kind piece.
Please note: limited quantity
Sara's new video premieres on YouTube on Saturday!
Sara's Saturday video is a YouTube upload of the Facebook video we filmed live. We know that not everybody enjoys using Facebook. We still want you to be able to enjoy our fun content. If you have not enjoyed this video, yet, it is a fun Christmas party get together on Zoom. We gathered up some familiar faces and made jewelry. Give the gift of beads this year! Celebrate creativity with us!
Jewelry Making Videos
Make A Swirl Ornament Hanger & Icicle Ornament with Craft Wire
This week on Free Spirit Beading, Kristen filmed a quick video showing how to make easy Christmas decorations. She used Craft Wire to make some cute holiday icicles. You can decorate your tree with these elegant ornaments. You can hang them around the house. You can even use them to add a little extra accent to your wrapped gifts. Nothing catches light quite like a dripping icicle of beautiful beads!
Don't be afraid to try this project at home. You do not need to be an expert wire wrapper. This Christmas decoration only requires a small amount of Craft Wire. A quick loop will add character, but you can create whatever design or flourishes you like. Handmade ornaments are fun to make. They are not expected to look perfect, so you have room to play. Any flaws in your design will just give the piece character. Experiment and be a playful designer!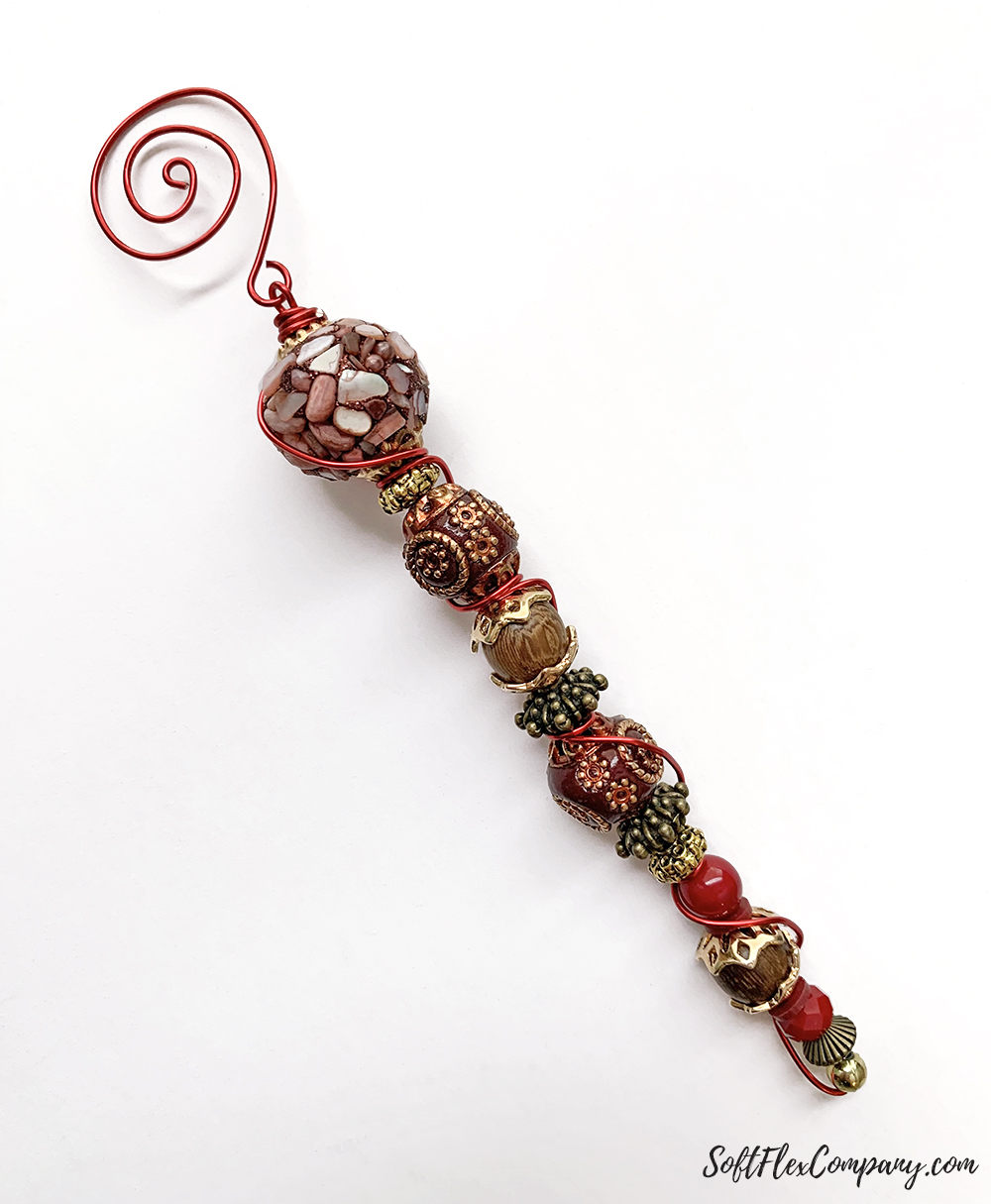 Red Soft Flex Craft Wire, 20 Gauge
Bead Strand
Nylon Jaw Pliers
Chain Nose Pliers
Round Nose Pliers
Cutters
Wire Whacker
Learn How To Make A Necklace - This Timeless Design Is A Great Gift
Sara wanted to take some quality time to make some jewelry. The build up to Christmas is always so hectic. So much work to get finished. So many things to worry about before the big holiday arrives. Sara just wanted to blow off some steam. Thankfully for us, she enjoys a social beading session. Since Covid-19 is keeping us distant, sharing a beading moment, online, is an easy way to stay connected with friends. Sara even had an aunt pop on during one of her shows, recently. The aunt was glad she had a way to visit, with everything going on in the world.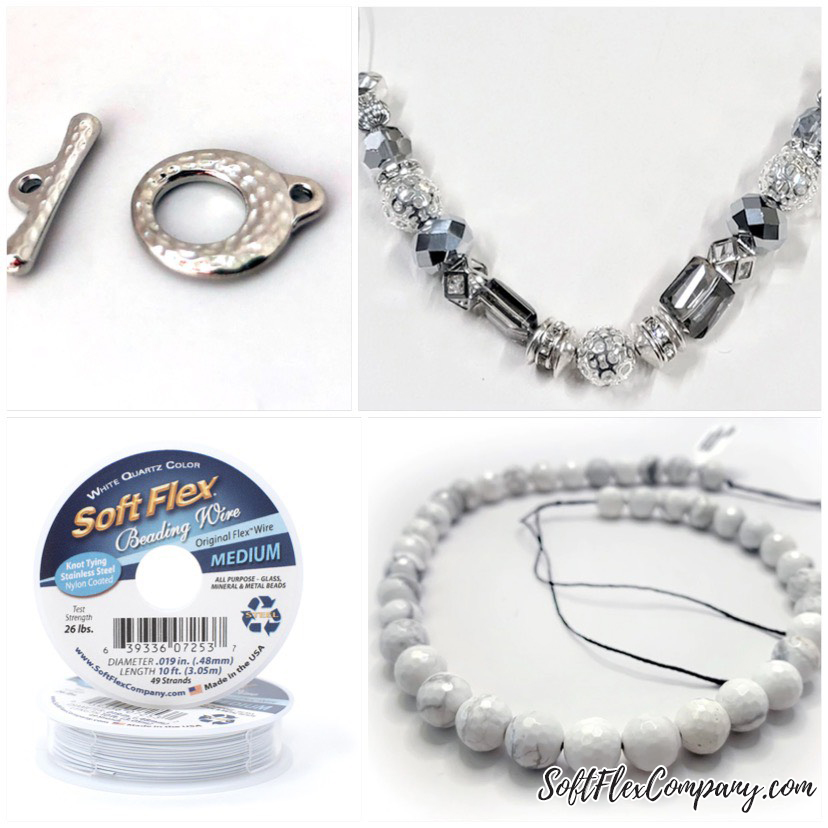 Sara showed off some of our latest beads and bead mixes. If you are looking to give a gift to a creative friend or loved one this year, you cannot go wrong with beads or a beading kit. If they have basic tools, components, and wire, they can make a ton of gorgeous homemade jewelry. Our beading supplies are affordable, but professional. Any handcrafted jewelry made with our products can easily be gallery quality, depending on the creativity of the designer.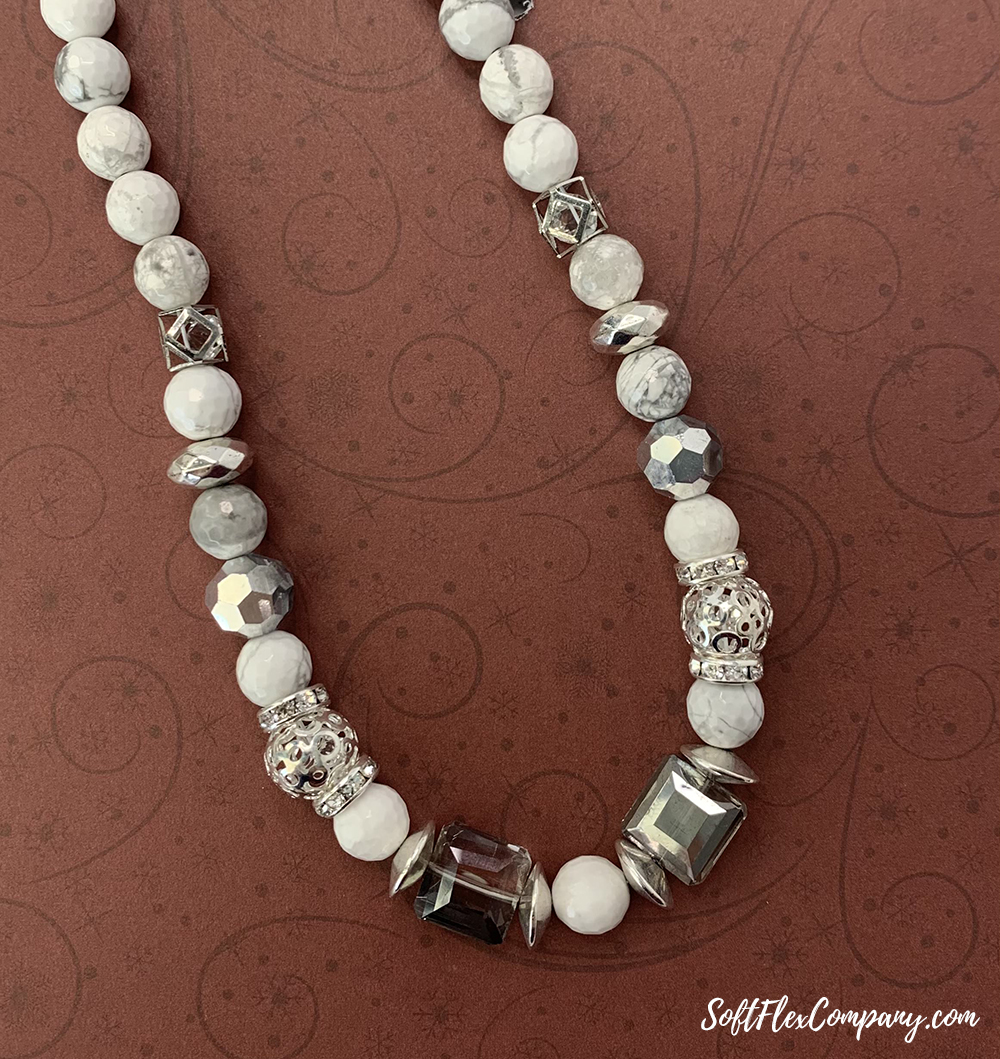 Soft Flex .019/Medium Beading Wire - White Quartz
Soft Flex .019/Medium Beading Wire - Red Jasper
Howlite
Mixed Rutilated Quartz
Bead Mixes
2x2mm Crimp Tubes
Crimping Pliers
Cutters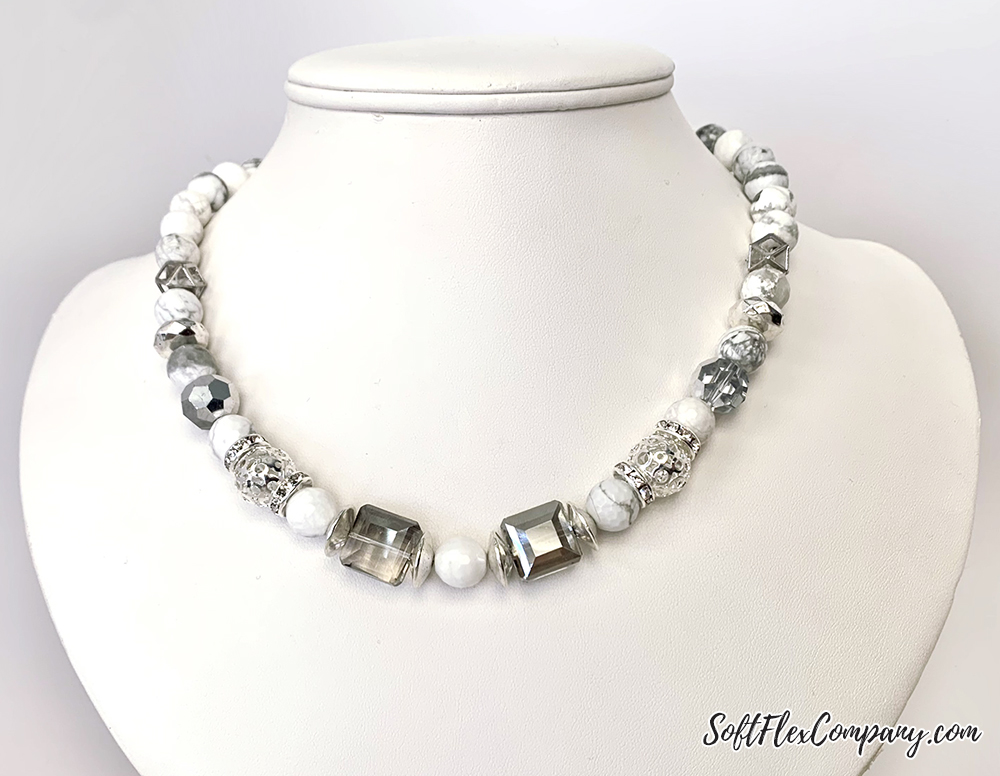 Beading is wonderful. When you make jewelry, you make memories. You can make heirlooms or eye catching marvels. You can give a little one a necklace that will make them look like a princess. You can give a heartfelt gift to any jewelry lover.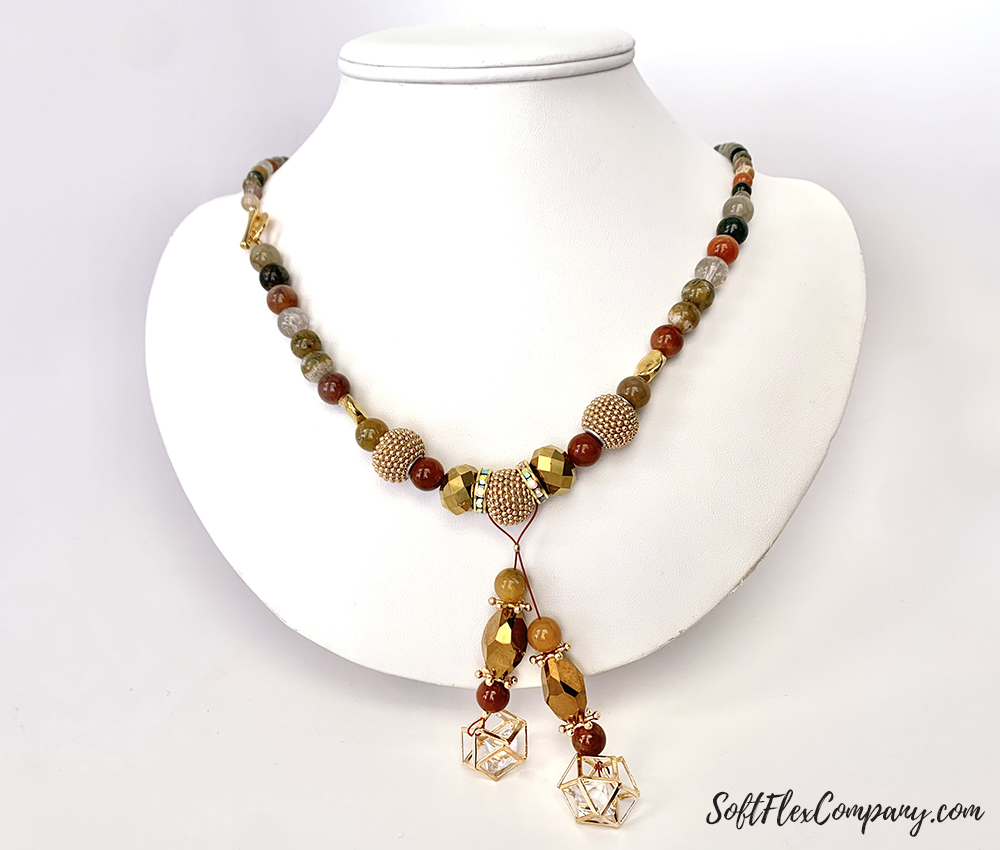 Holiday Loops Bracelet & Earrings - Just Bead It Free Facebook Live Virtual Beading Class
Joyce Trowbridge is the owner of Just Bead It. Just Bead It was a local bead store that operated in Concord, California. Joyce ran her bead store for seventeen wonderful years. Unfortunately, her business was one of millions that failed when hurricane COVID crashed into us. Joyce did not throw in the towel, though. Even if her brick and mortar store was gone, she knew she could maintain an active bead store, online. She is transitioning her catalog of jewelry supplies and beads to her website and Etsy store. She is also taking the classes that she offered in Northern California to a virtual space. You can attend her jewelry making courses on Facebook. You can purchase a kit and make jewelry with her. If you miss a class, you can download the PDF and make the design on your own time.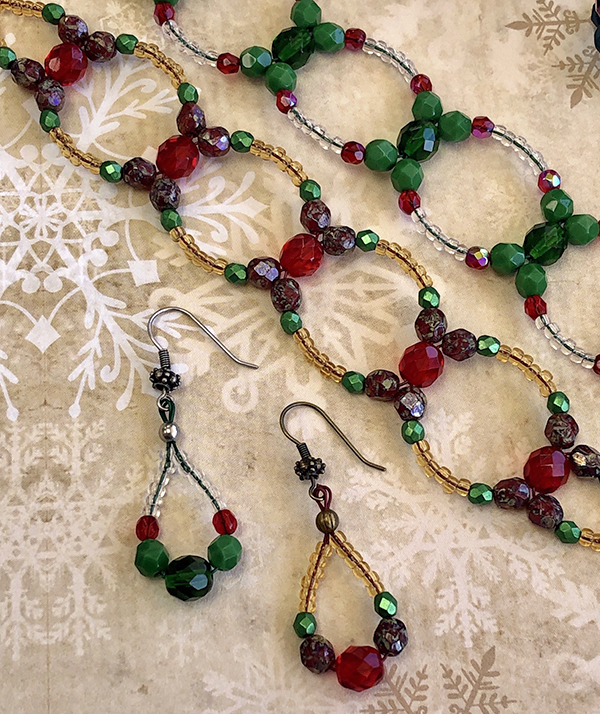 We thought this design was stunning. Follow the video and the images below and make one of your own. If you would like to participate in a class, check the Just Bead It event calendar. For this design, she used Medium .019 Soft Flex Beading Wire. Support her business and buy your Soft Flex Beading Wire from her Etsy shop!
Etsy link to purchase this bead kit: Holiday Loops Bracelet & Earrings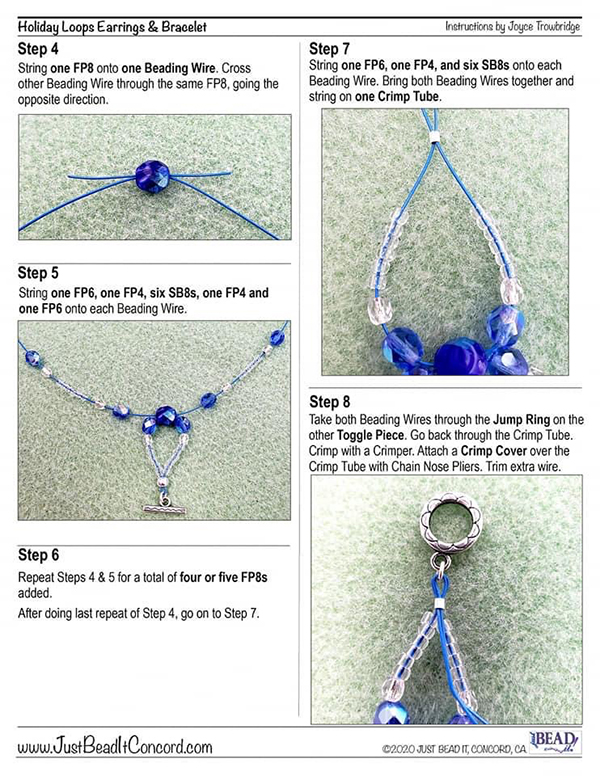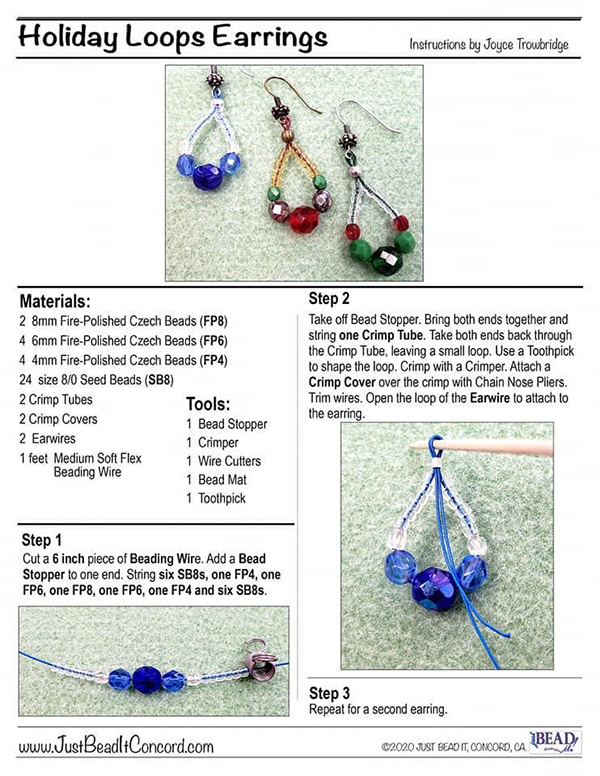 Visit Joyce's Links: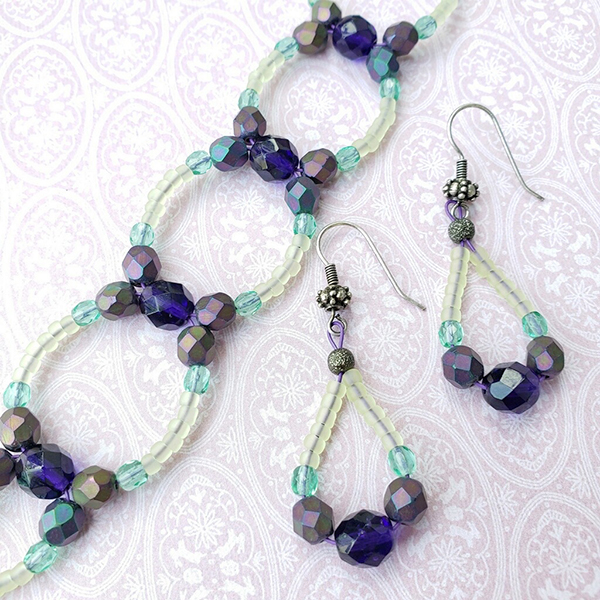 More than beads and supplies, Just Bead It is known for classes. They currently hold virtual beading classes most Saturdays at 2pm PST. Catch them on Facebook Live.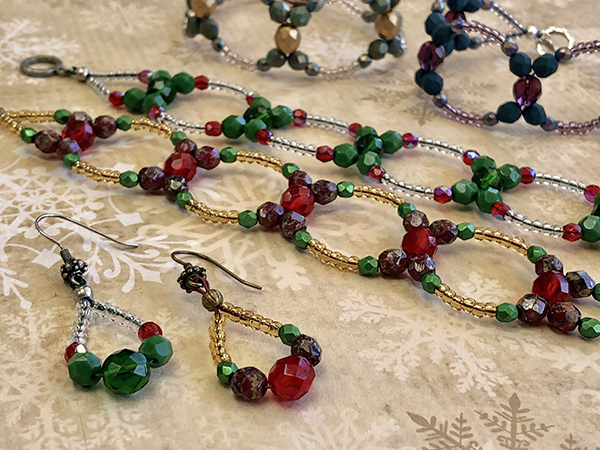 Join our Facebook group – VIB. Stay in the know. Stay up to date. From our bead shows to our video shows and sales, you can stay in touch with us. The community is full of artistic and helpful beaders and crafty people. Inspire and be inspired. Share your pictures and get the beading bug from others!
Visit the Soft Flex Company YouTube Channel!
---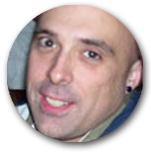 Blog contributor Thomas Soles loves Jazz Age writers and crunchy french fries. His favorite gemstones are Lapis and Pietersite. His favorite hobby is day dreaming. And his favorite mustache is Freddie Mercury's. As you can see, he has a healthy (or possibly unhealthy) sense of humor. You can write to him at Thomas@SoftFlexCompany.com