Wow. What a year it has been. Unprecedented drama and turmoil. And just when we need our friends most - we all have to quarantine and social distance. Let's forget all of our troubles. Just for a weekend. We spearheaded the Great Bead Extravaganza as a way to bring a group of talented jewelry makers together. We wanted to celebrate the joy of beading and the love of creating. We also wanted to revisit the days of exhilarating sales and bead show excitement. We have some exciting beading suppliers waiting to offer you low prices and rare items. You definitely do not want to miss the giveaways. This group has put together some impressive prizes - just for you! Cancel your plans. This weekend is going to be a Great Bead Extravaganza!
The Great Bead Extravaganza has arrived! This weekend is full of live beading demonstrations, giveaways, big sales, and more! We are showcasing some of the finest jewelry designers and most exciting beading supply stores on the web. This event is going to rival some bead shows. If you have never been to a bead show - this is your chance to visit your first. And you get to experience the excitement from the comfort of your living room. Save on huge specials. Learn how to make a necklace or bracelet with a new technique. Find an exciting new-to-you designer. Don't miss this big FREE event! Catch all of the fun on our Facebook group. Details are below.
The Great Bead Extravaganza!
If you have never been to a bead show before - this is the closest thing you will find to that lovely experience. And you do not even have to leave the house. A fantastic mix of jewelry suppliers and designers have gathered to give you a centerstage look at their designs and their inventory. Consider this a virtual reality bead show! This is your chance to watch your favorite designers - LIVE - and interact with them. This is a great time to learn a new beading technique or have your questions answered. Want to know how your favorite jewelry designers craft their magic? Now you can watch them, up close and personal. This is going to be a blast. This event is pretty much non-stop fun for three days.
Join us November 6-8, 2020 for an online bead event like no other. Some of your favorite jewelry making suppliers will be offering tons of video tutorials, giveaways and sale promotions that can only be found here: https://www.facebook.com/groups/thegreatbeadextravaganza/
Join us live for jewelry making tutorials on Soft Flex Company's YouTube channel!
Sara's new video premieres on YouTube on Saturday!
Sara's Saturday video premiere is going to be a YouTube upload of the beading party we staged with Tory Vezina From Goody Beads. We know that not everybody is fond of Facebook. It is an ideal platform for our live shows, but it does have it's limitations and the layout is not always user friendly. But we do not want to exclude anybody. If you would rather catch the beading party on YouTube, make sure you find us there. You will have good time watching us string some beads and have a fun chat.
Jewelry Making Videos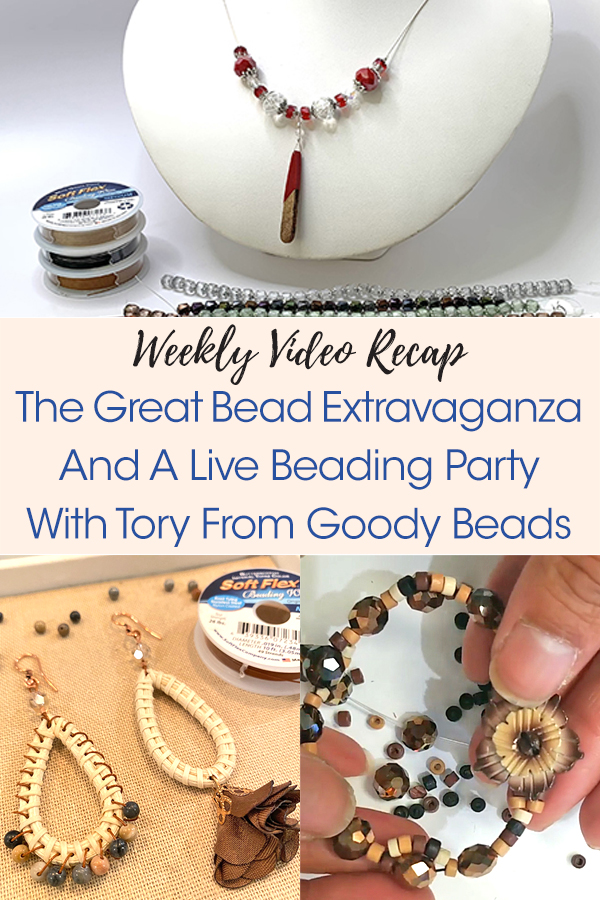 The Great Bead Extravaganza - Preview of Upcoming Online Bead Show
Join us November 6-8, 2020 for an online bead event like no other. Some of your favorite jewelry making suppliers will be offering tons of video tutorials, giveaways and sale promotions that can only be found there! Presenters include: Allegory Gallery, beadshop.com, Candie Cooper, Christi Friesen, Dakota Stones, Green Girl Studios, Goody Beads, Humblebeads, Jill MacKay, The Bead Place, Kellie's Bead Boutique, Now That's a Hammer, Silversilk & More, Star's Beads and Clasps, Soft Flex Company, The Bead Gallery Honolulu and TierraCast. To participate, simply join the Facebook group. Everything will happen right in the group for free. To show our presenters gratitude for their time and energy, please consider following everyone on social media and then place a few orders with your favorite vendors. We are looking forward to connecting the beading community together during COVID in a fun and safe online fashion. Everyone, at any skill level, is welcome.
Live Beading Party With Special Guest Tory Vezina From Goodybeads.com
We love beading parties. We have enjoyed making jewelry with some fabulous business owners, designers, and creative folk. There is a relaxing Zen vibe when you sit down with friends and make something special. For our beading parties, we use a conferencing software called Zoom. This software focuses on whoever is speaking. This makes it easy to follow a conversation. This week, we sat down with Tory Vezina from Goody Beads. Tory and Goody Beads will be featured on our Great Bead Extravaganza. If you love beading and jewelry making, you are not going to want to miss this exciting event!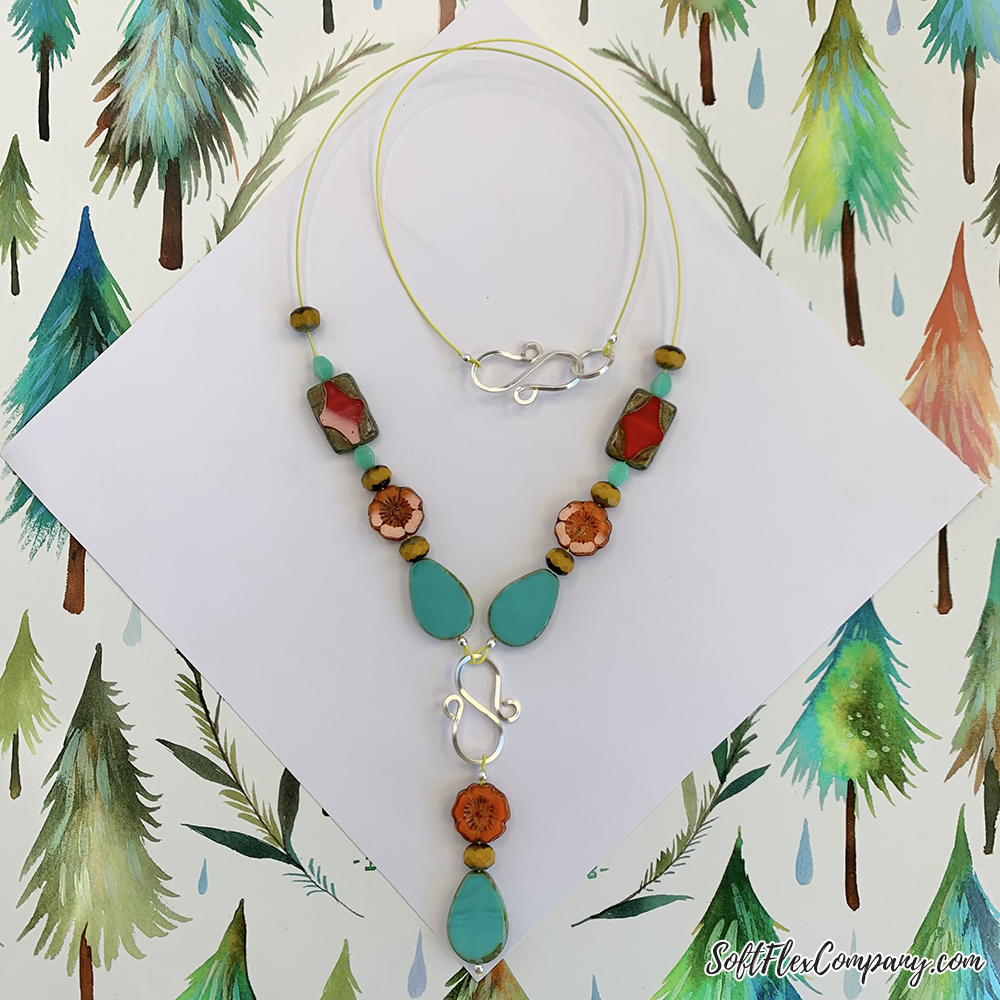 Our beading parties are a unique way to participate in a beading circle. You get to watch designers discuss their interests and favorite design elements. You will learn some fun things that you might not find elsewhere - their involvement in the community, their favorite travel spots, and how they challenge themselves as artists. If you happen to catch one of your favorite designers live, you can ask them your beading questions. You do not have to be a wallflower during our parties. We love to hear your thoughts.
We like to trade goodies for our beading parties. We send the designers a care package of some of our favorite Soft Flex supplies and they send us a kit of items from their shelves. We wait to unbox our goodies until the show starts. This allows our viewers to participate in the reveal in real time. We love all things beads. You can definitely feel how excited we get when we open something new or unexpected. During one show, Kristen and Sara were so blown away by what they received, both audibly gasped. It was so much fun to see them fall in love with the exciting stuff they opened. Christmas in July!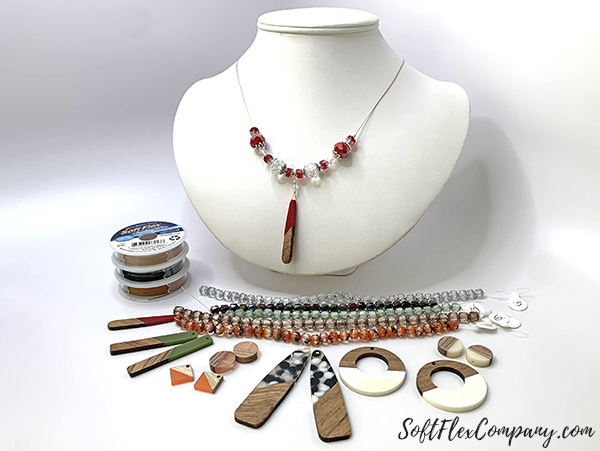 A live audience watches as we finish our jewelry designs. That can be a lot of pressure. We unbox the items we are sent without a clue what is inside. We then sort and appreciate the supplies we were given. At that point, we design something off the top of our heads. If you enjoy watching a jewelry designer process their supplies and create something on the fly, this is a good chance to watch the creative juices stir. Sometimes, Sara has created jewelry she was not super fond of and some other times, she has started something only to edit midway and end with a piece that she had not anticipated. If you are a perfectionist and do not finish pieces because you are not happy with how they are going, watching Sara fail and finish is a good learning lesson. Not everything is going to be perfect, but you can always edit your designs and enjoy the journey.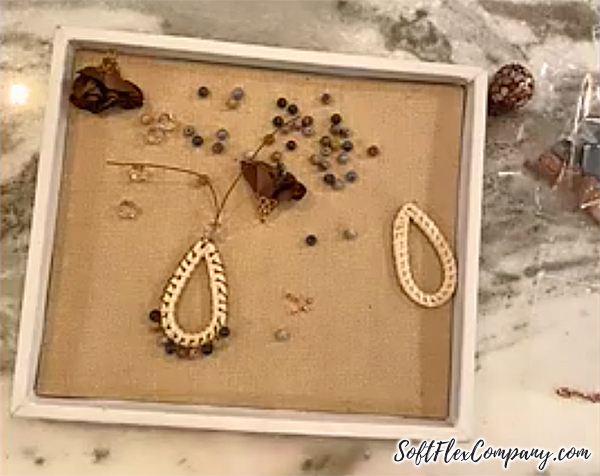 Visit our blog next Wednesday. We will take a deeper look at Goody Beads. Our beading party blogs are a great way to learn about a favorite business or explore a designer that you may have not heard about. We spotlight bead stores and designers that we know you will love. Follow our social media if you want to stay up to date with upcoming beading parties or events.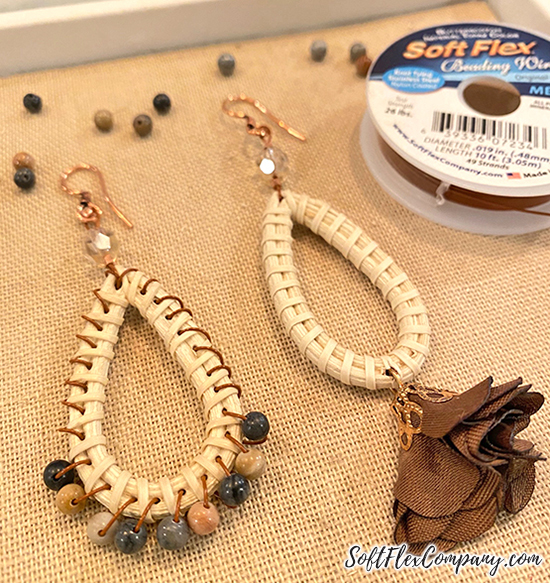 Handmade Rattan Woven Straw Teardrop And Rings
Handmade woven Rattan looks amazing. Natural jewelry, with a wicker weave, is perfect for your next fall necklace. The organic look of the Rattan and the fun texture of the weave make for an amazing Boho style. You can showcase the Rattan as is. You can make linking rings, embellish with stones, wire wrap, and even tassels. Your next vintage piece would look stunning with Rattan elements. Make a pendant for a handcrafted necklace that shows your fall spirit. These lovely DIY jewelry accessories are perfect for earrings and necklaces.
Note: Color, texture, and shape may vary slightly as these are handmade from actual rattan grass.
SilverSilk Discussion About The Great Bead Extravaganza And New Hollow Mesh
Nealay skipped his regular episode of Tuesday Tuts this week. He wanted to discuss the Great Bead Extravaganza and talk about when he would be doing his demo. You can find him on the Facebook group on Saturday at 10:30 CST. He is going to be doing a jewelry making demonstration with a new product - Pearlesque Hollow Mesh. Aside from this quick preview video, his Pearlesque Hollow Mesh will be getting a world debut during the Great Bead Extravaganza. Nealay is excited to share his fun colors and fun new beading chain. Join him and see what he makes!
From Nealay:
Let's touch base on The Great Bead Extravaganza and new product!! Pearlesque Hollow Mesh now available!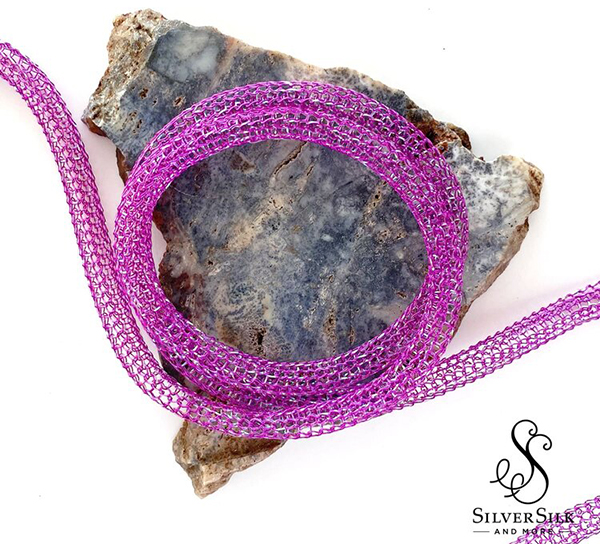 Star's Beads: Bead With Me - Featuring Soft Flex Beading Wire And Kay's Kreative Kit
We had fun watching Kay Goss, from Star's Clasps and Star's Beads, this week. She filmed a live segment she calls 'What's On Your Wrist Wednesday'. This episode, she used Soft Flex Beading Wire and her design kit - Kay's Kreative Kit. If you are not familiar with Kay or her online stores, you definitely should check them out. Her collection of high end clasps are absolutely stunning. If you ever want to design a gallery piece or just spoil yourself rotten, grab one of Kay's clasps! If you love beads, Star's Beads offers a stellar selection of stunning beads, laser cut focals, face masks and more.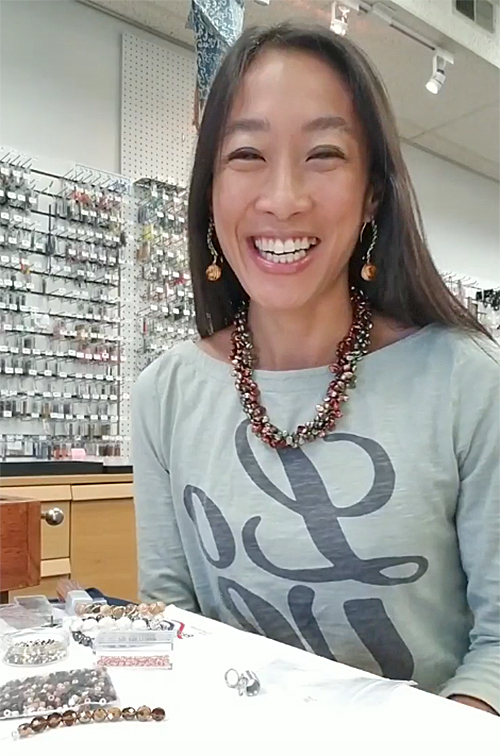 Some of us at Soft Flex Company have known Kay and her husband, John, for years. Both of our companies have crisscrossed America many, many times. We have bumped into each other at bead shows all over the country. For decades. We would see Kay and John at fun places like, Philadelphia, Denver, Tucson, Oakland and Las Vegas. Sometimes our booths would be right next to each other. Sometimes, they would be across the room. But we always made a point to say hello and catch up. We got to watch birthdays and fun. And even saw each other assume new roles as parents. John and Kay are wonderful people and they sell some gorgeous beading supplies.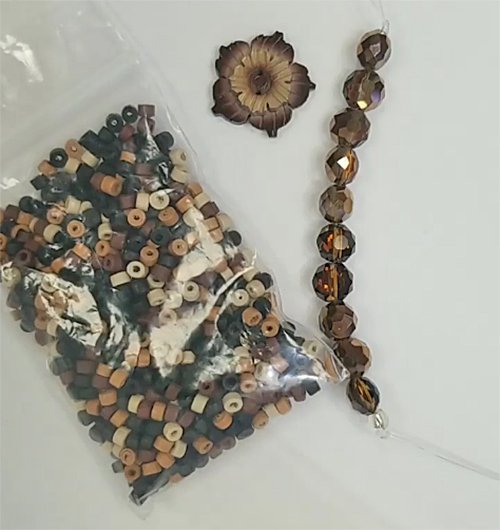 Kay will be participating in The Great Bead Extravaganza. Make sure you watch live and participate in her jewelry making demonstration. She will show you how to make something stunning! You don't want to miss out. If you enjoy watching Kay and would like to know more about her company. Visit her links and catch her live shows on Facebook and her replays on YouTube.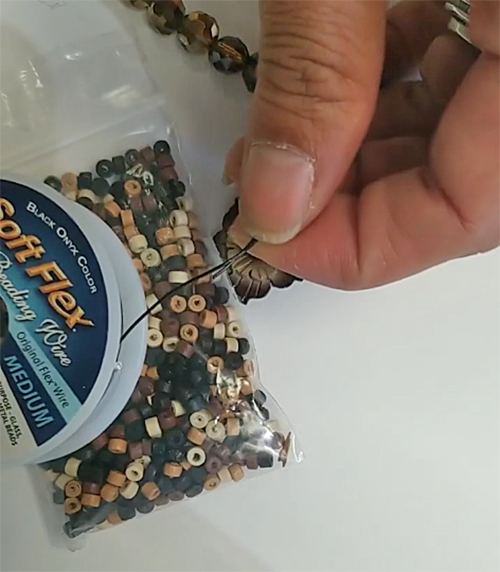 Join Kay for Bead with Me.
Need something to do? Do something creative! Check out Kay's new series Bead with Me to get you inspired. Get free video tutorials, design tips, and product highlights to keep you creating!
Bead with Me is a LIVE broadcast designed to offer inspiration with free video tutorials, guest artists, project tips, product highlights plus custom kits and care packages to make your designs uniquely you!
Airing Monday thru Thursday on FB Live @ 2pm EST
Catch the replays on YouTube!
Friday Night Live! Join Star's Beads in the newest, most fun way to shop! Friday Night Live is a sip & shop event where we showcase unique products from pearls, glass, vintage, artisan work and more! You can learn more from how to design with it or how it's made, during our daily broadcast of Bead With Me plus weekly giveaways!
There will be new treasures.
There will be deals.
There will be giveaways too!
And it's happening Fridays!
And it's happening Live!
Fridays on FB Live @ 8pm est. Share, share, share 'til we're there!
Visit Kay's links: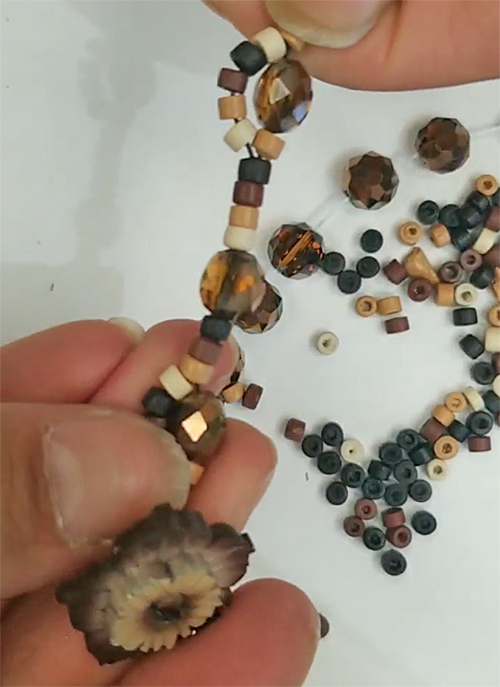 From Star's Clasps:
Star's Clasps offers you stunning and unique designs created by artisans all over the globe. We provide one of the largest selections of clasps, chain, beads, and fine jewelry components in the country! Look through our designs by using our secure and convenient online catalog or visit us a trade show near you.
Star's Clasps supports fair trade while working directly with the fabricators and can ensure the highest quality materials and craftsmanship. Let us show you how a clasp can transform your jewelry into an even finer work of art!
Traveling? Our brick and mortar location is in the cute Washington D.C. suburb of Vienna. We offer a wide variety of beading supplies and classes.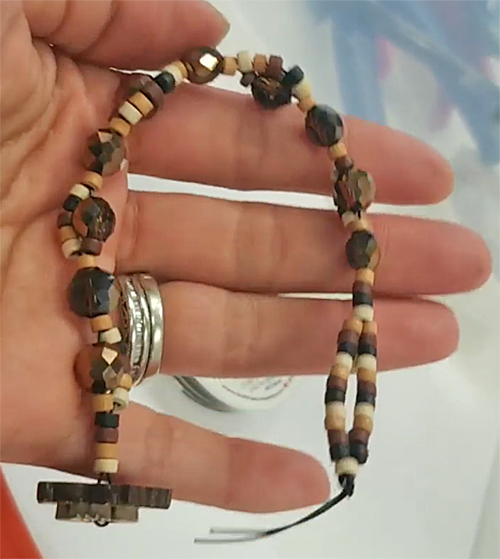 From Star's Beads:
Star's Beads is your number one jewelry design center and has proudly served the Washington, DC Metro area for over 20 amazing years. Nestled in the heart of Vienna you will find treasures from around the world at 139 A Church Street, NW, Vienna, Virginia, about 12 miles from Washington, DC. (Get directions!)
We offer 1200 square feet of beads, from handmade glass, high end semi precious stones, freshwater pearls, crystals, seed beads, tools, specialty findings, and lots of chain by the foot along with a large variety of beading classes. We have a wide range of classes offered by phenomenal teachers who teach all over the country and who call our area home.
Star's Beads also offer a wide selection of specialty clasps and findings thru Star's Clasps. They are beautifully handcrafted findings by artisans from around the world. Star's Clasps also designs their own line of clasps which can be found online at www.starsclasps.com.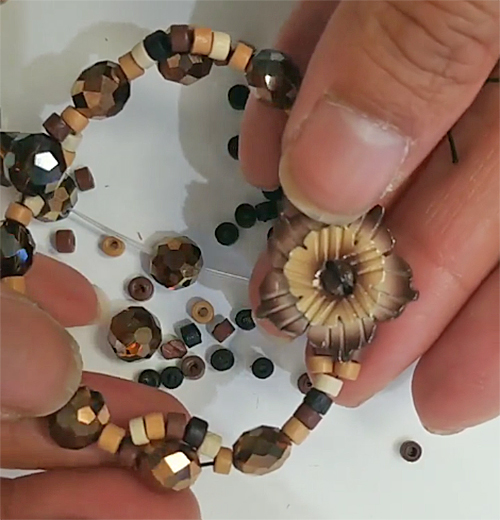 Star, Founder of Star's Beads, Gives A Testimonial For Soft Flex Beading Wire
Kay treated us with a video of her mother, Star. Star told us about the first time she used Soft Flex Beading Wire. Star had been using Tiger Tail for all of her designs. She was frustrated by the number of times the wire kinked on her and ruined a great design. She was furious when the wire broke when she crimped it. Star thought her first spool of Soft Flex was amazing. She was even more excited when Soft Flex introduced color into the beading wire and spool sizes. We are happy to have made life easier for Star. Nobody wants to restring a necklace because the material is poor. Watch the video below!
Join our Facebook group – VIB. Stay in the know. Stay up to date. From our bead shows to our video shows and sales, you can stay in touch with us. The community is full of artistic and helpful beaders and crafty people. Inspire and be inspired. Share your pictures and get the beading bug from others!
Visit the Soft Flex Company YouTube Channel!
---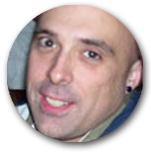 Blog contributor Thomas Soles loves Jazz Age writers and crunchy french fries. His favorite gemstones are Lapis and Pietersite. His favorite hobby is day dreaming. And his favorite mustache is Freddie Mercury's. As you can see, he has a healthy (or possibly unhealthy) sense of humor. You can write to him at Thomas@SoftFlexCompany.com