We love knitting with wire. The Knitting Spools we sell have long been a staff favorite. Recently, we added Lazee Daizee Viking Knit Tools to our shelves. We are having a blast making jewelry and jewelry components with the Lazee Daizee. Today, we are going to take a look at the line of Lazee Daizee tools we offer. We also have videos for you, you need to see them in action! If you love knitted wire, you are going to adore the Lazee Daizee. They are incredibly simple to pick up and your jewelry will look absolutely amazing!

You are going to love the Lazee Daizee Viking Knit Wire Weaving Tool! If you have ever wanted to learn Viking Knit or would like to make the process simpler, this tool is going to amaze you. The disk on the top of the tool makes it easy to create looped "petals". From there, the ridges along the length of the tool are a perfect guide to keep your loops uniform and even. The step-by-step instructions included makes everything foolproof.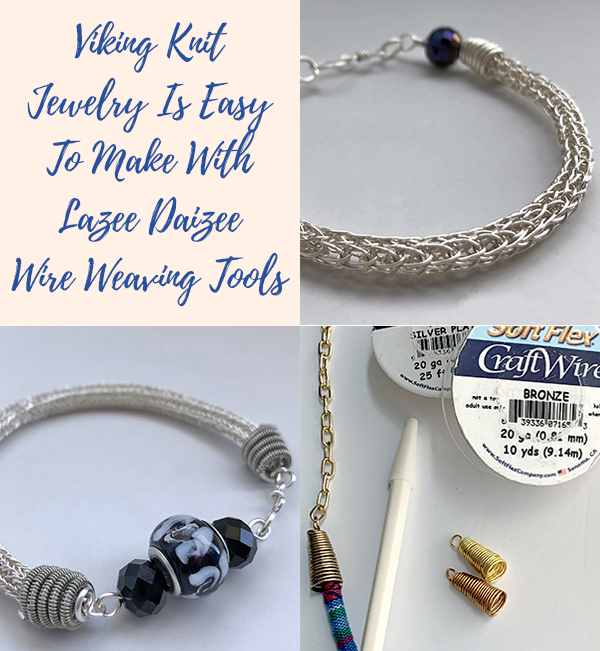 The recommended gauges of wire to use are 24, 26, or 28 gauge Soft Flex Craft Wire, however by changing the number of loops being utilized in your design you can go as large as 20 gauge. The tool will not damage or scuff your Craft Wire. You can also use Soft Flex Beading Wire and create a wonderfully colorful design. Multiple stands of wire can be used with both tools. A draw plate will help you reduce the finished design down to your preferred width. The Lazee Daizee Draw Plate will accommodate both sizes of tools. Getting started is easy, but you may make a few mistakes, luckily the drawing down process hides the majority of those mistakes! You will be creating a beautiful weave while watching TV or talking to friends in no time. Multiple strands and sizes of viking knit can be used together to form a larger project. It lends itself to decorative applications such as adding headpins with embellishments and, when not drawn down or utilizing the bigger Lazee Daizee tool, items like pearls and gems can be inserted inside the weave.
Other than the obvious difference in diameter, which Lazee Daizee Viking Knit Wire Weaving Tool is best for me?
Lazee Daizee Viking Knit Wire Weaving Tool 1/4"
This is the smaller of our Lazee Daizee tools. Both tools offer different design opportunities. The 1/4" diameter tool with a 6-loop head and size flat surfaces, generates a very flexible and fluid chain that works up fast and creates woven lengths that are great for draping as a necklace alone or with pendants. The largest diameter wire you can use with all 6 loops is a 22 gauge, which will result in about a 3/8" diameter woven tube. This is a nice size for a bracelet, which will still remain flexible unless an inner support such as a wire or plastic tubing is used. The 1/4" tool will also accommodate a 20 gauge wire by reducing the number of loops used and can be very effective as a bail when used over a smaller woven chain.

Lazee Daizee Viking Knit Wire Weaving Tool 1/2"
The larger Lazee Daizee tool is 1/2" in diameter with 12 loops and 12 sides on the surface. Due to the increased number of loops on the head, you can be more creative and versatile with the number of loops used as well as accommodating larger gauges of wire more easily. Weave on this tool can be reduced to 3/8" and 1/4" diameter, depending on the gauge of wire and number of loops used, however the weave is very stiff and does not drape well.

Lazee Daizee Draw Plate
The Lazee Daizee 11-hole draw plate is made from a high density polycarbonate plastic used in the manufacturing industry to produce cams and wheels. It has a built-in lubricant for easy drawing and can be used with color-coated wires. Can be used with both the 1/4" and 1/2" Lazee Daizee Viking Knit Tools.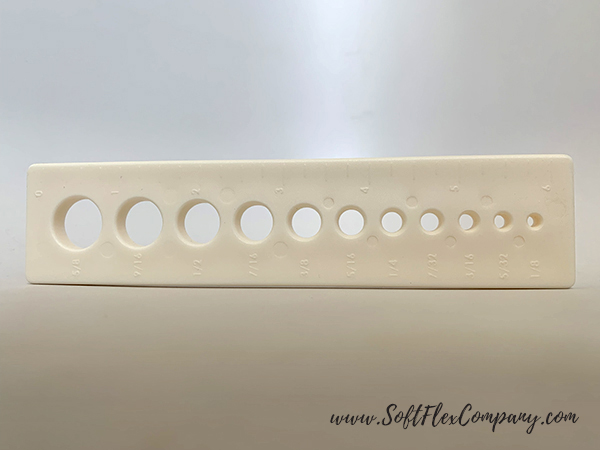 Deluxe Wire Draw Plate With Handle
Draw plates are handy if you enjoy knitting with a knitting spool or Lazee Daizee Viking Knit Wire Weaving Tool. When knitting, the wire will have a free flowing knit. Pulling your design through the holes on the board will shrink the diameter down to the size of that hole. Using a Draw Plate will also make your design longer as it compacts down, that means you will end up using less wire than you would have if you did not use a Draw Plate – a good way to economize your wire. If you are producing a number of designs and need to maintain the same size every time, this tool will be an invaluable addition.
Note: This draw plate works with a Lazee Daizee Viking Knit Wire Weaving Tool 1/4" but it is too small to handle a design created on the Lazee Daizee Viking Knit Wire Weaving Tool 1/2".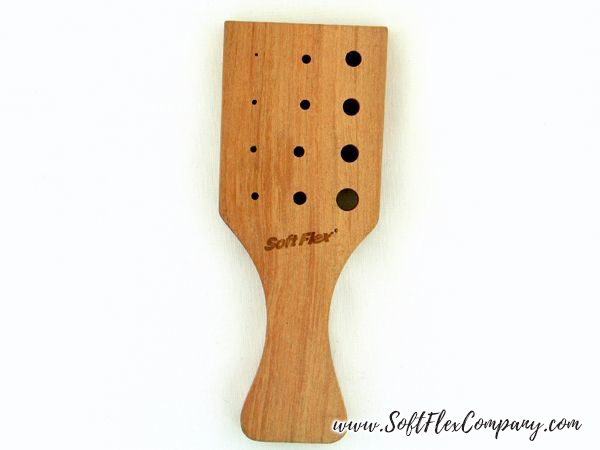 Viking Knit With The Lazee Daizee And Craft Wire
James is our resident Soft Flex Craft Wire guru. Make sure you catch his YouTube series - Conversations in Wire. James' series is great for the beginner wire wrapper and wire aficionado alike. His inspirational videos feature unique creations made with Soft Flex Craft Wire. He provides slow and instructive help. You can easily follow along as he goes and create your own design.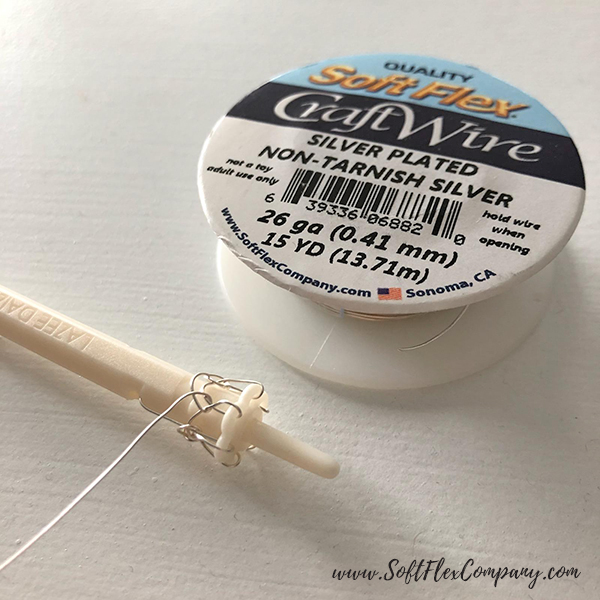 James was eager to try out the Lazee Daizee. This video was the first time he played with the tool on camera. He was just getting his feet wet, so he decided to create a smaller piece of jewelry so he did not drag the video on for two hours. His instructions are very clear and this is a great way to introduce your self to the tool.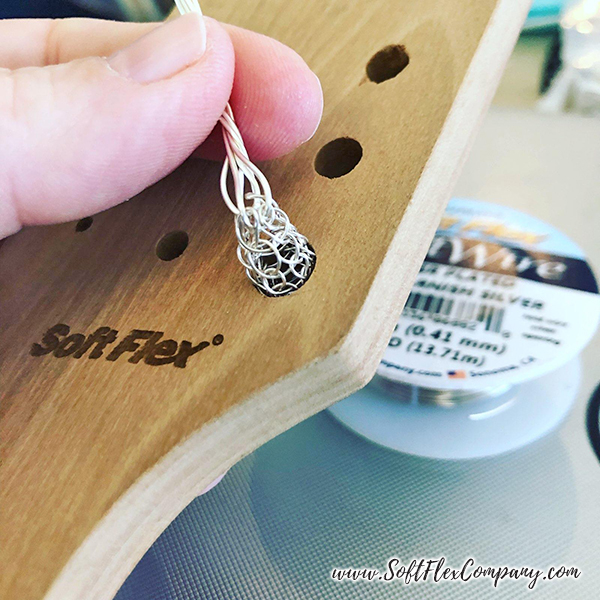 Supplies:

Lazee Daizee Viking Knit Wire Weaving Tool
Draw Plate
Soft Flex Craft Wire - 24ga
Soft Flex Craft Wire - Silver Plated 24ga
Cutters
Nylon Jaw Pliers
Round Nose Pliers
Bent Nose Pliers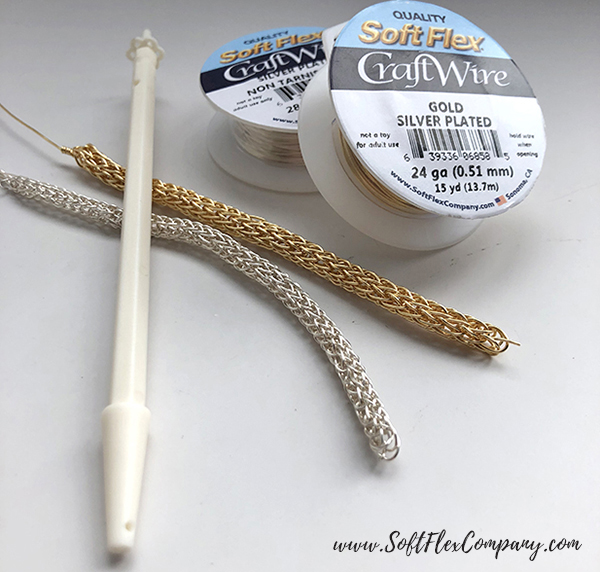 The Lazee Daizee makes Viking Knit so easy. The tool has a petal design that really helps make your looped wire consistent and simple to manage and work. The length of the rod of the tool is a great guide for the looped wire segments. The tool is soft enough that it will not scuff or damage the Soft Flex Craft Wire. The Lazee Daizee comes with an instruction sheet. So exciting! Viking Knit has never been faster or more accessible.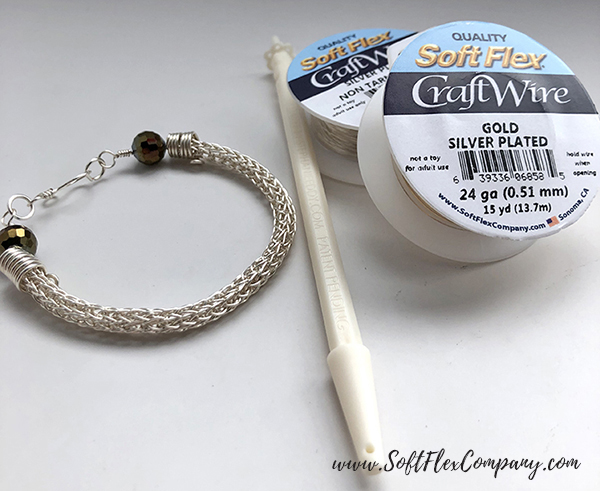 To finish your Lazee Daizee Viking Knit design, you can add a cone or an end cap before adding toggles. The instruction guide included with the tool shows you how to make a homemade coiled end cap. James added this coiled end cap with beads. It looks amazing! He also used a cone to finish a design.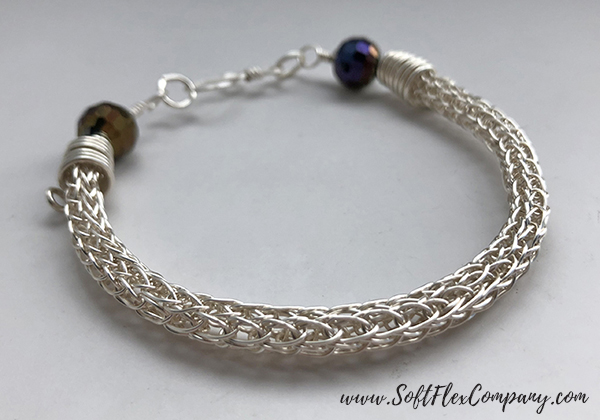 This necklace looks amazing. So intricate and complicated. Nobody will ever know how easy it was for you to design! Make your friends jealous of your new jewelry making talent!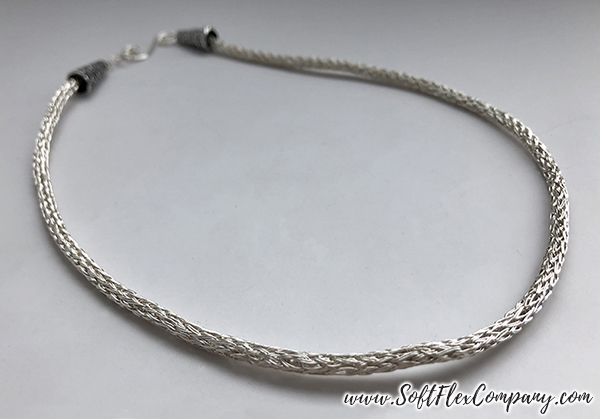 Make Cones With The Lazee Daizee And Soft Flex Craft Wire
Kristen got to play with her new Lazee Daizee Viking Knit Wire Weaving Tool. She spent some time with the tool but felt like she needed a little more practice before she committing to a show about viking knit. This was her first episode of Free Spirit Beading featuring the tool. She decided to try and make some findings with the tool, rather than create Viking Knit jewelry. She loves to think outside the box!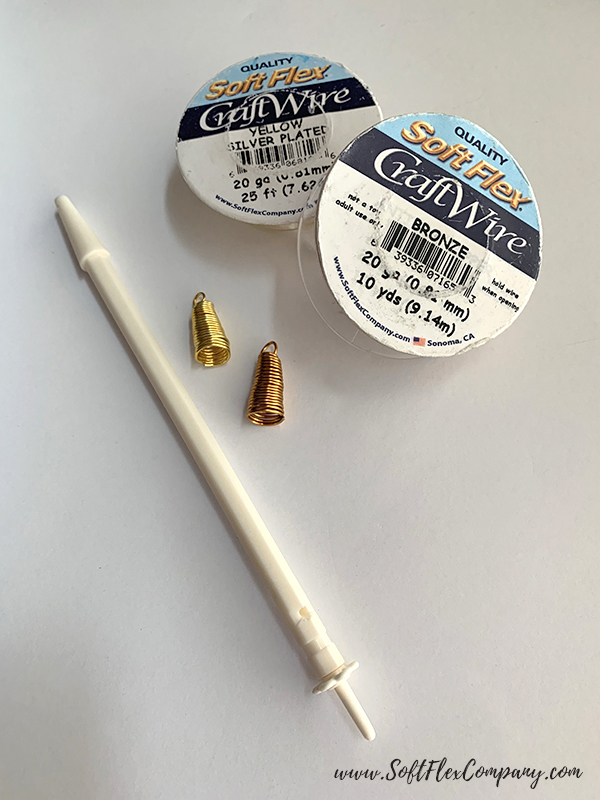 From Kristen:
The Lazee Daizee Wire Weaving Tool creates beautiful viking knit jewelry on one side of the tool and the other side of the tool if for making coiled wire jewelry cones! We are going to explore the cone making ability of the tool today using 20 gauge Soft Flex Craft Wire. After making cones, we'll attach them to fiber cord with Special T Glue and finish off the design with chain for a fun eclectic necklace design.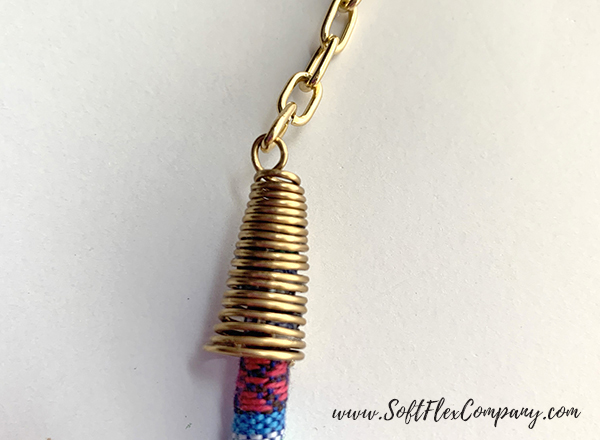 Supplies:
2 - 18" Strands of 20 gauge Soft Flex Craft Wire
2 - 6mm Jump Rings
12" of Fiber Cord
12" Chain
Pendant Approx 1.75"
Lobster Clasp
Lazee Daizee Tool
Special T Glue
Nylon Jaw Pliers
Chain Nose Pliers
Round Nose Pliers
Cutters
Jewelry Made with Wire & Fiber Book by Nealay Patel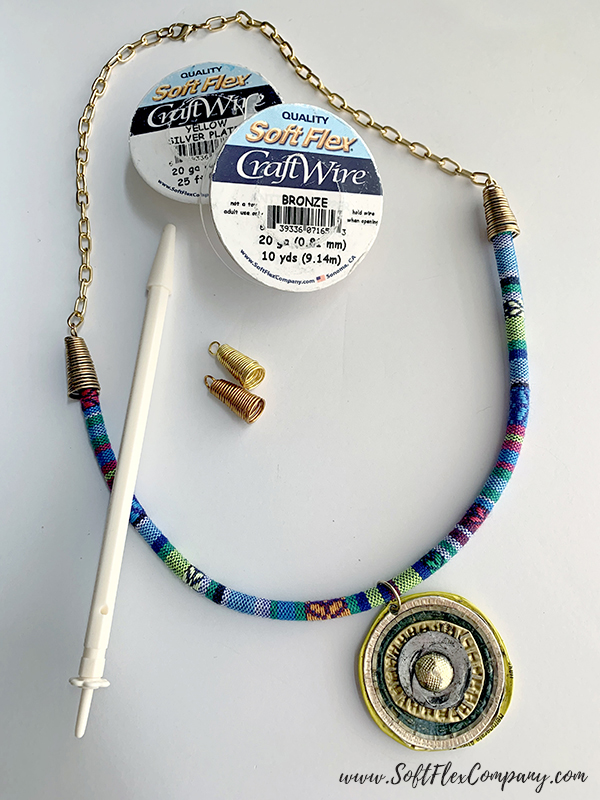 This necklace is so fun. Kristen bought the fiber cord from Nealay Patel. She bought the pendant at an art festival, but you can find the creator on Instagram - named Somniative. She did not need to purchase much more. For a minimal design it looks very sophisticated. The cones look great on this design. Kristen likes adding 'messy' cones to her knitting spool designs. Her messy cones are hand wrapped cones that look organic and do not conform to a spiral or a particular shape. They look fantastic. Messy cones may not fit every design though so, it's nice to have this tool for a more structured coiled cone option.
Making cones is easy with this tool. You can use any color of Soft Flex Craft Wire to personalize the design. You can make the cones with longer or shorter coils as you see fit. You can create a traditional cone without loops by cutting the wire free from the tool as stated in the instructions, but Kristen shows you how to make loops at the top instead to easily attach a chain to the cone. Work slowly and deliberately with Soft Flex Craft Wire, it is very forgiving and easy to manipulate.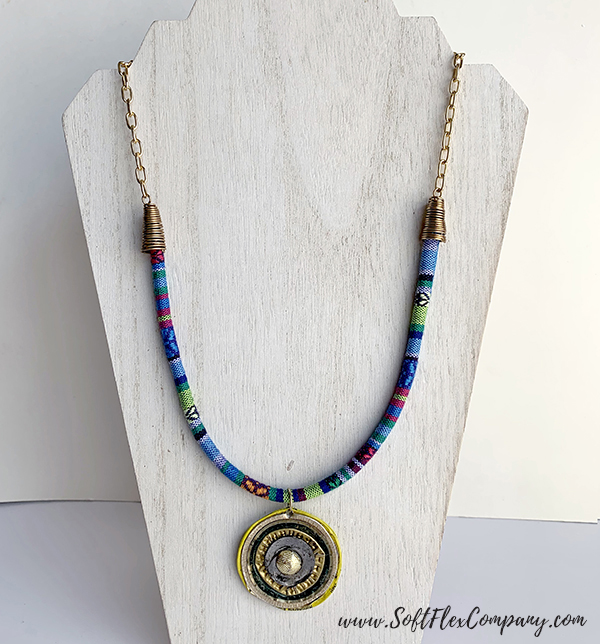 Viking Knit Double Stitch With The Lazee Daizee
James returned for another episode of Conversations in Wire. He brought the Lazee Daizee with him again. This time, he made a bracelet with the Lazee Daizee. He also used a different technique with the tool. This bracelet was created with a double viking knit stitch. The finish is more wire dense and is not as open as the other design he created.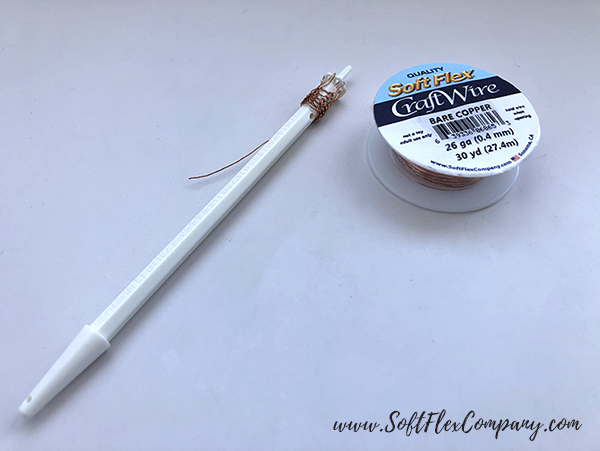 This design is stunning. He used a bare copper Soft Flex Craft Wire for this bracelet. Bare copper is the only Craft Wire that is not enameled. It will patina since it is a natural copper. It is great for making a piece of jewelry that you would like to look aged or antique. All of our other Craft Wire colors will retain the same sheen and not lose their color.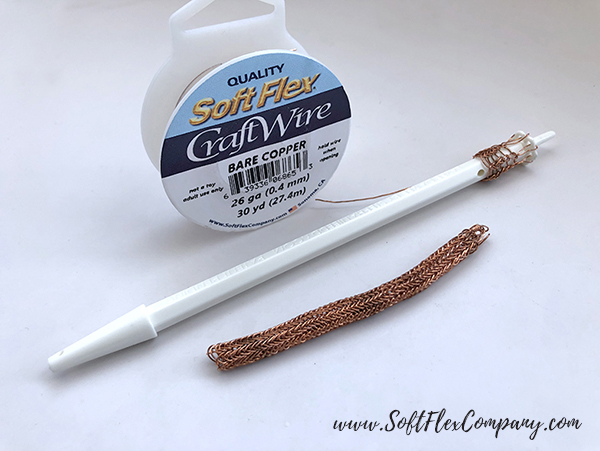 Supplies:
Soft Flex Craft Wire - 26ga
Lazee Daizee Viking Knit Wire Weaving Tool
Bead Nipper
Nylon Jaw Pliers
Draw Plate
Craft Wire Starter Kit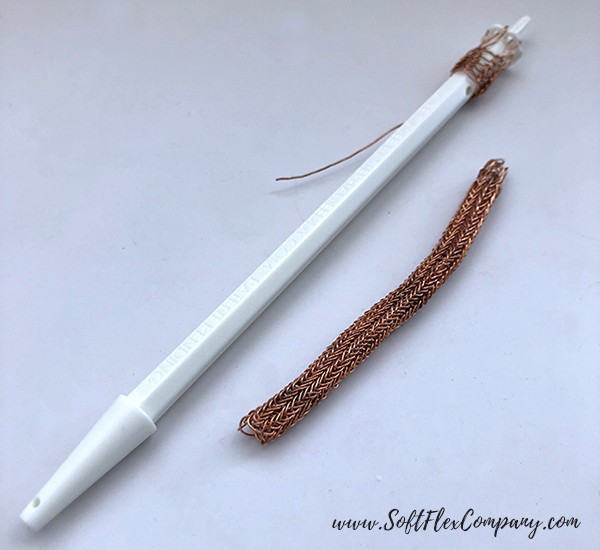 Here is another bracelet he created with the double stitch. The focal bead really makes this design pop! This bracelet is so sophisticated. You can make this amazing piece of jewelry at home in no time.
Join our Facebook group – VIB. Stay in the know. Stay up to date. From our bead shows to our video shows and sales, you can stay in touch with us. The community is full of artistic and helpful beaders and crafty people. Inspire and be inspired. Share your pictures and get the beading bug from others!
Visit the Soft Flex Company YouTube Channel!
---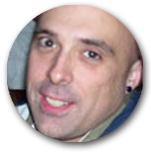 Blog contributor Thomas Soles loves Jazz Age writers and crunchy french fries. His favorite gemstones are Lapis and Pietersite. His favorite hobby is day dreaming. And his favorite mustache is Freddie Mercury's. As you can see, he has a healthy (or possibly unhealthy) sense of humor. You can write to him at Thomas@SoftFlexCompany.com