We have a cornucopia of goodness here. We are serving a juicy selection of our most popular YouTube videos. If you like to binge watch, you will love these delicious jewelry making videos. Learn how to make a new bracelet. Learn how to design a simple pair of earrings. Or get some information about how to choose the diameter of beading wire for your next design.

If you live in the United States, we wish you a warm and loving Thanksgiving. If you are one of our friends that live around the world, we hope you have a fantastic week and share it with the friends and family you love. Thank you for watching our videos and shopping with us.
We have lots holiday jewelry ideas. Check out our free beading project ideas for Christmas, Hanukkah, and New Years. Subscribe to our YouTube channel for more tips. Visit our Facebook page if you want to catch our live shows and sales. Join our Facebook group – VIB, if you want to be part of a friendly community of jewelry designers and all around creative people. We would love to see your holiday creations. Post pictures on our VIB group!
Choose The Right Diameter Of Beading Wire To Make Jewelry
If you have ever thought your beading wire was a little too complicated, this video will break everything down for you. Sara talks about the information on the Soft Flex Beading Wire label. She discusses what everything on the label means and why it is important.
Sara shows how each diameter is used and what kind of jewelry you can make with each diameter. This is a short video, but it is loaded with practical information that will make you a better beader. Make sure you check it out!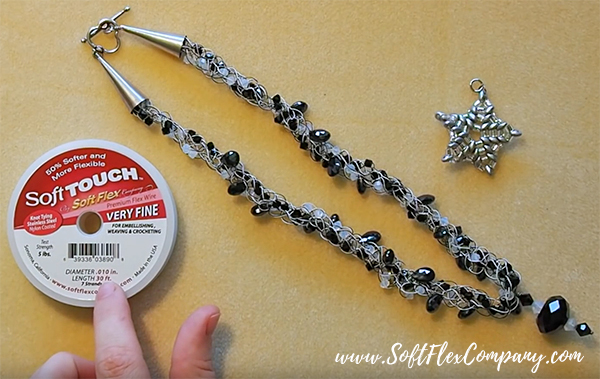 Soft Touch Beading Wire - .010 Very Fine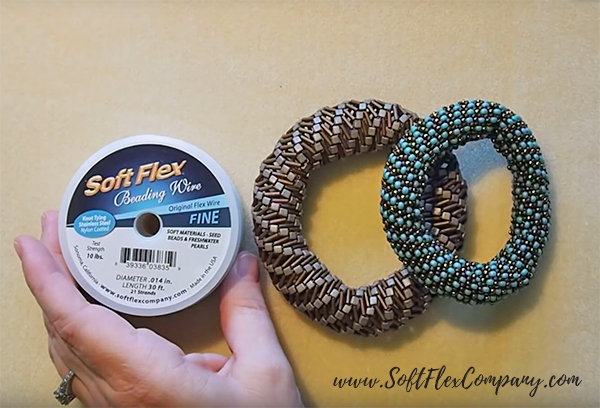 Soft Flex Beading Wire - .014 Fine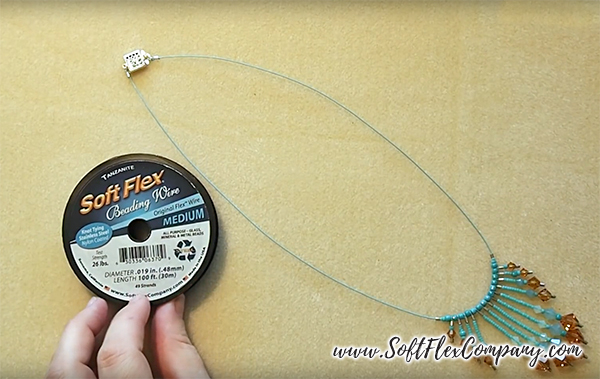 Soft Flex Beading Wire - .019 Medium
Soft Flex Beading Wire - .024 Heavy
Click here for a PDF you can download: Beading Wire Comparison Chart
How To Use The Magical Crimping Pliers To Make DIY Earrings

Magical Crimping Pliers are wonderful. These crimping pliers have a single rounding hole that turns a crimp tube into a rounded crimp bead. Your finish is a perfect rounded bead that does not need a crimp cover to conceal it. You can use your finished crimps as spacer beads on a design as well as secure your crimps to a clasp.
Watch Sara make some lovely earrings. Follow along with her or create your own unique design. She discusses how to use Magical Crimping Pliers to finish a crimp. It is an easy to pick up and master this tool, especially with Sara guiding the process.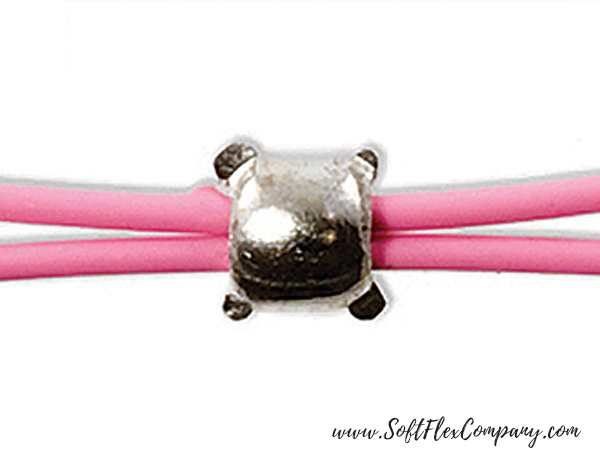 We suggest using Soft Flex crimps with the Magical Crimping Pliers. Our crimps are almost twice as thick as other crimps on the market. The thicker walls mean a much more durable and secure finish. Our crimps are seamless and not prone to breaking.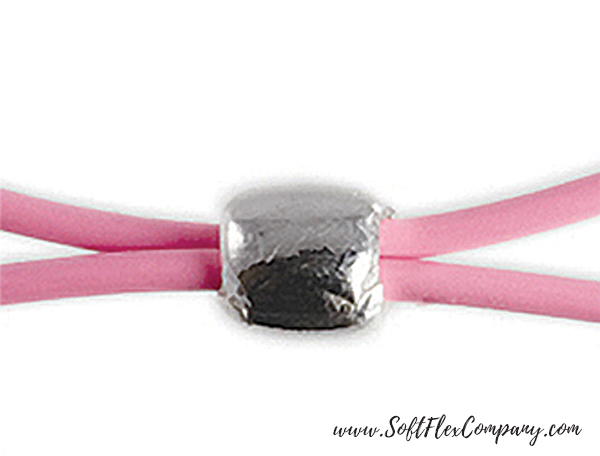 The Magical Crimping Pliers are designed for 2x2mm crimps. They will not work properly with other sizes.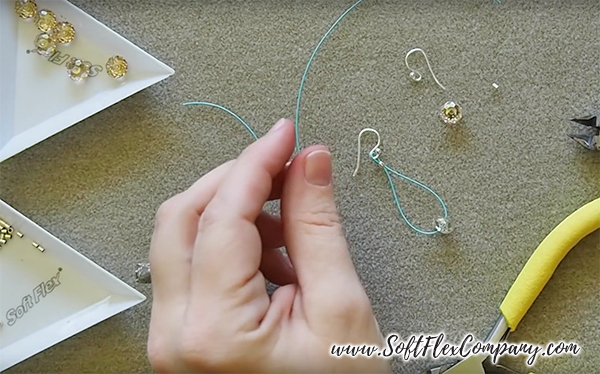 Use Stretch Magic To Make A Bracelet And Earrings
Sara discusses Stretch Magic. Stretch Magic is an elastic-like cord constructed of a mixture of polyester and polyurethane. It is solid and does not fray and split as it ages, a blessing if you have ever used a cord that splits and gets 'hair' as it ages. Stretch Magic does not contain any latex, rayon, or elastic.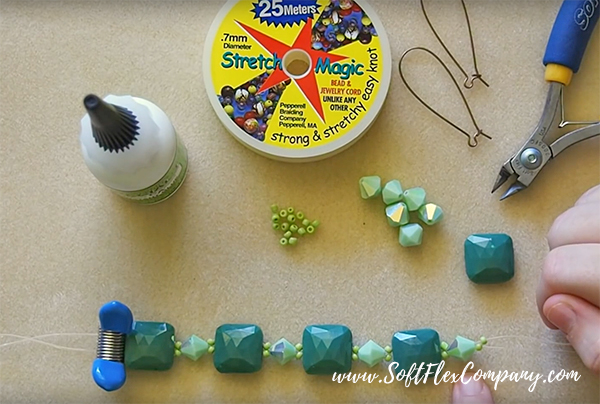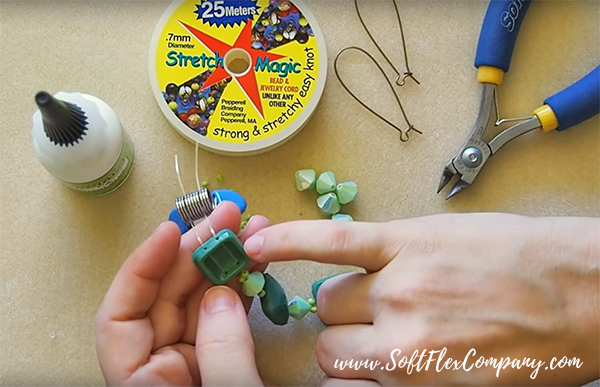 Sara demonstrates how to design and finish a bracelet and then makes some matching earrings. She recommends using Special T glue to secure the knots. Special T fills the gaps inside knots and makes them very secure. Special T Glue dries pliable rather than hard and crunchy. It takes around sixty seconds to dry and dries clear. It is great glue for people that knot their projects to finish them.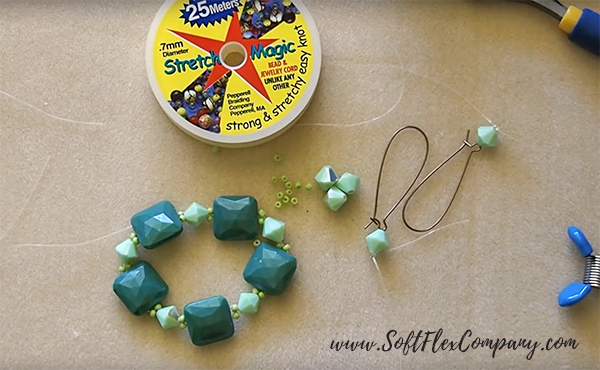 Use Soft Touch™ Beading Wire To Make A Woven Bracelet On A Macramé Board
Sara talks about our Soft Touch Beading Wire line. She talks about the diameters and their uses. She then makes a bracelet using her macramé board. The macramé board can be used for macramé and other knotting, weaving, and braiding projects. The notches on the board lightly grip the wire and hold it in place.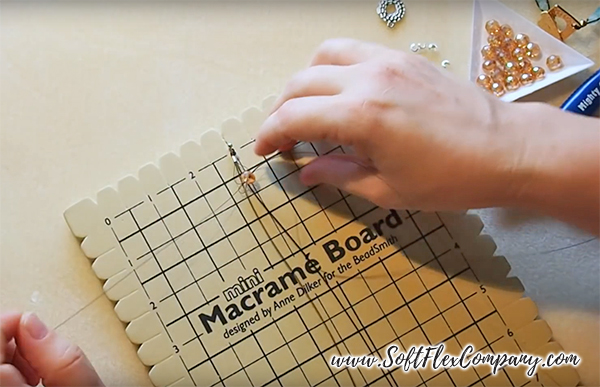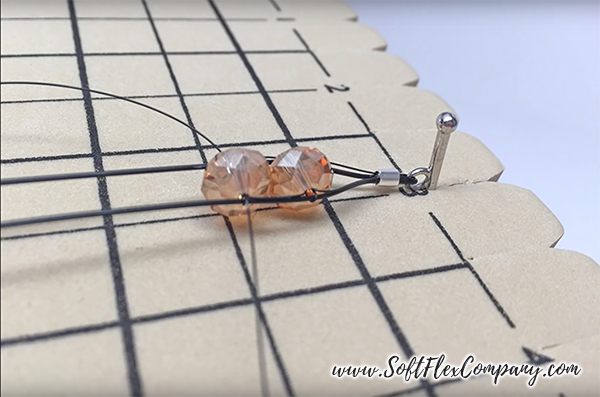 The bracelet Sara makes can be found in Soft Flex Bracelet Projects Booklet. Sara co-authored this booklet with Kristen Fagan. The booklet has some fantastic design ideas. It also has information about beading wire tools and components. It has instructions on knitting spools and macramé boards. Lots of great information for a beginner in the booklet and project ideas for beginners and professional jewelry designers.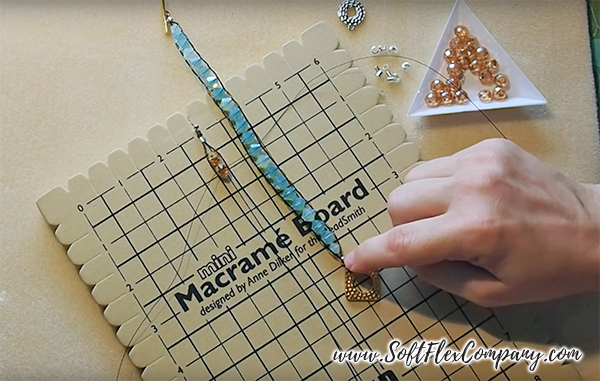 Use Magical Crimping Pliers And Soft Flex Beading Wire To Make A Bracelet
Sara shows us how to make a cute bracelet with Soft Flex Beading Wire and a pair of Magical Crimping Pliers. She uses Copper color Soft Flex Beading Wire and black Czech glass beads. You can follow her design instructions or change your materials as desired. The bracelet design would look fabulous with different color beads or wire.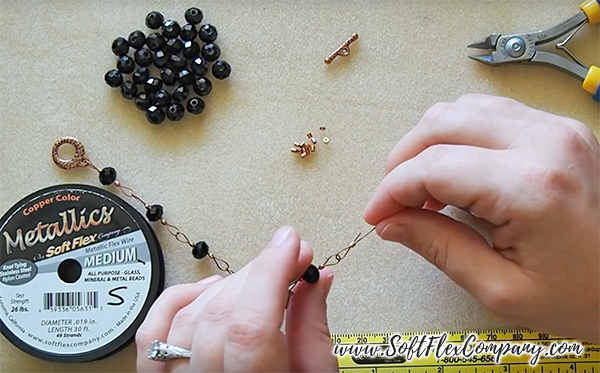 Sara discusses how to finish a crimp with Magical Crimping Pliers. Unlike regular crimping pliers with a crimping hole and rounding hole, Magical Crimping Pliers have a single rounding hole. This hole rounds any 2x2mm tube into a rounded bead. This quick rounding method eliminates the need for a crimp cover.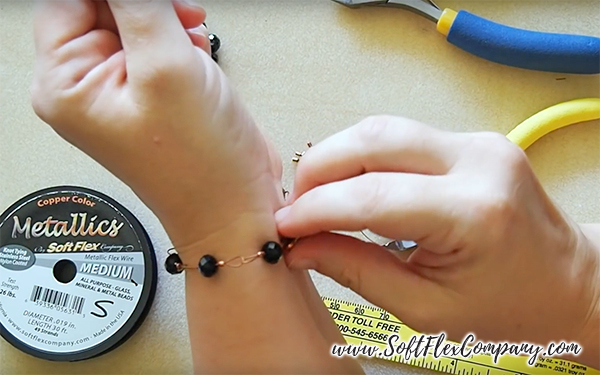 Use Soft Flex® Beading Wire On A Kumihimo Disk To Make Jewelry
Sara chats about Kumihimo disks in this video. We love Kumihimo!
Kumihimo means 'gathered threads' in Japanese. It is a form of braiding. Kumihimo braids can be used to create decorative lace, cords, jewelry or clothing accessories.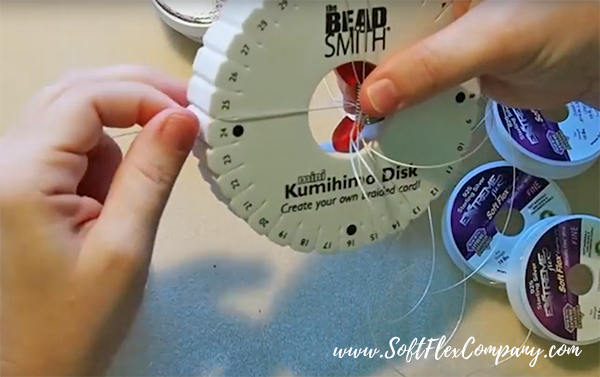 Historically, Kumihimo braids have been used in Samurai armor and weaponry. The braids were used as a functional knit for their armor pieces. Decoratively, it adorned their horses armor and the handles of their swords.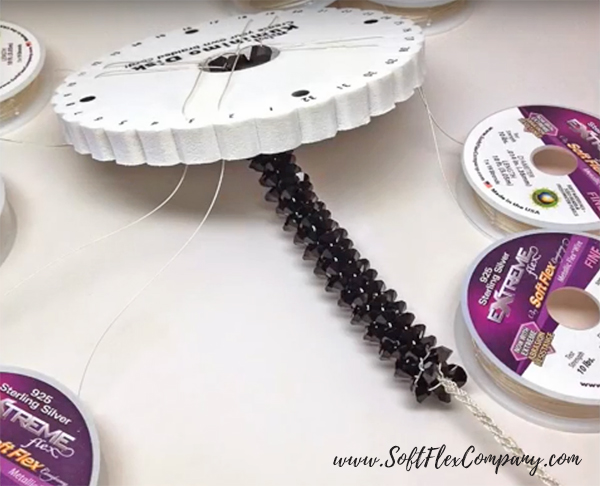 There are no limits to modern Kumihimo designs. You can create beaded necklaces, simple bracelets and much more. The disks look intimidating, but the process is very easy to pick up. You can multi-task and watch your favorite TV shows while creating a lovely jewelry design. So fun!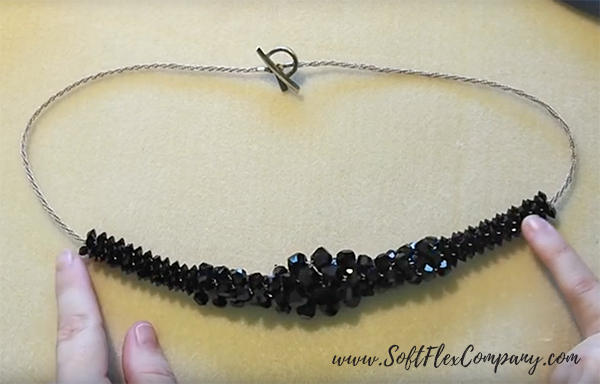 Knot Soft Flex Beading Wire To Create A Beaded Bracelet With A Button Clasp
Sara shows us how to knot Soft Flex Beading Wire to create a bracelet. Soft Flex is made of marine quality stainless steel wire. But it is so flexible it can be knotted. Soft Flex is also kink resistant. It is the perfect wire to use when you are stringing a normal piece of jewelry or when you are thinking outside of the box and creating a special design like the one in this video.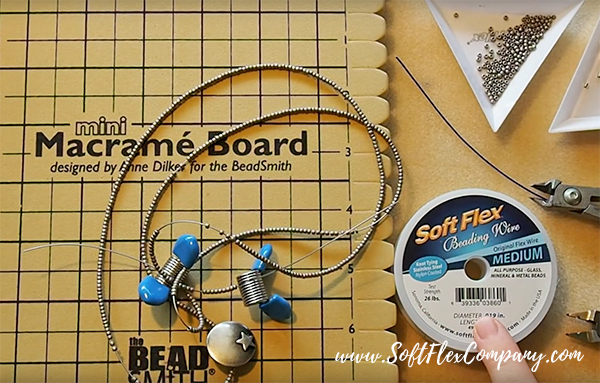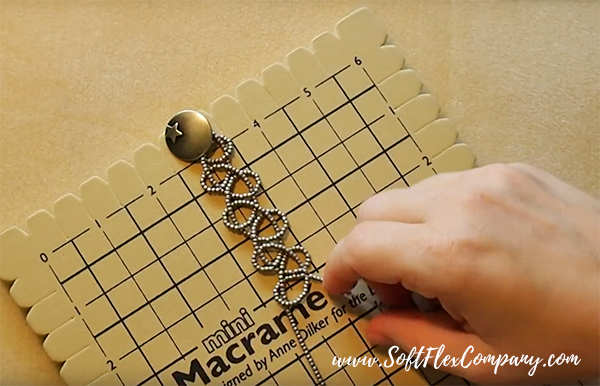 Sara uses a Macramé Board to hold her design in place as she works. She encourages viewers to watch the video, but make the design their own, changing colors and beads and even the amount of wire strands can lead to a fabulous new piece of jewelry.
How To Make Fancy Earrings Using Soft Flex Beading Wire And Squaredelle Beads
Sara demonstrates how to make some elegant earrings using Soft Flex Beading Wire and Squaredelle beads. Earrings are so easy to make with Soft Flex Wire. The design possibilities are limitless. There are so many colors and bead choices out there. Every pair of earrings you wear can be a signature piece that you created.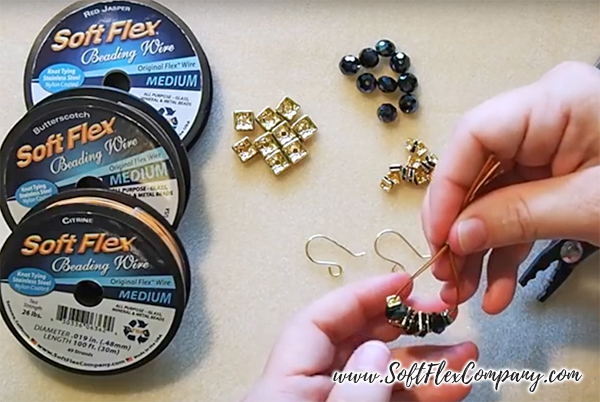 Visit our Squaredelle collection. We have lots of spacer and toggles. So many Fun and wonderful crystal and metal combinations. Our Squaredelles are elegant and affordable.
How To Make Soft Flex® Tassel Earrings Using Micro And Mighty Crimpers
Sara makes some tassel earrings in this video. Tassels have been all the rage for a couple of years now. She is using Soft Flex Beading Wire to create and style her tassels. She is using our medium diameter but says that any diameter will work. It is your choice how you want your completed tassels to look. She shows how to stylize and cut the tassels to make them special. You can add beads or just keep them plain. So much fun!
Tassels make great earrings. But don't forget to consider them in other designs. A tassel is a great focal on a necklace. You can even use them on home crafts – a beaded lampshade with tassels would be so fun to create.
Illusion Style Necklaces Done Three Ways With Beading Wire And Crimps
Sara shows us how to create a lovely illusion necklace. Illusion necklaces have 'floating' beads. That is, they have beads that are crimped or secured in place on a wire and look like they are suspended in place. Color wire is great for illusion necklaces. We have a wide spectrum of color wire to consider when designing. We believe that color should be part of a design and the wire does not necessarily need to be concealed.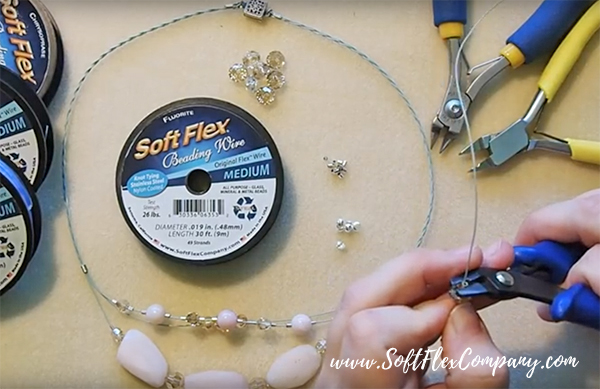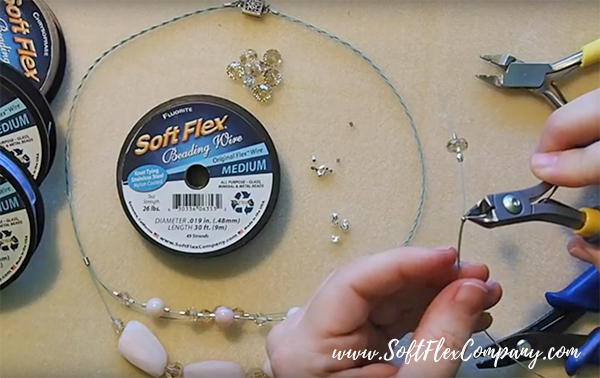 Sara shows how to use regular crimpers and Magical Crimping Pliers in this video. It is a great video to watch for the tool techniques alone. So much information packed into her videos. You will come away learning a new technique or how to strengthen your own.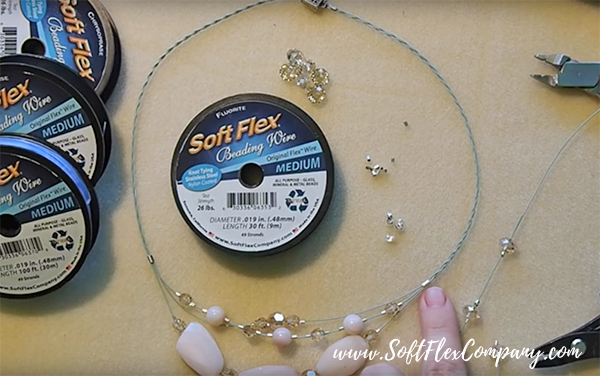 We hope you enjoyed our Thanksgiving selection of videos. Lots of great information. If you like our videos, please give us a thumbs up on YouTube. If you have any questions, please email or call us. We are an education focused company, we want to make sure you know how to use our tools and use them in the most productive ways.
Wherever you are and whatever you celebrate, we hope your holidays are warm and loving. Thank you for following our blog and watching our videos. We really appreciate it. Follow our Facebook group if you want to discuss jewelry making – VIB.
Projects not intended for children under the age of 13. The information on this instruction sheet is presented in good faith, but no warranty is given, nor results guaranteed. Soft Flex® Company disclaims all liability from any injury to anyone undertaking the construction of this project as a result of improper safety precautions.
Visit the Soft Flex Company YouTube Channel!
---
Blog contributor Thomas Soles is the Trade Show Coordinator for Soft Flex Company. His favorite stones are Lapis and Pietersite. His favorite hobby is day dreaming. And his favorite mustache is Tom Selleck's. As you can see, he has a healthy (or possibly unhealthy) sense of humor. You can write to him at Thomas@SoftFlexCompany.com