Summer is nearing an end. Time for the comfort of pumpkin spice and the warm hug of a favorite sweater. Time for scaring up some Halloween earrings and dusky fall jewelry. If you love this time of year and want to learn how to make jewelry that is elegant and seasonal, you are going to want to gobble up these videos. Warm up a nice cup of apple cider and binge with us! We hope we inspire you to make a bountiful collection of handmade jewelry. If you are still longing for summer, we also have a jewelry demonstration from our friends in Honolulu. Make a bracelet for ohana or make a necklace for your favorite zombie, check out our video recap!
The rustling of leaves is soon to be our autumn symphony. Let's greet the changing of the seasons with a fashionable abundance of fall jewelry. Kristen started the week off with a crisp and lovely bracelet. She will teach how to knot beading wire. This technique is easy and looks amazing. Sara showed us an elegant owl bracelet made with our Owl-Leen bead strand. She also made some cute Halloween earrings with charms from TierraCast collection. Aleshia Beadifulnights opened our Purple Petals Design Kit (Sold Out) and gave us a jewelry tutorial. If you have never purchased our jewelry making kits, this is a great chance to see what is inside. Nealay, from SilverSilk, showed us how to make a gorgeous necklace with SilverSilk chain and Soft Flex Craft Wire. Finally, we want to share an educational video from The Bead Gallery, Honolulu. It is always summer in the Islands. Mahalo! Let's make some jewelry!
Assorted Color Czech Glass Horned Owl Beads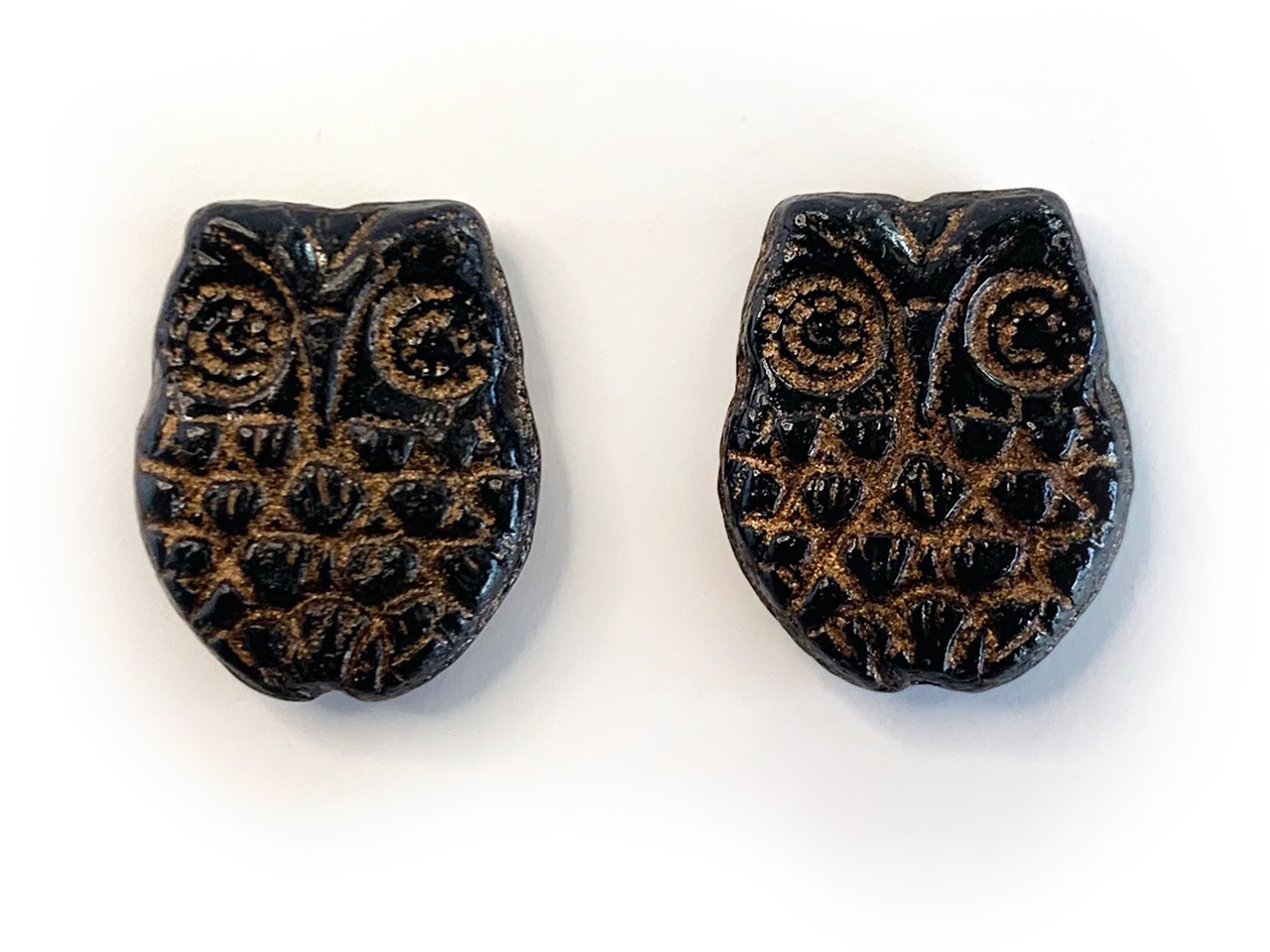 We are celebrating Owls. It is Owl-Leen at Soft Flex Company. A parliament of owls is holding court. We don't want to ruffle any feathers, but the spooky season is nearly upon us. A wise session has gathered to hoot their approvals. An owllegiance of the most sage and knowing has congregated to herald the beginning of Owl-Leen celebration. The festivities will begin in the dead of night. Owlchemy, magic, and high spirits are the order of the eve. Who will answer the call? Owl are welcome here. Let's take flight and let inspiration guide our talons!
Jewelry Making Videos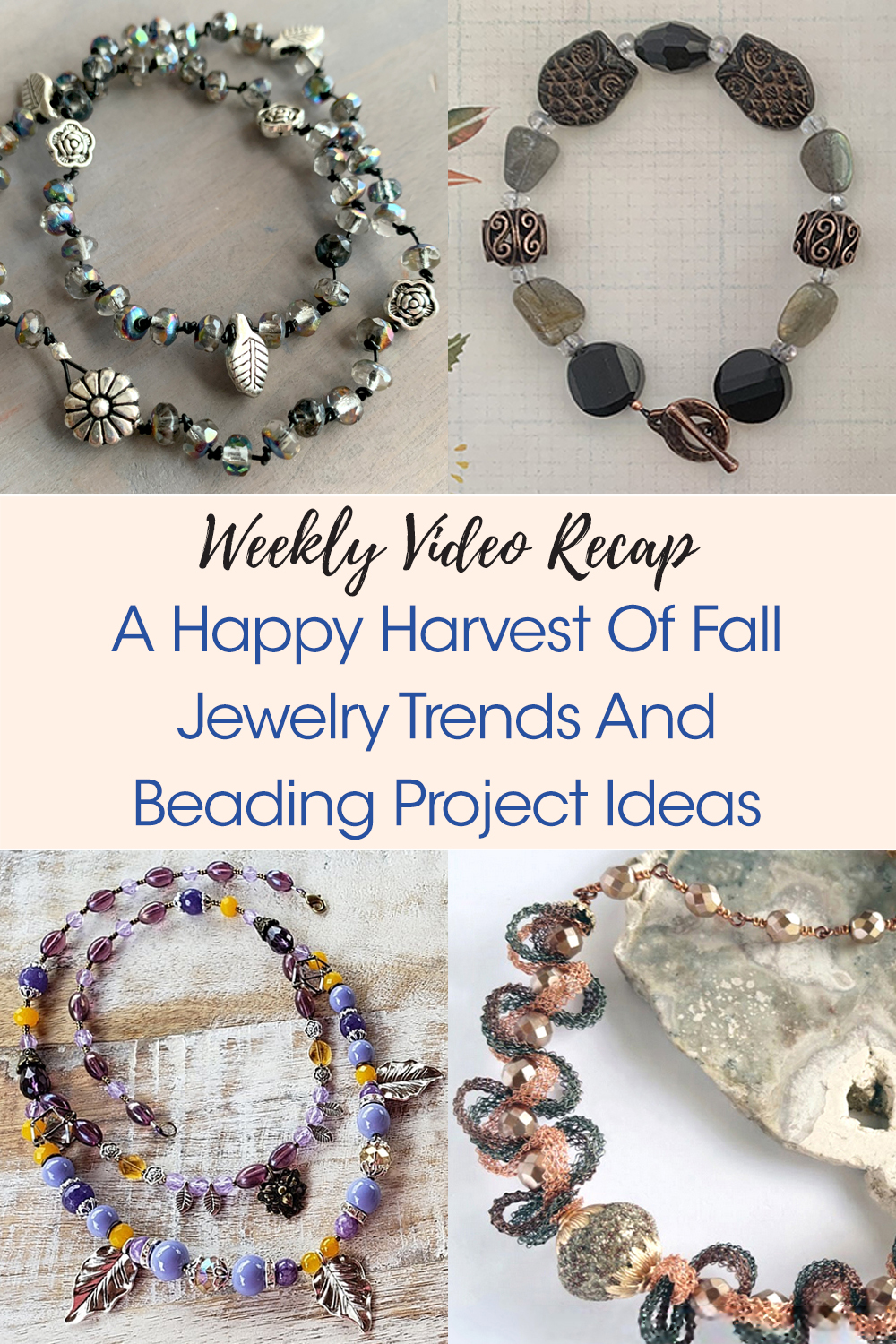 Learn How To Make Jewelry In 30 Seconds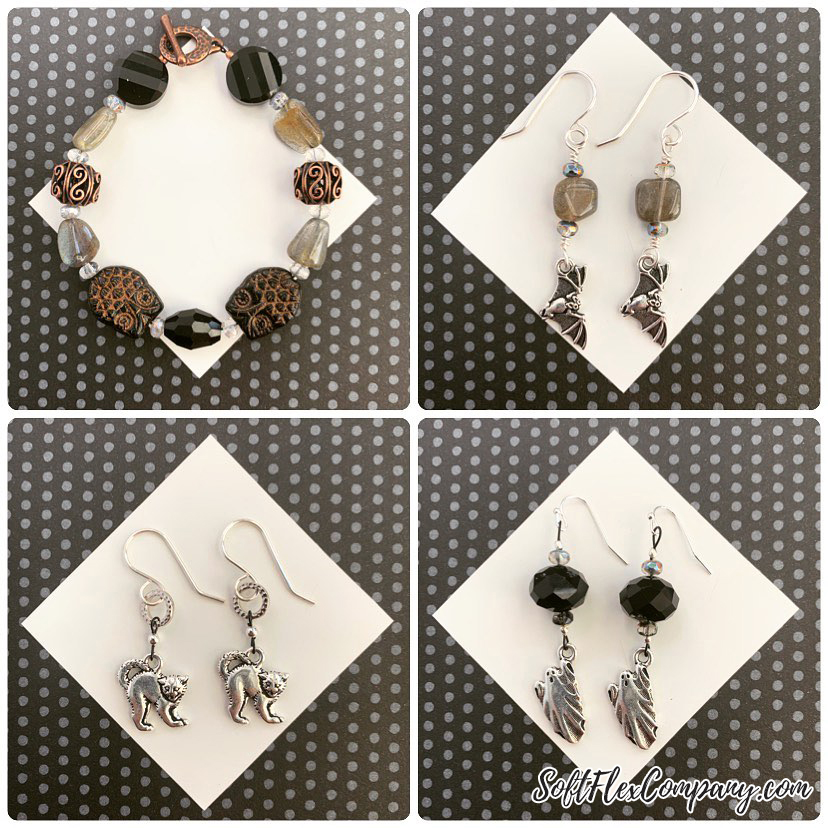 Check out our 30 second jewelry tutorials on Soft Flex Company's Instagram Reels! Master a new technique in minutes. These videos move quick but are easy to follow. You will get a sense of how to use your tools and finish your crimps securely. If you need more assistance, make sure you check out our YouTube catalog for deeper dives into jewelry making education. Stand on the shoulders of giants and enhance your jewelry making knowledge in a flash!
How To Tie Knots In Soft Flex Beading Wire And Make A Knotted Bracelet
Kristen took on a challenge on this episode of Free Spirit Beading. She has only made a couple of jewelry designs with knots as spacers. She has made a single strand bracelet with knots and a double strand knotted bracelet. Both of those pieces look amazing. She did not get the knots as close as she would have liked, but that comes with practice. For this episode, she wanted to attempt another single stand wrap bracelet with knots. This is a great design for fall, but you can change up the colorway and make it a bracelet for any time of the year.
Learn how to knot Soft Flex wire in this video. Kristen uses Knotting Tweezers to guide the knots and get a tight knot. You can knot every diameter of Soft Flex Beading Wire. The Heavy diameter is easier to knot with a tool, since it is a thicker wire, but you can knot them all with just your hands. A tool will help you guide and seal the knots if you want a professional wire. Kristen did simple overhand knots on her jewelry. Knots in Soft Flex can change the appearance of a design. Overhand knots lay differently than others. We also suggest figure-eight knots. Double overhand knots look amazing too. Experiment and find out which knot you fancy. Each will look unique and they will change the way the wire drapes.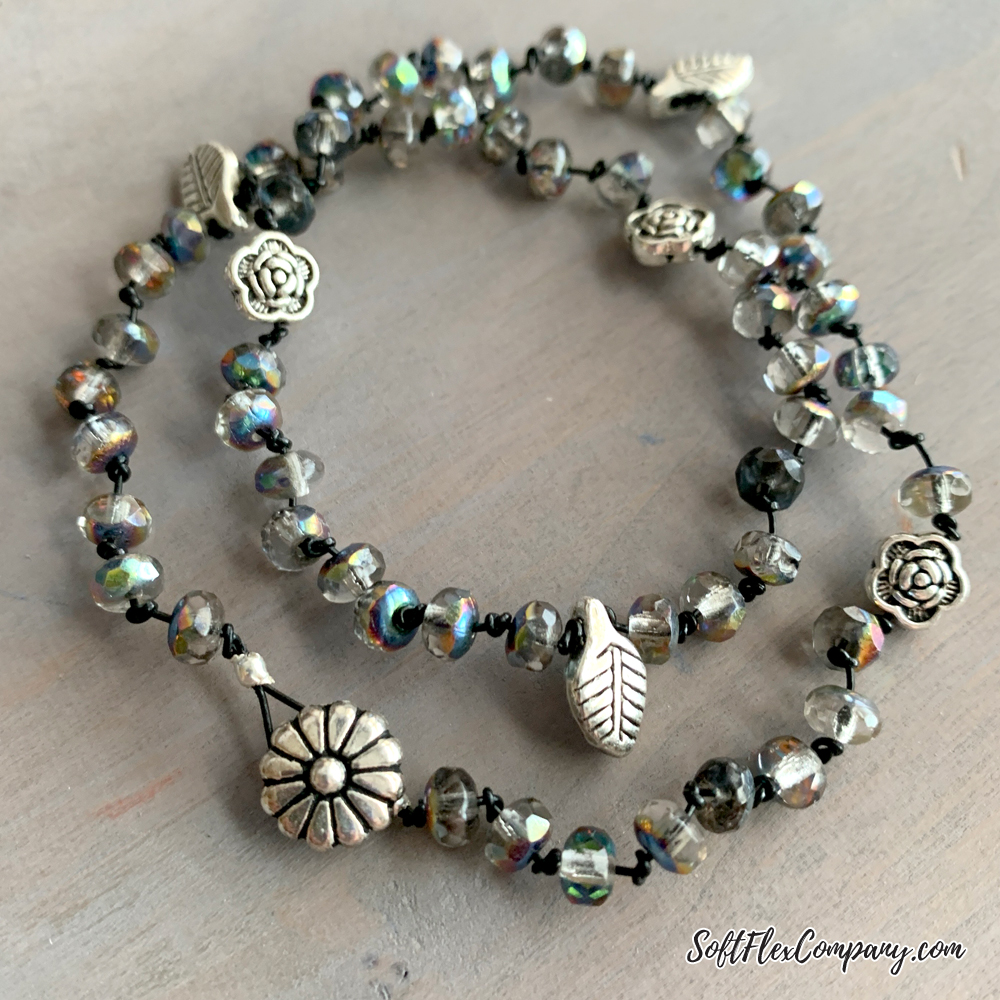 From Kristen:
For me, trying new things, pushing the boundaries of materials and sharing new ideas is all part of the fun of beading. This way of thinking will have some hits and misses and I'm okay with that. I think today's knotted bracelet turned out cute and hope it opens up some new ideas for you when using beading wire!
Soft Flex Medium Beading Wire - Black Onyx
Metal Beads
Bead Mixes
Button Clasp
Knotting Tweezers
2x2mm Crimp Tubes
Crimping Pliers
Cutters
How To Make Halloween Earrings And Wise Owl Jewelry
Sara had a cornucopia of jewelry ideas this week. She talked about the free beads we offered on our latest sale. She made an enchanting owl bracelet for fall. She showed us how to make Halloween earrings. Check out our Halloween charms, we have scary cats, spooky bats, haunting ghosts, and more. You are going to be possessed to make frightful jewelry. This video is a treat with lots of jewelry tricks!
Do you have remnant wire in your beading supplies? Remnant wire is the remaining wire cut from a design. It is the wire that is too small to use for a bracelet or necklace, but too long that you don't want to just throw it away. We suggest you save your remnant wire. It is perfect for earrings. Check out how little wire Sara needs to make earrings in this video. Making earrings with Soft Flex requires very few supplies. You can make dozens of earrings with a single spool of Soft Flex. Make a new earring for every outfit. They also make great gifts. Save money during the holidays and give the gift of handmade jewelry.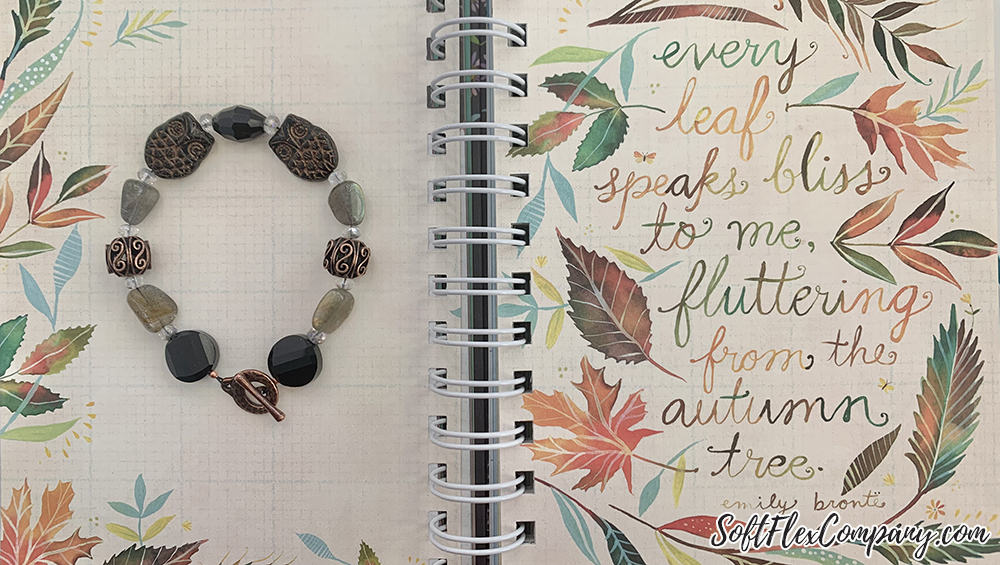 Soft Flex Medium Beading Wire - Black Onyx
Soft Flex Craft Wire - 18 Gauge
Soft Flex Craft Wire Silver Plated - 18 Gauge
Antique Silver Plated Halloween Charms
Happy Owl-Leen Bead Strand
Beads
Clasp
Ear Wires
Bead Stoppers
Crimp Covers
2x2mm Crimp Tubes
Magical Crimping Pliers
Chain Nose Pliers
Cutters
Aleshia Beadifulnights Unboxes Our Purple Petals Design Kit And Gives Us A Jewelry Tutorial
We love Aleshia Beadifulnights YouTube channel. She has an amazing collection of assorted jewelry making and craft videos. If you enjoy easy to follow and instructive videos, you just found your favorite new channel! She has been making videos on the platform for nine years. You can find unboxings, crafts, tools and supplies, and more! We wanted to see what she thought of our Purple Petals Design Kit (Sold Out). If you want an unbiased opinion and want to know what you can expect to find in our kits, check out her video!
From Aleshia:
Hi I'm Aleshia, designing beaded jewelry and other beaded accessories is my passion. I'm a self taught bead weaver and I love to create new designs and experiment with bead sizes and shapes. All of the designs you see in my tutorials are my own creations. You will learn how to make your own Beadiful jewelry, even if you have never beaded before. I will show you how to make bracelets, rings, necklaces, earrings, hair accessories and anything I can put beads on even shoes. I also do bead haul videos, bead organization and monthly bead subscription reviews. Come watch my beading tutorials and create with me I will take you through all the steps. I always keep in mind that my viewers might be new to jewelry making, so I make sure to inform you of all the important details. I only have the time to bead at night that is why I call myself Beadifulnights. Thank you for checking out my beadiful channel.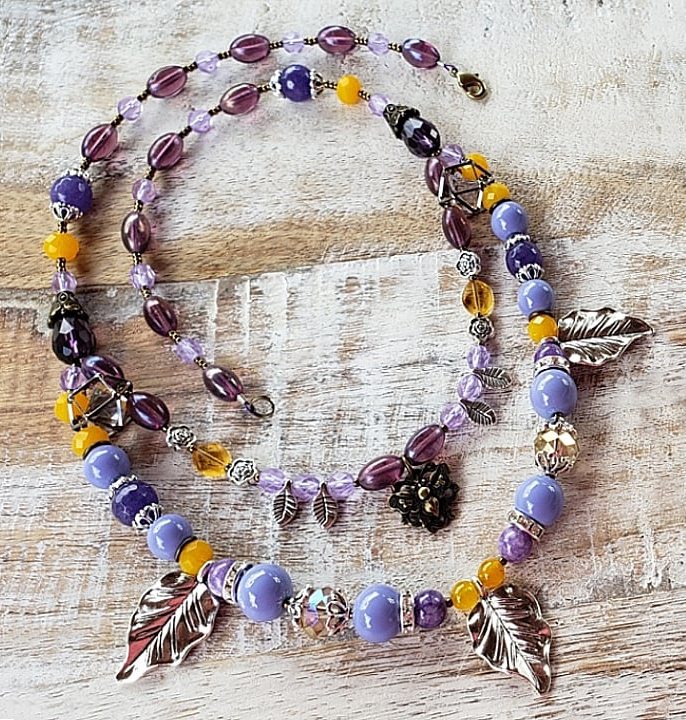 If you loved this video, make sure you follow and subscribe to Beadifulnights on YouTube. Hit the like button on the video so Aleshia knows you appreciate her work.
You can find Aleshia on these websites:
Facebook | Pinterest | Instagram | Twitter
DIY Bracelet: How to Make a Ruffled Beaded Necklace with Flat Mesh Chain
Nealay Patel is the owner of SilverSilk & More. SilverSilk is a knitted wire jewelry chain. But, it is like no other jewelry chain out in the craft market. SilverSilk is made by many tiny latch-hook needles that spin around with wire, intricately machine-stitching the wire into an elegant yet strong and supple knitted wire chain. This knitted wire stitchwork offers the crafter new and unusual ways to use it. You can string large-hole beads on it, sew through it, wire-wrap it, glue it, put it in resin or just leave it as a draped jewelry chain. We love SilverSilk chain, it is the perfect complement to Soft Flex Craft Wire or beading wire. These beading elements can be interwoven and wire wrapped into exciting new jewelry. Design something elegant and rich today with these two stringing options. Your finished jewelry will look like you bought it from a high end gallery!
From Nealay:
Create striking ruffles with multiple colors of SilverSilk Flat Mesh and some Czech glass beads. All you have to do is learn some easy wire-wrapped loops and then learn the secret behind the ruffled flat mesh to complete your design.
SilverSilk Flat Mesh
Soft Flex Craft Wire - 20 Gauge
Soft Flex Craft Wire Silver Plated - 20 Gauge
Beads
Clasp
Cutters
Round Nose Pliers
Chain Nose Pliers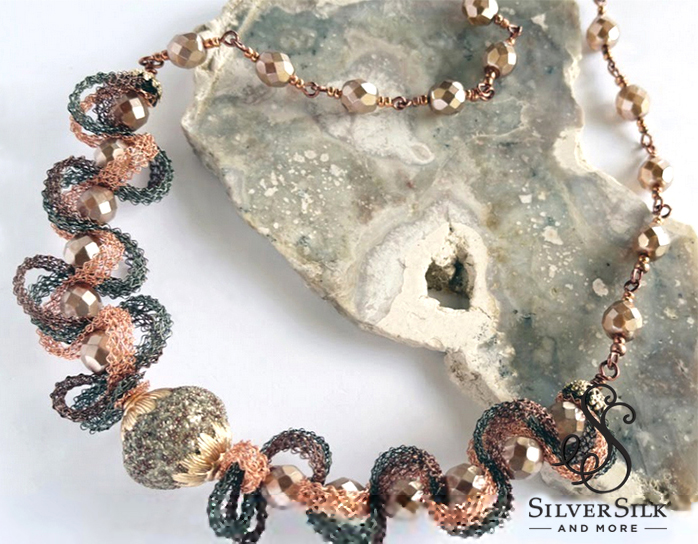 Be sure to mark your calendars for every Tuesday, 5:30pm CST and hop over to facebook.com/groups/silversilk to watch Nealay's videos live and ask questions.
Nealay's channel is dedicated to learning how to make high quality jewelry with SilverSilk with an emphasis on design. You can follow his journey here:
www.instagram.com/silversilkandmore
www.facebook.com/silversilkandmore
Or join his Silkies group and be a part of the conversation www.facebook.com/groups/silversilk

Basic Jewelry-Making: Bead Stringing And Crimping At The Bead Gallery, Honolulu
Our friends at The Bead Gallery in Honolulu wanted to share a video and some images of jewelry they made using our beading wire. If you want to learn some basic beading techniques, check out this fun video. If you have already mastered these techniques, make sure you check out the Bead Gallery videos posted in our Great Bead Extravaganza blogs. The Bead Gallery has been a memorable part of these shows. They are an invaluable partner in this massive online bead show. Jamie Yoshida's videos are so full of happy island energy. Her buoyant spirit is infectious. If you don't want to make jewelry after watching one of Jamie's videos, you might just be the Grinch!
If you enjoyed this video or just want to shop a great bead store, follow the links belong. Make sure you visit their social media links and give them some love!
LIVE. LOVE. CREATE!
Welcome to The Bead Gallery! We are a local bead and jewelry store in the heart of Honolulu. Since 1997, we've been teaching, beading, and creating custom designs for our friends around the world! We specialize in curated gemstones, hand-selected beads, handmade glass beads, original project tutorials, and a multitude of kits and DIY projects!

For more information, questions, or if you need any assistance, email us at: request@thebeadgallery.com or text us at 808-436-4930.

Thanks for the love, ALOHA, & support!
Jamie, Jason, Michelle & The Bead Gallery Gang
Website
Facebook
Instagram
Pinterest
Buy the materials for these fun designs:
Rainbow Bright Seed Beads & .014 Soft Touch Beading Wire Bracelets
Buy Rainbow Bright Bead Mix from The Bead Gallery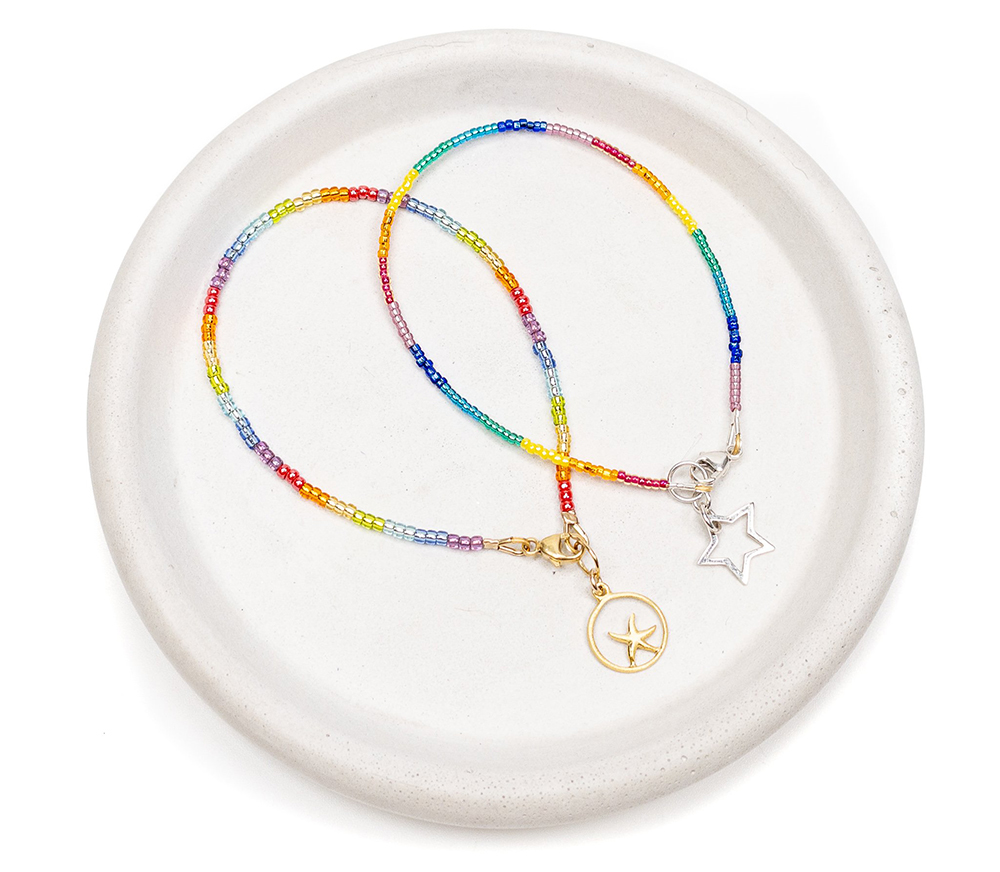 Dark Rainbow Seed Beads & .014 Soft Touch Beading Wire Bracelet
Buy Dark Rainbow Bead Mix from The Bead Gallery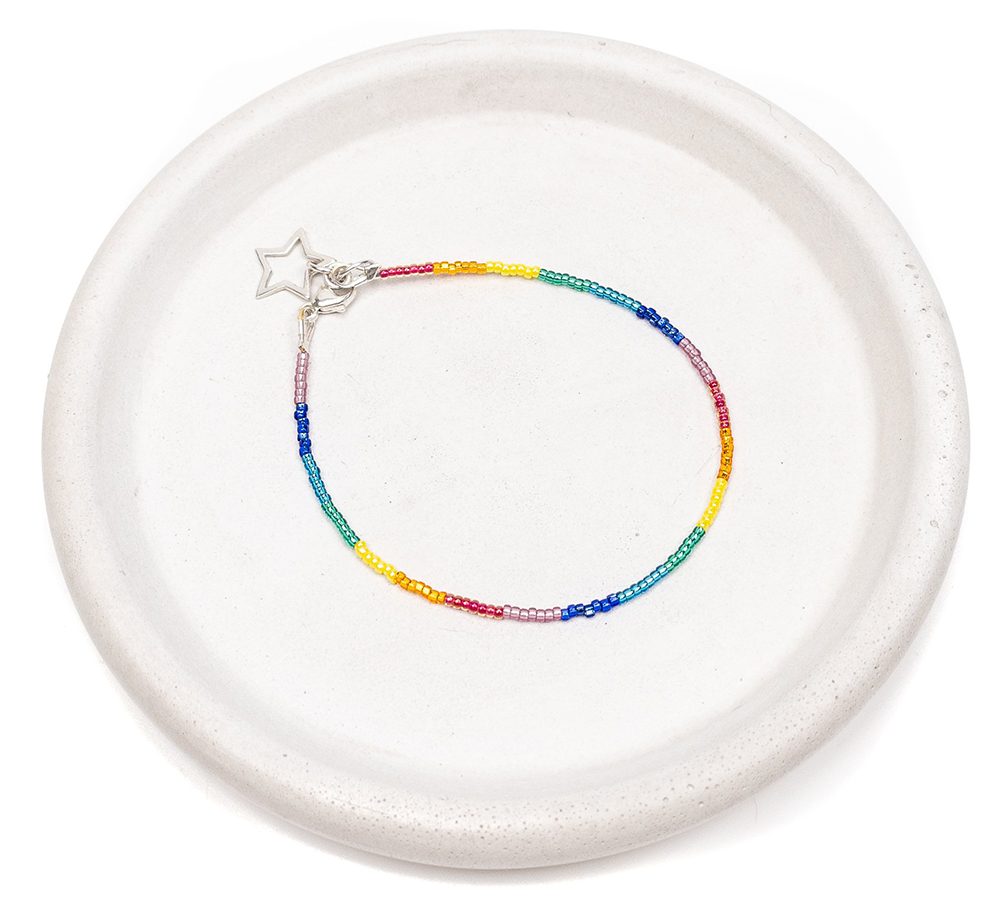 Join our Facebook group – VIB. Stay in the know. Stay up to date. From our bead shows to our video shows and sales, you can stay in touch with us. The community is full of artistic and helpful beaders and crafty people. Inspire and be inspired. Share your pictures and get the beading bug from others!
Visit the Soft Flex Company YouTube Channel!
---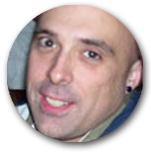 Blog contributor Thomas Soles loves Jazz Age writers and crunchy french fries. His favorite gemstones are Lapis and Pietersite. His favorite hobby is day dreaming. And his favorite mustache is Freddie Mercury's. As you can see, he has a healthy (or possibly unhealthy) sense of humor. You can write to him at Thomas@SoftFlexCompany.com