Have you been watching Beads Baubles and Jewels this season? There have been some amazing jewelry designers featured. Our friend, Nealay Patel, was on episode 2710 - 'Exotic Travels'. He created a stunning pair of earrings inspired by the exotic plumage of peacocks. We love these earrings and we figured you might want to learn how to make them yourself!

If you have not been keeping up, Beads Baubles and Jewels is a series that airs on Public Broadcast Television. You can find more information about the show here. Beads Baubles and Jewels is hosted by Katie Hacker. Katie is a prolific jewelry designer and author. You have likely come across her work if you love beads and jewelry. Her series has some wonderfully talented crafts people and artisans. It is a great place to find inspiration.
Peacock Earrings
Design by Nealay Patel
Dimensions: 3" Earring
Beginner Project

Materials
6mm Decorative Drop Bead from Jesse James Beads - 2 pcs
18mm Decorative Beads from Jesse James Beads - 2 pcs
Soft Flex Beading Wire, .019 Diameter, Turquoise Color - 1ft
Soft Flex Beading Wire, .019 Diameter, Dark Blue Lapis Color - 1ft
Soft Flex Craft Wire, Silver - 1ft
3x3mm Soft Flex Crimp Tubes, Copper - 2 pcs
4mm Soft Flex Crimp Covers, Copper - 2 pcs
SilverSilk Capture Chain, Shimmering Copper - 3 ft
6mm Jump Rings - 2 pcs
Head Pins - 2 pcs
Ear Wires - 2 pcs

Tools
Nylon Jaw Pliers
Round Nose Pliers
Chain Nose Pliers
Flush Cutters
Mighty Crimping Pliers

Instructions

Step 1: Cut a 6" length of SilverSilk and a 5" length of wire.

Step 2: String a decorative bead followed by the end of the SilverSilk.

Step 3: Wrap the Silversilk around the decorative bead and string the wire on the opposite side through it.

Step 4: Continue to make a total of two full wraps and trim extra SilverSilk.

Step 5: Make a simple loop close to the SilverSilk wrapped bead on both ends and set aside.

Step 6: Cut four 6" lengths of beading wire and gather the ends.

Step 7: Crimp all eight ends and attach a crimp cover.

Step 8: Attach the beading wire leaf and jump ring to one of the simple loops.

Step 9: Make a dangle with the drop bead and head pin and attach it to the other simple loop.

Step 10: Attach the earring hook to finish the design.

Inspiration: I wanted to make a design inspired by peacock feathers. The SilverSilk added an unusual texture that makes this earring unique and delightful!

Econo-Tip: Czech glass beads in similar colors will make an equally beautiful sparkle.

Tips/Facts: SilverSilk is tarnish resistant, so no need to worry about leaving your jewelry out!

Click here to download a PDF of the instructions for the Peacock Earrings.

Projects not intended for children under the age of 13. The information on this instruction sheet is presented in good faith, but no warranty is given, nor results guaranteed. SilverSilk & More and Soft Flex® Company disclaims all liability from any injury to anyone undertaking the construction of this project as a result of improper safety precautions.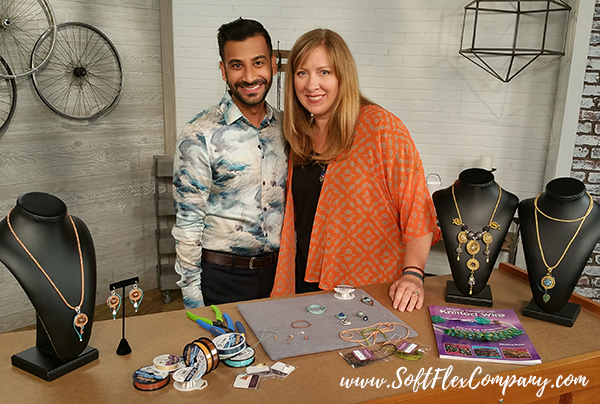 Nealay Patel's Bio: I exercise my craft in designing, educating and publishing various jewelry works. My checklist of accomplishments includes writing three jewelry-making books, hosting workshops at many trade shows, making television appearances on Beads, Baubles and Jewels and Jewel School on Jewelry Television Network, maintaining brand, SilverSilk & More, and guest designing for Jesse James Beads. Aside from my dedication to the craft industry, I work full-time as an art director in my hometown, Tulsa, Oklahoma.

As Seen On Beads Baubles And Jewels: "Exotic Travels", Episode 2710
"As seen on Beads Baubles and Jewels"

(This is a segment from the "Exotic Travels" episode on Beads Baubles and Jewels.)

Sometimes we get our sense of place right at home and other times our motivation comes from far off places and a sense of the exotic; something different from our every day. In this episode Nealay Patel is back with earrings inspired by the exotic peacock.

You can watch the entire episode of "Exotic Travels" on your local public television station This season started on January 24, 2019. Check your local listings for air times.

Join our Facebook group – VIB. Stay in the know. Stay up to date. From our bead shows to our video shows and sales, you can stay in touch with us. The community is full of artistic and helpful beaders and crafty people. Inspire and be inspired. Share your pictures and get the beading bug from others!
Visit the Soft Flex Company YouTube Channel!

---
Blog contributor Thomas Soles loves Jazz Age writers and crunchy french fries. His favorite gemstones are Lapis and Pietersite. His favorite hobby is day dreaming. And his favorite mustache is Freddie Mercury's. As you can see, he has a healthy (or possibly unhealthy) sense of humor. You can write to him at Thomas@SoftFlexCompany.com