You are going to be buzzing today if you love bee jewelry. We are paying our respects to this sweet little creature. Bees are critically intertwined with us and we need to be aware of the struggles they are facing. These cross-pollinators are responsible for a good deal of our food supplies. The FDA claims that, " About one-third of the food eaten by Americans comes from crops pollinated by honey bees". Let's make jewelry that celebrates this bee-autiful brood. Bee mindful of the threats they are facing and educate those around you. Bee Kind and share your message through handmade jewelry.

This video recap is full of summery surprises. If you like luscious greens and yellows, you are going to love these honeyed jewelry project ideas. Sara has a long necklace that is great for layered look. We shared time with Kay, from Star's Beads, and had a beading party. You are going to love her creative energy and inspirational jewelry! We were wowed when we took a look at the finished Bee Kind designs from YouTube designer Marcie Creates. And we were humming when we saw the pendant Nealay created. Flowers are blooming and busy bees are buzzing. Let's make a necklace for summer!
Don't miss Customer Appreciation Week! This big bead show is on deck next week. We will be featuring live jewelry making videos from a big assortment of talented designers. The live videos are free to watch and participate in. All videos can be found exclusively on our VIB group (except for our Kit Day unboxing, that will be on our Facebook page and YouTube page as normally scheduled). Don't miss out! Information and the presentation calendar can be found below.
2021 Spring/Summer Pantone Quad of Beading Wire

Explore the 2021 Pantone Colors of Spring and Summer. The 2021 Pantone Spring/Summer Color Quad of Beading Wire is our color matching collection. This Quad selection of colors was built to complement the colorways of Pantone's Spring and Summer seasonal selections: Raspberry Sorbet, Amethyst Orchid, Cerulean, and Illuminating Yellow. We color matched with these wires (using a little artistic liberty): Pink Tourmaline (Raspberry Sorbet) color Soft Flex Beading Wire .019 (Medium), Purple Amethyst (Amethyst Orchid) color Soft Flex Beading Wire .019 (Medium), Tanzanite (Cerulean) color Soft Flex Beading Wire .019 (Medium), and Yellow Lemon Quartz (Illuminating Yellow) color Soft Flex Beading Wire .019 (Medium). We think you will love this color collection as much as we do.
Pantone knows color!
This Quad Collection is comprised of lead-free beading wire for designers that want to create jewelry with color mixing in mind. Color Wire Sets encapsulate the vivid palette of nature and the glamour of the fashion world. Color Wire Sets are comprised of fun and complementary 10 foot spools of Soft Flex Wire, the wire is constructed of 49 micro woven stainless steel wires. We recommend our Color Wire Sets for designers that want to design with a motif or gemstone in mind.
Jewelry Making Videos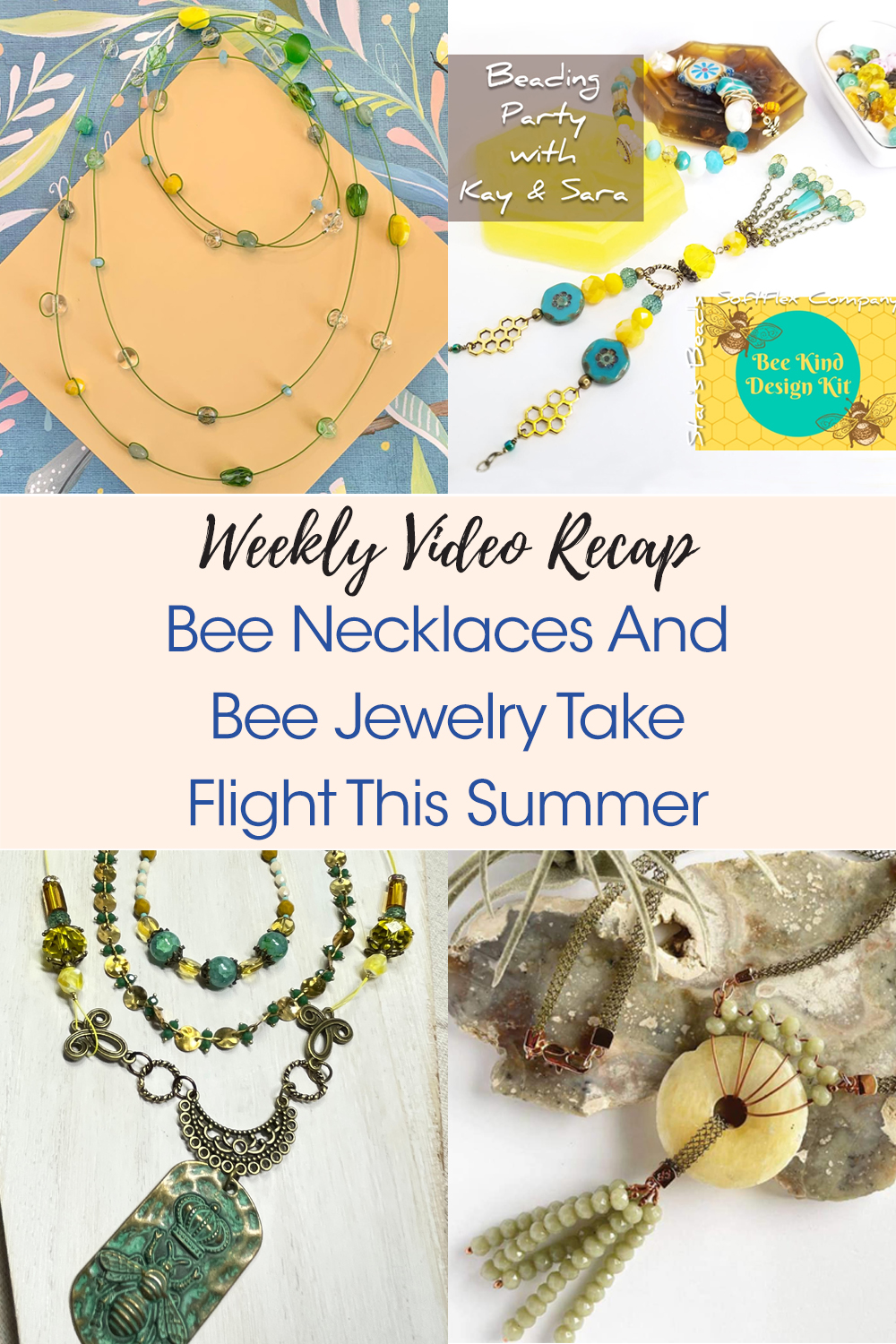 Learn How To Make Jewelry In 30 Seconds
Check out our 30 second jewelry tutorials on Soft Flex Company's Instagram Reels! Master a new technique in minutes. These videos move quick but are easy to follow. You will get a sense of how to use your tools and finish your crimps securely. If you need more assistance, make sure you check out our YouTube catalog for deeper dives into jewelry making education. Become a better beader today!
Soft Flex Company Customer Appreciation Week: July 26 - 30
Check out this video for more information about our upcoming Customer Appreciation Week, July 26 - 30, 2021!
This special event will have 15 virtual beading events and classes throughout the week in the Soft Flex VIB Studio Facebook Group. There will be FREE live jewelry making classes all week, but you can buy the make-along kits from each presenter! We teamed up with local bead stores across the country to bring you multiple fun and unique classes each day. We curated this event as a way to say THANK YOU to you, our amazing customers and beading community as well as 9 of our loyal bead store customers, who work hard to sell our products. Guests will include Allegory Gallery, The Bead Place, Star's Beads, Just Bead It!, Mirrix Looms, Design & Adorn, Kellie's Bead Boutique, The Bead Gallery and SilverSilk & More.
Learn How To Make A Necklace For Summer That Is Perfect For A Layered Look
Are your beading supplies full of bead soup? Bead soup can basically be described as that mismatched mess of beads you keep after breaking a strand down for a design and having leftover singles. Bead soup can get unruly if you are a designer. Beads of all shapes, colors, and sizes with no connection - what to do with this calamity?!? Sara has some thoughts. She has a sweet summer necklace idea that you are going to love. This is a long illusion necklace that does not need a clasp (unless you want to add one). Layer it up on the neck for a stylish look. The playful peridot Soft Flex wire Sara uses really makes this a spectacular seasonal design. Celebrate summer in style!
Illusion jewelry is so fun. You can break rules or make your own. Typically, illusion jewelry features beads that are crimped in place so they appear to float. If you use a neutral color wire, the beads will appear to be hovering on the neck with no tether. You can use a color wire if you want to enhance the design. Sara showed us how to make an illusion necklace that did not rely on crimps. If your beads have large enough channels that you can double back through the beads, simply cradle the bead in wire to anchor it in place. Sara saved 32 crimps on this design by wrapping the beads instead of crimping them to float. Those are her rules for this design. Break those rules and make your own!
Sara turned her bead soup into a glowing design. This necklace is asymmetrical and gorgeous. You can measure the distance between each bead you place or you can be free spirited and just place as you desire. Show us your creations! Post your lovely necklaces on our VIB Facebook group.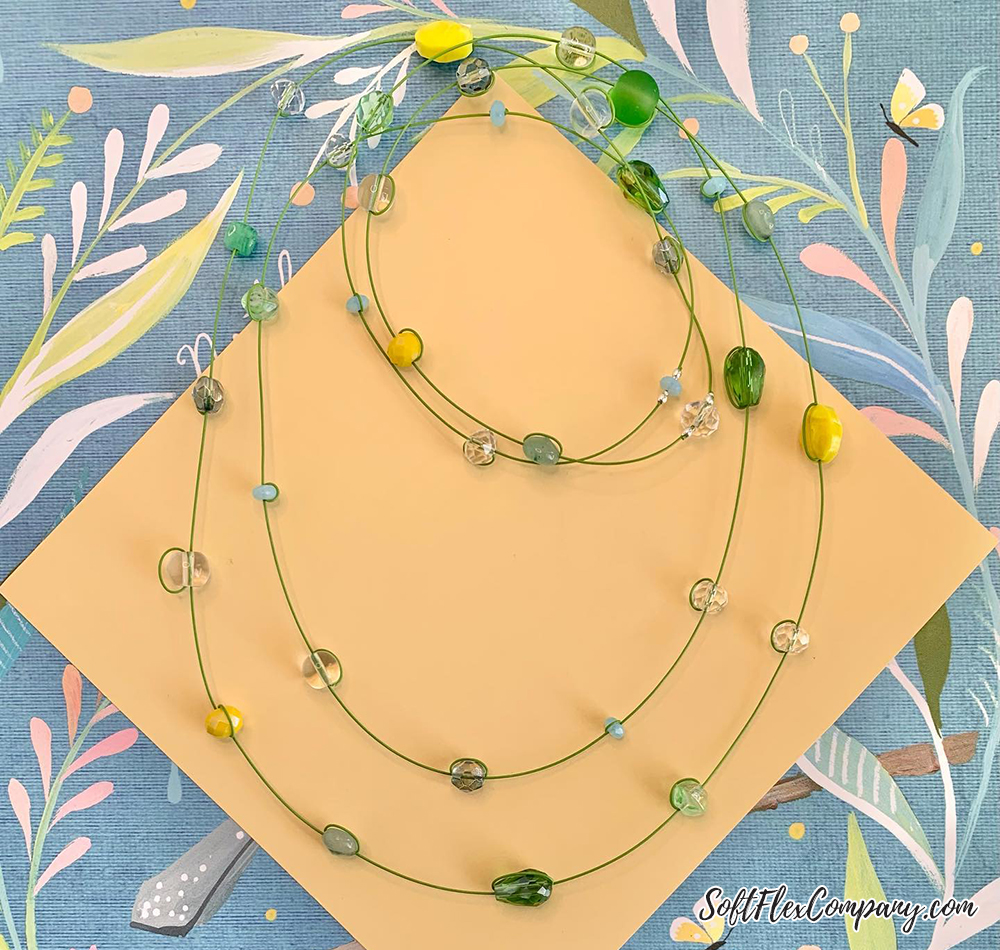 Bead Soup!
Soft Flex Beading Wire, .019 Diameter in Peridot color
2x2mm Crimp Tubes
Magical Crimping Pliers
Cutters
Live Beading Party With Kay Goss Of Star's Beads!

Kay Goss is a stellar human being and wonderful designer. Over the last two decades, we have bumped into Kay many many times. We have had a booth next to hers at a ton of trade shows, big and small - across the country. It was always a treat to see Kay and her husband at a show. They felt like family even though we were far from home. There was no time to be homesick when you knew you had a friend working next to you.
We miss Kay and wanted to see what she is up to. So, we threw a beading party! We talked shop, we found out about her latest move and we watched her make some magic with our Bee Kind Design Kit (Sold Out). Kay is an energetic designer and she is full of unique jewelry ideas. Check out what she does with components of a kit that you may have purchased from us.
If you would like to see more of Kay, she is participating in our Customer Appreciation Week. Make sure you catch the fun live! If you enjoy her designs, you can purchase kits and more from her online bead store.
Visit Kay's links:
Marcie Creates Shows Us Her Finished Jewelry From The Bee Kind Design Kit
We love to see what creators and designers are making with our mystery themed design kits. Our kits are limited in inventory and we fill each with the same contents. The fun is getting to see how a single set of supplies can be turned into so many varied finished designs from the creative folk that make jewelry. One designer may turn the kit into a bunch of earrings. Another might turn the kit into a wildly detailed necklace or pendant. It is always fun to see where the muse takes our community and friends. This week, we caught up with YouTube designer Marcie Creates.
From Marcie Creates:
My name is Marcie Hall and I live in North Texas. I am a mixed media artist, jewelry maker, recipe creator and an avid Dachshund Lover (I have two rescues- Ginger and Cha Cha). I have been an artist my whole life. In my early art days, I would create prints, sculpture, ink drawings and oil paintings. About 25 years ago, I started making jewelry after a friend invited me to take an intro class at my local bead shop - I was hooked! I loved everything about jewelry making- the colors, textures and shapes really spoke to me. Soon I was making jewelry for family and friends and then everyone said, "you should sell your jewelry" and Marcie Hall Designs was born.
I recently started a YouTube channel called Marcie Creates to share my passion for beads, jewelry making, mixed media art and cooking. YouTube is a new venture - I am really enjoying it and would love for you to join me!
Visit Marcie's links:
Marcie Creates YouTube Channel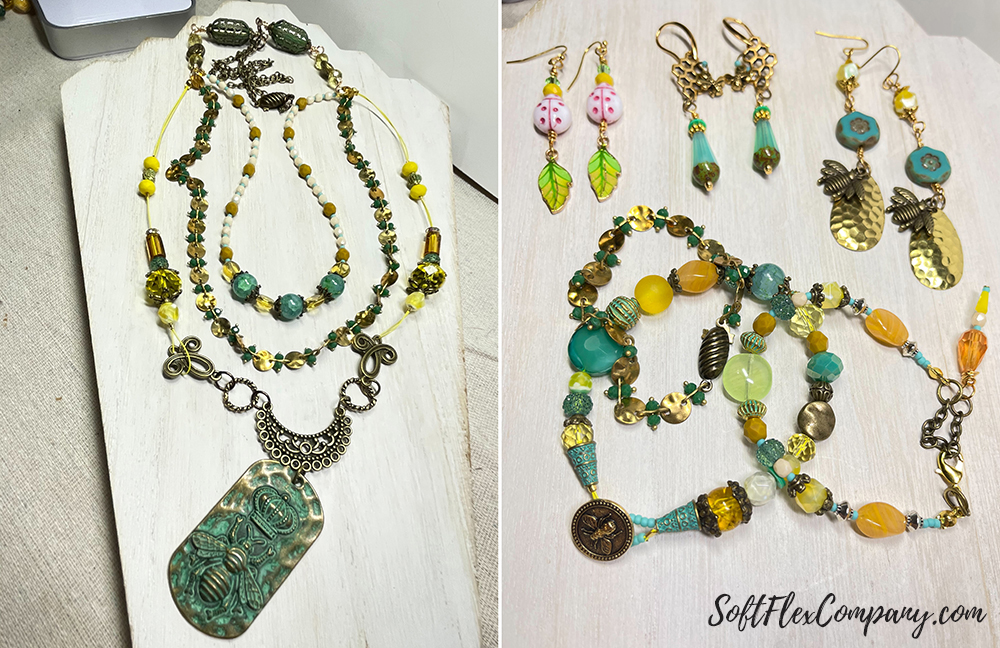 How To Wire Wrap A Donut Pendant With Beading Wire
Nealay Patel is the owner of SilverSilk & More. SilverSilk is a knitted wire jewelry chain. But, it is like no other jewelry chain out in the craft market. SilverSilk is made by many tiny latch-hook needles that spin around with wire, intricately machine-stitching the wire into an elegant yet strong and supple knitted wire chain. This knitted wire stitchwork offers the crafter new and unusual ways to use it. You can string large-hole beads on it, sew through it, wire-wrap it, glue it, put it in resin or just leave it as a draped jewelry chain. We love SilverSilk chain, it is the perfect complement to Soft Flex Craft Wire or beading wire. These beading elements can be interwoven and wire wrapped into exciting new jewelry. Design something elegant and rich today with these two stringing options. Your finished jewelry will look like you bought it from a high end gallery!
From Nealay:
I'm not the best at wire wrapping craft wire, but I sure do know some great tricks with beading wire. In this tutorial, I take medium Soft Flex beading wire and easily wrap a donut pendant with faceted beads. You can easily do this too!
SilverSilk Flat Mesh
Soft Flex Beading Wire, .019 Diameter in Your Choice of Color
Donut Pendant
Beads
Jump Rings
Clasp
2x2mm Crimp Tubes
Magical Crimping Pliers
Cutters
Round Nose Pliers
Chain Nose Pliers
Flat Nose Pliers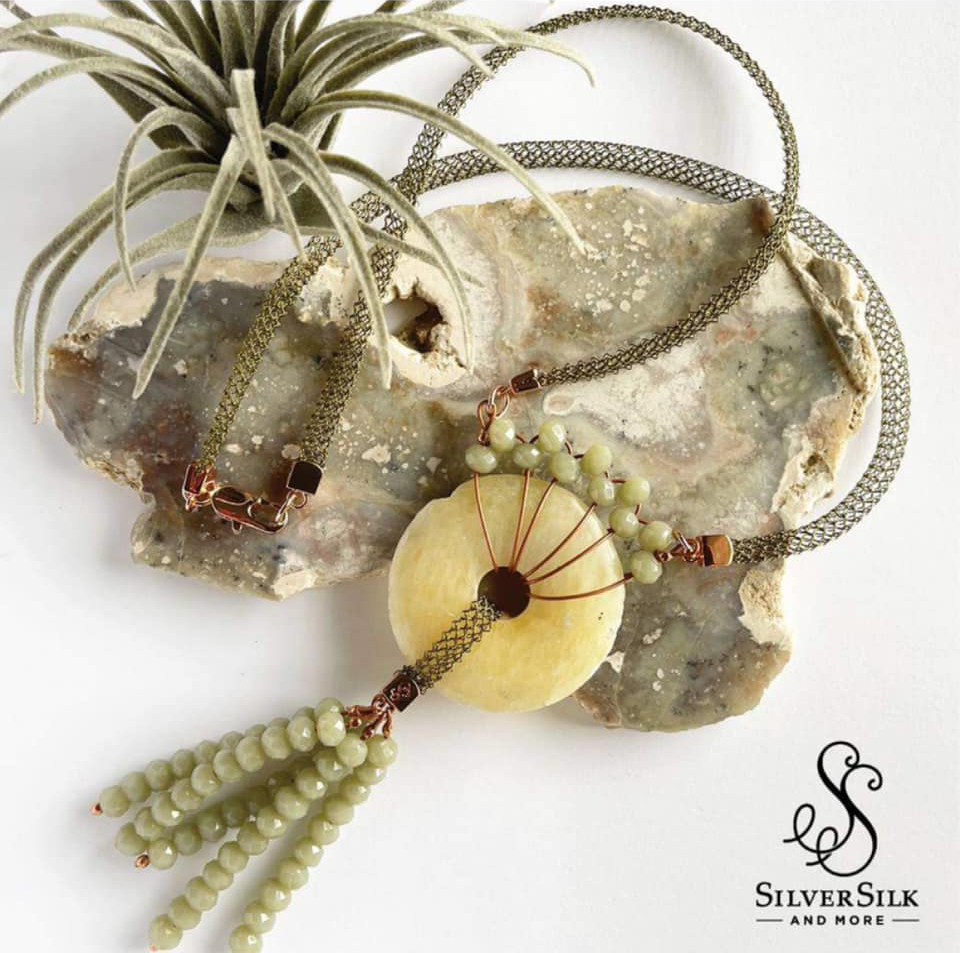 Be sure to mark your calendars for every Tuesday, 5:30pm CST and hop over to facebook.com/groups/silversilk to watch Nealay's videos live and ask questions.
Nealay's channel is dedicated to learning how to make high quality jewelry with SilverSilk with an emphasis on design. You can follow his journey here:
www.instagram.com/silversilkandmore
www.facebook.com/silversilkandmore
Or join his Silkies group and be a part of the conversation www.facebook.com/groups/silversilk
Join our Facebook group – VIB. Stay in the know. Stay up to date. From our bead shows to our video shows and sales, you can stay in touch with us. The community is full of artistic and helpful beaders and crafty people. Inspire and be inspired. Share your pictures and get the beading bug from others!

Visit the Soft Flex Company YouTube Channel!
---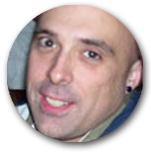 Blog contributor Thomas Soles loves Jazz Age writers and crunchy french fries. His favorite gemstones are Lapis and Pietersite. His favorite hobby is day dreaming. And his favorite mustache is Freddie Mercury's. As you can see, he has a healthy (or possibly unhealthy) sense of humor. You can write to him at Thomas@SoftFlexCompany.com