Boo! Did we spook you? We are enjoying the beginning of the scary season. It is never too early to make that perfect gothic necklace or cute pair of Halloween earrings. You can find our Halloween Hustle Design Kit in our store and we unboxed our Monster Mash kit with Jesse James Beads this week. We are also having fun with our recent Safari themed beading kit. The kit is an undomesticated mix of beastly beads and warm fall colors. Learn how to make untamed jewelry and show your wild side with our beading supplies! We are also getting creative with friends and throwing beading parties. Come and join our joyful celebration!

Sara from Soft Flex Company joined Sarah from Jesse James Beads for a kit unboxing party. Our companies have collaborated for many events. Halloween is one such occasion that we love celebrating together. We showed off our Monster Mash component kit and Sarah showed us her Monster Mash Beads. Check in on October 12th and 13th for the big bash!
Sara threw a beading party with Joyce Trowbridge. Joyce is the newest Soft Flex employee and owner of an online shop. She showed us how to make an elegant wire wrapped bracelet that is easy to make and beginner friendly.
Joyful Beading is back! Check out the calendar below for more information. Join our Facebook group – VIB and take part in the excitement. Share your creative jewelry designs and get the chance to win credits on our website.
Around the web, our friends showed us how to make jewelry with our Safari Design Kit (Sold Out). We watched Brittany Chavers (Turquoise.Street) make a stunning pair of earrings with our kit. We watched Randee Brown design a lovely necklace. Misty Moon Designs and Space Pickle Designs unboxed our kit and shared their thoughts on the contents. Rosanna Brafford showed us how to make a necklace that is perfect for the safari. And finally, Beki Foster showed us how to make earrings with our wildest kit!
Jewelry Making Videos
Daily Joyful Beading Challenges - Join Us!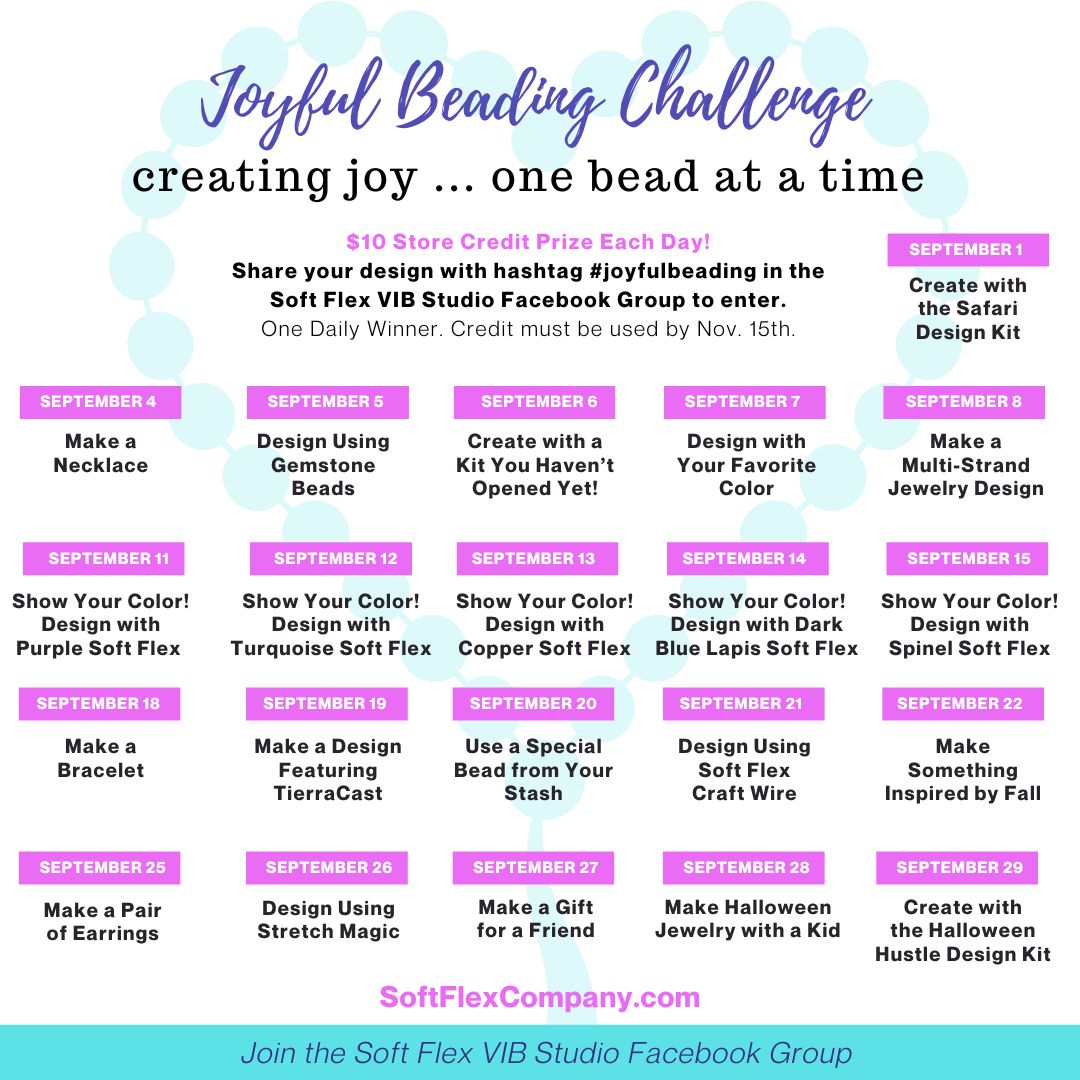 Download the Full Calendar for September - Click HERE
(Log in to Facebook if the link is not working.)
Follow along on our Joyful Beading road map. Each day, we begin a new jewelry project. For instance, September 29th is 'Create with The Halloween Hustle Design Kit'. On that day, every project that is themed with the spooky colorway of our new holiday kit will be entered to win a $10 credit. Projects must be posted to our VIB group on that date. If you post a kit project on a different date and it is not applicable to that date's project, you will not be entered to win. Make sure every project you post has this hashtag - #joyfulbeading. If you do not include the hashtag, we may overlook your entry.
Unbox With Sara & Sarah! Monster Mash Jewelry Making Kits
Soft Flex Company and Jesse James Beads are proud to continue our most haunted tradition. Each fall, our companies collaborate for a Treat or Treat beading party. This year is going to be a ball!
This year, the ghoulies and goblins at Soft Flex Company and Jesse James Beads have caught dance fever. We are doing the Monster Mash! We have decked our dance floor with bones and beads most macabre. Join the fun and spin a colorful web of jewelry. Jesse James Beads is offering good voodoo with a spooky selection of beads in their kit. Soft Flex Company has unearthed a creepy collection of components and beading wire. Our eerie 2 night event runs October 12th and 13th with 4 designers offering their best tips, tricks and projects. Have a howling fun time and join our live show - or visit an undead rewatch on our social media. We can't wait to rattle some chains and howl at the moon with you, brave adventurer!
Order early so you have your kit on hand for the show!
Important Dates:
10/12 Thursday 1-3pm PT - Monster Mash Party Classes, Rachel Mallis and Jenifer Miller
10/13 Friday 1-3pm PT - Monster Mash Party Classes, Jem Hawkes and Abbi Berta
Note: The Soft Flex kit is a supply kit for a special event. The Soft Flex kit does not contain all of the beads needed to complete the party projects. Please be sure to purchase the matching bead kit from Jesse James Beads to play along!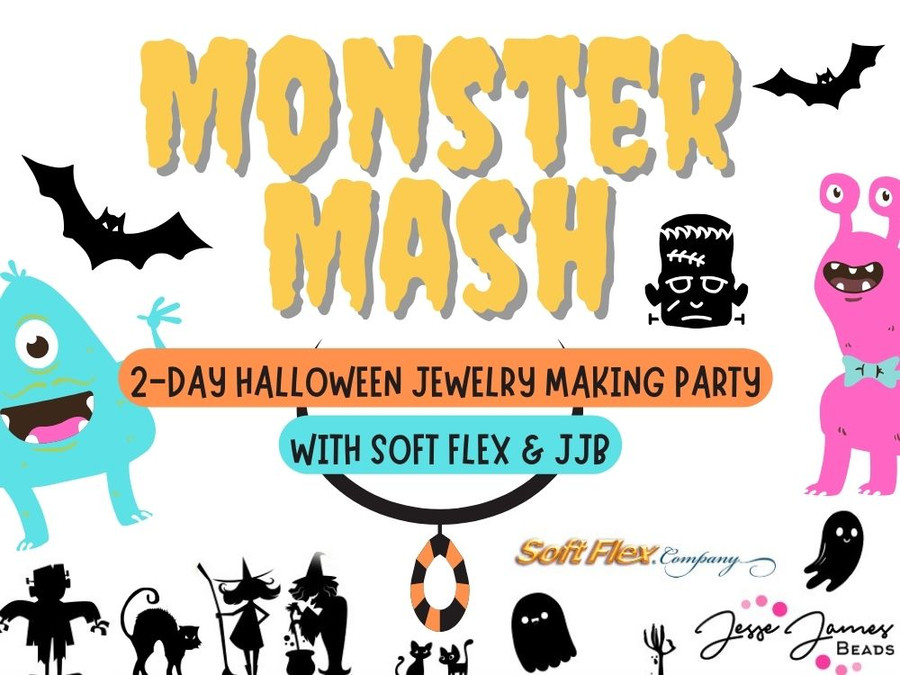 Soft Flex Company Monster Mash Beading Wire & Components
Jesse James Beads Monster Mash Beads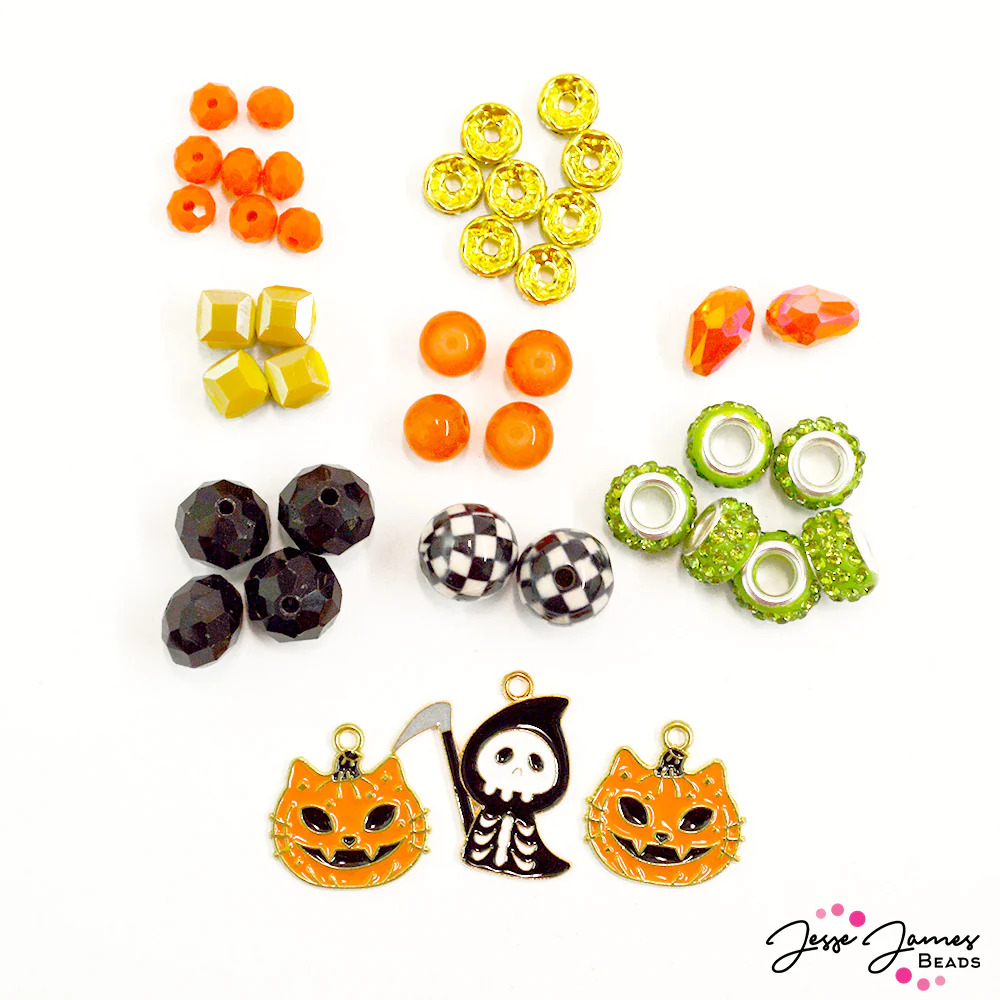 Live Beading Party With Joyce Trowbridge Of Just Bead It - Wire Wrapped Bracelet
Sara threw a beading party with Joyce Trowbridge. Joyce was the owner of a brick and mortar bead store for 17 years. When the pandemic came crashing down on us, she realized she needed to move her store to an online business model. She is now a Soft Flex employee and owner of an online shop. Read more about her HERE. And check out the gorgeous bracelet she taught us this week!
If you would like to purchase the kit to make this bracelet, visit her Etsy shop and grab one!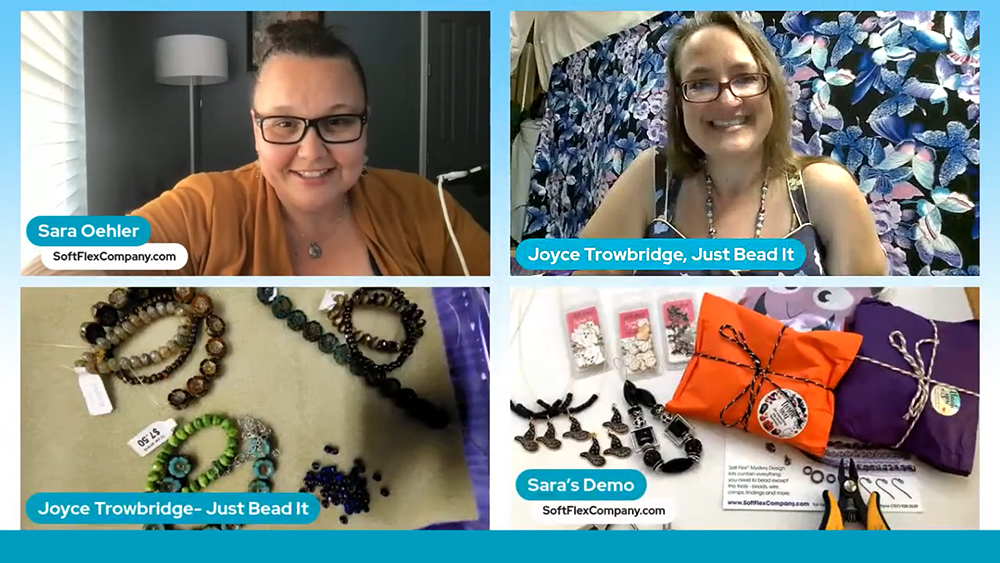 Turkish Delight Wire Bracelet Kit
Craft Wire
Nylon Jaw Pliers
Round Nose Pliers
Flat Nose Pliers
Chain Nose Pliers
Cutters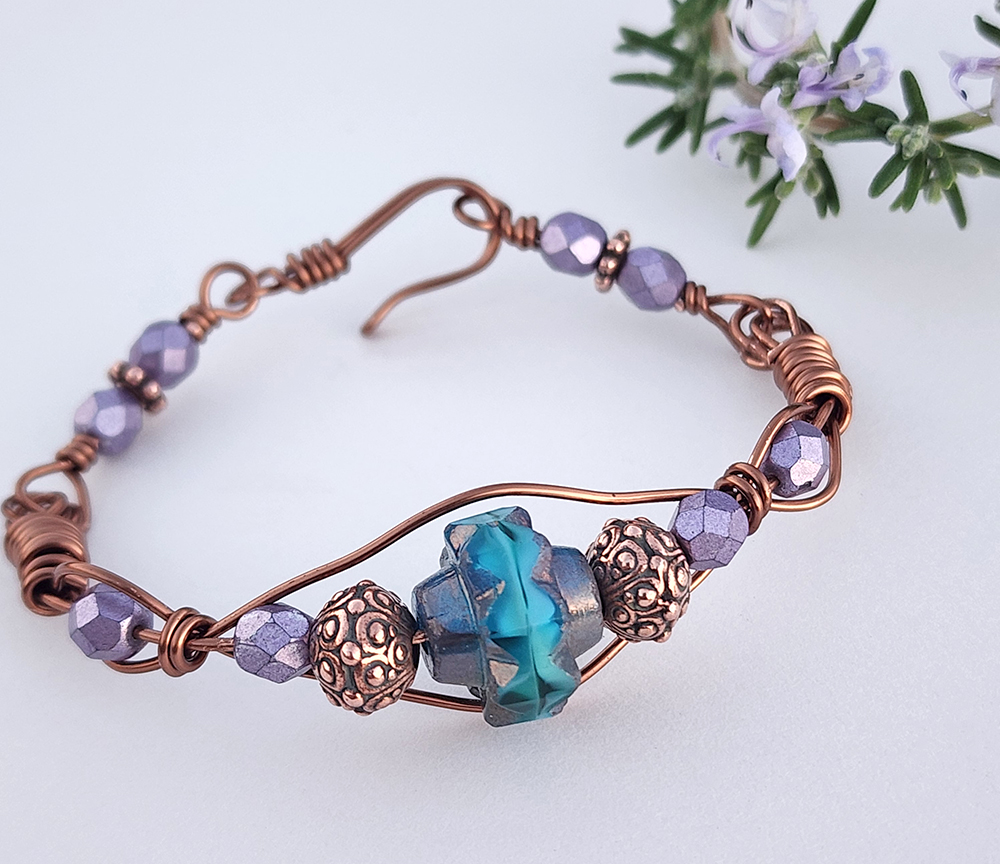 And look at what Sara was working on! You can watch the Instagram Reel she filmed by click this LINK or clicking on the image below!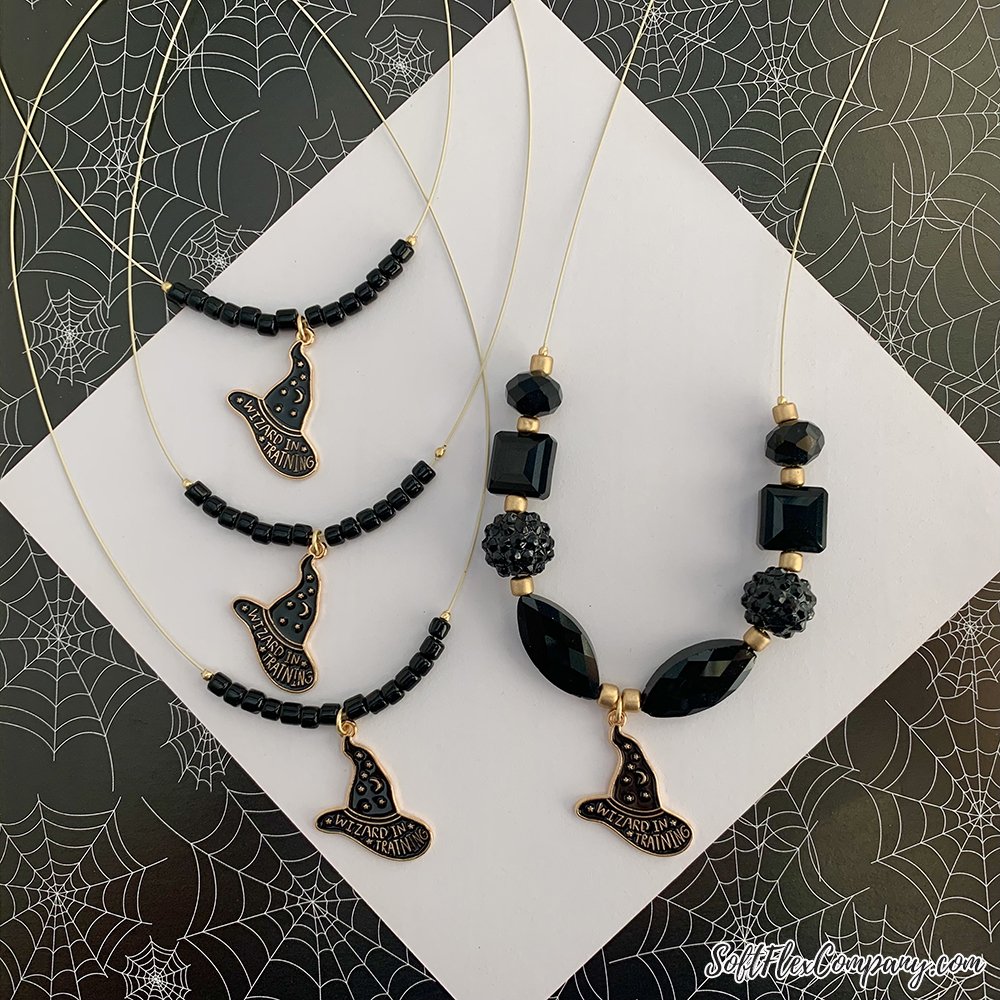 Turquoise.Street: Safari Artisan Earrings DIY Jewelry Tutorial
Thunderhorse Descendant: How To Make A Necklace With The Safari Kit
Misty Moon Designs: Safari Jewelry Making Kit Unboxing
Space Pickle Designs: Safari Design Challenge Kit Unboxing
Rosanna Brafford: Making A Safari Themed Necklace
Beki Foster: How To Make Earrings With Pyramid/ Stud Beads From The Safari Kit
Join our Facebook group – VIB. Stay in the know. Stay up to date. From our bead shows to our video shows and sales, you can stay in touch with us. The community is full of artistic and helpful beaders and crafty people. Inspire and be inspired. Share your pictures and get the beading bug from others!
Visit the Soft Flex Company YouTube Channel!
---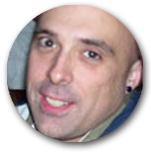 Blog contributor Thomas Soles loves Jazz Age writers and crunchy french fries. His favorite gemstones are Lapis and Pietersite. His favorite hobby is day dreaming. And his favorite mustache is Freddie Mercury's. As you can see, he has a healthy (or possibly unhealthy) sense of humor. You can write to him at Thomas@SoftFlexCompany.com