If you have watched any of our jewelry making videos on YouTube or Facebook, you can probably tell that we are a company of beaders that love designing jewelry. Every person in our little family is an avid jewelry designer. We love Soft Flex Beading Wire and we love any tool that can enhance our creations. The last couple of months, we have been very busy adding new inventory to our shelves. We think you will love these tools and beading wire options.

Do you love beads and jewelry as much as we do? Join our Facebook group – VIB. It is a large community of avid beaders. We have a very active group. You can post your jewelry, get hints, and find your creative muse. We have loads of giveaways and fun activities. We embrace creativity and positivity. It is a great place to get inspired!
Lazee Daizee Viking Knit Wire Weaving Tool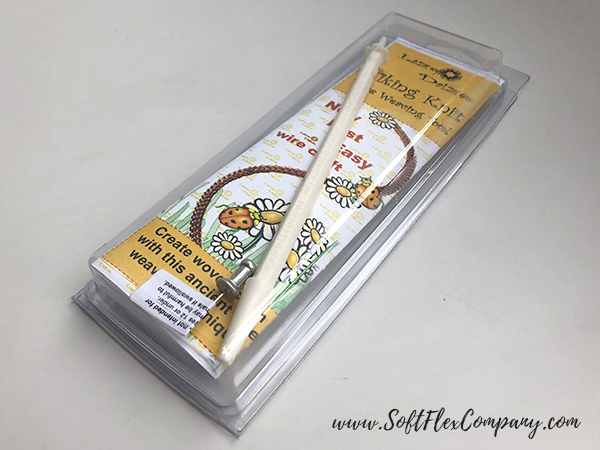 You are going to love the Lazee Daizee Viking Knit Tool! If you have ever wanted to learn Viking Knit Weaving or would like to make the process simpler, this tool is going to amaze you. The finish is similar to our Knitting Spools. The disk on the top of the tool makes it easy to create looped "petals". From there, the length of the tool is a perfect guide to keep your loops uniform and even. The step-by-step instructions included makes everything foolproof.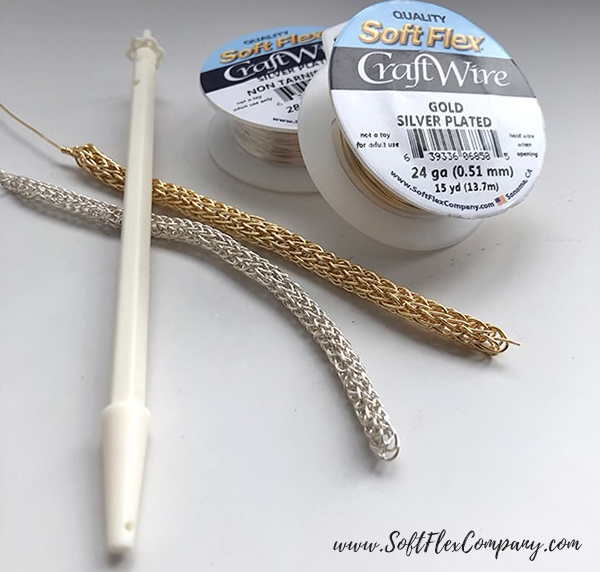 You can used 24, 26, or 28 gauge Soft Flex Craft Wire with this tool. The tool will not damage or scuff your Craft Wire. If you would rather use Soft Flex Beading Wire, that works wonderfully, too! A draw plate will help you finish the finished design down to your preferred width. Getting started is easy, but you may make a few mistakes. The learning curve is short, though. You will be creating a beautiful weave while watching TV or talking to friends in no time.
Watch James work his magic with the Lazee Daizee Viking Knit Tool:
2 New Trios Multi-Diameter Beading Wire Packs (Black and White)
We started the year with a bang. Sara made her first appearance on Beads, Baubles and Jewels. She was featured on the first episode (2701) this season. Sara created a woven bracelet using our Very Fine diameter of our Soft Touch Beading Wire. She finished the ends of the bracelet with Soft Flex Beading Wire. This inspired her to develop two new Trios Beading Wire Packs.
Trios Multi-Diameter Beading Wire Pack - Black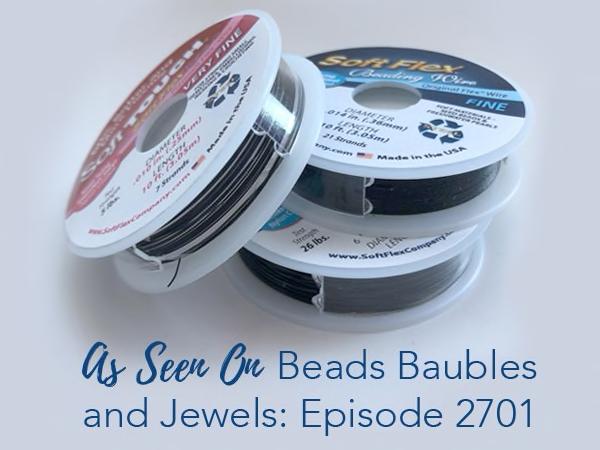 Trios Multi-Diameter Beading Wire Pack - White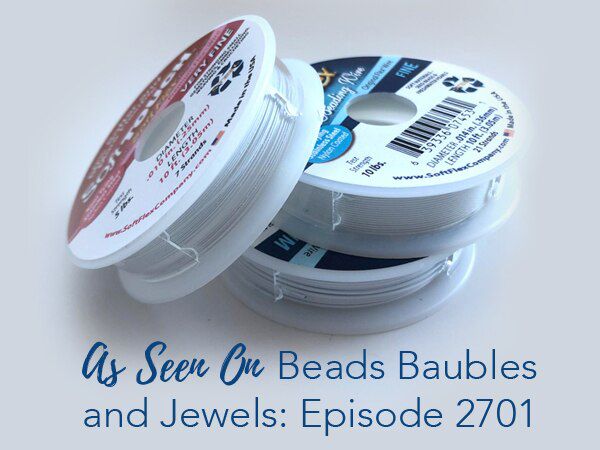 Look at this gorgeous bracelet! This bracelet is a design that is an evolution from a project in Seed Bead Revolution.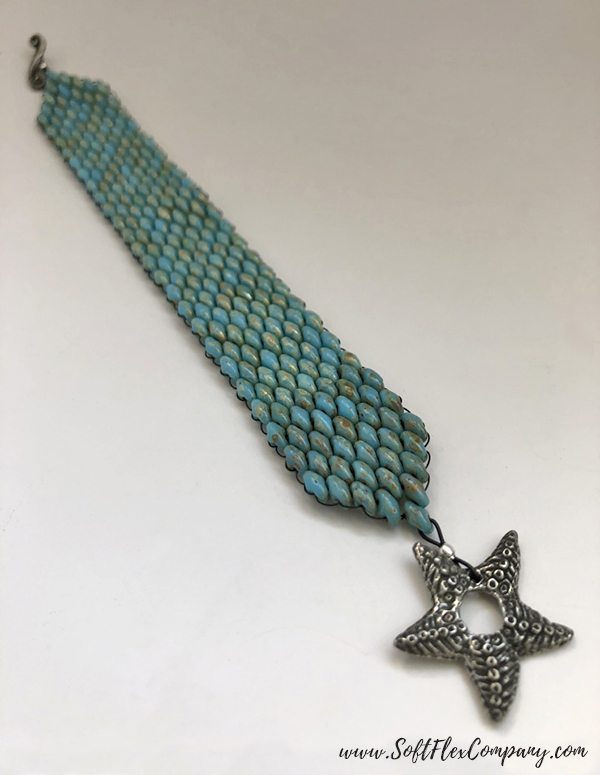 If you would like to create this wonderful piece of jewelry, or would like to use it as a template to create your own design, you can watch the video below and see how Sara made it. You can also purchase Seed Bead Revolution, it is a fantastic read and a fun look into jewelry creation.
Trios Extreme Metallics Collection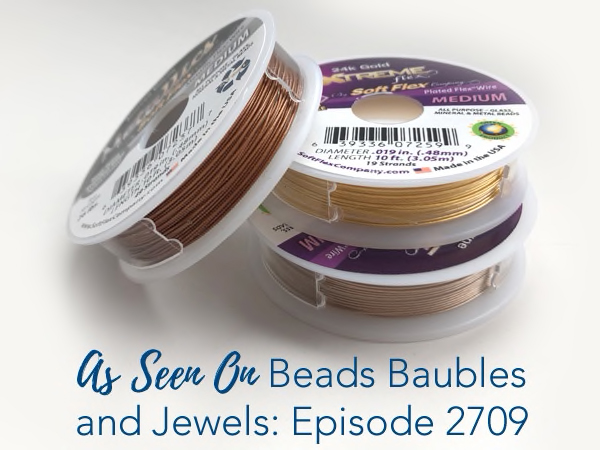 This wonderful Trios Beading Wire Pack was inspired by Nealay Patel's appearance on Beads, Baubles and Jewels. Episode 2709 features our good friend Nealay Patel, owner of SilverSilk and More using Soft Flex beading wire in a really neat and unusual way! His design entitled "Branching Out," pairs Silversilk (a knitted wire cording) with Soft Flex beading wire to make a unique look. Nealay is known for thinking outside of the box. His designs are always interesting and creative. Medium .019 Soft Flex beading wire was perfect for this project as it easily slips through the Silversilk and creates pretty branches that can be layered in a variety of lengths and colors.
We loved Nealay's color choices so much for this episode, we created a new Trios to match his design. Our Trios Extreme Metallics Collection looks so lovely. It is perfect for a design where you are really showing off the wire. Watch his fun appearance on the video below.
Trios Southwest Beading Wire Pack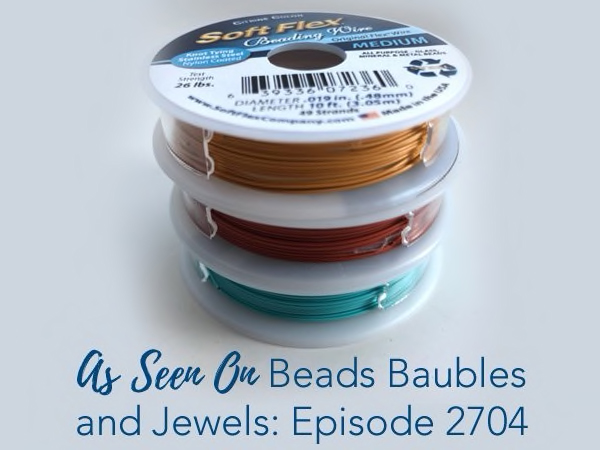 For Sara's next appearance on Beads, Baubles and Jewels. She opted to create a Southwestern flavored piece of jewelry. Sara had lived in the Sonoran Desert for twenty years. She recently moved to the Bay Area. This bracelet was inspired by her love for her former home.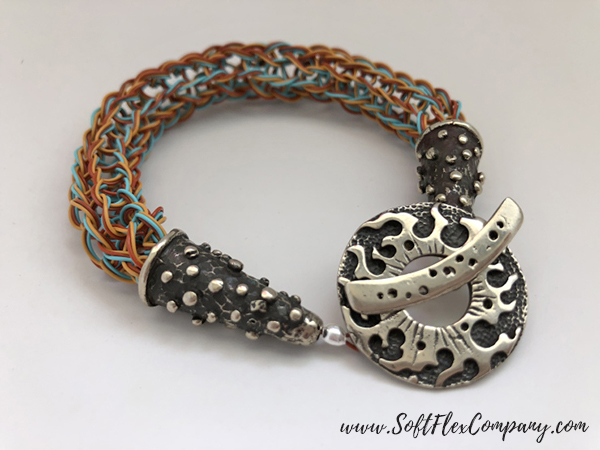 In this project, Sara used three colors of .019 Medium Soft Flex beading wire – Turquoise, Red Jasper and Citrine. You can also find all three of these colors in our Trios Southwest Design Collection. These colors really evoke the spirit of the Southwest! Watch her appearance below.
Trios Purple Rain Beading Wire Pack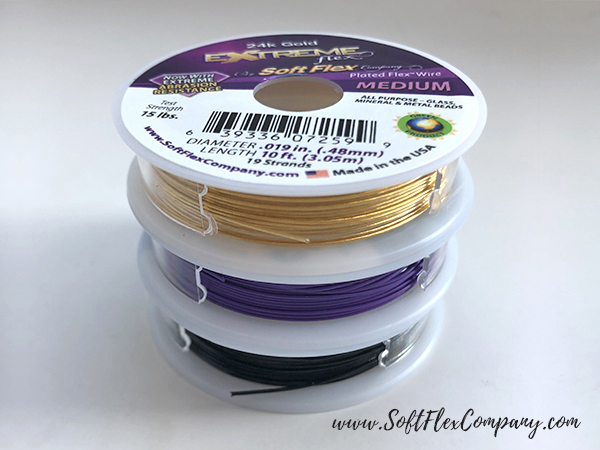 It isn't a secret where this idea came from. This Trios Beading Wire Pack was inspired by a glorious musical talent that made the eighties so fabulous. This princely Trios set is comprised of Purple Amethyst, 24k Gold Plated and Black Onyx color beading wire. We think it is a glowing tribute to a mystical musician.
Anna's Clasps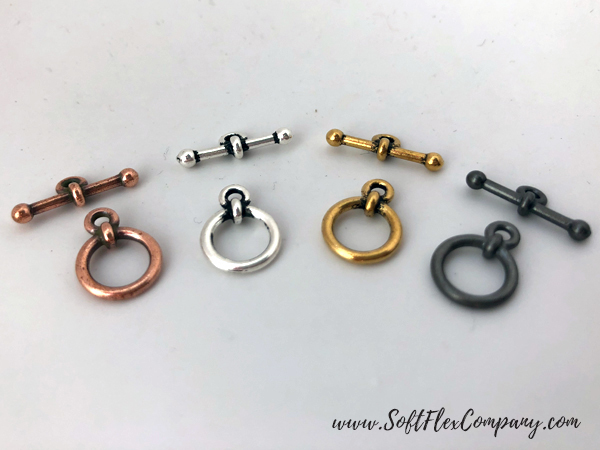 Anna's Clasps are a stunning new addition from Tierracast. An easy design element to overlook when creating jewelry is the clasp. The focus in our craft is often on the beads comprising the piece and not the little details. Anna's Clasps are a stunning finish to add to your next project. You will be amazed at the professional look. This elegant toggle set was designed to go with anything but with just enough boldness to make a statement.
Capitol Cord End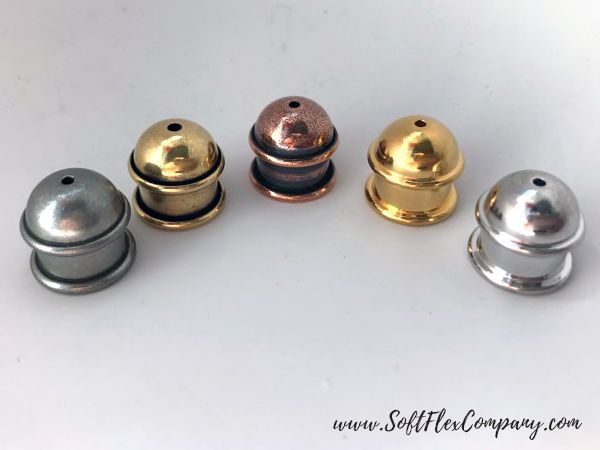 The Capitol Cord End Cap is great for knitted cord, Soft Flex Craft Wire, and Beading Wire designs. These large end caps can accompany a wide array of wire diameters and gauges. This cord end is perfect for larger braided designs made with our kumihimo disks. This cap will fit larger Viking Knit designs made with our Lazee Daizee tool.
Hammered Cones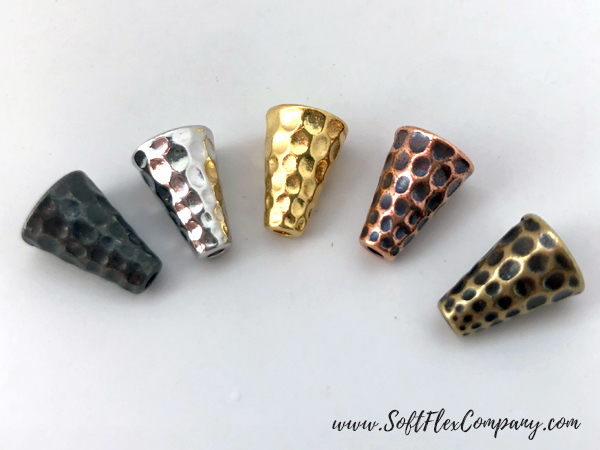 These hammered cones have a wonderful handmade look to them. They look stunning on the end of a braided design created with a kumihimo disk. They are a great way to finish finer knitted wire or a very fine Viking Knit design. These cones are great for smaller more delicate designs like micro macrame made with Soft Flex Beading Wire. Finish your next multi-strand design with these beautiful cones!
Maker's Clasps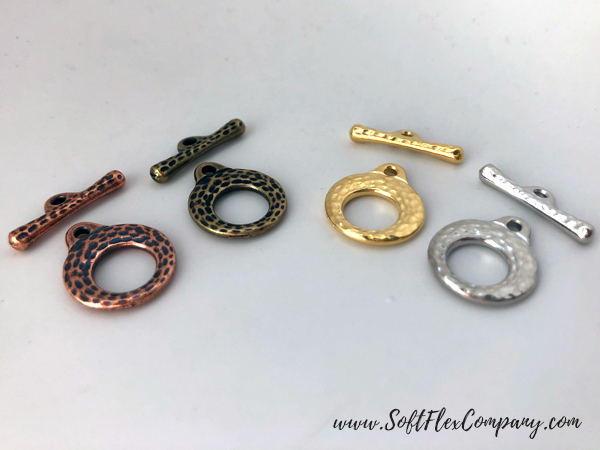 Maker's Clasps are a wonderful new addition from Tierracast. An easy design element to overlook when creating jewelry is the clasp. The focus in our craft is often on the beads comprising the piece and not the little details. This handmade style toggle has a light hammered pattern on one side and a smooth modern look on the other for two distinctly different options in one.
22g Ear Wires With Ball
Earrings are Hot, Hot, Hot right now! Make your own fun, dangly earrings with these basic Ear Wires. Simply make a dangle with a head pin and attach to the loop at the bottom of the Ear Wire. Or, if you are feeling daring make a chain by linking components made with eye pins. The possibilities are infinite.
Antique Brass
These antique brass ear wires are great for older findings or earthy designs.
Gun Metal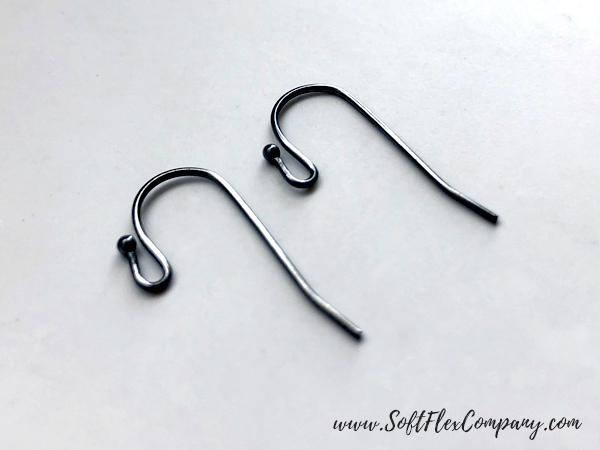 Gun metal is subtle and gorgeous. These go great with Soft Flex Craft Wire designs.
Silver Plated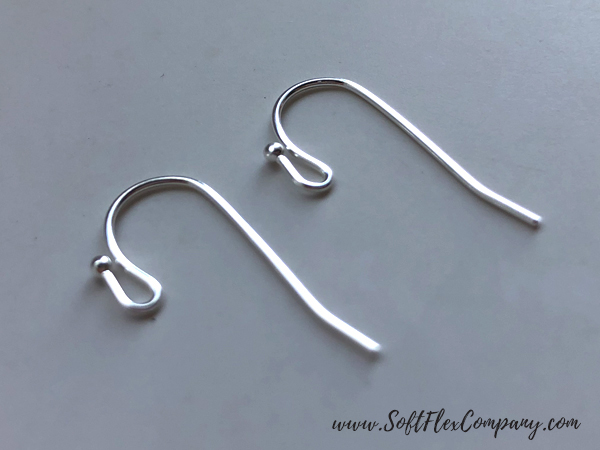 Silver plated ear wires are a great way to make your next pair of earrings sparkle!

Join our Facebook group – VIB. Stay in the know. Stay up to date. From our bead shows to our video shows and sales, you can stay in touch with us. The community is full of artistic and helpful beaders and crafty people. Inspire and be inspired. Share your pictures and get the beading bug from others!
Visit the Soft Flex Company YouTube Channel!

---
Blog contributor Thomas Soles loves Jazz Age writers and crunchy french fries. His favorite gemstones are Lapis and Pietersite. His favorite hobby is day dreaming. And his favorite mustache is Freddie Mercury's. As you can see, he has a healthy (or possibly unhealthy) sense of humor. You can write to him at Thomas@SoftFlexCompany.com