Wow! We featured some absolutely stunning jewelry designs this week. Our video recaps are a great way to watch how different designers work. When you have been working with a medium, like Soft Flex Beading Wire or Soft Flex Craft Wire, for as long as they have, you adopt your own nuances and styles. Watching these videos is a great way to add to your design knowledge. They are also a great creative muse.

Kristen started the week off. She took a vote on Facebook for the beads she would use and went from there. Her necklace looked very regal. We think she may have found some inspiration from the latest season of Game of Thrones. We watched our friend, Nealay Patel, design a pair of stunning earrings with Soft Flex Wire and SilverSilk Capture Chain. Sara got into the spirit of Easter and updated an old design she loved with Easter colors from our Egg Hunt Trios Beading Wire Set. Finally, James showed us how to wire wrap an Agate cabochon stone with Soft Flex Craft Wire.
4 Beading Videos From 4 Unique Jewelry Making Designers
Multi-Strand Necklace With Crystal Squaredelle Bead
Free Spirit Beading airs on Mondays at 12:00pm PST. Free Spirit Beading is a live beaded jewelry making series on YouTube. Kristen is a free spirited designer, author, artist – she loves to create. She does not worry about perfection. She believes that art is a journey and part of that journey is making mistakes and living with them. If you miss an episode, you can find it in our YouTube library.
Kristen did something a little different this time around. On the Friday before she filmed her show, she posted the materials she had on hand to our Facebook group. She asked our VIB Group members which combination of beads they preferred she work with for the show on Monday – A, B, or C. After a heap of votes, the group members vote tally favored C. She worked with this bead selection to design her lovely necklace.
Kristen swapped the seed beads in C for brass beads after the tally. Looks like that was a wise decision.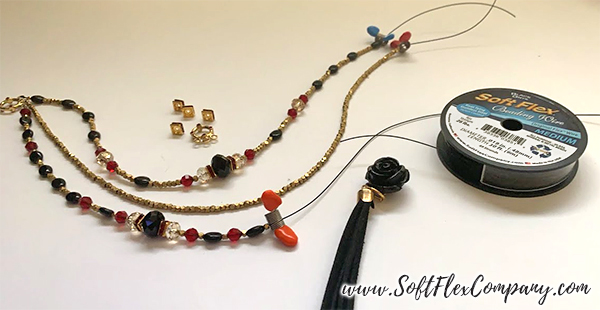 If you have not joined our VIB Group yet, definitely come do so! The group is very lively and is full of beaders, crafty people, and jewelry designers that love all things jewelry. There are daily posts and discussions about beads. You can post your own photos and have others give you kudos or advice. You can participate in Design Kit drawings. Or you can just be a wallflower and enjoy the creative spirit of the group. We encourage active participants, but it is not a requirement.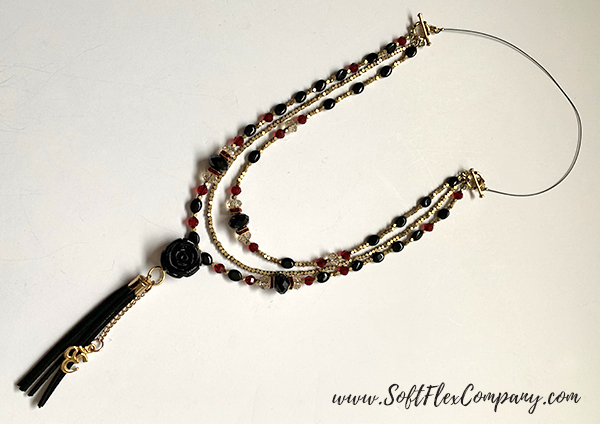 Supplies:
3 - 18" Strands of Soft Flex Medium Beading Wire in Black Onyx
1 - 12" Strand of Soft Flex Medium Beading Wire in Black Onyx
8 - 2x2mm Gold Filled Crimp Tubes
2 - 3 Strand 18K Gold Plated Austrian Crystal Squaredelle Toggle in Siam
6 - 6mm Gold Plated Finish Siam Ruby Austrian Crystal Squaredelles
3 - 10mm Black Crystal Rondelles
8 - 8mm Golden Shadow Crystal Rondelles
18 - 6mm Red Crystal Bicones
26 - 8x6mm Black Onyx Flat Ovals
1 - Strand of 2mm African Faceted Brass Beads
1 - Black Carved Flower Pendant
1 - 4" Black Tassel
1 - Ohm Charm
1 - 2" Gold Filled Eye Pin
1 - 2.5" Gold Plated Chain
2 - 6mm Gold Filled Jump Rings
Tools:
Magical Crimping Pliers
Cutters
Chain Nose Pliers
Round Nose Pliers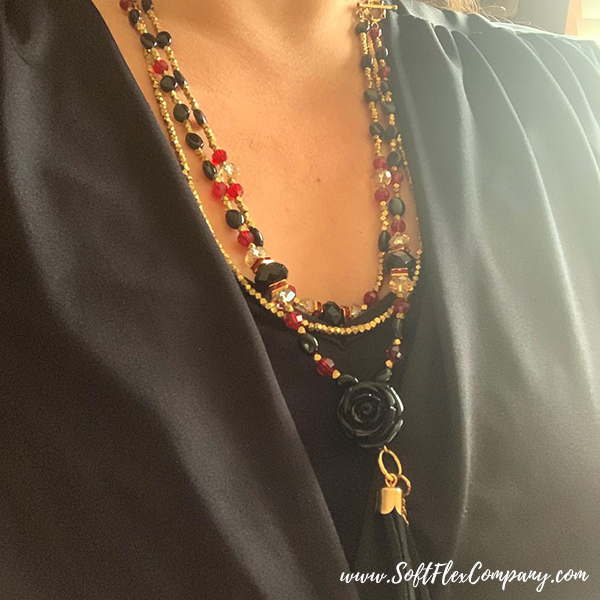 This combination is definitely fit for a queen. Kristen must have realized this would look great on a Lannister queen's neck. Cersei would definitely like to get her hands on this stunning design.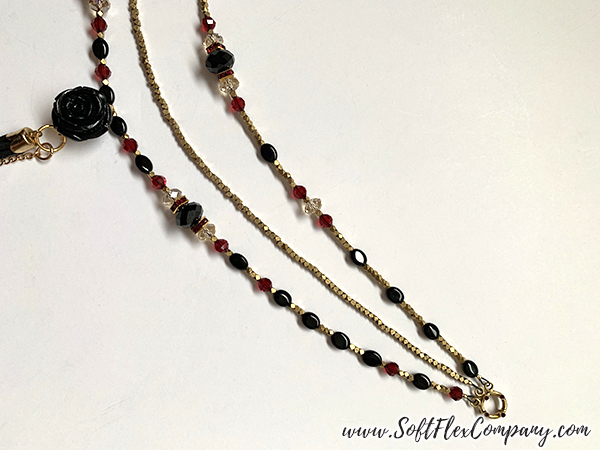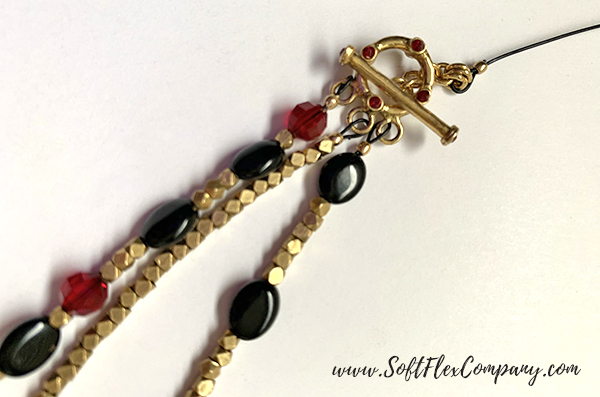 Kristen used toggle clasps when she created the necklace in the video. They looked amazing with the necklace.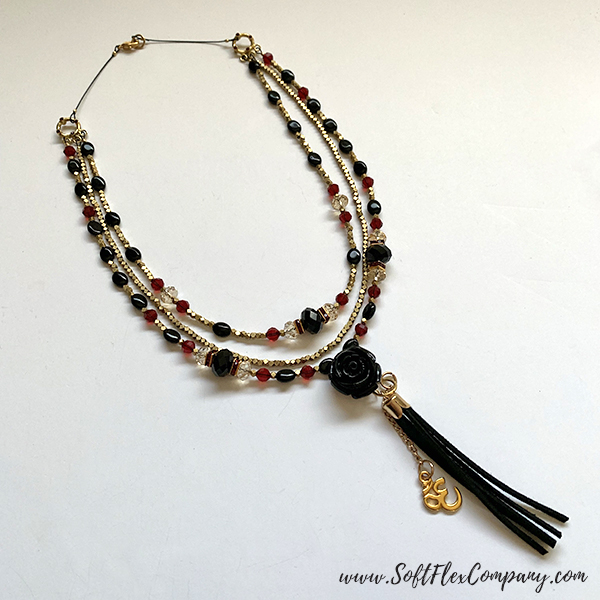 After filming, she wanted to give you another option on finishing the design. She decided to shorten the piece and finish it with lobster claps instead. Ultimately Kristen prefers the original longer necklace design but, now you have two options to decide what's best for you!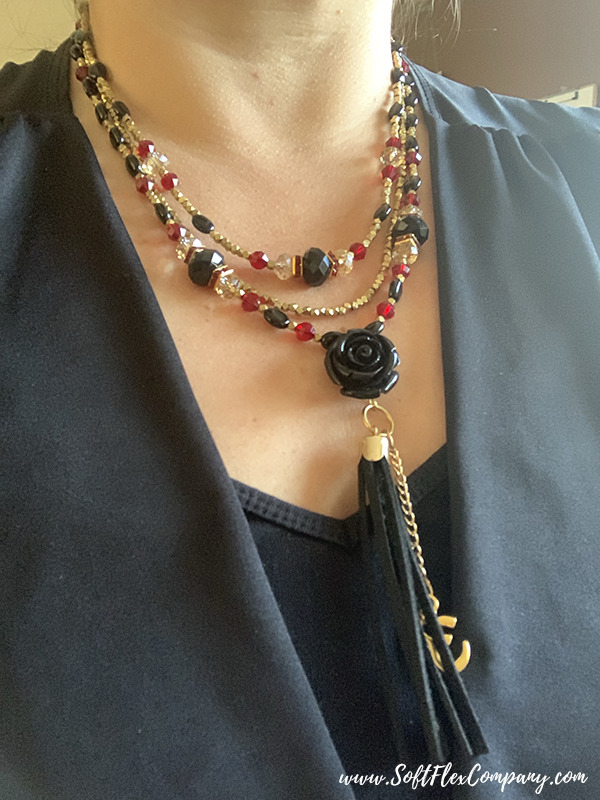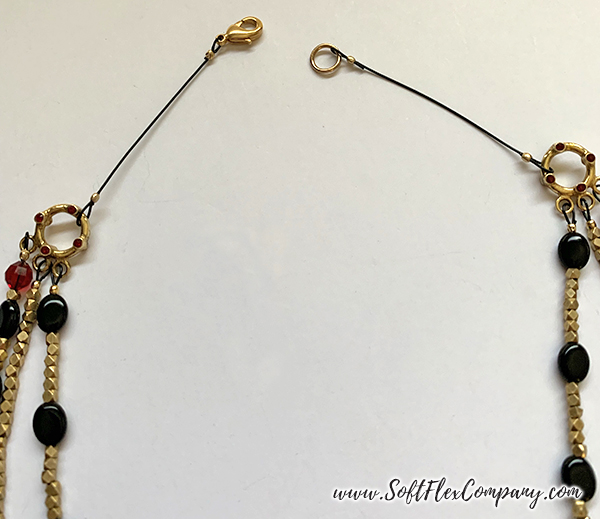 It is amazing to see how a selection of beads can come together and create a beautiful jewelry design. Make sure you catch Kristen live on Mondays at 12:00pm PST. She is a lot of fun to interact with as she designs. She may even take your suggestions as she goes.
Mixed Texture Earrings with Pearlesque Chain
Our friend Nealay is a talented jewelry designer. He is also the owner of the SilverSilk and More jewelry company. He is a thoughtful creator. He loves to sketch out his designs before he strings them. It is fun to watch his videos as you get an insight into his creative process.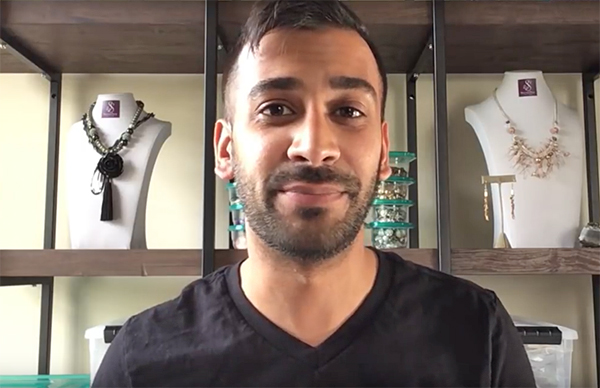 From Nealay:
"Texture is no new concept for me, and I'm always happy to show how to add some pizazz to some otherwise boring hoop earrings. Let's mix up some Jesse James Beads with Soft Flex beading wire and some capture chain to create some one-of-a-kind earrings. You'll enjoy learning a new idea from this tutorial and you'll want to decorate a pair of your own earrings!"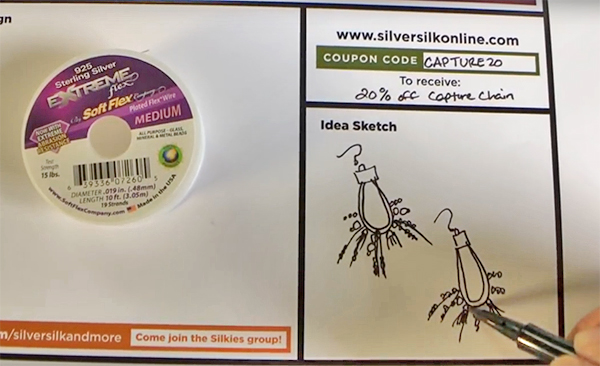 Make sure you catch Nealay live. He broadcasts his Tuesday Tuts instructional videos from Facebook. He loves an audience and loves to answer questions. You can find his recorded videos on his YouTube channel. Nealay is a lot of fun and has quite the following. You can join the party and become one of his 'SilverSilk Silkies'. His Silkies post photos of their creations and discuss jewelry on his Facebook page.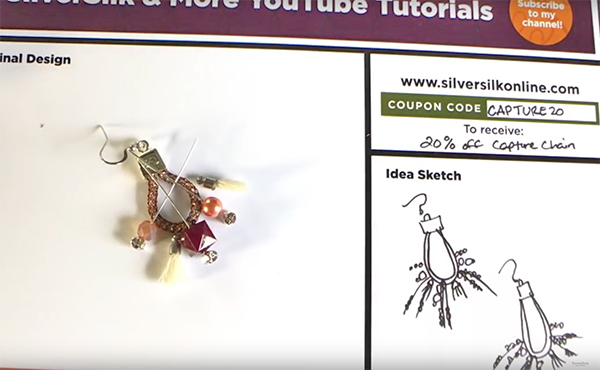 Supplies:
SilverSilk Capture Chain and Findings
Beads and Tassels from Jesse James Beads
2x2mm Sterling Silver Crimp Tubes
Soft Flex Extreme Beading Wire - .019 Diameter in 925 Sterling Silver Plated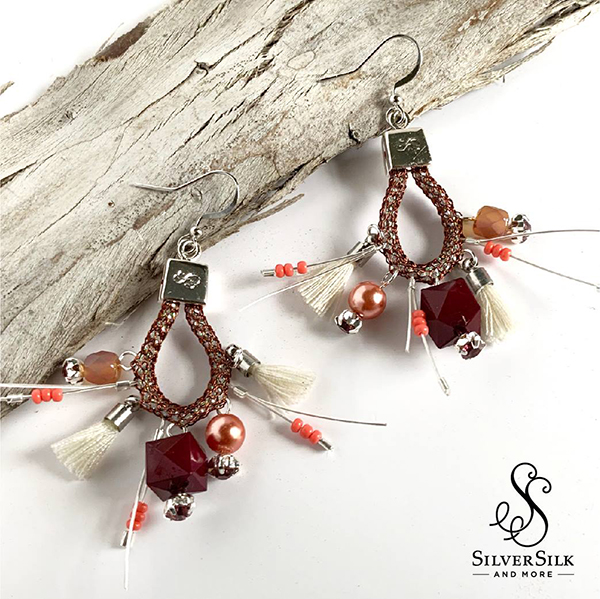 Make A Fun Easter Inspired Necklace Using Soft Flex Trios
Sara wanted to design something fun for Easter. She opted to use one of our Multi-Color Trios Beading Wire Packs to create something fun and lively. Our Trios packs are a collection of three 10 foot spools of wire. We created each pack to fit a mood, holiday or celebrate a Design Kit we featured and loved. Trios make it so easy to use color in your design. We took all of the guesswork out of the color theme, just grab a pack and go! Being so close to Easter, Sara selected our Egg Hunt Trios.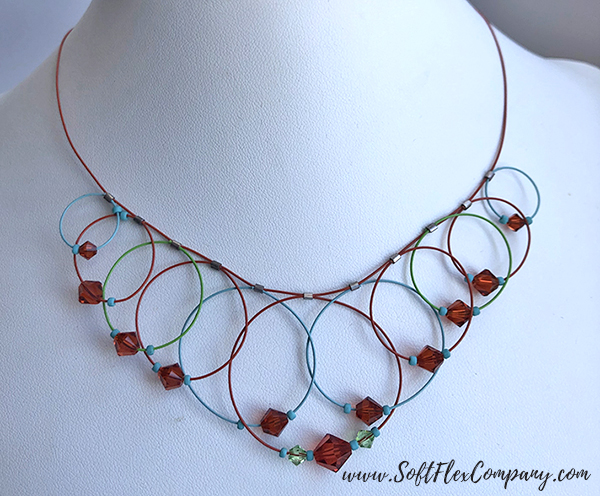 Sara wanted to recreate a design she made years ago. The necklace was featured in a magazine – which was eluding Sara when she filmed her segment. She guessed BeadStyle or Stringing. The design was a simple necklace with a large focal area. The focal area was comprised of looped wire with beads and crimps at the center of the loops. She used a pair of regular crimping pliers when she created the necklace and wanted to update the design with a pair of Magical Crimping Pliers. She also wanted to try different beads and use our Egg Hunt Trios to create a holiday necklace.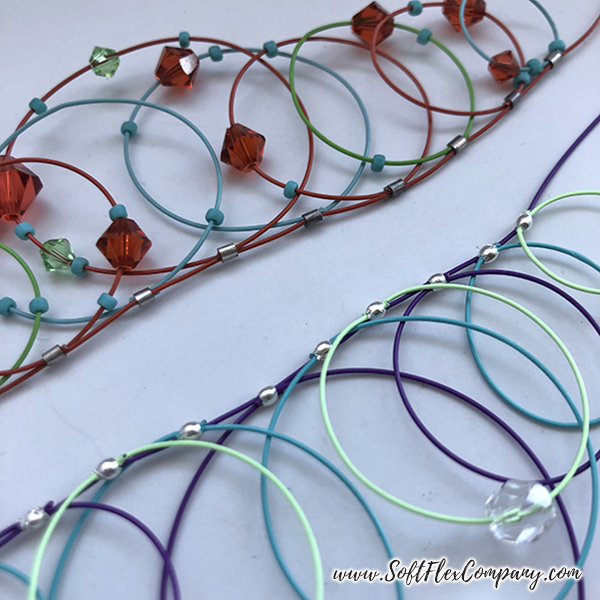 It is amazing how a simple color variation can change the mood and look of a jewelry design. Both necklaces are beautiful and even though they are essentially the same design, they look vastly different. Both designs use 2x2mm crimps tubes, however, the one on top uses regular crimping pliers and the one on bottom uses the magical crimping pliers.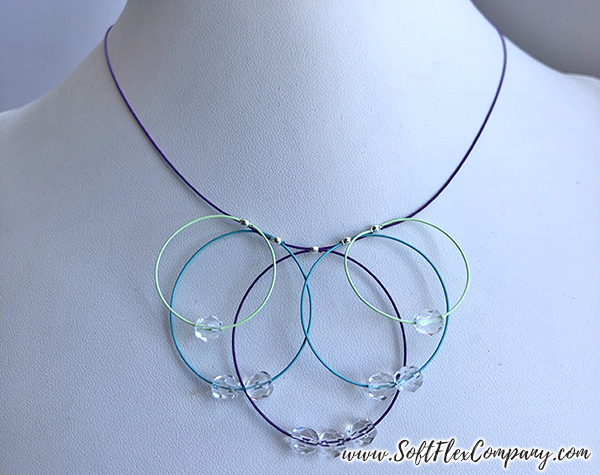 This is an elegant necklace for any Easter occasion. Symmetrical and wonderful!
Supplies:
Egg Hunt Trios Beading Wire Packs
2x2mm Sterling Silver Crimp Tubes
Beads
Clasp
Tools:
Magical Crimping Pliers
Cutters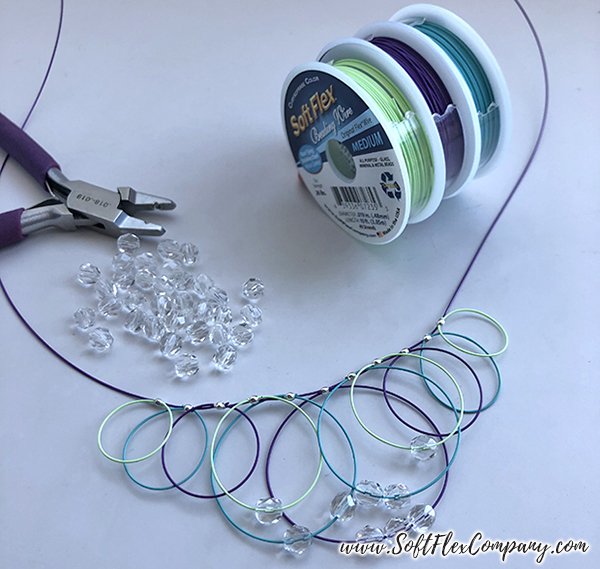 Sara is a fabulous teacher. Her videos are easy to follow and so instructive. This design is a snap if you follow along. But feel free to think outside of the box. We encourage beaders to explore. Use different colors and beads and lengths of beading wire. You never know where your creativity will take you. But, you can be assured that the journey will be exciting.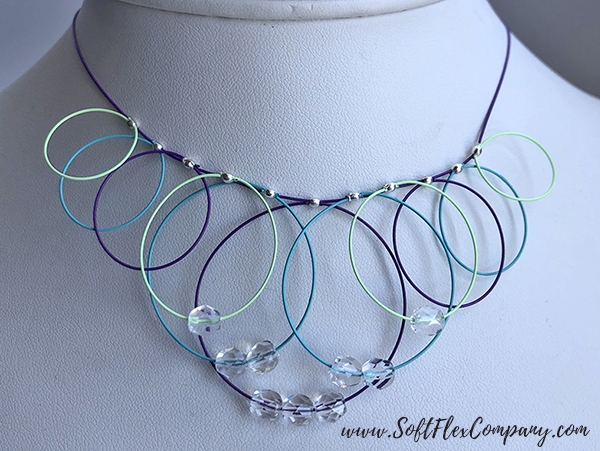 Simple Cabochon Stone Wrap Using Soft Flex Craft Wire
Soft Flex Company's newest employee and design guru is James Browning. He films a YouTube series is called Conversations in Wire. He uploads his videos to YouTube every other Thursday. James loves Craft Wire jewelry. His videos are easy to follow. He shows you how wonderfully malleable Soft Flex Craft Wire is – you can make a mistake and still move forward. James believes if you have patience, you will go far.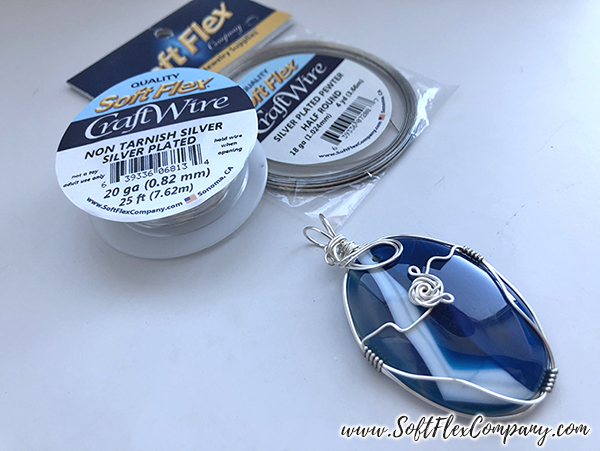 Supplies:
Soft Flex Craft Wire - Silver Plated 20ga
Agate Cabochon
Soft Flex Craft Wire Half Round - Silver Plated Pewter 18ga
Tools:
Bead Nipper
Nylon Jaw Pliers
Bent Nose Pliers
Round Nose Pliers
Craft Wire Starter Kit
James wanted to film an episode where he wire wrapped a cabochon. A cabochon is a gemstone that is polished and shaped but is not faceted. You can wrap these beads to capture them and make them easy to use as a focal bead. The wire wrapping is great for drilled beads and beads with no holes too. If you have a bead without a hole, wire wrapping the bead will allow you to use it how you see fit.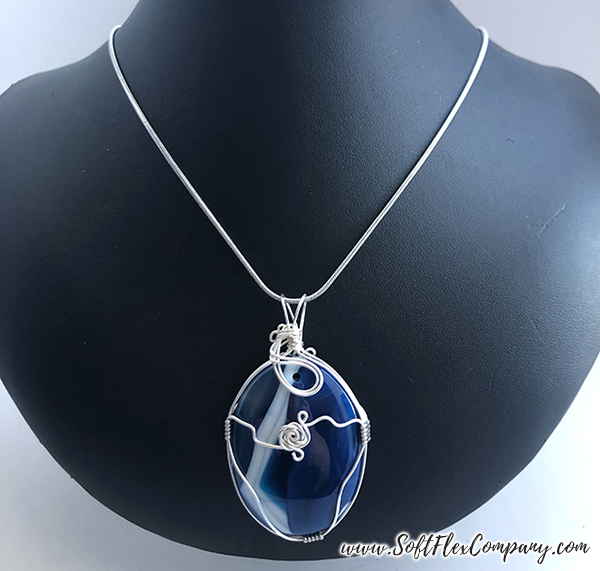 Wire wrapped beads are delightful. You can augment the natural beauty of a stone with your personal flair. Your wire wrap can be as intricate or as minimal as you like. You can really change the statement a naked stone makes with your wrap.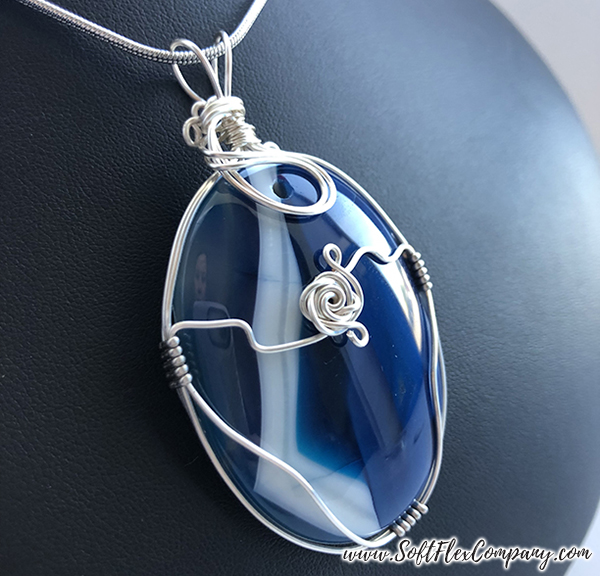 Aren't these stones luscious? James has a keen eye for stones and shape. Soft Flex Craft Wire has a wonderful spectrum of colors and gauges. You can really make any cabochon your own. If you do not own the tools or supplies to start wire wrapping, make sure you check out our Craft Wire Starter Kits. The kit comes with everything you need to start your journey or resupply your beading kit if you are already a seasoned wire wrapper.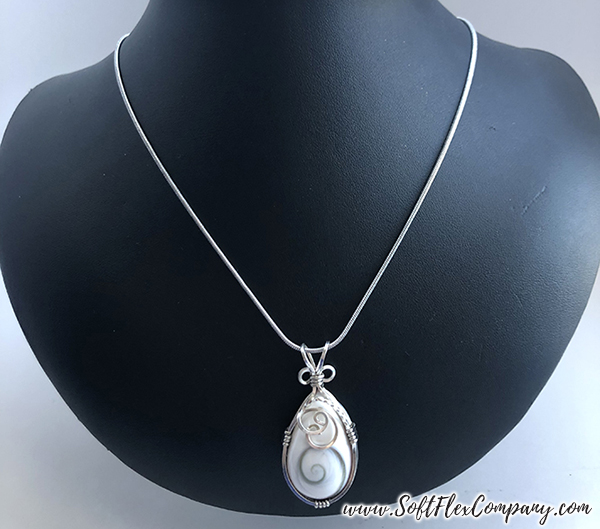 Get creative! Turn any stone into a signature piece.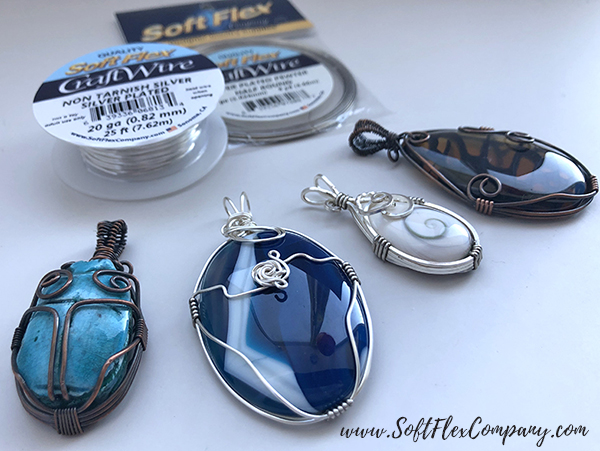 Join our Facebook group – VIB. Stay in the know. Stay up to date. From our bead shows to our video shows and sales, you can stay in touch with us. The community is full of artistic and helpful beaders and crafty people. Inspire and be inspired. Share your pictures and get the beading bug from others!

Visit the Soft Flex Company YouTube Channel!

---
Blog contributor Thomas Soles loves Jazz Age writers and crunchy french fries. His favorite gemstones are Lapis and Pietersite. His favorite hobby is day dreaming. And his favorite mustache is Freddie Mercury's. As you can see, he has a healthy (or possibly unhealthy) sense of humor. You can write to him at Thomas@SoftFlexCompany.com