It was a short week for us. We celebrated Labor Day in the States. So, this week went quick. But that does not mean were are lacking content today. Far from it. We have six videos for you. Lots of fun jewelry making and discussions. If you enjoy our video recaps, you are going to have plenty to watch this weekend! Get comfy and let's watch some exciting jewelry videos!

This week, Kristen made some fun jewelry with beads from our Unicorn Sparkles Bead Mix. Sarah James opened our Unicorn Sparkles Design Kit. Nealay Patel, from SilverSilk and More, made a beautiful necklace with his new Path to Patagonia Mystery Kit. Gina from Orchid and Opal Jewelry and Beads had fun opening our Unicorn Sparkles Design Kit. Sara, back from maternity leave, opened a Magical Mystery Box from Jesse James Beads. Finally, James showed us a unique wire wrap on a round bead - if you like caged beads, this one will amaze you!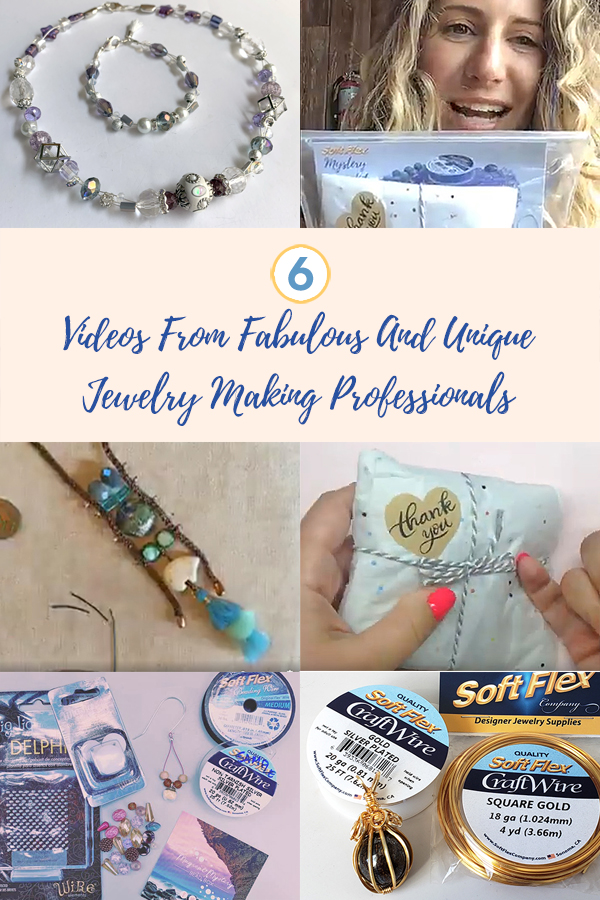 Free Spirit Beading with Kristen Fagan: Make Jewelry With Extreme Wire And Unicorn Sparkles Beads

Kristen makes fun and wonderful jewelry. Our Unicorn Sparkles Bead Mix and Unicorn Sparkles Bead Strand were the perfect selections of beads for a sleepy Labor Day morning. She made a dazzling bracelet and necklace. If you would like to catch Kristen during a live show, you can find her series, Free Spirit Beading, on YouTube on Mondays at 12:00pm PST.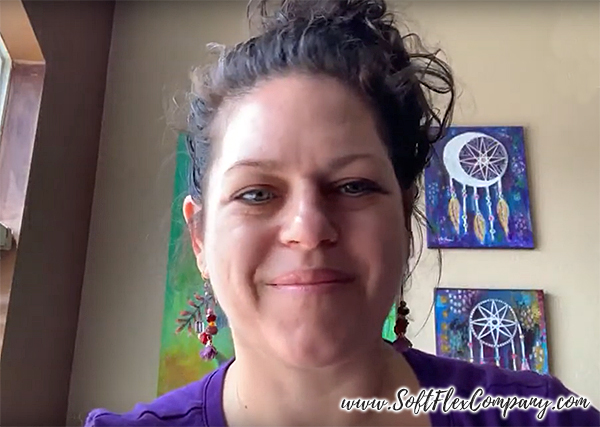 Kristen made a surprise appearance on YouTube on Monday. She normally films her series on Mondays, but forgot this particular day was a holiday. She was a trooper, though, and filmed another great episode. This time, she created a lovely bracelet and necklace. This was a fun video for a lazy Monday.

Stock up now! We have tools and beading wire that will last for years. don't settle for tools that lose their edge, buy the best and save. If you have high quality supplies, your jewelry will last a lifetime!
Supplies:
Extreme Flex .019/Medium Beading Wire - Sterling Silver Plated
Unicorn Sparkles Bead Mix
Unicorn Sparkles Bead Strand
Jump Rings
Lobster Claw Clasp
3x3mm Soft Flex Crimp Tubes
Mighty Crimping Pliers
Chain Nose Pliers
Flat Nose Pliers
Bead Stoppers
Cutters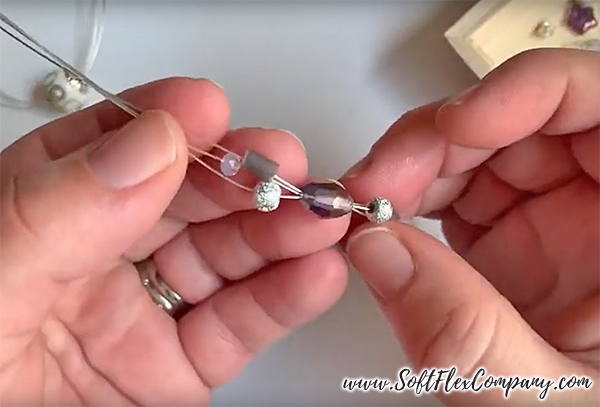 Bead Mixes are part of our themed Design Kits. Our Design Kits are limited inventory mystery kits. Each Design Kit comes with a mix of beads, components, beading wire, and rarities. Design Kits have everything you need to create a bunch of jewelry. You just need basic beading tools.
The Unicorn Sparkles Design Kit was based on the colors we envision when we imagine unicorns. We opted to put together a sophisticated look at these colors. We have all seen the bubble gum colors that are associated with children's unicorn. This kit was a classy mix for the grown-ups.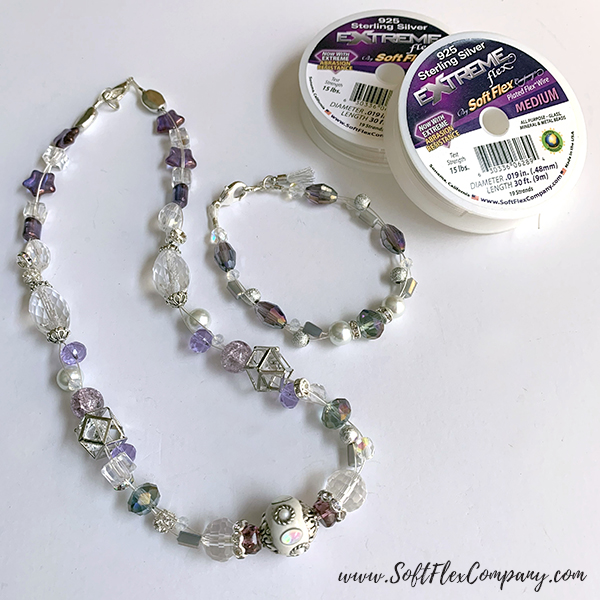 The Unicorn Sparkles Bead Mix is a wonderful collection of beads. This mix is perfect for winter and holiday jewelry. It is wonderful with Extreme Flex Beading Wire. Perfect for an elegant night out.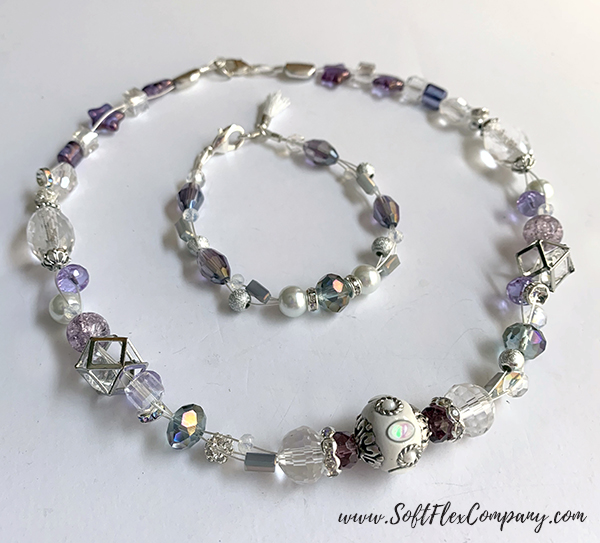 This luscious jewelry set would look amazing on you!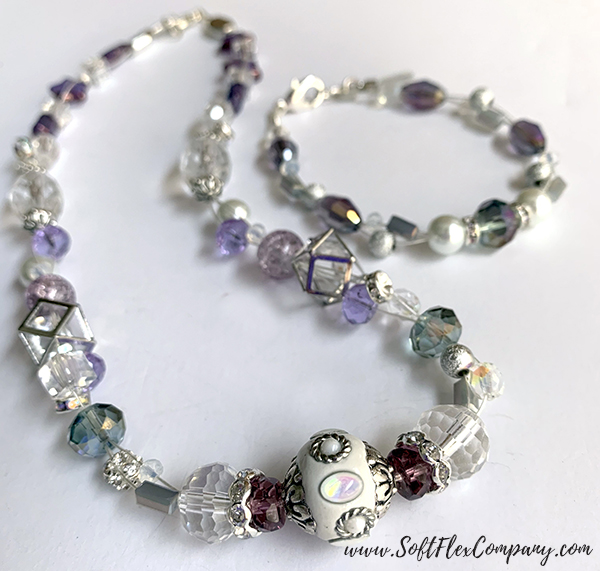 Sarah James from Jesse James Beads and the Unicorn Sparkles Design Kit

Jesse James Beads has some amazing items. We love their store. So many unique beads! Make sure you give them a visit. If you ever have the opportunity to see them at a local bead show, they usually have the best themed and set up booth - very hard to miss!
We love their beads so much, we work with them on Bead Mixes for our kits and to sell individually. These Bead Mixes are limited in quantity and exclusive to Soft Flex Company.
Check out their site and join the fun on the Jesse James Beads Secret Stash group!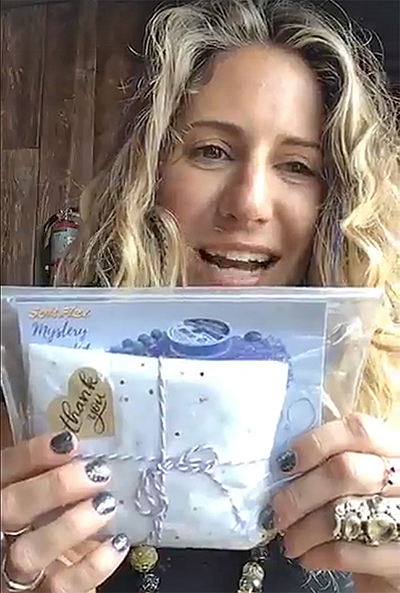 Shop our limited inventory kits!
The Unicorn Sparkles Design Kit is a fanciful celebration of whimsy. Magical vibes are found in abundance in this kit full of mythical colors – sparkling silver, prismatic rainbows, mystical purple, and more! Create your own fairy-tale jewelry with this legendary design kit!
Supplies:
Unicorn Sparkles Design Kit
Extreme Beading Wire, .019 Diameter - 925 Sterling Silver Plated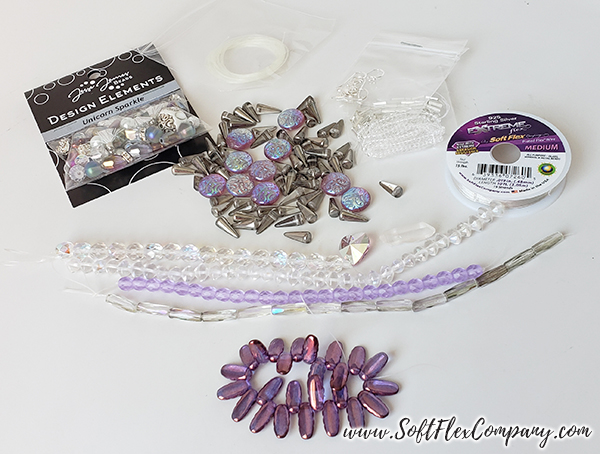 Nealay Patel and the SilverSilk Path to Patagonia Mystery Kit
Nealay Patel is the owner of SilverSilk and More. On his wonderful website, you will find his signature knitted wire, findings, and so much more. He is an outstanding talent. He has recently started offering themed kits and making jewelry with his kits on 'tours'. On these tours, he visits fellow bead store Facebook pages and opens his kits. His magnetic personality and charm and skill with jewelry designing make these tours super fun!
From Nealay:
Path to Patagonia Mystery & Make. Tonight we are taking an inspiring stroll into the rich landscapes and glaciers of Patagonia and making an inspiring necklace. Grab a kit and join the tour! More info here.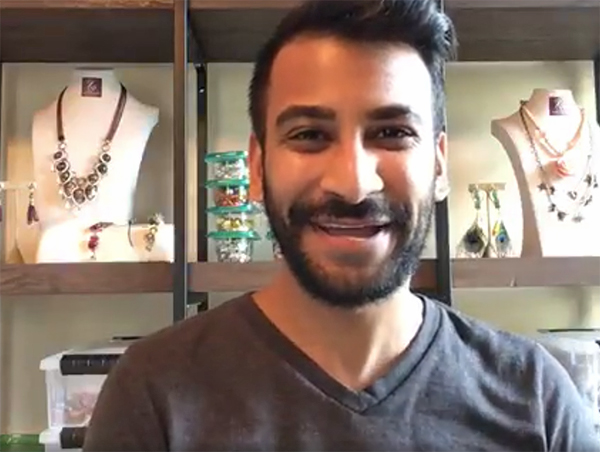 Let's get ready to travel the exciting Path to Patagonia! The best thing is you don't need to bring anything, except the new SilverSilk and More mystery kit. This spectacular kit is packed with beads, components and findings inspired by the vast, beautiful landscape and icy glaciers of Patagonia, Chile. The best part about this tour is that you won't need to leave your house to join in!
Here's how it works:
1) Grab the mystery kit from silversilkonline.com
2) Join Nealay on Facebook, live, at 3:30pm PST on the following dates and locations:
Tuesday, September 10 • Soft Flex Company Facebook Page
Tuesday, September 17 • TierraCast Facebook Page
Tuesday, September 24 • Jesse James Beads Facebook Page
Each tour is an opportunity to learn a new technique and chat with old friends and make new ones that enjoy creating just like you do!
3) Create a design with the kit contents and post a photo of it to the Silkies Facebook group anytime before October 1, 2019.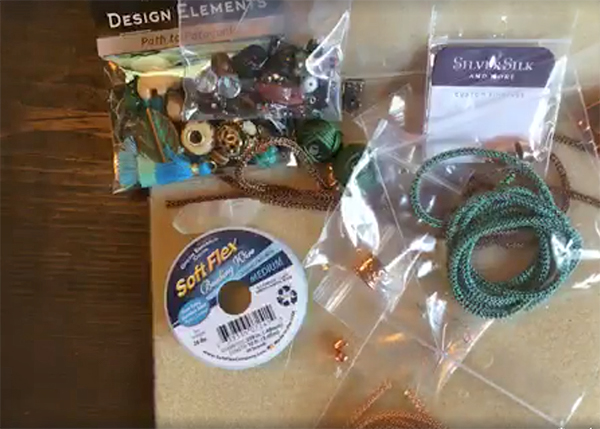 Shop Soft Flex Company tools and supplies. If you need to beef up your jewelry making toolkit with components or tools, we always have a great sale going on!
Supplies:
SilverSilk Path to Patagonia Kit
SilverSilk Path to Patagonia Extension Kit
Soft Flex Beading Wire, .019 Diameter - Green Emerald Color
SilverSilk Capture Chain - Antique Copper Color
SilverSilk Capture Chain with Gun Metal Ball Chain - Sea Shore Color
SilverSilk Hollow Mesh
SilverSilk Double-Strand End Caps
SilverSilk Triple-Strand End Caps
SilverSilk Terminators
SilverSilk Two-Hole Bead Sliders
Ear Wires
Magical Crimping Pliers
Chain Nose Pliers
Cutters
2x2mm Soft Flex Crimp Tubes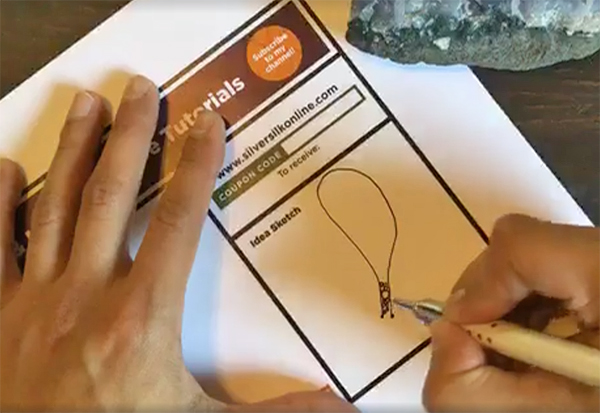 Every Nealay piece is a work of art. He starts out with a sketch and dives into his design. His work is easy to follow if you want to replicate his jewelry. We carry his books on our site if you would like to create designs you will not find on his Facebook.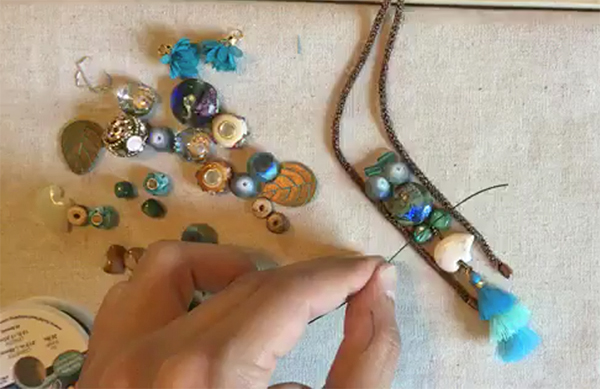 If you love Nealay's work, make sure you follow him on Facebook and YouTube. He films regular live videos and has an active group on Facebook - The SilverSilk Silkies. He is a great jewelry teacher and source of inspiration. If you have questions, he can answer them and his Silkies are also a great resource.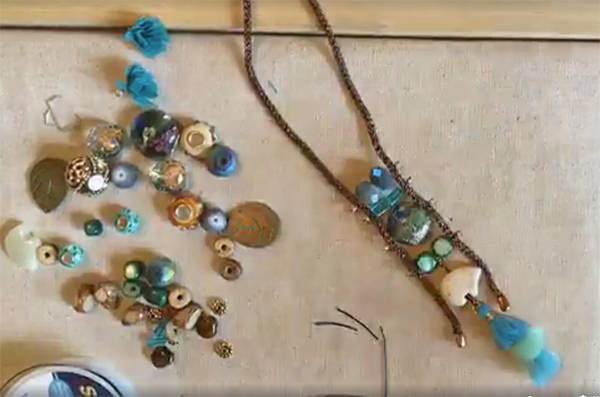 Gina from Orchid and Opal Jewelry & Beads: Soft Flex Unicorn Sparkles Mystery Design Kit! Beaded Jewelry Making DIY
Gina, from Orchid and Opal Jewelry and Beads, unboxed our Unicorn Sparkles Design Kit on her YouTube page. This is a great video if you want an unbiased look at our Design Kits. Gina tells it like it is. She opens our mystery kit and gives her thoughts on what is inside!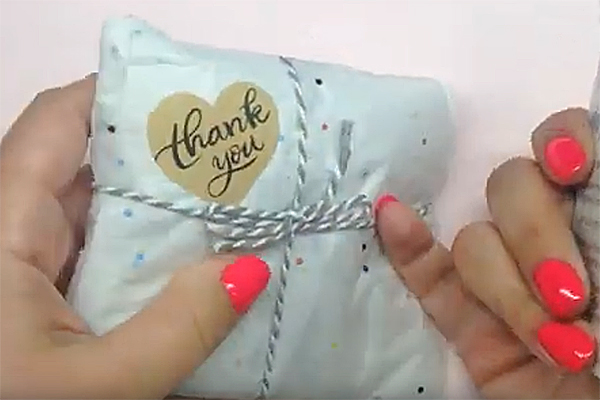 From Gina:
Hi all! Today I have the opportunity to share a new monthly Mystery Design Kit from The Soft Flex Company! August's kit is sold out, but you can still purchase September's kit.

The Soft Flex Company sent me a complimentary kit in exchange for this video. The thoughts and opinions I have expressed are 100% my own.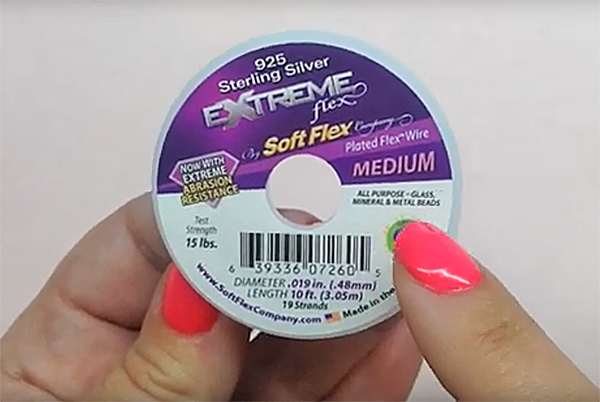 Soft Flex Extreme Wire is the world's first eco-friendly beading wire.
Soft Flex Extreme Wire is a beading wire, free of heavy metals, for designers that want to add sparkle and shine to a piece that exposes the wire. Soft Flex Extreme Wire will not tarnish and is great for free floating necklaces and pendants. Soft Flex Extreme Wire is constructed of 1x19 micro woven metal alloy wires. It is supple enough that it can be knotted and comes in 3 radiant colors. It is available in 3 diameters: .014, .019, and .024. We recommend Soft Flex Extreme Wire for designers that want to be 'green' and desire a high quality wire for high end jewelry.
Supplies:
Unicorn Sparkles Design Kit
Extreme Beading Wire, .019 Diameter - 925 Sterling Silver Plated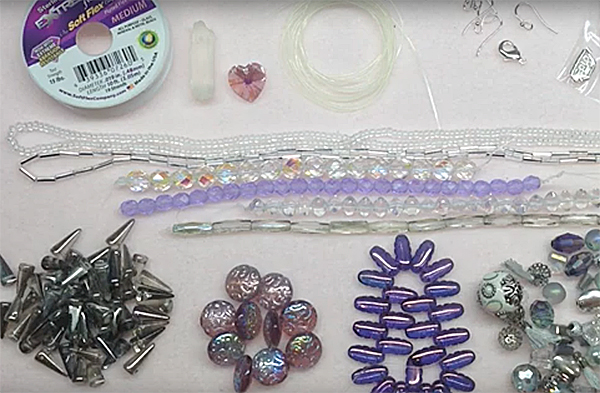 Find Orchid and Opal Jewelry & Beads on:
YouTube
Website & Blog
Facebook
Instagram
Pinterest
If you ever feel like writing:
P. O. BOX 5891
3530 Post Office Road
Midlothian, VA 23112
E-mail: orchidopaljewelry@gmail.com
Sara Oehler on Facebook: Opening the latest Magical Mystery Beadbox from Jesse James Beads!

Sara is back full time, after having a beautiful son. She filmed a video last week and gives us another look at her 'studio' this week. Who doesn't love to bead outside? Especially in a the wonderful Northern California climate.Make sure you follow us next week. Sara will be back for a live sale on Facebook.
From Sara:
I had a fun time opening the latest Magical Mystery Box from Jesse James Beads on the Soft Flex Company Facebook Live. We made earrings using Soft Flex Medium in Pink Tourmaline color. We crimped, added crimp covers and then made ear wires on the WigJig Delphi.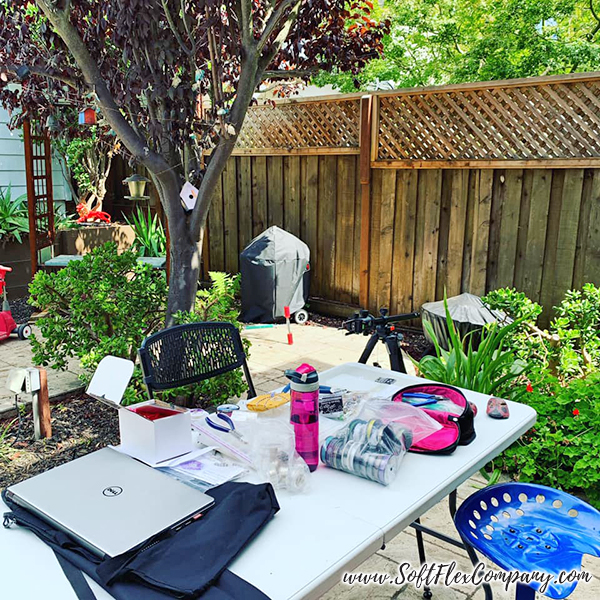 From Sara:
Totally digging my new video studio!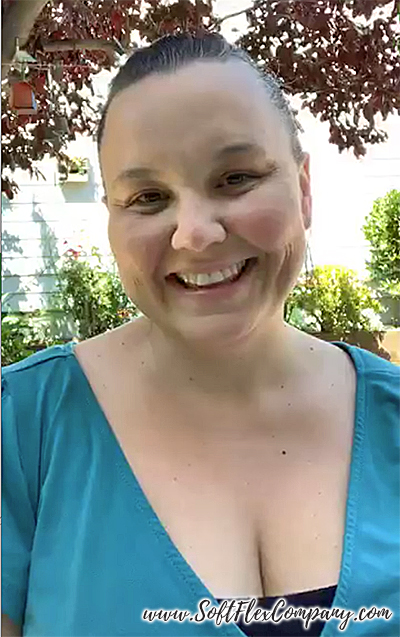 Supplies:
Jesse James Beads Magical Mystery Bead Box
Soft Flex Beading Wire, .019 Diameter - Pink Tourmaline Color
2x2mm Soft Flex Crimp Tubes
Regular Crimping Pliers
3mm Soft Flex Crimp Covers
Soft Flex Professional Flush Cutter
20ga Soft Flex Craft Wire - Non Tarnish Silver
Nylon Jaw Pliers
Round Nose Pliers
WigJig Delphi
WigJig Super Pegs
Wire Whacker
Burr Cup
Bead Stoppers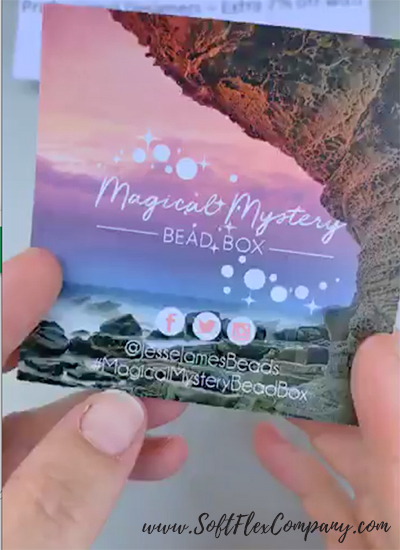 Sara unboxed a Magical Mystery Box from Jesse James Beads. She got a break from the kiddos and had fun making jewelry. This mystery box is full of yummy goodies! Hurry and get one before they are gone.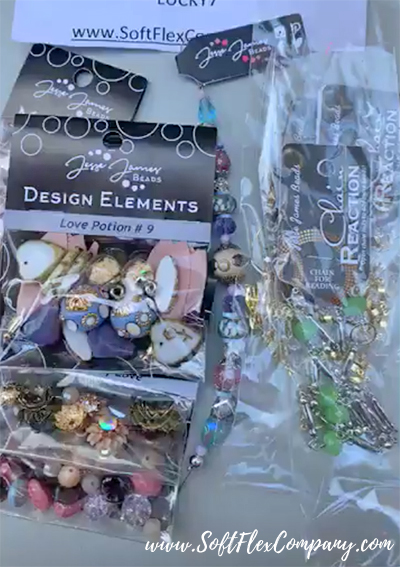 These Romantic Whisper Earrings are sweet enough to make Fabio jealous!
Sara uses an upside down Soft Flex Beading Wire spool to contain her beads. What a fantastic idea! She thinks out of the box while making jewelry and creating her designs. It is good to have her back. We missed her thoughtful jewelry creations.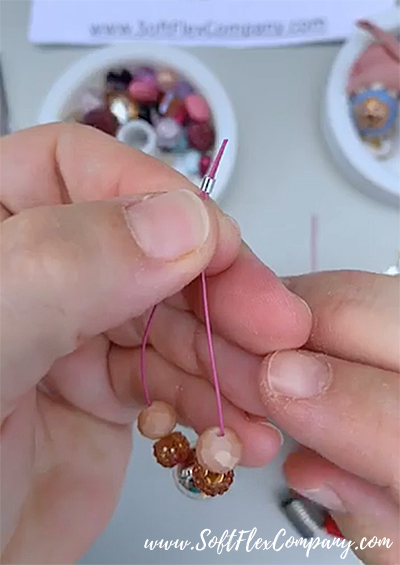 WigJig Delphi Acrylic Wire Jig Boards are fantastic for creating ear wires. Ear Wires are inexpensive and easy to find. But how cool is it to make your own? Every earring you make is truly one of a kind with your signature ear wires!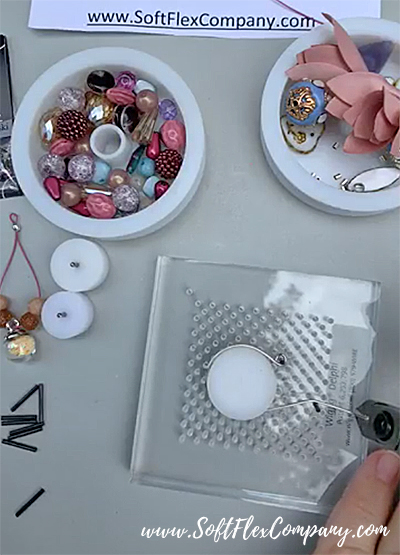 You are going to love the WigJig Delphi!
The transparent Delphi has smaller pegs and closer holes than other WigJig wire jigs. Accordingly, designs made on the Delphi are smaller and more delicate. Smaller earring components can be made on the Delphi to match larger necklace/ bracelet links made on other WigJig wire jigs. It works very well for paper arts designs. Includes jig with 181 holes, 20 metal pegs (1/16" diameter), and wire designing tips.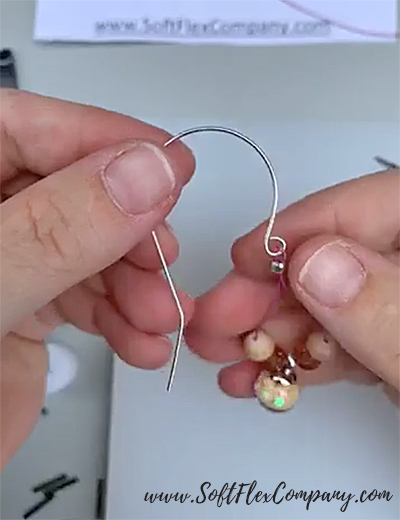 Make some jewelry this weekend. You deserve a break from work and stress. Pamper yourself!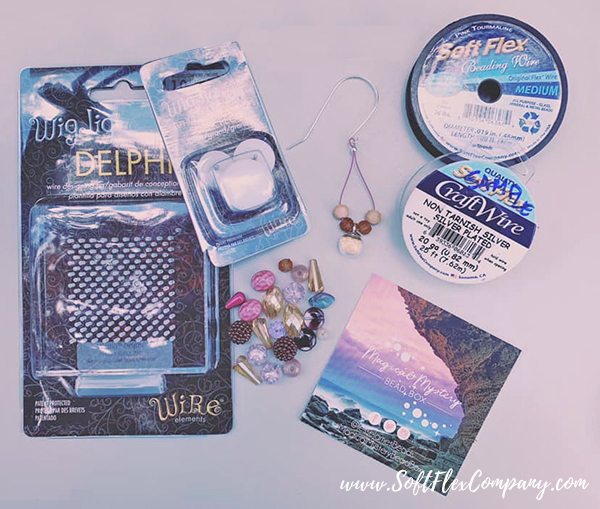 Conversations In Wire with James Browning: Wire Wrapping Round Stones With Soft Flex Craft Wire

James is back for another YouTube episode of Conversations in Wire. James loves Soft Flex Craft Wire. He designs all sorts of jewelry with it. He loves to wrap beads, create focal beads, and create fun new designs. He loves to explore new uses of the wire. His series follows his passion. You can find new episodes of his series on our YouTube channel every other Thursday.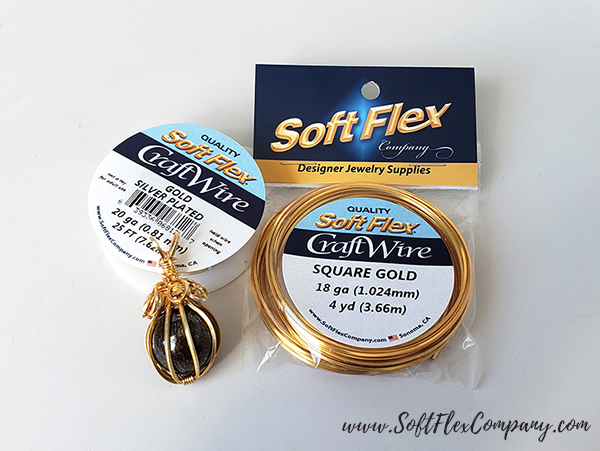 Shop our Soft Flex Craft Wire!
Soft Flex Craft Wire is a high quality, permanently colored copper wire. It is resistant to scratching, peeling and marring. This is due to the special enameling process used to coat the wire to produce the wide spectrum of colors we offer. After the enamel is applied, the wire is then clear coated to prevent tarnishing. Bare Copper is the only wire in the line that is not treated. If antiques and old findings are your medium, Bare Copper will patina - perfect for making that new project look like an heirloom.
Quality Soft Flex Craft Wire is 100% lead and nickel free. There are no other metals used in the wire production other than copper and fine silver. The temper of the wire is soft. It is firmer than similar wire products offered on the market, which are typically only available in dead soft and can't be tempered to half hard. We currently offer six of the most commonly used gauges in the jewelry industry and more are on the horizon. An exceptional design idea deserves a professional craft wire.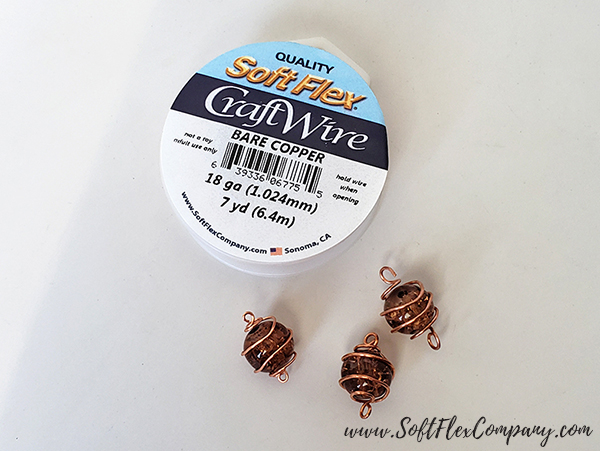 Supplies:
Soft Flex Craft Wire - 18ga
Soft Flex Craft Wire - Silver Plated 18ga
Soft Flex Craft Wire - 20ga
Soft Flex Craft Wire - Silver Plated 20ga
Soft Flex Craft Wire - Square
Bead Nipper (Cutters)
Nylon Jaw Pliers
Round Nose Pliers
Chain Nose Pliers
Flat Nose Pliers
LoopRite Looping Pliers
Round Beads
James creates some lovely cages for beads. We tempted him with ideas during his video premiere. We asked him to create Halloween spiders and other ideas. We can't wait to see wait the holidays bring. We are sure he will surprise us with some spooky designs.
Join our Facebook group – VIB. Stay in the know. Stay up to date. From our bead shows to our video shows and sales, you can stay in touch with us. The community is full of artistic and helpful beaders and crafty people. Inspire and be inspired. Share your pictures and get the beading bug from others!

Visit the Soft Flex Company YouTube Channel!
---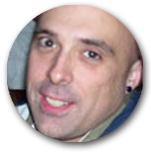 Blog contributor Thomas Soles loves Jazz Age writers and crunchy french fries. His favorite gemstones are Lapis and Pietersite. His favorite hobby is day dreaming. And his favorite mustache is Freddie Mercury's. As you can see, he has a healthy (or possibly unhealthy) sense of humor. You can write to him at Thomas@SoftFlexCompany.com