We have some fantastic videos for you today. If you love jewelry and you need a great binge watch, you do not want to miss these. This week we have some stunning earrings and bracelets that do not require a lot of materials. If you have tools and beads on hand, you can follow along and create some unique jewelry of your own. Read on for some wonderful tips and fun videos!

We start off with a video Kristen filmed during the Bead&Button Show in Milwaukee. We could not post it on the week she filmed it, but we really wanted to revisit it. She showed us how to create some divine earrings with Soft Flex Beading Wire and beads from our Bead Mixes. Once she got home, she resumed her Free Spirit Beading series on YouTube. She showed us how to create bracelets inspired by designs from Seed Bead Revolution. We also checked in with Nealay. He created a lovely set of earrings with SilverSilk Mesh and Soft Flex Beading Wire.

Make sure you visit our Bead Mixes page. If you would like an amazing collection of themed beads for a low price, you cannot afford to miss these. These stunning collections feature an amazing mix of beautiful beads.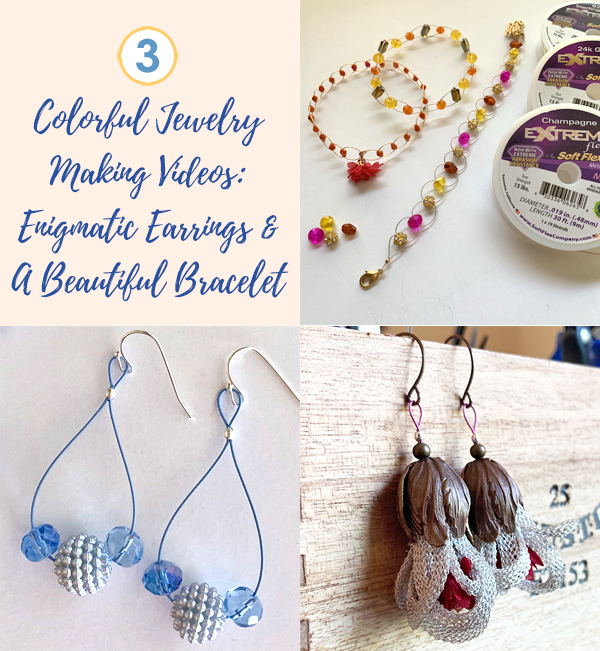 How To Make A Pair Of Soft Flex Teardrop Earrings
Our first video is one that Kristen filmed during the Bead&Button Show in Milwaukee. Kristen attended the show as a Soft Flex representative. She taught free demos during the show and several earring classes. She filmed this on a Friday and just missed our video recap, so we wanted to revisit it.
Kristen has a YouTube series called Free Spirit Beading. Free Spirit Beading airs on Mondays at 12:00pm PST. Free Spirit Beading is a live beaded jewelry making series on YouTube. Kristen is a free spirited designer, author, artist – she loves to create. She does not worry about perfection. She believes that art is a journey and part of that journey is making mistakes and living with them. If you miss an episode, you can find it in our YouTube library.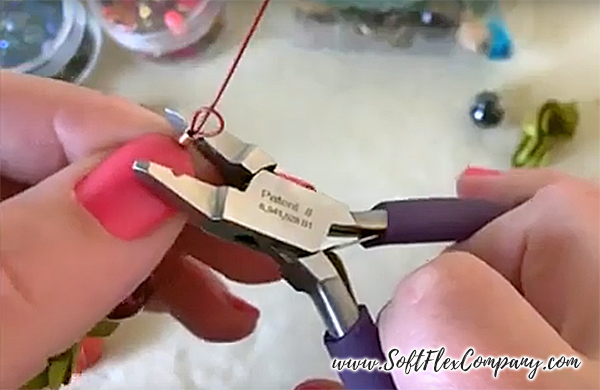 Soft Flex Beading Wire is the perfect choice for earrings. The rainbow of colors that Soft Flex comes in makes it such a great tool for creating diverse and stunning jewelry. If you have beads on hand, you can find a color that accentuates the beads or creates drama. Since earrings do not require a lot of materials, a couple of spools of Soft Flex and a handful of earrings allows you to create earrings for every occasion. You could, conceivably, create a new pair of earrings for every day of the year if you were inclined.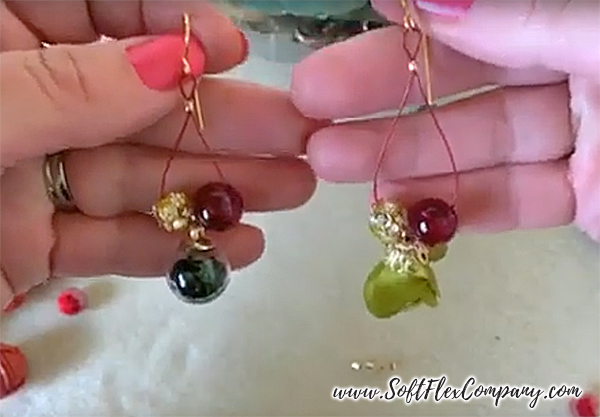 Supplies:
Soft Flex Beading Wire - .019 Diameter
Soft Flex Professional Flush Cutters
Soft Flex 2x2mm Crimp Tubes
Magical Crimping Pliers
Ear Wires
Bead Mixes
Kristen created a unique design with beads and a tassel. Then, she played with the symmetry of her work. She moved the beads around to see what worked and what did not. A focal bead, instead of a tassel, is another great idea. If you like a minimalist look, a single bead on a pair of earrings would look beautiful. You can really explore an earring design before you crimp and finish it.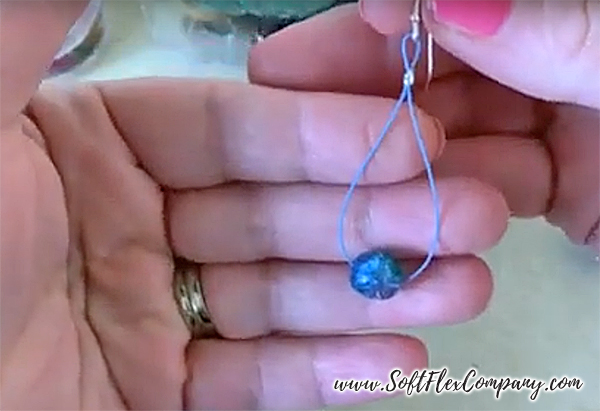 Earrings with Soft Flex Beading Wire look amazing and they are so simple to put together. Make your own unique designs. As long as you know how to crimp your work, earrings are so quick. A couple of minutes and you have a stunning set of earrings.
Add beads to your collection with a Bead Mix. Bead Mixes are diverse and eclectic mixed beads that have a theme.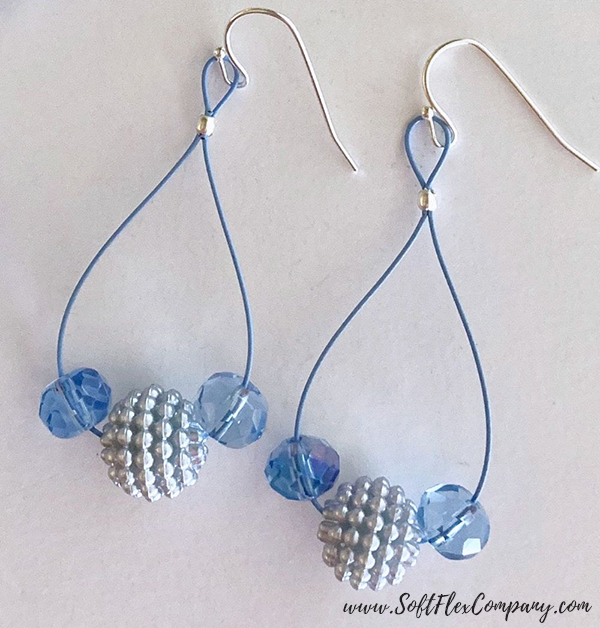 Soft Flex Extreme Trios Beaded Bracelet And Bangles
Kristen is home. The Bead&Button Show was a fun time but she was glad to be back. Her fans were also glad to see her return to her normal show time on Monday. Bead&Button disrupted her series for a bit as she could not film her live show. She had fun at the show and was amazed when she was recognized. She got to meet some fans and make jewelry.
This week, Kristen showed how to make an Extreme Trios Beaded Bangle Bracelet using Soft Flex Extreme Beading Wire, the Saraswati Mini Bead Mix, Soft Flex 2x2mm Crimp Tubes and Magical Crimping Pliers.
This was an amazing video. Kristen was focused on crimping and accidentally cut her wire in the wrong place. Rather than get frustrated, she took some helpful tips from her live viewers and created a wonderful bracelet even though it looked unrecoverable at first. Great stuff if you would like to see what happens when a thoughtful designer has an accident but is able to resolve the issue. Don't get frustrated – the journey is not always easy, but you can persevere with a little inspiration.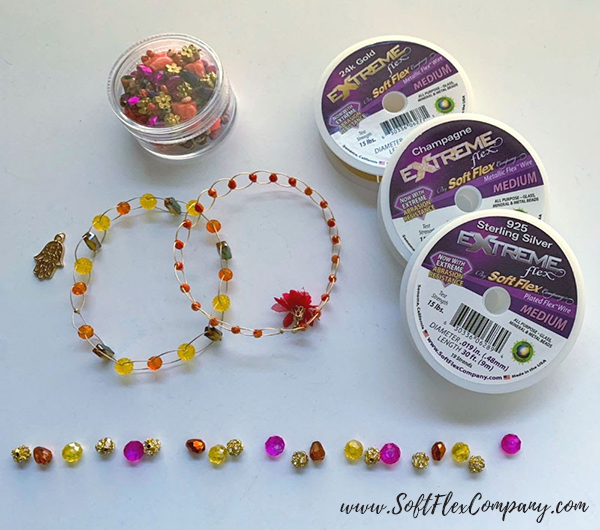 If you like Kristen's work, make sure you grab the latest issue of Beadwork Magazine (Aug/Sep) Kristen has a jewelry design on page 70. You can find Beadwork at Barnes And Noble and other retailers that sell magazines.
Kristen wore this design during her video. See the photo below for a look. The theme of the necklace and earrings was 'Around the World'. She used African Trade Beads, Labradorite, wooden beads from a company called Beads and Honey, and a hand made ceramic pendant from Judie Mountain.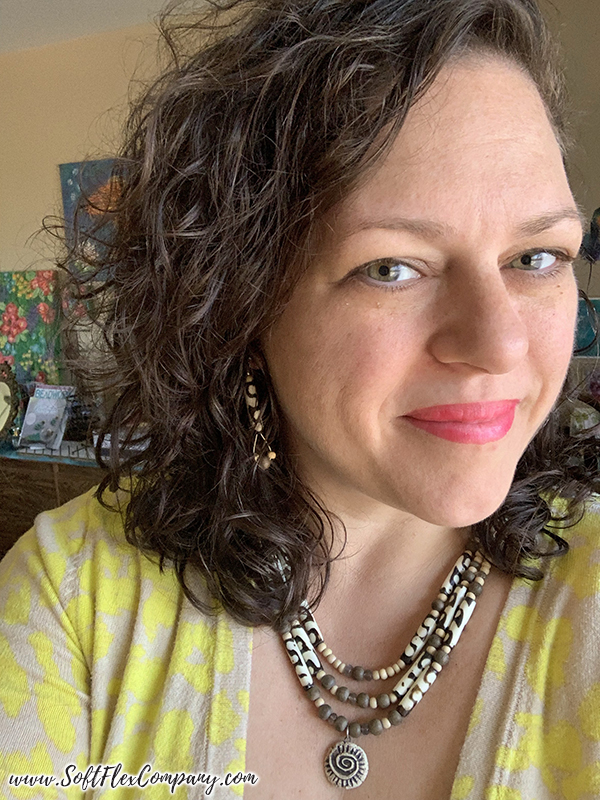 Supplies:
Soft Flex Trios Extreme Beading Wire Packs
Bead Mixes
Soft Flex 2x2mm Crimp Tubes
Magical Crimping Pliers
Soft Flex Professional Flush Cutters
Chain Nose Pliers
Charms
Jump Rings
Clasps
Kristen discussed a great tip for Magical Crimping Pliers (at 33:51 minute mark). She noticed the way she held the crimping pliers and the direction the pliers were facing made a difference when crimping. For her, if the diameters written on the pliers (.018-.019) faced one way, her crimps would be perfect. If that logo faced the opposite direction, she did not always get a perfectly rounded crimp bead. If you are having issues with making your Magical Crimping Pliers turn your crimp beads into a rounded finish – make sure you try this tip. You may need to make sure the pliers are facing a certain way on your end too.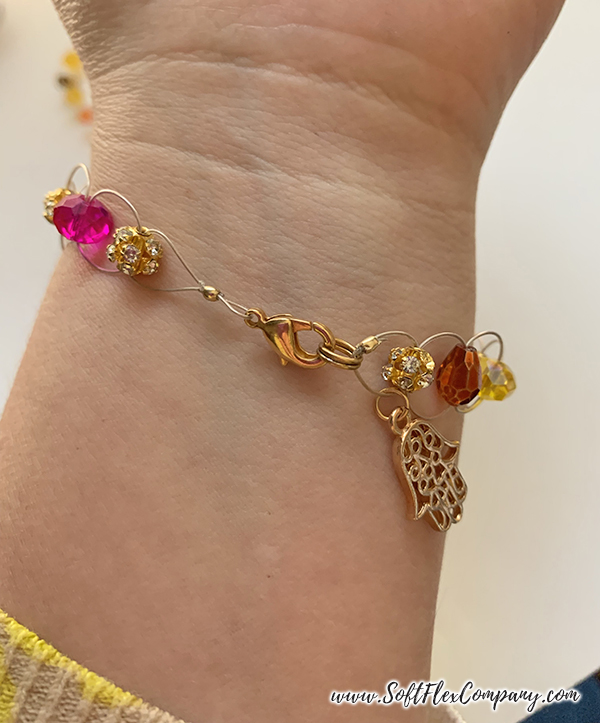 Kristen was so excited about sharing her tip with the Magical Crimping Pliers that she had an unfortunate accident. After demonstrating her crimping tip, she cut the tail off the crimp and realized she cut the wrong wire and broke her jewelry design. She decided she was going to have to restring the piece after the video. But her viewers had helpful ideas.
From Kristen:
I intended to do a bangle on the video like the two samples I made but, I cut my wire connecting to the crimp tube instead of the tail! I was going to leave it and restring after the video but viewers suggested I add a clasp instead so, I was able to salvage the design with a clasp closure instead of a bangle.
Compare the image above and below to see the different finishes on her bracelets.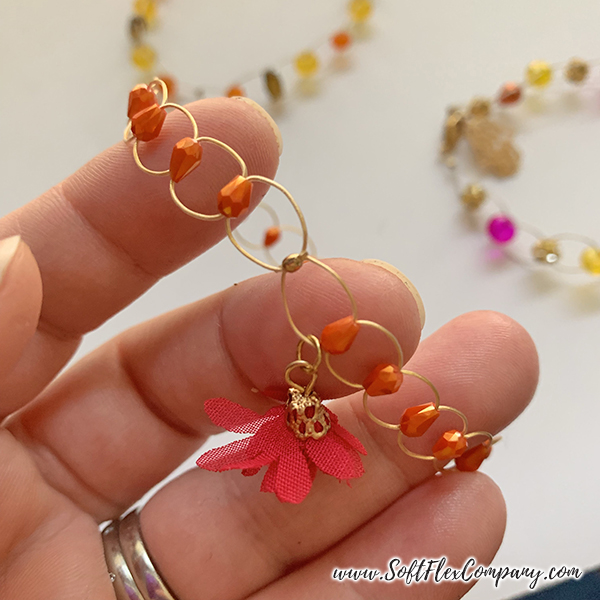 Kristen's Note:

I used 36" for a 9" bracelet. So, you would multiple your closed fist measurement by 4 to get a good length to work with when making the bangle style bracelet shown.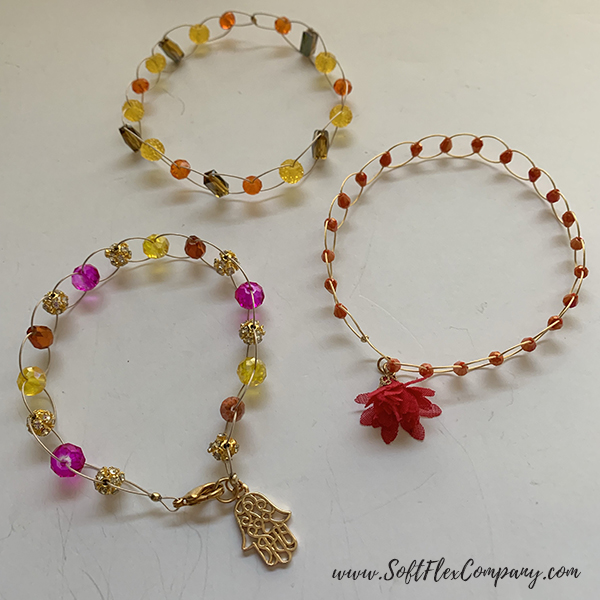 Kristen was inspired to create the bracelet on this video after looking through the book she co-authored with Sara Oehler. Seed Bead Revolution has a lot of fantastic designs. Very beginner friendly and equally inspiring for any seasoned jewelry designers. Kristen wanted to create a design similar to Sara's Cholla Bracelet. The bracelet in the book has smaller seed beads, but the technique can be used with larger beads.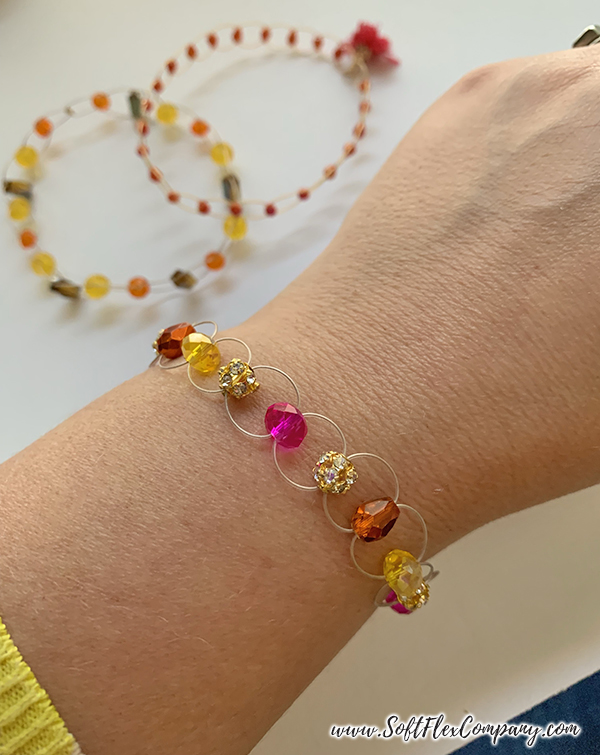 Get creative! You can use your own beads and color wire to create unique jewelry pieces. Grab Seed Bead Revolution if you would like a bunch of inspirational designs featuring seed beads. The book also has a lot of instructional information regarding tools, stringing techniques, a description of seed beads, and how-to tips.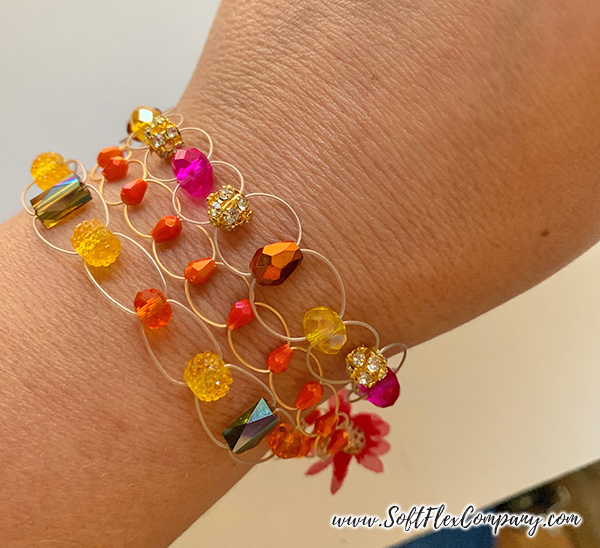 Don't miss Kristen's live show on YouTube on Mondays at 12:00pm PST. She loves to interact with the audience and loves to give advice and tips. If you are struggling with a design, she is a great source of information on how to fix it. As we saw in this video, not every jewelry design is going to be perfect and mistakes do happen - but that is all part of the journey. Don't get frustrated. You can create something beautiful even when you think it is broken!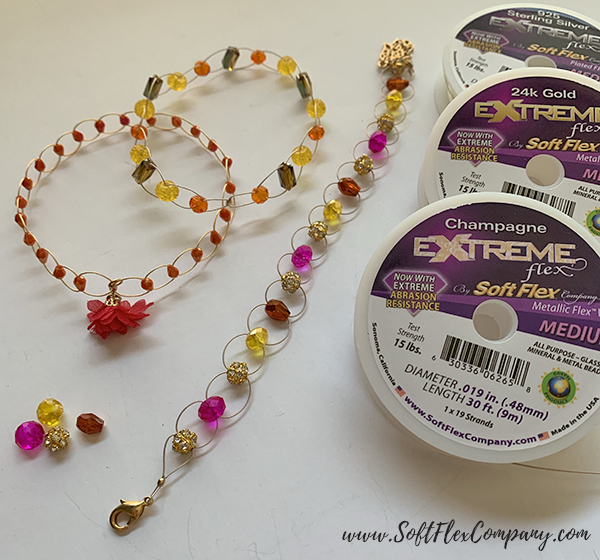 Bead Cap Earrings with Flat Mesh And Soft Flex Beading Wire

Nealay is also the owner of the SilverSilk and More jewelry company. He is a talented jewelry designer. He loves to incorporate Soft Flex Beading Wire into his mesh chain designs. The two elements seem made for each other. His mesh is so intricate and lovely, it enhances a simple, or detailed design, so wonderfully. Even a basic piece looks like a decadent master craft. Check out his shop.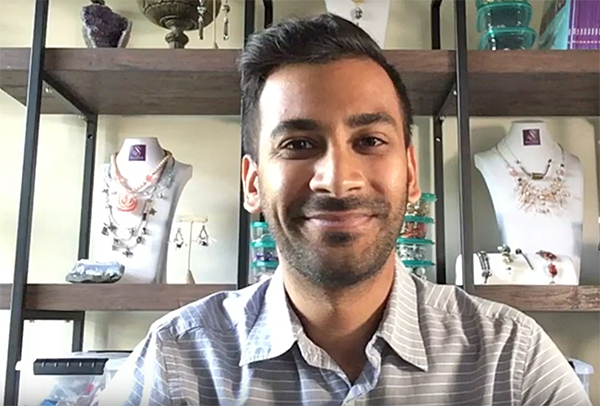 From Nealay:
If you're looking for an everyday bracelet that you can easily throw on with your outfit, this is THE design you gotta try! I'll be showing you a fast and fabulous design with simply using a Flat Mesh and we'll be learning how to attach fancy bead caps. This is one of my favorite techniques to demonstrate!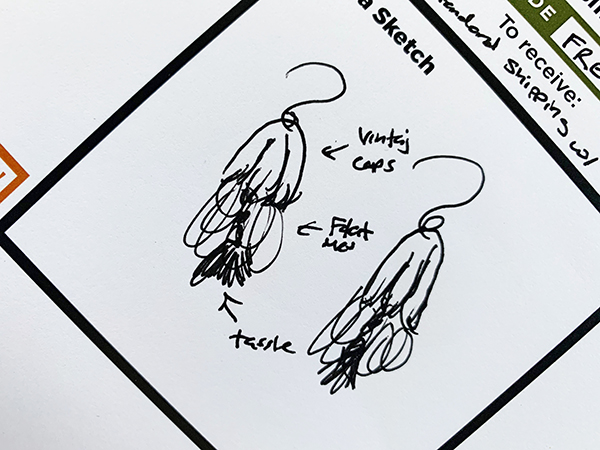 Supplies:
Flat Mesh SilverSilk Chain
Bead Caps from Vintaj
Soft Flex Beading Wire .019 Diameter - Pink Tourmaline
Soft Flex 2x2mm Crimp Tubes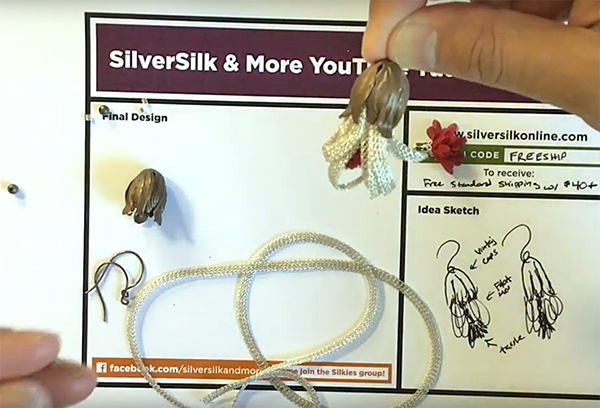 YouTube created a new rule for live streaming and our friend Nealay Patel needs our help! Let's help him get to that magic 1,000 subscribers so he can once again stream live from YouTube and offer us his amazing Tuesday Tuts!Click here to subscribe to the SilverSilk and More YouTube Channel.
Join Nealay's Exclusive Facebook Group: The SilverSilk Silkies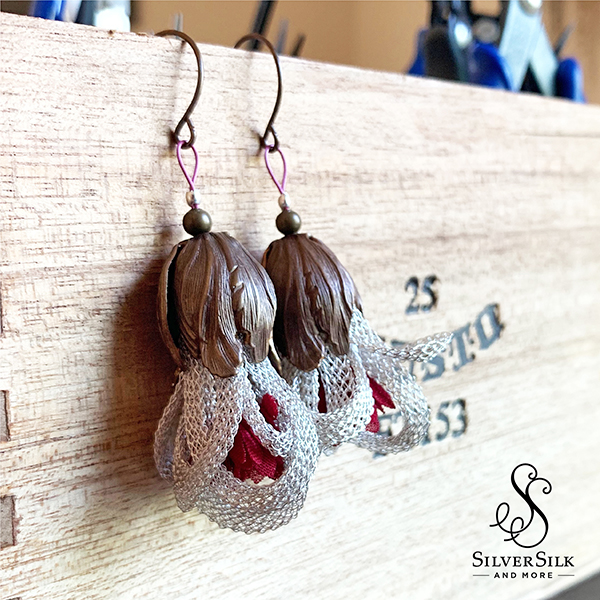 Join our Facebook group – VIB. Stay in the know. Stay up to date. From our bead shows to our video shows and sales, you can stay in touch with us. The community is full of artistic and helpful beaders and crafty people. Inspire and be inspired. Share your pictures and get the beading bug from others!

Visit the Soft Flex Company YouTube Channel!
---
Blog contributor Thomas Soles loves Jazz Age writers and crunchy french fries. His favorite gemstones are Lapis and Pietersite. His favorite hobby is day dreaming. And his favorite mustache is Freddie Mercury's. As you can see, he has a healthy (or possibly unhealthy) sense of humor. You can write to him at Thomas@SoftFlexCompany.com