TGIF! Time to relax and make some jewelry. Let the stress of the week ebb away like a gossamer tiger. We have so many great videos for you today. Are you up for an amazing binge watch? Today, we are looking at Vintaj Patina Paints. We have a new tool we are showing off. We are working with Soft Flex Craft Wire. We have a SilverSilk design you will love. And we have an unboxing with Yvonne Williams. There is so much to watch. Sit back and let the seeds of creativity blossom into a beautiful jewelry design!

Kristen started the week off with a colorful video. She showed us how to use Vintaj Patinas to color metal beads. Nealay designed a necklace with a gorgeous motif pendant. James showed off the newest tool on our shelves, the WigJig Delphi Jig Board, and created a set of earrings with the tool. A fabulous YouTube celebrity designer, Yvonne Williams, opened our Tucson Sunset Design Kit. James filmed another episode of Conversations in Wire, this time, he created a moon pendant with Soft Flex Craft Wire. It was a really busy week of jewelry designing. You are going to love this mix of videos!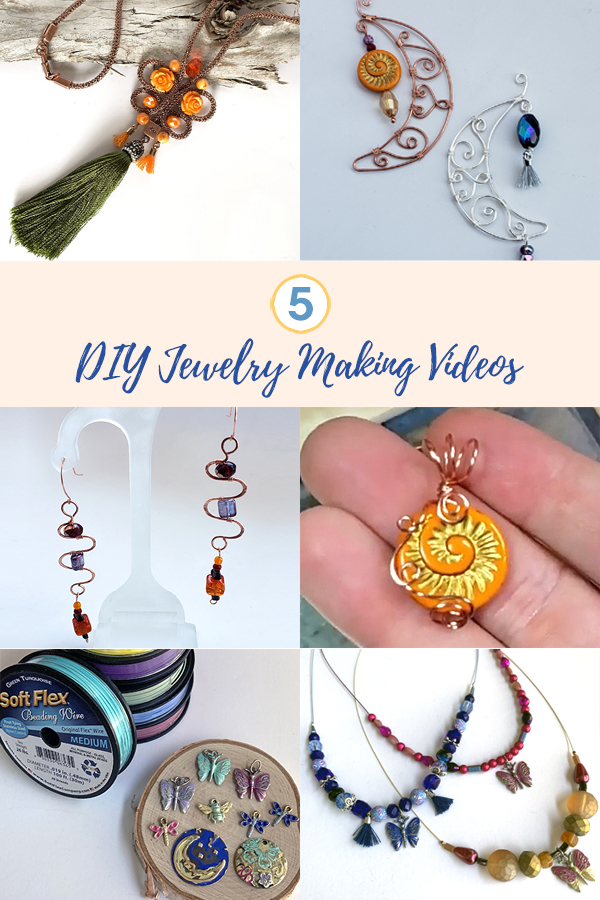 Make Beaded Jewelry With Colorful Patina Paint And Soft Flex Beading Wire
Join Kristen on Mondays at 12:00pm PST. Her series, Free Spirit Beading, is a joyous look at jewelry design. She shows us how to create jewelry and enjoy the journey. She doesn't linger on mistakes, but considers them part of the experience. Her videos are free spirited and fun and if you watch live, she is always happy to answer your questions.
This week, Kristen used Vintaj Patinas to paint some metal beads. Vintaj Patinas are wonderful for adding color to your metal bead collection. They are great for creating a theme, adding color, or even painting crimp tubes to match a jewelry design. Get creative!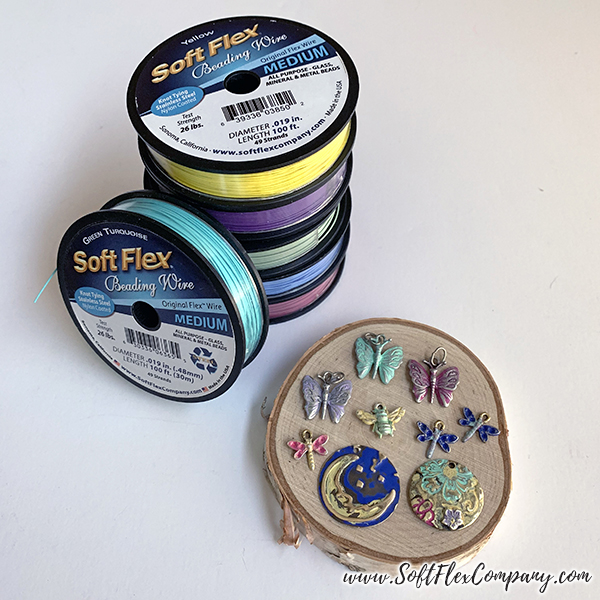 Vintaj Patinas are opaque inks specially formulated by Ranger to adhere to metal. Vintaj Patinas are fast drying, acid free, UV safe and clean up with water. They are permanent and work beautifully on a variety of surfaces such as metal, glass, wood, fabric, paper, leather, burlap and so much more! You can simply paint on and leave as is or apply Vintaj Glaze as a sealer for extra durability.
Visit Vintaj's YouTube Channel for Patina technique videos.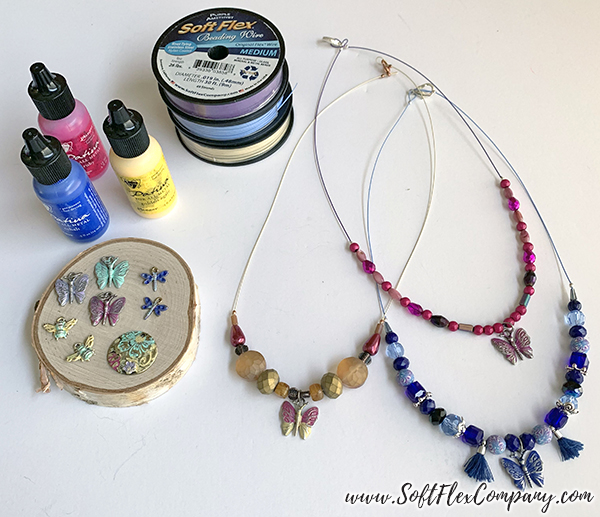 Supplies:
Soft Flex Medium Beading Wire
Soft Flex Bead Mixes (Blueberry Pie, Saraswati, Night Blooming Garden & Tucson Sunset)
Vintaj Patina Paints
Assortment of Metal Charms
Jump Rings
Lobster Claw Clasp
2x2mm Soft Flex Crimp Tubes
Chain Nose Pliers
Magical Crimping Pliers
Cutters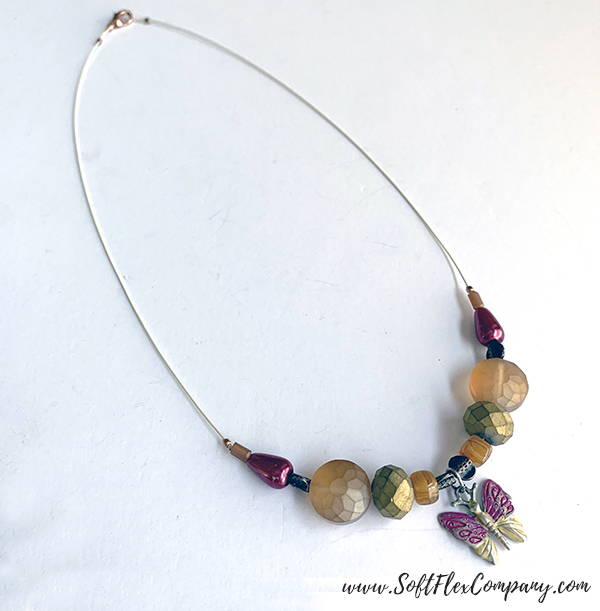 Vintaj Patinas look wonderful. You can paint your metal beads and leave the ink so it has a beautiful enameled finish. You can age the paint by dabbing it as it dries and then buffing the paint out slightly. You can use a darker patina and buff it until it only remains in the relief areas of a bead for a real antique look. Vintaj Patinas are so versatile!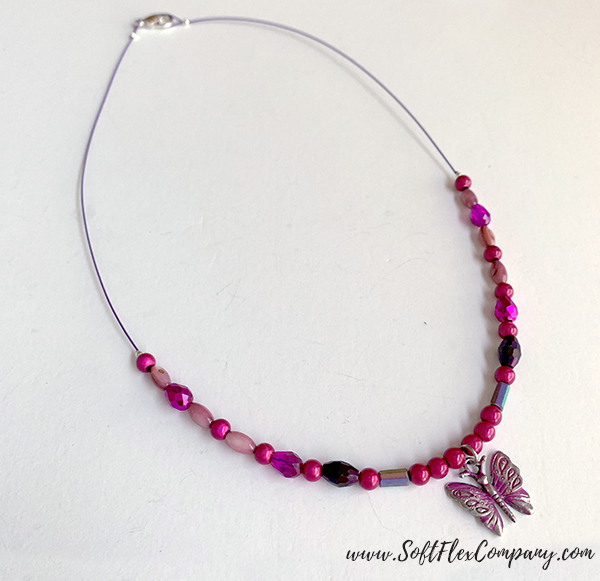 Wow! Kristen painted a fun variety of beads. A sumptuous lemon yellow moon in a lapis sky. Floral toned bees, radiant dragonflies, and beautiful butterflies - oh my! Kristen loves to paint. She has had her work in galleries and you can find her art pieces on her website. This video will give you an idea of what is possible with Vintaj Patinas. You do not have to be a painter to master these patinas, so don't be intimidated.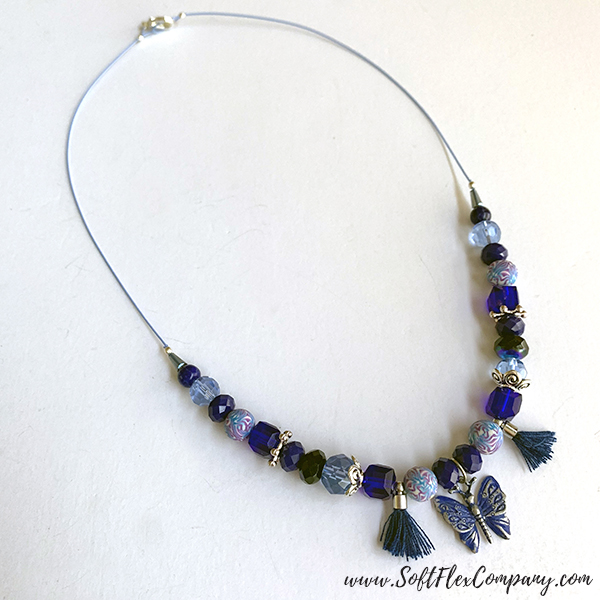 Look how Vintaj Patinas can change a simple metal bead into a dazzling focal piece. If you have metal beads in your collection that have not found a home on a jewelry design, these patinas will make it easy to add some glitz. There is an amazing range of colors to choose from, you are sure to find a tone you love.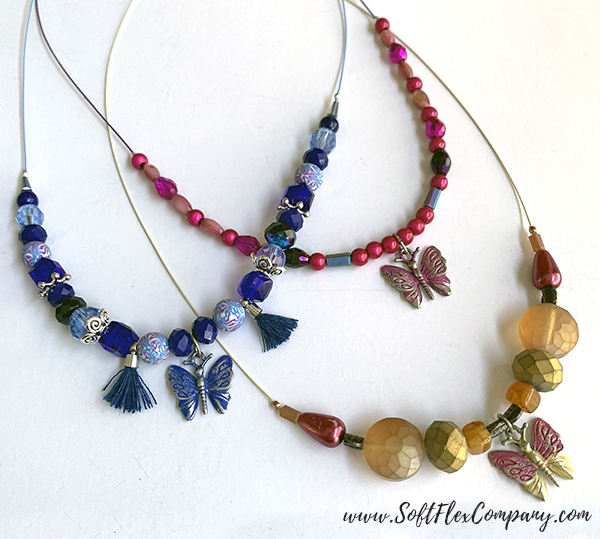 Motif Pendant with Antique Copper SilverSilk Capture Chain and Soft Flex Craft Wire
Nealay is the owner of SilverSilk and More. He is an incredible jewelry designer and a great friend. We love to watch his jewelry design videos. He has so many great ideas and his work is easy to follow. If you miss him live, you can find his videos on YouTube and Facebook.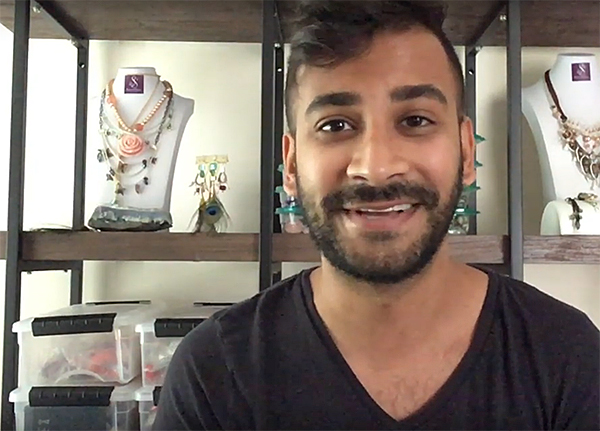 From Nealay:
We'll be twisting and turning capture chain into a fabulous motif design, assembled together using 24-gauge Soft Flex Craft Wire and some very special beads from Jesse James Beads. Learn how to attached findings, work with Craft Wire and design something truly one-of-a-kind with me!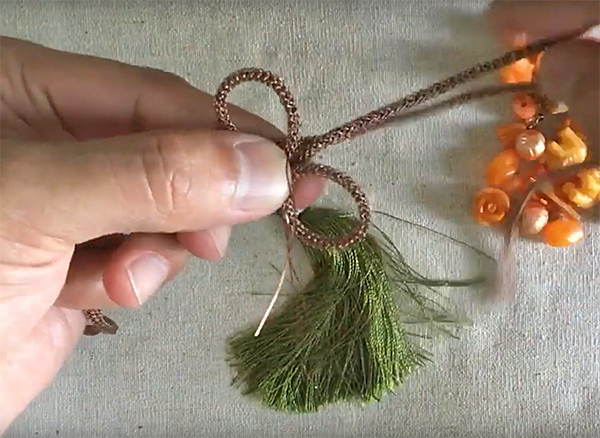 Supplies:
SilverSilk Capture Chain
Soft Flex Craft Wire
Beads from Jesse James Beads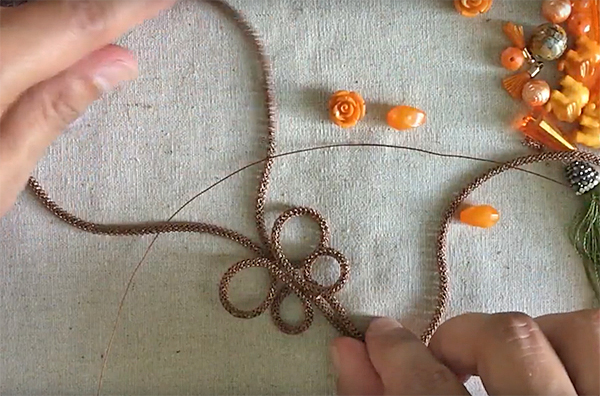 Make sure you visit SilverSilk and More. Nealay has some decadent chain and components on his site. Capture Chain looks amazing and intricate. It is so easy to work with and you can create some unique designs. Capture Chain can be paired with Soft Flex Craft Wire and Beading Wire for a stunning necklace, bracelet or earrings!
From the SilverSilk website:
SilverSilk Capture Chain is made by knitting six 36-gauge, permanently enameled, non-tarnish wires over a 2mm ball chain to create a 3mm knitted wire cord. The ball chain provides structure, while the knitted wire adds beauty and intricacy. Our single-, double- or triple-strand custom-designed end caps, located in the Findings section, provide a polished finish to the ends of this knitted wire.
Join Nealay's exclusive Facebook group, The SilverSilk Silkies.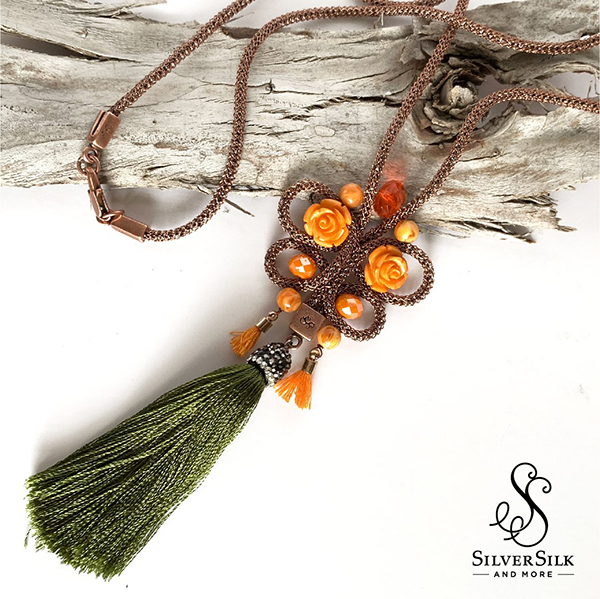 Live demonstration with James Browning using the new WigJig Delphi Wire Jig
James filmed a quick episode of Conversations in Wire on Wednesday. He normally uploads his series to our YouTube channel, it was fun watching a live episode on our Facebook page. He wanted to show off the latest tool on our shelves. James made an easy pair of earrings with the WigJig Delphi, Soft Flex Craft Wire and beads. The WigJig Delphi is a great tool for earrings. The jig board makes it easy to replicate a pattern or design. The board and peg placement ensure that you will always get a consistent look if you make earrings.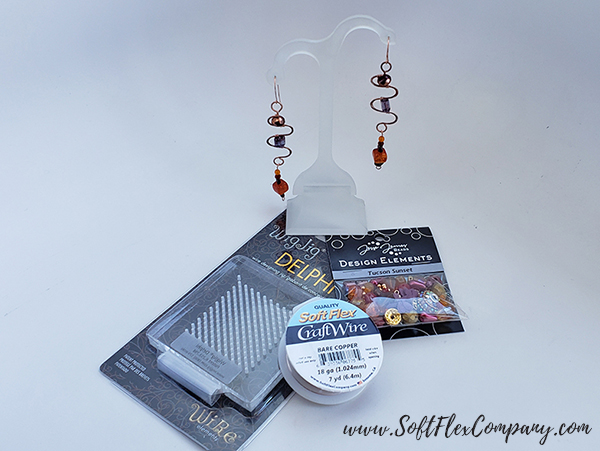 Supplies:
Soft Flex Craft Wire - Bare Copper 18ga
WigJig Delphi
WigJig Small Round Super Pegs For Delphi
LoopRite Looping Pliers
Nylon Jaw Pliers
Bead Nipper (Cutters)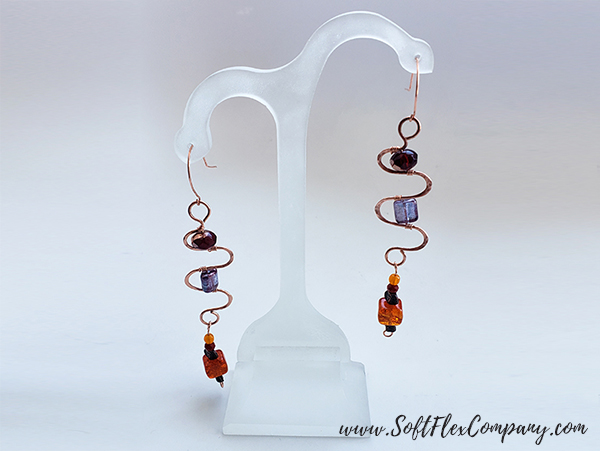 Yvonne Williams opens the Soft Flex Tucson Sunset Design Kit
Yvonne Williams is an artisan based in Missouri. She has a very popular jewelry design and craft channel on YouTube. She works with a variety of artistic mediums. She works with polymer clay. She creates chainmaille jewelry. She is an avid wireworking artist. She is a leatherworker. She creates cosplay costumes. She is always exploring!
This week, she opened a Soft Flex Tucson Sunset Design Kit.
From Yvonne:
Join me in unboxing a Soft Flex beading kit and trying out their non-tarnish Craft Wire! 10 out of 10, would craft again!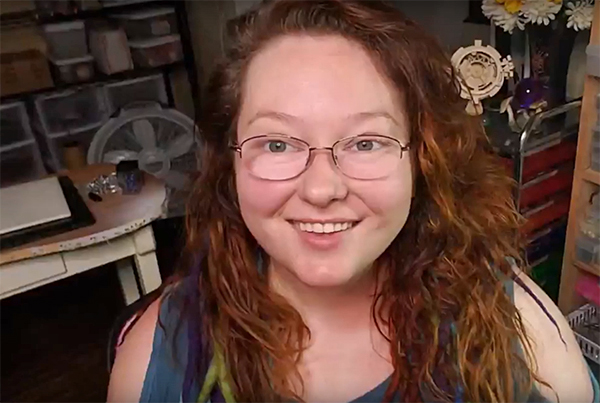 James considers Yvonne Williams a jewelry designer icon. He credits her as an inspiration on his art work. He got in touch with her to see if she would like to unbox a mystery design kit and make some jewelry with it. He was delighted when she said yes.
From James:
Yvonne Williams was the one that started me on my wire wrapping journey.
This was a fun video. Yvonne opened our Tucson Sunset Design Kit. She loved the quality of the contents and also thought the kit looked like a great investment. As a business owner, she looks for quality and material investment. She wants to make sure the beads she buys can be turned around as a profit.
Yvonne had never worked with 22 gauge Soft Flex Craft Wire before. She made sure to beat it up a bit so she could give an honest review. She was pleased with the results. She says she is going to visit the site and purchase sizes she has worked with before so she can play with gauges she is familiar with. In the end, she was very excited to have worked with this kit!
Supplies:
Soft Flex Design Kit
Soft Flex Craft Wire
Bead Nippers (Cutters)
Bent nose pliers
Round Nose Pliers
Nylon Jaw Pliers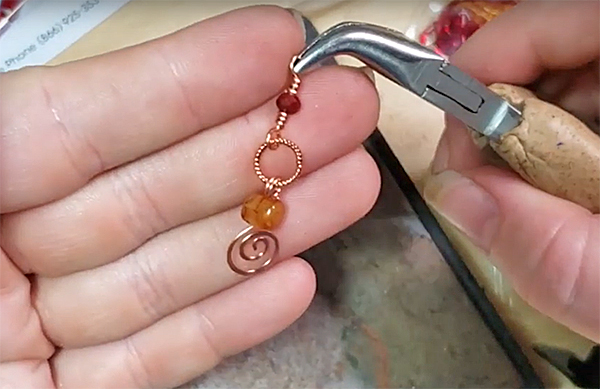 If you would like to join Yvonne's communities, follow the links below.
Join Yvonne on Discord.
Yvonne's Etsy Store.
Craft with Yvonne at Craft Along Con.
YouTube can be a finicky business, if you like Yvonne's work, make sure to support her Patreon. Patreon is a great way to fund an artist so they can produce more YouTube videos. Yvonne's daily tutorials are sponsored by her generous Patrons and viewers. Please like, share, and subscribe to her videos and feel free to follow her on social media:
Join her Craft Along Club on Patreon for exclusive behind the scenes updates and access to her monthly craft along kits!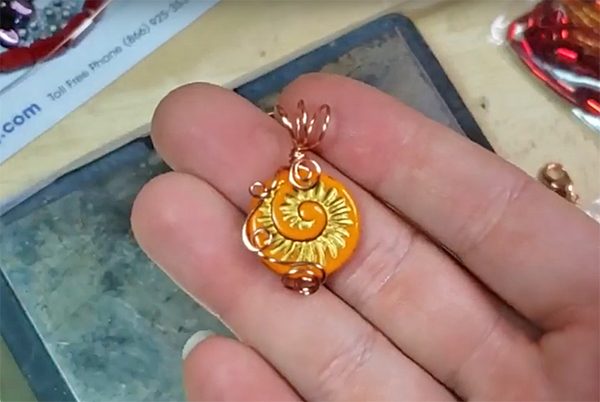 Make A Crescent Moon Pendant Using A WigJig and Soft Flex Craft Wire
James is back for another YouTube episode of Conversations in Wire. James loves Soft Flex Craft Wire. He designs all sorts of jewelry with it. He loves to wrap beads, create focal beads, and create fun new designs. He loves to explore new uses of the wire. His series follows his passion. You can find new episodes of his series on our YouTube channel every other Thursday.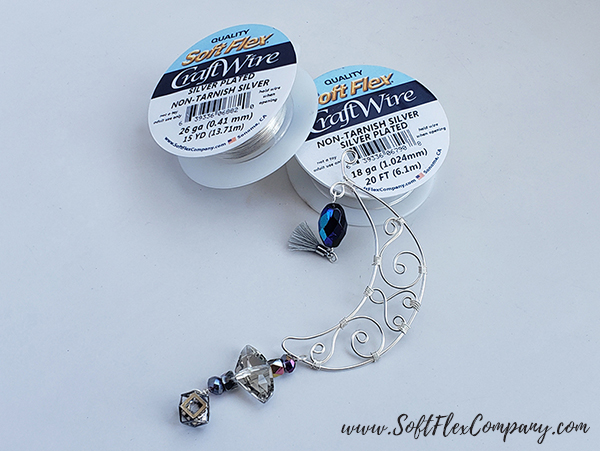 Who doesn't love a fun crescent moon design? Lovely Luna has been inspiring artists since man first walked the Earth. James opted to create a fun crescent. A little boho chic, a little mystery - there are no ends to the possibilities with a moon pattern.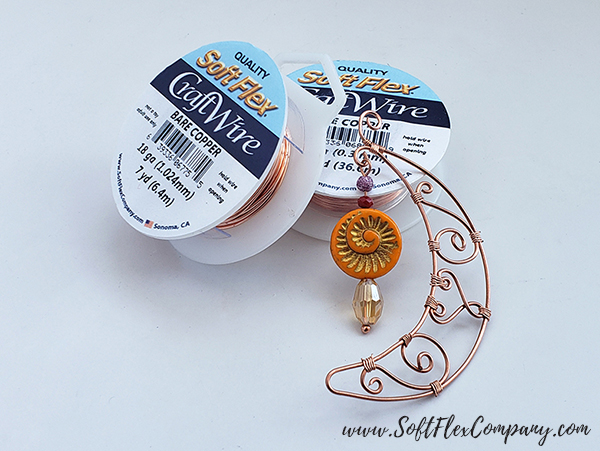 Supplies:
Soft Flex Craft Wire - 18ga
Soft Flex Craft Wire - Silver Plated 18ga
Soft Flex Craft Wire - 26ga
Soft Flex Craft Wire - Silver Plated 26ga
WigJig Delphi
WigJig Super Pegs
Round Nose Pliers
Chain Nose Pliers
Nylon Jaw Pliers
Bead Nipper (Cutters)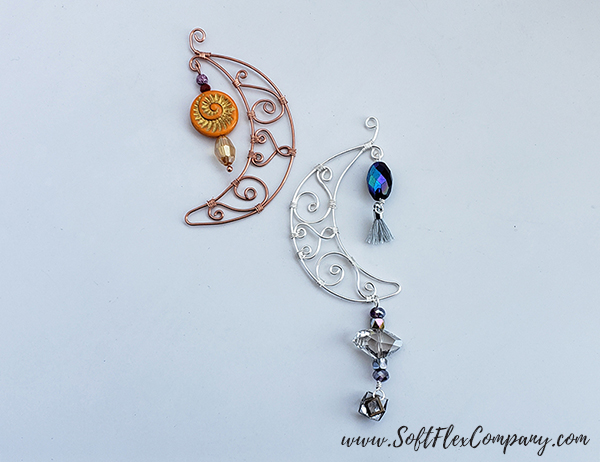 This look is incredibly versatile. You can wrap the moon with wire. you can add as many or as few beads as you wish. You can add a dangle or just create the crescent itself. If you do not have a mandrel or surface to work the wire around for the shape, get creative - James used an ibuprofen bottle to guide his wire into a moon shape. Fun!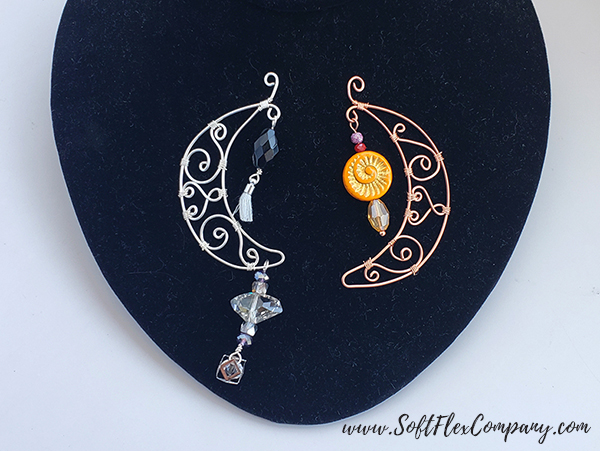 Join our Facebook group – VIB. Stay in the know. Stay up to date. From our bead shows to our video shows and sales, you can stay in touch with us. The community is full of artistic and helpful beaders and crafty people. Inspire and be inspired. Share your pictures and get the beading bug from others!

Visit the Soft Flex Company YouTube Channel!
---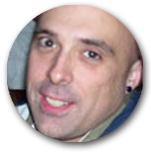 Blog contributor Thomas Soles loves Jazz Age writers and crunchy french fries. His favorite gemstones are Lapis and Pietersite. His favorite hobby is day dreaming. And his favorite mustache is Freddie Mercury's. As you can see, he has a healthy (or possibly unhealthy) sense of humor. You can write to him at Thomas@SoftFlexCompany.com