My goodness. Halloween is only a month away. It is time to scare up some DIY Halloween costume and Halloween jewelry ideas. We have some frightful suggestions. We have a bunch of great jewelry making videos this week. One Halloween video and a mixed bag of other treats. We look at jewelry making kits, our big Closeout Sale, and a fun wire wrapping episode of Conversations in Wire. Put your fangs and witches hat on and let's enjoy the show!

This week, Kristen discussed DIY Halloween ideas. She was inspired by costumes and designed earrings to match the costumes. Orchid and Opal Jewelry and Beads filmed a Finished Jewelry Update and showed off a jewelry design from our Unicorn Sparkles Design Kit. Nealay filmed the third stop on his Path to Patagonia Facebook Bead Tour. Sara showed us how easy it is to shop our big Closeout Sale. Finally, James showed us how to craft some lovely wire wrapped rings using Soft Flex Craft Wire. If you would like to make the rings James made, make sure you check out our Closeout Sale, the wire he used is available on that sale!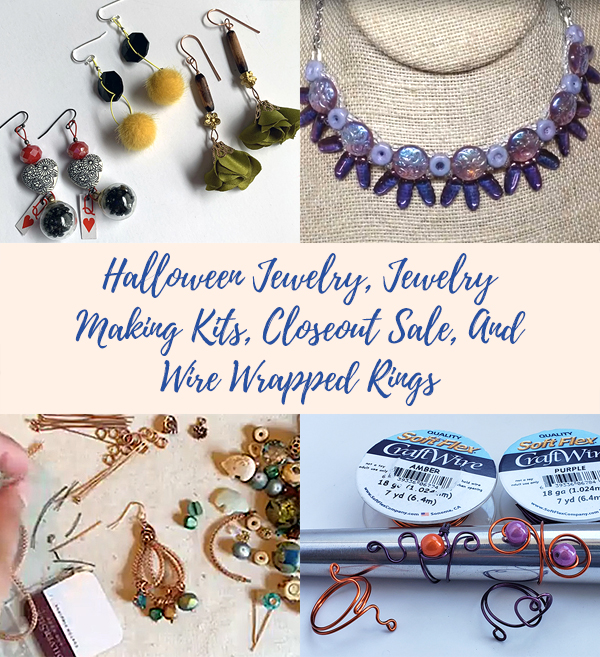 Simple Earring Ideas For Your DIY Halloween Costume
Join Kristen on Mondays at 12:00pm PST for her live YouTube series, Free Spirit Beading. Kristen is a talented jewelry designer/ artist/ graphic designer. She wears many hats and her work is always lovely. Her show is a laid back look at jewelry design. Her videos are fun to watch and so instructive. She is a great source for inspiration if you are looking for a muse.
Kristen filmed an enchanting Halloween inspired video this week. She is a wizard at making earrings with Soft Flex Beading Wire. She showed us how to cast a spell with some creative earrings for the eeriest night of the year.
Kristen found some creative DIY costumes online. She thought it would be fun to make matching earrings for the costumes. If you are a Queen of Hearts, a Bumble Bee or Woodland Forest Fairy, you can sleep easy tonight, Kristen has some bewitching ideas for you. You guys are covered this year if you want to make an otherworldly set of earrings for your costumes.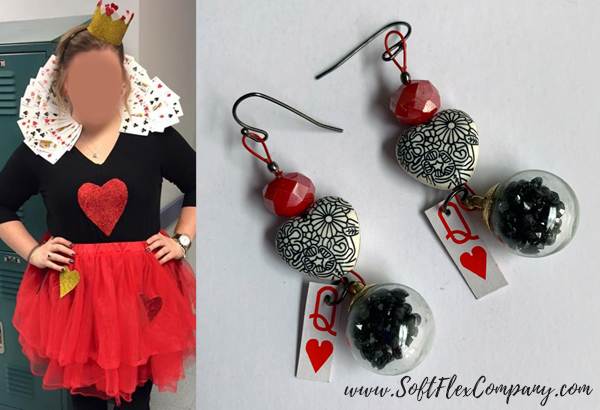 Supplies:
Soft Flex Medium Beading Wire in Yellow, Red Coral and Copper Color
Night Blooming Inspiration Bead Mix
Wood Beads
Flower Beads (from Saraswati bead mix)
Queen of Hearts Playing Card
Jump Rings
Ear Wires
2x2mm Soft Flex Crimp Tubes
Crimping Pliers
Chain Nose
Pro Flush Cutters
Bead Mat
Scissors
Beading Awl
Mini Macrame Board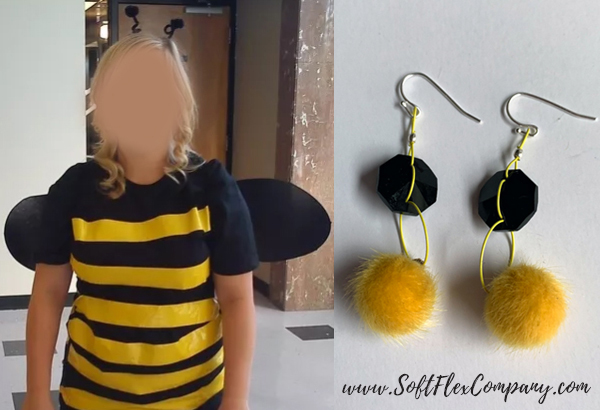 We would love to see your handiwork. If you make Halloween jewelry, post your spookiest on our Facebook group – VIB. There are sure to be plenty of bone-chilling creations that will be posted soon. Our group is lively and full of fun jewelry designers and crafty folk. We embrace creativity and nuture a postive environment. We would love to talk jewelry with you! VIB is also a fantastic place to find tips and tricks if you would like to become a better designer or learn a new jewelry medium.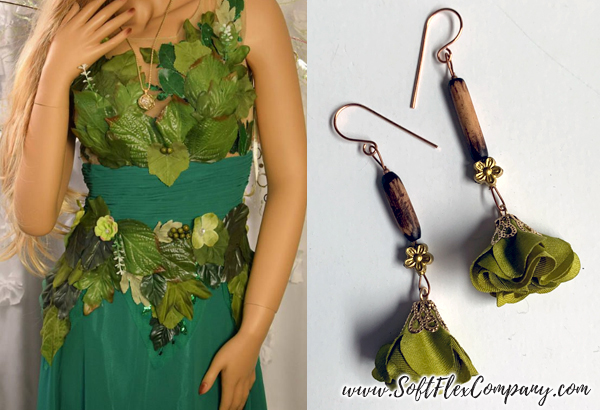 Orchid and Opal Jewelry & Beads:Finished Jewelry Update - September 16, 2019
Two weeks ago, Gina from Orchid and Opal Jewelry and Beads, unboxed our Unicorn Sparkles Design Kit on her YouTube page. She went into incredible detail about what the design kit contained and her thoughts about it. It was a great watch if you would like to know more about how we package our mystery kits and the contents inside. She mentioned the kit's value with all of the items inside. Overall, it sounded like she enjoyed the design kit and thought it was a great way to save on beads and wire.
Gina had a packed schedule and was not able to design jewelry when she unboxed our Design Kit. But she posted an update this week and shared her finished jewelry. She created a lovely necklace. It was fun to see where she went with the beads and wire that was inside.
Part of the fun of our kits is seeing how different people interpret the contents. The kits are similar but each designer explores unique and different design ideas. It is pretty amazing. If you would like to see some finished designs from our kits, check out our VIB Facebook group. Lots of gorgeous jewelry has been made from each of our design kits.
From Gina:
Hey everyone! I am excited to share some finished jewelry pieces that were inspired by various items from my August 2019 subscription boxes and hauls. Enjoy!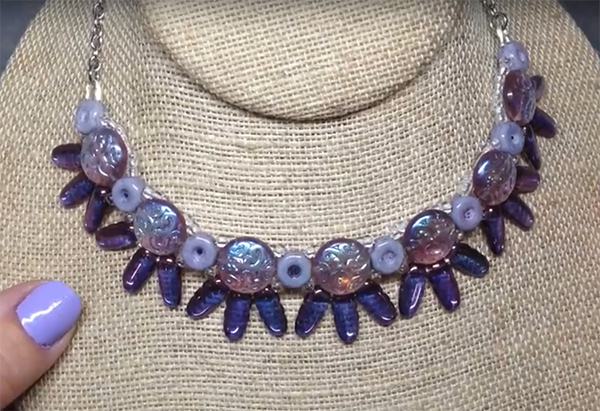 Find Orchid and Opal Jewelry and Beads on:
YouTube
Website & Blog
Facebook
Instagram
Pinterest
If you ever feel like writing:
P. O. BOX 5891
3530 Post Office Road
Midlothian, VA 23112
E-mail: orchidopaljewelry@gmail.com
Nealay's Third Stop on the SilverSilk Path to Patagonia Facebook Bead Tour
Nealay's third stop on the Path to Patagonia Facebook Bead Tour landed on the TierraCast Facebook Page. His latest mystery bead kit was inspired by the icy region of Patagonia. This area, claimed by Chile and Argentina, is a land of glaciers, high cliffs, volcanoes, and grassy plains. There is a lot of mystery in this sparsely populated part of the world. Perfect for a beading muse!
On the third stop of this tour, Nealay designed a lovely earring (he completed the set off camera) with his SilverSilk Hollow Mesh Knitted Wire and Soft Flex Beading Wire. This time, he guided the Soft Flex Beading Wire down the length of the Hollow Mesh. He made a couple of teardrop shapes with the wire and crimped them together to create a unique earring. He then added TierraCast cord ends and charms. It was a remarkable design and one he finished without sketching out beforehand.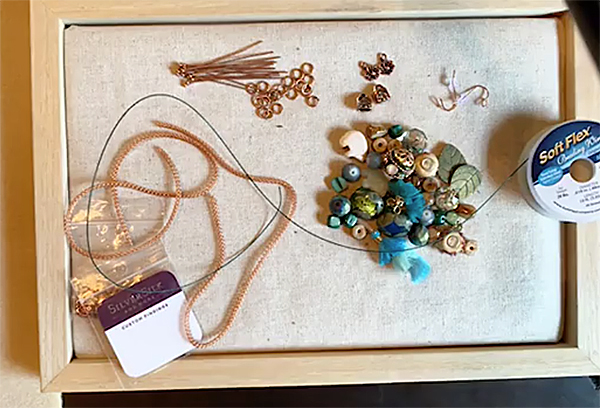 From SilverSilk and More:
Watch author/ designer Nealay Patel from SilverSilk open a mystery kit and make a fabulous jewelry design using TierraCast goodies! Come join and chat with Nealay live!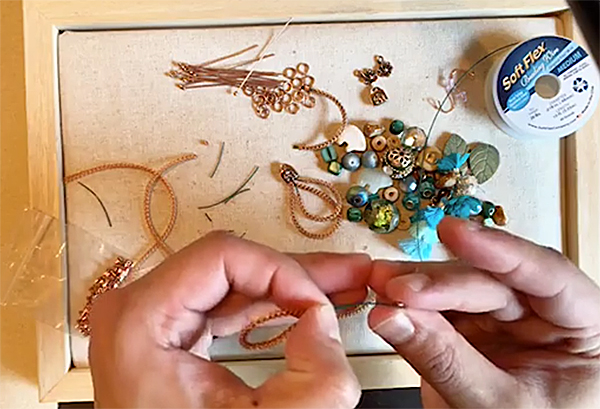 Supplies:
SilverSilk Path to Patagonia Kit
SilverSilk Path to Patagonia Extension Kit
Soft Flex Beading Wire, .019 Diameter - Green Emerald Color
SilverSilk Capture Chain - Antique Copper Color
SilverSilk Capture Chain with Gun Metal Ball Chain - Sea Shore Color
SilverSilk Hollow Mesh
SilverSilk Double-Strand End Caps
SilverSilk Triple-Strand End Caps
SilverSilk Terminators
SilverSilk Two-Hole Bead Sliders
Ear Wires
Magical Crimping Pliers
Chain Nose Pliers
Cutters
2x2mm Soft Flex Crimp Tubes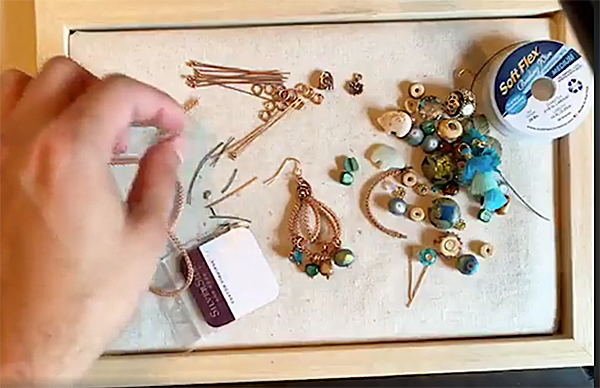 You can find Nealay on Facebook and YouTube. If you are a fan, make sure you join his active group on Facebook - The SilverSilk Silkies. He is very accessible and loves to answer questions. He is a great jewelry teacher and source of inspiration.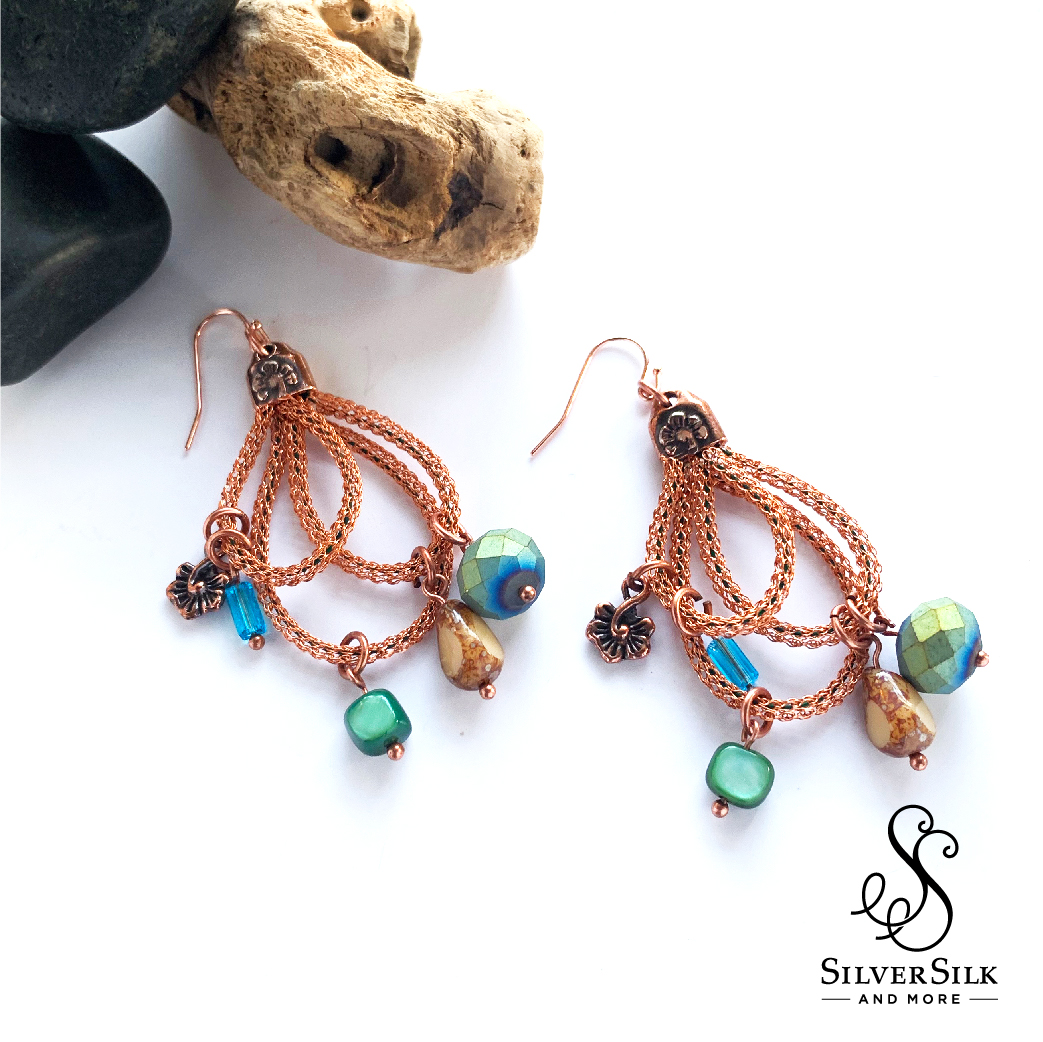 Make your own version of these amazing earrings! They are deceptively easy and you can play around with color and bead options. SilverSilk Hollow Mesh and Soft Flex Beading Wire pair really well. You can create elegant jewelry in minutes.
Sara Discusses New Closeout Items
Sara filmed a quick video discussing our Closeout sale - Fall into Savings! Save an extra 10% off Closeout items for retail customers and an extra 20% off Closeout items for wholesale designers (already discounted 30% off). This is an amazing deal and we have some fabulous Closeout items. Don't let the name fool you, there is absolutely nothing wrong with our Closeout goodies, they are just not moving as fast as we would like or are similar to existing items. All of our Closeout items are as high quality as our regular inventory.

Before this sale, over fifty items became Closeout items. Everything from Bead Mixes, Soft Flex Beading Wire, Soft Flex Craft Wire, and some lovely components.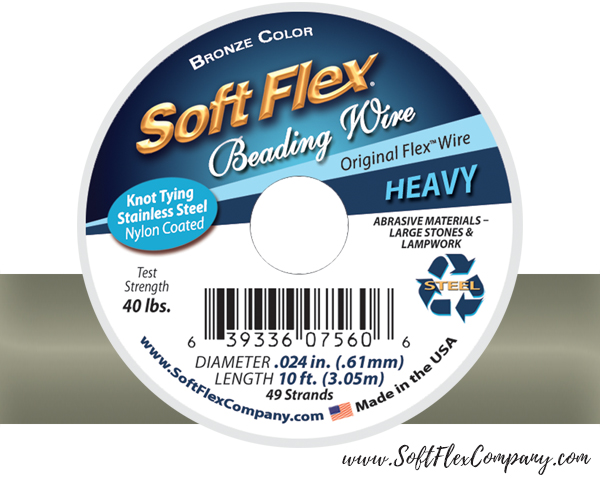 We moved our Bronze color, Heavy diameter, Soft Flex Beading Wire into Closeout. We will eventually move this color from all diameters into Closeout, but we started with Heavy. This color is similar to our Antique Brass and we felt it was a good idea to closeout a similar color.
Soft Flex Beading Wire is a lead-free beading wire for designers that demand strength and durability. Soft Flex Beading Wire is a superior beading wire, created by beaders for beaders. Soft Flex Beading Wire is constructed of either 21 or 49 micro woven stainless steel wires. It is supple enough that it can be knotted and comes in a wide variety of colors. It is available in 3 diameters: .014, .019, and .024. We recommend Soft Flex Beading Wire for designers that want their pieces to last and eliminate the frustration of restringing.
.024 Heavy is ideal for abrasive materials, large stones, lamp work and bracelets. We suggest finishing with 2x3mm crimps.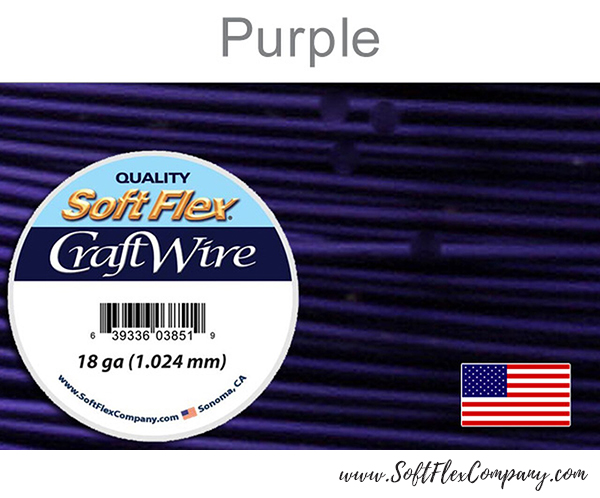 We moved a bunch of colors and gauges of Soft Flex Craft Wire into Closeout. These slow movers are wonderful in every way, they are just not setting the world on fire. Now is the perfect time to stock up if you love our Craft Wire.
Soft Flex Craft Wire is a high quality, permanently colored copper wire. It is resistant to scratching, peeling and marring. This is due to the special enameling process used to coat the wire to produce the wide spectrum of colors we offer. After the enamel is applied, the wire is then clear coated to prevent tarnishing.
Quality Soft Flex Craft Wire is 100% lead and nickel free. There are no other metals used in the wire production other than copper and fine silver. The temper of the wire is soft. It is firmer than similar wire products offered on the market, which are typically only available in dead soft and can't be tempered to half hard. An exceptional design idea deserves a professional craft wire.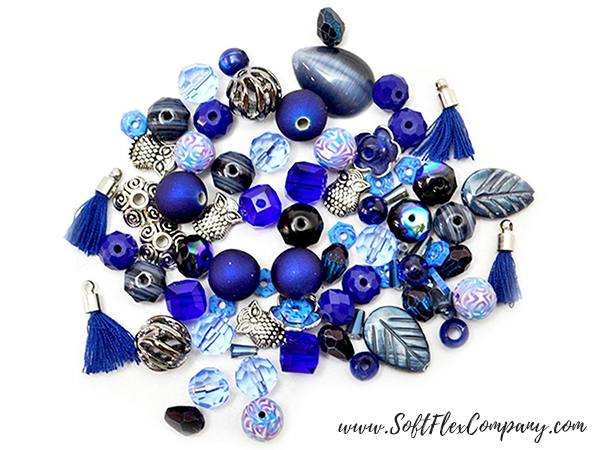 Our Bead Mixes are part of our Design Kits. We overstock them so we can offer them as separate items outside of the kit. These Bead Mixes are limited in inventory and exclusive to our site. We will continue carrying new and wonderful Bead Mixes but, to keep things fresh, we will be moving our older Bead Mixes to Closeout.
Do you like blueberries? Grab the Bead Mix above, before it sells out!
Would you like a slice of the blueberry pie? Why yes, yes we would. This blue bead mix is so juicy, so sweet, it just melts in your, um, hands! Beads to seek out in this blue blend are the ceramic chunkies, translucent blue flower glass, cobalt blue rhinestone spacers, silver capped tassels, flower cage charms and an overall array of blue glass and acrylic. Mini mix beads are the teeniest of all mixes!
How To Make Adjustable Wire Rings Using Craft Wire
James Browning is Soft Flex Company's Craft Wire guru. He has some incredible designs and is always pushing himself to be better. He is a great teacher. His videos are easy to follow and clear. Even if you have never used Soft Flex Craft Wire, you can create the designs he makes with ease. This week, he showed us how to make some highly stylistic rings with Craft Wire from our Closeout Category.
James suggests buying a ring mandrel if you want to make rings. Their measurements are much more precise than improvising. If you do not have access to a ring mandrel, you can use items from around the house. You will need to get creative and it may not work perfectly, but it will get the job done.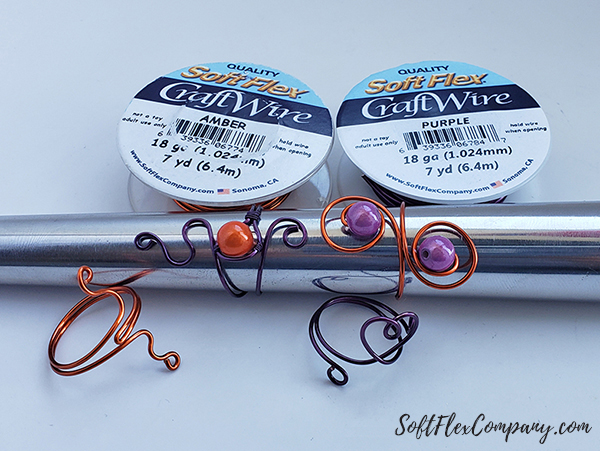 These rings are fabulous. You can use different colors and wrap your own unique styles. Shelley, a member of our customer service, says she intends to use red Soft Flex Craft Wire and make the heart rings James showed us. Perfect for Valentine's Day!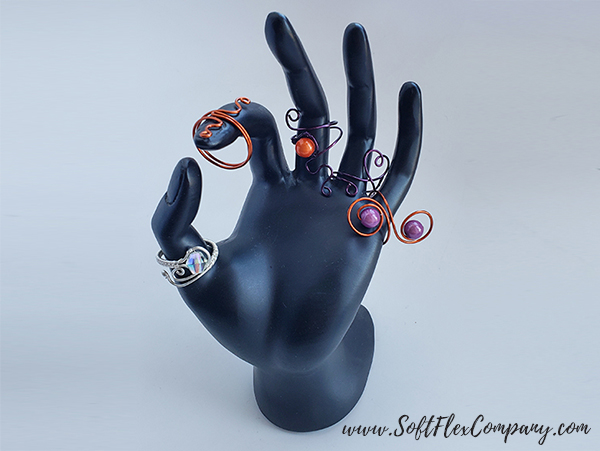 Supplies:
Soft Flex Craft Wire - 18ga
Soft Flex Craft Wire - Silver Plated 18ga
Soft Flex Craft Wire in Closeout
LoopRite Looping Pliers
Nylon Jaw Pliers
Bent Nose Pliers
Chain Nose Pliers
Round Nose Pliers
Bead Nipper (Cutters)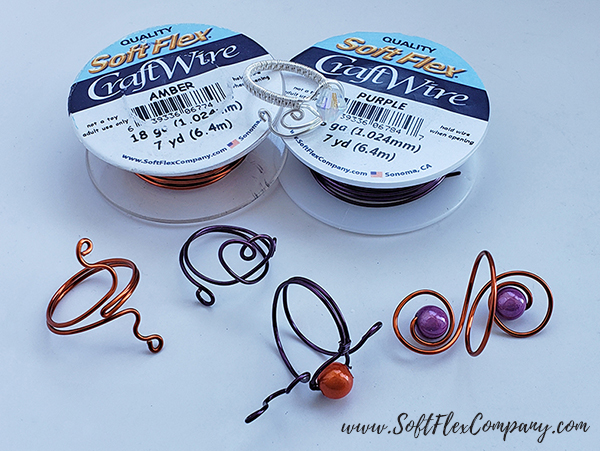 Don't miss Conversations in Wire. James uploads a new episode every other Thursday. During the premiere, you can chat with us, live, as it airs. James loves to answer questions about the videos and we all have fun watching him create something new and lovely. If you would like to start wire wrapping, this is a great way to learn about the tools and techniques James uses. We even have a Craft Wire Starter Kit to launch your favorite new hobby!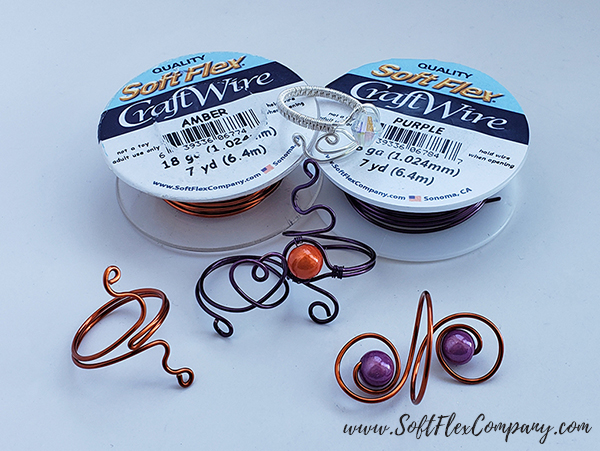 Join our Facebook group – VIB. Stay in the know. Stay up to date. From our bead shows to our video shows and sales, you can stay in touch with us. The community is full of artistic and helpful beaders and crafty people. Inspire and be inspired. Share your pictures and get the beading bug from others!

Visit the Soft Flex Company YouTube Channel!
---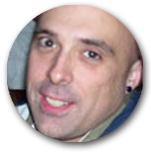 Blog contributor Thomas Soles loves Jazz Age writers and crunchy french fries. His favorite gemstones are Lapis and Pietersite. His favorite hobby is day dreaming. And his favorite mustache is Freddie Mercury's. As you can see, he has a healthy (or possibly unhealthy) sense of humor. You can write to him at Thomas@SoftFlexCompany.com