We hope you had a healthy week. We have been isolating and keeping our minds busy. Making jewelry is a great quarantine craft. This week was full of fun beading distractions. We unboxed our previous design kit on Wednesday - Kit Day! We had a live sale that was open until late Sunday. We learned how to stamp textures into metal blanks. We watched a friend created a stunning braided chain necklace. Want to beat the coronavirus boredom? Check out our video recap and new a learn technique or two. With schools closed, this can be your free online beading class!

Kristen taught us how to make textures on a metal blank. This is a great way to add character or weather to a pendant or jewelry component. Sara hosted another exciting Kit Day. Kit Day is our favorite company holiday. We unbox our last themed jewelry design kit and reveal its contents. We also announce a new kit. So much fun! Our kits are basically all you need to design a bunch of jewelry. You just need basic beading tools - usually just crimping pliers and cutters. Luisa at Misty Moon Designs unboxed our Painted Sunflowers Kit (Sold Out) and gave us her thoughts. We watched Nealay design a gorgeous braided chain necklace with SilverSilk. It was a great week. We all stayed isolated, but our videos and VIB Facebook group brought everybody together for a rousing virtual party. Let's all stay healthy and bead on!
Join us for our Daily "Joyful Beading" Challenges. We wanted to foster the spirit of creative fire during this stressful time! Every design that you post in the Soft Flex VIB Studio Facebook Group before midnight PST, is an entry to win a $10 credit for your next order! Visit www.SoftFlexCompany.com for your beading supplies!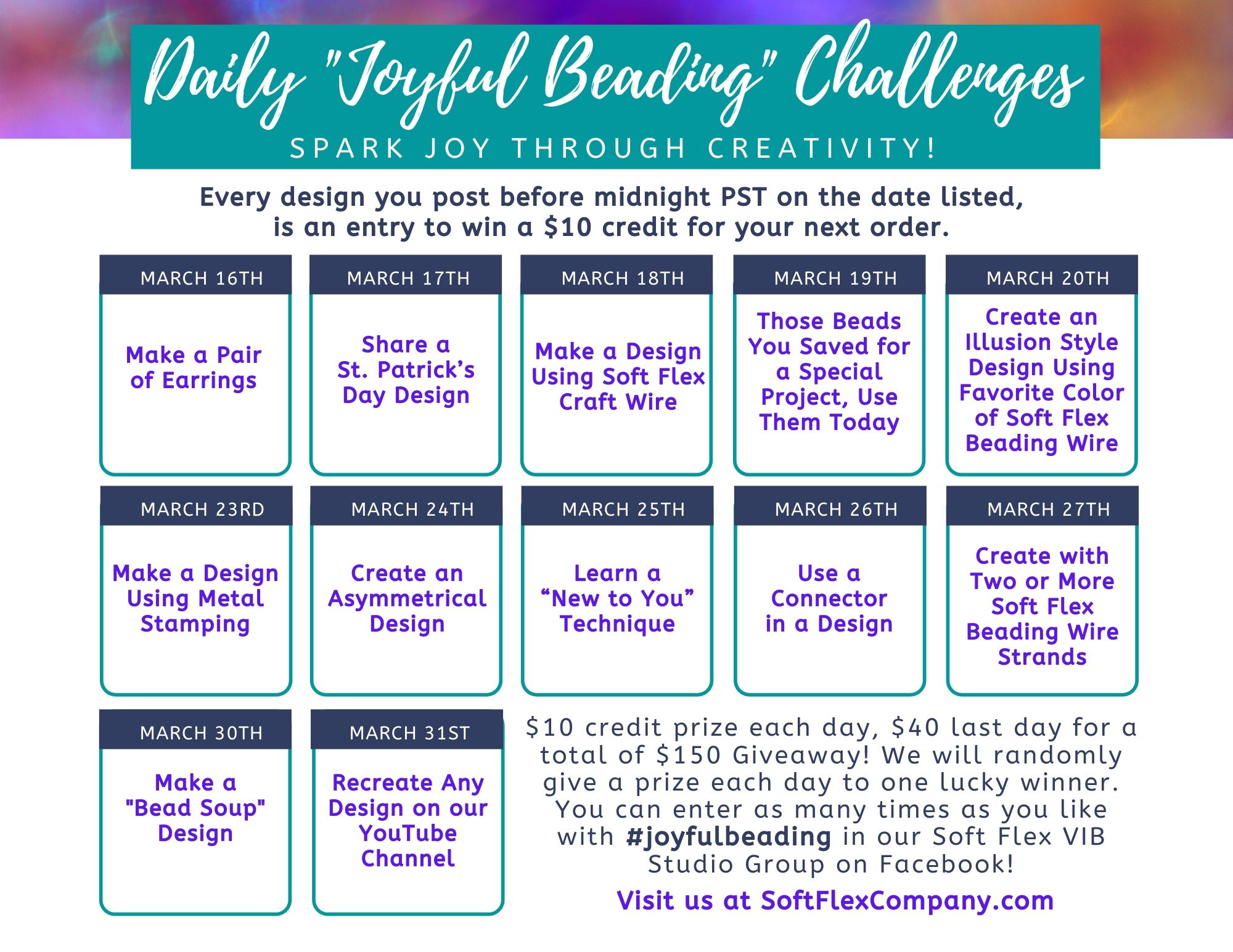 Want to Download and Print this Calendar? Click here.
The La Fleur Design Kit (Sold Out) is a blissful ode to the soft colors of spring flowers.
The air is honeyed and sweet. Hyacinth pink dances in pastel fields. Delicate baby Camellia whispers its warm pink tones. Milky white and purple Primrose sways in languid drifts. Bluebell shimmers in electric carpets. The earth is shedding chilly winter and embracing rebirth and life. Design jewelry that is energizing and hopeful!
Our La Fleur Design Kit is perfect for Mother's Day. Celebrate the mighty matriarch with a palette full of soft pastels. This kit is as delicate as Mom is strong! Share this wonderful jewelry making kit with the a family member. Great for sisters, daughters, and grandmoms. There is power in the subtle beauty of the flower.
Sara will be doing a live broadcast on the Soft Flex Facebook page, with the La Fleur Design Kit, on Wednesday, April 29th at 1pm (PST).
If you'd like to join us in the design challenge next month, buy this kit and challenge yourself to try something new and unexpected. If you are new to beading, this kit comes with findings, beads, wire, and surprises.
Supplies are very limited. Don't miss out!
Jewelry Making Videos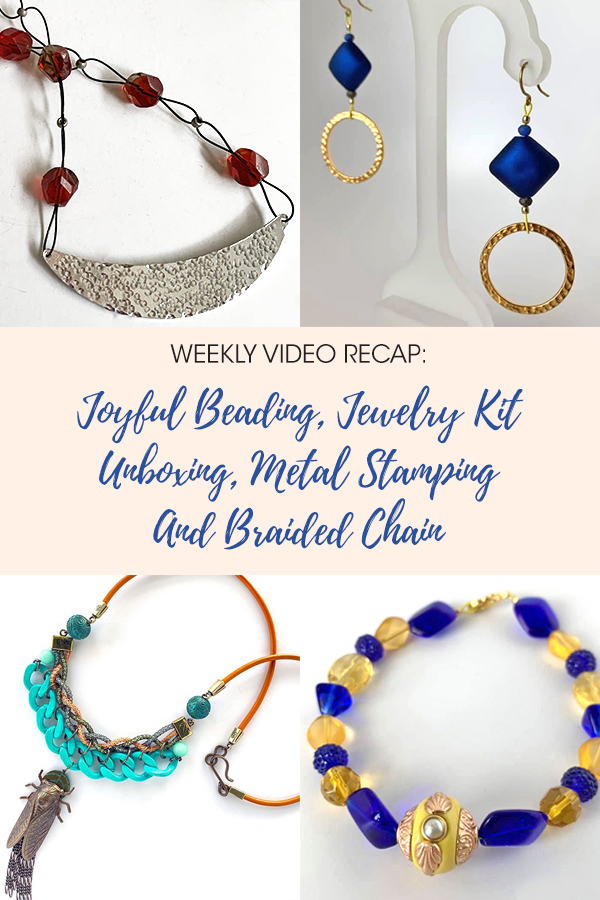 Create Texture On Metal And Make A Beaded Necklace
Kristen filmed another exciting episode of Free Spirit Beading on Monday. She is live on Mondays at 12pm PST.
This week, Kristen showed us how to use a metal stamping Multi-Function Texture Hammer to add texture to a metal blank. This amazing tool is great for metal working. you can use it to strike letters into blanks, patterns, textures, and even flatten your blanks. Kristen and Sara have covered adding text and stamps, but this is an exciting look at how easy it is to add a unique surface. Make your DIY jewelry creations really stand out with your signature finish!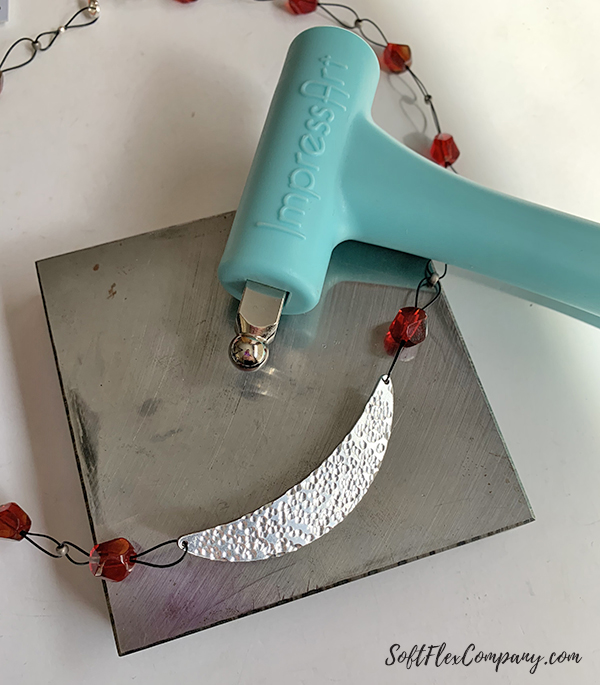 Interchangeable heads will add new functions to this Multi-Function Texture Hammer. All you need to do to switch out the attachments is slide the head you want into the hole on the hammer, secure it by twisting the base of the hammer. The four attachments that come with the hammer are:
Texture Stamp – Add sprinkle pattern texture design
Ball Peen Head – Create artisan hammered textures
Chasing Head – Texture, planish, and shape metal
Nylon Head – Flatten metal without marring
The Brass Head attachment add-on is specifically for using letter and shape stamps.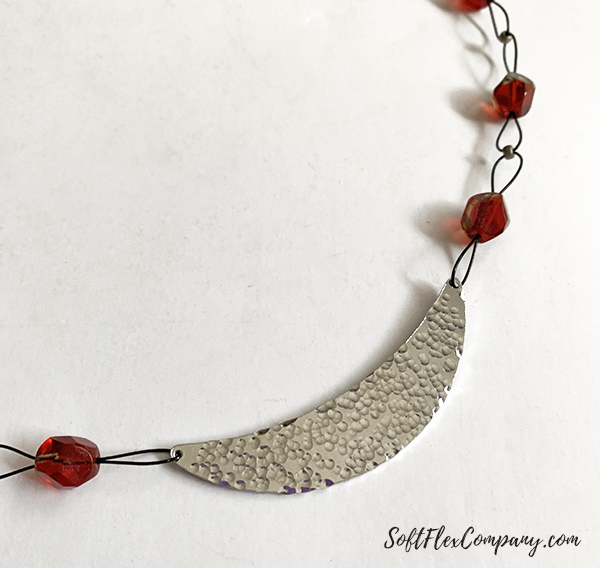 Supplies:
Soft Flex .019/Medium Diameter Beading Wire in Black
10mm Czech Glass Red Beads
Size 8 Matte Silver Seed Beads
2x2mm Crimp Tubes in Sterling Silver
Crescent Stamping Blank
Multi-Function Texture Hammer
Large Steel Bench Block
Stamp Straight Tape
Cutters
Crimping Pliers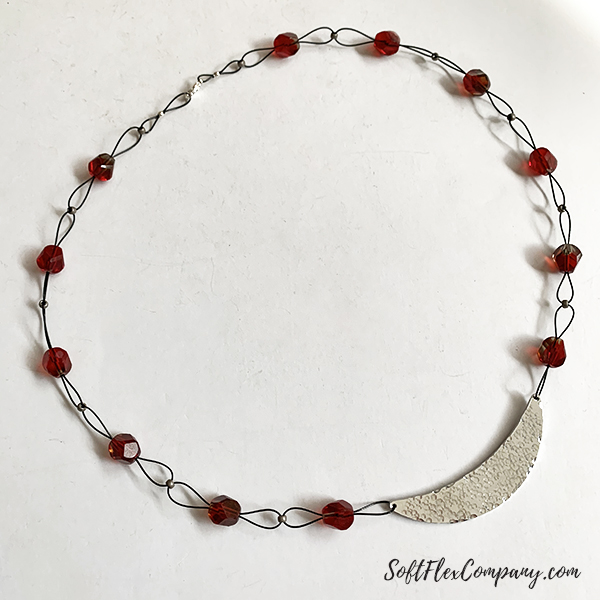 Make your next DIY necklace a one-of-a-kind design. Your blanks are a fun way to voice your personality. Add your children's names to your blanks. Add a bit of weathering and use your blank in a design full of older jewelry and findings. You can even patina and paint your blanks to give it a scuffed and worn look. How are you going to give your next craft a unique look?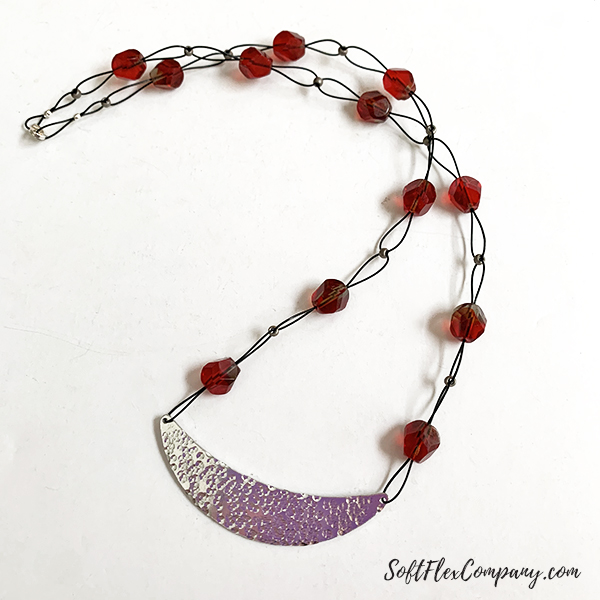 Painted Sunflowers Design Kit Reveal and Jewelry Making Project
Sara unboxed our latest kit this week, the Painted Sunflowers Design Kit (Sold Out). We were all definitely looking forward to this day. It was a great distraction from the troubles of the world.
Thank goodness it's Kit Day! We all look forward to this day at Soft Flex Company. We get to show off our latest kit and announce our newest kit. We have a new design kit each month. Each kit is a themed mystery kit full of goodies - beads, components, and more! If you have basic beading tools (Crimping Pliers and Cutters
), you are going to be able to create a bunch of jewelry with your new kit. Every kit theme is unique and exciting.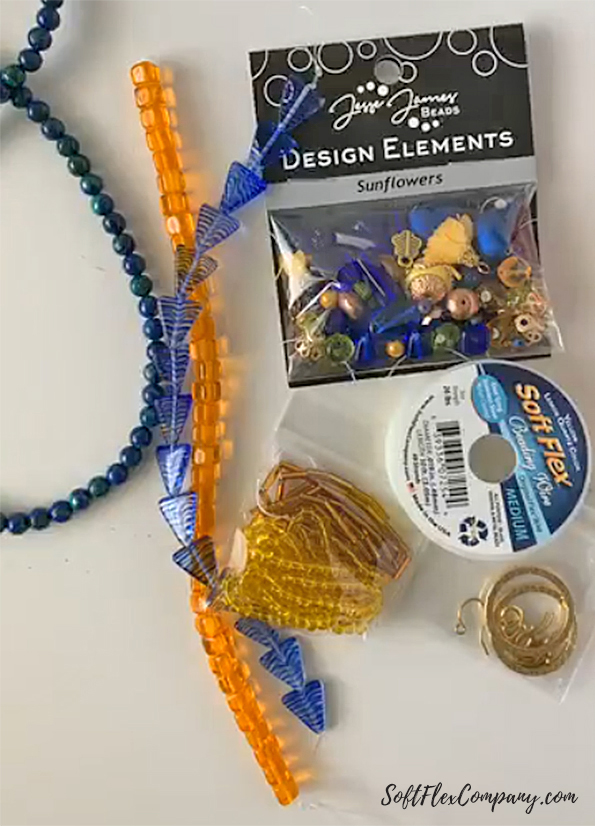 Sara opened up our Painted Sunflowers Design Kit (Sold Out) and revealed its contents.
The Painted Sunflowers Design Kit was a reverent nod to the lush colors of Van Gogh's brushwork. Vincent Van Gogh was enamored of the living beauty of sunflowers. These amazing heliotropic marvels of nature are a stunning paradigm of beauty. Van Gogh captured these sun worshippers with an intimate eye. His work has awed generations. We think your creativity will blossom with this floral kit. Blue skies are a beautiful backdrop for golden flowers and natural greens. Let the seeds of inspiration germinate!
This kit was full of amazing colors. Deep sky blues, luminous and warm oranges, soft tones and vibrant yellows. It evoked the mood perfectly.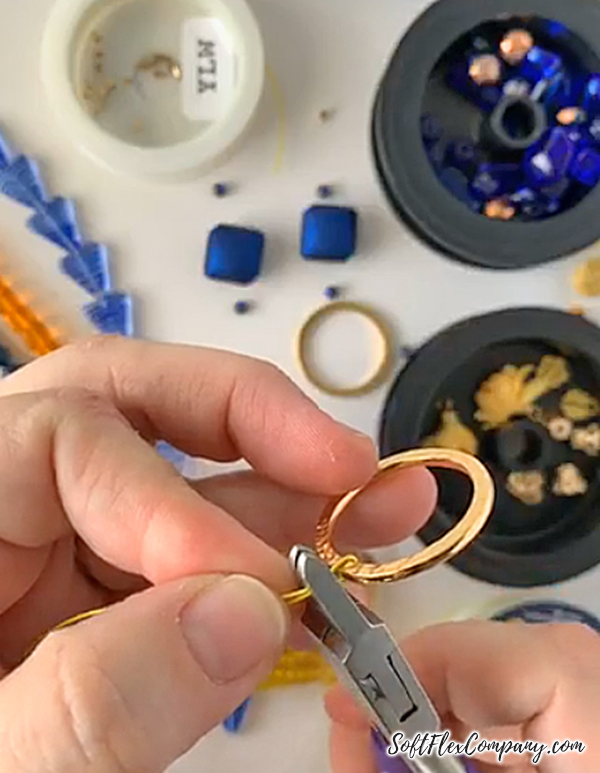 Supplies:
Painted Sunflowers Design Kit (Sold Out)
Soft Flex Beading Wire, .019 Diameter in Yellow Lemon Quartz
2x2mm Crimp Tubes
Hammertone Ring, Hammered Metal Texture Connector
Magical Crimping Pliers
Cutters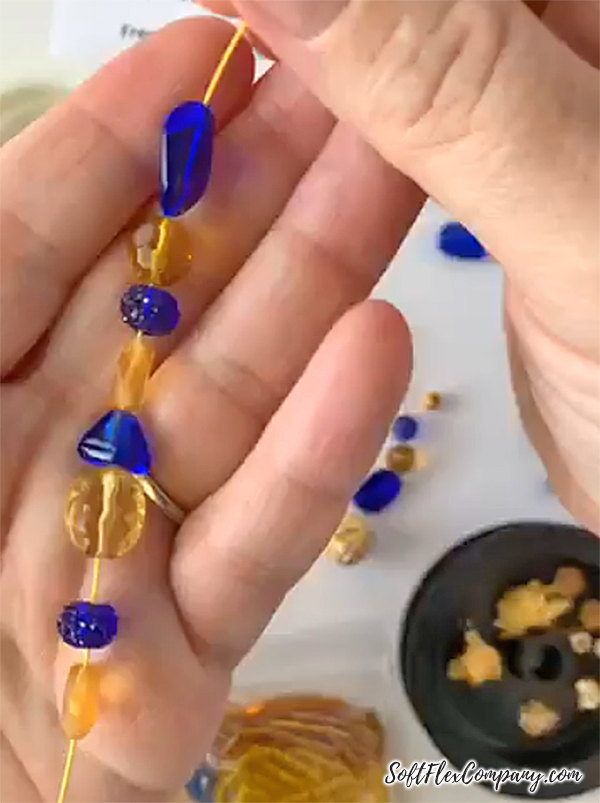 Lemon Yellow Quartz color Soft Flex Beading Wire was the perfect foundation for this luscious jewelry. Color wire is great for illusion jewelry and translucent beads. Color is a great way to include the wire as part of the design and not something to be hidden and concealed beneath beads. What is your favorite beading wire color?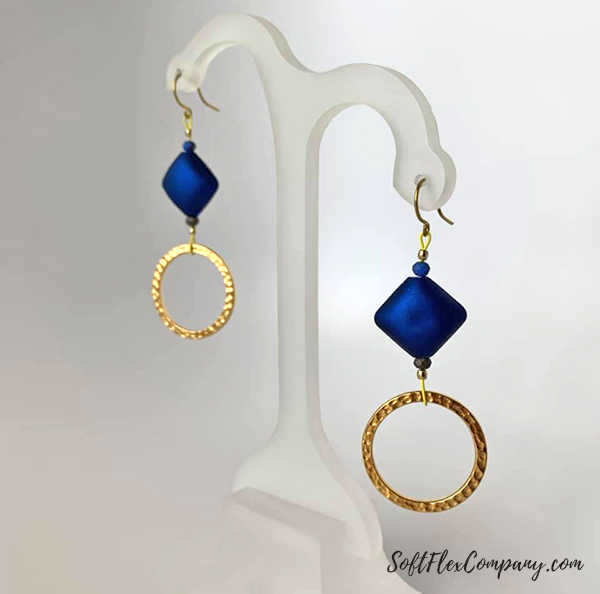 Aren't these designs amazing? Timeless blues and classic yellows. This jewelry is perfect to keep or pass on to a friend. A little bit of spring vibrance or a day of summer dreaming. We hope you enjoyed this kit as much as we enjoyed putting it together. Don't miss our newest kit - La Fleur Design Kit (Sold Out). It is a stunning collection of floral colors that would be a great gift for Mother's Day. Teach your daughter a new craft during this time of social-distancing. Give a brilliant new necklace to grandmom or Aunt Susie.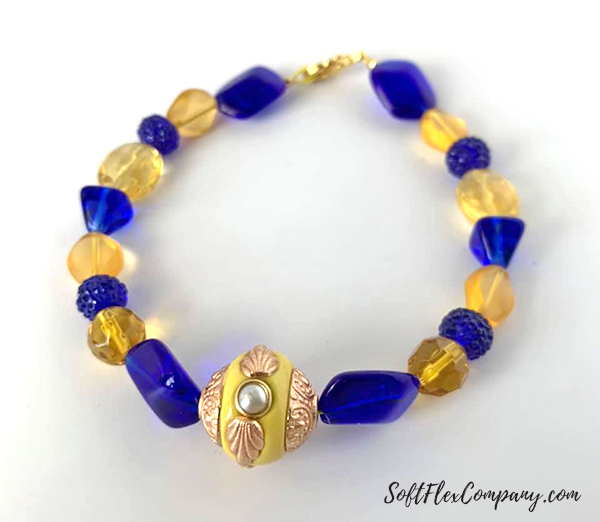 Soft Flex Company Painted Sunflowers Mystery Design Kit Unboxing
From Luisa at Misty Moon Designs:
Hey everyone. I want to share with you the Monthly Design Kit from the Soft Flex Company. The name of the March kit is called "Painted Sunflowers" after the artist Van Gogh. The colors are an amazing blue and yellow. This kit sells quickly and may not be available by the time you see this video but you can find other kits and bead mixes on their website.
Enjoy!

Luisa

Follow Misty Moon Designs:
YouTube
Instagram
Facebook
Etsy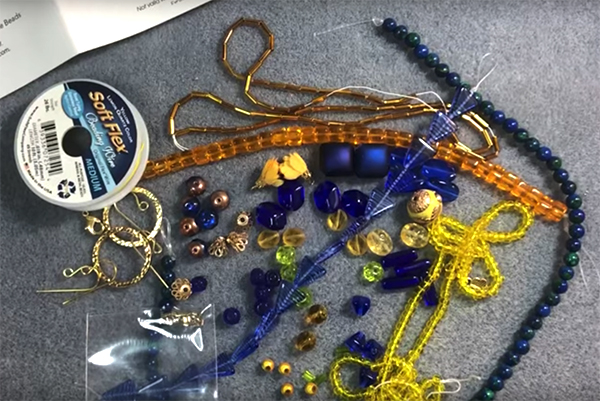 Braided Chain with SilverSilk and Leather
Our friend Nealay Patel created a colorful necklace this week. He cleaned out his personal stash and made something amazing. He had some delicious Vintaj findings and a cicada pendant that was going to be the showcase of his piece. He used Soft Flex Craft Wire to secure his SilverSilk Capture Chain with a messy wrap. He used some beads and chain from Jesse James Beads to give his creation some sparkle. And to really make an awesome whirlwind of color, he used a 3mm orange leather to finish his design. You are going to love this necklace - and it is super easy to make with his instructive video!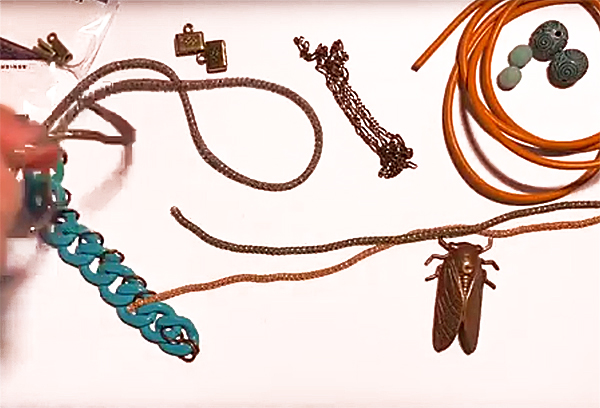 From Nealay:
Jewelry making should be fun and exciting and challenging. I took inspiration from supplies I had in my personal stash and things I've not used in years and combined them into something that made me happy. Learn to work with large chain, braid SilverSilk Capture Chain and attach 3mm leather cord together in this tutorial. You'll be surprised with what you can come up with from your inventory just based on what you learn here.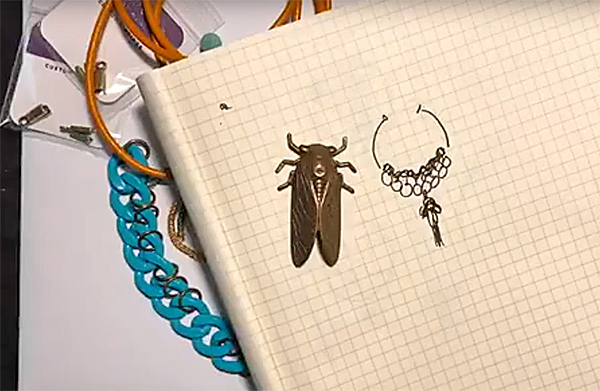 Supplies:
SilverSilk Capture Chain
Soft Flex Craft Wire
3mm Orange Leather Cord
Cicada Pendant from Vintaj
Chain from Jesse James Beads
Beads
End Caps
Jump Rings
Nylon Jaw Pliers
Bead Nipper (Cutters)
Chain Nose Pliers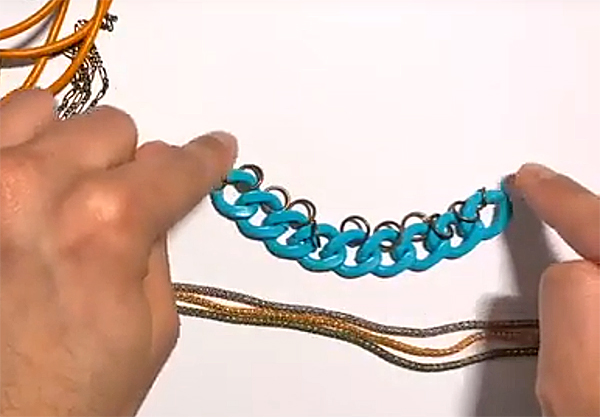 Make jewelry that is easy but looks wonderfully sophisticated. SilverSilk mesh is simple to work with and adds so much character. Pair it with Soft Flex Craft Wire or bead string for an amazing beaded jewelry design. And keep up with Nealay on his YouTube channel and Facebook Page. Join his Silkies Facebook group. He is a fabulous teacher and will show you how to master some incredible techniques.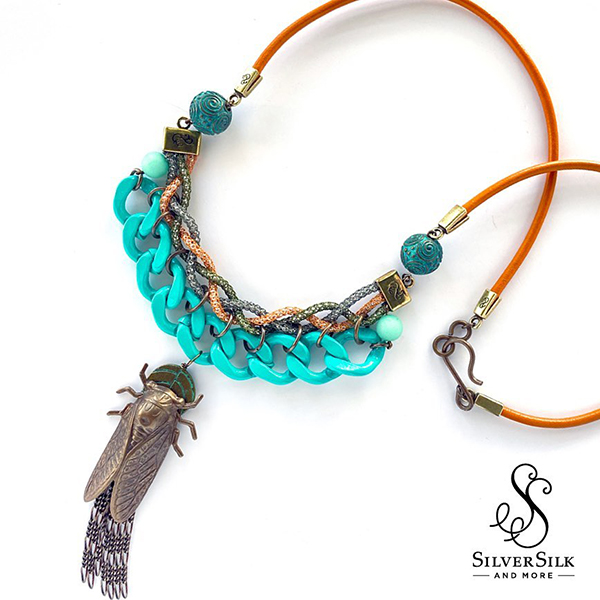 Join our Facebook group – VIB. Stay in the know. Stay up to date. From our bead shows to our video shows and sales, you can stay in touch with us. The community is full of artistic and helpful beaders and crafty people. Inspire and be inspired. Share your pictures and get the beading bug from others!
Visit the Soft Flex Company YouTube Channel!
---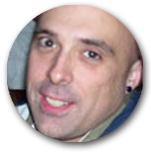 Blog contributor Thomas Soles loves Jazz Age writers and crunchy french fries. His favorite gemstones are Lapis and Pietersite. His favorite hobby is day dreaming. And his favorite mustache is Freddie Mercury's. As you can see, he has a healthy (or possibly unhealthy) sense of humor. You can write to him at Thomas@SoftFlexCompany.com