What an incredible week! We learned how to make jewelry that was simple, but gorgeous and fun. The videos featured in this weeks recap are great for beginners that want to expand their talents or just learn a new trick or two. Designers, you might even find a little inspiration! Would you like to try your hand at making a Memory Wire bracelet or a multi-strand necklace using SilverSilk mesh wire? Let's make some jewelry!

If you have never worked with Memory Wire, this is your chance to learn something fun. Sara showed us how to make a Memory Wire bracelet. Memory Wire jewelry is super easy to create. Determine the size of your jewelry, cut the wire, string your beads - done! It really is that simple. Nealay spent some time with us, he discussed what it was like to knit his metal wire. He then made a stunning necklace and a pair of earrings to match.
A special treat for blog readers - Sara's upcoming YouTube video!
Sara's crafty video will be listed on YouTube on Saturday. As a blog reader, this is your chance to see it early. The video is not live on YouTube at the moment, but you can view it here. Sara may edit or tweak it before it goes public, but it is a full and fun video now! In this instructive video, Sara shows you how to make jewelry components with Soft Flex Craft Wire. Craft Wire is great for earrings, chain, interlocking jewelry pieces, wire wrapping decorative trees and so much more. Learn how to wire work with this short video. Sara shows you some of the tools you need to wire wrap. She shows you how to use a WigJig jig board for consistent loops. This is a wonderfully instructive jewelry making video. It is like a free beading class online!
Jewelry Making Videos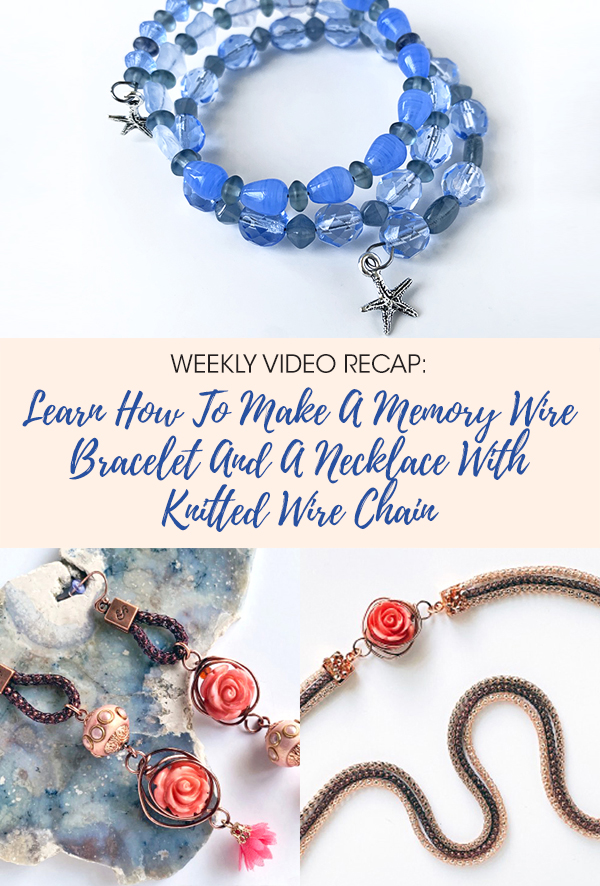 Learn How To Make A Memory Wire Bracelet

Sara wanted to show everybody how to make jewelry with Memory Wire. We included some with one of our most recent design kits - the Purple Polka Dot Design Kit (Sold Out). Memory Wire is ridiculously easy to use and the end result looks stunning. All you need is some basic tools and - most importantly - you need a Memory Wire Cutter. Memory Wire is constructed from a very hard steel. If you try to cut this wire with anything other than Memory Wire Cutters, you are going to destroy your cutters. Trust us. Other than that, this wire is so much fun. You can make a necklace or bracelet in minutes.
Memory Wire comes in a small bunch of coils. Simply determine how many coils you want your jewelry to have and cut the wire. Then string your beads onto the wire. To secure, all you need to do is glue an end cap on the end of the wire or loop the ends so the beads don't slide off. We like to loop the ends. This eliminates the possibility that the end caps fall off. It also lets you add a dangle to the end, if you so desire. The amount of coils you cut determines the width of your jewelry. If you cut a lot of coils, you will have a wide bracelet. Beads will also increase the width of the coils as they push the wire open. So, we suggest playing with your beads and wire and getting an idea about how big you want your jewelry before cutting it. For Sara's design, she opted for three coils.
Shop our Memory Wire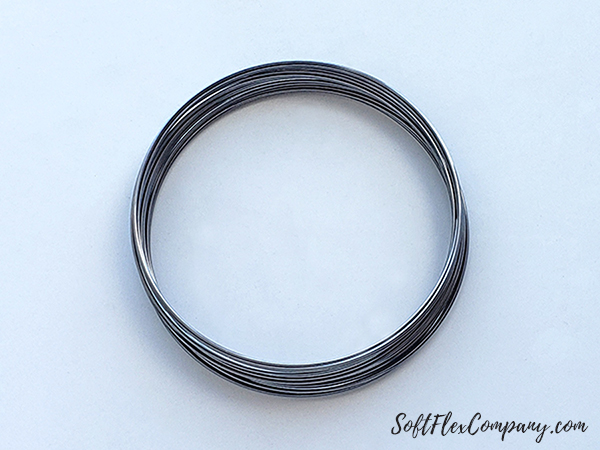 Making jewelry is easy with Memory Wire.
Memory Wire is a hard steel wire. Memory Wire comes packaged in coiled loops. The wire holds this shape. If you want to design a bracelet, simply cut the wire at the selected number of coils. Just remember, adding beads will make the design expand, three coils will look larger with beads added. Once you have added your beads, you can loop the end of the wire and add a dangle to finish. The finished design will slip over your wrist. You do not need a clasp to finish your Memory Wire design. So easy!
Note: Memory Wire is a very hard steel. Using flush cutters or bead nippers on Memory Wire will result in dulled or broken tools. Make sure you use the right tool for the right job. Make sure you use Memory Wire Cutters as they are specifically designed to cut through this wire.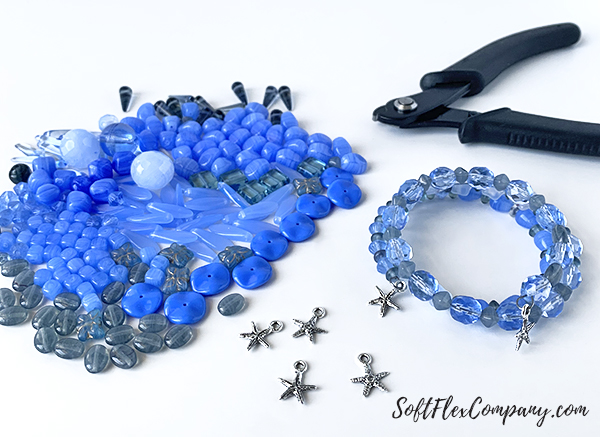 Supplies:
2020 Pantone Classic Blue Bead Mix
Memory Wire Bracelet
Round Nose Pliers
Chain Nose Pliers
Hi-Tech Steel Memory Wire Heavy Duty Cutter

If you want to replicate Sara's design, make sure you grab our 2020 Pantone Classic Blue Bead Mix. This special collection of beads is HUGE! This is the one of the biggest bead mixes we have ever offered. We have retained the same low price as our other mixes, but filled this selection with an overflowing abundance of high quality beads from the Czech Republic. This gorgeous mix is stuffed with beads to match our 2020 Pantone Classic Blue Quad of Beading Wire. This mix is a custom assortment of unique bead shapes and sizes in our Pantone Classic Blue color way. Due to the random selection, there may or may not be exact matches of bead shapes and colors, perfect for "bead soup" and multi strand mixed bead designs!
Learn How To Make Jewelry With Knitted Wire

Nealay filmed a fun video on Tuesday. This one was a little longer form than his normal Tuesday Tut tutorial videos. He discussed what it takes to knit the mesh wire SilverSilk manufactures. He discussed his copper crystal end caps. He told us about his upcoming jewelry making kit - Amazon Rainforest. He has been spending time taking feedback about his kits. He wants to diversify them and make sure they are exactly what you want to buy. He is adding more charms and components and the things you love! Nealay also showed us how to make jewelry. It was a lovely time. We learned a lot about the products he carries and the love he puts into his store.
In this video, Nealay shows us how to make a multi-strand necklace with his SilverSilk chain. He uses triple strand end caps to secure his design. He then shows us how to make earrings with Soft Flex Craft Wire to complement the necklace. The finished jewelry set is simple, but stunning. Nealay shows us how simplicity can look gorgeous.
From Nealay:
You honestly cannot go wrong with a combination of Jesse James Beads, Soft Flex Wire and SilverSilk. Here, I demo two very easy projects you can do at home with some SilverSilk and your beads. We'll work on some wire wrapping techniques and simple crimping to make a design in less than 30 minutes. You can also expect to hear lots of good news at SilverSilk in this video. Questions? You're more than welcome to send me an email at orders@silversilkonline.com.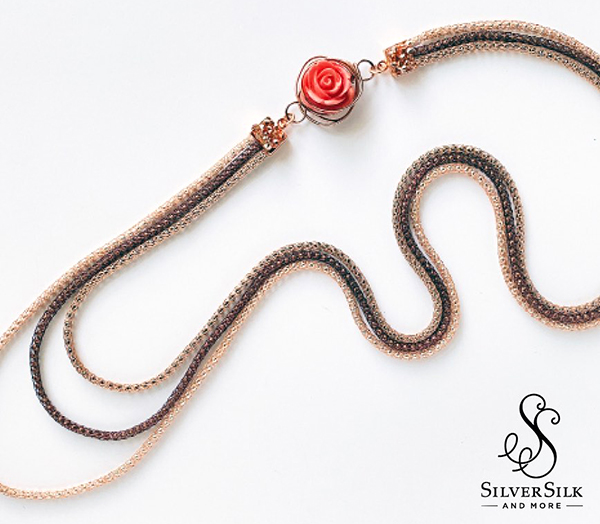 Supplies:
SilverSilk Capture Chain
18ga Soft Flex Craft Wire in Non-Tarnish Antique Copper
Beads
Copper Crystal End Caps
Cutters
Nylon Jaw Pliers
Round Nose Pliers
Chain Nose Pliers
Nealay is a talented teacher. If you enjoyed this video, make sure you follow along on his social media and YouTube. You can find him on his YouTube channel and Facebook Page. Join his Silkies Facebook group.
From Nealay:
My channel is dedicated to learning how to make high quality jewelry with SilverSilk with an emphasis on design. You can follow my journey here: www.instagram.com/silversilkandmore, www.facebook.com/silversilkandmore Or join our Silkies group and be a part of the conversation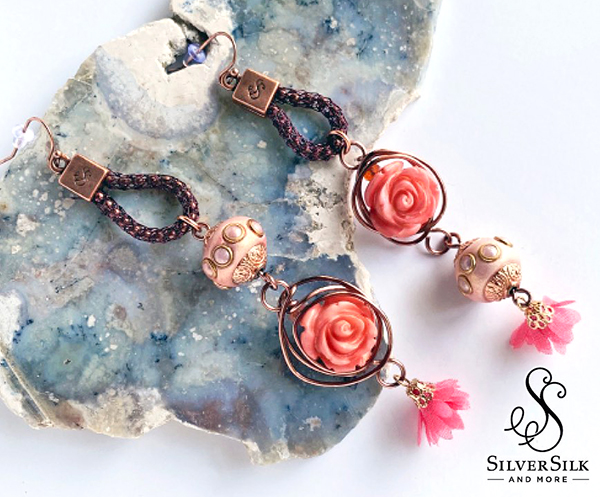 Join our Facebook group – VIB. Stay in the know. Stay up to date. From our bead shows to our video shows and sales, you can stay in touch with us. The community is full of artistic and helpful beaders and crafty people. Inspire and be inspired. Share your pictures and get the beading bug from others!
Visit the Soft Flex Company YouTube Channel!
---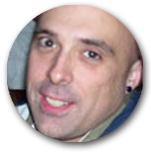 Blog contributor Thomas Soles loves Jazz Age writers and crunchy french fries. His favorite gemstones are Lapis and Pietersite. His favorite hobby is day dreaming. And his favorite mustache is Freddie Mercury's. As you can see, he has a healthy (or possibly unhealthy) sense of humor. You can write to him at Thomas@SoftFlexCompany.com