Did you catch our Great Bead Extravaganza last weekend? It was an amazing virtual bead show, full of inventive jewelry designers and exciting bead stores. The idea blossomed when we caught ourselves discussing how much we missed the fun and community that working a bead show brought us. We miss the days of seeing our friends, seeing our smiling customers, and watching jewelry making demonstrations from people we admire. The show was a collaboration with Andrew Thornton of Allegory Gallery and an eclectic mix of fellow stores and designers. It turned out to be three days of non-stop fun, big sales, and bigger giveaways. If you missed out, check out our recap. We invite you to catch up!

This week was a little different. Kristen did not film her weekly episode of Free Spirit Beading. Both Kristen and Sara spent the weekend monitoring the Great Bead Extravaganza. They both needed a little down time! Sara, however, did film a quick video on how to make earrings. This video is easy to follow and shows you how to design earrings with Soft Flex Beading Wire. Beading wire is great for earrings. It is exceptional versatile and you do not need a lot of it. You can use remnant wire from old projects, that you just did not want to throw away. Save your remnant wire! Or, you could use your favorite colors, straight from the spool. We will look at the live video Soft Flex Company aired during the Great Bead Extravaganza. And then we will have a short look at the Great Bead Extravaganza. Don't miss our blog next Wednesday, we will take a much deeper dive into the Great Bead Extravaganza. We will have links to all of the participants and links to their videos. You do not want to miss that blog - especially if you were not able to join us for the live event.
Soft Flex Bead Stringing Starter Kit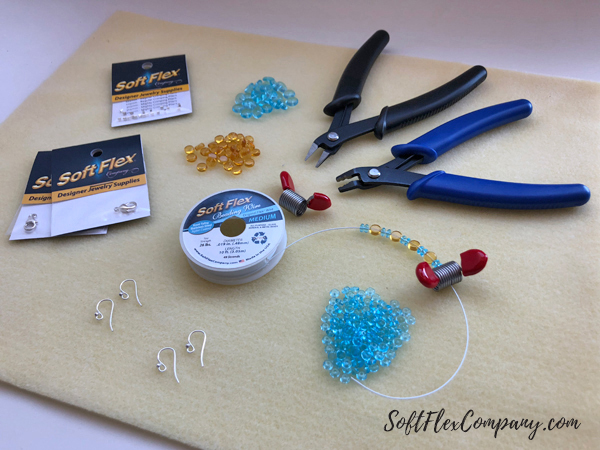 A perfect kit for anyone to get started in beading and jewelry-making. This kit is exactly what you need to make your own DIY necklaces and bracelets.
This Bead Stringing Starter Kit includes a Bead Mat, 2 red tip Bead Stoppers, Regular Crimping Pliers, Bead Nippers, 20 count package of 2x2mm Crimp Tubes, Ear Wires, Lobster Clasps, a 10ft spool of Soft Flex .019 Medium Beading Wire in your choice of color and a FREE package of Beads. (Bead colors vary and will be based on your wire color choice).
A starter kit is the perfect way to get all of the tools and wire you need in a single package. If you are just looking for the fundamentals of bead stringing, you will need to make sure you have a pair of regular crimping pliers and a pair of bead nippers. Those two tools are going to tackle a wide variety of jewelry making projects and if you cannot afford to get anything else - those are the must haves.
Sara's new video premieres on YouTube on Saturday!
Watch Sara's latest video this Saturday. In this video, you will learn how to use Soft Flex Craft Wire and a Multi-Size Mandrel Wire Wrapping and Wire Looping Jewelry Tool to make a wire connector. A beginner can complete this project, even if they do not know how to wire wrap. Make sure you catch this instructive video. It is like a free online beading class!
Jewelry Making Videos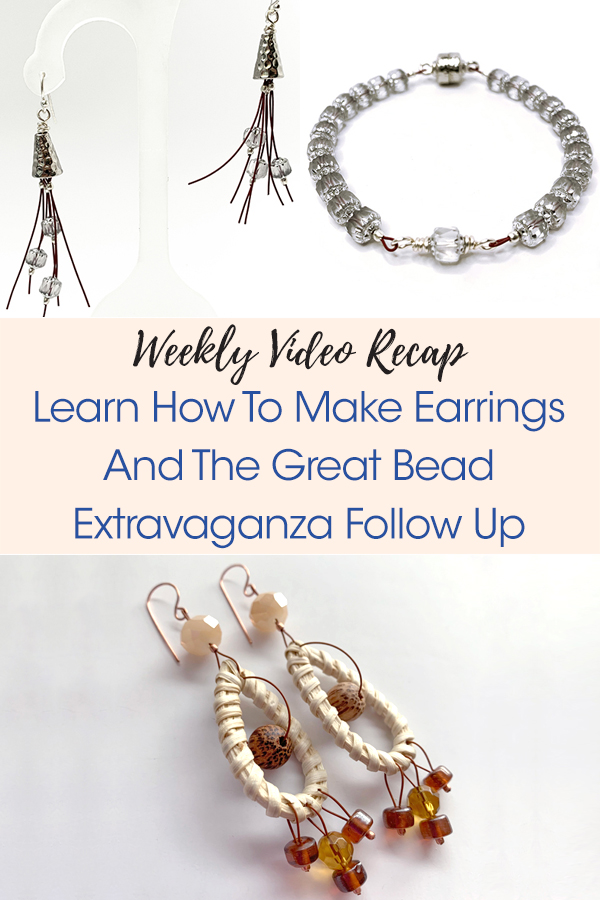 The Great Bead Extravaganza - Sara And Kristen Are Making Jewelry With Soft Flex Products
Last week was our first Great Bead Extravaganza. We collaborated with Andrew Thornton of Allegory Gallery to make this wonderful dream a reality. COVID has left us all hermits. We are all hiding in quarantine and social distancing. We felt like it was a great time to have a massive bead show - but to stage it from the comfort and safety of our houses. If you have never attended a bead show, the Great Bead Extravaganza is as close as you are going to get, without actually visiting one. The event was full of unique and talented artists. Over the course of the weekend, there was constant jewelry making demonstrations. All were filmed live. This meant the artist could speak to the community in real time. Just like at a bead show. And, as with any big bead show, there was lots of sales and discounts. It was truly a virtual bead show.
Sara and Kristen filmed a tandem live episode for our segment. Sara shows us how to string a 2020 Fall / Winter Pantone Color Necklace with Soft Flex products. Kristen showed us how to make a pair of Rattan Teardrop Earrings. These designs are easy to make and the video is extremely easy to follow. If you are a beginner, this is a wonderful video for getting some tool knowledge. If you are a pro - well, we have some inspirational designs for you to enjoy. Check it out!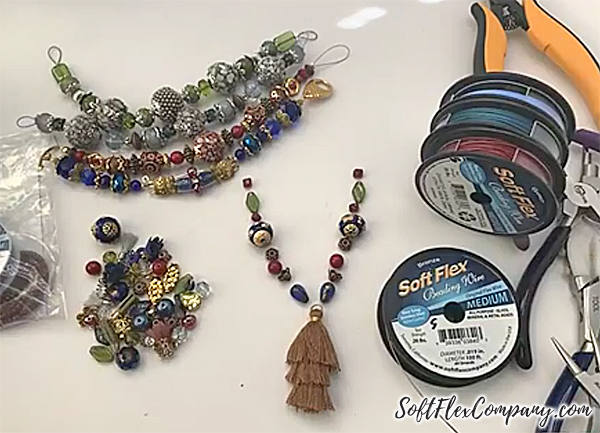 Sara and Kristen kicked things off with a discussion about our little company. People often assume we are a large company. We have hosted our own bead shows across the States. We have, hands down, the finest bead stringing wire on the market. And we have a talented employee base that excels at their jobs. We are a small company with a very low turn over rate. Most of our employees have been with the company for nearly twenty years. Our most junior employee is working on a couple years, but is an incredible fit. It really feels like a family. When we used to visit trade shows across the country, we would often go out to dinner with each other. It looked like a big family reunion. There is a lot of love and joy in the company. It is never work when you love what you do for a living!
After discussing the company. They moved over to our inventory and shared some knowledge about our favorite products. Sara talked about how each of our beading wire lines (Soft Flex, Soft Touch, Econoflex, etc) differ and what is the best wire to use with the design you are stringing. Sara showed off some of the designs that were possible with our beading wire. Our wire is super flexible and strong. You can knit with our wire. You can braid our wire. You can use our beading wire - and our Craft Wire - on kumihimo boards. You are not stuck with a simple one strand design possibility. You can make some amazing creations. Think out of the box. We also have a wide variety of colors. We think that a great piece of jewelry is going to be comprised of great parts - colorful wire, gorgeous findings, and stunning beads. Don't finish your work with a boring component. Make every element sing!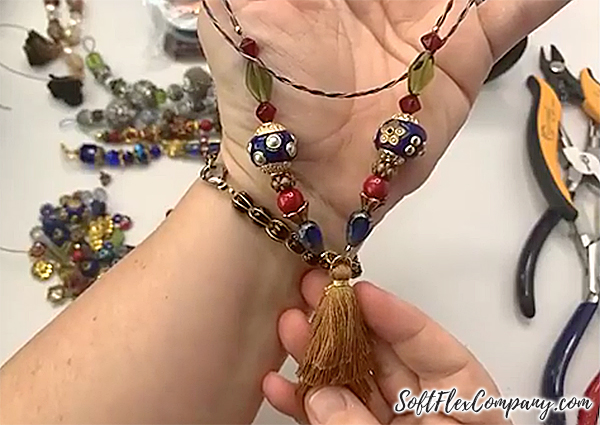 Sara showed us how to braid Soft Flex wire for an interesting look. If you want a colorful and fun texture and plan on showing a large area of wire, braiding is an option. So, is macrame, if you want to get real detailed. You can always just leave a long length of a single strand of color wire, too. Make a necklace you love! Sara used our 2020 Fall/Winter Pantone Quad of Beading Wire for this project. Our Quads are a collection of four spools of wire. Each spool is ten feet in length. This is a great way to design with a theme. We also have Trios, collections of three spools. We offer lots of themes. You can design with a theme in mind, to evoke a feeling. Our you can break your Trios up and just add them to your beading supplies to stock up! The beads Sara uses are from our 2020 Fall/Winter Pantone Bead Mix and we also have individual bead strands from the 2020 Fall/Winter Pantone collection.
Pantone knows color! If you want to be on point this year for fall and holiday fashion, our Pantone collections will help keep you looking your best. These collections are also great for holiday decor. Craft with your kids. Use our collections to make hand crafted ornaments and fun projects like icicles and Christmas Spiders.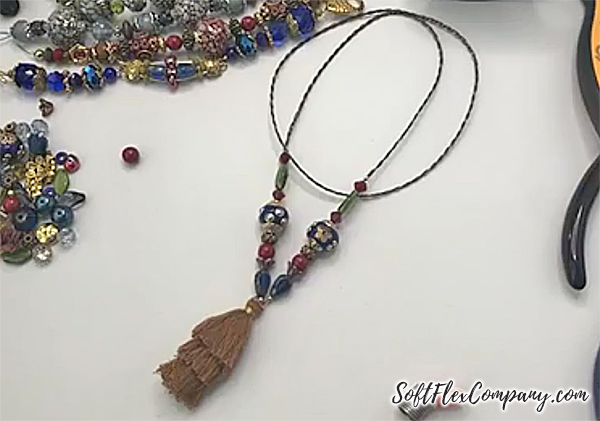 Kristen discussed our jewelry making kits. Each month, we have a new kit on our shelves. Each kit is a themed mystery kit. Each kit is limited in inventory. We hand select and brainstorm what beads and components would best fill a kit. Every kit is a lovingly created mix of beads, wire, findings, and sometimes a goodie that you will never find elsewhere. We reveal the contents of each kit at the end of each month. Until that point it is a mystery. Once it is revealed, our Facebook group shows off the designs they made with their kit. This is the real fun. The kits are all nearly identical, but each designer creates so many varied and unique jewelry pieces that you would never guess they used the same supplies. It is awesome to see how each person's brain interprets the items in the kit.
We love love love the hand woven rattan beads that we put in the Fall Masterpiece Design Kit (Sold Out). You can find the Rattan components in our store. If you love the fall colors of the kit, you can find our Trios collection. This will give you the beading wire you need to replicate the lush palette of the kit. We also had a Fall Masterpiece Bead Mix that we sold separately (it was also included in the kit). The mix has sold out. But we still have a Fall Masterpiece Bead Strand available. If you love our kits, make sure you grab them quick when we release them at the end of each month. They sell super fast!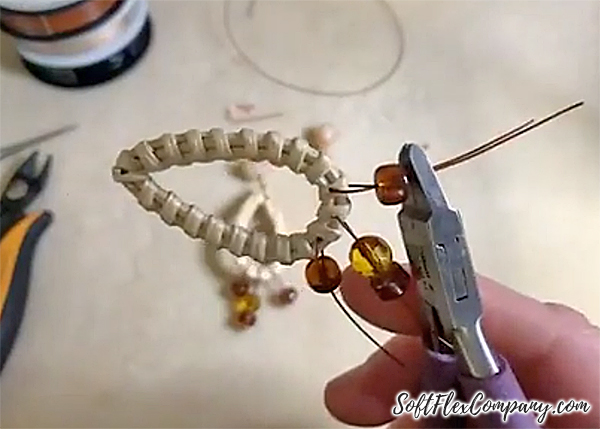 Check out our store, if you are not already a customer. We have so many fun themes and colors. We have basic and high end beads and gemstones. We have professional and beginner tools. We have everything you need to make your own unique DIY jewelry pieces. You can find the beading supplies you need if you are making jewelry for yourself or if you are selling your necklaces to gallery.
If you buy a kit, make sure you join our VIB Facebook group. It is a collective of beaders and artisans. We have the greenest beginners and the most seasoned professionals. Everybody is welcome. You can join and view the wonderful posts and get hints on how to make your next bracelet. Or you can join and show off. We love jewelry. If you are a beginner, this is a great way to get some tips and learn how to better your work. We offer gentle critiques and helpful tips. The group fosters a wonderful sense of community and appreciation. You are going to love the folks that post here. If you have a kit, once Sara reveals the contents, feel free to post your kit designs. Every design you post, from the kit, will enter you in a giveaway. At the end of the month, we take entrants and put them in a spreadsheet. Using a random number draw - we select a winner. It is totally random and every skill level has the same chance to win. Good luck!
Want to know a secret?
The jewelry making supplies that we sell do not require an abundance of tools. You do not even have to have a dictionary of tool knowledge in your head. If you know how to use a pair of crimping pliers and cutters, you can make almost everything Sara and Kristen show in this video. Sara does show off her Mini Macrame Board and we show designs created using a kumihimo disk. Even those are incredibly easy to learn and master.
Below is a list of the basics used in this video. If you are not familiar with any of the tools or supplies, you can always email us and we will point you in the right direction. If you are not comfortable with your crimping skills, we have a ton of resources on Facebook, YouTube, and our website for you to view and review. We want you to master the tools we carry. We want you to make the best jewelry possible. We are a company founded by jewelry lovers and staffed by jewelry lovers.
Design Kit
Bead Strand or Bead Mix
Soft Flex Beading Wire
2x2mm Crimp Tubes
Magical Crimping Pliers
Cutters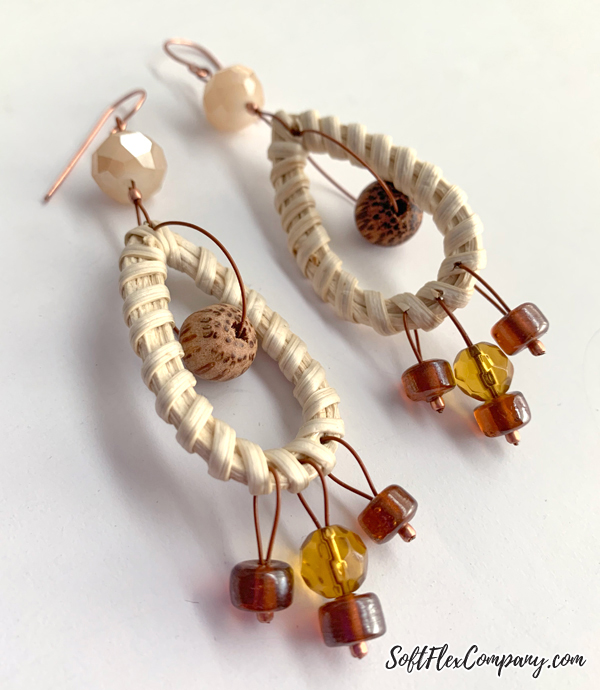 Free Jewelry Making Demonstration - Let's Make Earrings!
Sara filmed a quick video on Monday. Normally, this is the day Kristen films her latest episode of Free Spirit Beading. But Kristen threw her back out recently and is doing her best to keep moving forward. She is a trooper. She made it through our Great Bead Extravaganza. But she needed some time to recover. We hope she feels better soon!
Sara stepped up and filmed a video about how to make earrings. We think earrings and Soft Flex Beading Wire are a match made in heaven. There is very little needed in the way of jewelry supplies to make earrings. This means that you can basically make a new pair of earrings any time you like. For any wardrobe or season. There is a lot of room to be creative and explore. In Sara's case, she wanted to make a pair of lovely fringe earrings.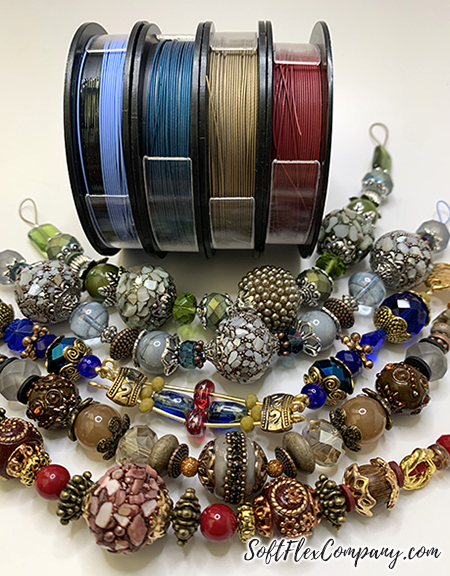 Sara started things off with a look at our new Pantone Quad Collection and Bead Strands. If you love Pantone fashion, you will not want to miss these stunning colors. We think our wire pairs wonderfully with the 2020 Fall/ Winter Pantone colorways. We took some artistic liberties, in some cases, but we love how our colors blend with Pantones. Be a student of color and design with a theme in mind!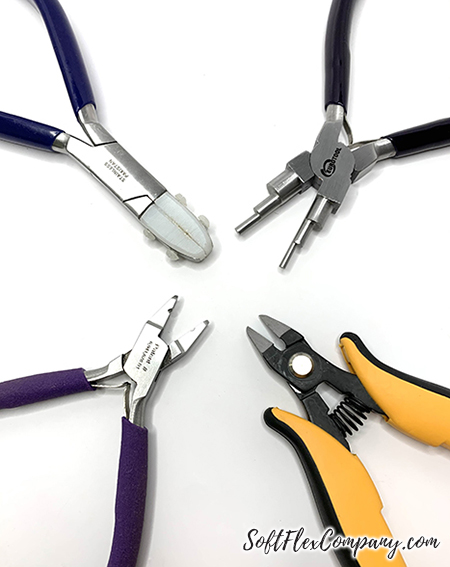 Czech Glass Cathedral Cut Beads
Soft Flex Beading Wire, .019 Diameter in Garnet
20ga Soft Flex Craft Wire
20ga Soft Flex Craft Wire - Silver Plated
2x2mm Crimp Tubes
Ear Wires
Hammered Cones
Multi-Size Mandrel Wire Wrapping and Wire Looping Jewelry Tool
Nylon Jaw Pliers
Magical Crimping Pliers
Cutters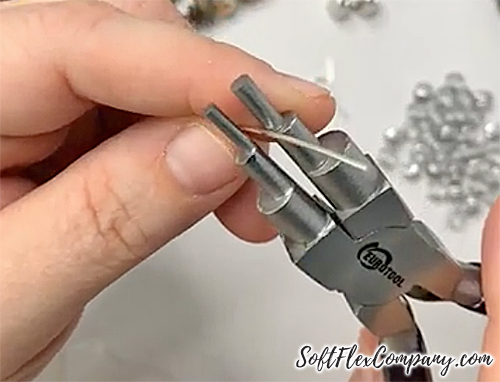 Sara uses our Multi-Size Mandrel Wire Wrapping and Wire Looping Jewelry Tool to make a loop in her Craft Wire. She is going to use this loop to anchor all of her beading strands on the earrings. This tool makes it simple to make loops of varying sizes. No need to reach for multiple tools when you have a multi-sized loop set on a single pair pf pliers.
Sara uses a Hammered Cone, from Tierracast, to conceal the loop and the wires crimped to it. The cones we carry are not only functional, but they have a gorgeous aesthetic. They are hammered, which gives them a weathered look. But they are so glossy and lovely. If you are using components that look this amazing, your entire jewelry design is going to be all the more impressive for it.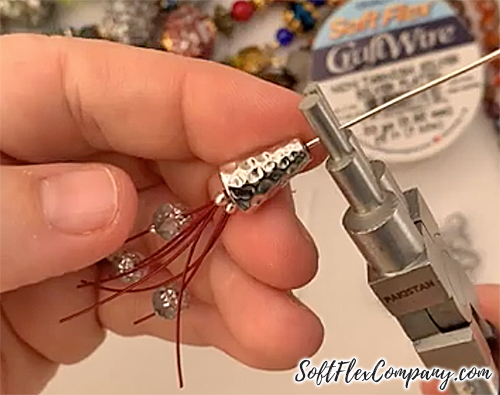 Sara opted to use Garnet color Soft Flex Beading Wire. This is a lovely idea for a seasonal piece. It is festive and warm. It is also the color we color matched to the 2020 Pantone Fall/Winter Pantone color Fired Brick. What a delightful and merry color choice! She added some White Quartz color Czech Glass Cathedral Cut Beads to make these earrings really special. These earrings can be finished in just minutes. If you want to explore different colors and bead choices, feel free to explore. These lovely earrings would look great at your next Christmas party. What are you doing for Christmas? Zoom meeting with coworkers? Intimate gathering with close family and friends? Or FaceTime with far away loved ones? We hope you have a special holiday season this year and you stay healthy!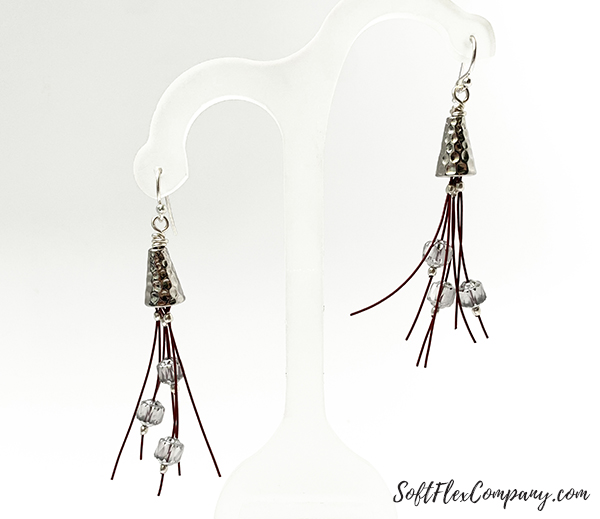 The Great Bead Extravaganza - Big Blog Follow Up
The Great Bead Extravaganza was so much fun. It was a little nerve wracking trying to organize. And goodness, filming anything live is just welcoming problems. But the event went off without a crisis. There were hiccups here and there, but nothing deal breaking. It was an amazing and successful event. If you joined us, you can revisit some of the memories below. If you missed out on the fun, below are some of the completed designs that our talented friends made.
The video above was a preview video from all of the vendors, this was filmed before the show to give you an idea of what each designer had in store for the show.
On Wednesday, we will have a full resource blog that is a complete follow up to the show. This blog will include links to all of the vendors and videos and more. It will be a one stop shop to visit everybody that made the Great Bead Extravaganza so wonderful. We suggest you check it out. You may find a new favorite bead store. You might fall in love with a jewelry designers work and end up acquiring some new project ideas or finished jewelry.
If you do not want to wait until Wednesday, you can always check out the Facebook page here:
The Great Bead Extravaganza Facebook Group
In the group, you can view the posts and interact with the designers. You can search topics and watch all of the videos. You can search the group by topics for specific posts relating to those topics. As of now the topic tags are: presentations, presenter introductions, classes & supply lists, and news from our presenters. Find topics under the pinned announcements on mobile, or on the right-hand of the screen on desktop under popular topics.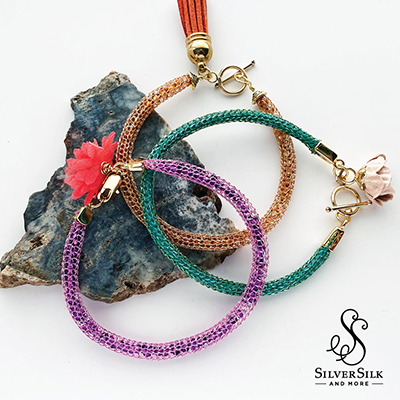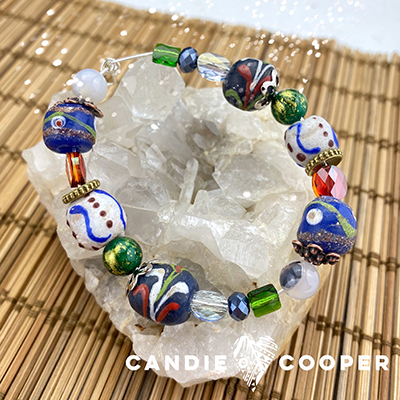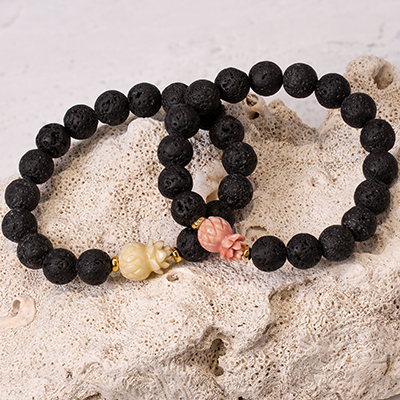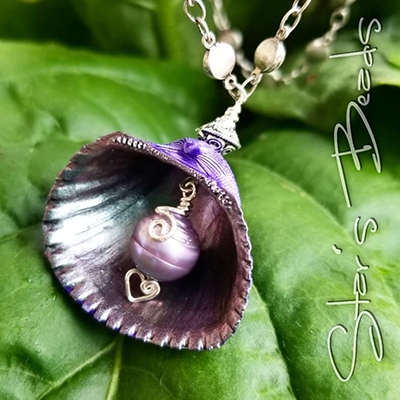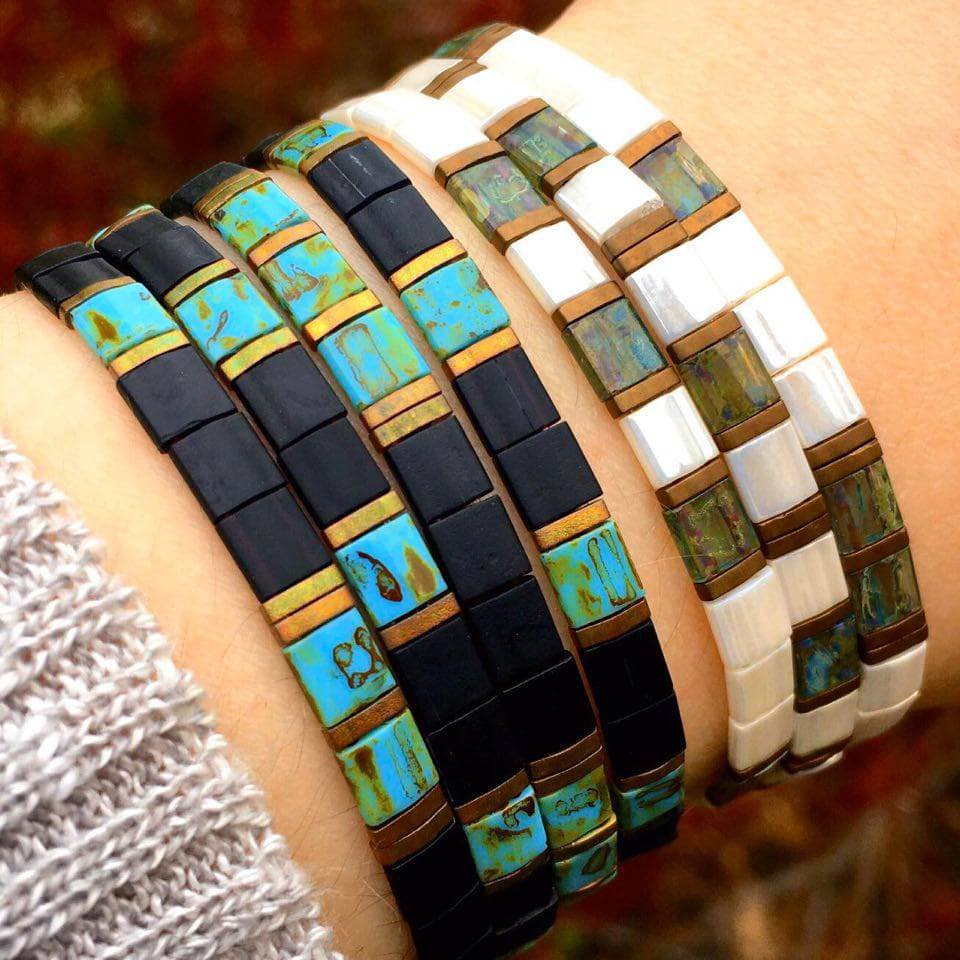 Join our Facebook group – VIB. Stay in the know. Stay up to date. From our bead shows to our video shows and sales, you can stay in touch with us. The community is full of artistic and helpful beaders and crafty people. Inspire and be inspired. Share your pictures and get the beading bug from others!
Visit the Soft Flex Company YouTube Channel!
---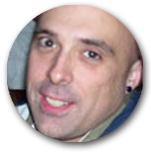 Blog contributor Thomas Soles loves Jazz Age writers and crunchy french fries. His favorite gemstones are Lapis and Pietersite. His favorite hobby is day dreaming. And his favorite mustache is Freddie Mercury's. As you can see, he has a healthy (or possibly unhealthy) sense of humor. You can write to him at Thomas@SoftFlexCompany.com