My goodness, how is it Friday already? We had a great week of big beading sales and fun jewelry making videos. How was your week? We hope you designed a wonderful necklace or three. We hope you had a chance to restock your jewelry design kit with the big Closeout sale that launched this week. We hope your week was as amazing as ours!

Kristen kicked off this week with another episode of Free Spirit Beading. She designed some amazing earrings. They are so fun and colorful, you are going to love them. Maybe you caught her video live – did you make a pair? We would love to see them! Sara filmed a Soft Flex Live Sale on Facebook. She had a lively crowd of bidders and we all had a lot of fun. The sale is ongoing, feel free to participate, details are below. Finally, I rewatched a throwback video and thought it would be nice to include here – Sara demonstrates a use for Soft Flex Beading Wire that is pretty clever. It shows that our color beading wire is versatile enough that you can use it for so much more than just stringing a piece of jewelry.
Don't miss our Closeouts. We recently added some new products to our Closeout section. We have so many great items in there. We are not going to be carrying them anymore, but they are all great tools or stunning beads. Definitely worth a look! Our Closeouts are 30% off.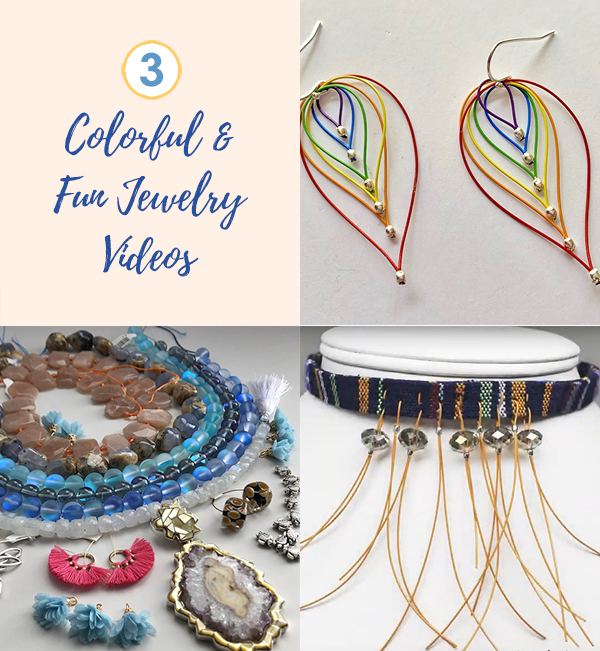 Rainbow Drop Earrings with Soft Flex Beading Wire
Kristen started the week with another episode of Free Spirit Beading. This time, she designed some lovely earrings inspired by a - somewhat - obscure holiday, National Find a Rainbow Day. We celebrated last week. Why? Because we adore color. We think color adds so much flair and sparkle to any beaded design. We think overlooking color while choosing your beading wire is going to make a design duller for it.
Free Spirit Beading airs on Mondays at 12:00pm PST. Free Spirit Beading is a live beaded jewelry making series on YouTube. Kristen is a free spirited designer, author, artist – she loves to create. She does not worry about perfection. She believes that art is a journey and part of that journey is making mistakes and living with them. If you miss an episode, you can find it in our YouTube library.

Supplies:
2 - 6" Strands of Soft Flex Medium Beading Wire in the Following Colors: Red Coral, Citrine, Yellow Quartz, Peridot, Blue Topaz, and Purple Amethyst.
12 - 2x2mm Crimp Tubes
2 - Ear Wires
Magical Crimping Pliers
Cutters
Chain Nose Pliers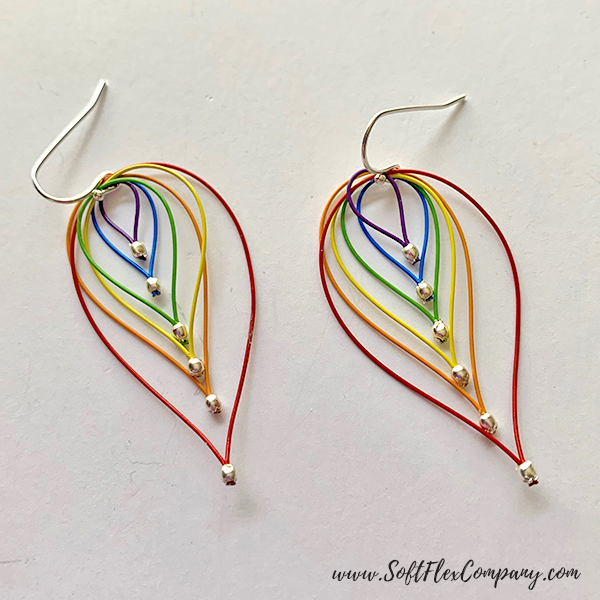 This design is so simple. And how nice is it that you do not need a bunch of materials and supplies to design it? Crimp a couple of pieces of wire, add an Ear Wire – and you have a set of colorful earrings.
My first thought when I saw these is that they looked perfect for attending the Balloon Fiesta in Albuquerque. So cute and such a great balloon shape to them. I mentioned that to Kristen during the video and she said that people from Albuquerque had made the same comment when they saw them. If you live in New Mexico – these are so perfect!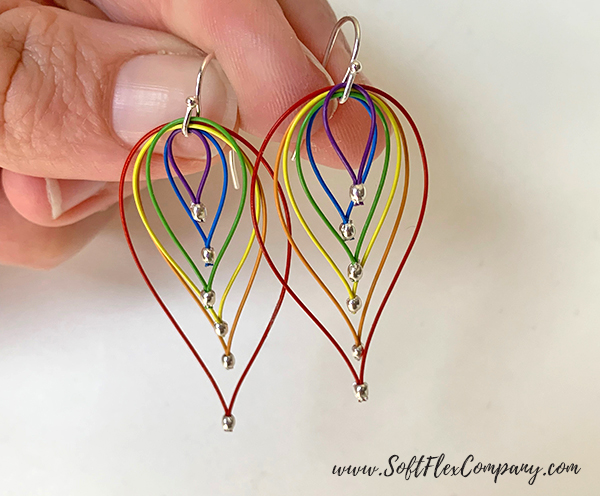 Magical Crimping Pliers are perfect for these earrings. If you are unfamiliar, Magical Crimping Pliers turn an ordinary crimp tube into a rounded bead when finished. You don't need to hide the crimps with crimp covers to achieve the wonderful rounded look.
I love watching Kristen's videos. She is such a creative spirit. If you enjoyed this video or if you would like to pick her brain, make sure you catch her next episode live. She loves to interact with her guests while she designs fun jewelry. She loves to answer questions. If you love art and jewelry – you will love her series. Make sure you watch her video and catch her live on Mondays at 12:00pm PST.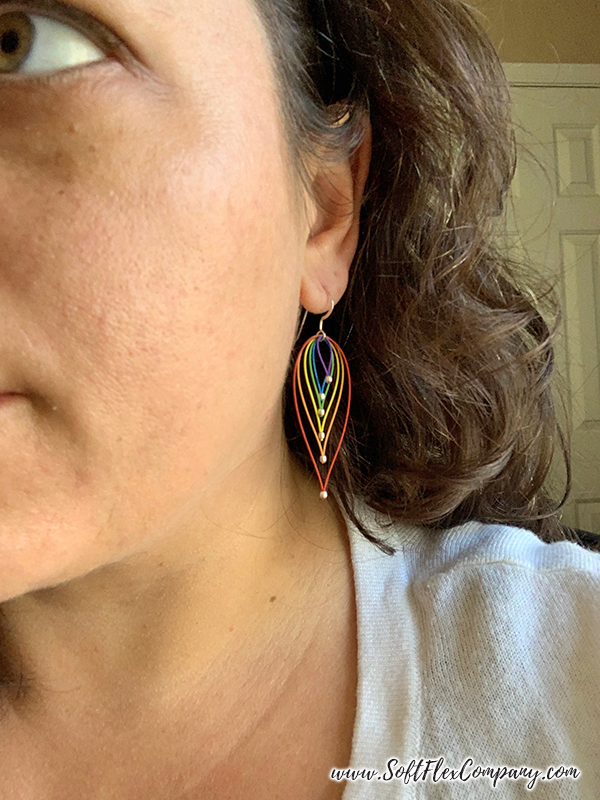 Soft Flex Jewelry Making Live Sale featuring Mike Sherman's private collection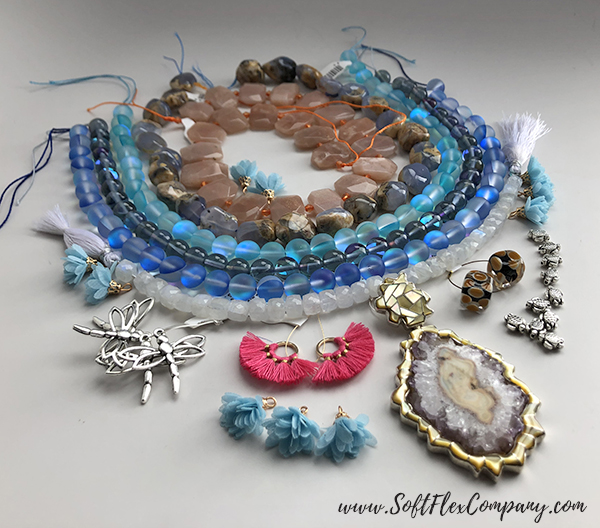 Click the image above to view the recording of the Soft Flex Live Sale. The sale runs until midnight, Sunday, April 14th. If you are viewing before that date and time, feel free to participate in the sale. Keep in mind, the sale was recorded on Wednesday, you can still bid, but Sara will not respond to you on the video, obviously, if you had not caught it live.
Also - we record bids chronologically. Please do not edit your comments or comment on another person's bid. This will shift the bid to the last place. If you need to make a change to your bid, post a new comment and we will fix your bid. Have fun!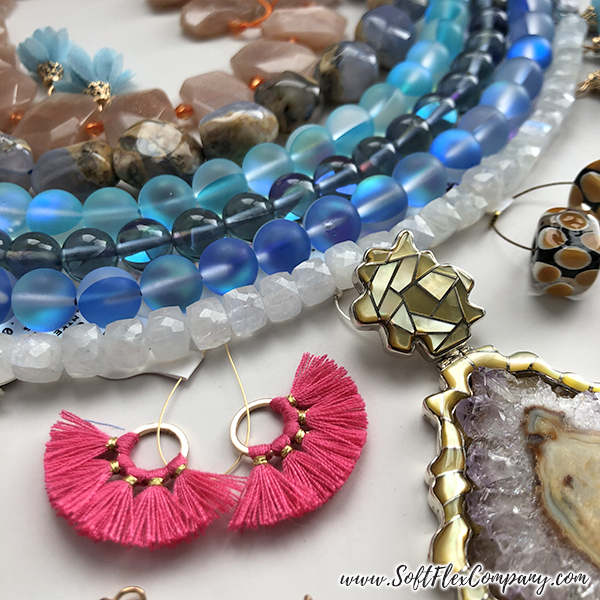 We sold some amazing beads. This sale featured beads and supplies from Mike Sherman's special collection. These are treasures that you will not find on our website. Mike is a co-founder and owner of Soft Flex Company. Mike has traveled to all parts of the world to find beads and stones. Everything in this sale was hand picked. He is a discriminating buyer, he only selects beads that he thinks are unique or magical. If you ever visit our gallery in Sonoma, California, you can see how incredible his collection is. If you visit on the right day, you might even meet Mike. If you loves beads and jewelry – Mike is a kindred spirit.
We have so many wonderful stones. The sale included some real AAA beauties and lots of fun and funky shapes and colors. Sara kicked off the sale with leather. We do not sell leather on our site and she had some amazing discounts on it. If you are watching before midnight on Sunday, April 14th, make sure you check out the sale and fill your jewelry making kit.
To make a bid, simply post the item number – sold – quantity. For instance, if you wanted 3 bundles of leather and the item she was holding that you are interested in is #2, post 2 Sold 3. It is that easy. Shipping is a flat five if you are in the States. If you are international, international shipping rates will apply, but we WILL ship anywhere.
Don't miss out!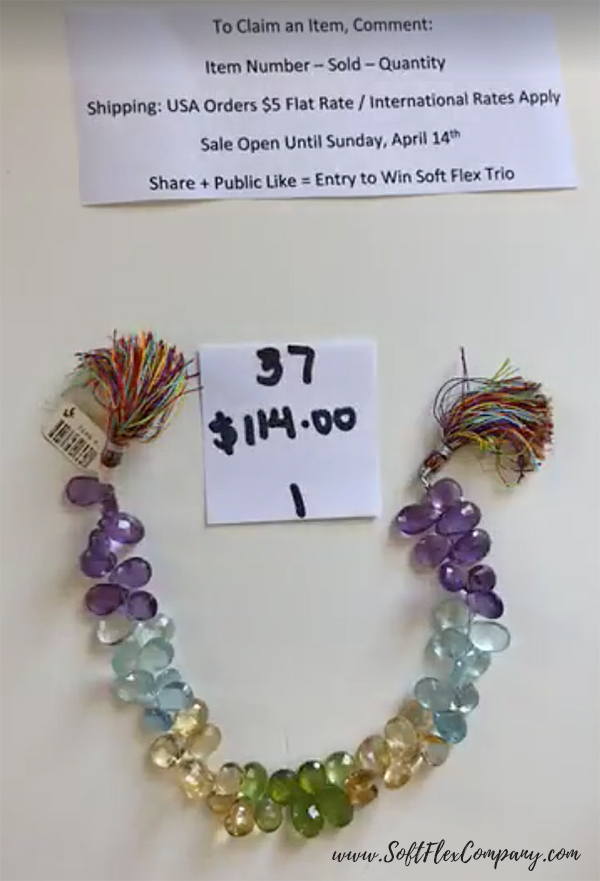 Throwback Video: Make Jewelry Using Soft Flex Beading Wire And Fiber Cord
This is a throwback video.
Sara filmed this two years ago. It is short but so sweet. Sara got some fiber cord from our friend Nealay Patel. She realized she could punch holes in the fiber and create a unique jewelry design. You can go crazy with color on this design. Sara was inspired by Nealay's book - Jewelry Made With Wire and Fiber.
I love this design. I also love earrings created with short pieces of Soft Flex Beading Wire. Since we carry a good deal of color wire, you might have some shorts strands laying around after designing jewelry. I hate throwing good wire away. I keep these short strands, remnant wire, if you will. You can repurpose them for earrings or projects like this. Don't settle for boring jewelry, think out of the box!
Do you design jewelry with Soft Flex that is not a simple strung piece? We would love to see your Soft Flex jewelry, visit our Facebook group – VIB – and post your images!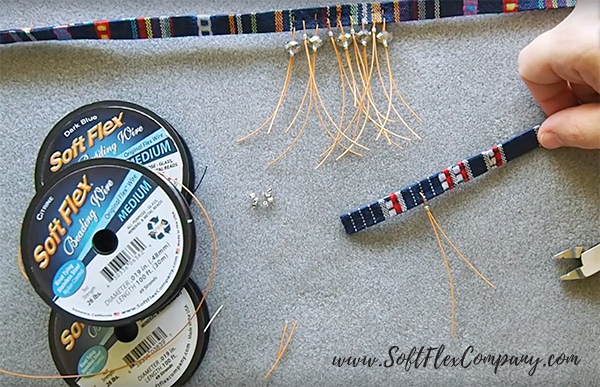 Supplies:
Jewelry Made With Wire And Fiber by Nealay Patel
Soft Flex Beading Wire - .019 Diameter
Soft Flex 2x2mm Crimp Tubes
Magical Crimping Pliers
Soft Flex Professional Flush Cutter
Join us next week! We have lots of informative videos planned. We would love to chat with you live!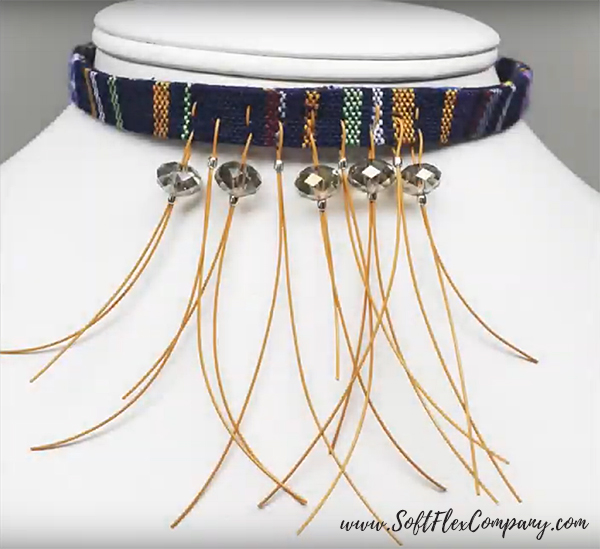 Let's Help our Friend Nealay of SilverSilk and More Live Stream on YouTube Again!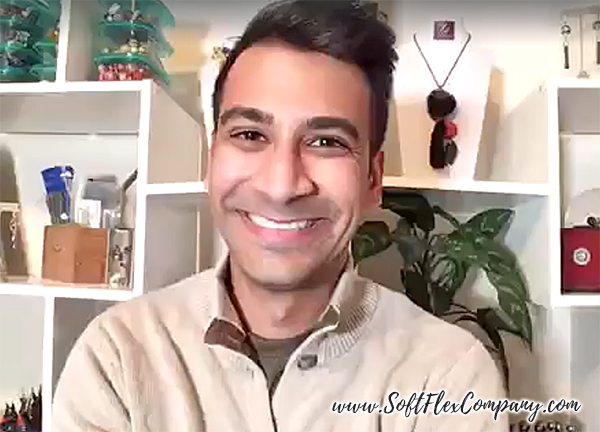 YouTube created a new rule for live streaming and our friend Nealay Patel needs our help! Let's help him get to that magic 1,000 subscribers so he can once again stream live from YouTube and offer us his amazing Tuesday Tuts! Click here to subscribe to the SilverSilk and More YouTube Channel.
Join our Facebook group – VIB. Stay in the know. Stay up to date. From our bead shows to our video shows and sales, you can stay in touch with us. The community is full of artistic and helpful beaders and crafty people. Inspire and be inspired. Share your pictures and get the beading bug from others!

Visit the Soft Flex Company YouTube Channel!

---
Blog contributor Thomas Soles loves Jazz Age writers and crunchy french fries. His favorite gemstones are Lapis and Pietersite. His favorite hobby is day dreaming. And his favorite mustache is Freddie Mercury's. As you can see, he has a healthy (or possibly unhealthy) sense of humor. You can write to him at Thomas@SoftFlexCompany.com