What a busy week it has been for beading! Kristen released a new episode of Free Spirit Beading and Sara filmed a live video teaching a fun way to weave a bracelet. If you follow us on Facebook or have joined our Facebook group – VIB, you would have also caught links to videos from friends of ours. It is a wonderful time to be a beader. You can learn new techniques and get fantastic ideas without even leaving the comfort of your couch.

If you are not a part of our VIB group, you should join us. We have a thriving community of supportive and creative members. We are always looking for new friends. You can post images of your jewelry creations or just soak in all of the talent and find your muse.
If you are missing Conversations in Wire with James Browning, rest assured, it will be back shortly. James is taking a brief hiatus. He is attending to matters on the business end of the company. We don't want to overextend him.
How to Make a Multi-Strand Necklace with Soft Touch Beading Wire
This week, Free Spirit Beading with Kristen Fagan taught us how to create a multi-strand necklace using Soft Touch Wire. If you are a beginner beader, multi-strand necklaces can sometimes be the next evolution on your beading journey. You have acquired your tools. You have mastered stringing beads. You have learned how to place your clasp and crimp the wire to finish it. Your single strand designs are on point and getting attention. It is time to delve into a more complicated pattern. Multi-strand designs can use larger crimps. They can require a clasp that can secure multiple strands. They are just a little more involved than a single strand. But that does not mean they are more difficult.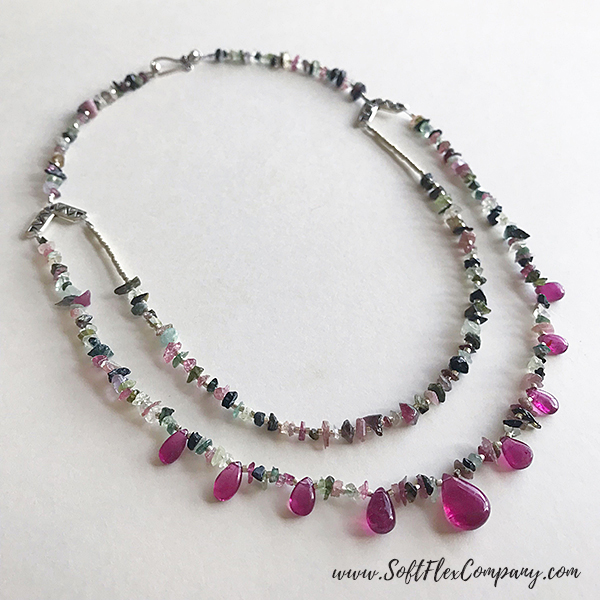 Kristen shows a simple multi-strand design. But that doesn't mean this video is just for beginners. It is well worth the watch if you want some inspiration from a fellow jewelry designer. Kristen is a talented artist that loves exploring color. Her beadwork and paintings are splashed with a wonderful palette.
Kristen used Soft Touch Beading Wire for the design she created. Soft Touch is our premium beading wire. Soft Flex is our original. They are both the same strength, the same durability. But the Soft Touch drapes about 50% softer than the Soft Flex. The Soft Flex has a bold wire-like look. The Soft Touch has a thread-like drape and just falls across the neck or wrist. There is no downside to either wire. Some people prefer a little stiffer drape and others demand the grace of silk.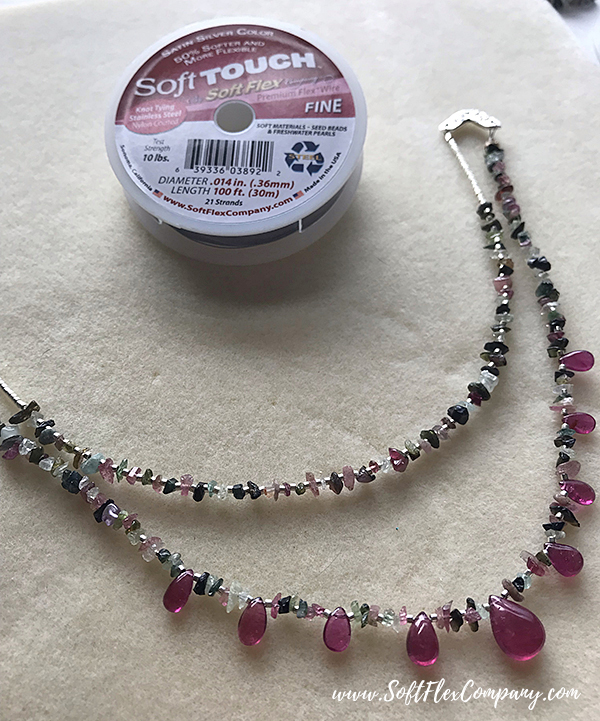 If you would like more information about Soft Flex and Soft Touch or need to know what diameter to use for your next project, make sure you check out this blog post about our wire diameters and brands.
Kristen uses a pair of regular crimping pliers during this video. She uses a pair of Soft Flex Professional Flush Cutters. She uses Bead Stoppers to control the loose ends of her wire. She uses 2x2mm Crimp Tubes and a 1 strand clasp. The diameter of Soft Touch she uses is .014 Fine – perfect for the size and abrasion level of the beads she is using. The beads she uses are multi-color Tourmaline chip beads, size 11 Delica beads, and pear beads in two sizes.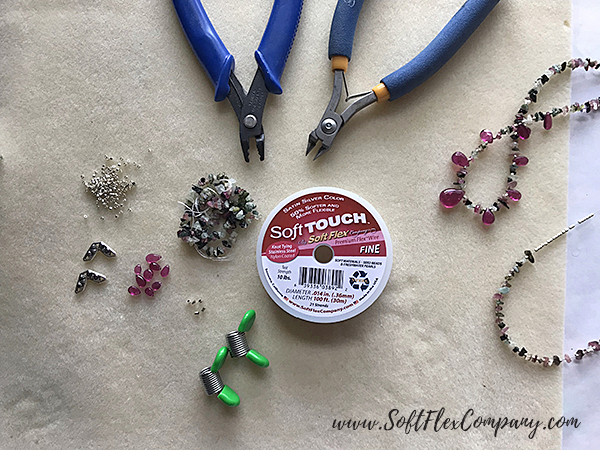 Here are the strand patterns Kristen used for this necklace:
Long Strand - Cut 14" wire. String 2.5" of Chip Beads, String 1 Delica, 3 Chip Beads, 1 Delica, 3 Chip Beads, 1 Delica, 1 Pear Bead. Repeat until all Pear Beads are strung. Then, String 1 Delica, 3 Chip Beads, 1 Delica, 3 Chip Beads, 1 Delica. String 2.5" of Chip Beads.
Short Strand - Cut 12" of wire. String 25 Delica Beads, Alternate stringing 1 Chip Bead 1 Delica Bead for 7", String 25 Delica.
Back Side Strands: Cut two 3.5" strands of wire. String 1 Delica and 3 Chips. Repeat pattern until it's 2.5" long. Attach one end of the strand to the Connector and the other to one half of the Clasp. Repeat for the second strand.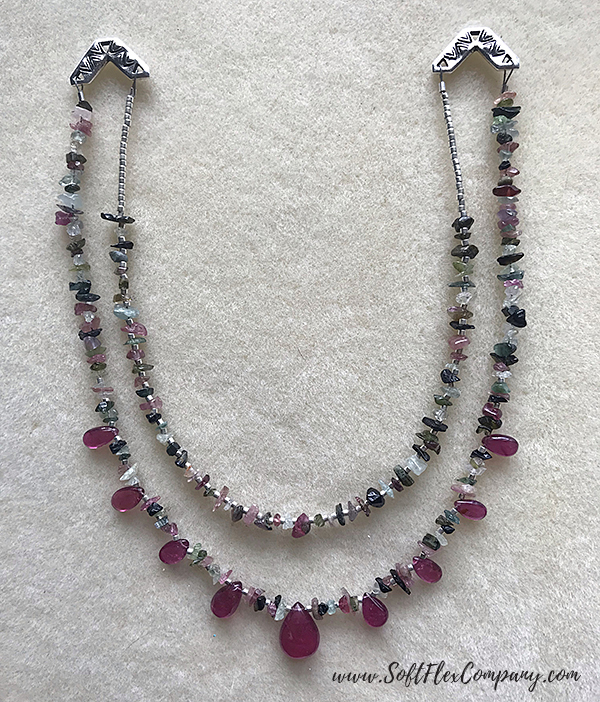 Make sure you watch her video and catch her live on Mondays at 12:00pm PST.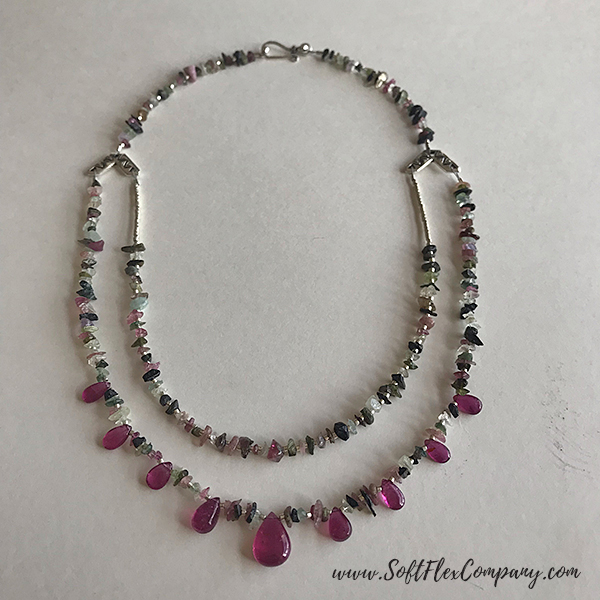 Make A Wrap Bracelet Using Soft Flex Wire On A Macramé Board
Sara filmed a live video for Facebook this week. She discussed our Mini Macramé Board. The Mini Macramé Board is great for knotting macramé designs. It is also a handy tool for securing other projects - Sara uses hers to weave. This is a handy tool to have in your beading supplies if you enjoy playing with wire.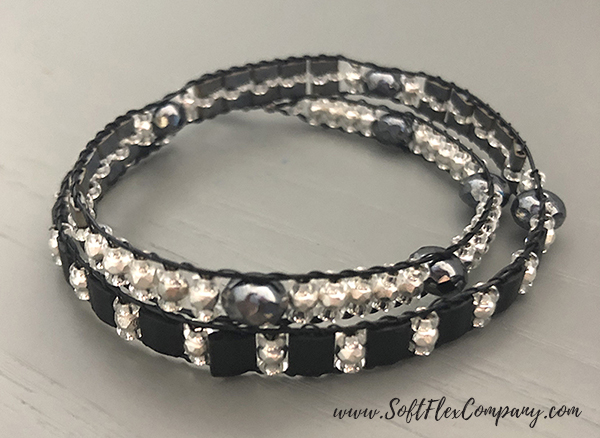 Sara taught us how to use a macramé board to create a bracelet. Macramé is a knotting art. Macramé took its name from artisans that knotted fringes eight centuries ago. It has been used as a fashion, a decorative household craft, and has even found its way into the military for function and aesthetics. You might normally think of cord and fiber for knotting work. Soft Flex Beading Wire is flexible enough that you can knot it. Soft Flex can be used for weaving, knitting, stitching, and embellishing. It is definitely not just a bead stringing wire. It is perfect for use on the Mini Macramé Board.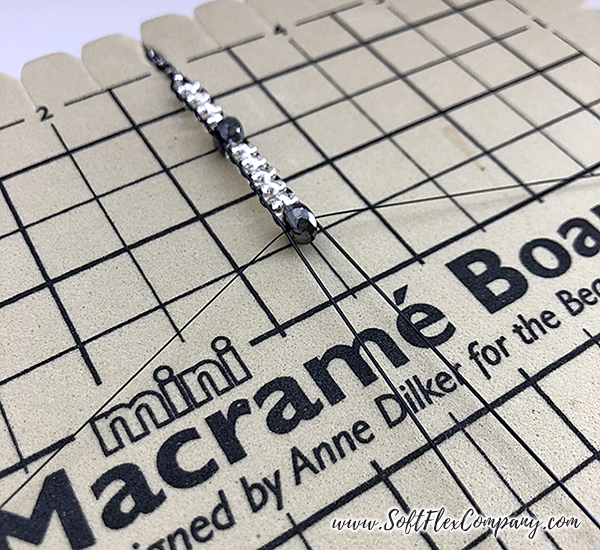 Sara uses her Mini Macramé Board primarily for weaving. The notches along the board are great for holding your wire in place as you weave or knot your design. The Mini Macramé Board's soft edges grip the wire and keep it where you want it. If you are a little rough on the board, it has a little 'self-healing' action and any gaps in the notches fade over time.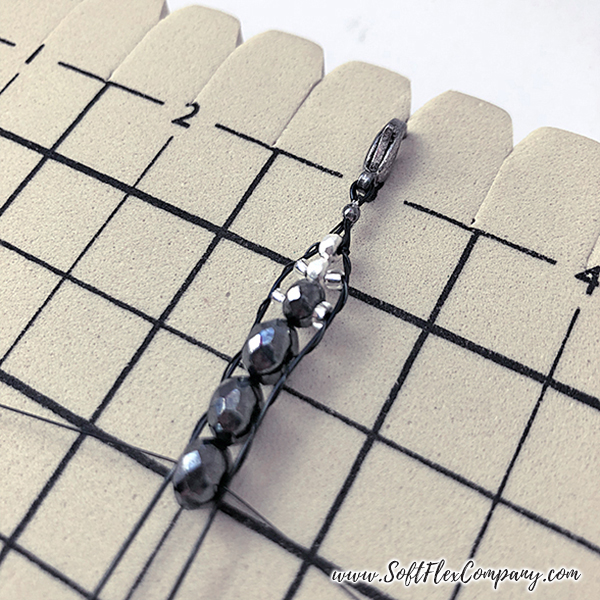 Sara uses a pair of Magical Crimping Pliers during this video. She uses Bead Stoppers. She uses our new 2x2mm Sterling Silver Black Oxidized Crimp Tubes. Sara uses a lobster clasp. She uses .019 Medium Soft Flex Wire for the sides of her bracelet. The diameter of Soft Touch she uses is .010 Very Fine – perfect for weaving and knitting. Sara recommends Micro Macramé Basics and Beyond, which is available in our Book section.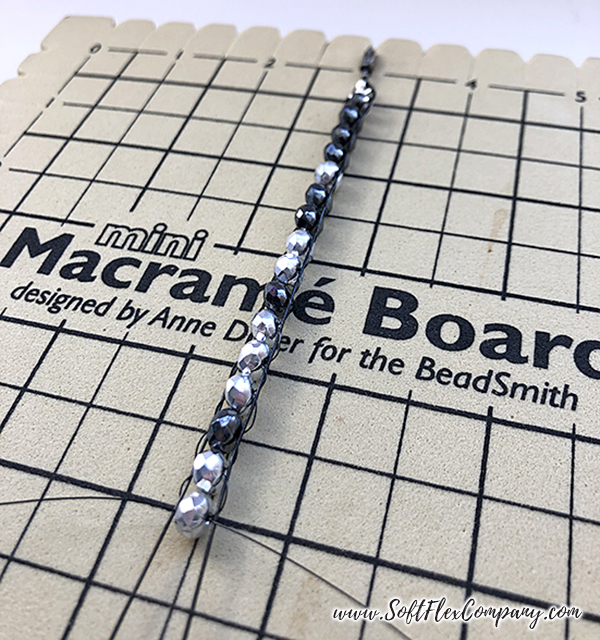 Grab a Mini Macramé Board, it is a great invitation to learn new jewelry techniques. If you are familiar with macramé with cords, it is a great chance to see how Soft Flex works with macramé designs. Check out our Free Beading Project Ideas if you need a little inspiration to get you going.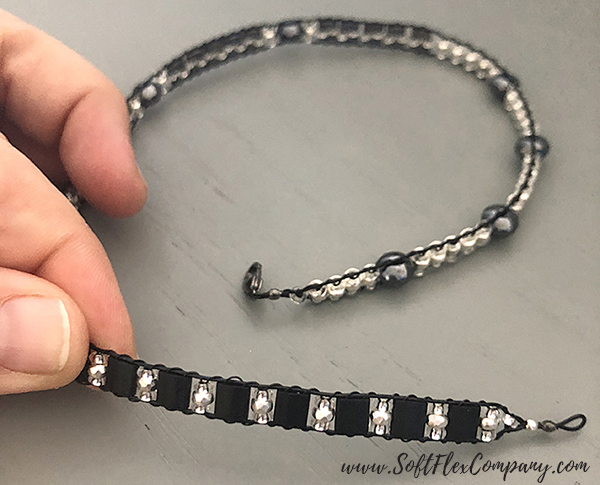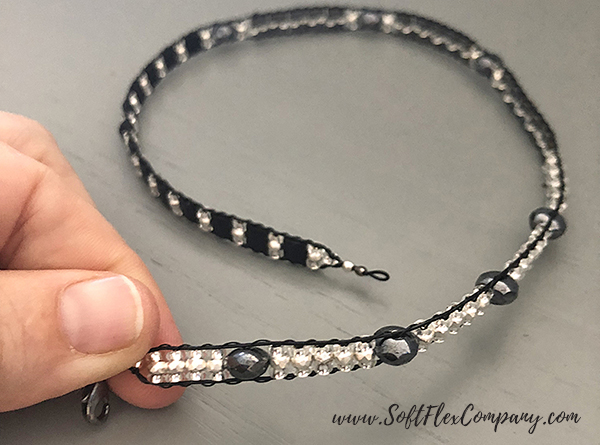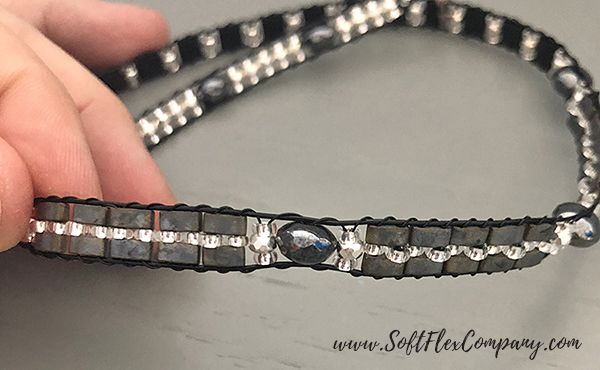 Sara can be found on Facebook and YouTube. She often films live videos for Facebook and uploads special videos to YouTube. Sara typically films her live videos once a week. She is easy to catch and her videos are a blast to watch. Make sure you watch her design something spooky on Halloween; she will be live at 1:00pm PST.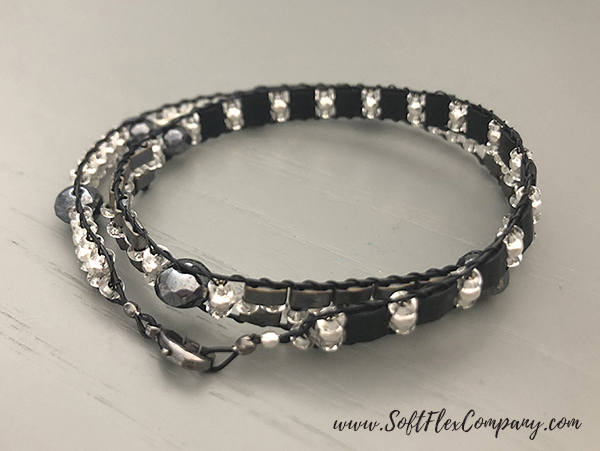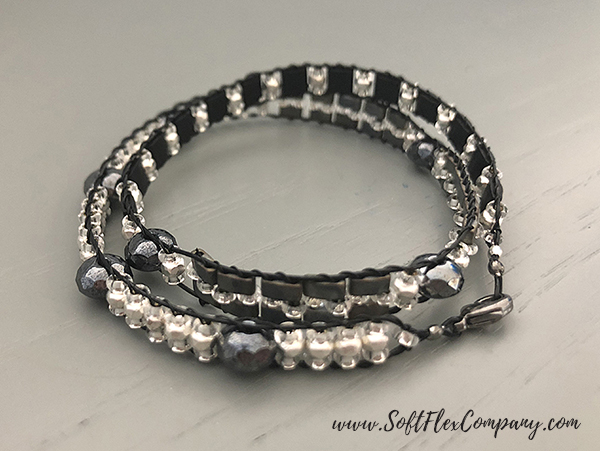 Join our Facebook group – VIB. Stay in the know. You don't want to miss Nealay Patel of SilverSilk creating a bracelet using Soft Flex Craft Wire and Flat Mesh. Kate from beadshop.com designs a pearl necklace using Soft Flex Beading Wire.
Visit the Soft Flex Company YouTube Channel!
---
Blog contributor Thomas Soles is the Trade Show Coordinator for Soft Flex Company. His favorite stones are Lapis and Pietersite. His favorite hobby is day dreaming. And his favorite mustache is Tom Selleck's. As you can see, he has a healthy (or possibly unhealthy) sense of humor. You can write to him at Thomas@SoftFlexCompany.com