Do you know what the best beading wire is for that bracelet you want to string? Do you know why Soft Flex carries so many colors of wire? Are you still in the dark about beading wire? Read on and get all of the answers!

Let's start with beading wire companies. Which is the best one? There are so many options. We think you should choose the wire that speaks to you. Go to a bead store. Feel the various wire brands. Let the wire do the talking. Choose the company you like the best based on the wire. Word of mouth is always biased. You will know what wire you prefer if you have felt the drape and flexibility.
Soft Flex Beading Wire
We love Soft Flex. Obviously. We are a company of beaders and jewelry designers. We are all passionate about our wire. We demand strength and durability. We want the strength of steel and the grace of silk.
Soft Flex gives you choices. We have different brands for different projects: Soft Flex, Soft Touch, Extreme, Metallics, and Econoflex. We have different diameters for different projects: Very Fine (.010), Fine (.014), Medium (.019), and Heavy (.024). We have over thirty color options. There is so much to choose from. It can be difficult to figure out which wire to use.
Let's start with our original beading wire.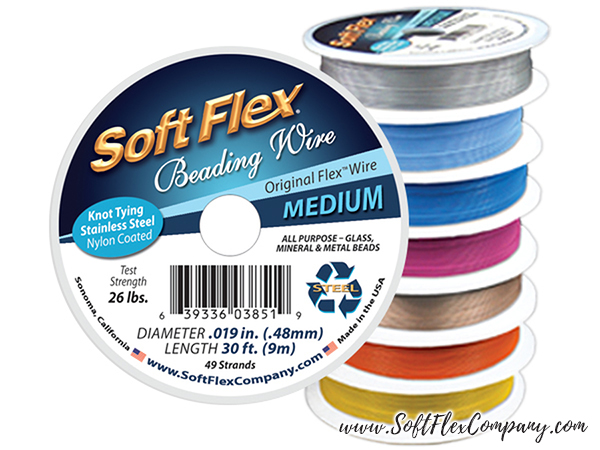 Soft Flex Beading Wire is our first brand. It is a wire that was designed as a bead stringing wire. Some companies offer fishing line as beading wire. Founders Mike Sherman and Scott Clark wanted to create a wire that had the drape of thread or silk. But they wanted a wire that would last. Soft Flex is a marine quality stainless steel. It is coated with nylon. Soft Flex comes in three diameters – Fine (.014), Medium (.019), and Heavy (.024).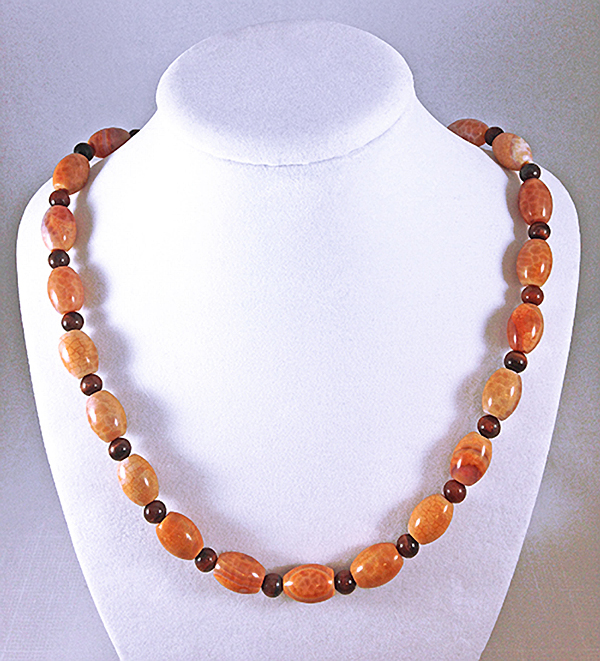 There are over twenty colors of Soft Flex. Satin Silver is the most common. Satin Silver is a muted gray wire. It is perfect if you are concealing the wire under a beautiful strand of beads. It is cost effective and subtle. It gets lost in the design and does not stand out.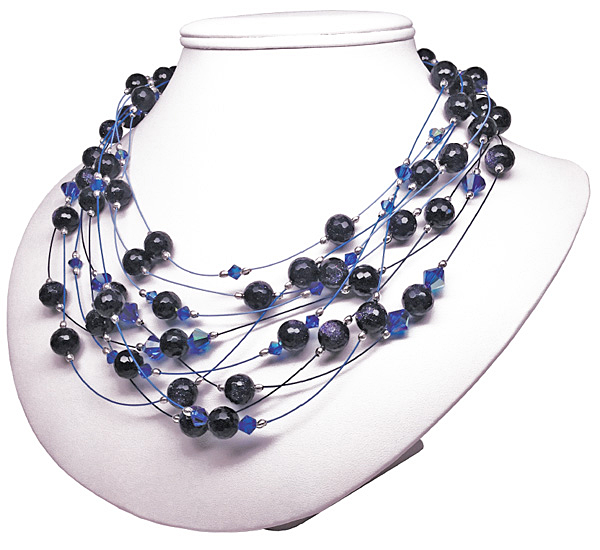 Color is great if you want to incorporate the wire into the design. Perfect for illusion necklaces where the beads appear to float on the wire. You can use a color to make an eye-catching statement.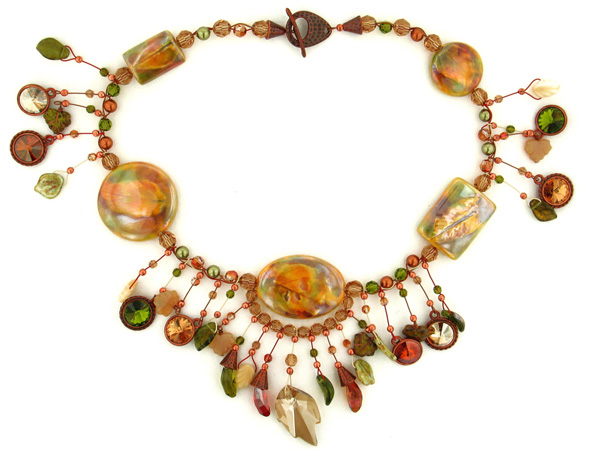 Color is great if you want to add textures and wire dangles. Color helps you think outside the box. Create a necklace unlike anything everybody else is wearing.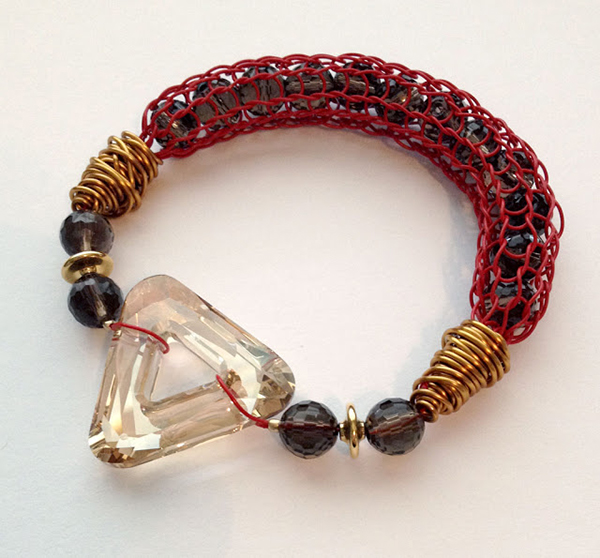 Soft Flex Beading Wire is a dream on knitting spools. The design is flexible and fluid. You can add a clasp or pull it over your hand. Color ignites the design.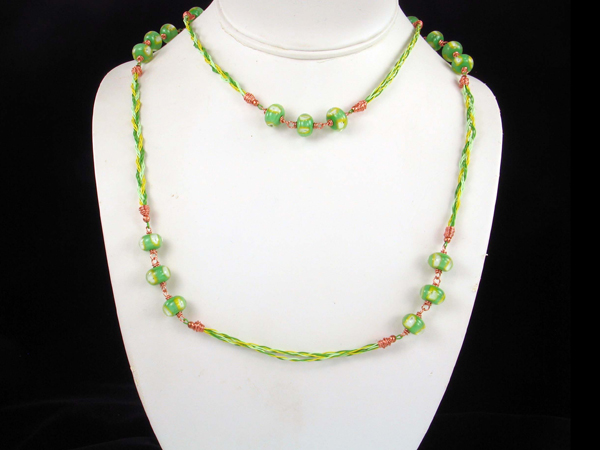 Soft Flex is flexible enough that you can knot it. You can also braid the wire. Choose multiple colors and you have jewelry for every occasion.
Don't throw away remnant Soft Flex. You can use the small cut pieces later. Earrings are great with colored beading wire. Perfect for those remnant pieces of wire. Hoops and dangles. Crimp the wire and add a bead. Easy as pie.
Metallics Beading Wire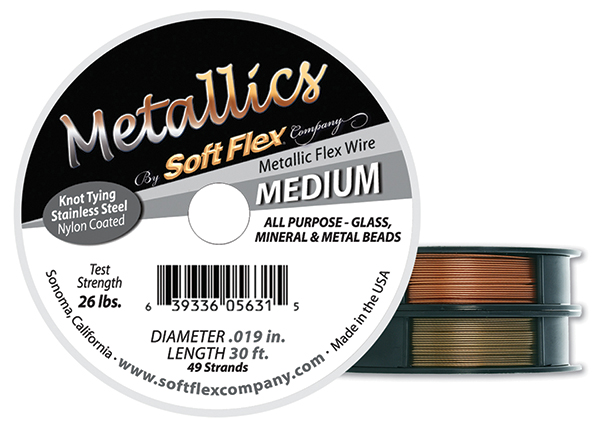 Metallics is a brand of Soft Flex Beading Wire that is great for antiques and earth toned designs. Metallics comes in Copper and Antique Brass colors. It is perfect for Southwestern flavored jewelry. It is wonderful if you want to string that skeleton key you found in grandma's attic. Metallics is a great choice for designing men's jewelry. It is earthy and delightful.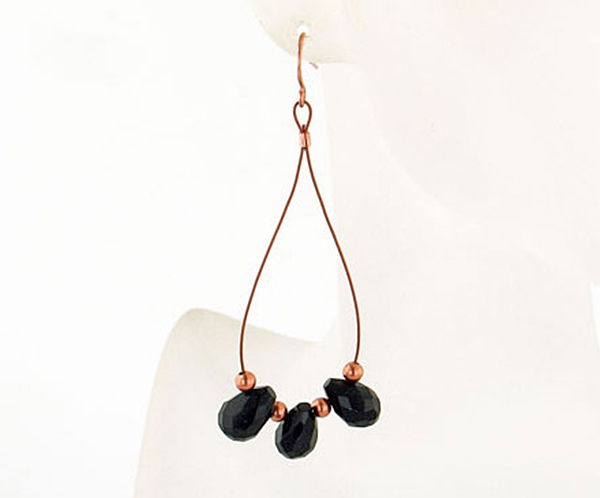 Expose the wire on an earring. Copper is a rich color that is so classy with black beads.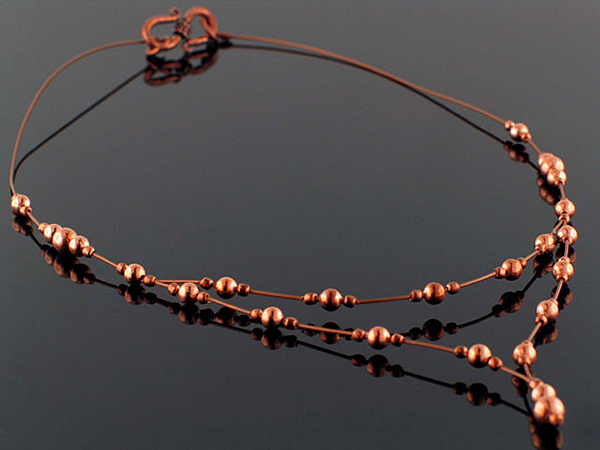 Crimp your beads in place on an illusion necklace. Copper crimps, beads, and clasps. You can go copper crazy with Metallics.
Soft Touch Beading Wire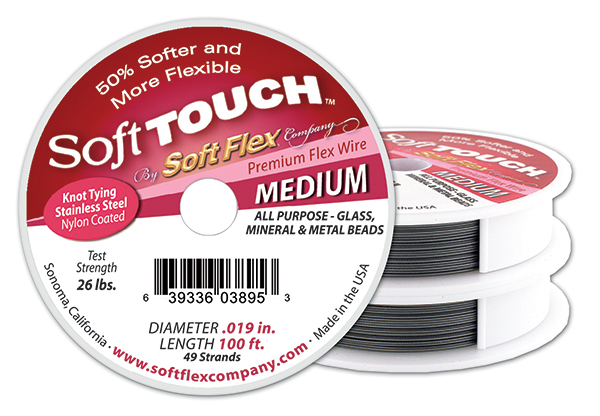 Soft Touch Beading Wire is our premium line. Soft Touch drapes like silk. If you compare Soft Flex and Soft Touch, you will see that Soft Flex is a bolder wire, Soft Touch falls over the wrist or neck like a soft piece of thread. It does not have the rigid quality you would expect from a stainless steel wire. Soft Touch is fantastic if you love the drape of silk but want the durability of steel. Soft Touch comes in four diameters: Very Fine (.010), Fine (.014), Medium (.019), and Heavy (.024). Soft Touch and Soft Flex share the same tensile strength; you are not getting a weaker wire if you buy one or the other.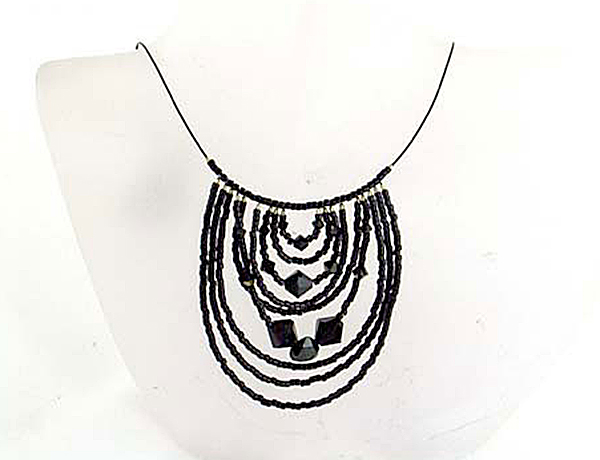 Soft Touch Beading Wire comes in Satin Silver color for the three larger diameters. It is available in black, white, and Satin Silver in the Very Fine Diameter.
Extreme Flex Beading Wire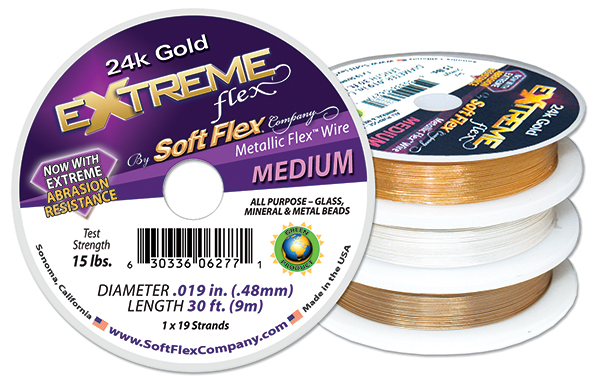 Extreme Flex Beading Wire is the best bet for your high end projects. String with 925 Sterling Silver plated wire, 24k Gold plated wire and luscious Champagne. This wire is royalty. Extreme is also our first 'green' wire. Extreme contains no heavy metals and is recyclable from the top down. It is the first environmentally friendly wire on the market. Extreme comes in three diameters: Fine (.014), Medium (.019), and Heavy (.024).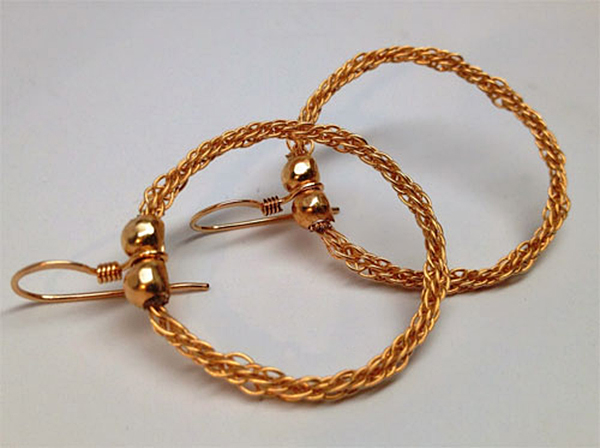 Earrings made with a Kumihimo Board and beautiful 24k Gold. So easy and so sophisticated.
Float your beads on 925 Sterling Silver wire. Gold or silver clasps, your design is going to be decadent. Make a stunning New Year's Eve necklace.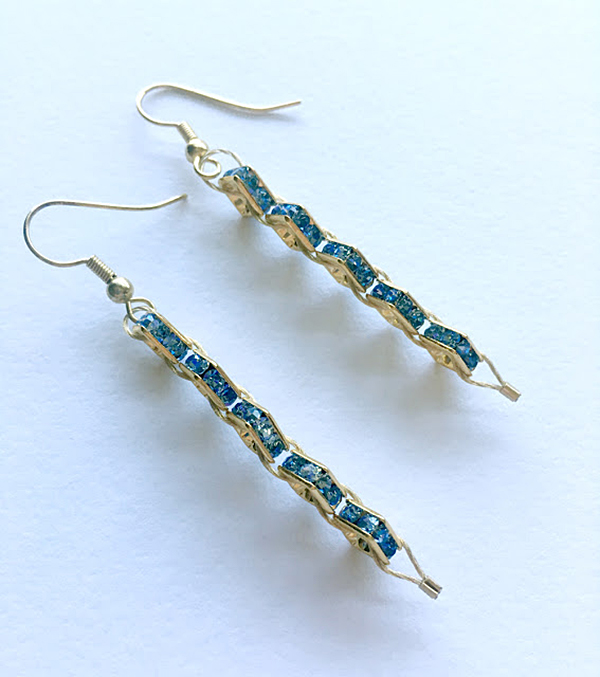 Crystal Squaredelles are fantastic with a gold accent.
Get giddy with gold and create some scrumptious earrings.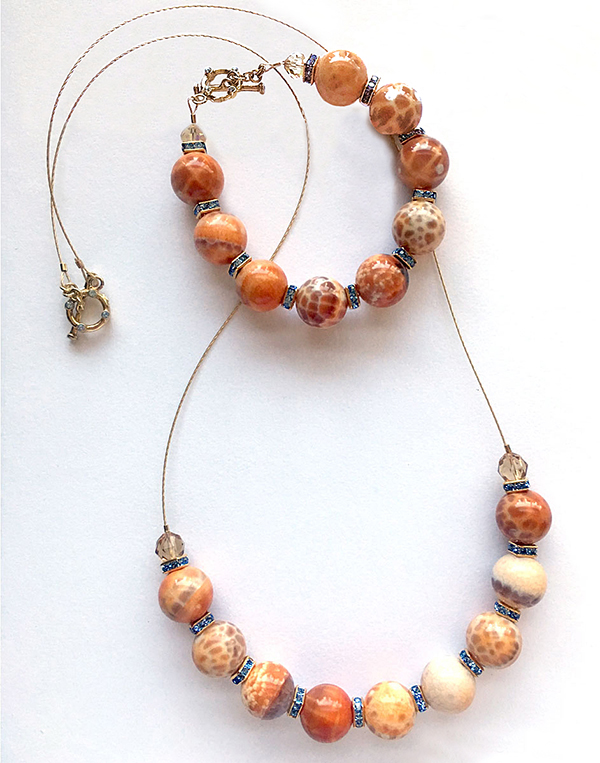 Go big with gold, Agate, and Crystal Squaredelles.
Econoflex Beading Wire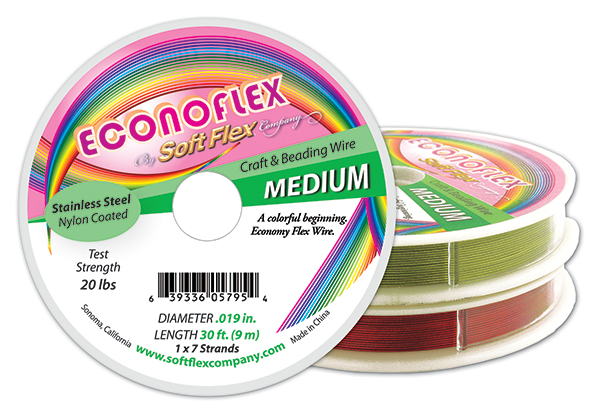 Econoflex Beading Wire is our economy brand. Econoflex does not have the flexibility and strength our other brands offer. Econoflex is great for beginners. Create jewelry with wire that is cost effective. Play with it and learn from your mistakes. It will not hurt the wallet. If you are well acquainted with beading wire, Econoflex is perfect for projects at home: beaded lampshades, wind chimes, and ornaments. If drape and strength is not an issue, this is your wire. Econoflex comes in three diameters: Very Fine (.010), Fine (.014), and Medium (.019).
Pro Econoflex Beading Wire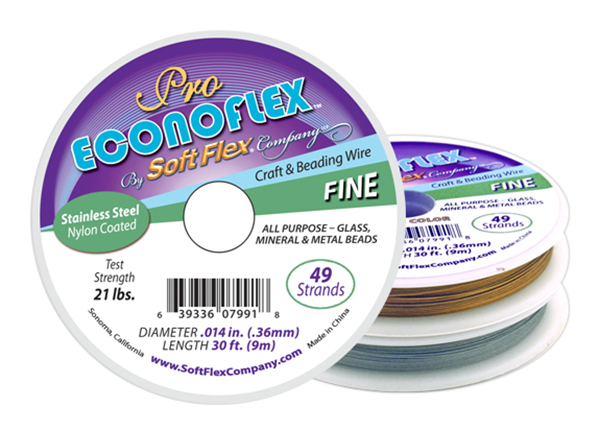 Pro Econoflex Beading Wire offers our only gold color (not plated). It is a cost effective wire that will substitute our 24k Gold plated Extreme Wire.
Let's look at diameters.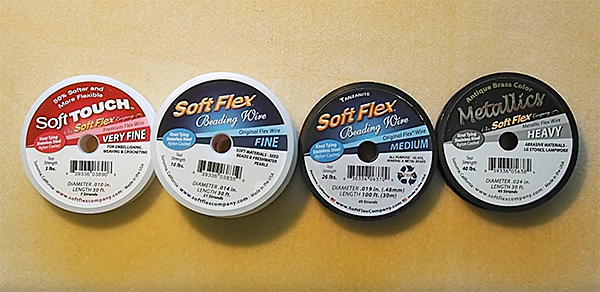 Let's look at diameters. We have four to choose from across our brands. Very Fine (.010), Fine (.014), Medium (.019), and Heavy (.024). Those numbers are the thickness in inches. Diameter is an important choice when choosing your wire. A good rule of thumb is to choose the largest wire that fits through your beads once. That will ensure your designs are strong and durable. We do not suggest doubling back through your last bead after crimping. You are sacrificing the strength of the design if you do that. If you know how to crimp well, cut the wire at the crimp. If you have decent crimps and are using a crimping tool, your crimp will last. Don't scrimp on crimps, get good ones.
Some people consider the strands inside the wire when shopping. They look for 49 strand wire. That is fine for some brands, but we do not consider the strands when making a selection for our designs. Our Medium and Heavy are both comprised of 49 strands of steel. This can be confusing if you use the number of strands inside the wire as a metric for selecting our wire. We prefer you shop for the size of the wire in mind. Our sizes are primarily based on the abrasion level of the beads you will be using.
Very Fine (.010)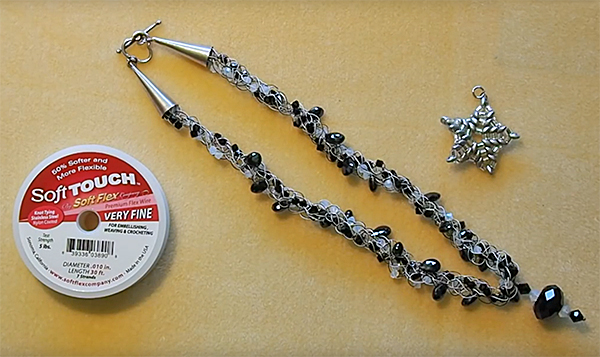 Very Fine (.010) – this is a wire we designed as a substitute for thread. It is much stronger than thread. Perfect for weaving, knitting, stitching and embellishing. We do not suggest using this wire for stringing single strand necklaces. It can be used if you have very tiny beads and no other wire fits through the bead channel (black diamonds can have very small channels). If you want to string anything bigger than the smallest beads, select a larger diameter.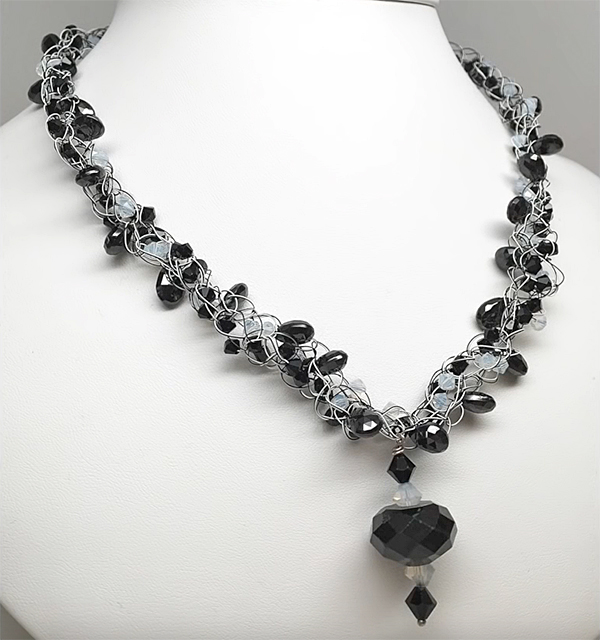 You can use Very Fine with a knitting spool and beads for a lively design.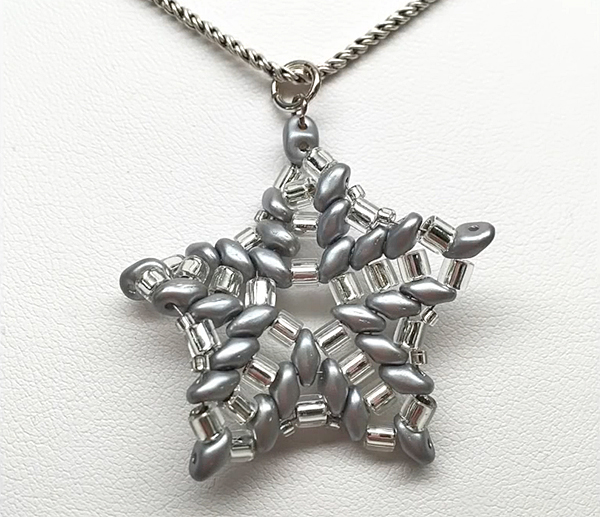 Create a pendant with seed beads. This playful wire is great for tiny projects.
Fine (.014)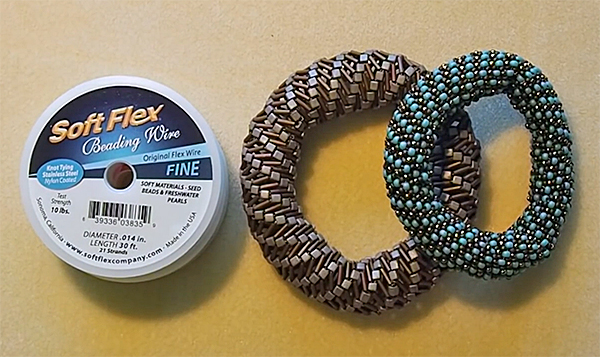 Fine (.014) – this is a great option for smaller beads. Seed beads and pearls look great on Fine wire. This wire is much sturdier than our Very Fine wire. If you work with a lot of smaller beads with smooth channels, you want this diameter on hand.
Fine is great for Viking Stitch and other woven or knitted designs.
Medium (.019)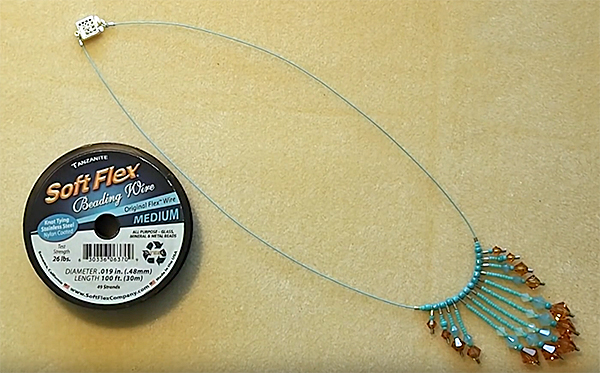 Medium (.019) – this is our 'go to' wire. This is our all purpose diameter. Medium is strong enough to handle nearly every task. String chunky beads on a necklace with tiny spacer beads, this diameter can fit through tiny holes and withstand the weight and abrasion of most beads. This diameter has the largest range of color. We want you to use Medium when you want your designs to be durable. Despite the fact that this wire is stainless steel, it is incredibly flexible. This diameter is great for macramé, knitting spools, and Kumihimo Boards. If you string with finer diameters and work with a wide variety of stones and beads, consider getting this diameter.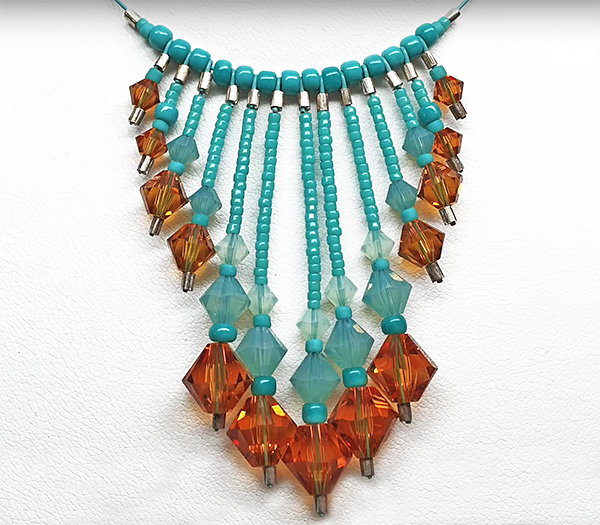 Show your colors! Medium has a wide range of beautiful color. Make your wire shine.
Translucent beads benefit from colored wire. Color can accent the beads or glow inside the channel. Choose a color similar to the beads you are stringing as a complement. Rose Quartz looks particularly lovely with our Pink Rhodochrosite color.
Heavy (.024)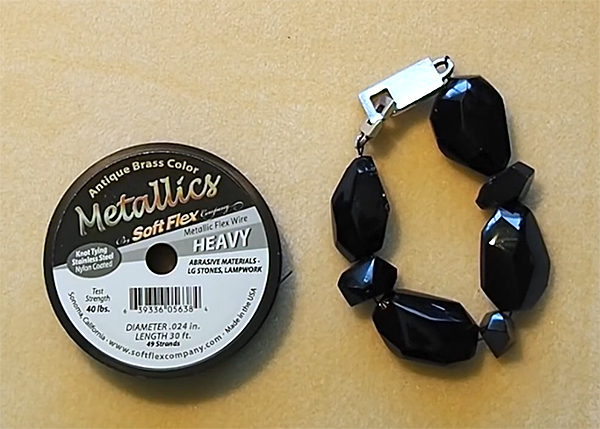 Heavy (.024) – this is our largest diameter. Heavy is great for chunky stones with abrasive channels. Heavy has a 40 pound test strength, that means it takes 40 pounds of snapping strength to break it. It can withstand the torture of abrasive beads like glass, coral, and Turquoise. It is perfect for bracelets. Bracelets take a lot of abuse as they rock back and forth on the wrist.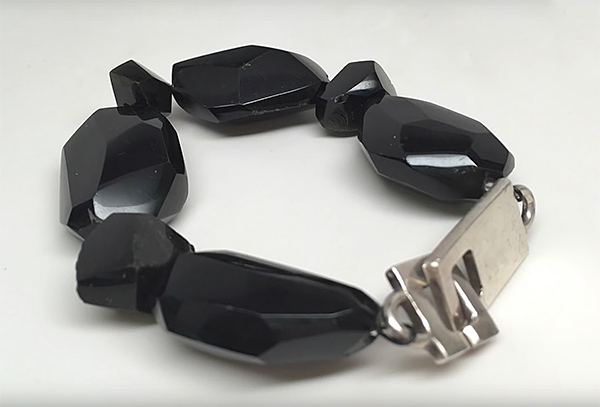 This bracelet is going to be durable. Heavy is the best bet for a wrist.
This bracelet of metal beads is going to punish beading wire. But Heavy is strong enough to endure it.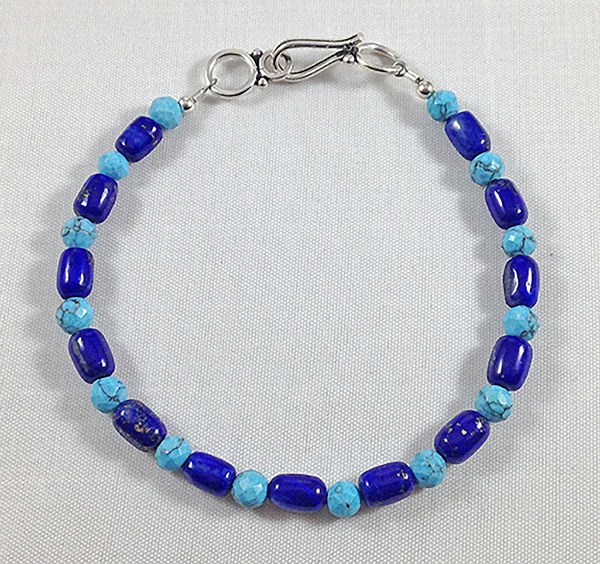 Heavy is great for bracelets for men or women. It is built for punishment.

There it is. Soft Flex Beading Wire is easy to choose when you know how each diameter and color functions. Your next design can be strung on the perfect wire.

If you'd like to print out this information, you can download a PDF of the blog.
Subscribe to our YouTube channel for more tips. Visit our Facebook page if you want to catch our live shows and sales. And join our Facebook group – VIB, if you want to join a friendly community or jewelry designers and all around creative people.
Visit the Soft Flex Company YouTube Channel!
---
Blog contributor Thomas Soles is the Trade Show Coordinator for Soft Flex Company. His favorite stones are Lapis and Pietersite. His favorite hobby is day dreaming. And his favorite mustache is Tom Selleck's. As you can see, he has a healthy (or possibly unhealthy) sense of humor. You can write to him at Thomas@SoftFlexCompany.com