Did you buy our Purple Rain Design Kit? We love purple! We just knew this kit would be fabulous. If you are not familiar with our design kits, they are a complete set of jewelry making supplies. Everything you need to make lots of jewelry – you will need tools, though. Our design kits are mystery kits that we create using a unique theme. We unbox the design kit a month after offering it. If you have purchased one, you can create what Sara creates when she opens her kit or you can make your own unique designs. It is a lot of fun! You need to hurry though, our kits are limited and tend to sell out fast.

This week, our videos are full of Purple Rain fun. If you love this color, you are going to want to see what Kristen and Sara have dreamed up and designed. We also watched James do some wire work. He is incredibly talented. This time, he created a ring using a square Kumihimo plate. So much fun!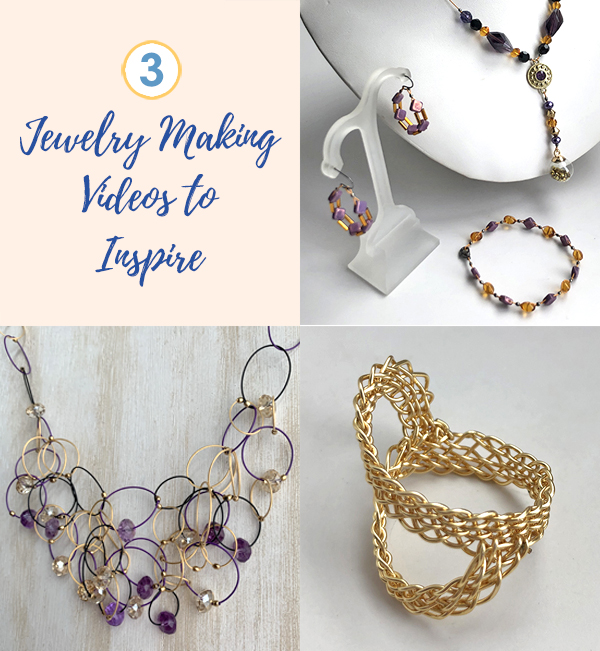 If you missed out on our Purple Rain Design Kit, you still have a chance to have some fun with the color choices inspired by the kit. Our Trios Purple Rain Collection is a set of wire that is a great compliment to the kit. Perfect if you own the kit or would like to string your own purple beads. This Trios set is a lush collection of three 10 foot spools. The selected colors are Purple Amethyst, 24K Gold, and Black Onyx in medium, .019 diameter. They look stunning on their own or together in a multi-strand jewelry design.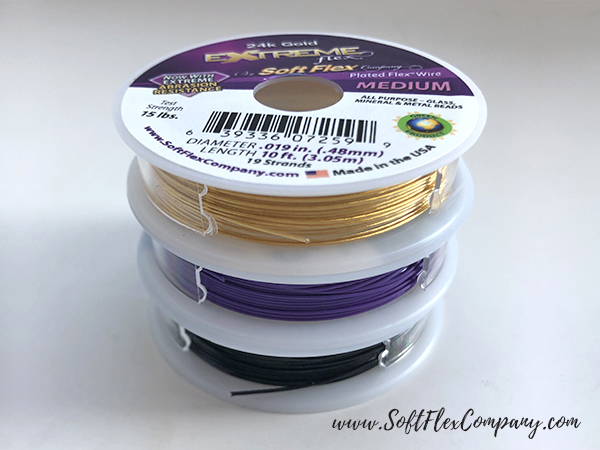 If you missed out on our Purple Rain Design Kit, you can still purchase our Purple Rain Bead Mix. This bead mix was included in our Purple Rain Design Kit. We like to stock extra bead mixes so we can offer them to people that did not buy the kit. You can still have some fun with these amazing colors!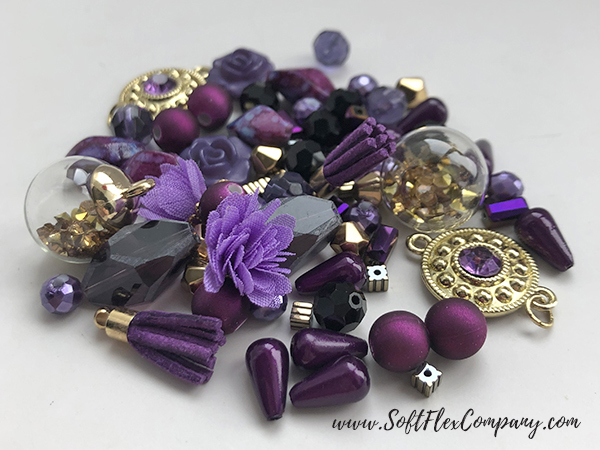 Soft Flex Live Beading Show: Creating Jewelry With The Purple Rain Design Kit
Boy did the rain derail our plans last week. Sonoma was hit with floods and the roads were washed out. It made travel very difficult and Sara had to postpone her Purple Rain Design Challenge video. She ended up filming her video last Friday instead of last Wednesday. We had to include it in our selection of videos for this week since we missed the chance to put it up on our blog.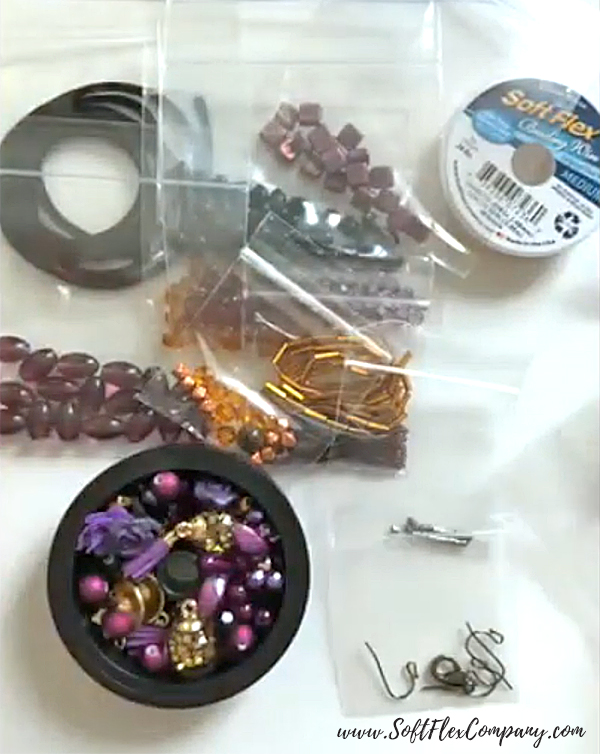 Sara's Live Design Challenge videos are a lot of fun. She opens a mystery box – ours or a unique box from a bead store or company – and then makes an impromptu piece of jewelry. She does not have plans to make the jewelry she makes and the fun of these videos is to watch her work. She is live and tasked with making something beautiful. It is a great way to watch an artist work and see how her mind sets her pieces in motion.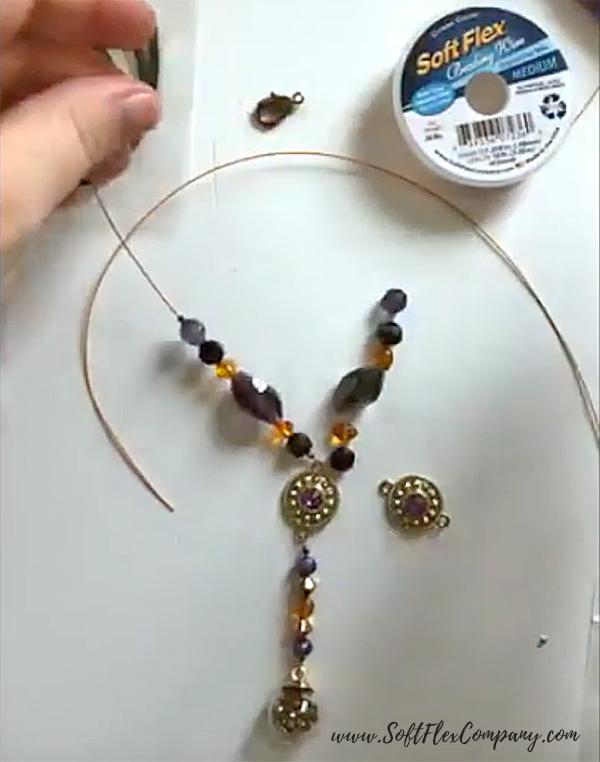 Catching Sara is live is the best. She will answer any questions you have and you can chat with other happy beaders while you watch Sara design jewelry. She films her Design Challenges on Facebook. If you do not like Facebook, you can always catch the replays on YouTube.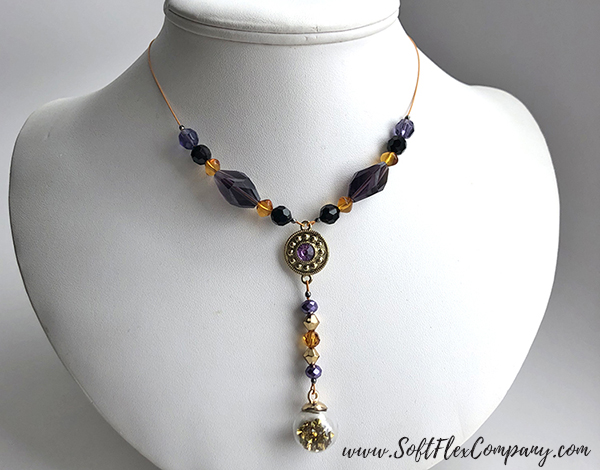 Join us on Facebook. We have a group on Facebook called Soft Flex Very Important Beading Studio – VIB, for short. VIB is a great group of designers. It is full of professionals and beginners alike. It is a very active group and people are always showing off their beautiful designs and discussing jewelry making. You can participate or be a wallflower, we would love to have you.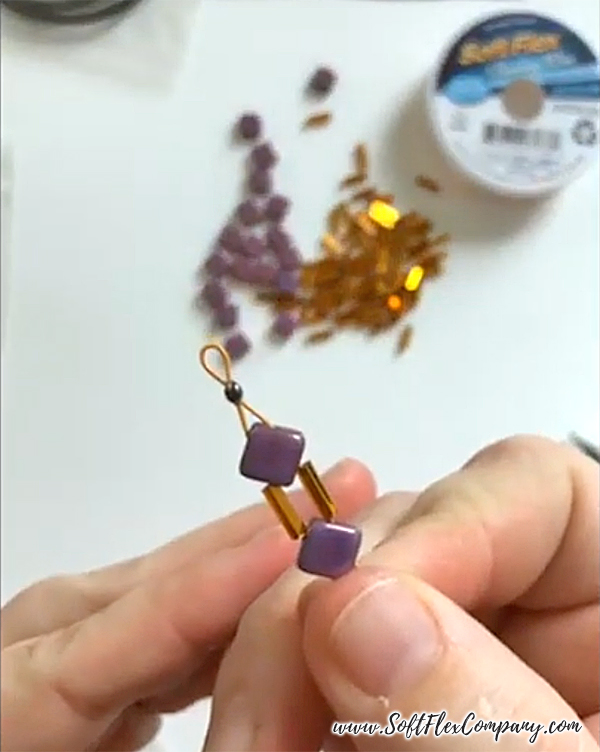 If you purchased our Purple Rain Design Kit or are interested in purchasing our next kit, you have the opportunity to show your designs on our VIB group and win the next kit for free. Every design you post on our group using elements from our kit is an entry into our giveaway. At the end date of the giveaway, we use a random number generator to select a winner. This means that your designs have the chance to win, regardless of your skill. If you are a beginner, this puts you on even footing with the seasoned bead stringers. Take a chance and show us what you created with your design kit!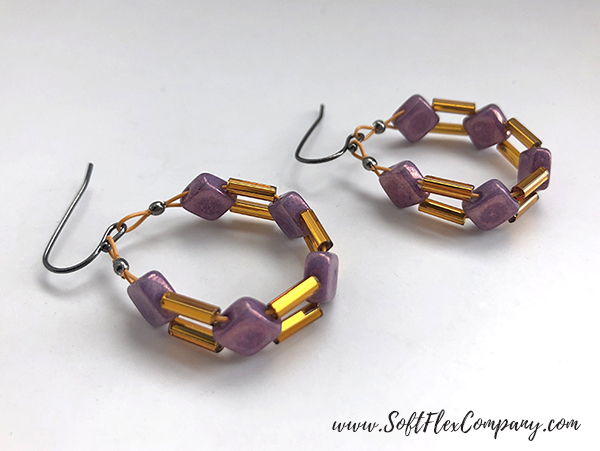 So much fun! Make sure you check out our videos!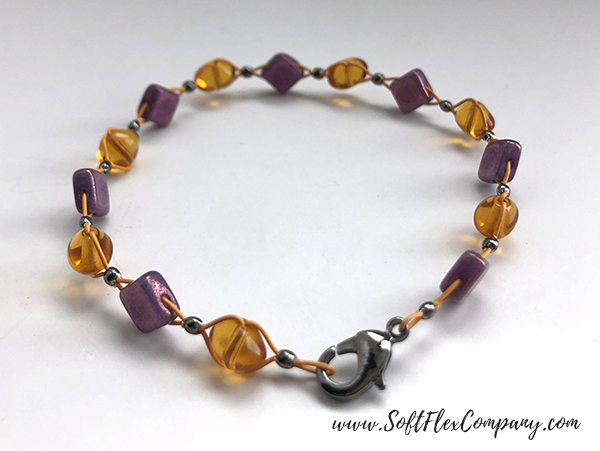 Free Spirit Beading with Kristen Fagan: Make A Necklace With Soft Flex Purple Rain Trios
Kristen filmed another episode of Free Spirit Beading this week. This time, she created a free from necklace using our Trios Purple Rain Collection, crystal beads, and amethyst beads. If you follow along and want to make your own, this design is a great way to practice your crimping skills. The finished piece is a cool, sculptural necklace. It is sleek and stunning. You can change the colors and sizes of the beads or the wire you use to string it and make the design your own personal piece.
Supplies:

Soft Flex Trios Purple Rain
Soft Flex 2x2mm Gold Filled Crimp Tubes
8mm Golden Shadow Swarovski Rondelle Beads
8mm Amethyst Rondelle Beads
Lobster Claw Clasp
Cutters
Magical Crimping Pliers
Kristen offers this design tip:
Use a bead stopper to clip the back of your design and hang from a jewelry necklace display. This will give you a better idea of how the design will lay on your neck as you continue to add Soft Flex beading wire "jump rings".
Free Spirit Beading airs on Mondays at 12:00pm PST. Free Spirit Beading is a live beaded jewelry making series on YouTube. Kristen is a free spirited designer that loves to create. She does not worry about perfection. She believes that art is a journey and part of that journey is making mistakes and living with them. If you miss an episode, you can find it in our YouTube library.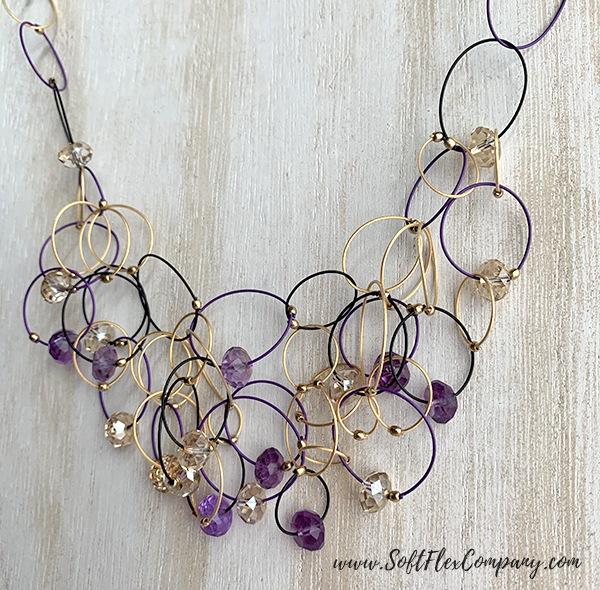 This necklace is gorgeous. I love watching Kristen work. She is so talented and fun to watch. She always has amazing 'out of the box' ideas. This necklace has beading wire 'jump rings', in another video, she created a necklace using jump rings as a design component, it was very creative and fun. Check out her videos. They are always amazing and she is a great teacher. If you watch live, you can interact with Kristen and she will answer any questions you might have about bead stringing or art in general. Picking her brain about her designs is always fun.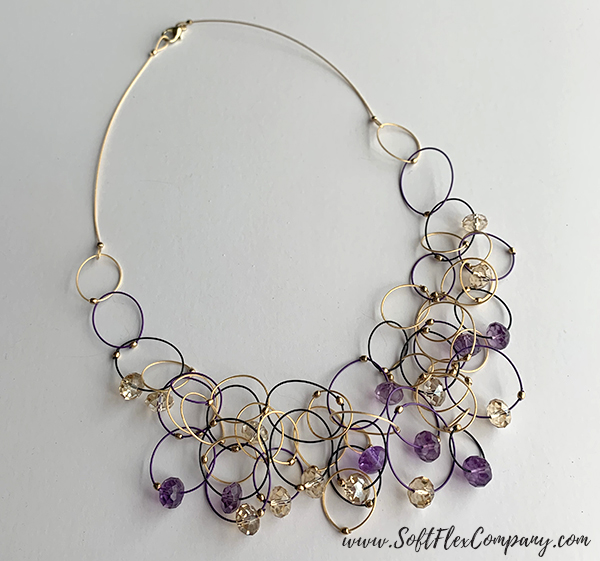 Conversations In Wire with James Browning: Learn Kumihimo Wire Weaving Using Soft Flex Craft Wire
James Browning is a talented wire worker. He loves Craft Wire. He creates beads, wraps, and jewelry using the wire. His series, Conversations in Wire, is great if you are interested in learning the craft. He is a thoughtful teacher and works at a pace that is very easy to follow. He suggests working at a slower pace as any mistakes you make can easily be corrected. If you try to rush through a design, you will find that it is much more difficult to correct any errors and you may over work your wire.
In this video, James shows how to use a square Kumihimo plate with 22 gauge Soft Flex Craft Wire to create a flat wire weave that can be turned into a fun ring. James got this idea when we were working in Tucson at the To Bead True Blue bead show. It was a lot of fun watching him work. He loves Craft Wire, but had not used it with a Kumihimo plate before. It took some work, but I think he really nailed this design. Personally, I would suggest getting plenty of wire before trying this design as the first attempt may not be perfect.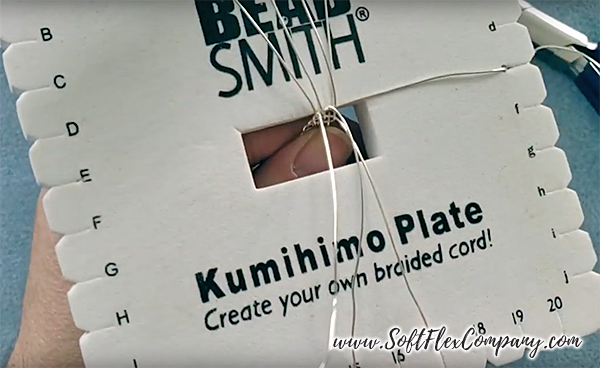 James suggests taping the wire for this piece. Craft Wire and Kumihimo together takes some patience and you want to make sure the wire is orderly while you work. If you wire is trying to get away from you, this is going to be very frustrating.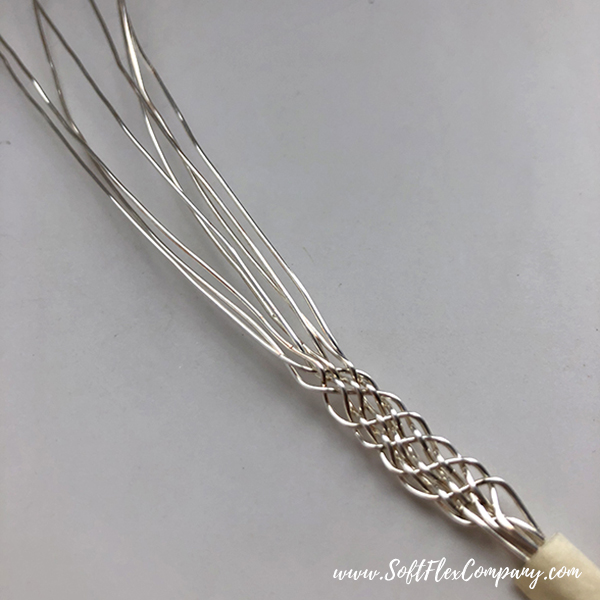 This ring can be made with a single color or you can choose multiple colors for a really fun design.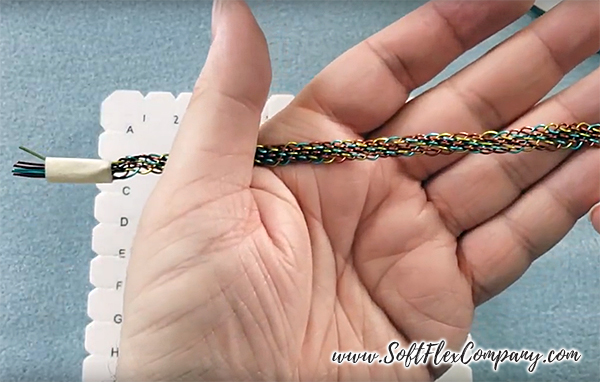 The finished ring is absolutely amazing. It looks like a fun infinite design.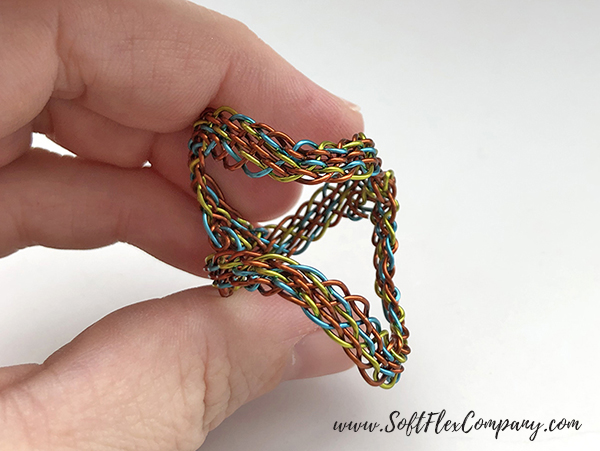 James uploads his videos to YouTube every other Thursday. Follow along as he explores his passion for Craft Wire jewelry. If you have any questions for James, you can post them in the comments field on his videos or email him.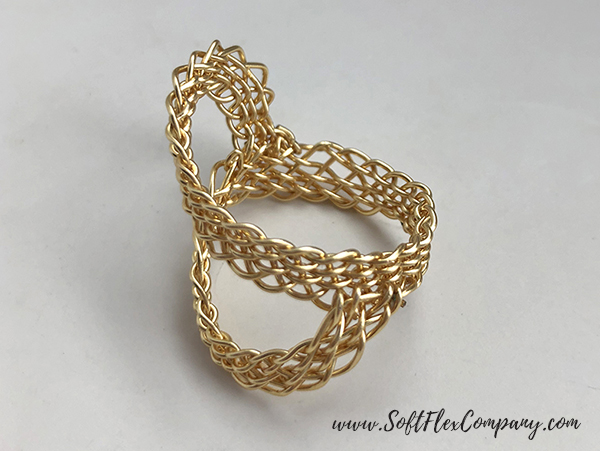 Join our Facebook group – VIB. Stay in the know. Stay up to date. From our bead shows to our video shows and sales, you can stay in touch with us. The community is full of artistic and helpful beaders and crafty people. Inspire and be inspired. Share your pictures and get the beading bug from others!
Visit the Soft Flex Company YouTube Channel!

---
Blog contributor Thomas Soles loves Jazz Age writers and crunchy french fries. His favorite gemstones are Lapis and Pietersite. His favorite hobby is day dreaming. And his favorite mustache is Freddie Mercury's. As you can see, he has a healthy (or possibly unhealthy) sense of humor. You can write to him at Thomas@SoftFlexCompany.com