Are you ready for some jewelry making excitement? We have a fantastic line up of videos for you today. Want to step out of your comfort zone and learn a new craft? This week, we explored a bunch of different techniques. You are going to love this recap. We have metal stamping, beaded chainmail, we watched a jewelry kit unboxing, and we color matched some wonderful Pantone 2020 Spring/Summer colors. Let's learn how to make some delicious handcrafted jewelry!
This week, Kristen showed us how to metal stamp a hammered texture into a pair of homemade BoHo earrings. Sara shared our latest Pantone color matched products. We have a Quad collection of Beading Wire and a Bead Mix that evokes the spirit of Pantone's 2020 Spring/Summer colors. Sara also made a fun project with out latest items and shared her excitement. James showed us how to make captured bead chain using Soft Flex Craft Wire. If you love chainmail - James' video is going to amaze you! Finally, we joined Nealay for a look at his latest Aphrodite kit. He made some elegant jewelry inspired by the kingdom of Atlantis. You are in for a treat. Grab a cuppa and let's settle in for a cozy morning of jewelry crafting.
Join us for our Daily " Joyful Beading" Challenges. We wanted to foster the spirit of creative fire during this stressful time! Every design that you post in the Soft Flex VIB Studio Facebook Group before midnight PST, is an entry to win a $10 credit for your next order! Visit www.SoftFlexCompany.com for your beading supplies!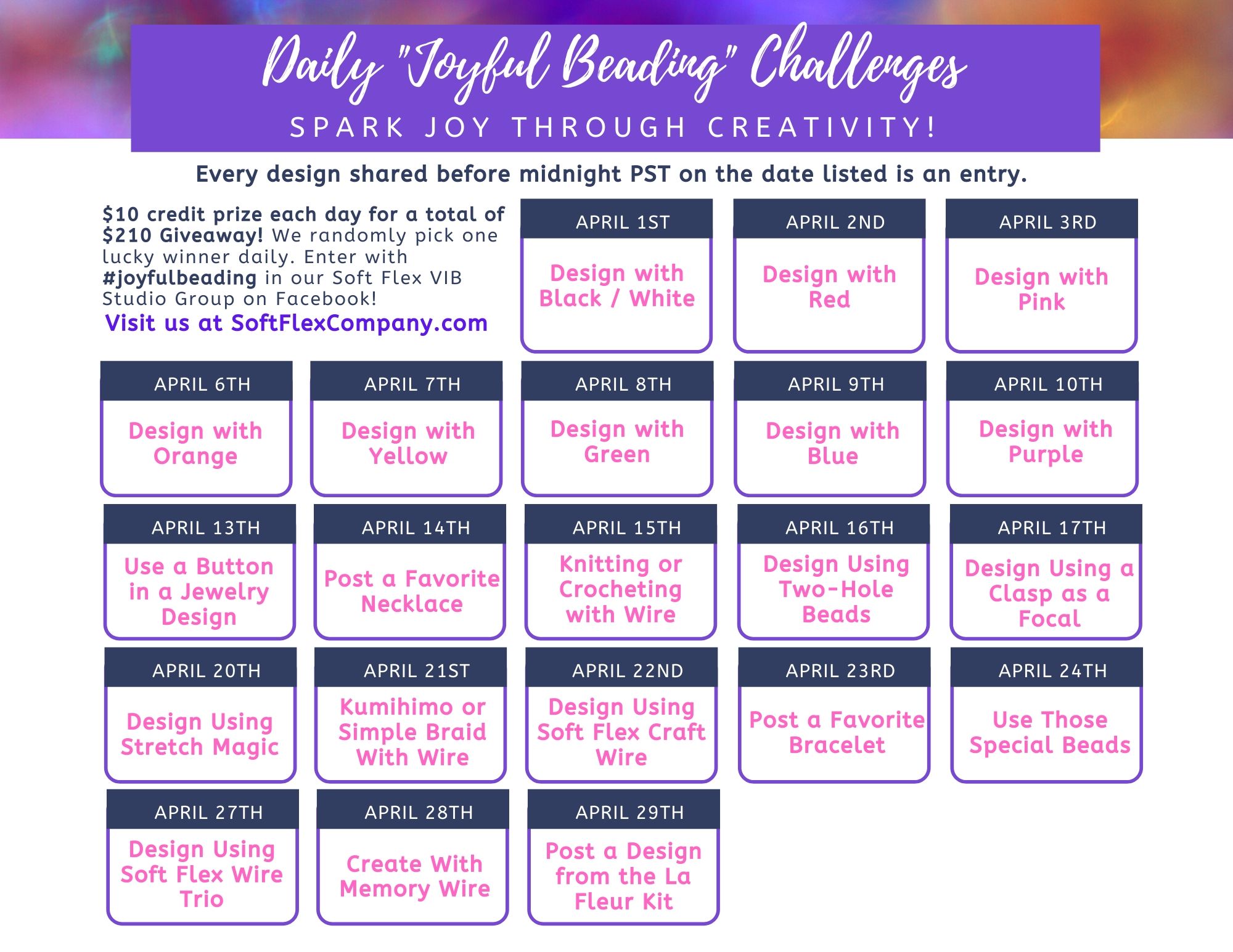 Download the Full Calendar for April - Click HERE.
Jewelry Making Videos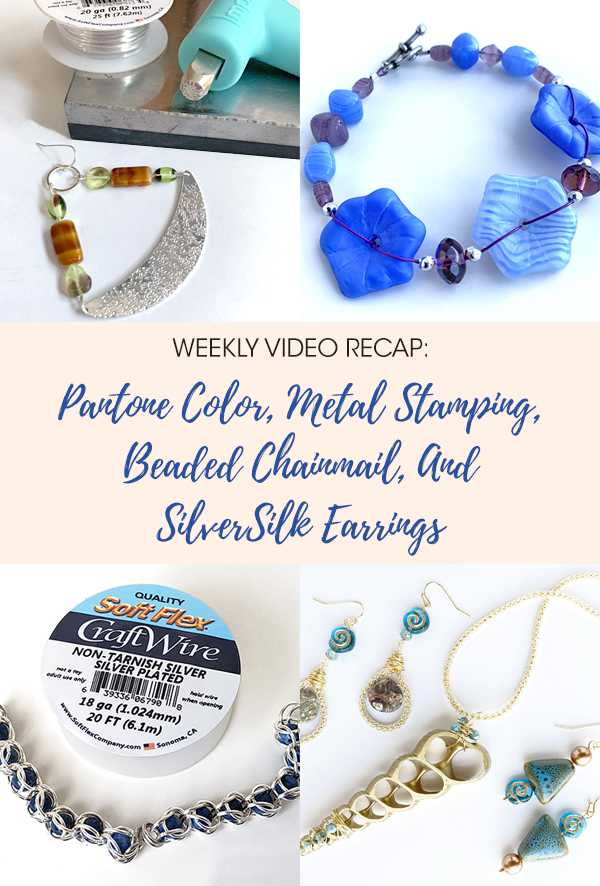 DIY BoHo Beaded Crescent Swing Earrings With Hammered Metal
Kristen filmed another exciting episode of Free Spirit Beading on Monday. She is live on Mondays at 12pm PST.
Do you love the free spirited look of beautiful Boho chic? This classic fashion is full of creative fun and nonconformist sensibilities. It borrows from exotic ethnic looks and unconventional hippie colors. It is loose and flowing and incredibly fun. This week, Kristen showed us how to create a funky set of crescent swing earrings. This fabulous project will accent any BoHo look perfectly!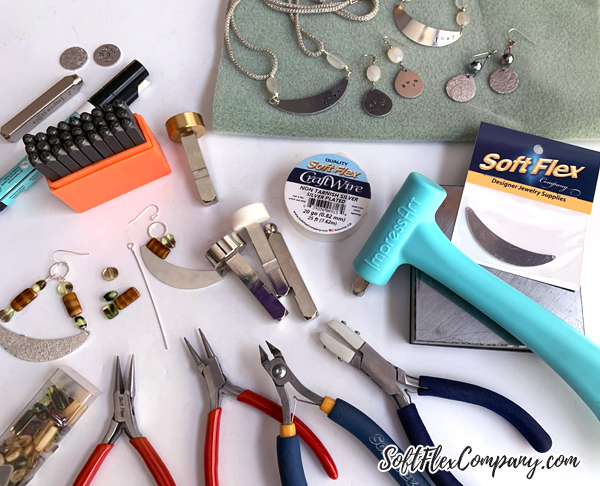 From Kristen:
Make a fabulous pair of over-sized beaded statement earrings! These DIY crescent swing pendulum earrings are extra large and a lot of fun. The textured crescent shape swings from a beaded craft wire frame and closed jump ring.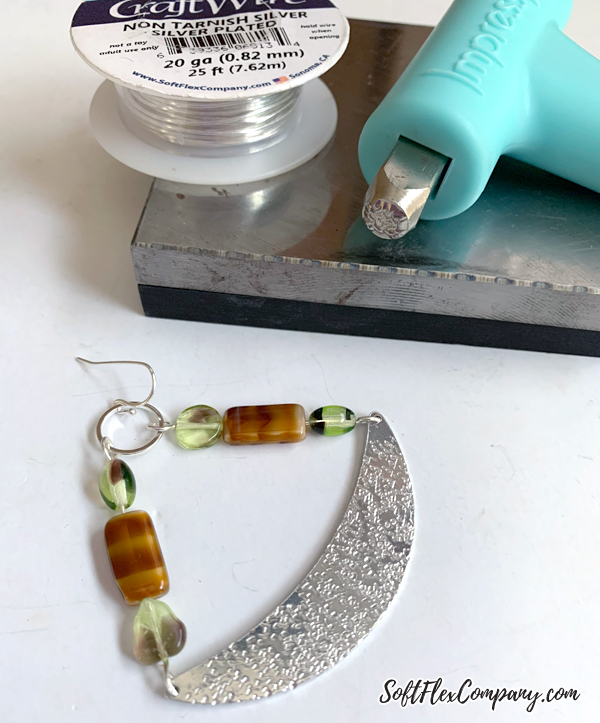 Supplies:
Soft Flex Craft Wire - 20 Gauge
Soft Flex Silver Plated Craft Wire - 20 Gauge
Ear Wires
12mm Closed Jump Rings
Assorted Beads of Your Choice
ImpressArt Crescent Stamping Blank
ImpressArt Multi-Function Texture Hammer
Steel Bench Block
Nylon Jaw Pliers
Cutters
Chain Nose Pliers
Round Nose Pliers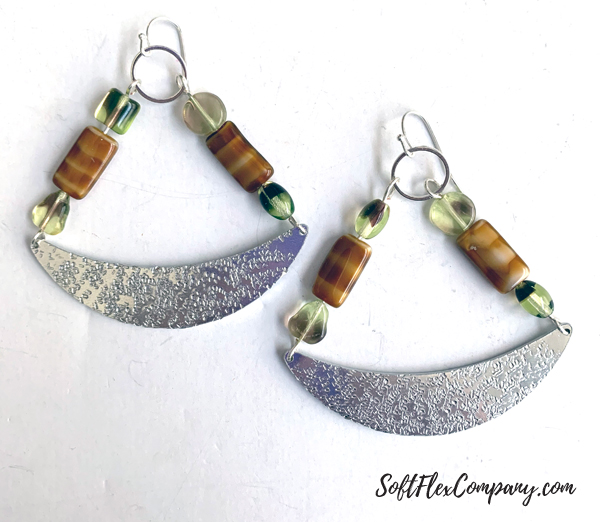 These crescents are perfect for a focal on a necklace. Kristen changed things up and turned them into fun pair of earrings. If you enjoy out of the box crafting ideas, you will definitely want to follow her series. She makes magic every week on Monday. She is a free spirit and thinks the journey is the important part of jewelry design. Mistakes will happen, but it is best to go with the flow and let the flaw become part of a fun design. Kristen's handcrafted jewelry is a blast to watch live. You can talk to her while she works and sometimes even help direct the flow of her work.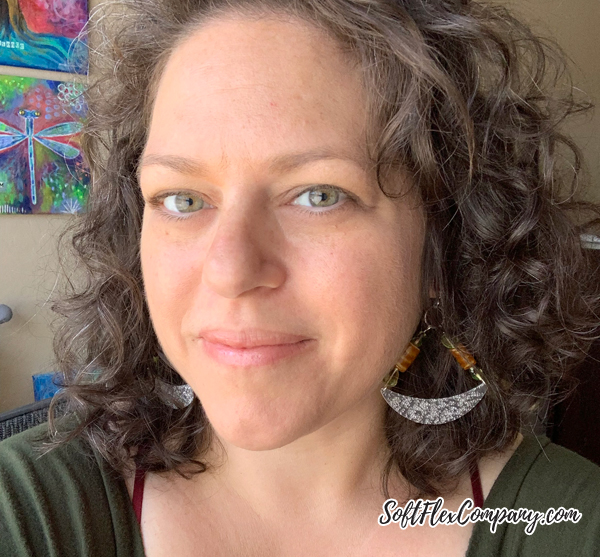 New 2020 Spring/Summer Pantone Beading Wire Quad And Matching Bead Mix
Sara filmed a video on Facebook this week.
She debuted the latest products on our shelves: the 2020 Spring/Summer Pantone Quad of Beading Wire and 2020 Spring/Summer Pantone Bead Mix (Sold Out). If you love Pantone color and fashion, you are going to love these! We selected some of our favorite tones from the Pantone 2020 Spring/Summer colors. We color matched them with our wire and created a special bead mix. After showing off our new items, Sara made some fun jewelry.
Pantone is the authority on color. They lead the trends. If you design jewelry with Pantone colors, you are going to be creating jewelry that is topical and current.

Explore the Spring/Summer 2020 Pantone Colors with our latest Quad Beading Wire Collection. This Quad selection of colors was built to match Pantone's Grape Compote, Faded Denim, Sunlight, and Biscay Green. We color matched with these wires: Purple Amethyst color Soft Flex Beading Wire .019 (Medium), Tanzanite color Soft Flex Beading Wire .019 (Medium), Bone color Soft Flex Beading Wire .019 (Medium), and Turquoise color Soft Flex Beading Wire .019 (Medium). We think you will love this color collection as much as we do.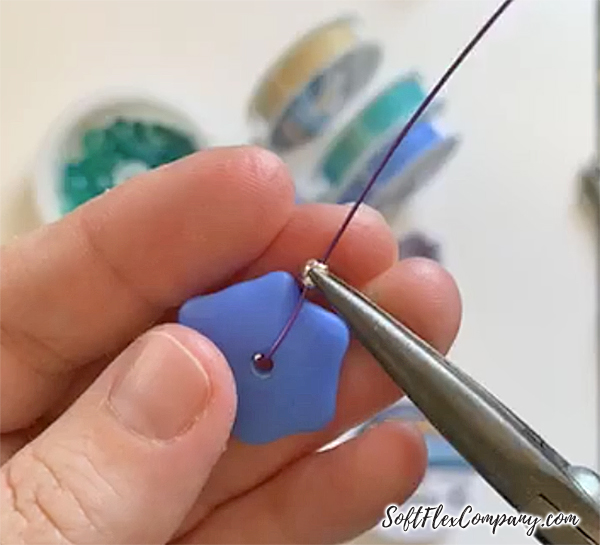 Supplies:
2020 Spring/Summer Pantone Quad of Beading Wire
2020 Spring/Summer Pantone Bead Mix (Sold Out)
Regular Crimping Pliers
Chain Nose Pliers
2x2mm Crimp Tubes
3mm Crimp Covers
Cutters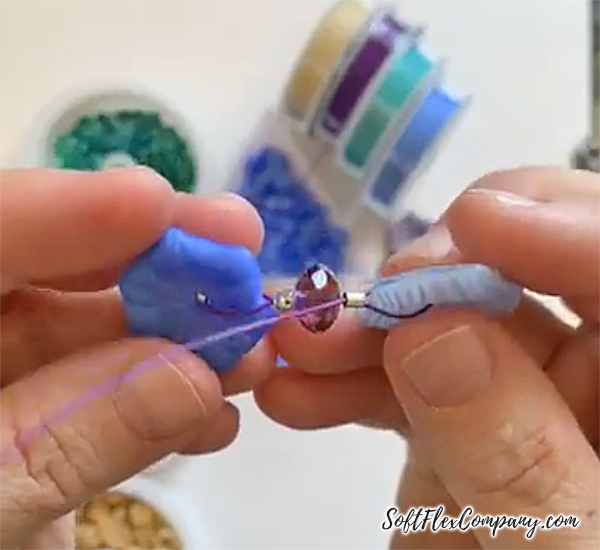 Sara used crimp covers to conceal her finished crimps on this bracelet. Crimp covers look wonderful. They look like a silver bead. You can incorporate them into the design as aesthetic, as Sara did, or you can just use them to discretely hide your crimps. If you love illusion jewelry, jewelry where the wire is exposed and crimps are used to 'float' beads in place, crimp covers are invaluable. You can also use Magical Crimping Pliers to finish your crimp tubes into rounded beads if you do not like the look of a finished crimp tube.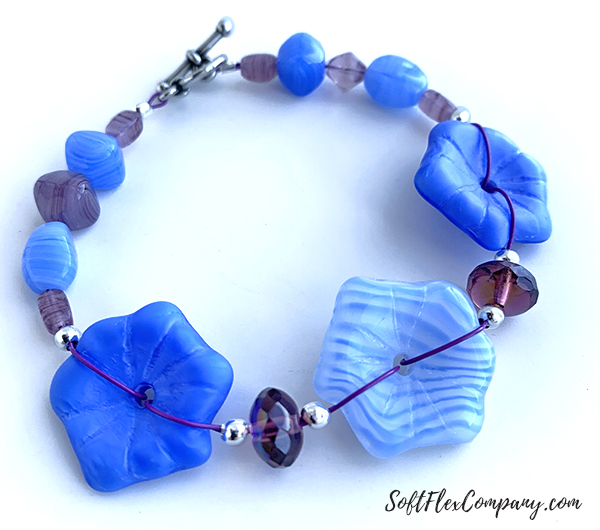 Learn How To Make A Captured Bead Chain Using Soft Flex Craft Wire
James Browning is Soft Flex Company's wizardly Craft Wire guru. He is an incredible teacher His videos are easy to follow and clear. Even if you have never used Soft Flex Craft Wire, you can create the designs he makes with ease.
Last week, James showed us how to make jump rings using Craft Wire. He then showed us how to make chainmail with the jump rings. This week, James taught us how to make beaded chain. He used the chain links to capture beads. This is perfect for a number of various designs. You can make earrings with these beaded chain links. You can create a focal or an entire necklaces with them. This chain project would also make a lovely bracelet.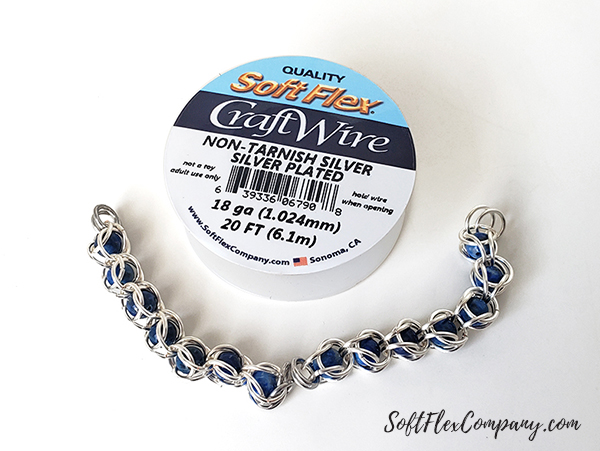 From James:
Today I am going to show you how to make capture chain. It is technically a chainmail weave. We are going to be using jump rings. It is actually a really simple technique.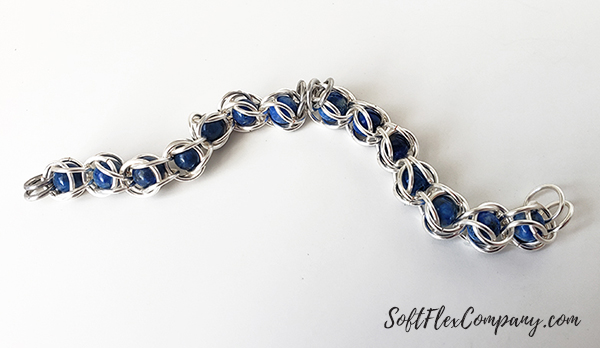 Supplies:
18ga Soft Flex Craft Wire
18ga Soft Flex Craft Wire - Silver Plated
Italian Ultra Flush Cutter
Chain Nose Pliers
Bead Mat
6mm Round Lapis Lazuli And Malachite Composite Beads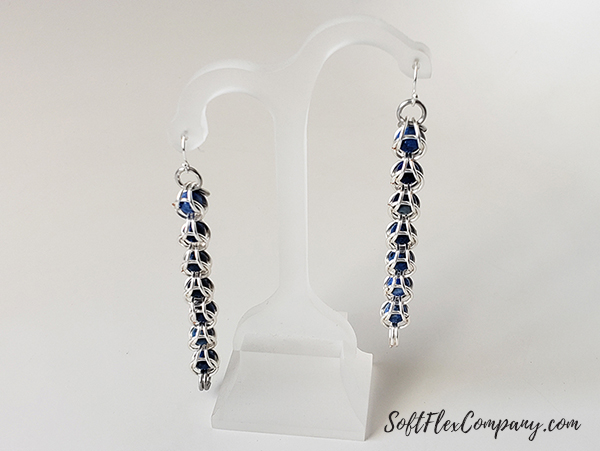 Unboxing The Aphrodite Jewelry Kit And Making Earrings
Nealay filmed an unboxing video this week. This time, he opened his Aphrodite kit. This kit is part of his Atlantis mystery kit series. The stunning gold shell focal in this kit really ties it together. This kit truly evokes the mystery of the depths. Included are findings (end caps, ear wires, and more), beads, and some lovely two-tone capture chain.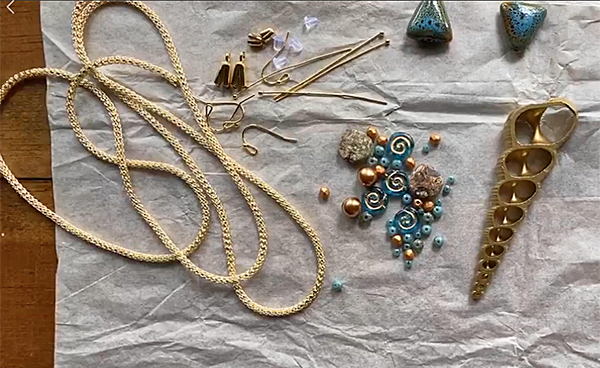 From Nealay:
Watch me dive into the latest Mystery Kit Series from SilverSilk, called Atlantis. I open the Aphrodite kit and make some easy earrings and a fascinating pendant that you can try with shells.
Supplies:
SilverSilk Capture Chain
26ga Soft Flex Craft Wire
26ga Soft Flex Craft Wire in Non-Tarnish Silver
Beads from the Aphrodite Mystery Kit
Ear Wire
Cutters
Chain Nose Pliers
Round Nose Pliers
Flat Nose Pliers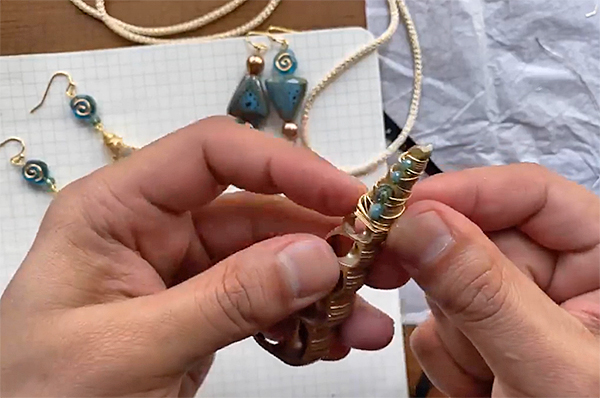 If you loved this video, make sure you keep up with Nealay on his YouTube channel and Facebook Page. Join his Silkies Facebook group.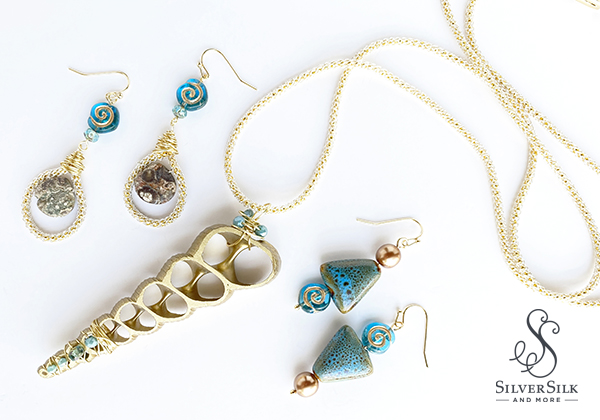 Join our Facebook group – VIB. Stay in the know. Stay up to date. From our bead shows to our video shows and sales, you can stay in touch with us. The community is full of artistic and helpful beaders and crafty people. Inspire and be inspired. Share your pictures and get the beading bug from others!
Visit the Soft Flex Company YouTube Channel!
---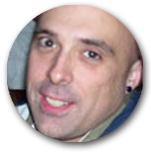 Blog contributor Thomas Soles loves Jazz Age writers and crunchy french fries. His favorite gemstones are Lapis and Pietersite. His favorite hobby is day dreaming. And his favorite mustache is Freddie Mercury's. As you can see, he has a healthy (or possibly unhealthy) sense of humor. You can write to him at [email protected]