The Great Bead Extravaganza is back! We hope you caught the big show. This amazing collective of jewelry designers and bead stores is the largest online bead show in the world. So many discounts, so many jewelry demonstrations and so many BIG giveaways. This week, we will share our TGBE jewelry demo. We will look at 2021 spring and summer Pantone colors. And we will show you how to make amazing jewelry in mere seconds. This week was full of Joyful Beading. Let's take a look back at the fun!

Have you ever been to a bead show? Bead and gemstone trade shows used to appear all over the country. These bustling beading events brought in thousands of people from all over the world. Covid-19 roared in like a tsunami and devastated the culture of bead gatherings. We have teamed up with a collection of artists, designers, and bead store owners to create the world's largest online bead show. It is just like being at the real thing. But you can visit this amazing show from the comfort of your couch! If you want to see the Great Bead Extravaganza from start to finish, make sure you join the Facebook group. You can also check out our blogs to get a better look at the people that make this exciting show possible.
Kristen and Sara are the face of Team Soft Flex for our Great Bead Extravaganza jewelry demos. Kristen made jewelry with her Great Bead Extravaganza Spring Fling Make-Along Kit. This kit was available before the event. If you purchased one, you could follow along with her or make your own jewelry. Sara showed off our new Pantone color collections. We have five Pantone color matched colors in various mixes, wire collections, and bead strands. Later in the week, Sara showed these colors off in depth. If you love light spring and summery colors, you are going to want to grab some of these collections. This week was another fun Joyful Beading week in our VIB Facebook group. If you are posting your Joyful jewelry, you have a chance to win a ten dollar credit. Finally, we took a look at a fun chartreuse SilverSilk design that Nealay made. Let's learn how to make jewelry!
Jewelry Making Videos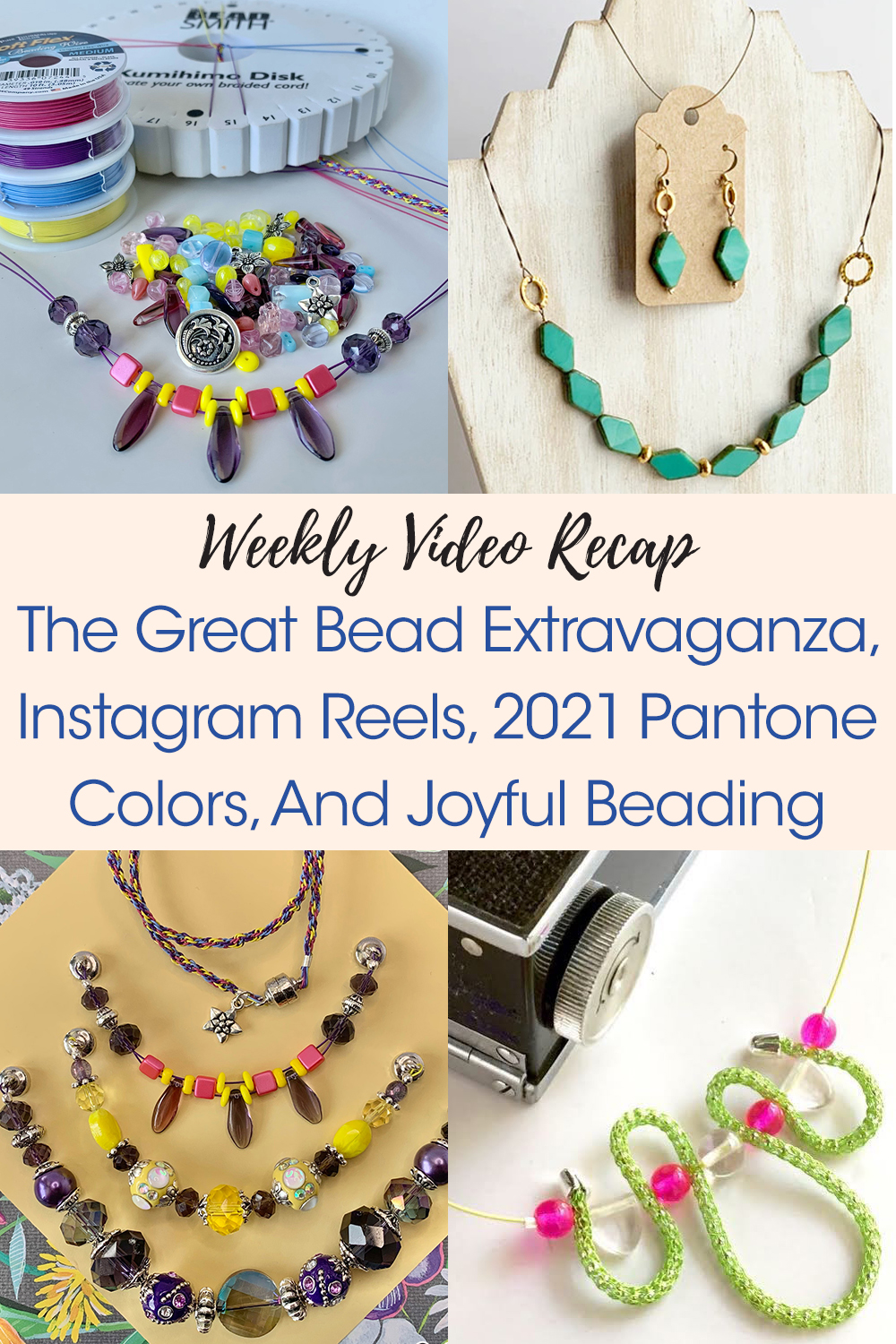 Join Us For Joyful Beading On Our VIB Facebook Group
Download the Full Calendar for March - Click HERE.
Join the fun on our VIB community on Facebook. Every day of Joyful Beading is a chance to share your finished jewelry designs with artists and peers that cannot wait to see your work. Click the image above to visit our blog about Joyful Beading. Every design you post with the hashtag #joyfulbeading is an entry to win our daily giveaway. You can post a single image with ten designs or ten images with single designs. Make sure they are hashtagged and follow the road map and you are in the contest.
Follow along on our Joyful Beading road map. Each day, we begin a new jewelry project. For instance, March 17th was 'Share a St. Patrick's Day Design'. On that day, every project that was St. Patrick's holiday themed, was entered to win a $10 credit. Projects must be posted before midnight PST, on that date. If you post a project on a different date and it is not applicable to that date's project, you will not be entered to win. Make sure every project you post has this hashtag - #joyfulbeading. If you do not include the hashtag, we may overlook your entry.
There is no skill needed to win. Beginners have the same opportunity to win as professional jewelry designers. We take each name down. If you entered multiple designs, we put your name down multiple times on a spreadsheet. Once all of the names are collected, we randomize the names so the sheet is mixed and there are no clusters of a single name. We then use a random number draw. If your name is on that numbered line, you win! Pure chance - we are not biased by skill. Win a credit for your next purchase.
Learn How To Make Jewelry In 30 Seconds
Learn a new jewelry making technique in record time!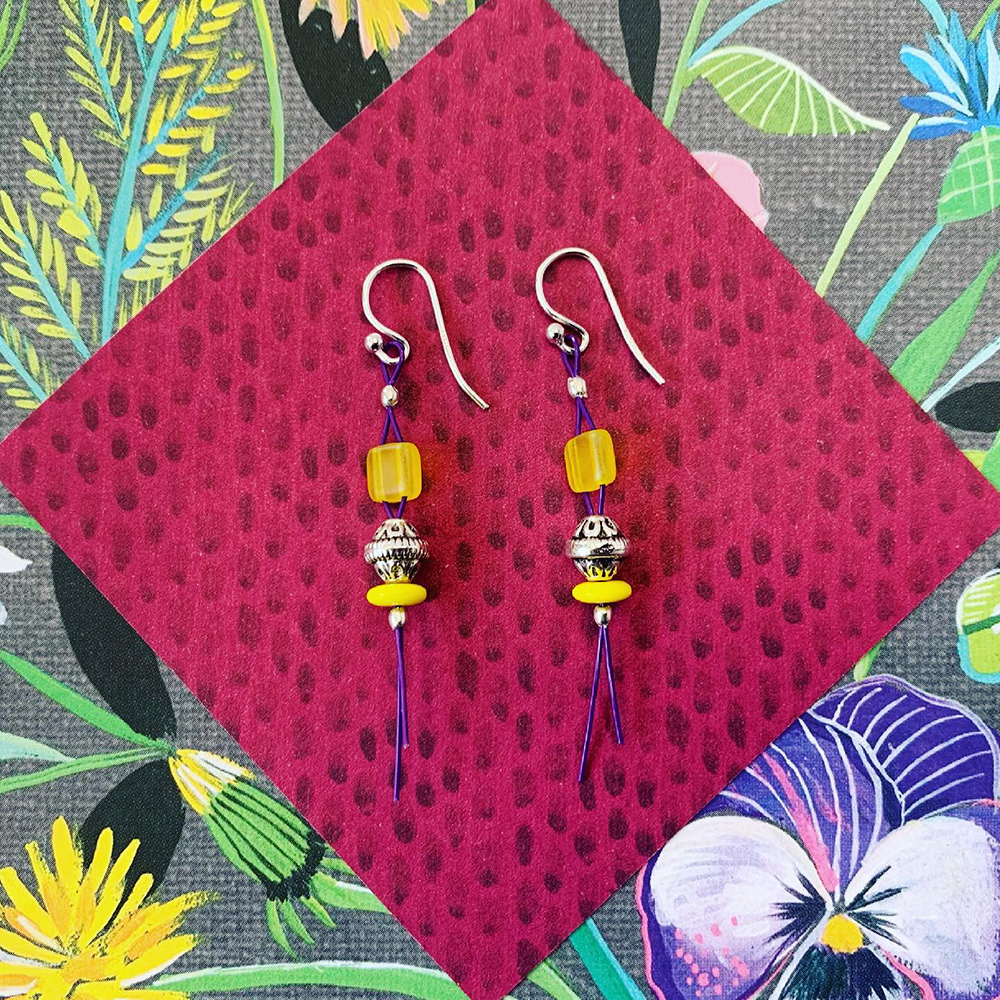 Check out this 30 second jewelry tutorial on Soft Flex Company's Instagram Reels! Sara shows you how to make earrings. This lovely jewelry design can be mastered in minutes! You only need a couple of beads, findings, and wire and you are on your way to learning how to make DIY jewelry that you will adore. Follow our page to see all of our fun designs!
The Great Bead Extravaganza Returns
Sara and Kristen hosted the Soft Flex Company jewelry making demo for the third edition of the Great Bead Extravaganza. If you missed the first two, you can find the first TGBE recap here and the second TGBE recap here. That will catch you up to all of the fun. If you love the Great Bead Extravaganza and are excited for the next showing, make sure you save the date on your calendar: The Great Bead Extravaganza Midsummer Market 2021 arrives June 11th. The first night is a preview of the show. The show then runs June 12th - June13th.
Sara and Kristen are the ambassadors of jewelry making style and creativity at Soft Flex Company. They are the faces you most likely see if a camera is running and we are showing off our latest products. They have grace under pressure and can show you how to make a necklace on the fly, even with an audience of hundreds or thousands of viewers online. If you want to learn a new jewelry making technique or three, make sure you follow us on Facebook and YouTube. You will certainly find their gentle instructions easy to follow and full of invaluable insight in our favorite craft.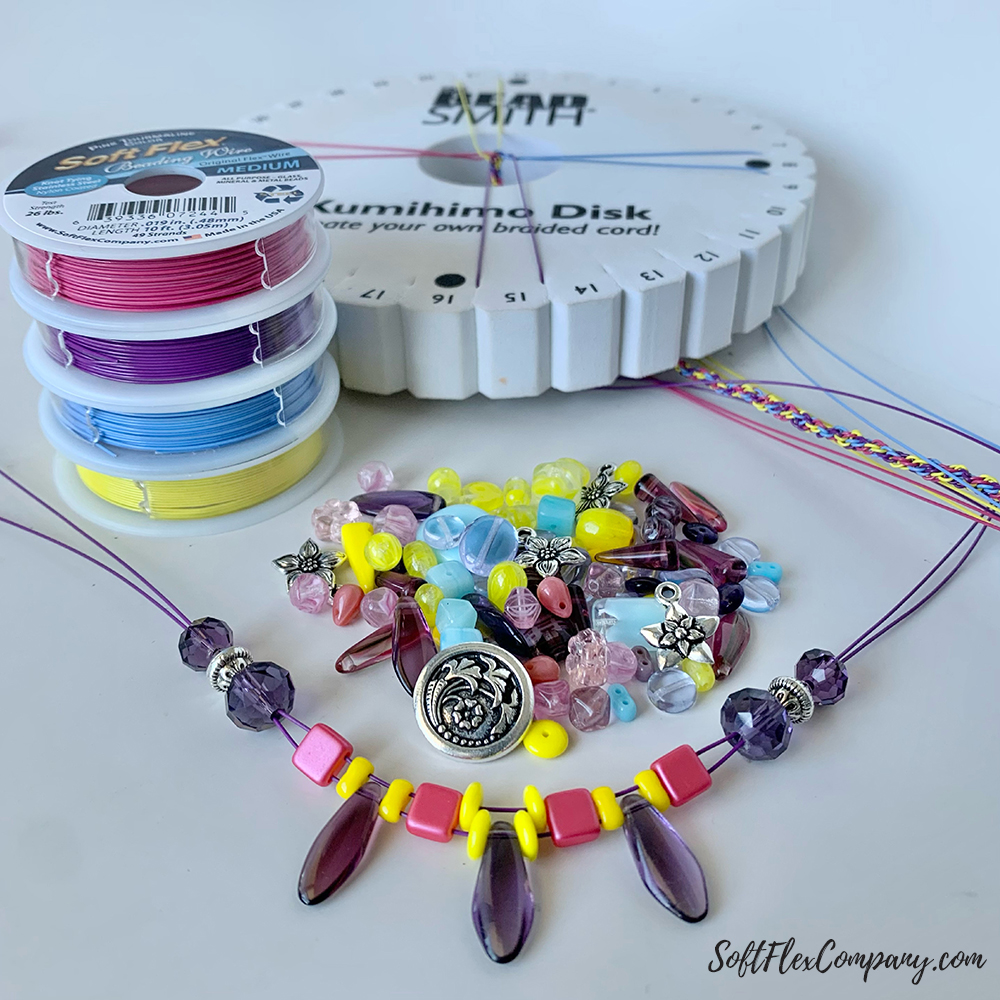 Soft Flex Beading Wire is constructed with braided stainless steel wire. That sounds like it might be stiff and inflexible. But, our wire is supple enough that you can actually knot it. You can macrame with it. You can braid with it. Our wire has the grace of silk and the strength of steel. If you want a tough beading wire that is going to secure your jewelry and you also want a wire that drapes like thread, Soft Flex wire is your best option. But, don't less us do the talking. You can email us at info@softflexcompany.com and request a sample. Let the wire do the talking!
Sara used her 2021 Spring/Summer Pantone Quad of Beading Wire to braid a design on her Kumihimo board. Kumihimo may look difficult, but all you are doing on the board is a series of braids to make a stunning design. Braiding with a Kumihimo disk is easy. You can master the technique in minutes. Binge watch your favorite show while braiding a jewelry design!
Sara's Jewelry Making Supplies:
2021 Spring/Summer Pantone Quad of Beading Wire
2021 Pantone Spring Fling Extravaganza Mix
Double Density 6 In Round Kumihimo Disk
3x3mm Crimp Tubes
2x2mm Crimp Tubes
Magical Crimping Pliers
Mighty Crimping Pliers
Cutters
Hammertone Strong Magnetic Clasp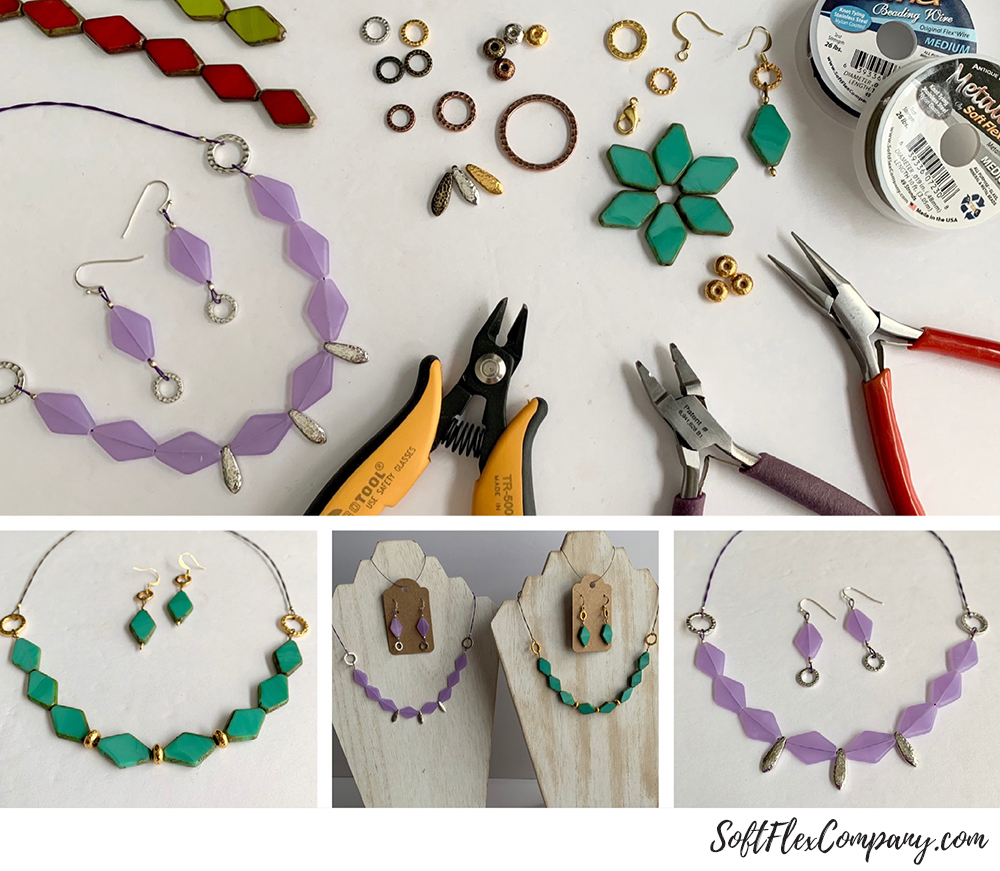 Kristen fell in love with our new Czech Glass Table Cut Flat Diamonds these fantastic beads are playful, but elegant at the same time. There are five striking colors to choose from. Make a mystical purple necklace, a pop punk pink bracelet, a southwestern inspired piece of jewelry and more! If you purchased Kristen's The Great Bead Extravaganza Spring Fling Make-Along Kit, this jewelry is a snap to make. Everything is included in the kit, except basic jewelry tools. All of our kits are designed to give a designer the supplies needed to create gorgeous jewelry, basic crimping pliers and cutters are usually the only tools you will need to finish a bracelet or a necklace or three, with a kit.
Kristen's Jewelry Making Supplies:
The Great Bead Extravaganza Spring Fling Make-Along Kit
Soft Flex Beading Wire
Czech Glass Table Cut Flat Diamonds
Hammertone Ring Connectors
Ear Wires
2x2mm Crimp Tubes
Magical Crimping Pliers
Cutters
Explore 2021 Spring/Summer Pantone Colors in Jewelry Making
Sara has been a busy bee these last couple of weeks. She has been doing Instagram Reels that show off easy to make jewelry in 30 seconds. She has been demonstrating jewelry making techniques for the Great Bead Extravaganza. She sold more than two hundred items during our latest Live Sale on Facebook. And she has been doing videos showing off our latest products. She has barely had time to catch her breath.
On Wednesday, she showed off our latest Pantone color collections. We have mixes with the Pantone Color of the Year 2021 - Ultimate Gray and Illuminating Yellow (occasionally, they pick two colors as the Color of the Year - we love it). Ultimate Gray and Illuminating Yellow represent a year of coronavirus - there is somber gray, but it is paired with the optimism and hope of brilliant yellow. We also color matched tones from the Spring/ Summer collections - Raspberry Sorbet, Amethyst Orchid, and Cerulean. The palette of all of these colors combined is so jubilantly happy and full of life. If you need jewelry that rescues a mood and elevates your day, design with our Pantone colors!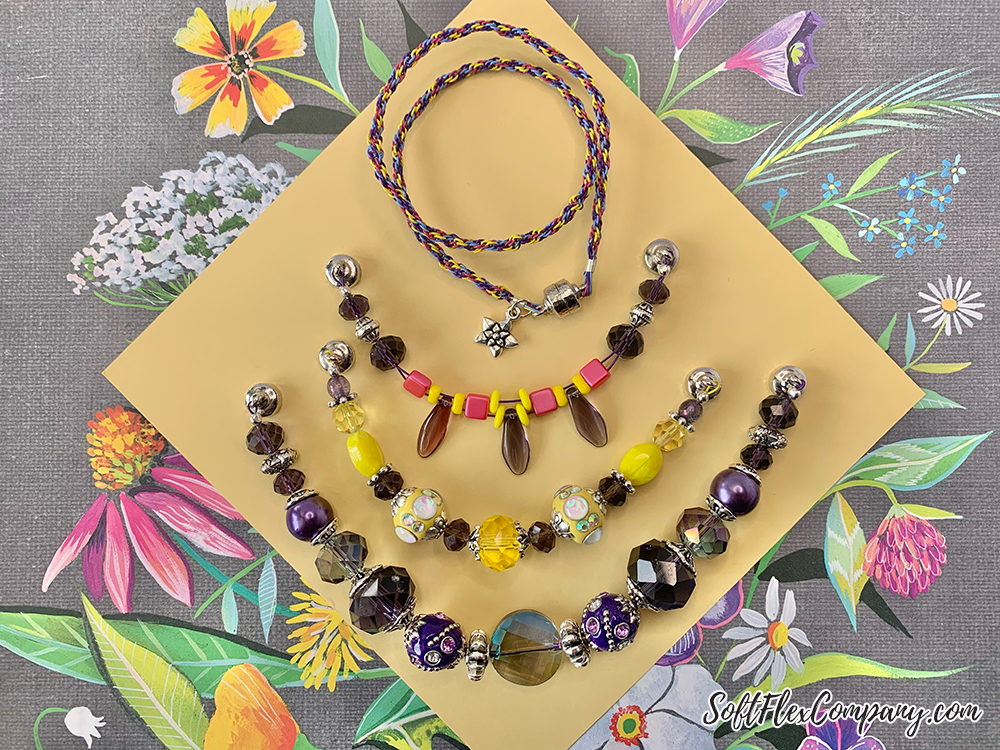 2021 Spring/Summer Pantone Quad of Beading Wire
Pantone Color Bead Mixes
2x2mm Crimp Tubes
3mm Crimp Covers
Crimping Pliers
Clasp
Cutters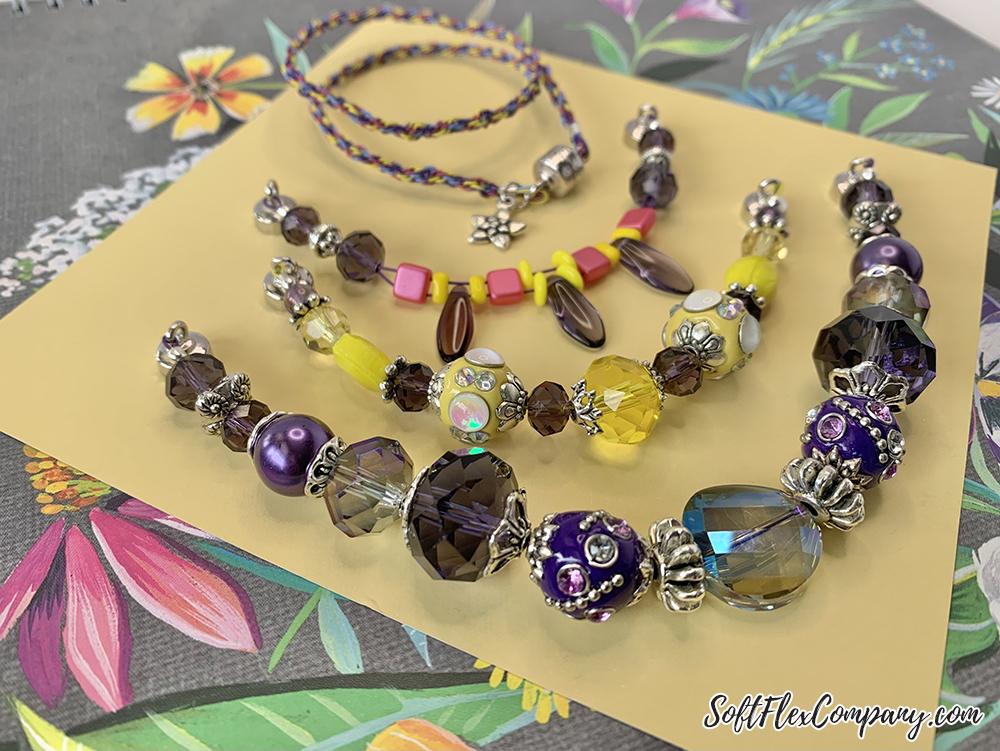 SilverSilk Chartreuse Capture Chain with Soft Flex Wire
Time got away from us. We have wanted to show off this design from Nealay for some time. He used our Neon Night Design Kit with Chartreuse Capture Chain to create an enchanting necklace with a bright and organic focal. This design is basic and really easy. Using SilverSilk chain to create a focal adds a personal touch. Make your next necklace one-of-a-kind with SilverSilk. You can use this chain to string beads. You can intertwine it with Soft Flex Craft Wire or Beading Wire. You can make magic. Think out of the box with this wonderful chain!
From Nealay:
I received a great mystery package from Soft Flex Wire called Neon Nights and the challenge was to create a quick and fun design on the spot! Check out this live video to see my process.
Neon Night Design Kit (Sold Out)
Chartreuse Capture Chain
Short Terminators
2x2mm Crimp Tubes
Crimping Pliers
Clasp
Cutters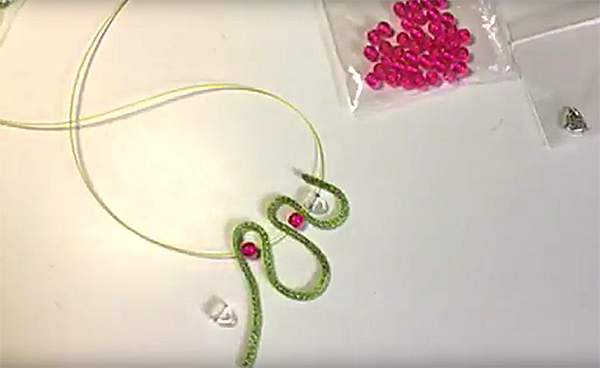 Be sure to mark your calendars for every Tuesday, 5:30pm CST and hop over to facebook.com/groups/silversilk to watch Nealay's videos live and ask questions.
Nealay's channel is dedicated to learning how to make high quality jewelry with SilverSilk with an emphasis on design. You can follow his journey here:
www.instagram.com/silversilkandmore
www.facebook.com/silversilkandmore
Or join his Silkies group and be a part of the conversation www.facebook.com/groups/silversilk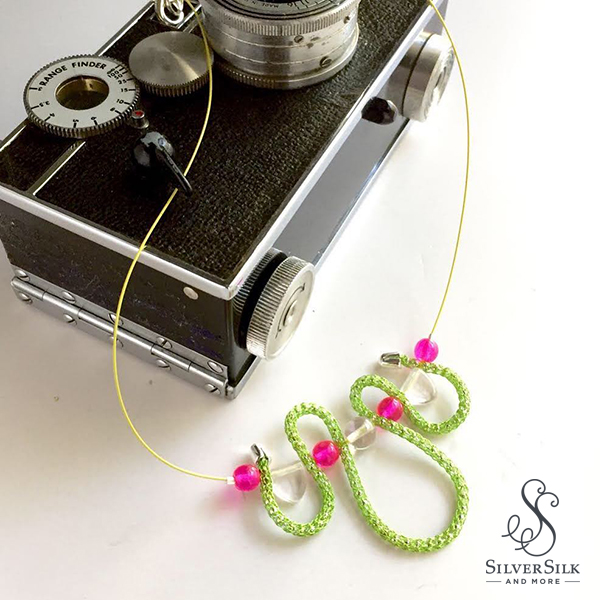 Join our Facebook group – VIB. Stay in the know. Stay up to date. From our bead shows to our video shows and sales, you can stay in touch with us. The community is full of artistic and helpful beaders and crafty people. Inspire and be inspired. Share your pictures and get the beading bug from others!
Visit the Soft Flex Company YouTube Channel!
---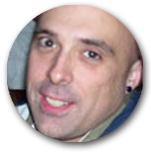 Blog contributor Thomas Soles loves Jazz Age writers and crunchy french fries. His favorite gemstones are Lapis and Pietersite. His favorite hobby is day dreaming. And his favorite mustache is Freddie Mercury's. As you can see, he has a healthy (or possibly unhealthy) sense of humor. You can write to him at Thomas@SoftFlexCompany.com