Customer Appreciation Week begins on Monday. We are so excited! We decided a party was in order! We love a good beading blast. Last Friday, we gathered up our friends from the Great Bead Extravaganza and had a Great Bead Trade after party. We think sharing quality time with creative artists is an amazing way to reinvigorate the imagination. This week, we had a Beading Party with another inspirational designer - Sam Siegel. If you missed either show live, now is your chance to catch up! Learn a new jewelry making technique or just enjoy the jewelry demonstrations. And then follow that up with eight more amazing videos. We think you are going to enjoy the ride!

It was a short week for those of us that live in the United States. We celebrated Labor Day on Monday and took that day off to enjoy quality time with our friends and family. It was a quick week for work, but a long week for play! On Tuesday, we had a fun Live Sale on our Facebook videos page. Our Live Sales are exciting three day events - Tuesday is the actual live segment, but you can view and bid on items until the sale closes on midnight on Thursday. Our Live Sales consist of deep discounts and items that you won't find on our website. The icing on the cake is that every buyer gets free prizes in their shipment. One lucky buyer gets a big prize. It is a great way to build your beading supplies and save money!
Last Friday, we enjoyed a Great Bead Trade after party. This week, we threw another Beading Party. Sara and Kristen sat down with Sam Siegel, owner of Sam's Bead Shop. Join the fun and attend our parties live! Our parties are a wonderful invitation to meet designers that might be outside of your radar. Spend some quality time with us and meet our favorite makers and designers!
This week, we continued the Peace and Love mini series with Randee Brown from Thunderhorse Descendant. We watched Randee design a bracelet and necklace using the supplies from the kit. We continued our adoration of all things tassels and watched Nealay Patel, from SilverSilk & More, make an absolutely gorgeous tassel with Craft Wire and SilverSilk. Marcie Creates designed a stunning tassel and cluster necklace. She also unboxed our Foxy Lady Design Kit and gave us her thoughts. Brittany Chavers, from Turquoise.Street, unboxed our Peace and Love Kit. Finally, we checked out Rosanna Brafford's latest, she unboxed Foxy Lady and also made a bracelet with Soft Flex Extreme Wire and Jesse James Beads. What a wonderful week to make jewelry!
4.5mm Assorted Color Czech Rola Seed Beads, Approx. 20g Vial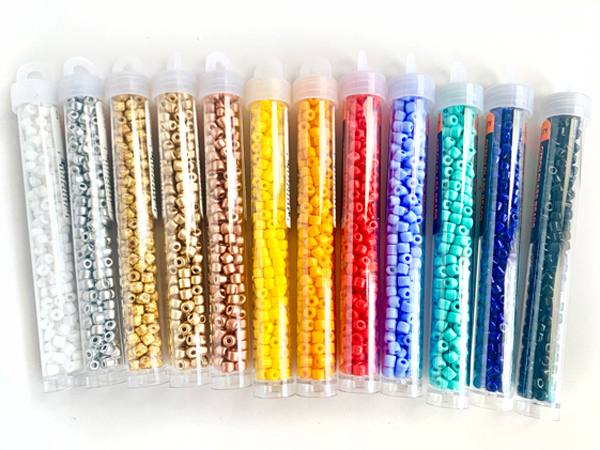 Size: 4.5mm
Qty: Approx 20g Vial
Do you love vibrant colors and upbeat jewelry? Czech Glass Beads are a delight. Czech Glass Bead Strands are beautiful and come in the most wonderful shapes and sizes. Add a unique bead to your next DIY necklace as a pendant. A strand of Czech Glass can be turned into a beautiful bracelet without any extra additions. You can make a cute pair of earrings with Soft Flex Beading Wire and a single bead or three. You can mix and match with other Czech Glass colors and make jewelry that celebrates a holiday or moment in time. Czech Glass is playful, inexpensive, and slightly exotic - give your jewelry an accent of your personality!
Some of the most amazing glass beads come from the Czech Republic. An entire strand of our Czech Glass Beads will produce at least a bracelet. Don't be scared to mix and match a few different styles to make a design that is a one-of-a-kind piece.
Jewelry Making Videos
Daily Joyful Beading Challenges - Join Us!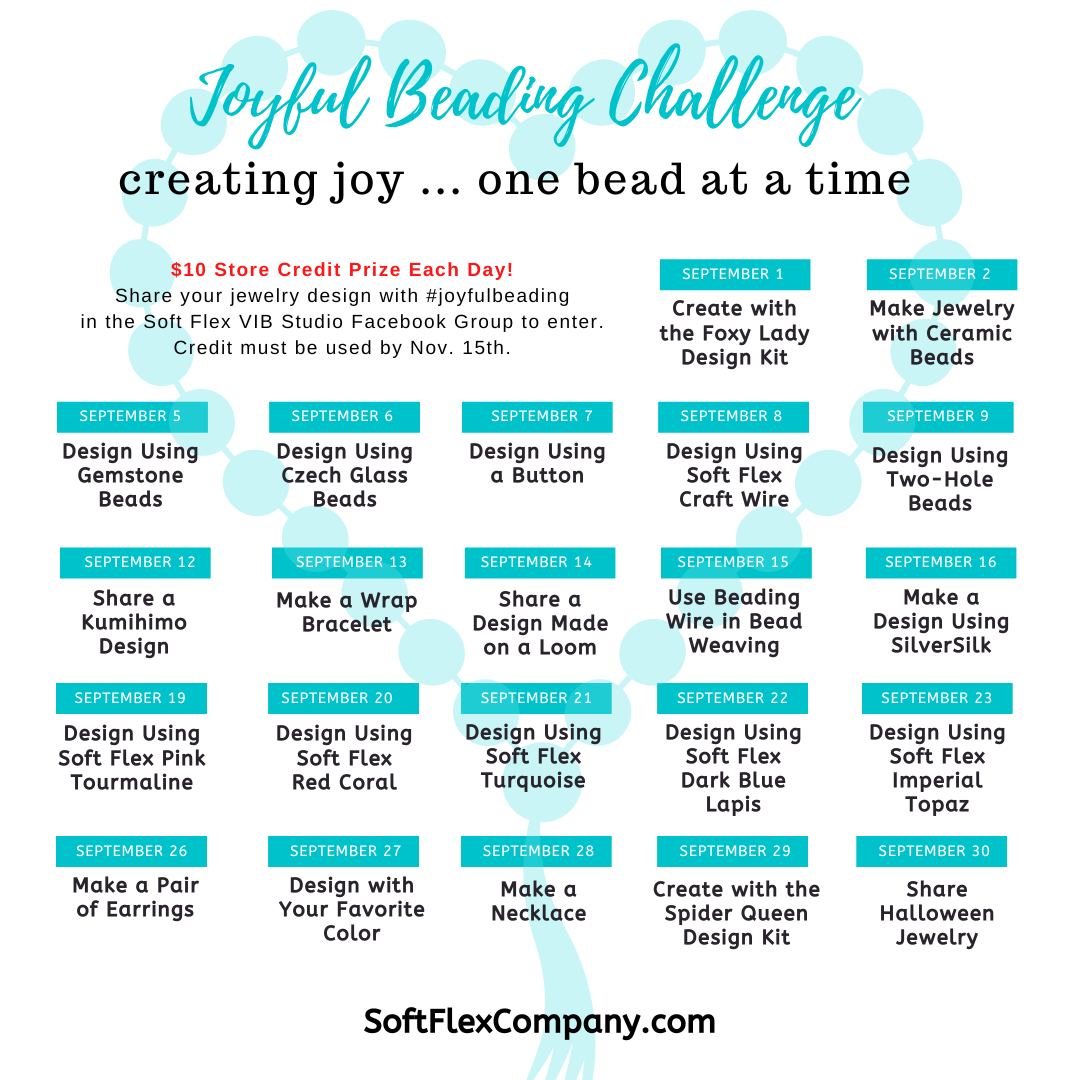 Download the Full Calendar for September - Click HERE.
Follow along on our Joyful Beading road map. Each day, we begin a new jewelry project. For instance, September 30th is 'Make Halloween Jewelry'. On that day, every project that is Halloween holiday themed, will be entered to win a $10 credit. Projects must be posted to our VIB group before midnight PST, on that date. If you post a kit project on a different date and it is not applicable to that date's project, you will not be entered to win. Make sure every project you post has this hashtag - #joyfulbeading. If you do not include the hashtag, we may overlook your entry.
Our Social Media Sites Will Show You How To Make Jewelry In Just Minutes
Got a minute? Check out our latest reels and TikTok videos. Soft Flex Company's Instagram Reels and our Soft Flex TikTok Page will teach you how to make jewelry in under a minute. These videos move quickly but are easy to follow. If you need more assistance, make sure you check out our YouTube catalog for deeper dives into jewelry making education. You will find in depth discussions on how to use your tools and finish your jewelry on that channel. Instagram Reels and TikTok are great tools for learning something new or finding quick inspiration. Check out our 1 Minute Videos and explore the wonderful pins on our Pinterest page. Learn from Soft Flex Company jewelry designer pros at the pace you choose! If your creativity needs a quick cup of coffee, make sure you visit us for a much needed jolt of crafting caffeine!
Customer Appreciation Week Is Almost Here!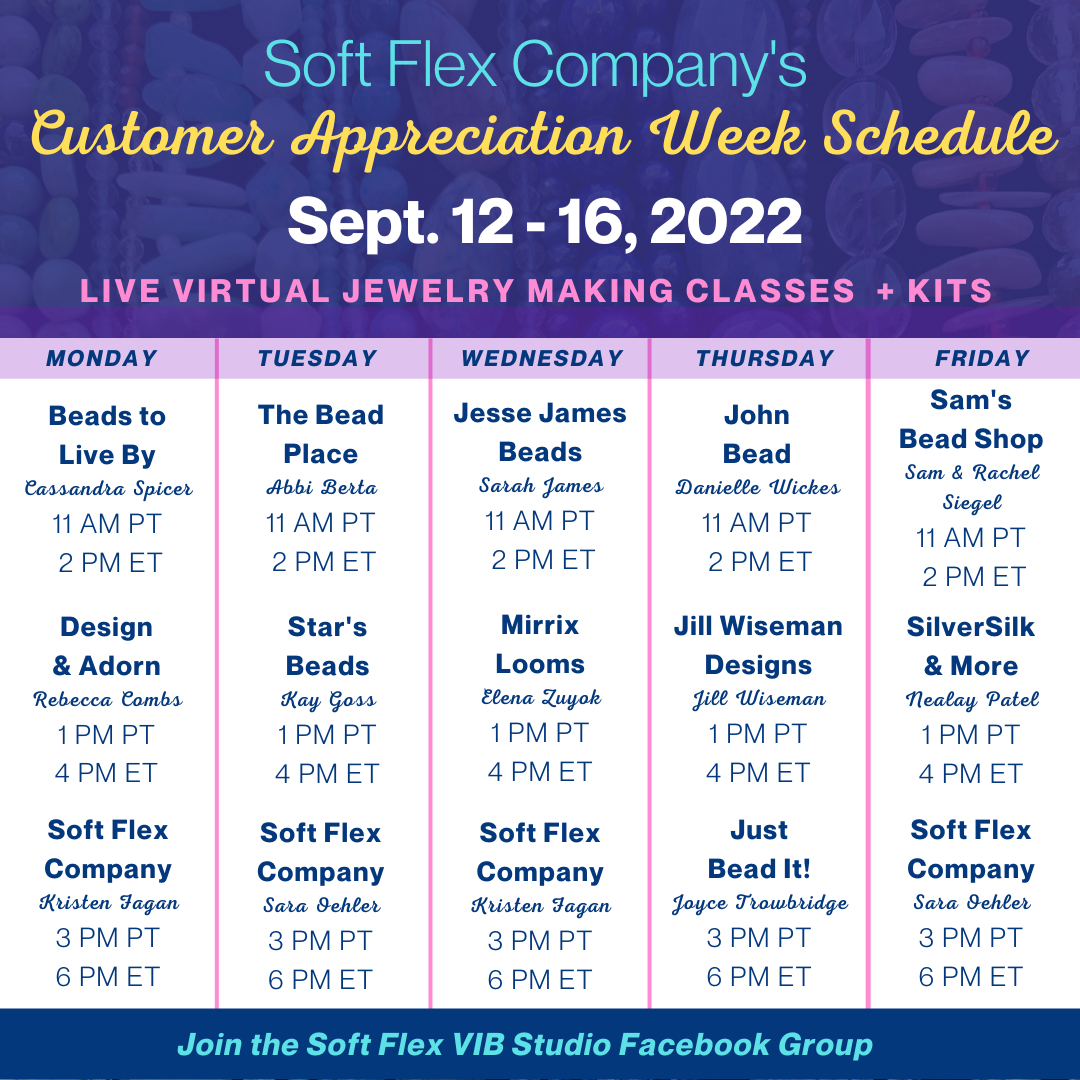 Customer Appreciation Week, (CAW) is just around the corner. The participating exhibitors have released the kits they will be showcasing and doing jewelry demonstrations with during the celebration. Visit their sites and check out their products before the fun begins! For more information, join our Soft Flex VIB Studio Facebook Group or visit our Customer Appreciation Week resource page!
The Great Bead Extravaganza: Great Bead Trade Fall After Party
The fun doesn't stop at the Great Bead Extravaganza when the big bead show ends. We are always planning fun events and setting trends. One exciting tradition we started was the Great Bead Trade. Exhibitors that are able to participate submit an item to add to a kit. The kits are filled with unique beading supplies. Each kit has the same contents. The kits are then given to the designers and we each make something from the kit. The fun is seeing how wildly different each artist tackles the kit - multiple designers create their own signature jewelry with the same selection of beads.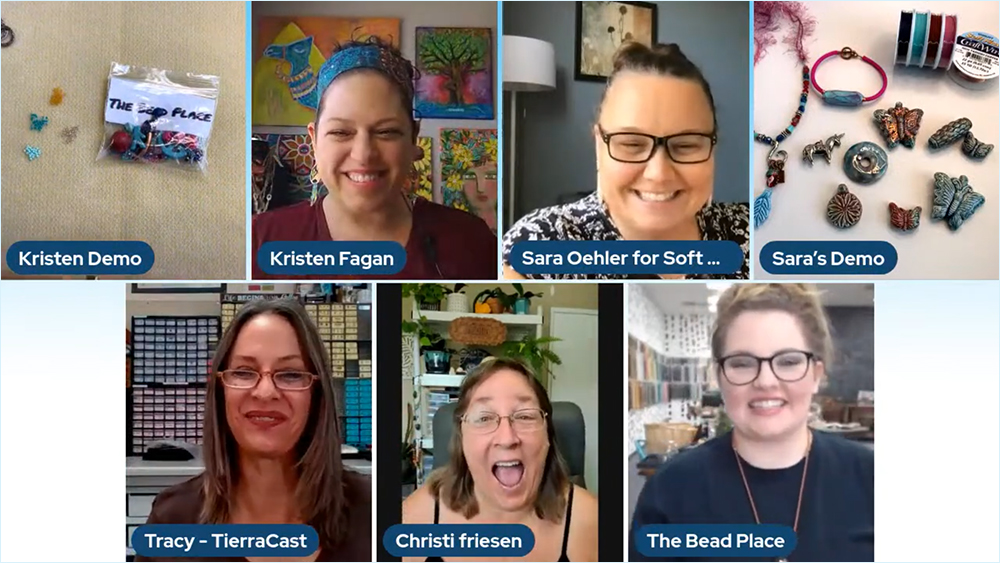 The Great Bead Trade went live on August 26th. Everybody had a blast. We thought it would be fun to organize a more casual after party to celebrate the fun. This was a good time. We saw some amazing jewelry demonstrations and the chat was hilarious!
Live Beading Party With Sam Siegel Of Sam's Bead Shop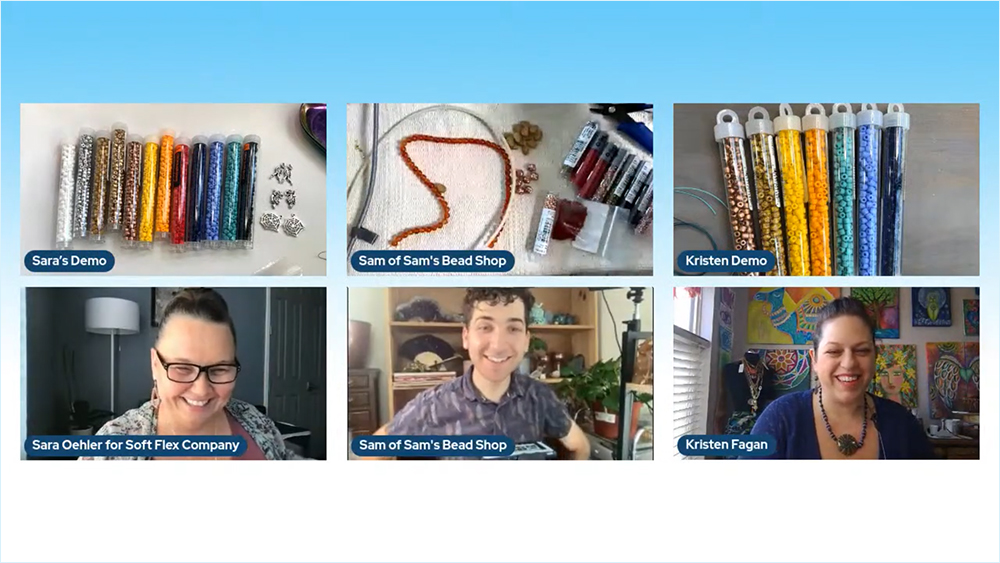 Did you catch our latest Beading Party, live? That is the best way to enjoy our beading demonstrations and jewelry making events! If you are with us live, you can ask your questions or make suggestions. You are part of the experience!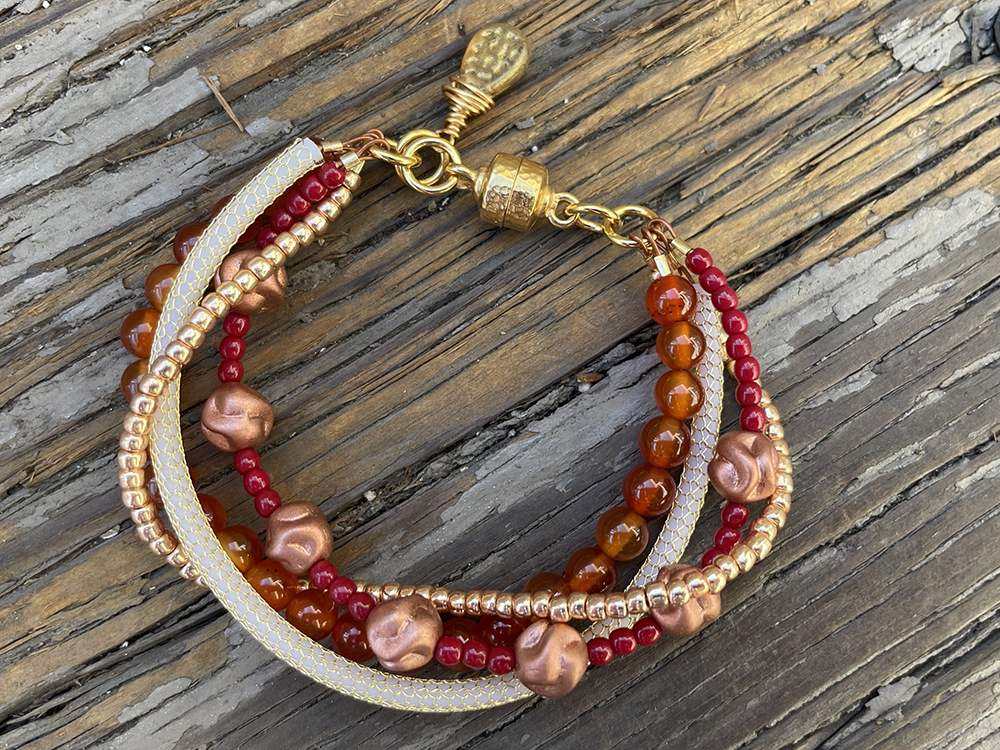 This time, we invited our friend Sam Siegel over for some creativity and inspiration. Sam is the owner of Sam's Bead Shop. He carries some drop dead gorgeous gemstones and beads. You can also find all of the beading supplies you need to make some lovely handcrafted designs at home. If you want a fun way to enhance your collection without spending a lot of money, look into Sam's subscription service - Sam's Bead Box. His boxes are full of high quality items at a great price!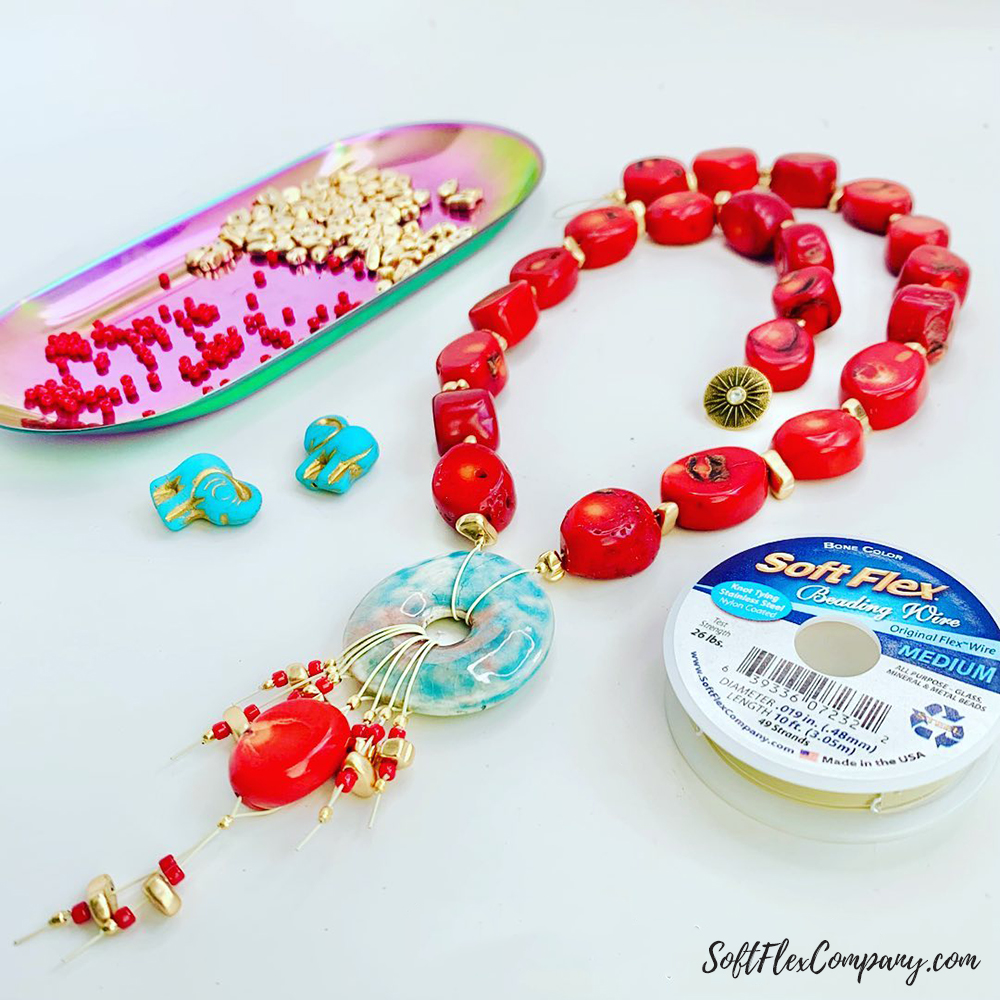 Sara, Kristen, and Sam were a treat to watch. Each designer made their own piece of jewelry and we enjoyed some spirited chat and fun. Sam strung a stunning multi-strand bracelet and told about his life. We had a blast when he started discussing chubby bunnies. Sam appeared to be the only one in on the joke as Sara and Kristen had never heard of chubby bunnies. We learned that it was a campfire game where participants would put a marshmallow into their mouth and say the word, "chubby bunny". The game continued with every marshmallow added until the loser could no longer say the words with clarity. Well, you learn something new everyday!
If this was your first Beading Party, make sure you check out our blog and see some of our previous shows - Beading Party blogs.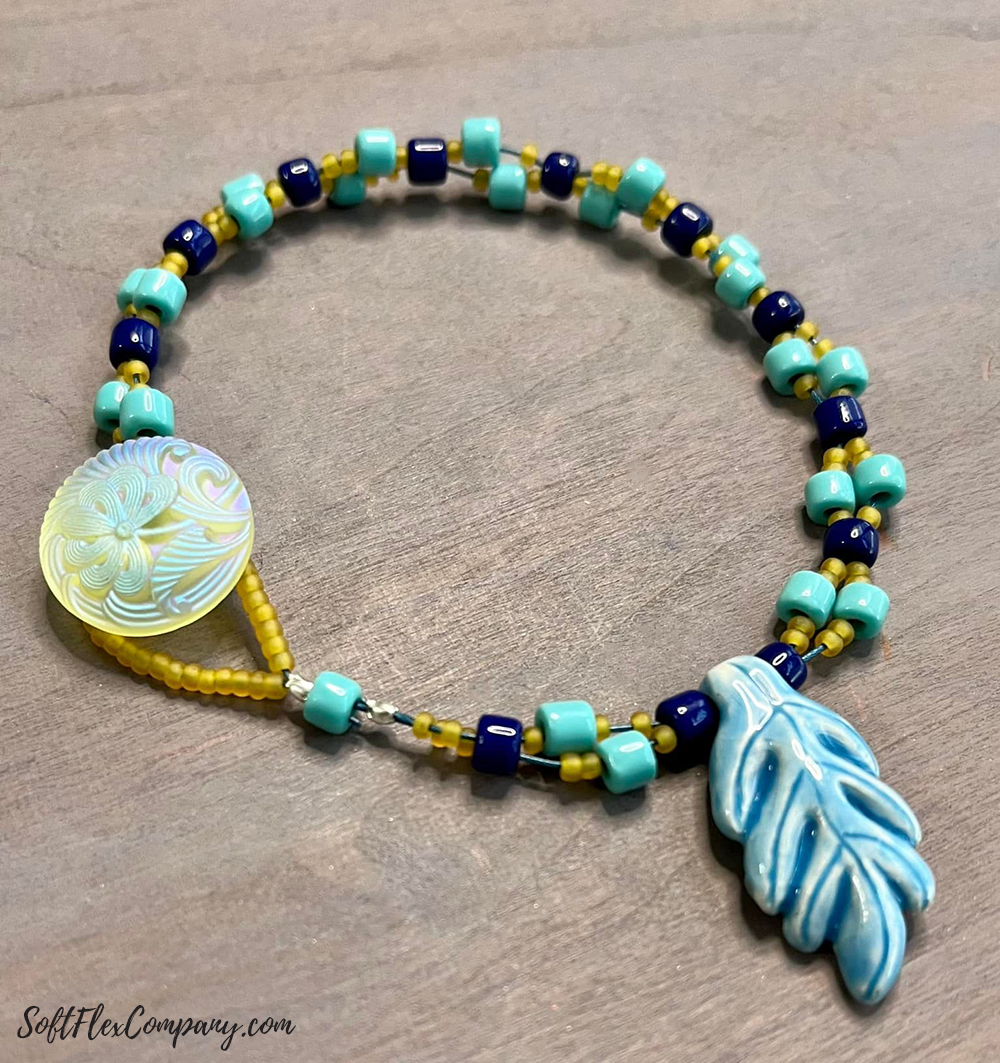 From Kristen:
Made this simple and sweet bracelet today while live with my friends Sara Oehler & Sam of Sam's Bead Shop. Wasn't that a fun chat and bead-a-long?! I used our new Rola seed beads, ceramic leaves (limited supply!) and a button clasp for #joyfulbeading.
Thunderhorse Descendant: Peace And Love Kit Mini Series - Simple Strung Bracelet
Thunderhorse Descendant: Peace And Love Kit Mini Series - Bright Necklace 3 Ways
SilverSilk & More: How To Make A Trendy Tassel Using SilverSilk And Craft Wire
Marcie Creates: How To Make A Cluster Necklace With Dangles And A Tassel
Marcie Creates: Foxy Lady Design Kit Unboxing And Review
Turquoise.Street: Peace And Love Design Kit Unboxing And Review
In Rose's Garden: Unboxing The Foxy Lady Design Kit
In Rose's Garden: Making A Bracelet With Jesse James Beads And Soft Flex
Join our Facebook group – VIB. Stay in the know. Stay up to date. From our bead shows to our video shows and sales, you can stay in touch with us. The community is full of artistic and helpful beaders and crafty people. Inspire and be inspired. Share your pictures and get the beading bug from others!
Visit the Soft Flex Company YouTube Channel!
---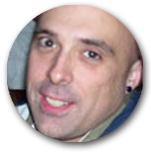 Blog contributor Thomas Soles loves Jazz Age writers and crunchy french fries. His favorite gemstones are Lapis and Pietersite. His favorite hobby is day dreaming. And his favorite mustache is Freddie Mercury's. As you can see, he has a healthy (or possibly unhealthy) sense of humor. You can write to him at Thomas@SoftFlexCompany.com