Regardless if jewelry making is a casual pursuit, a passion, or a profession, it should be a fun way to express your creativity. Getting stuck working on a difficult design is just no fun. Thankfully, there are tools that can help you create the most elaborate jewelry with ease. Let's take a look at some tools that can make you rethink how you create.
Soft Flex Company was founded by jewelry designers. Most of our staff loves making jewelry. We select the tools and components we think makes our craft great. Every product on our shelves is there because we thought it would enhance our work. Our inventory is filled with inspiring and accessible tools. Don't miss our sales!
15 Tools That Make Jewelry Making Easier!
Multi-Size Mandrel Wire Wrapping and Wire Looping Jewelry Tool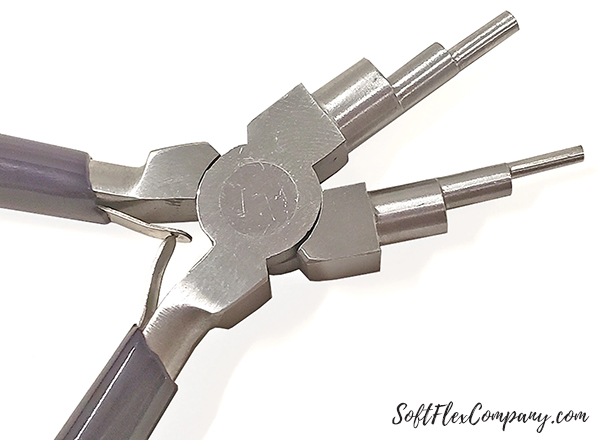 This amazing tool is a must have for anybody that works with Craft Wire. The multi-level loops on the head allow for a variety of projects. Whether you are making jump rings, connectors, s hooks, interlocking chain, ear wire, and more - this single tool has you covered. The variety of mandrel sizes on the head means you can have loops of varying sizes. Every loop you finish with this tool will be consistent and professional. If you are designing a piece of jewelry with repeating loops, this tool is going to be your new best friend.
If you work with WigJig jig boards, you are going to love these pliers. The smallest step matches the Olympus Lite peg size. Now you can work your wire after it comes off the board without mismatching your loops!
LoopRite Looping Pliers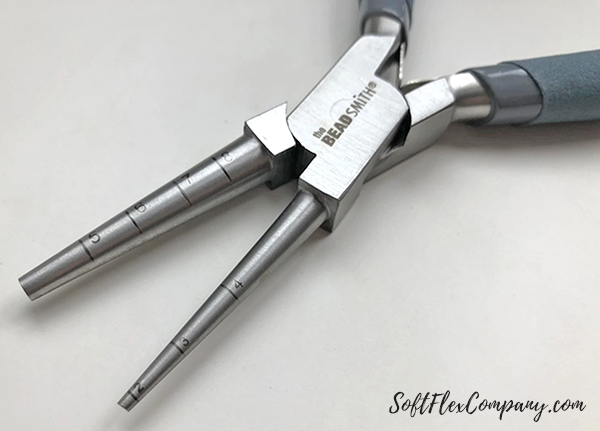 These LoopRite Looping Pliers are perfect for making consistent loops for your wire working projects. The nose of the pliers graduates from 2mm to 8mm. The guidelines along the nose will allow for accurate loop sizes. Make every loop uniform and professional. This is the perfect tool for creating jump rings, head pins, eye pins and more. LoopRite Pliers are perfect for your next Craft Wire project.
Special T Illusion Glue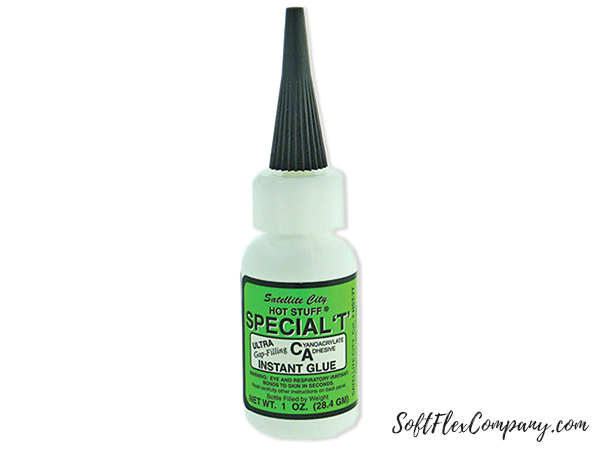 Special T Glue is a gap filling glue. It is designed to fill any gaps inside a knot - this makes the knot secure and less likely to come undone. In the case of knotted jewelry, it is extra assurance that your design is not going to fall apart after prolonged wear. Special T Glue dries pliable rather than hard and crunchy. It takes around sixty seconds to dry and dries clear. Special T Glue is excellent for use with Illusion Cord, Stretch Magic, Soft Flex and Soft Touch.
Burr Cup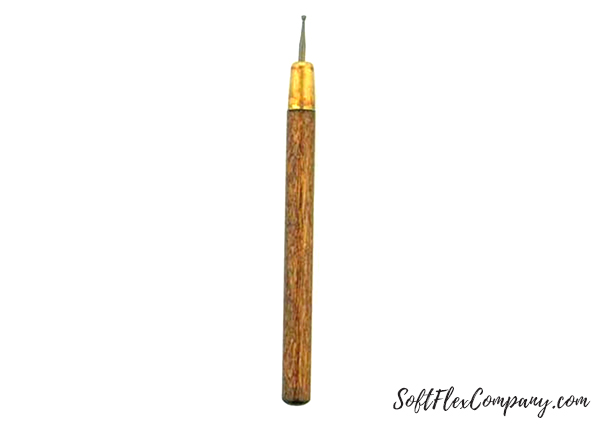 A Burr Cup is used to file and round the end of Soft Flex Craft Wire. No more sharp or irregular edges on the end of your wire wrapped jewelry! It is manufactured with a stainless steel tip and wooden handle. The cup can accommodate up to 16 gauge wire.
Bead Stoppers

Bead Stoppers are a staff favorite. Bead Stoppers are easy to use. They clip on the end of an unfinished jewelry design so you do not lose your strung beads before the piece is crimped and finished. Bead Stoppers can hold multiple wires and cords. Being the innovators that we are, we helped to create Bead Stoppers with Soft Flex Exclusive Grip Tips to make this product even easier to handle. The grip tips also make it is easy to spot a Bead Stopper if you drop it. The rainbow of colors allow you to personalize your collection.
From Kristen:
In my opinion, the most important beading tool to add to your collection is a set of Bead Stoppers. Bead Stoppers clip onto the end of your beading wire, threads or cords so you do not lose your strung beads before the piece is crimped and finished while saving your sanity in the process!
Nylon Jaw Pliers

This is a must have tool for anyone who wire wraps and designs with Soft Flex Craft Wire. Due to the nylon jaws, the wire is less likely to be scratched or marred while being worked on. Nylon Jaw Pliers are great for straightening wire off the spool. They are the perfect tool to work harden a wire before designing it. Watch our wire guru, James, he loves this tool! Replacement Jaws are also available.
Magical Crimping Pliers

Another staff favorite! Magical Crimping Pliers are the next generation of crimping tools. If you use crimp covers to conceal a finished crimp, you will love Magical Crimping Pliers. Magical Crimping Pliers will turn an ordinary crimp tube into a finished, rounded, bead. A beautiful end to any design.
Here is the secret: regular crimping pliers have two holes, a crimping hole to place a divot in the crimp and a rounding hole to finish. Magical Crimping Pliers have a single rounding hole. This hole rounds any 2x2mm tube into a rounded bead. This quick rounding method eliminates the need for a crimp cover.
Magical Crimping Pliers are for beginner beaders and seasoned artists alike. Easy to learn and quick to master. At Soft Flex Company, we always suggest using high quality wire and crimps, such as our Soft Flex Wire and our crimps (which are seamless and thick-walled). Choosing a budget wire and crimps might not have the same strength and finish.
From Shelley:
You need to complete your creation with good quality crimps and a crimping tool for a professional looking finish. Why would you use cheap crimps and smash them flat? When you smash a crimp flat, you have just put two seams into the metal, that weakens the structural integrity of the metal. And then you will have 4 sharp corners that might scratch your neck, or catch and pull threads out of your clothing. A house is only as good as the foundation it is built on. So if you are going to spend your hours on a creation, make sure your foundation is solid- good wire, good crimps and sound technique!
This wonderful tool is also available in an ergonomic handle version. If your hands experience fatigue or discomfort from regular tool grips, Magical Crimping Pliers with Ergonomic Handle will give your hands some relief.
Precision Strength Flush Cutters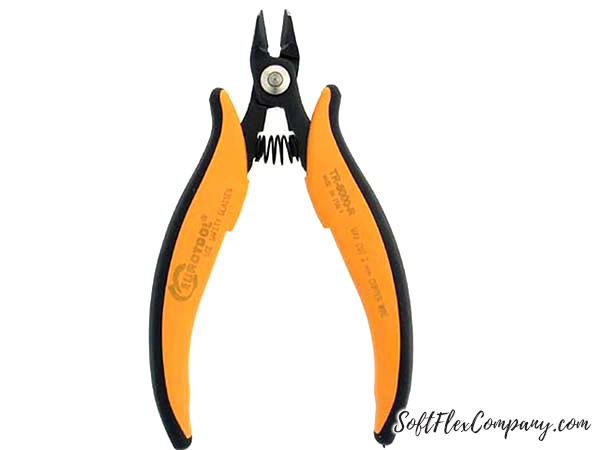 These precision strength European Flush Cutters are a high quality tool for the professional jewelry designer. You can cut any diameter of Soft Flex and Soft Touch and most gauges of Soft Flex Craft Wire.
This tool is manufactured in Europe. These cutters are constructed of stainless steel with ergonomic foam cushion handles. Precision Strength Flush Cutters have a lap-joint, a smooth spring return and a Rockwell Hardness of 61.
Note: These cutters are designed for use on beading wire and soft metals, such as sterling silver or copper. Hard wire, such as Memory Wire, will harm the blades of the cutter. Euro Tool, the manufacturer, recommends not cutting anything larger than a 16 gauge wire, unless is it a soft metal like, gold or silver wire, then you could go as large as 14 gauge.
Lazee Daizee Viking Knit Wire Weaving Tool

You are going to love the Lazee Daizee Viking Knit Tool! If you have ever wanted to learn Viking Knit Weaving or would like to make the process simpler, this tool is going to amaze you. The disk on the top of the tool makes it easy to create looped "petals". From there, the ridges along the length of the tool are a perfect guide to keep your loops uniform and even. The step-by-step instructions included makes everything foolproof.
The recommended gauges of wire to use are 24, 26, or 28 gauge Soft Flex Craft Wire, however by changing the number of loops being utilized in your design you can go as large as 20 gauge. The tool will not damage or scuff your Craft Wire. You can also use Soft Flex Beading Wire and create a wonderfully colorful design. Multiple stands of wire can be used with both tools. A draw plate will help you reduce the finished design down to your preferred width. The Lazee Daizee draw plate will accommodate both sizes of tools. Getting started is easy, but you may make a few mistakes, luckily the drawing down process hides the majority of those mistakes! You will be creating a beautiful weave while watching TV or talking to friends in no time. Multiple strands and sizes of viking knit can be used together to form a larger project. It lends itself to decorative applications such as adding headpins with embellishments and, when not drawn down or utilizing the bigger Lazee Daizee tool, items like pearls and gems can be inserted inside the weave.
Deluxe Wire Draw Plate With Handle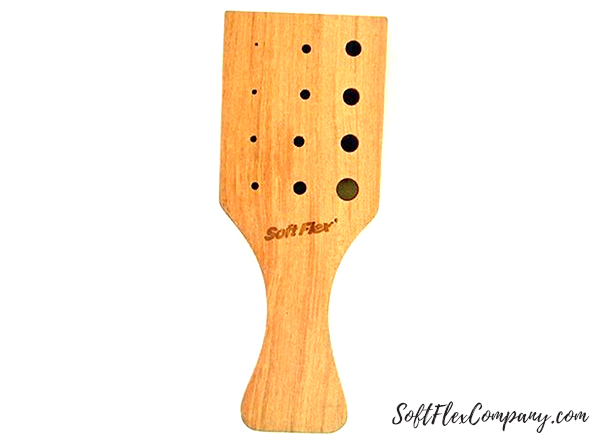 Draw plates are handy if you enjoy knitting with a knitting spool or Lazee Daizee Viking Knit Wire Weaving Tool. When knitting, the wire will have a free flowing knit. Pulling your design through the holes on the board will shrink the diameter down to the size of that hole. Using a Draw Plate will also make your design longer as it compacts down, that means you will end up using less wire than you would have if you did not use a Draw Plate – a good way to economize your wire. If you are producing a number of designs and need to maintain the same size every time, this tool will be an invaluable addition.
If you are working with larger designs or want to complete your Lazee Daizee tool collection, consider the Lazee Daizee Draw Plate.
Bead Reamer

Bead Reamers are a fantastic tool if you work with a variety of beads. Beads can have irregular channels or sharp edges. Reamers make it easy to clean and file those sharp edges and odd lumps and bumps. Ceramic, lampwork, stone, and more – this tool will take all of the sharp edges off your favorite beads. The handle stores reamer bits so you never have to worry about losing parts of the tool. If you love beads, this tool should be in your jewelry making kit.
Kumihimo Disk

This one is a personal favorite. I have four Kumihimo disks in use at any given time. Different cord, fiber, Soft Flex Beading Wire - each medium gives a different effect and look.
Kumihimo means 'gathered threads' in Japanese. It is a form of braiding. Kumihimo braids can be used to create decorative lace, cords, jewelry or clothing accessories. Historically, Kumihimo braids have been used in Samurai armor and weaponry. The braids were used as a functional knit for their armor pieces. Decoratively, it adorned their horses armor and the handles of their swords.
Modern Kumihimo disks are great for the crafter on the go. We love using our ten foot Soft Flex Color Wire spools as bobbins. Why double density? The thick size makes holding the disk more secure and less bending occurs. Additional tension increased by thickness is useful also when braiding finer threads and wire.
Wire Whacker

The Wire Whacker is perfect for any wire wrapping designer. The Wire Whacker makes it easy to work harden a wire design with a couple of strikes, rather than slowly hammering the pieces. It is the perfect tool for Soft Flex Craft Wire, the Wire Whacker will not mar or damage the enamel coating on the wire.
Mini Macramé Board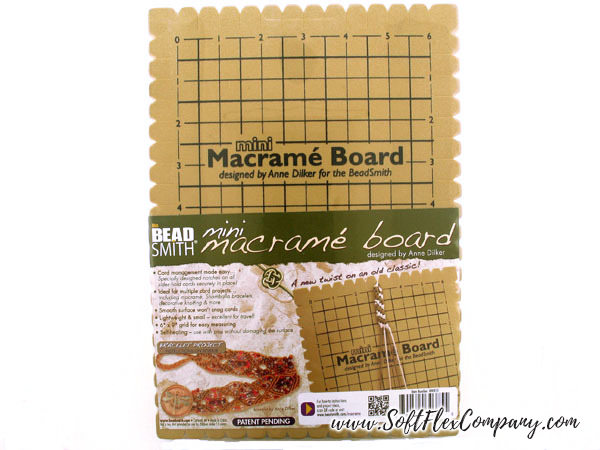 Sara loves this board. She uses it as a placeholder for knotting and braiding as well as Macrame.
Macrame is likely derived from Arabic or Turkish words describing fringes and weaving techniques. It is a form of crafting textiles using knots - rather than knitting, crocheting or weaving. Early macrame was used as a decorative fringe. It later fell into favor with sailors and was used for hammocks, fringe work on railing and bells and decorative finishes to knife handles and bottles. Macrame exploded in popularity during the 1970s and was used for wall hangings, jewelry, and clothing. On into the 21st century, we have found macrame especially fun to use with Soft Flex Beading Wire. Explore jewelry making with our colored wire and a macrame board!
Bead Mats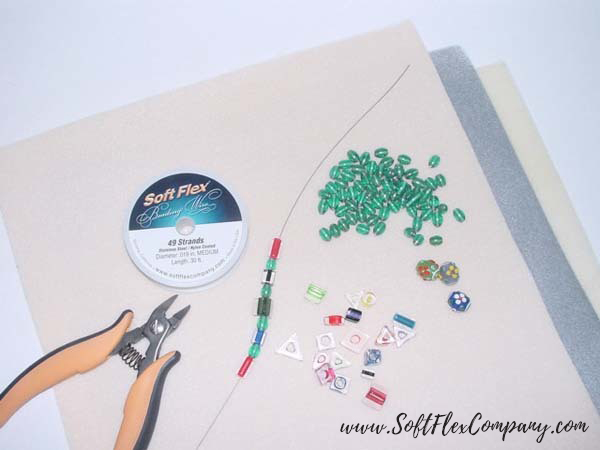 Kristen often uses her bead mats in videos. She loves the way her mats retain her beads and keeps everything orderly. Do not let your beads and findings roll away. Our double sided Soft Flex Bead Mats are made with a durable foam material. They are wrinkle free and washable. They cushion your hands while stringing beads and keep small items from rolling away. Each package contains three 11 x 14 mats in off white, gray, and beige.
Starter Kits are great if you need to expand your tool collection or refresh your supplies!
Grab a Starter Kit! A starter kit is a collection of tools that is perfect for a beginner that needs to start a toolkit of beading supplies. If you are a jewelry designer, this is a great way to restock your inventory at a discounted price or replace worn tools.
Soft Flex Bead Stringing Starter Kit

A perfect kit for anyone to get started in beading and jewelry-making. This kit is exactly what you need to make your own DIY necklaces and bracelets.
This Bead Stringing Starter Kit includes a Bead Mat, 2 red tip Bead Stoppers, Regular Crimping Pliers, Bead Nipper, 20 count package of 2x2mm Crimp Tubes, Ear Wires, Lobster Clasps, a 10ft spool of Soft Flex .019 Medium Beading Wire in your choice of color and a FREE package of Beads. (Bead colors vary and will be based on your wire color choice).
Soft Flex Craft Wire Starter Kit

A perfect kit for anyone to get started in wire wrapping and making your own wire components. This kit is exactly what you need to make your own DIY wire work jewelry.
This Craft Wire Starter Kit includes a Bead Mat, Bead Nipper, Nylon Jaw Pliers, Round Nose Pliers, Bent Nose Pliers, Lobster Clasps, a 10 yard spool of 22 Gauge Soft Flex Craft Wire in your choice of metal color and a FREE package of Beads. (Bead colors vary and will be based on your wire color choice).
Join our Facebook group – VIB. Stay in the know. Stay up to date. From our bead shows to our video shows and sales, you can stay in touch with us. The community is full of artistic and helpful beaders and crafty people. Inspire and be inspired. Share your pictures and get the beading bug from others!
Visit the Soft Flex Company YouTube Channel!

---
Blog contributor Thomas Soles loves Jazz Age writers and crunchy french fries. His favorite gemstones are Lapis and Pietersite. His favorite hobby is day dreaming. And his favorite mustache is Freddie Mercury's. As you can see, he has a healthy (or possibly unhealthy) sense of humor. You can write to him at Thomas@SoftFlexCompany.com