Spring is here and we are looking forward to easy, breezy, beautiful jewelry. If you want a fresh new look for your wardrobe, make sure you check out this week's video recap. If you are eager to grab your Spring Fling beading supplies, before the next edition of the Great Bead Extravaganza, make sure you visit our website and get our TGBE kit, bead strand and bead mix. Celebrate a new season of jewelry with us!

What a wonderful week it was! Sara appeared on JTV's Jewel School and discussed our favorite beading wire. Kristen showed us how to make a ring with Soft Flex Craft Wire and Czech Glass buttons. In our store, we released our latest Great Bead Extravaganza kits and beads. Make sure you join us next month for the world's biggest online bead show!
Tracy Proctor joined us for a beading party and we discussed the latest TierraCast products on our shelves. We have an exclusive bunny charm from TierraCast that you will not find anywhere else. We also have charms and components from their Keep the Faith Collection.
Around the web, we checked out Brittany Chavers, of Turquoise.Street. Brittany unboxed our Wonderland Design kit (Sold Out). We watched Rosanna Brafford make jewelry fit for Barbie with her Wonderland kit. Kate Richbourg and Emily Miller, from Beadshop.com, showed us how to make hoop earrings with Soft Flex wire. Nealay, from SilverSilk, showed us how to make an asymmetrical bracelet. And finally, Marcie Creates showed us how to work with a color palette and make jewelry that is perfect for spring! Embrace all things spring and celebrate with jewelry!
Save the date! Join the Facebook group and stay up on the latest news!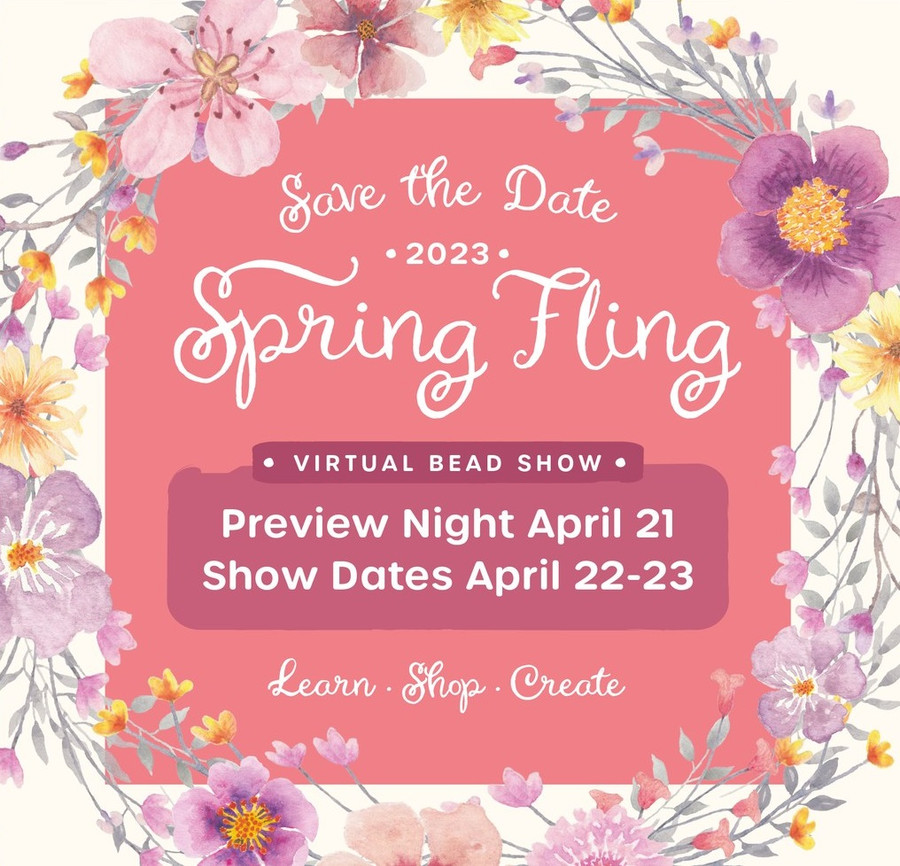 Before the show begins, make sure you shop our TGBE category and stock up on beading supplies! Indulge in our floral beads and spring inspired colors!
Jewelry Making Videos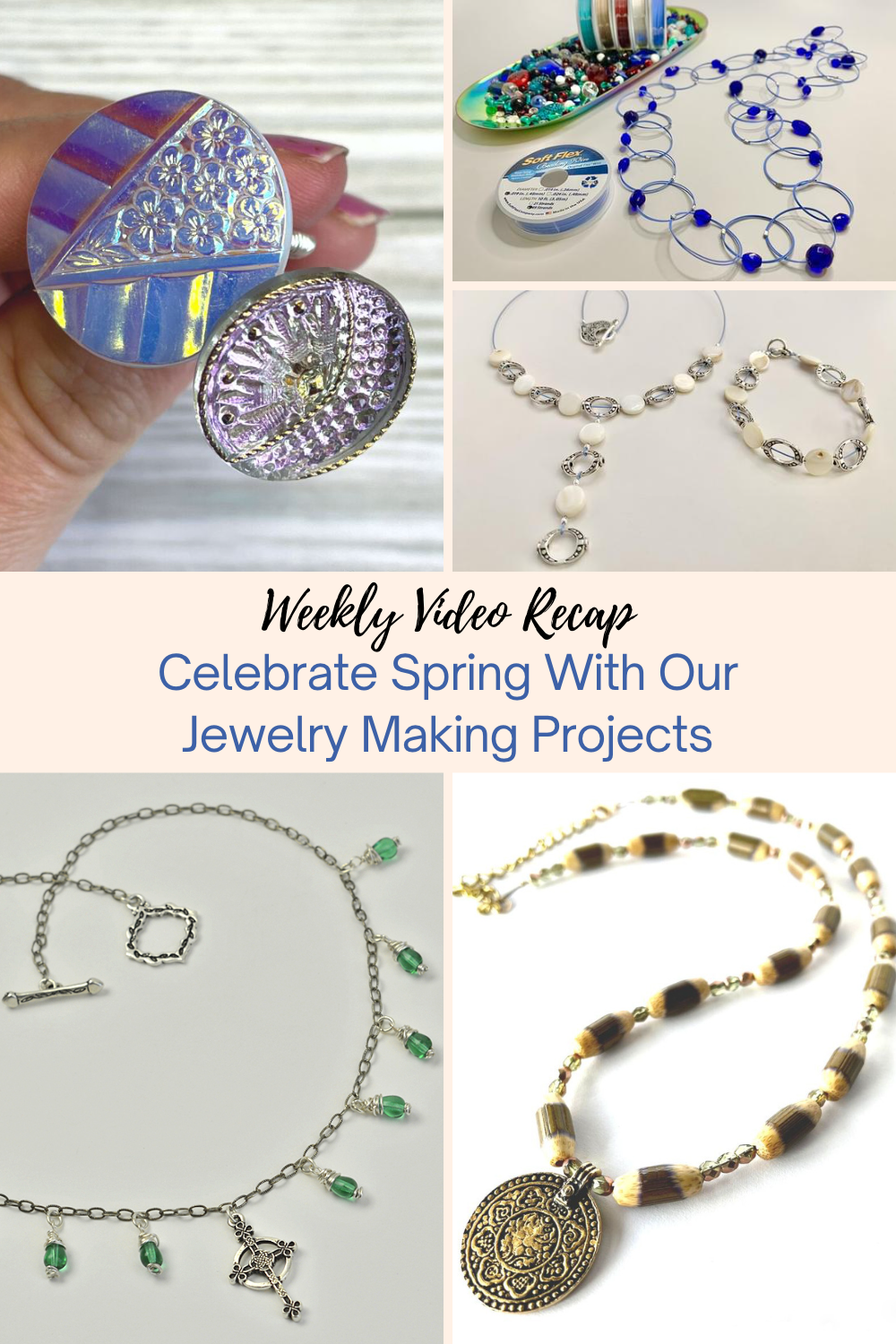 Daily Joyful Beading Challenges - Join Us!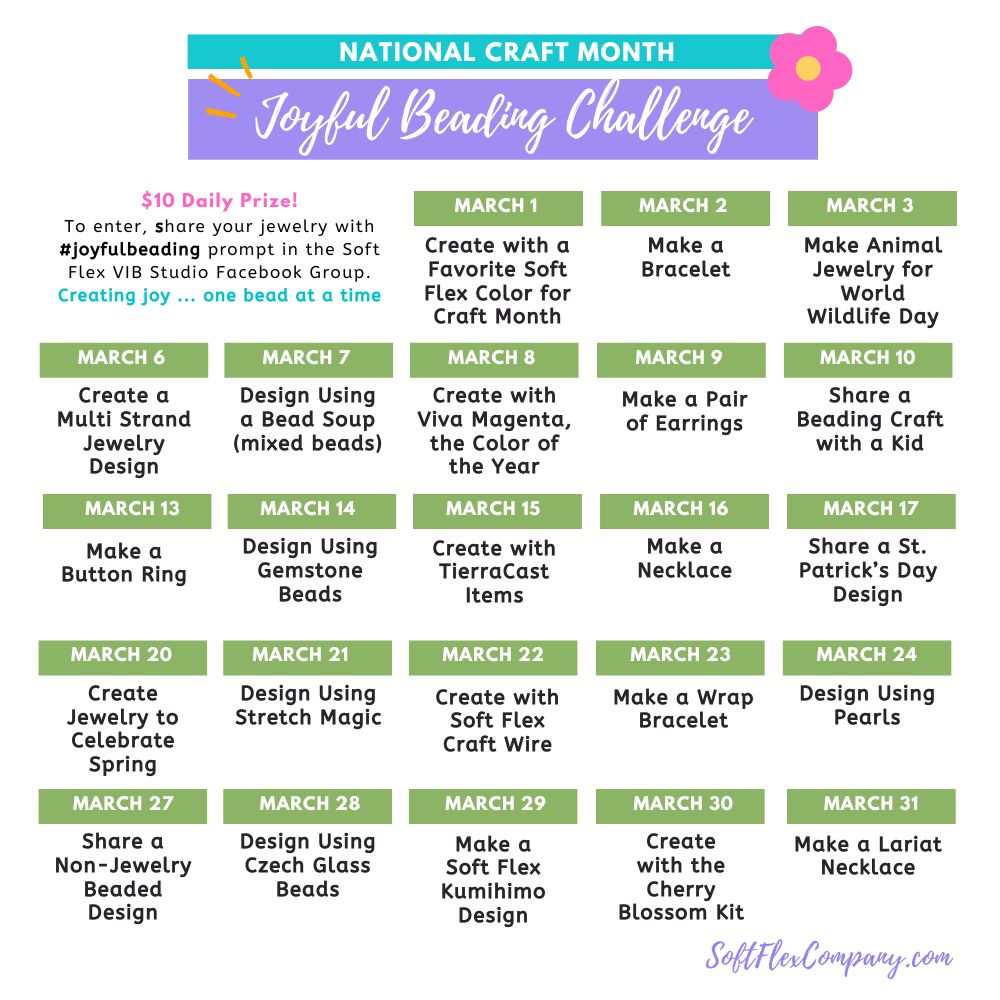 Download the Full Calendar for March - Click HERE
(Log in to Facebook if the link is not working.)
Follow along on our Joyful Beading road map. Each day, we begin a new jewelry project. For instance, March 30th is 'Create with the Cherry Blossom Kit'. On that day, every project that is themed with the floral colorway of our new spring kit will be entered to win a $10 credit. Projects must be posted to our VIB group on that date. If you post a kit project on a different date and it is not applicable to that date's project, you will not be entered to win. Make sure every project you post has this hashtag - #joyfulbeading. If you do not include the hashtag, we may overlook your entry.
Our Social Media Sites Will Show You How To Make Jewelry In Just Minutes
Got a minute? Check out our latest reels and TikTok videos. Soft Flex Company's Instagram Reels and our Soft Flex TikTok Page will teach you how to make jewelry in under a minute. These videos move quickly but are easy to follow. If you need more assistance, make sure you check out our YouTube catalog for deeper dives into jewelry making education. You will find in depth discussions on how to use your tools and finish your jewelry on that channel. Instagram Reels and TikTok are great tools for learning something new or finding quick inspiration. Check out our 1 Minute Videos and explore the wonderful pins on our Pinterest page. Learn from Soft Flex Company jewelry designer pros at the pace you choose! If your creativity needs a quick cup of coffee, make sure you visit us for a much needed jolt of crafting caffeine!
Check Out Sara's Appearance On JTV's Jewel School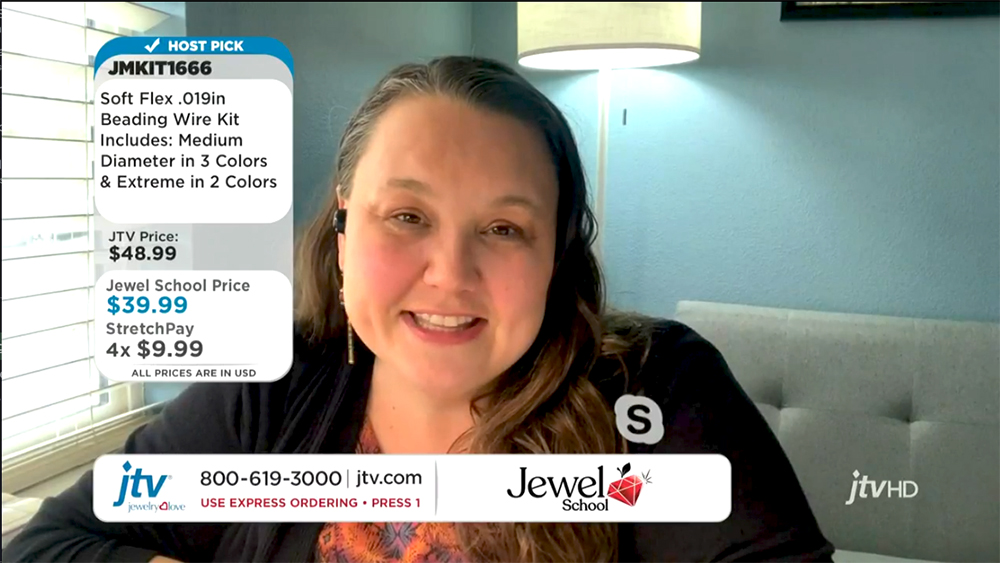 Click the image above to see her segment, or click HERE.
(Log in to Facebook if the link is not working.)
Sara filmed an appearance for JTV this week. In the past, she has filmed segments in the JTV studio. This one was filmed from home. It is a lot easier for this mother of three to focus on a quality visit when she is not packing up and flying across the country.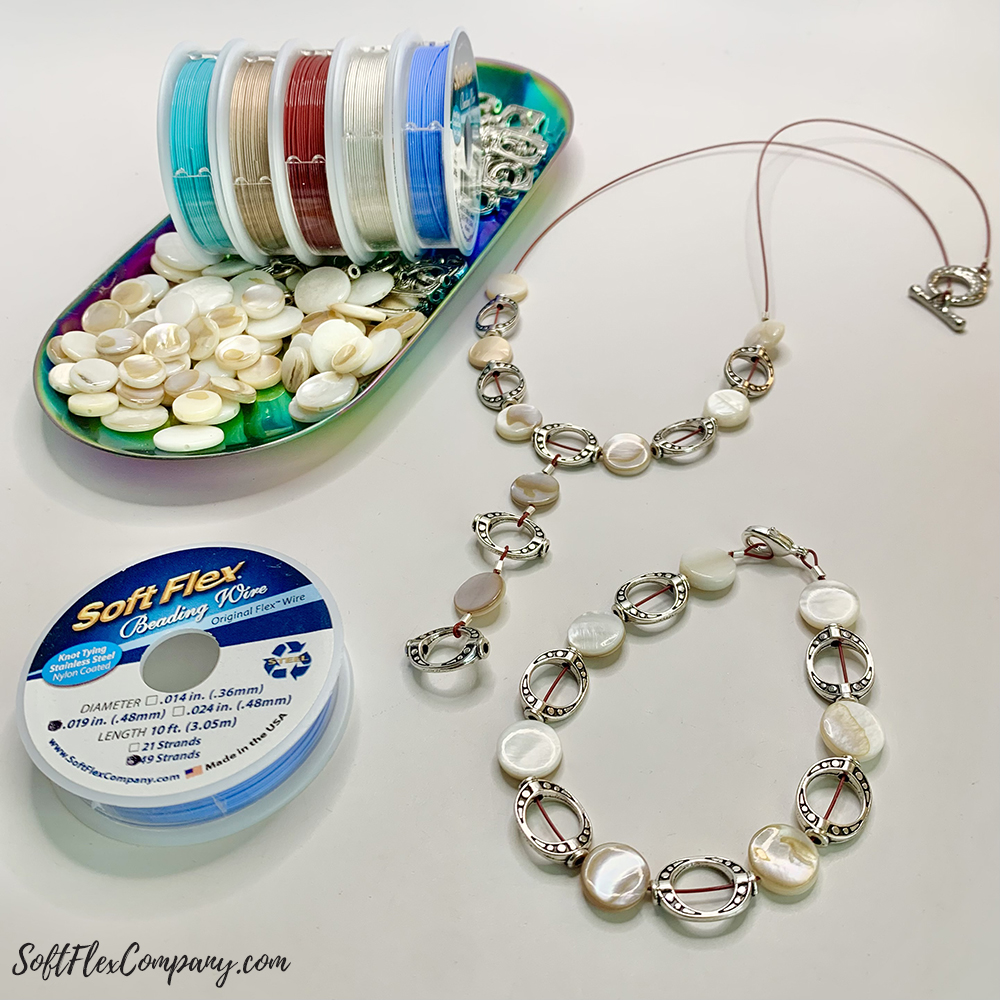 Check out her segments. You can find her throughout the video. But make sure you hurry! A live television studio, like JTV, is constantly moving forward and showing the trends of the day. If you wait too long, the link may not be working anymore!
Check out Sara's previous visits and appearances at JTV by clicking this link: JTV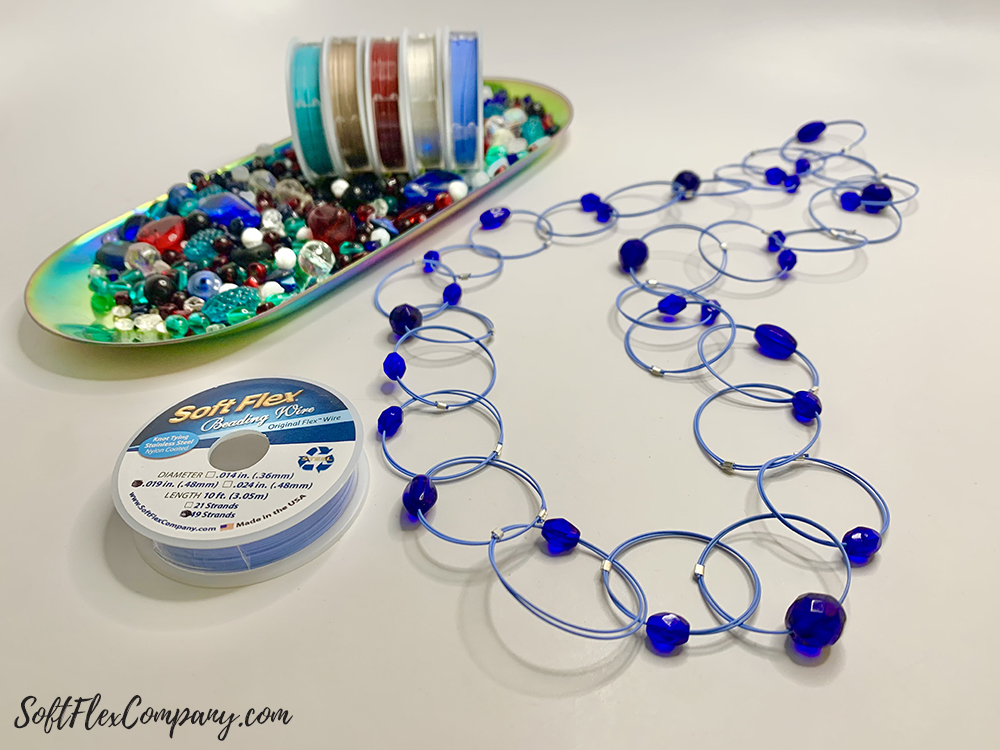 How To Make A Ring Using A Czech Glass Button And Soft Flex Craft Wire
This week on Free Spirit Beading, we watched Kristen make rings with Soft Flex Craft Wire and Czech Glass buttons. We love collecting buttons, how about you? Decorative buttons are wonderful for creating handmade clasps or wire wrapping. A button can be turned into a stunning pendant, earrings - or, in this case, a beautiful focal on a ring!
Wire wrapped rings are easy enough for a beginner to make. The only real learning curve is knowing how to size your rings. You will want to make sure to make your ring a size or two larger when when you begin. As your add coils or interesting elements to the wire, the ring will shrink. Using a ring mandrel will make this process so easy. If you do not have a mandrel, a homemade one will do in a pinch!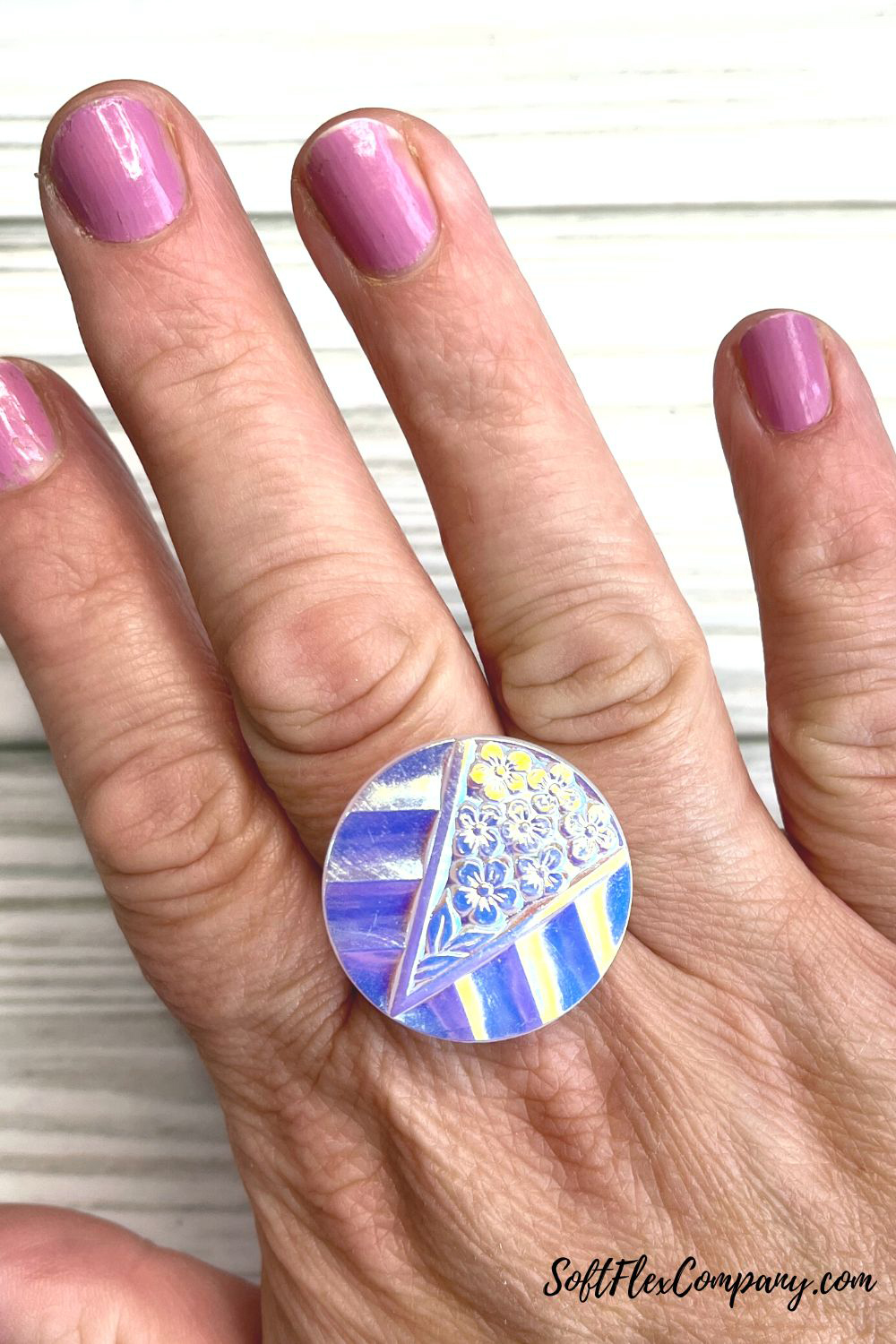 22ga Soft Flex Craft Wire
Czech Glass Buttons
Nylon Jaw Pliers
Bent Nose Pliers
Chain Nose Pliers
Cutters
Ring Mandrel or Dowel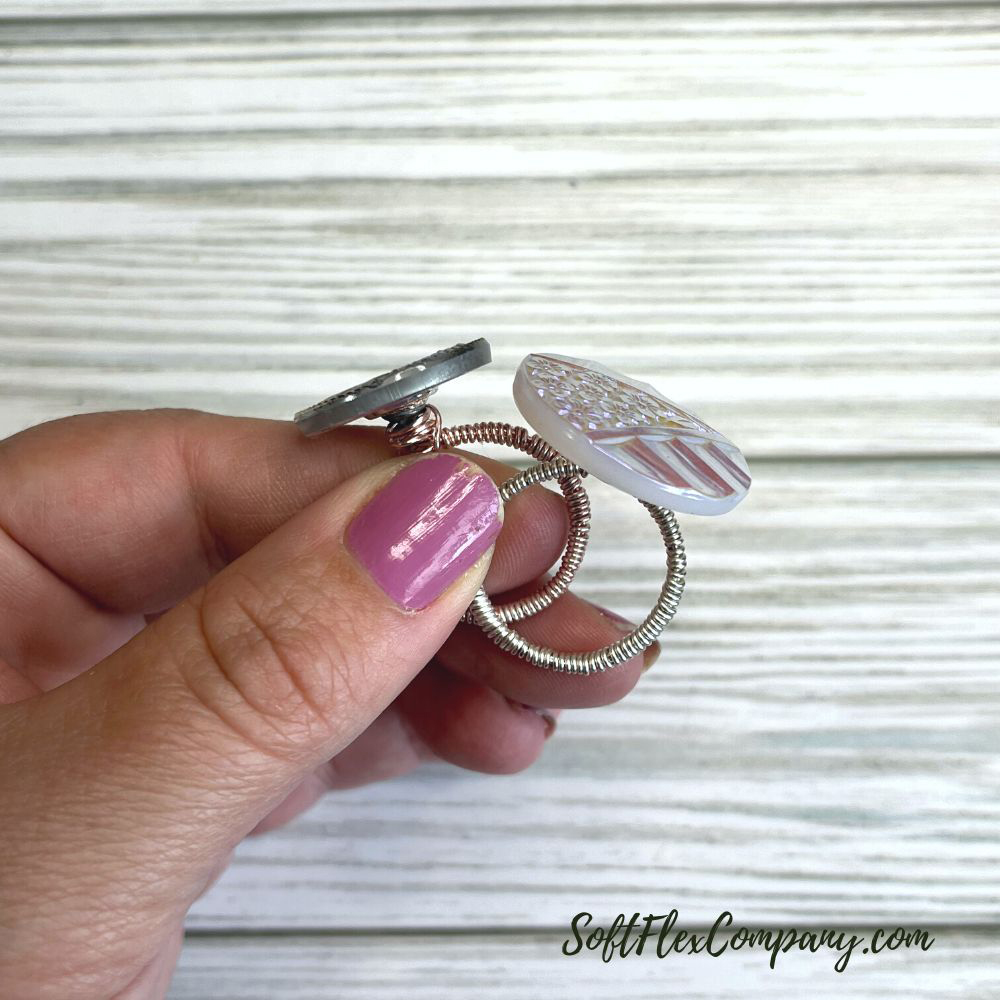 Live Beading Party With Tracy Proctor Of TierraCast: Keep The Faith Collection
It is always fun to throw a beading party! We have added TierraCast's Keep the Faith Collection to our inventory and we wanted to learn more about these lovely components and charms from Tracy Proctor, TierraCast's jewelry designer.
The Keep the Faith Collection is a celebration of religion and culture around the world. We wanted to celebrate our differences and also the spirit of inclusion. Find a charm that speaks to you or your faith! Learn more about the collection during this beading party. We also touched on St. Patrick's Day. If talking about the luck of the Irish and the wonderful tradition of bread making - check out this fun video!
Check out some of the St Patrick's Day Beading Project Ideas we offer on our site.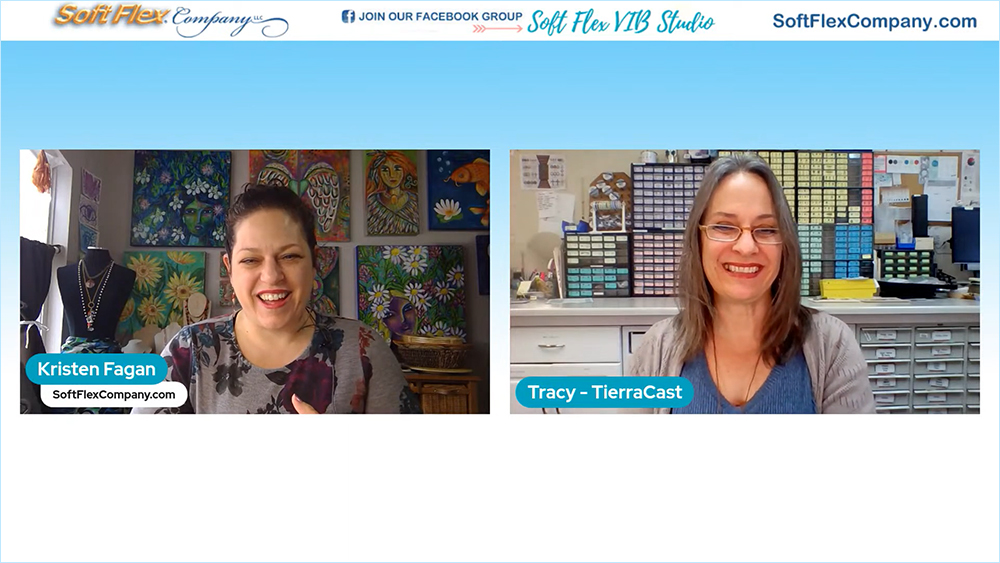 TierraCast Components
Soft Flex Craft Wire
Nylon Jaw Pliers
Round Nose Pliers
Flat Nose Pliers
Chain Nose Pliers
Cutters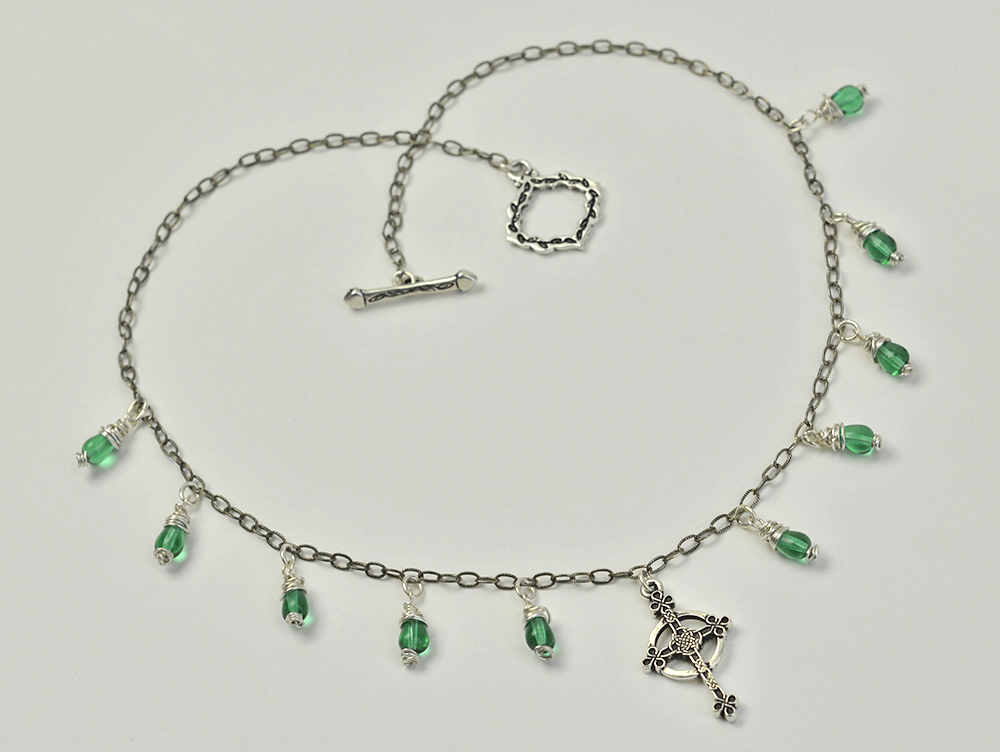 Tracy's lovely design is above and Kristen's is below.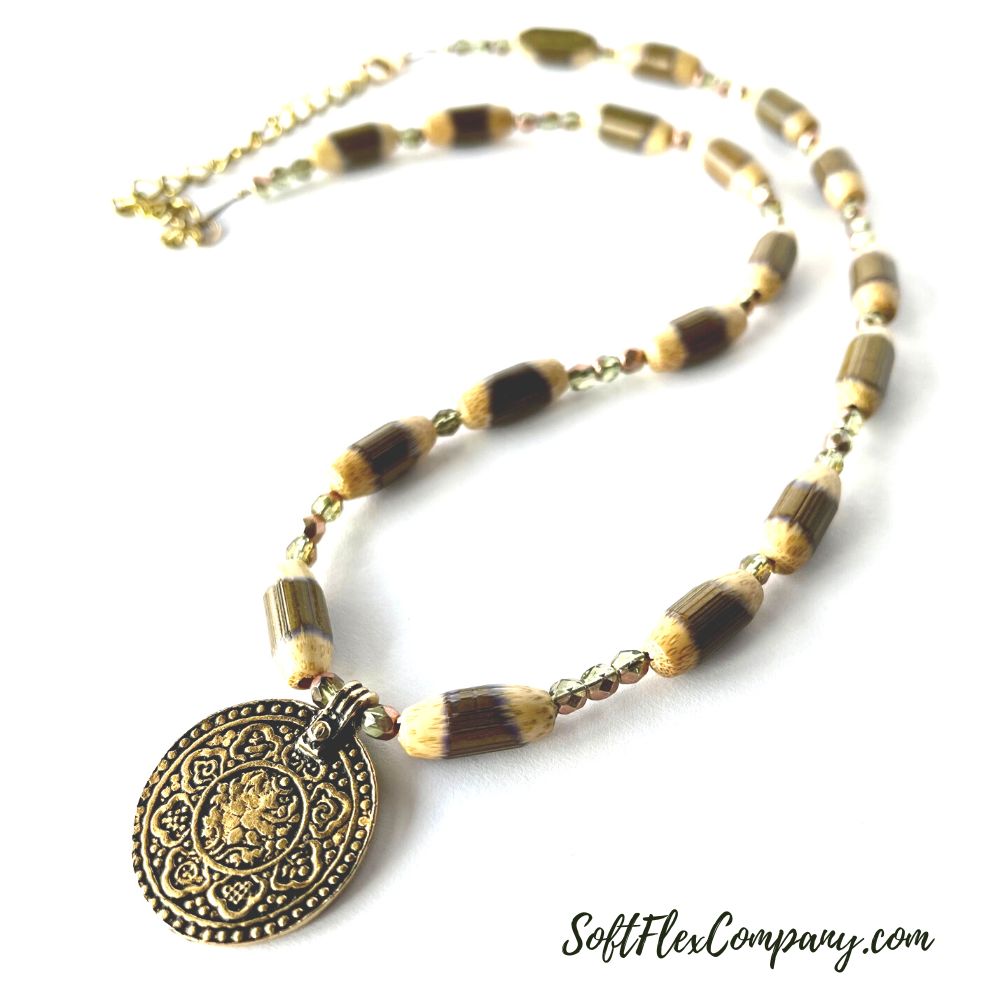 Turquoise.Street: Unboxing The Wonderland Jewelry Making Kit
Rosanna Brafford: How To Make Barbie Jewelry With The Wonderland Kit
Beadshop: How To Make Hoop Earrings With Soft Flex Beading Wire
SilverSilk: How To Make An Asymmetrical Bracelet
Marcie Creates: Color Palette Challenge With Bargain Bead Box And Soft Flex Wire
Join our Facebook group – VIB. Stay in the know. Stay up to date. From our bead shows to our video shows and sales, you can stay in touch with us. The community is full of artistic and helpful beaders and crafty people. Inspire and be inspired. Share your pictures and get the beading bug from others!
Visit the Soft Flex Company YouTube Channel!
---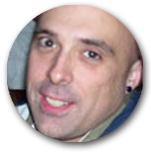 Blog contributor Thomas Soles loves Jazz Age writers and crunchy french fries. His favorite gemstones are Lapis and Pietersite. His favorite hobby is day dreaming. And his favorite mustache is Freddie Mercury's. As you can see, he has a healthy (or possibly unhealthy) sense of humor. You can write to him at Thomas@SoftFlexCompany.com