Fall is almost here! Let's embrace the changing seasons. We love the splash of summer colors but we are looking forward to the warm and earthy tones of autumn. This week we celebrated by unboxing our fall kit - Foxy Lady. Grab this mix of beading supplies and you will be sure to have elegant jewelry that is perfect for the season of pumpkin spice and everything nice!

This week, Kristen showed us how to troubleshoot a grumpy design, she fixed an issue she was having with a set of earrings she made and gave us insight on how to make jewelry work when it isn't cooperating. Sara unboxed our Foxy Lady Design Kit and made a braided bracelet. Foxy Lady is our eager celebration of fall. We are excited for the changing of seasons and a new palette to explore!
Randee Brown, from Thunderhorse Descendant, has started a Peace and Love mini series. She recently unboxed our design kit and in her newest video, she showed us how she is planning to make jewelry with the contents. Kay Goss, from Star's Beads, had some Halloween jewelry ideas. Learn how to make a beaded skeleton design in her video. Marcie Creates continued her color inspiration series. Learn how to master color in your designs! Misty Moon Designs unboxed and reviewed the contents of our Peace and Love kit, get her thoughts on the contents. Brittany Chavers, from Turquoise.Street, showed us how to make a bracelet with a kit from Sam's Bead Shop, Soft Flex Craft Wire and beading wire. What a wonderful week of jewelry. We hope you are feeling the creative motivation to make something wonderful!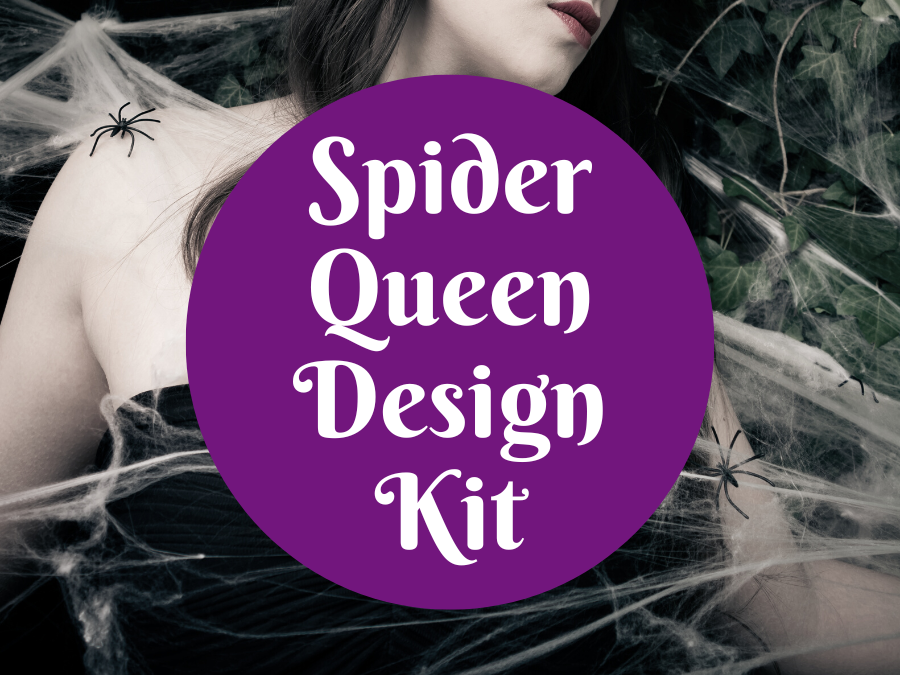 "All rise! The queen is arriving!"
Thunder shakes the throne room and a shadow descends from the high dome above. The titan widow plunges down in a magnificent column of spider silk and crypt dust. She lands with the tiny taps of arachnid paws on tile. The sound echoes in the breathless chamber. Lightning flashes and the queen changes form. She is human, cloaked in black dress and gossamer web. Spiderlings dance on her shoulders. This frightful monarch is here to spread Halloween cheer. Do you dare accept her dark offerings?
Sara will be doing a live broadcast on the Soft Flex Facebook page and YouTube Page, with the Spider Queen Design Kit, on Wednesday, September 28th at 3pm (PT).
If you'd like to join us in the design challenge next month, buy this kit and challenge yourself to try something new and unexpected. If you are new to beading, this kit comes with findings, beads, wire, and surprises.
Our kits are great for skill building. We want our kits to feel challenging. We want them to be accessible for beginners and advanced designers alike, but we love to throw in elements that may seem difficult to test our beaders skills and make them think out of the box. We think jewelry is great when it is easy. But when you really have to engage your mind and process your materials and tools, we think that your jewelry has the potential to be life changing.
Our kits may be inspired by a colorway or theme, but they are meant to be creative interpretations. Imagination and innovation do not follow the rules. Expect the unexpected.
Supplies are very limited. Don't miss out!
Jewelry Making Videos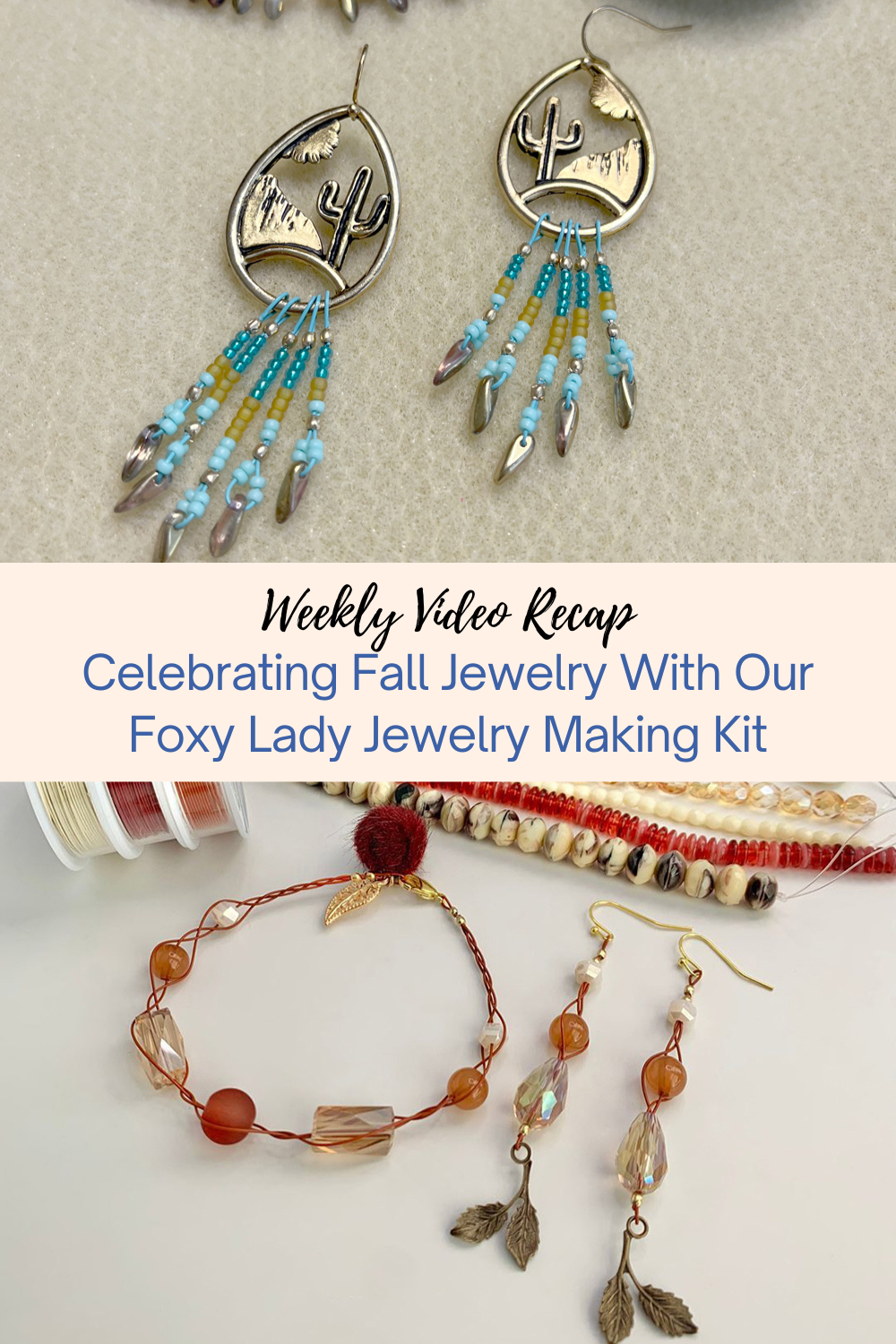 Daily Joyful Beading Challenges - Join Us!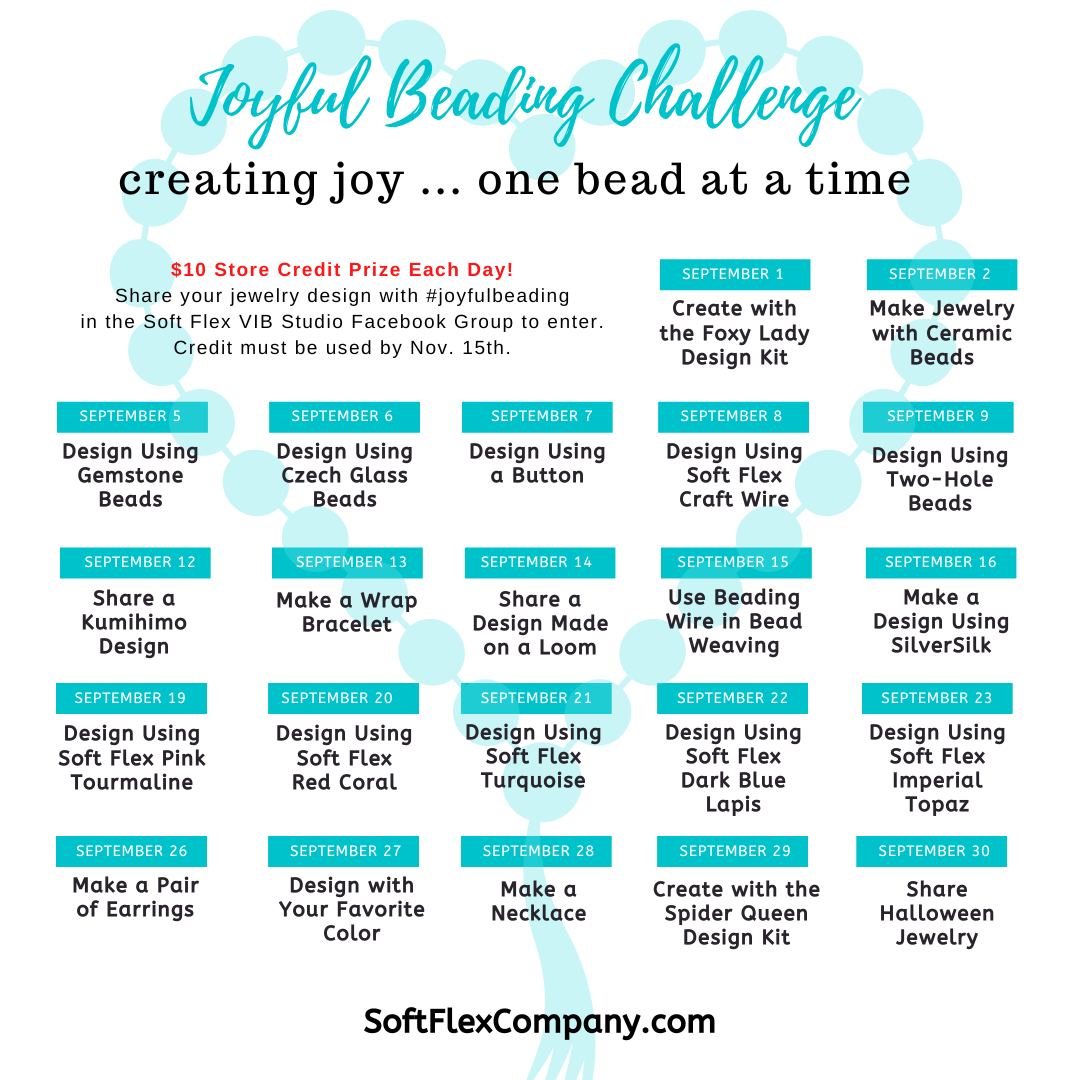 Download the Full Calendar for September - Click HERE.
Follow along on our Joyful Beading road map. Each day, we begin a new jewelry project. For instance, September 30th is 'Make Halloween Jewelry'. On that day, every project that is Halloween holiday themed, will be entered to win a $10 credit. Projects must be posted to our VIB group before midnight PST, on that date. If you post a kit project on a different date and it is not applicable to that date's project, you will not be entered to win. Make sure every project you post has this hashtag - #joyfulbeading. If you do not include the hashtag, we may overlook your entry.
Our Social Media Sites Will Show You How To Make Jewelry In Just Minutes
Got a minute? Check out our latest reels and TikTok videos. Soft Flex Company's Instagram Reels and our Soft Flex TikTok Page will teach you how to make jewelry in under a minute. These videos move quickly but are easy to follow. If you need more assistance, make sure you check out our YouTube catalog for deeper dives into jewelry making education. You will find in depth discussions on how to use your tools and finish your jewelry on that channel. Instagram Reels and TikTok are great tools for learning something new or finding quick inspiration. Check out our 1 Minute Videos and explore the wonderful pins on our Pinterest page. Learn from Soft Flex Company jewelry designer pros at the pace you choose! If your creativity needs a quick cup of coffee, make sure you visit us for a much needed jolt of crafting caffeine!
Customer Appreciation Week Is Almost Here!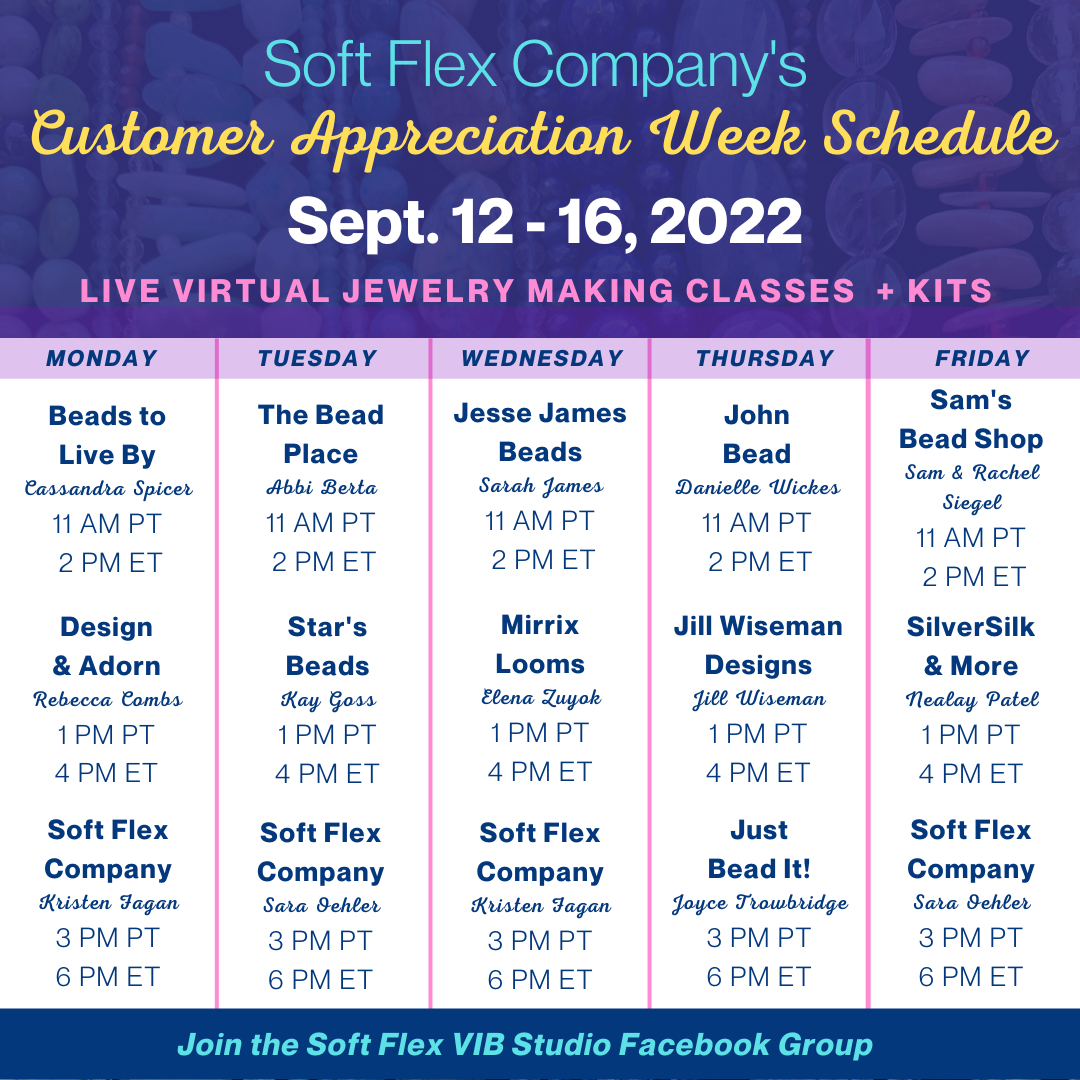 Customer Appreciation Week, (CAW) is just around the corner. The participating exhibitors have released the kits they will be showcasing and doing jewelry demonstrations with during the celebration. Visit their sites and check out their products before the fun begins! For more information, join our Soft Flex VIB Studio Facebook Group or visit our Customer Appreciation Week resource page!
How To Make Seed Bead And Mini Dagger Desert Earrings
On this episode of Free Spirit Beading, we get some insight on how to deal with a jewelry designer that is not working. Kristen initially designed these earrings during our recent Beading Party with Cassandra Spicer, from Beads to Live By. The design looked amazing, but Kristen felt like the beaded drops were not hanging right or they were bunching up. Kristen showed us how she resolved the problem by adding daggers and a little extra space on the connector. Problem solved! This is a great lesson in patience and problem solving. Give it watch!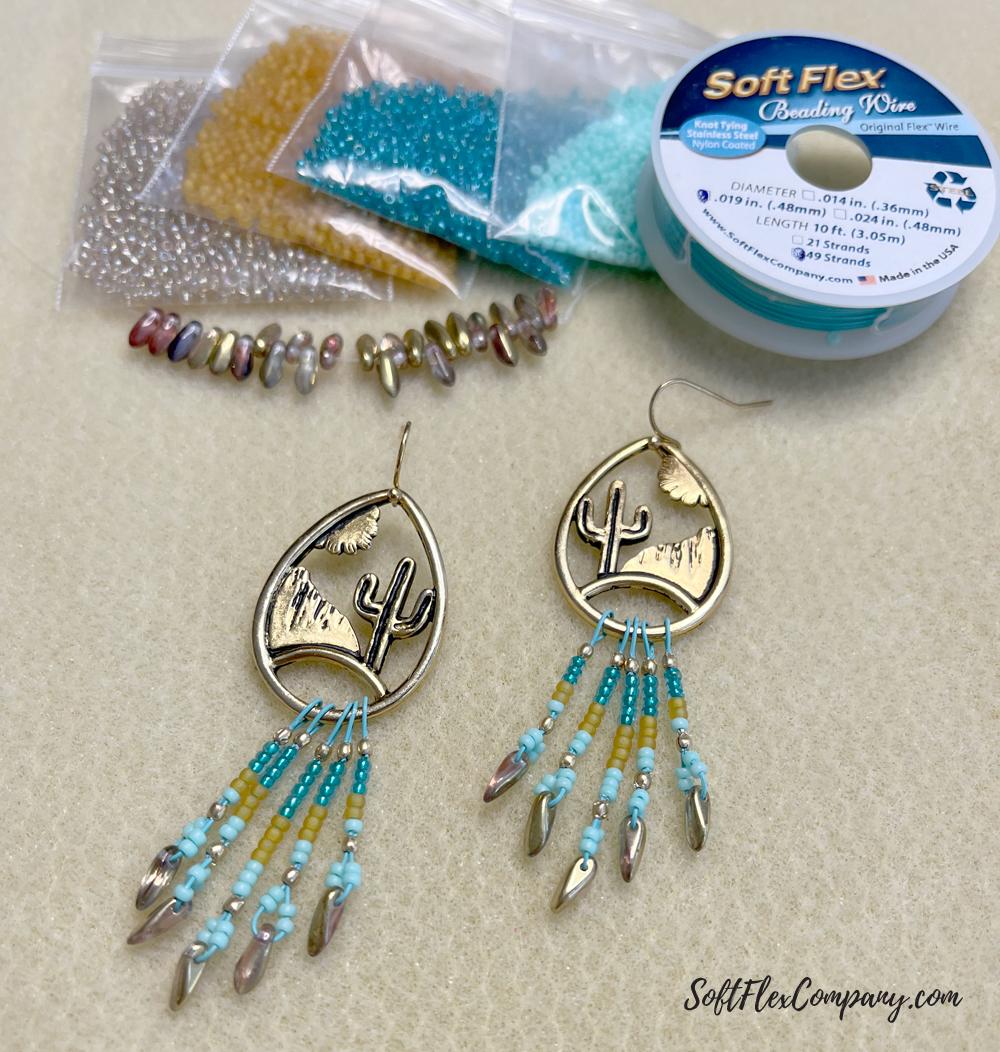 Seed Beads from Beads To Live By
Desert Landscape Connector Links
Czech Glass Mini Dagger Beads
Soft Flex Beading Wire, .019 Diameter, Turquoise Color
Soft Flex 2x2mm Crimp Tubes
Crimping Pliers
Cutters
Ear Wires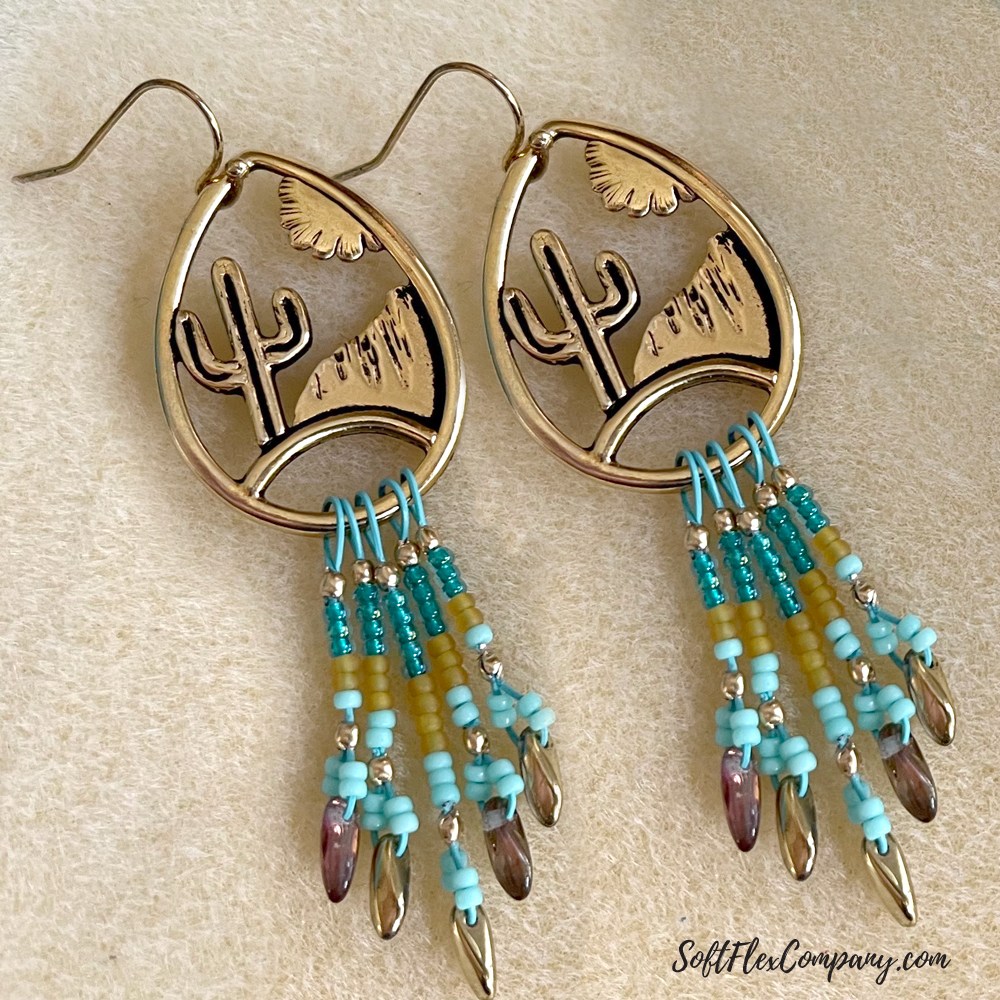 Foxy Lady Jewelry Making Design Kit Reveal
Fall is coming back! Time to brew up some pumpkin spice and savor the earthy tones and lovely changing world outside. This kit is an ode to the changing seasons and autumn jewelry styles. Learn how to make a braided bracelet with Soft Flex wire and beads. You are going to love Sara's inventive bracelet design!
The patter of tiny feet breaks the silence. A sleek band of fur darts between the pine trees. In a small clearing, the animal reveals itself. The bright eyed fox has a smoky red coat with black tipped ears and socks. She crouches and raises her head. Painted leaves disembark from tree branches above. They spiral in slow dances and land on her velvet fur. A white spotted male catches her gaze. She acknowledges with a sly wink. She is cunning and not willing to afford this one her time. She walks away in a slow and rhythmic slink. The day is early and the den is cold. Time for an adventure! Visit an autumn forest with this colorful kit. Make jewelry that is perfect for fall.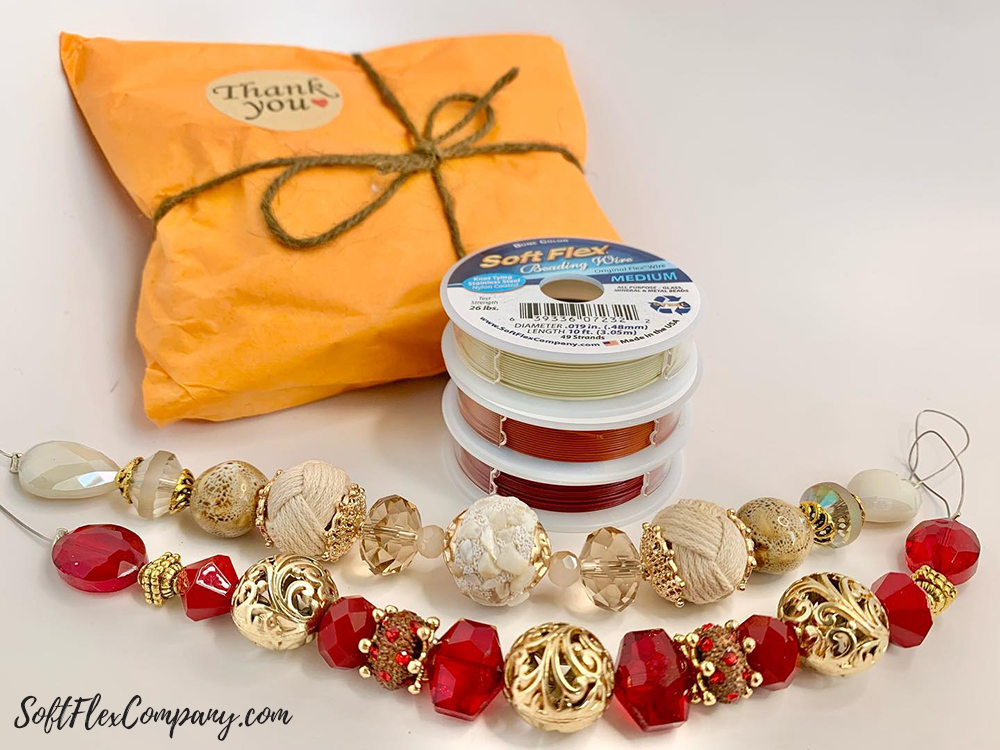 Foxy Lady Design Kit
Soft Flex Beading Wire
2x2mm Crimp Tubes
Magical Crimping Pliers
Cutters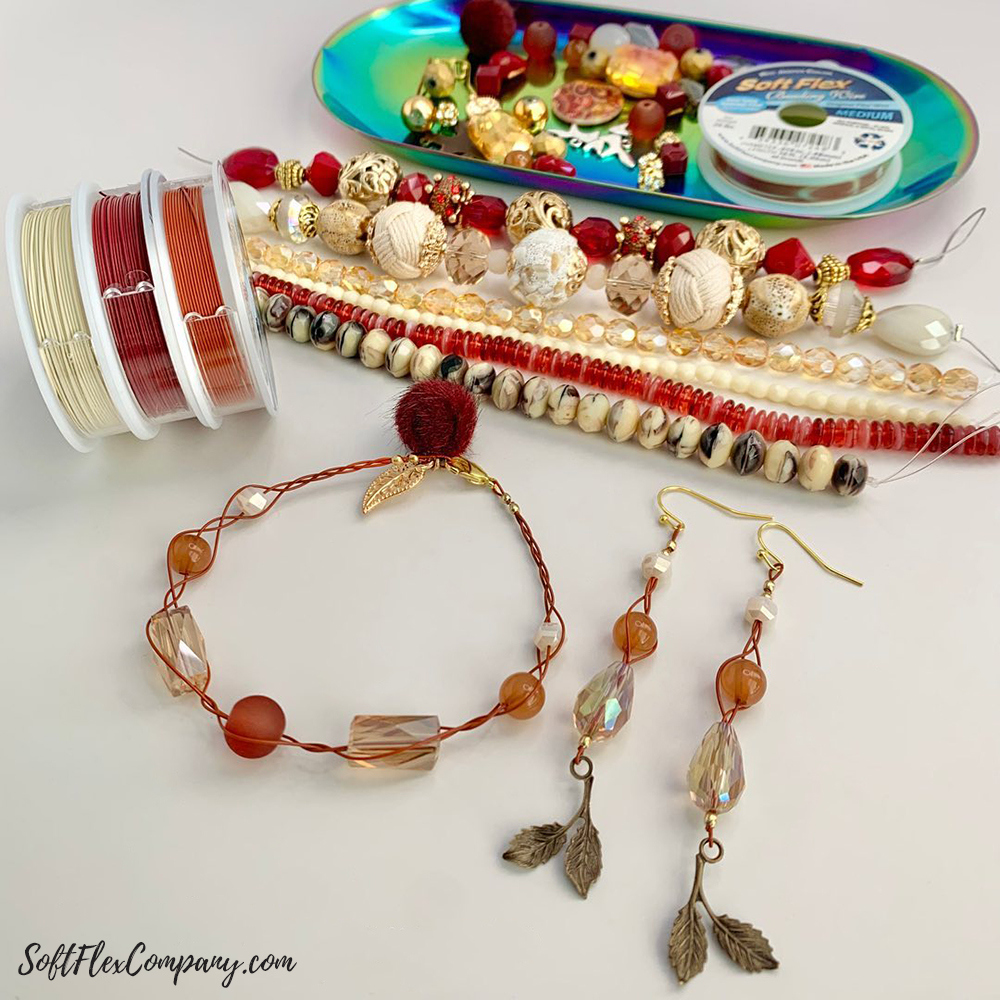 Thunderhorse Descendant: Planning Jewelry Designs With The Peace and Love Kit
Star's Beads: Spooky Scary Skeletons And Halloween Jewelry Fun
Marcie Creates: Color Inspiration Series - Making Jewelry With Red, Turquoise, Teal, and Black
Misty Moon Designs: Peace & Love Kit Unboxing And Review
Turquoise.Street: DIY Bracelet Tutorial With Soft Flex Craft Wire And Beading Wire
Join our Facebook group – VIB. Stay in the know. Stay up to date. From our bead shows to our video shows and sales, you can stay in touch with us. The community is full of artistic and helpful beaders and crafty people. Inspire and be inspired. Share your pictures and get the beading bug from others!
Visit the Soft Flex Company YouTube Channel!
---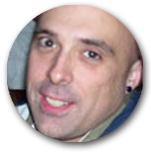 Blog contributor Thomas Soles loves Jazz Age writers and crunchy french fries. His favorite gemstones are Lapis and Pietersite. His favorite hobby is day dreaming. And his favorite mustache is Freddie Mercury's. As you can see, he has a healthy (or possibly unhealthy) sense of humor. You can write to him at Thomas@SoftFlexCompany.com