Make a resolution to make jewelry this year! Let's keep our minds off the chaos and craziness. Being creative is a place of zen and harmony. Let's make something that makes us happy. If you want some beading inspiration, look no further. We have jewelry making kits that are themed and full of surprises. Recently, we unboxed an indulgent and luscious kit - Rosé All Day. We also threw a big Beading Party with an old friend. Forget your worries and join us for a delightful set of beading classes!

We have a fabulous collection of jewelry making videos for you. Even though we were short staffed during the holiday break, somehow, we managed to add a bunch of wonderful new products and TWO kits! Double Kit Day! It was hectic, but we made it work and still enjoyed the big day. Sara unboxed our Rosé All Day Design Kit (Sold Out). She made a lovely necklace with this sumptuous kit. She announced our newest kits - Lunar New Year Design Kit and the Galentine's Jewelry Making Party Supply Kit. The Lunar New Year kit is as colorful as a shower of fireworks. Galentine's is going to be a part of a Jesse James Beads collaboration. Make sure you check both out! Kits are a great way to find inspiration, if you are a designer, as they are a themed collection. If you are a beginner, you can make a bunch of stunning jewelry, you just need crimping pliers and cutters. Add creativity to your resolutions!
Kristen opened her kit and made a pair of Rosé All Day earrings with SilverSilk Pearlesque Chain. You are going to love these deliciously crafted earrings. Rosanna Brafford, a talented designer and an exciting member of our VIB Facebook community, unboxed a Rosé All Day Design Kit (Sold Out) and gave us her thoughts on the contents. Rosanna returned with a jewelry making demonstration and showed us how to make earrings with the kit. We caught up with Candie Cooper and watched her design an artisan necklace using Soft Flex wire in Fluorite color. Finally, we invited Joyce Trowbridge to a Beading Party. Joyce has not celebrated the fun of beading with us since last December. We really missed her! If you want to recreate the design she made with us, we have all of the details of her Fantastical Feather Bracelet in this blog. Join us for an exciting collection of beading videos.
Galentine's Jewelry Making Party Supply Kit

4 projects, 4 designers, 2 days, 1 fun filled online event! Join us January 20th and 21st! Grab the supply kit here and get the bead kit from Jesse James Beads.
Join us for a fun Soft Flex Company and Jesse James Beads collaboration! We are throwing a two day party just for our gal pals! On January 20th and 21st, we are having live jewelry making demonstrations with four inspirational designers. Learn how to make a new jewelry design and celebrate Galentine's Day with us! To make this jamboree extra special, you can sign up to make and receive a bracelet from a new best friend. This one is for the ladies! Who needs Valentine's Day? Friendship is forever and deeper than Cupid's slings!
February 13th is Galentine's Day. A day for ladies to celebrate ladies. Leave the boys at home! Gather your girlfriends and celebrate the joys of sisterhood. If you feel left out on Valentine's Day, celebrate a day that is about being a friend and bonding with people that share your likes. Galentine's is a day to be yourself and live without the judgment of others. If you want to go all out on Galentine's Day, reserve a table at your favorite breakfast spot and gather the girls for waffles and love. Gift them with handcrafted goodies that lets them know how much they mean to you.
When: January 20 - 21
What Time: 4pm PT / 7pm ET to 6pm PT / 9pm ET both nights
Where: This event will be hosted LIVE on the JJB Facebook page, with 2 classes back to back each night Classes are available to watch live and will be available to replay.
Important Dates:
1/20 - Galentine's Day Classes featuring Sara Oehler and Wendy Whitman
1/21 - Galentine's Day Classes featuring Kristen Fagan and Brittany Chavers
Note: This is a supply kit for a special event. This kit does not contain beads. Please be sure to purchase the matching bead kit from Jesse James Beads to play along! Get the Jesse James Beads Kit Here.
Supplies are very limited. Don't miss out!
Bonus! Send some Galentine's Lovemail. Chat during the JJB & Soft Flex Jewelry making 2-day event and exchange a special friendship bracelet at the end of the party. Click here to fill out the form to be paired with a new friend!
Jewelry Making Videos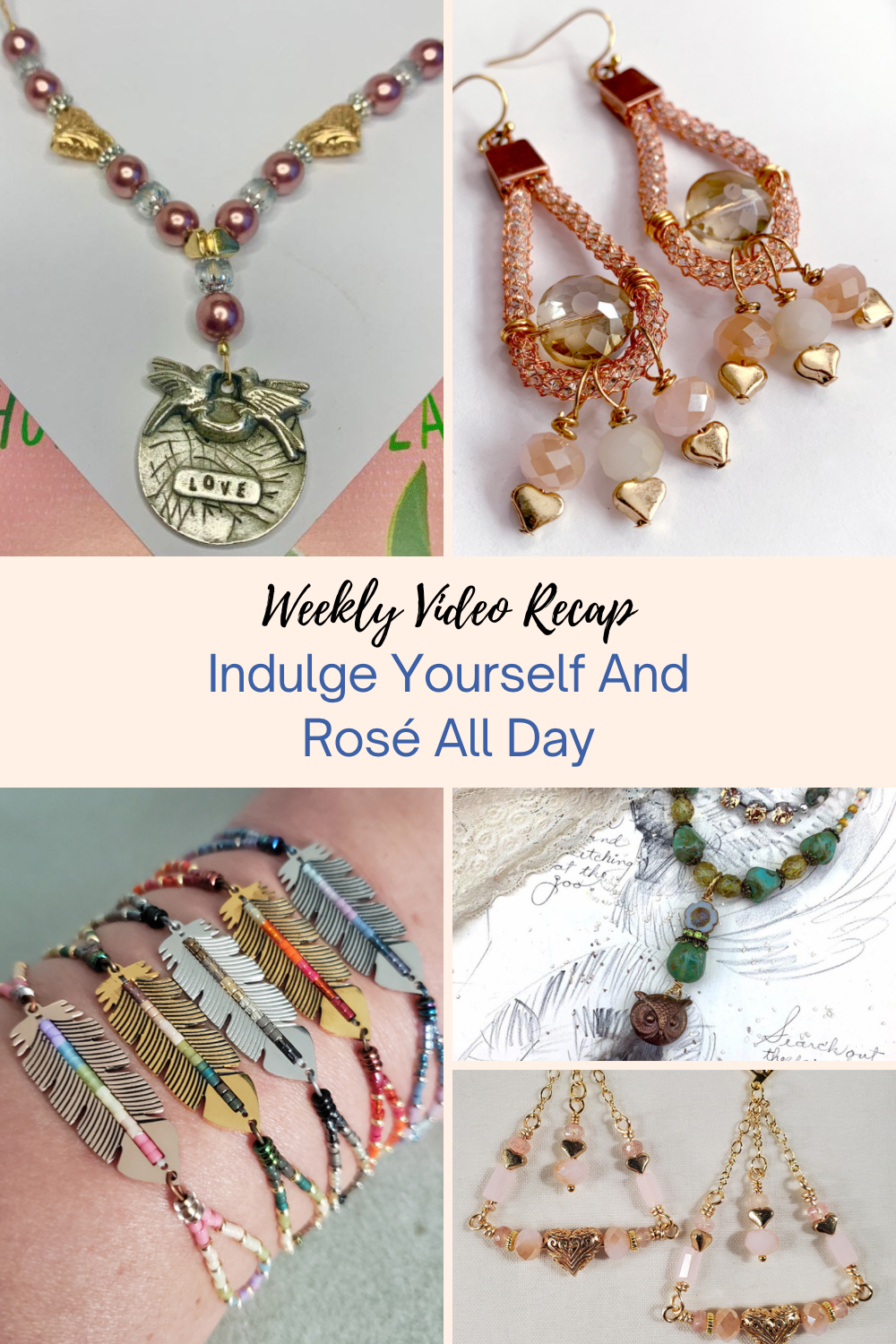 Follow Us On TikTok And Instagram - Learn How To Craft and Make Jewelry In Just Minutes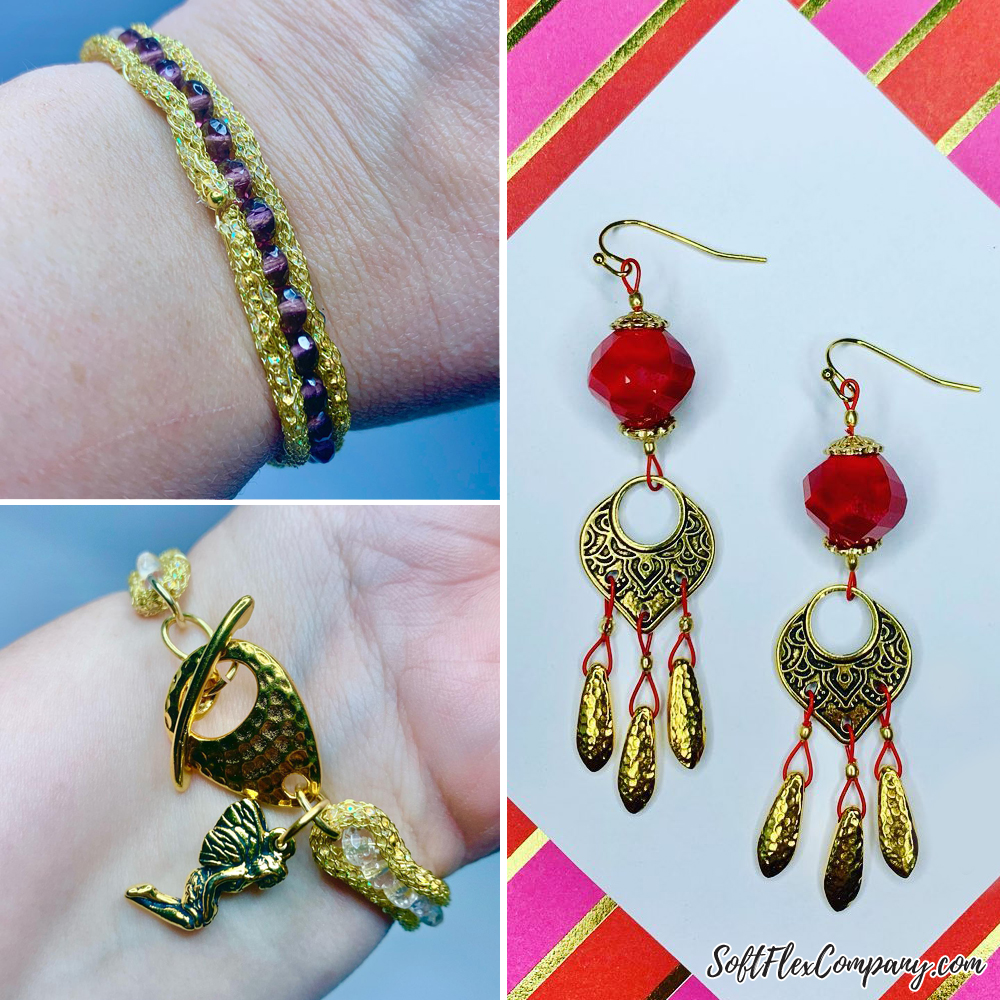 Follow us on the web! Our social media sites are loaded with instructional jewelry making videos YouTube and Facebook have a ton of long form videos that will teach you how to make jewelry. You will find in depth discussions on how to use your tools and finish your jewelry on those channels. Our Instagram page and [email protected] will teach you how to make jewelry in under a minute. Smash that learning curve and learn a new technique at lightning speed. Instagram Reels and TikTok are great tools for learning something new or finding quick inspiration. If your creativity needs a quick cup of coffee, make sure you visit us for a much needed jolt of crafting caffeine!
Check out our 30 second jewelry tutorials on Soft Flex Company's Instagram Reels! Master a new technique in minutes. These videos move quick but are easy to follow. You will get a sense of how to use your tools and finish your crimps securely. If you need more assistance, make sure you check out our YouTube catalog for deeper dives into jewelry making education. Stand on the shoulders of giants and enhance your jewelry making knowledge in a flash!
Got a minute? Follow us on the Soft Flex TikTok Page! Learn how to make jewelry with a fun soundtrack. Sara is here to show you how to make something amazing in just a minute. This is a great quickie if you need the basics. You can always follow up with more in depth videos on our YouTube channel if you need extra help. Sara has ideas for bead stringing, wire wrapping, and so much more. Learn from a jewelry designer pro at the pace you choose!
Rosè All Day Jewelry Making Kit Reveal and Beading Tutorial
Kit Day! A day of creative celebration! At the end of every month, we unbox our most recent kit and make jewelry, live on YouTube and Facebook. We love our kits. We put a lot of heart into brainstorming the theme, hand selecting the contents and creating a product that excites us. Each kit is full of valuable components and priced at a steal. Also on Kit Day, we announce our newest kit and feature a blog of kit designs from members of our VIB community. It is a day full of original handmade jewelry and talented jewelry designers. Join us live on the last Wednesday of every month to join the fun!
Our last Kit Day featured our Rosé All Day Design Kit (Sold Out). Soft Flex Company is based in Sonoma, California. Wine Country, if you are not familiar with the location. People from around the world come to our small town to visit wineries and explore vineyards. We have never featured a Wine Country inspired kit, so we figured this was a great time to create a kit that was self indulgent and lovely. We all need some quality 'me time' after a stressful day. Let this jewelry kit be yours!
On this Kit Day, we also revealed two kits for this month. There is going to be a lot of exciting jewelry made with these two new kits. Join in on the fun!
Rosè All Day Design Kit (Sold Out)
Soft Flex Beading Wire, .019 Diameter in Rose Gold
2x2mm Crimp Tubes
Magical Crimping Pliers
Cutters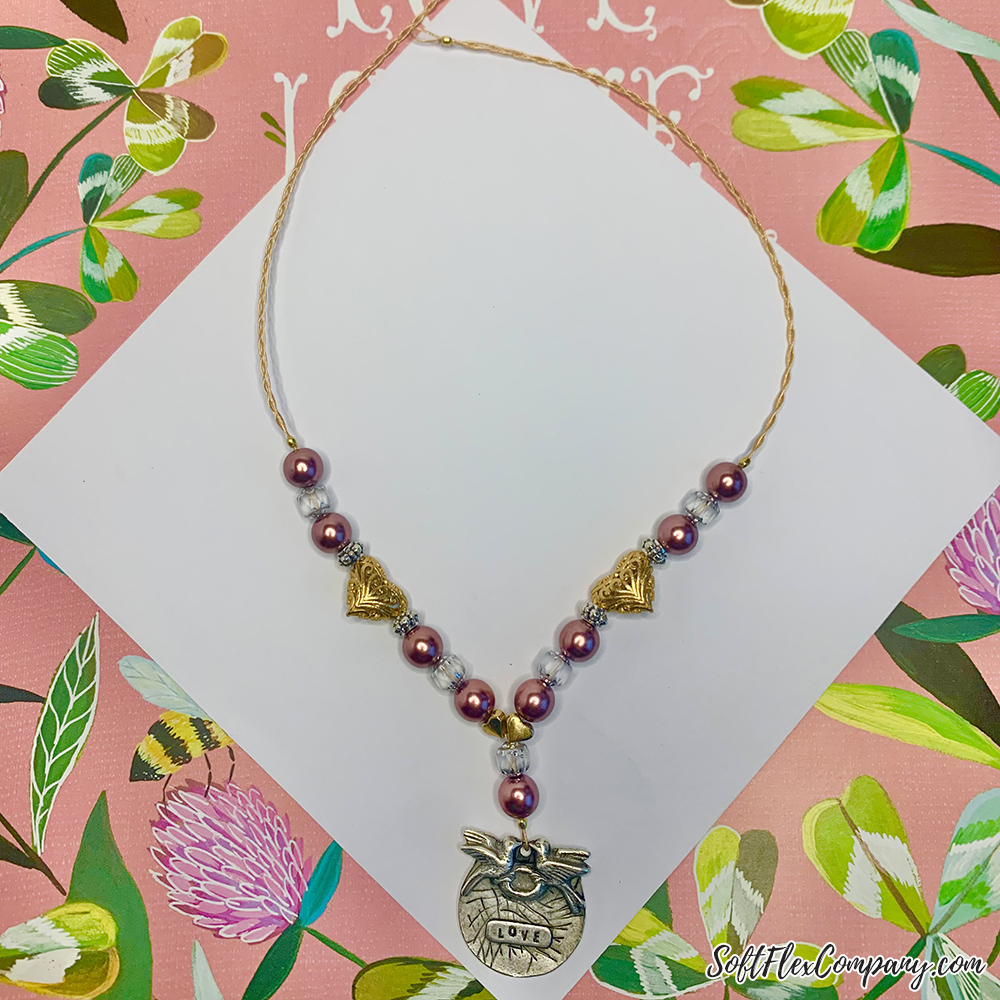 Rosé All Day SilverSilk Beaded Earrings
Kristen showed us what she envisioned with her Rosé All Day supplies. She grabbed some yummy SilverSilk Pearlesque Chain and showed us how to make DIY earrings with the gorgeous combination of Soft Flex supplies and SilverSilk chain. You will need some extra tools and supplies on hand to make these yourself. But if you love them, they are really easy to put together! They are a glowing addition to any new year's outfit. Celebrate the new year in style!
Rosè All Day Design Kit (Sold Out)
SilverSilk Pearlesque Chain
Soft Flex Craft Wire - Silver Plated 22ga
Head Pins
SilverSilk End Cap
Ear Wires
Wire Looping Tool
Nylon Jaw Pliers
Chain Nose Pliers
Cutters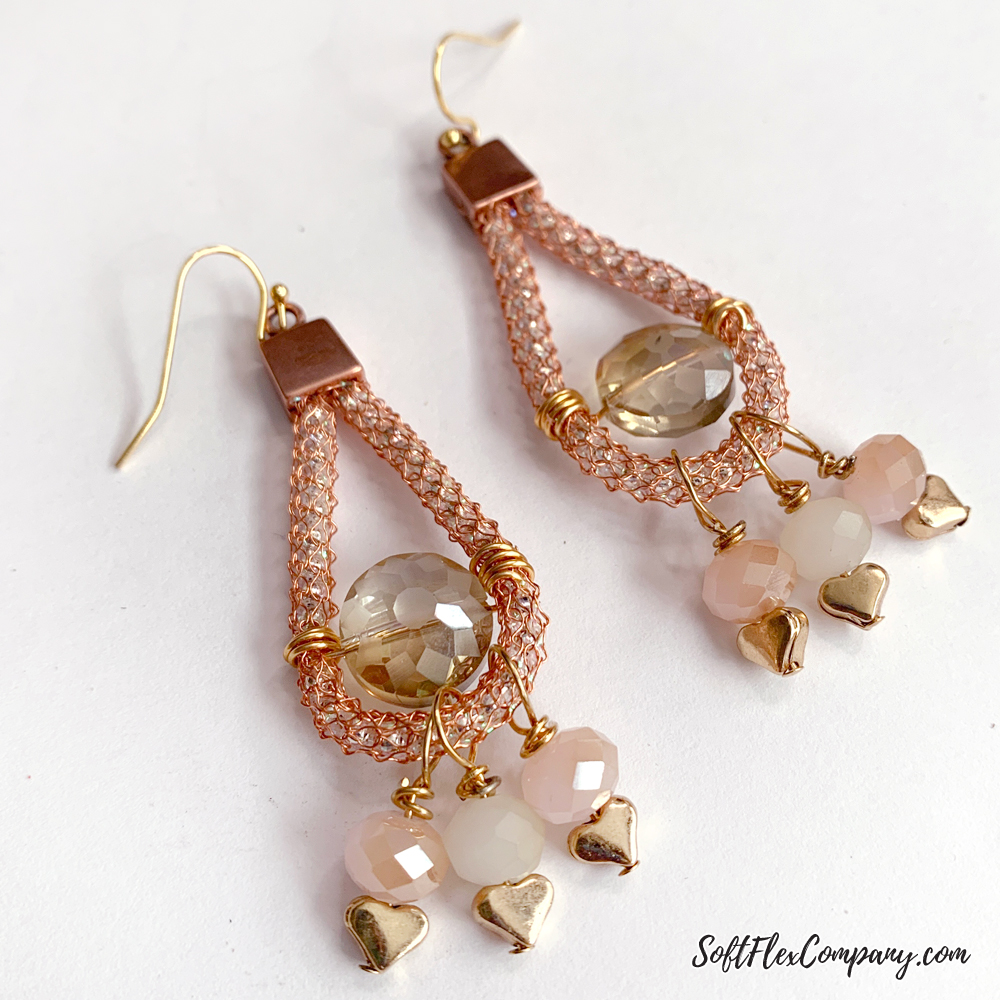 Live Beading Party With Joyce Trowbridge Of Just Bead It
Join us for a fun Beading Party! It has been a little over a year since we had the chance to catch up with Joyce, from Just Bead It. We really missed her! Just Bead It was Sara's local bead store when she moved to California, a few years ago. She quickly became a regular and fell in love with the beads inside and the wonderful staff. Owner, Joyce Trowbridge was knowledgeable and an incredible educator. It is always a treat to find a local store that makes you feel at home after a big move. Sara enjoyed this lovely oasis. Sara started teaching classes at the bead store and enjoyed the community there.
Sometimes, life throws us a curveball. Collectively, we were all hit with a huge life changer a couple of years ago. The global pandemic has changed the way we shop, do business, interact with each other, and live our lives. Everything is very different than it was just a couple of years ago. The pandemic ran into small businesses and local stores like a freight train. Brick and mortar shops that could not adapt to the sweeping changes were forced to shutter or evolve into something new. After 17 years of thriving business, Just Bead It closed their doors. Joyce could have let things get her down, but she reimagined her shop into an online entity. You can still shop the fabulous inventory at Just Bead It, and now, you do not have to make the trip to Northern California!
The good news about Just Bead It being an online presence is that now we all get to experience a fun class from Joyce. You do not have to make a long trip to visit this incredible teacher! If you would like to learn more about Joyce and the Just Bead It Family - check out her first beading party!
Live Beading Party! Meet Jewelry Designer Joyce Trowbridge
If you would like to make the project Joyce makes during the Beading Party, you can find the instructions below!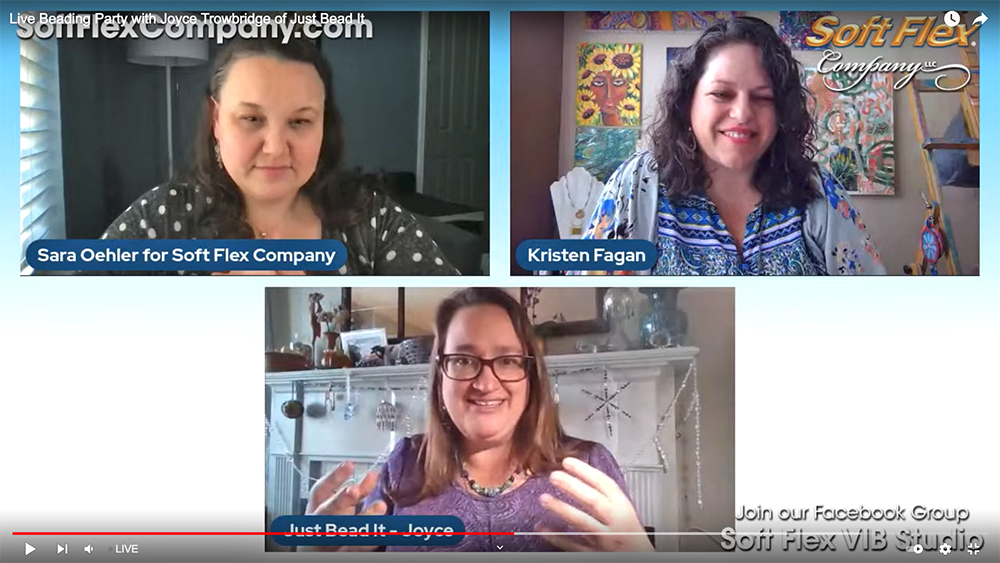 Fantastical Feather Bracelet - Just Bead It Free Facebook Live Virtual Beading Class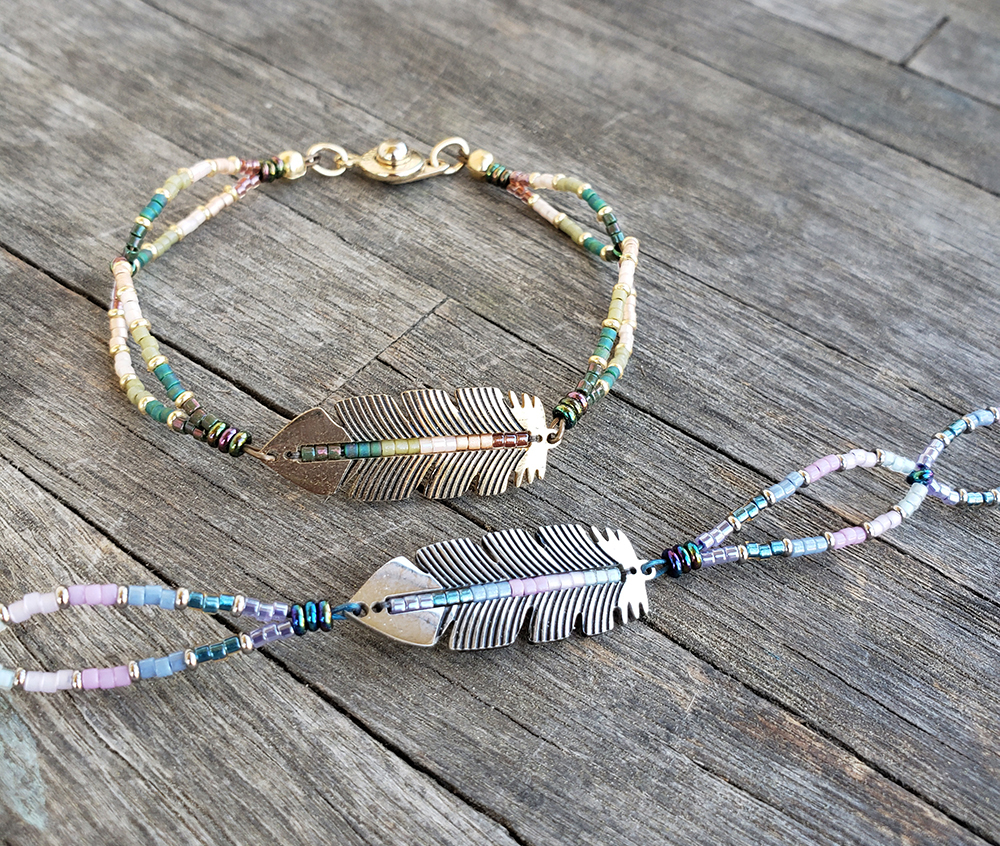 Make the Fantastical Feather Bracelet you just saw the in Beading Party! If you would like to buy this kit, you can visit Just Bead It links and grab everything you need! Joyce is transitioning her catalog of jewelry supplies and beads to her website and Etsy store. Joyce's classes are online now. You can attend her jewelry making courses on Facebook. You can purchase a kit and make jewelry with her. If you miss a class, you can download the PDF and make the design on your own time.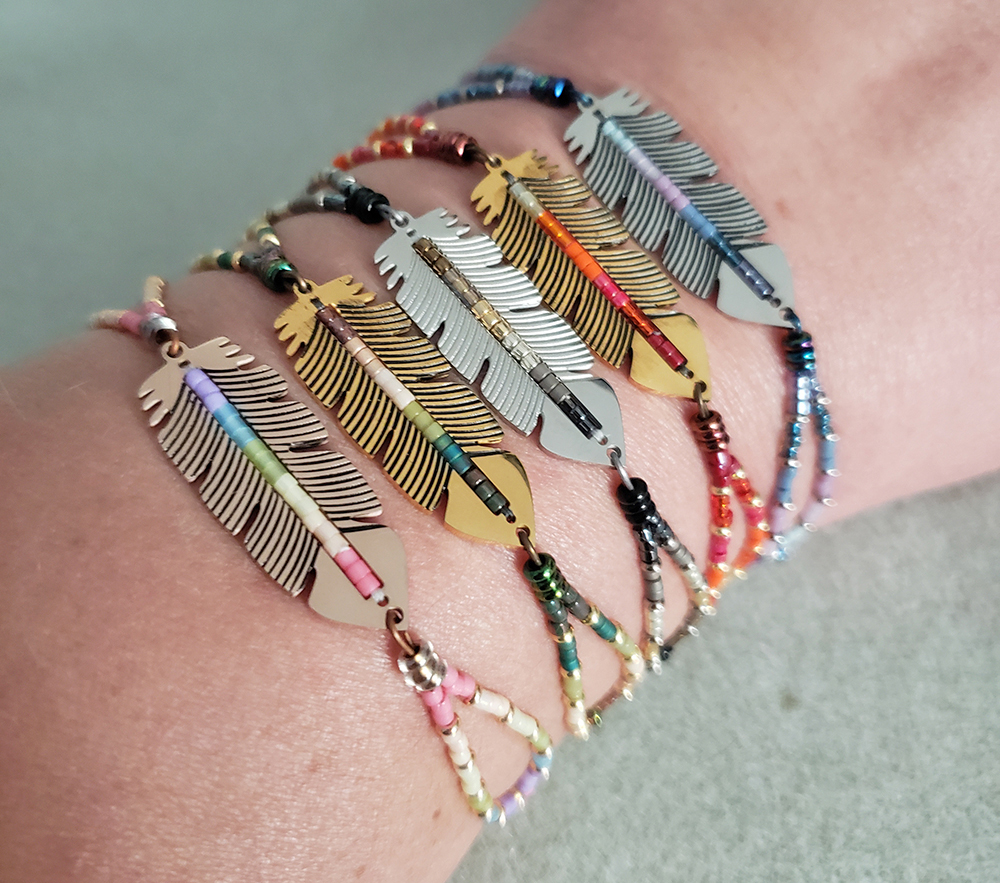 Follow the video and the images below and make one of your own. If you would like to participate in a class, check the Just Bead It event calendar. For this design, she used Medium .019 Soft Flex Beading Wire. Support her business and buy your beading supplies from her Etsy shop!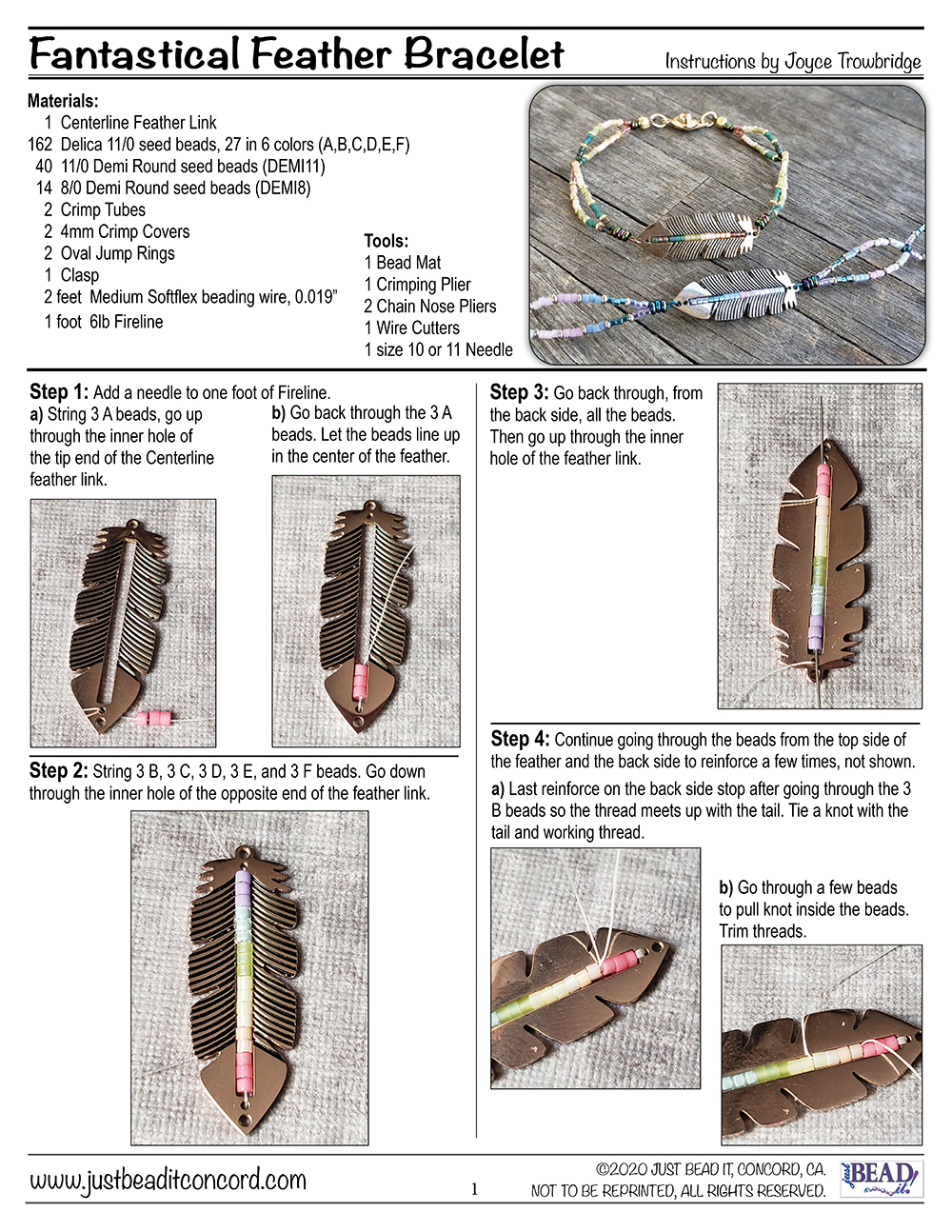 More than beads and supplies, Just Bead It! is known for classes. They currently hold virtual beading classes most Saturdays at 2pm PST. Catch them on Facebook Live.
Visit Joyce's Links: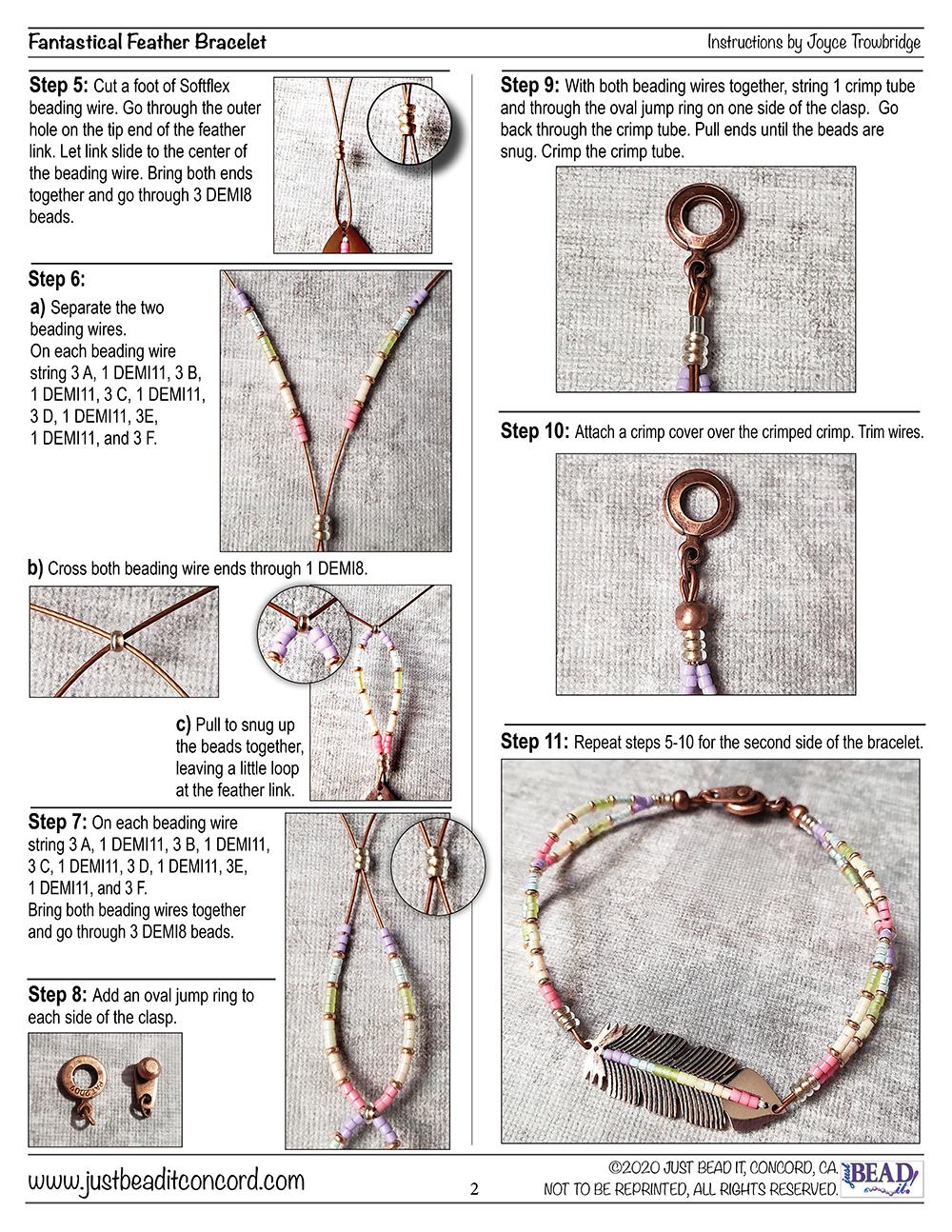 Candie Cooper: Mixed Media Jewelry Featuring Fluorite Color Soft Flex Wire
If you are a jewelry designer or bead stringer, Candie Cooper needs no introduction. This talented designer has been a part of big bead shows and media for years. She is one of the amazing exhibitors of the Great Bead Extravaganza and is constantly inspiring us to try new techniques and explore jewelry. She recently made a stunning mixed media necklace with Soft Flex Wire and leather. We wanted to share this gorgeous creation. And what a trooper! Candie was under the weather when she filmed this but she made a fun and instructive video that we loved!
You can buy this kit, the Day 5 Kit on Candie Cooper's Etsy shop.
Visit Candie's Links:
Etsy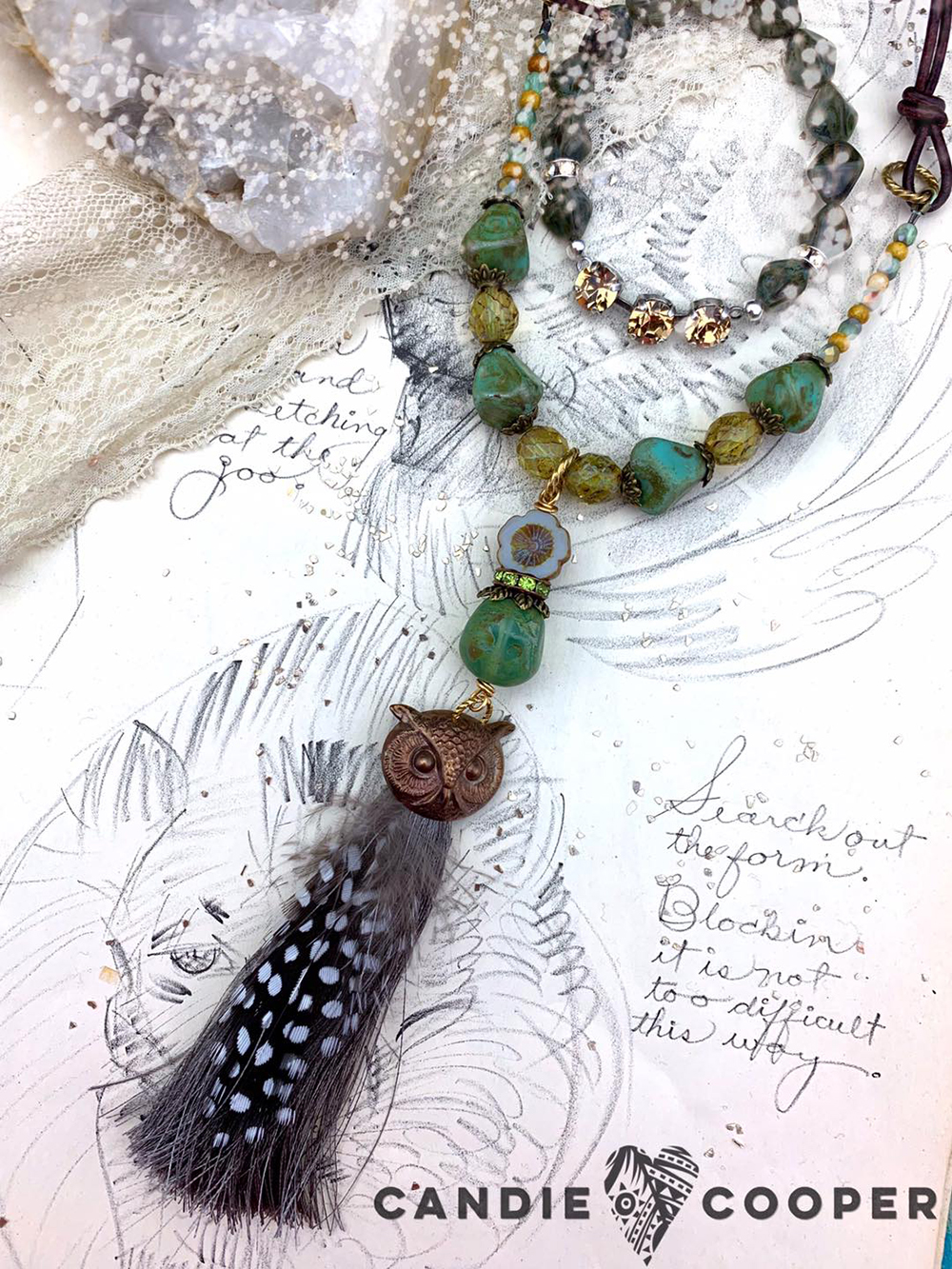 In Rose's Garden: Unboxing The Rosé All Day Design Kit
Rosanna Brafford is a talented designer and exciting artist. She has been a part of the Soft Flex Facebook group – VIB for years. We have watched her create a staggering number of new and beautiful jewelry designs over the years. She is always innovating and always trying something unique. We were excited to hear that she is a new Jesse James Beads Design Ambassador and that she is making videos on YouTube. If you are not familiar with her work, you owe it to yourself to subscribe to her channel and follow along on our community. She is sure to inspire you to try a new technique or two!
Check out Rosanna's Links:
In Rose's Garden: How To Make Earrings Using The Rosé All Day Kit
Look at these stunning earrings Rosanna made with the Rosé All Day Design Kit (Sold Out)! If you enjoy the lovely jewelry she makes, make sure to check out her YouTube videos. If you are not a part of our VIB group, join that. You can interact with Rosanna there. On top of jewelry for humans, she has recently been posting the cutest Barbie jewelry. Spoil your kids or grandkids with one of her Barbie designs. It is truly next level for Barbie Malibu!
From Rosanna:
These adorable earrings are made from the beads from my December Soft Flex Company Rose All Day kit. They will make a lovely addition to your ears!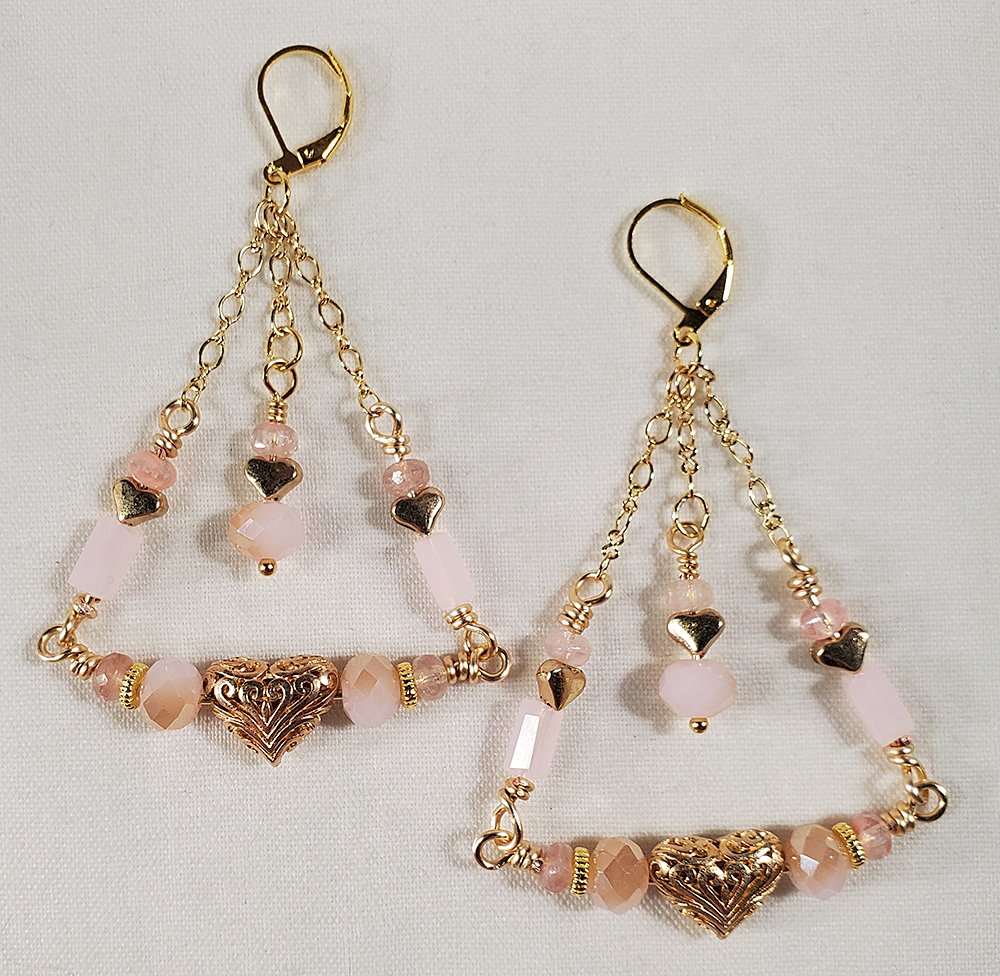 Join our Facebook group – VIB. Stay in the know. Stay up to date. From our bead shows to our video shows and sales, you can stay in touch with us. The community is full of artistic and helpful beaders and crafty people. Inspire and be inspired. Share your pictures and get the beading bug from others!
Visit the Soft Flex Company YouTube Channel!
---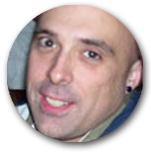 Blog contributor Thomas Soles loves Jazz Age writers and crunchy french fries. His favorite gemstones are Lapis and Pietersite. His favorite hobby is day dreaming. And his favorite mustache is Freddie Mercury's. As you can see, he has a healthy (or possibly unhealthy) sense of humor. You can write to him at [email protected]